Graphics tablets are very handy tools. They have become very popular in the creative industry. With the increase in popularity, there has been a steep decline in their prices. Nowadays it is very easy to find really good drawing tablets at very affordable prices. If you are someone looking for the cheapest drawing tablets out there then you have come to the right place. We have made a list of best drawing tablets under 50 dollars. For making this list we have researched on dozens of tablet and finally picked the top 5.
These tablets are really good for those who want to tap into digital art but not willing to spend 100 of dollars. It is also a great option if you make educational tutorials or just want something to write on and make digital signatures.
What to expect in 50 Dollars
50 dollars is not a big price when we talk about graphics tablets. There are drawing tablets which cost 100 or even 400 dollars. In 50 dollars you may not get the most advanced features like wireless connectivity and tilt recognition. But you get good pressure sensitivity and decent performance which is enough for most of the work.
Best graphics tablet under $50 – Comparison
 
Huion
Inspiroy
H640P
Veikk A30
Parblo
Island
A609
Xp pen
G430
Huion H420
Active Area
6.3 x 3.9
Inches
10 x 6
Inches
8.3 x 5.4
Inches
4 x 3
Inches
4 x 2.23
Inches
Pen Pressure
8192
8192
2048
8192
2048
Tilt Recognition
No
No
Yes (60°)
No
No
Battery Free Pen
Yes
Yes
Yes
Yes
No
Buttons on Pen
2
2
2
2
2
Buttons on Tablet
6
4
4
0
3
Rating
4.8/5
4.5/5
4.5/5
4.8/5
4.0/5
Price
$$$$
(check)
$$$
(check)
$$$
(check)
$
(check)
$$
(check)
There are a lot of tablets in the market which are under $50 but some of them are not that good. Many of those tablets are outdated and priced down version of previous models. These tablets are very basic and lack a lot of key features and it is very important to identify and avoid them. On the other hand, there are tablets specifically made for budget buyers which have almost every feature and overall a steal for the money.
1. Huion Inspiroy H640P – Overall best
Huion Inspiroy H640P is the part of the budget lineup of Huion. It has a lot of great features which makes it the best drawing tablet under 50 dollars. At price as cheap as this, you not only get a big drawing surface but also an excellent stylus and number of Express keys.
Before we discuss details – here is its main features
|   | Huion inspiroy H640P |
| --- | --- |
| Active Area | 6.3 x 3.9 inches |
| Pen Pressure | 8192 levels |
| Battery Free Pen | Yes |
| Buttons on Pen | 2 |
| Buttons on Tablet | Yes (6) |
| Price | Check latest price |
Design and Build quality
Huion is one of the very popular graphics tablet brand and their products always made of quality materials. Inspiroy h640 follows the same basic principle. It has a polycarbonate plastic material which gives it a very hard and dense feel. The tablet is super thin and light and very easy to carry around.
Buttons
The tablet has six Customizable express keys on the left which are in two groups of three. This is an ideal button placement as someone drawing with right hand will have his left hand near the buttons all the time which makes it easy to access.
The bottom end of the tablet has four huge rubber pads on the corners to avoid slipping on smooth surfaces. The tablet has a detachable USB cable which connects to the tablet from the left side. On the right edge of the device, there is a small button which locks and unlocks the express keys.
Pen/ Stylus
The pen has a pressure sensitivity of 8192 levels. It is the same level of pressure which is present in premium tablets. There are two buttons on the side which can change to any other shortcut with the help of the driver.
It is the best stylus on the list and has a surprisingly good built quality. The rear end of the pen has a metal construction. The front half of the pen has rubber material for a better grip. The pen is center weighted and feels balanced. Huion Pen works on the EMR which means it does not have a battery inside. So there is no need to charge, Ever.
Drawing Surface
Like all the other tablets, the drawing surface has a special scratch resistant plastic. The top surface is also coated with a textured material to give a little bit of grip while drawing. The working area is huge with minimum bezels all around.
Overall you have a great device which works flawlessly and will exceed your expectations. You can grab it on Amazon.
Check Price on Amazon
2. Veikk A30 – Runner Up
Veikk A30 may not be a well-known graphics tablet brand but they have been releasing out some great products lately. The Veikk A30 has a very unique look and very unique features which sets it apart from other tablets.
Design and build quality
The tablet has a plastic construction with good built quality. It is very thin and light and easily fits a backpack for carrying around.
The first thing you will notice is the large size of the tablet. The Veikk A30 rocks the biggest drawing area in the list with a total working space of 10 x 6 inches, which is really good for the price. Other than the size it has also got a lot of shortcut options on the left.
Features
|   | Veikk A30 |
| --- | --- |
| Active Area | 10 x 6 Inches |
| Pen Pressure | 8192 Levels |
| Battery free Pen | Yes |
| Buttons on Tablet | 4 + Touch pad |
| Buttons on Pen | Two |
| Price | Check latest price |
Buttons and shortcut options
The tablet does not have any physical shortcut button but in place of that, it has four touch-sensitive express keys. These touch buttons are present on the left in two groups of twos. There is also a touch pad located in-between the buttons. The touchpad supports multitouch and could be used for navigating around the page and zoom in and out. It is one of the very unique designs and very useful in day to day uses.
Pen/ Stylus
The Veikk A30 pen comes in a soft cover which is really neat. The pen has a plastic build and feels nice in hand. It has a total pen pressure of 8192 levels along with two express keys on the side. The pen does not need any charging and works wirelessly. In terms of practical uses the pen performers well, the lines are straight with a really smooth pressure transition.
All the shortcut keys on tablet and pen along with pressure sensitivity can be changed with the help of the driver. The driver is available to download from the official website. The tablet connects to the computer using the USB type-C connector.
If you want the biggest drawing surface on a budget, this is the best choice for you. You can check out the latest prices below.
Check Price on Amazon
3. Parblo Island A609 – The pen with tilt recognition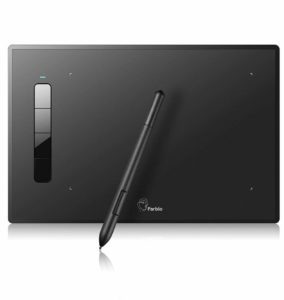 The Island A609 is one of the cheapest product made by Parblo. They carefully design their tablet for most comfortable and efficient drawing experience. The hardware feels very sleek and robust. It has a very modern, minimalistic look to it.
Design and build quality
The tablet has a contrasting two-tone finish on the top surface. The drawing area has a matte surface and the buttons are shiny. It helps in differentiation the buttons from the tablet which can be handy.
There is a small LED at the top left corner above the buttons which lights up whenever the pen comes near the surface of the tablet. It does not serve any purpose but looks cool especially in the dark.
Features
|   | Parblo Island A609 |
| --- | --- |
| Active Area | 8.3 x 5.4 Inches |
| Pen Pressure | 2048 + 60° tilt recognition |
| Battery free Pen | Yes |
| Buttons on Tablet | Four |
| Buttons on Pen | Two |
| Price | Check latest price |
Buttons
There are four buttons on the left-hand side of the tablet. The buttons give good haptic feedback when pressed, which is a sign of quality. One minute missing detail is the buttons lack any kind of bumps or raised dots which helps in differentiating one button from other. But the buttons are quite big in itself and sits totally flush with the surface of the tablet – which is again a sign of a good design.
Pen/Stylus – Hit or miss?
The Parblo Island A609 pen is very unique – visually as well as in functionality. The pen is light and with good weight distribution. It is slightly longer than the usual stylus and has a subtle curve which makes it easier to hold. It has a plastic – matte feel all over the body. There are two buttons on the side of the pen. The rear end does not has any eraser but features a small hole for tying a string through it (not sure who does it anymore).
The pen has a pressure sensitivity of 2048 levels which is the minimum level. Even average tablets have 8192 levels of pressure sensitivity. But on the positive side the pressure is well calibrated and in practical uses, you will bearly notice much difference.
One of the very coolest features of the pen is it supports tilt up to 60 degrees. Having a tilt option in a tablet under 50 dollars is very unique and no one else has it. Even the tablets which cost 100 dollars does not have it in most of the cases.
The pen which has all the advanced features like tilt recognition and beautiful design and built quality has just 2048 pressure level. And that is why it deserves the title "hit or miss". You Decide.
Connectivity
The tablet connects to the computer through a non-removal cable which plugs in the USB inlet of the computer. The tablet also needs a driver to work. It is available to download from the official Parblo website. The driver helps the computer to communicate with the device and helps it understand pen pressure and tilt data properly.
The driver also allows making changes in the pen pressure sensitivity. One can change the existing tablet and pen shortcut buttons to another key of your choice.
Check Price on Amazon
4. Xp Pen G430 – Cheapest graphics tablet in the list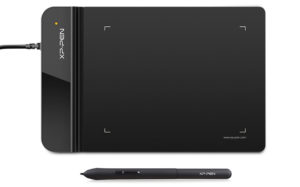 Xp pen G430 is the cheapest tablet on the list. They are known for their cheap drawing tablets which outperform every other tablet in their price range. Same is the case with G430. First, there are not many tablets in this price and even if they are they are nowhere near the features provided here.
Design and built quality
First of all, the tablet has no shortcut buttons. Moving to the design of the device. All the electronic parts are stacked up on the left-hand side with just the drawing surface on the right. Making it thick on the left and then on the right-hand side. It is certainly not going to win any medals in design but it is not that bad. Overall build quality is decent enough for the price.
The tablet has a total working area of 4 x 3 inches which is small but considering the price it is "okay".
Features
|   | Xp Pen G430 |
| --- | --- |
| Active Area | 4 x 3 Inches |
| Pen Pressure | 8192 Levels |
| Battery free Pen | Yes |
| Buttons on Tablet | Zero |
| Buttons on Pen | Two |
| Price | Check latest price |
Pen
Xp Pen G430 has a really good pen which is comparable to much pricier tablets. It is made of plastic and has two buttons on the sides. The pen has nice width and good weight distribution and feels good to hold/ work. It comes with a pressure sensitivity of 8192 levels and works perfectly in every drawing software.
There is no battery inside the pen and works on wireless technology. Which means there is no need to charge it ever. These kind of pen are less prone to damage as it does not has any moving part and need no maintenance.
The device has a non-removable wire which connects to the computer for power and data transfer. It also comes with a driver which allows you to make additional settings such as changing the pressure sensitivity and shortcut buttons of the pen.
Check Price on Amazon
5. Huion H420 – Value for money
Looking at the list if you thought "$50 is still too much for me" then this tablet is for you. It is quite amazing how Huion have been able to pull it off. It costs around half the price but still has a very solid design and great pen along with shortcut buttons. This tablet may not be for everyone but if it fits your needs then you should definitely go for it.
Design and built quality
Looking at the tablet you won't really feel you are looking at one of the cheapest drawing tablets out there. It may not be as slim as other premium tablets but it looks and feels strong.
The tablet has a fairly small drawing area on the right along with three buttons on the left. There is a small LED light at the top left portion which glows when the pen touches the surface.
Features
|   | Huion H420 |
| --- | --- |
| Active Area | 4 x 2.23 Inches |
| Pen Pressure | 2048 Levels |
| Battery free Pen | No |
| Buttons on Tablet | Three |
| Buttons on Pen | Two |
| Price | Check latest price |
What you compromise
Well, there is just one thing which you have to compromise, that is the working area. Its total workable area is 4 x 2.23 inches which is quite small. So if you are a casual user and have to use the device only once in a while for writing notes or making signatures then you will be fine with it. But if you are planning to use it on a regular basis or for making digital art then you should look for other tablets in the list.
Pen/ Stylus
The tablet itself shows no sign of being cheap but when it comes to the pen, it does. The pen looks like an old device with average feel in the hand. It has 2048 levels of pressure sensitivity and works on AAAA battery. The battery needs to be changed every once in a while. It makes the pen feel a little heavy.
There are a total of three buttons on the pen. The two buttons are located on the side and the third button is placed at the back which turns the pen on or off.
Connectivity 
The tablet connects to the computer with the help of a removable USB cable. The cable plugs into the port on the side of the device. It also comes with a driver which has options and settings for the pen buttons and pressure sensitivity.
There is a cheaper version of the same tablet which has all the features which this one has other than the three shortcut buttons. It costs you a couple of bucks less than this one.
Check Price on Amazon
Why they are a better alternative to a standalone stylus
There is a lot of third-party stylus which is available in the market. Most of which have a battery and does not need any pairing. The problem with this kind of standalone devices are they are not calibrated to work with your device. So, you will get false responses/ inaccurate lines and overall it would be very difficult to work with them. If your laptop does not has a touchscreen then they will not work at all.
Summary
A graphics tablet is a great alternative to the mouse and can really help you especially if you have wrist pain from prolonged uses of the mouse. They are also a better alternative for people having carpal tunnel.
Cheaper price does not mean a bad product, no matter how much the companies try to convince you that you need 100ds of dollars – expensive tablet for creating professional looking work. But that is simply not true. There are countless videos all over the internet of prople explaining that a better art depends upon the Artist, not the tools. The tablet mentioned in the list have been carefully selected out of numerous tablets in this price range. And you can easily go with any of these tablets.
If you want an overall well-rounded product go with the Huion Inspiroy H640P which is very close with the fifty dollar mark. If you want to get a device with the largest possible drawing area then Veikk A30 may be the one for you.
There are other tablets in the list which really surprised us while researching – how a fifty dollar device can have a tilt recognition in the pen. So if you think that a pen with tilt is the feature is what you really want in your pen then The Island A609 should be the tablet of choice for you.
If 50 dollar mark is too much for you and wants to get the cheapest possible graphics tablet then you can either get Xp pen G430 or Huion H420
You can take a look at our list of  top graphics tablets under 100 dollars
Feel free to ask questions in the comments below…