Disclosure: As an Amazon Associate EssentialPicks earn from qualifying purchases.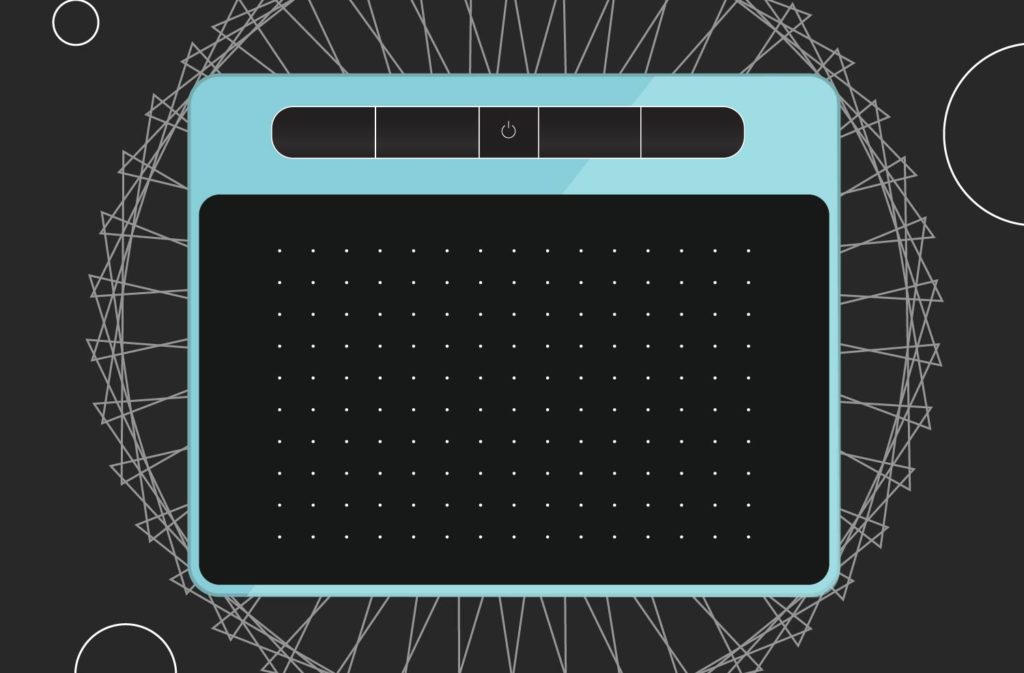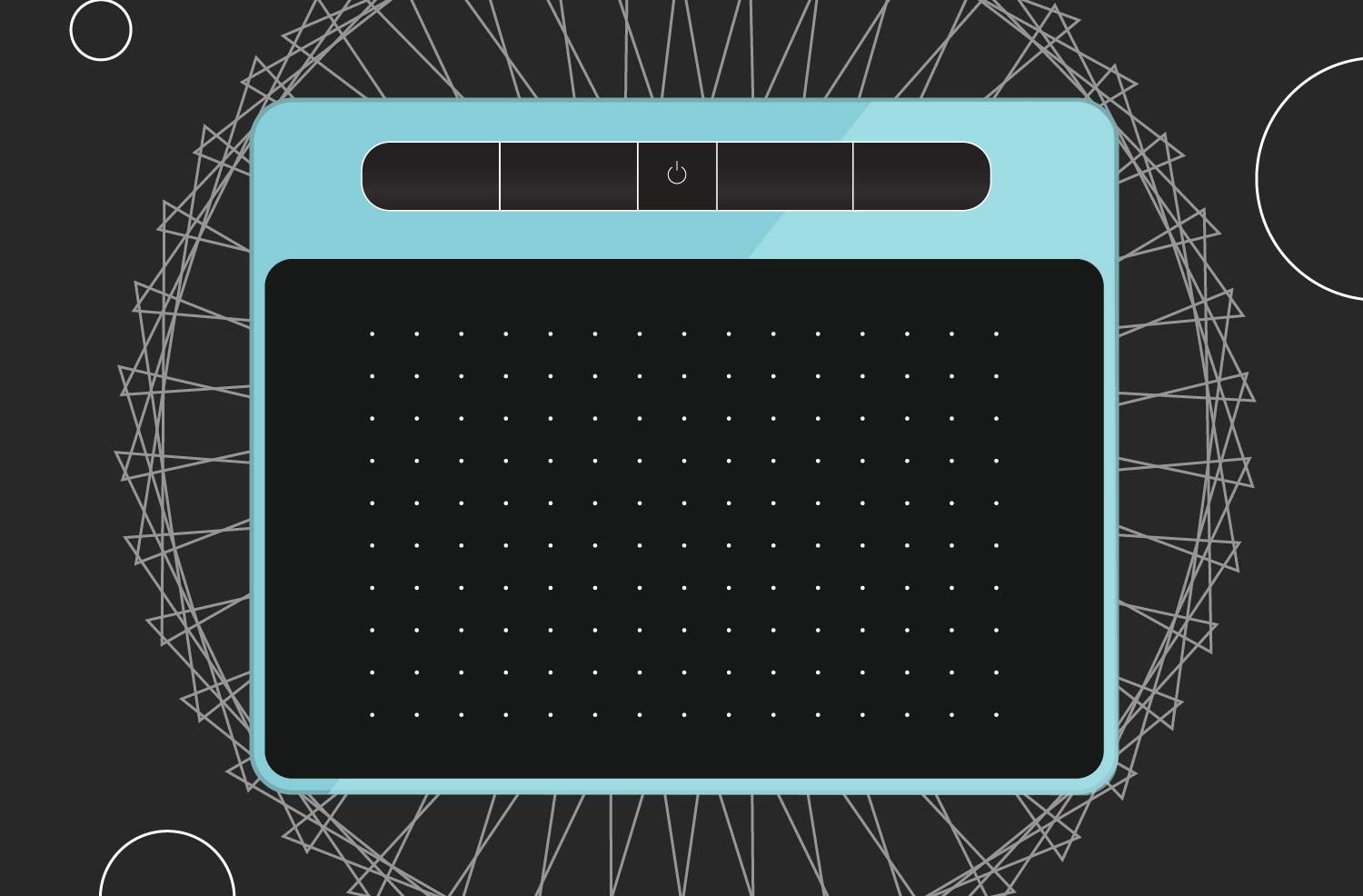 So you are looking for a drawing tablet and can't decide which one is better than the other.
Should you go with a popular brand? Or something that has more features?
These are some of the legit questions that confuse beginners when searching for an affordable drawing tablet under 100 dollars.
We have been in your place and that is why we are here to answer these tough questions and help you find the perfect drawing tablet with all the features you need.
Turns out this is the best possible time to get a drawing tablet as it is simply amazing – the quality of tablet you can get under 100 dollars. Here is what the popular artist Borodante said…
 I'm so envy of the beginner artists right now. When I was a beginner artist – these kinds of tablets, they were really expensive and they looked nothing like this. 
After comparing a dozen of tablets we have ranked some of the most deserving candidates for being the best drawing tablet under 100 dollars. Here are our Top Recommendations.
Top Recommendations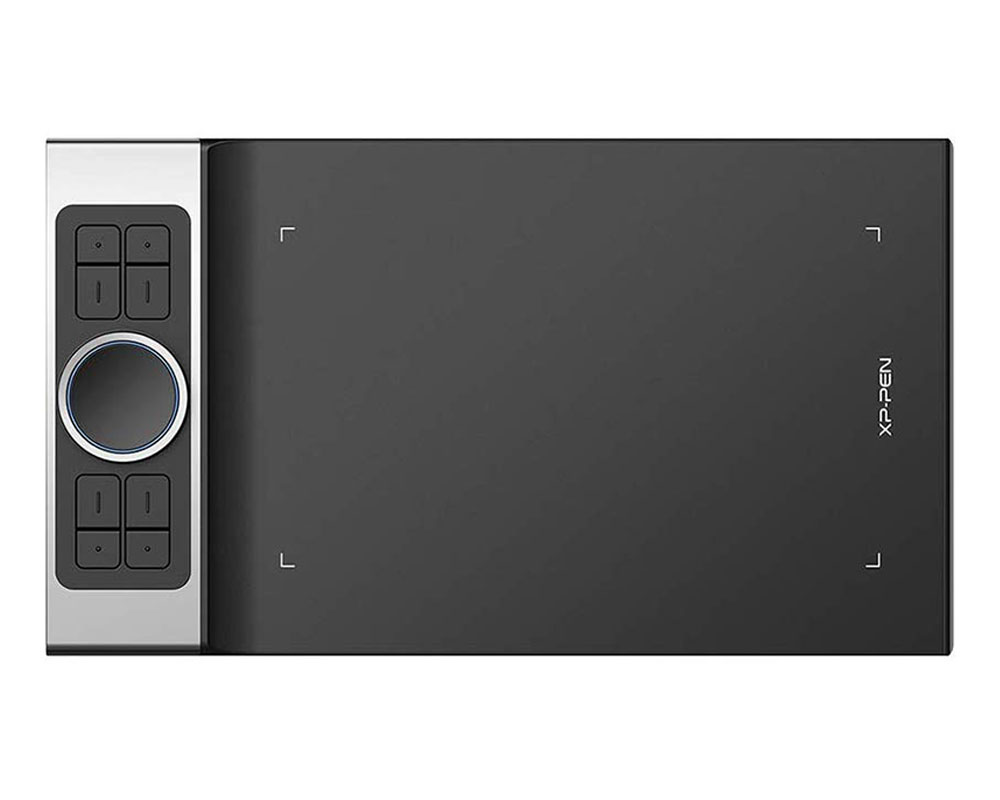 Deco Pro
by Xp Pen
9 x 5 inches
8192 pressure levels
Tilt support
Wired
8 Buttons
2 Dial
Android support
CHECK ON AMAZON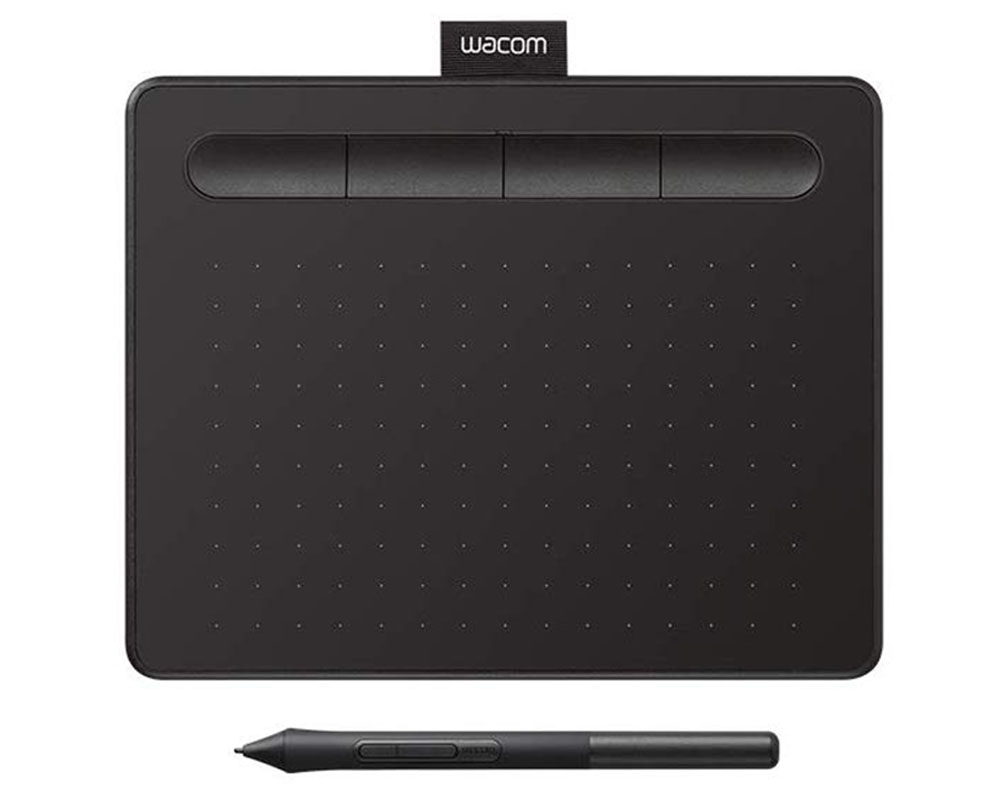 Wacom Intuos
by Wacom
7.9 x 6.3 inches
4096 pressure levels
Quality build
Wired/ Wireless
4 Buttons
No Dial
No android support
CHECK ON AMAZON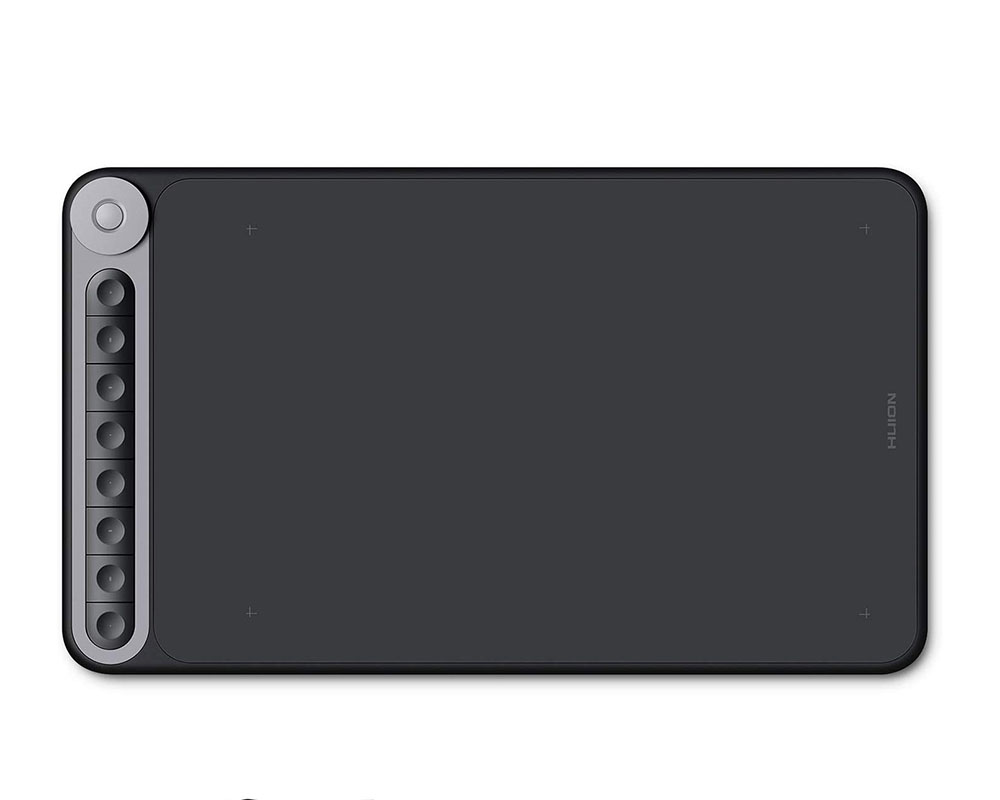 Inspiroy Dial
by Huion
10.5 x 6.6 inches
8192 pressure levels
Tilt support
Wireless
8 Buttons
1 Dial
Android support
CHECK ON AMAZON
Best Drawing Tablets under $100 – What we are looking for
A stylus is one of the most important parts of a drawing tablet. It can make or break your drawing experience.
The next important part is the drawing tablet itself. An ideal drawing tablet should have a sufficiently large drawing area, multiple shortcut buttons as well as a textured drawing surface with scratch-resistant properties.
We have made a detailed Buyer's Guide at the end, to help you figure out the features that you should be looking for. So make sure to check that out.
Prices change all the time. At the time of ranking these tablets, all these tablets were under 100 dollars. Chances are they are still under 100 bucks, but you can always check the latest price by clicking the appropriate links next to each tablet.
1. Xp Pen Deco Pro: Feature-packed tablet for beginners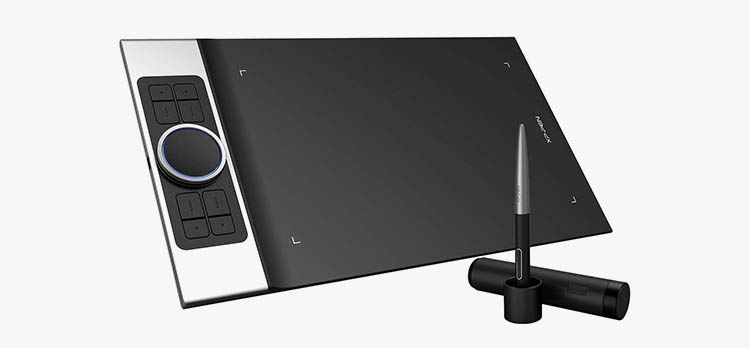 The Xp Pen Deco Pro is one of the most advanced tablets for beginners. This is as good as it gets when it comes to drawing tablets. It has some of the features that can't be found anywhere else.
Design and build quality
The Deco pro is made of metal which gives it a premium feel.
The metal, as well as the black drawing area, has a matte finish that keeps out the oil and fingerprints, making the tablet look clean all the time. The same metallic accents can be seen in the pen too.
Drawing area and Drawing surface
Starting off with the tablet itself, it has a drawing area of 9 x 5 inches which is quite large for laptop users as well as those who use monitors.
The drawing surface of the tablet is textured, which helps you control the stylus better while drawing.
Many cheap tablets use low-quality drawing surface which starts getting scratched and wear out in a few months of usage. The Deco Pro's drawing surface has scratch-resistant properties which protect the tablet from scratches from the pen.
Shortcut buttons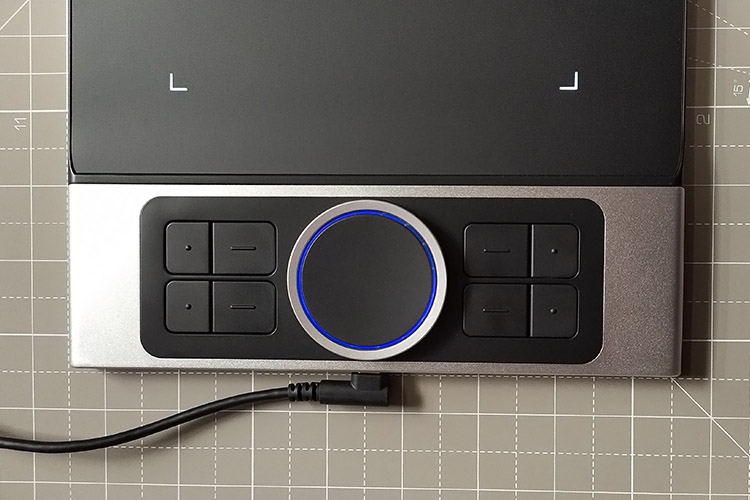 The Xp Pen Deco Pro has the most practical layout for shortcut buttons. There are a total of eight shortcut buttons. Each button has raised dots and dashes to identify them with your fingers.
Multipurpose Dial
In the picture above, you will see a large ring in between the buttons. That is the multi-purpose dial that can perform advanced shortcuts such as zoom, pan, scroll and change the size of the brush and eraser.
With Deco Pro, you actually get two of these shortcut dial. The outer ring is the mechanical dial which smoothly rotates to perform shortcut.
The inner black circle is the touchpad and acts like a virtual dial. Check out the full review of Xp Pen Deco Pro (new tab) to know more.
Xp pen Deco Pro Stylus
In the last few years, Xp Pen has perfected its recipe for the stylus. The Deco Pro stylus comes with the pressure sensitivity of 8192 levels along with the support for tilt sensitivity up to ±60° degrees.
In real life uses, it has got a good activation force and balanced pressure sensitivity, which provides a pleasant drawing experience.
The only thing missing from the Deco Pro is the lack of wireless connectivity. Other than that, it is pretty much a perfect tablet and gives you a lot of value for what you spend.
PROs – What we liked
A large drawing area
Tilt recognition
Multiple shortcut buttons
Dual dial
LED lights
Android support
Metal build
CONs – What can be improved
No wireless connectivity
Dial does not work on android devices
2. Huion Inspiroy Dial: Budget tablet with wireless connectivity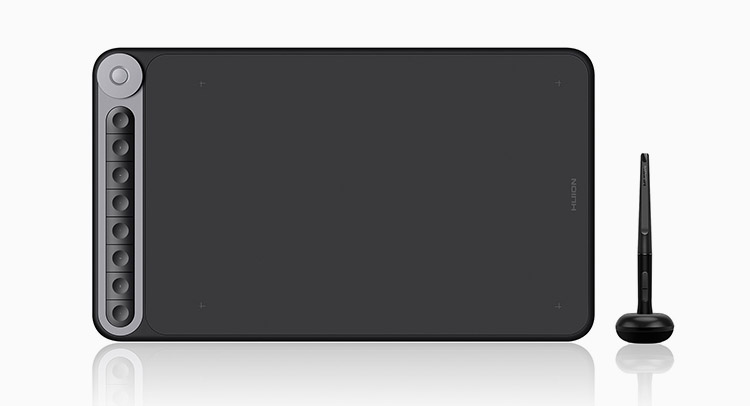 The Inspiron Dial is the Huion's answer to the Xp Pen Deco Pro and Wacom Intuos. It comes at a similar price range and some really attractive features.
Design and Build quality
Huion has done a great job of redesigning the tablet. For starters, the tablet has a metal finish which gives it structural rigidity and a good, hefty feel on holding it.
Also placing the buttons in a straight line helps in reducing the footprint of the tablet making it easier to carry with you.
Features – Working area and Stylus
It does so many things right, starting off from the drawing area. The tablet comes with an active area of 10.5 x 6.6 inches, which is larger than any other tablet in this price range. The drawing surface comes with texture as well as scratch-resistance properties.
Huion Stylus – PW 500
The Inspiroy Dial comes with a PW500 Stylus. The stylus has a standard set of features and performance that you would expect from any good stylus.
It comes with the pressure sensitivity of 8192 levels and tilt support of ±60°. The actual drawing experience is on point with a balanced pressure curve.
One thing to keep in mind is the initial activation force for the pen to start drawing a line is a little higher than usual. It may need a little bit of getting used to.
Shortcut buttons
Inspiron Dial comes with 8 shortcut buttons which are arranged in a single row. Every single button has raised dots, dashes and bars to identify them with your fingers. These buttons have LED lights which can be useful when you are working in a dark room.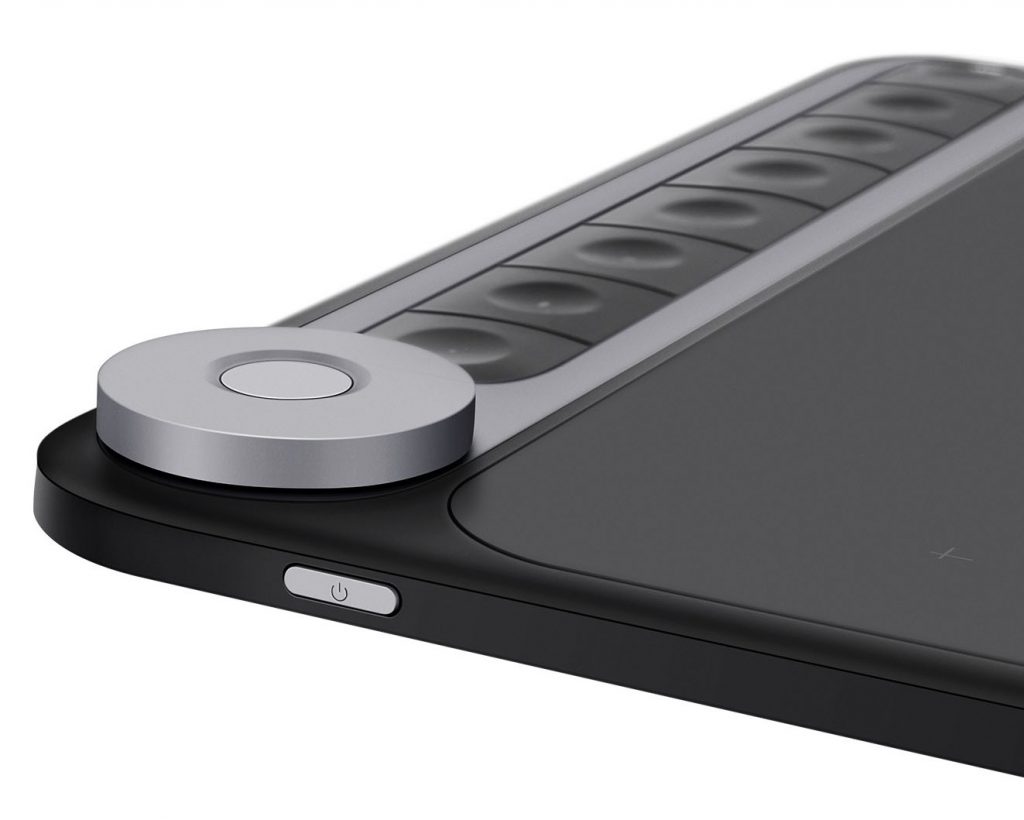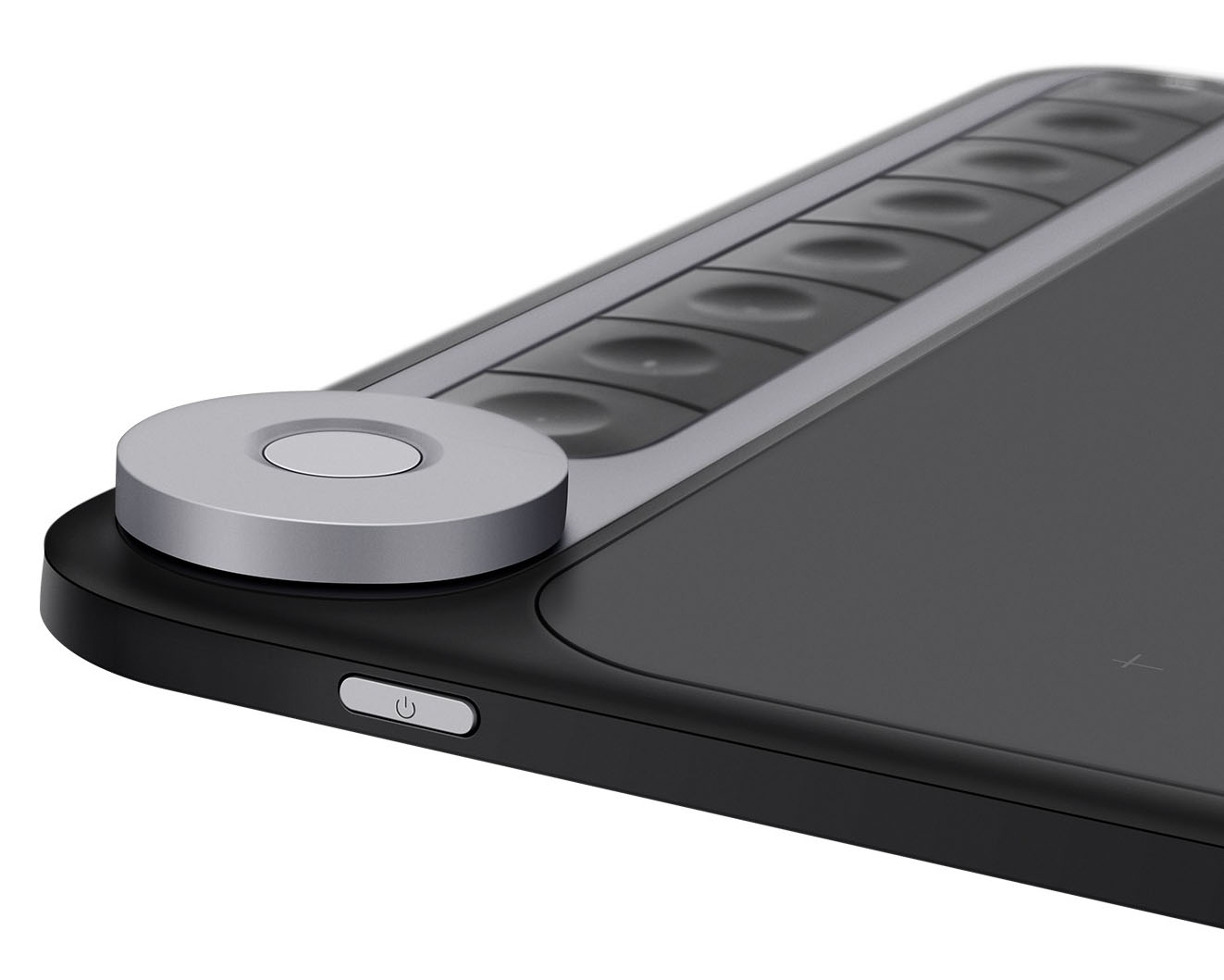 Now coming to the dial, the tablet comes with a mechanical dial that is located on the top left corner of the tablet.
The dial supports the new windows radial controller protocol on updated Windows 10 devices. Click here to find out the supported apps for Windows dial (new tab).
In more conventional drawing software like photoshop and Krita, the dial works like any other dial and does shortcuts such as zoom, pan, scroll and change the size of buttons and eraser.
Wireless Connectivity
One of the most distinctive features of this tablet is wireless connectivity. it uses a tiny USB connector to connect to computers. Now, as it is a wireless device, it needs batteries to work.
The Inspiron Dial comes with a sufficiently large battery pack that can be used for up to 20 hours on a full 1.2 hours charge. Once the batteries drains out, you can plug the included USB cable and charge the tablet.
The wireless mode also works with Android devices (smartphones as well as tablets).
In a nutshell, the Huion Inspiroy Dial is a complete package. It has got one of the largest drawing area, shortcut button, mechanical dial, wireless connectivity as well as support for Android devices – what else can you ask in a tablet.
PROs – What we liked
Excellent build quality
Tilt support
8 Shortcut buttons
Multi-shortcut roller
Microsoft surface controller support
Android support
Wireless connectivity
CONs – What can be improved
No option to control the sensitivity of the roller
3. Wacom Intuos: All about quality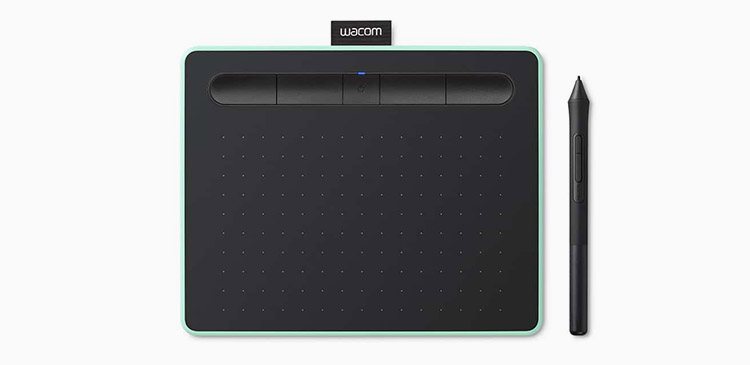 Wacom is the most reputable brand when it comes to drawing tablets. They have been the pioneers of drawing technology and can often be found in top-level studios and production houses.
Wacom Intuos is one of their affordable devices made specifically for beginners.
Design and Build quality
Wacom Intuos has a very simple and minimalist layout, the drawing surface lies at the bottom with power and shortcut buttons at the top. The white dots on the surface which demonstrates the active surface are just for the looks.

The tablet comes with an interesting design, where the buttons have an inward slope. The slope serves the purpose of holding the pen when not in use.
Features – Tablet size and Stylus
Wacom Intuos comes in two sizes – small and medium. The smaller device has an active area of 7.9 x 6.3 inches and the medium has 8.5 x 5.3 inches of working area.
It comes with the Wacom new batteryless pen which has 4096 levels of pressure sensitivity with no tilt-recognition. The pen is one of the most accurate pens out there and offers precise, balanced and lag-free drawing experience.

It has two customizable buttons on the sides. The rear end of the pen serves as nib storage and holds three extra pen nibs.
Who is Wacom Intuos for
Comparing the features it is clear that the Wacom Intuos does not have the largest drawing area and highest pen pressure, So who is Wacom Intuos for?
The answer is – "Anyone who is looking for a quality drawing tablet".
A drawing tablet is more than just its features. A larger drawing area is not always ideal. If you work on your laptop or a medium or small size monitor that is less than 19 inches, then the size of Wacom Intuos is just fine.
Now regarding the pen pressure. What happens with the pens with 8192 levels of pressure is you have to press its way too hard for registering the full pressure level. Many artists end up slightly reduce the pressure in the settings. So 4096 levels of pressure levels are workable.
Does quality win over quantity?
The quality of the drawing surface is the biggest plus point of the Wacom Intuos. Wacom has perfected the texture of the drawing surface which makes the drawing experience better.
Other tablets also come with some sort of texture but most of the artists would agree Wacom's texture feels better.
The other important point is the durability of the surface. When you draw stuff the stylus constantly pokes the drawing surface, scratching and damaging it over time.
To counter this every tablet comes with scratch-resistant surface. But using the tablet over a long time we found Wacom gets way fewer scratches than non-Wacom Tablets (image above).
Overall – Does Wacom use quality material in their tablet? Yes! But things like fewer shortcut buttons and lack of any multipurpose dial can also not be looked over.
So, coming back to the question in the title – "Does quality win over quantity?" – You decide.
PROs – What we liked
Premium material
Excellent drawing surface
4 shortcut buttons
Wired/ Wireless
Available in a larger size
Bluetooth wireless connectivity
CONs – What can be improved
No dial
No tilt recognition
4. Huion HS 610: Budget-friendly tablet with Android support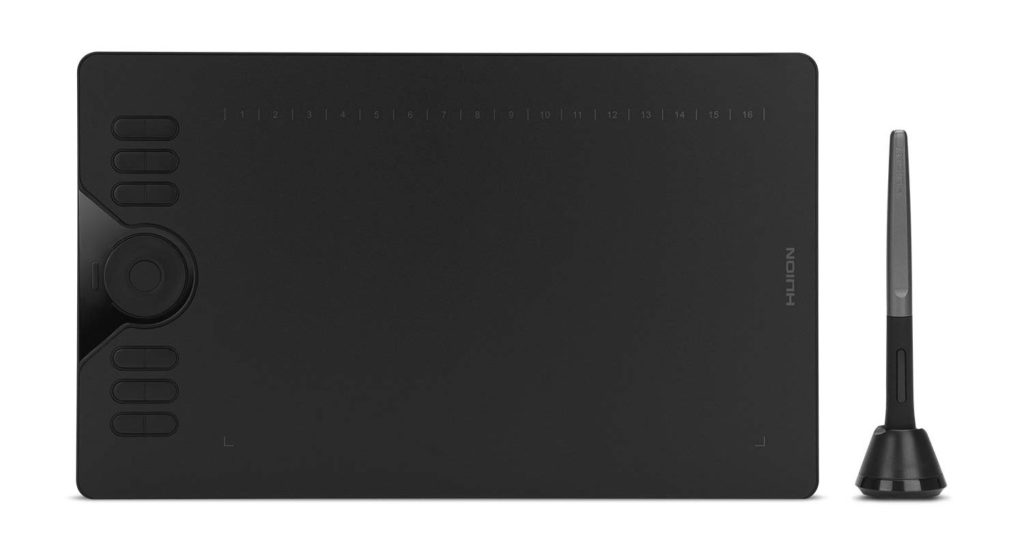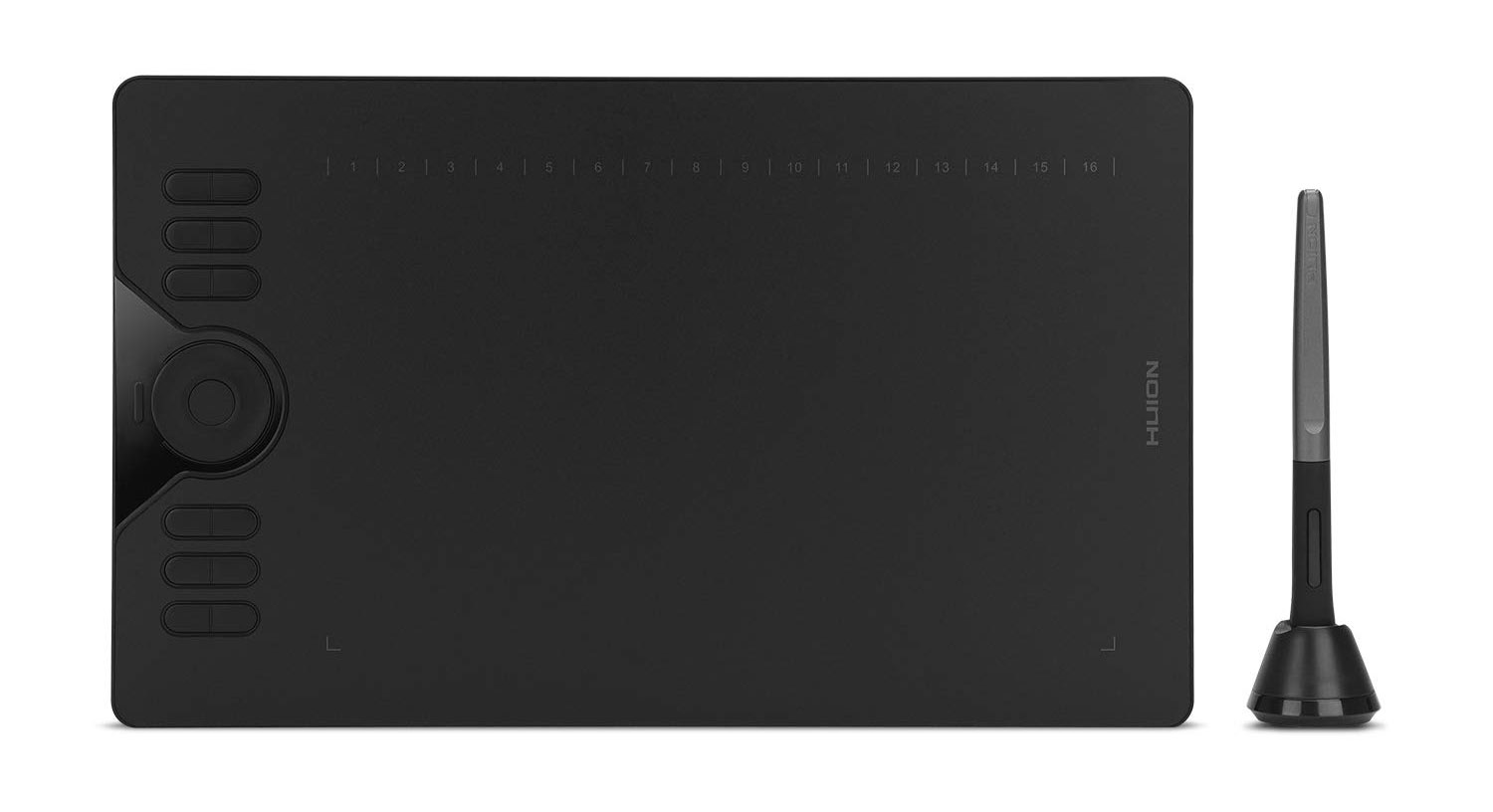 If you want the features of all the above-mentioned tablets in an equally capable but less expensive package, the Huion HS 610 is the right tablet for you.
The three main highlights of the tablet are the touch ring, tilt sensitivity, and support for Android devices.
Design and Build quality
The tablet is lightweight and can easily fit in a backpack. There are a total of 12 physical buttons on the sides along with a multi-shortcut touch ring. In addition to that – there are 16 touch-enabled shortcut buttons on the top edge of the drawing area.
All buttons and the ring are customizable and be changed to any other shortcut fo your choice with the help of the driver.
Stylus – Pen with Tilt


Huion HS 610 comes with a very capable stylus. It has a pressure sensitivity of 8192 levels and supports tilt up to ±60°. In terms of pen performance, the stylus draws a very consistent stroke with a well-balanced pressure curve with no sign of inaccurate pressure bumps and wavy lines.
There are two physical buttons on the pen which is customizable through the driver. The package also includes a handy pen stand and a few extra pen nibs.
Tablet features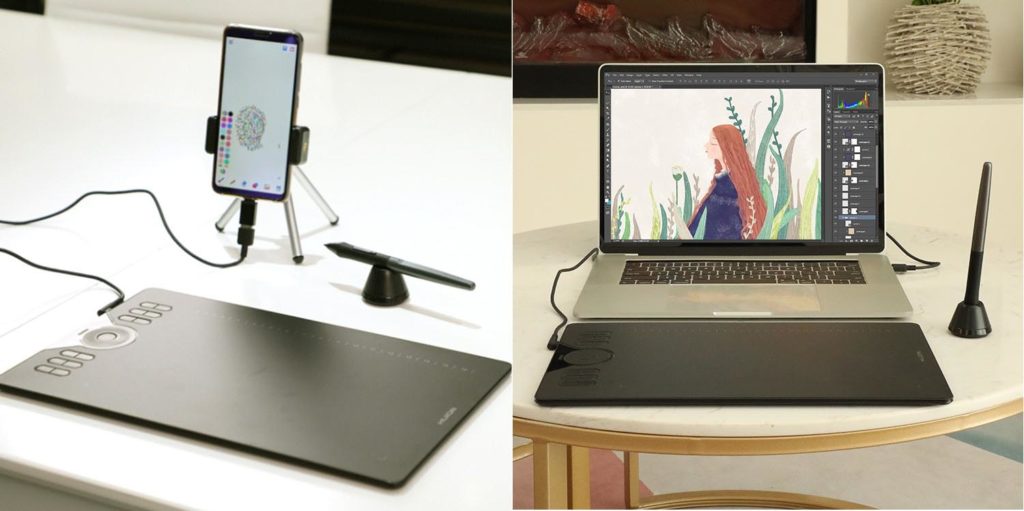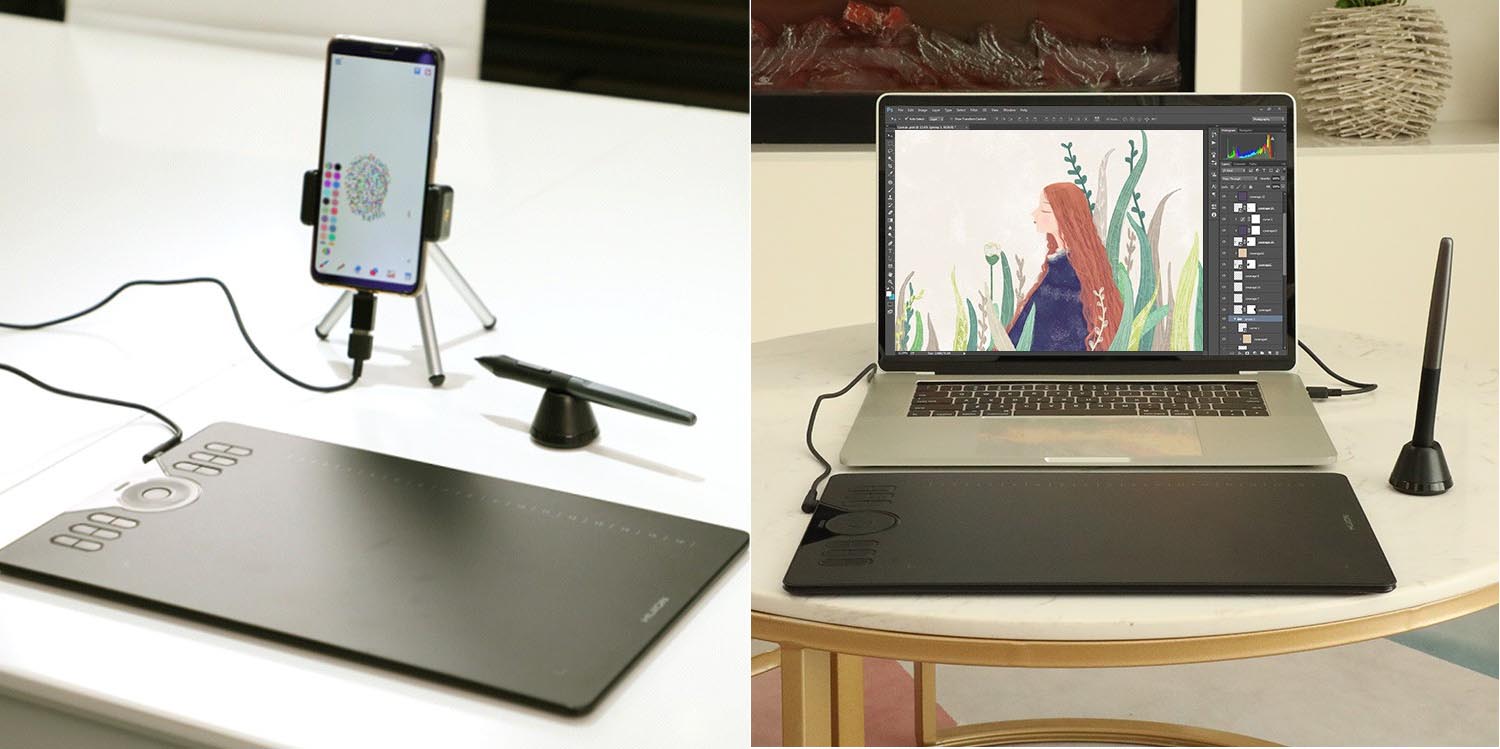 One of the very unique features of the tablet is – it could be used with a computer as well as an Android phone. The working area for the tablet mode is 254 x 158.8 mm, whereas for Android mode it is 158.8 x 99.2 mm.
It works with all the Android mobile and Tablets with Android 6.0 or later which have OTG support. You can simply plug in the tablet and start working on the phone without the need to install any driver.
Connectivity
For computers, the tablet comes with an L-shaped Micro USB cable. For connecting it to Android devices the tablet comes with an OTG adapter.
The lack of wireless connectivity is the only feature that is missing for the tablet. But no other tablet have this feature at this price point, so you can't complain.
PROs – What we liked
Feature-packed tablet at a reasonable price
Large drawing area
Tilt support
Touch ring for advanced shortcuts
Works with Android devices
L shaped USB connector
CONs – What can be improved
No wireless connectivity
Plastic build
5. Xp Pen Deco 01: Simple and Minimalist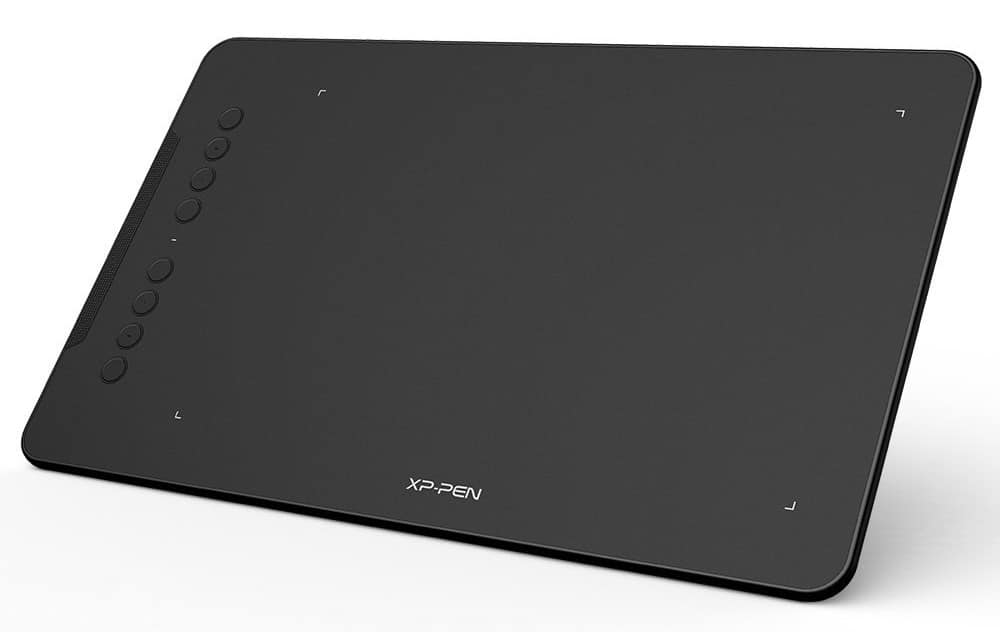 Xp Pen Deco 01 is another great option and also one of the most budget-friendly devices on the list. It has everything you need starting from a big drawing area, shortcut buttons, and a very capable stylus.
Design and Build quality
From the very first look, you can easily see that this is one of the simplest looking tablets out there. The black color, simple design, and a slim form factor make it look modern and minimalist.
The drawing area is located at the right-hand side of the device whereas the eight buttons are located on the left side. It also has the largest active drawing area at its price point. The four arrows at the corners glow to indicate the working space in dark.
Features
The tablet has an active working area of 10 x 6.25 inches with a good drawing texture. There are 8 fully programmable buttons on the left.
It comes with a passive (batteryless) pen with 8192 levels of pressure sensitivity. The pen has two buttons at the sides which can be customized with the help of the software.
It comes with a small pen stand which can hold the pen in horizontal as well as vertical position. The pen holder also contains some extra pentips. Other than that the tablet comes with a free drawing glove, which is a nice touch.
Connectivity
The devices connect to your computer through a USB cable and do not come with any wireless option. The driver is free to download and used for making quick settings and changes in the behavior of pen and the tablet.
Xp-Pen Deco 01 is one of the best devices for someone with a really tight budget. The best thing is you are not missing anything and it is totally possible to do professional-level work with this.
PROs – What we liked
Large drawing area
Eight shortcut buttons
Pen with 8192 level pressure sensitivity
Drawing glove included
CONs – What can be improved
No wireless connection
No tilt support
6. Huion Inspiroy Ink H320M: 2 in 1 drawing tablet for young artists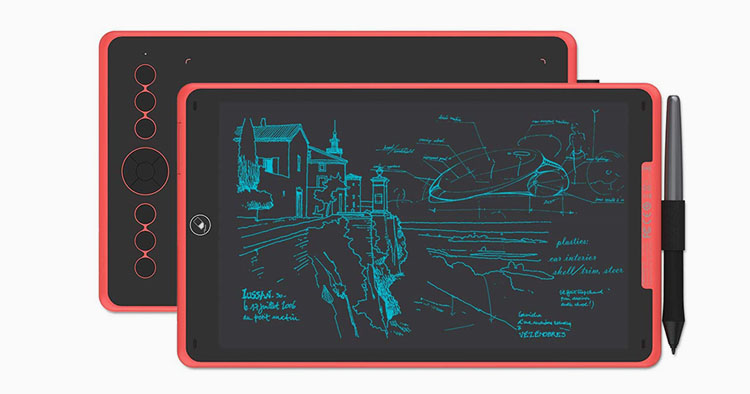 Huion Inspiroy Ink is the most eye-catching tablet on this list. It is a combination of two very different tablets – integrated into one device. The top face of the tablet has the digital drawing interface whereas the bottom half is an LCD writing pad.
The graphics tablet side of the device works like any other tablet and needs to be connected to a computer. But what if you want to make some quick sketches, this is where the LCD writing part of the tablet comes to use.
The LCD writing pad works on a coin cell meaning it does not need a computer and can be used outdoors. It can be used around 50,000 times before needing to replace the battery.
Features – Drawing area, stylus and shortcut buttons
The digital drawing tablet has a working area of 9 x 5.6 inches. On the left, you have 11 programmable buttons. On the LCD writing side, you have the writing area of 10.2 x 6.2 inches.
The stylus comes with 8192 levels of pressure sensitivity along with ±60° of tilt support. The stylus can be used on both the side of the tablet.
The pressure and tilt of the pen only work only on the graphics tablet side, not on the LCD writing pad.
Overall, All these features combined make it a perfect drawing device for young artists as well as anyone who want a great drawing experience.
PROs – What we liked
2 in 1 – Graphics tablet + LCD writing Pad
Tilt support
12 express keys
Comes with a carry-on sleeve
Support Android devices
Can be used outdoors, without a computer (LCD pad)
Resonable price
CONs – What can be improved
No wireless connectivity
No touch ring/ dial
7. Huion Inspiroy H640P: Value for money

The Inspiroy H640P is the cheapest tablet in this list and costs way lower than others. If you are not willing to put 100 dollars in a drawing tablet, this is one of your best options.
Design and Build quality
Huion Inspiroy H640p is a small tablet, which may not be a great option if you use big monitors. But if you use your laptop screen as your main display, this tablet is more then sufficient.
Design-wise it looks super sleek and modern and the pen has a substantial feel in spite of being really cheap.
Features
The tablet has a drawing area of 6.3 x 3.9 inches and has a slight texture for the stylus as well as scratch-resistant properties.
The stylus that comes with Inspiroy H640p is a passive pen, which means it does not needs to be charged.  The stylus has two buttons on the side and a pressure sensitivity of 8192 levels.
There are 6 shortcut buttons on the left side of the tablet, they all have a very satisfying click. The buttons can be programmed to any shortcut of your choice in the tablet settings.
Huion Insporoy H640 has everything to get started with digital art. If you are looking for a good drawing experience at the budget-friendly package – this is the right tablet for you.
PROs – What we liked
Cheapest tablet in the list
Has everything you need
8192 level pen pressure
Decent drawing area
Good build quality
Pen stand included in the box
CONs – What can be improved
Not much to complain at this price point
Want more options for cheaper drawing tablets – Check out best drawing tabelets under 50
Buyer's Guide – How to find a perfect graphics tablet under 100 bucks
Getting a tablet is the first step in your digital art journey. Selecting the right drawing device is a confusing task as many tablets have very similar features. This is a short guide to help you figure out your requirements – the features that you actually need, and select a tablet accordingly.
How to picks the right size of drawing tablet
Bigger is not always better when it comes to a drawing tablet. How big of a tablet you should get depends on the size of the monitor you are working on. Here is why.
A tablet essentially mirrors the screen of your monitor. If you work on a smaller display then a smaller tablet is more suitable.
When you use a large drawing tablet on a small display, you will draw a smaller line on the screen in comparison to what you would have drawn while covering the same distance on a smaller tablet. Which means your hands have to do more work.
If you work on a 13, 14-inch laptop, a smaller tablet such as Wacom Intuos or Huion Inspiroy H640p is more suitable. A 16-inch screen is a middle ground where you can use either a small or a medium-sized tablet.
For monitors with 19 inches or above size, you need a medium-size tablet-like Xp pen Deco Pro or Huion Inspiroy Dial.
Stylus – Pressure and Tilt
A stylus is one of the most important parts of the tablet. A few years back, you would not find a good stylus with cheaper tablets, but luckily that is not the case now.
All the tablets mentioned in the list above have got a good stylus and you would have a good drawing experience with every single one of them.
All the stylus, except for Wacom Intuos – comes with the pressure sensitivity of 8192 levels. Whereas most of the tablets in the list have tilt support.
Do you really need tilt support
Brands make a big deal about the tilt support, probably because it is a new shining feature. But the truth is, not all brushes can use this feature. Only some very specific brushes can take advantage of tilt support.
Even in real-life drawing usage, you won't feel the need to use the tilt for the most part, unless you are making your artwork using the airbrush and spray paint method or some other similar techniques.
So the tilt support in stylus does not really make a big difference, but it is a nice feature to have.
Shortcut buttons and Dial/Roller
There is no fixed number as to how many buttons should a tablet have. But in general, the more buttons – the better.
If you think the buttons on tablets are not sufficient for all the shortcuts and you like to use your keyboard instead. Then the number of buttons does not really matter.
But if you are someone who prefers to use the buttons on the tablet and minimize the use of the keyboard. Then tablets like Xp pen Deco Pro and Huion Inspiroy Dial are some great choices.
These two tablets also come with a multi-shortcut dial. The dial can be rotated to perform shortcuts such as zoom, pan, scroll and changing the size of brush and eraser.
These multipurpose dials have a big impact on the drawing experience as they make it very convenient to do one of the most basic tasks – changing the brush size.
Driver – For customization and additional settings
All the tablet needs drivers in order to work properly. A driver helps the tablet to communicate with the computer and allows it to understand the position, pressure and tilt data.
The driver also gives you additional settings such as the ability to change the pressure sensitivity and properly map your screen.
In addition to all these, the driver allows you to customize the shortcut buttons and set them to any shortcuts of your choice.
FAQs – Frequently asked questions
Here are some of the most frequently asked question
Which tablet is suitable for left-handed artists
All the tablets have the option (within settings) to switch them to left-hand mode. Once you do that, you can simply rotate the tablet by 180° and start working normally.
Do you need to install the driver
Yes, you need to install the driver in order to use the tablet and access additional settings. The driver for all the tablets are free to download.
Can all drawing tablet be used with Android devices
No, only some of the tablets have the support for android devices.
Can drawing tablets be used with IOS Smartphone and tablets
As of now, no external drawing tablet is supported by IOS smartphones and tablets.
Related posts:
Best drawing tablet for beginners – click here
Drawing tablets under $50 – here