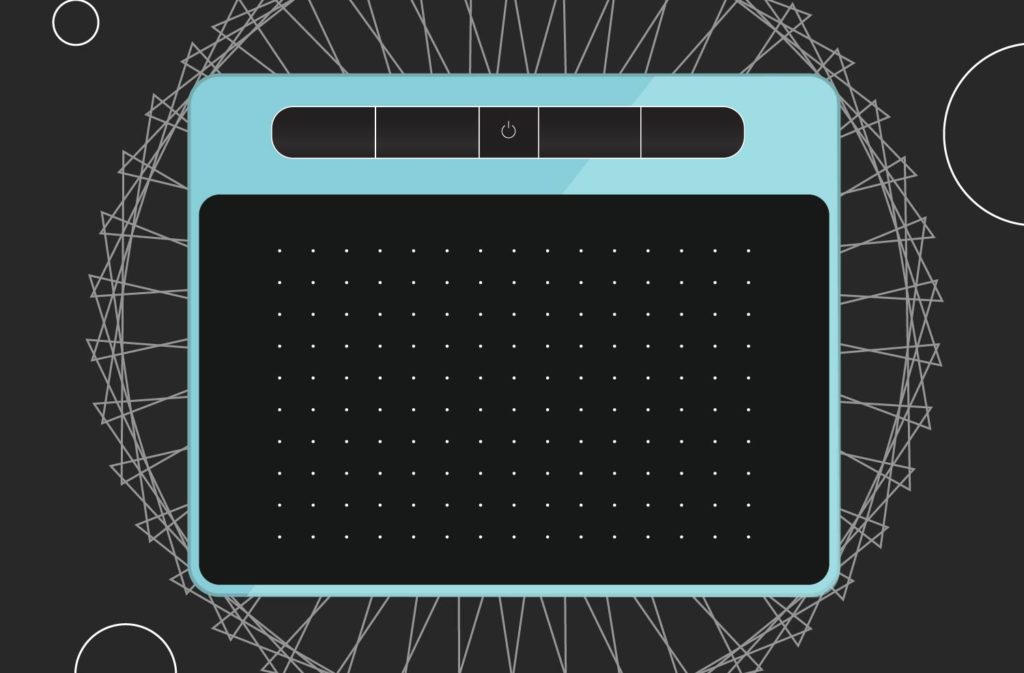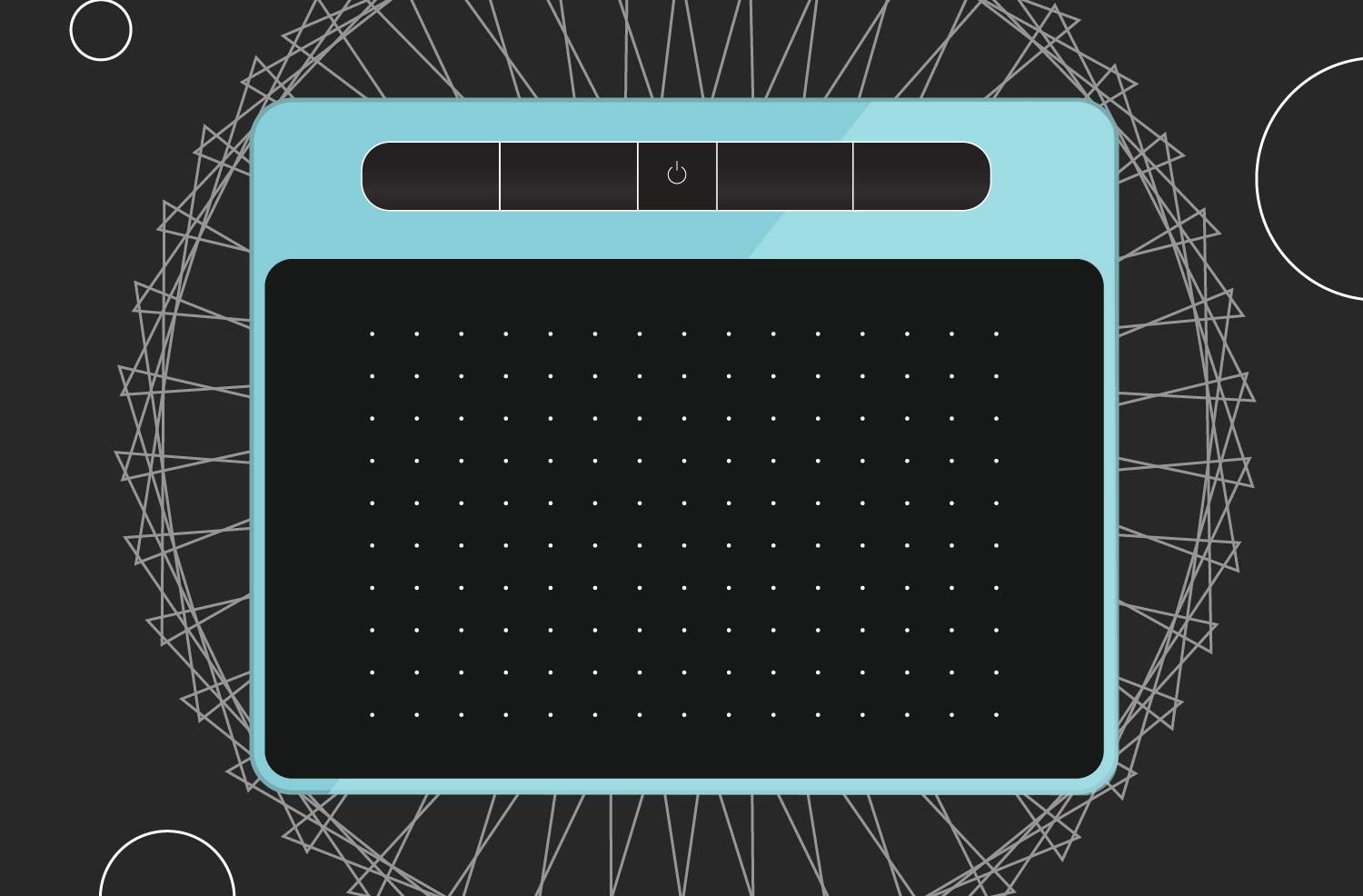 You are ready to get your first drawing tablet. But with hundreds of choices in the market, it becomes difficult to find the right tablet for your needs. This article will help you to find the best drawing tablets under 100 dollars.
We have compared the best and most talked about pentabs in the market.
These seven handpicked pen tablets will give you the best drawing experience at very pocket-friendly prices.
This is one of the best times to get a new tablet as they have become cheaper and better. Here is what one of the famous artist Borodante said in one of his videos…
 I'm so envy of the beginner artists right now. When I was a beginner artist – these kinds of tablets, they were really expensive and they looked nothing like this. 
Best Drawing Tablets under $100 – Comparison
 
Xp-Pen
Deco 03
Wacom
Intuos
Huion
HS 610
Xp-Pen
Deco 01
Huion 1060
plus
Active Drawing Area
10 x 5.62 Inches
6.0 x 3.7 Inches
10 x 6.25 Inches
10 x 6.25 Inches
10 x 6.25 Inches
Pen Pressure
8192
4096
8192
8192
8192
Tilt Sensitivity
No
No
Yes ( ±60° )
No
No
Shortcut Buttons
Six
Four
Twelve
Eight
Twelve
circular Dial/Roller
Yes
No
Yes
No
No
Wireless
Yes
Yes
No
No
No
Price
$$$
Check
Now
$$$
Check
Now
$
Check
Now
$
Check
Now
$$
Check
Now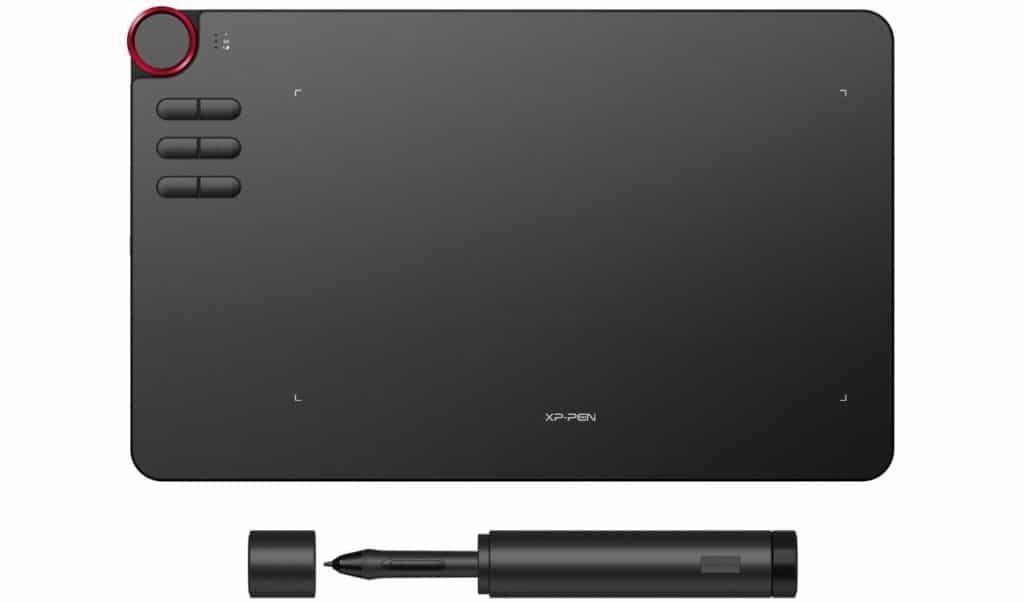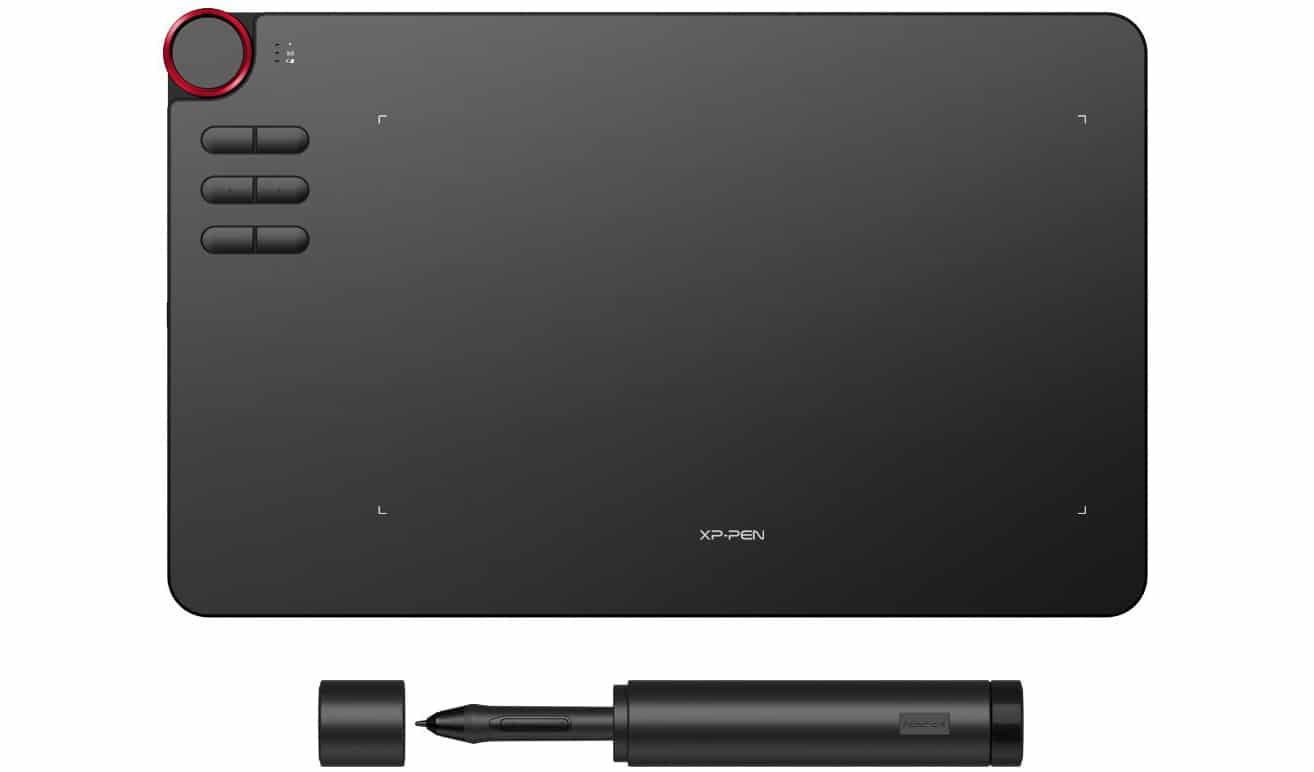 Xp Pen Deco 03 is one of the top picks for the best budget tablets in the market right now. It is a complete package in itself and does not compromise with quality or features in any form or shape.
Design and Build quality
The Deco 03 follows a very modern and minimalist design. The drawing surface is present at the right-hand side whereas the buttons and controls are located at the top left corner. Which is an ideal location for button placement.
It has an overall thickness of 8mm which is even thinner than an iPhone. The device is very lightweight and can easily fit in a backpack.
Features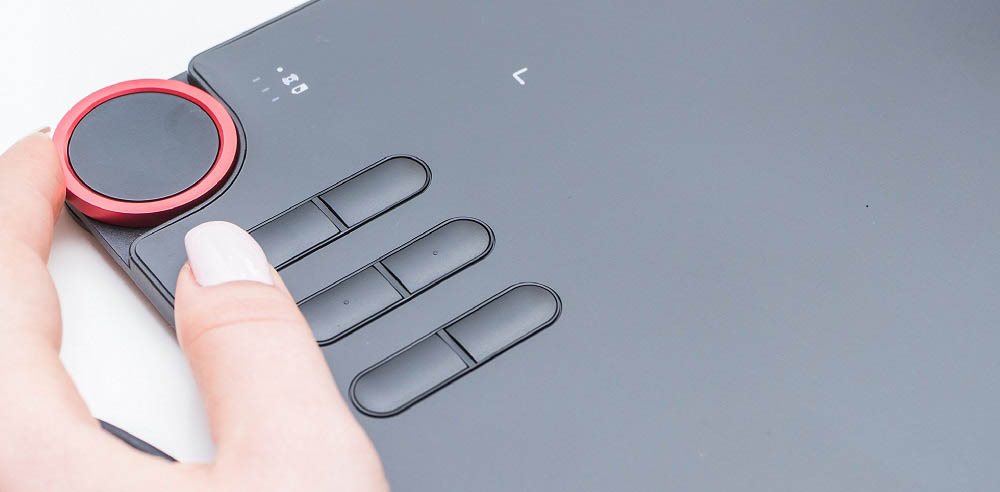 The Deco 03 is a very capable device with some of the features which otherwise could only be seen in premium devices. One such feature is the rolling dial which comes very handy and can be used to quickly rotate, zoom, scroll and change brush sizes.
It has an active drawing area of 10 x 5.62 inches, which is huge in comparison to the other devices in the price range. The massive area along with 6 shortcut buttons and dial makes it an ideal device to work on.
Deco 03 comes with a passive (battery-free) stylus with 8192 levels of pressure sensitivity. It comes with a cylindrical pen holder which keeps the pen safe. Its front cap works as a pen stand whereas the rear cap opens up to reveal extra pentips.
Connectivity
The tablet communicates with your computer with the help of the driver (free software). The driver allows you to change the pressure sensitivity of your pen as well as change the default shortcut of the buttons.
You can connect Xp-Pen Deco 03 to your computer with the help of USB cable or the wirelessly with the help of a wireless adapter which comes in the box.
Its battery can easily last for multiple days in wireless mode – even after heavy uses. For charging the battery you can plug it to USB cable. The included USB cable for wired connection charges the battery automatically when used in wired mode.
Click here to read – Xp Pen Deco 03 full review
PROs
Best tablet under 100
Largest drawing surface
excellent pen
Rotating Dial
Wireless
Comes with a lot of accessories
CONs
Does not comes with a carrying case
Average surface texture
2. Wacom Intuos – Most Relaible – Runner Up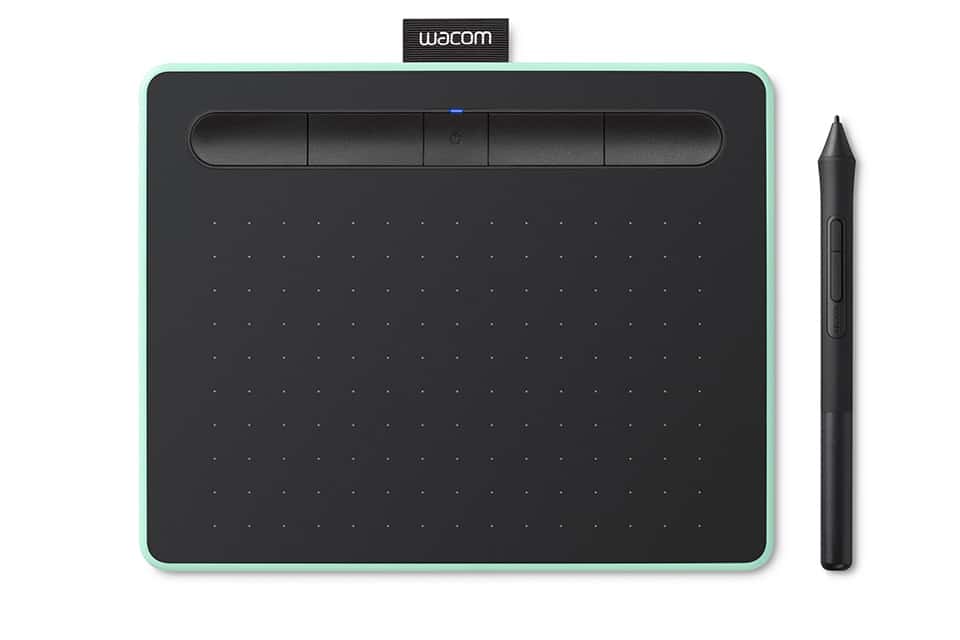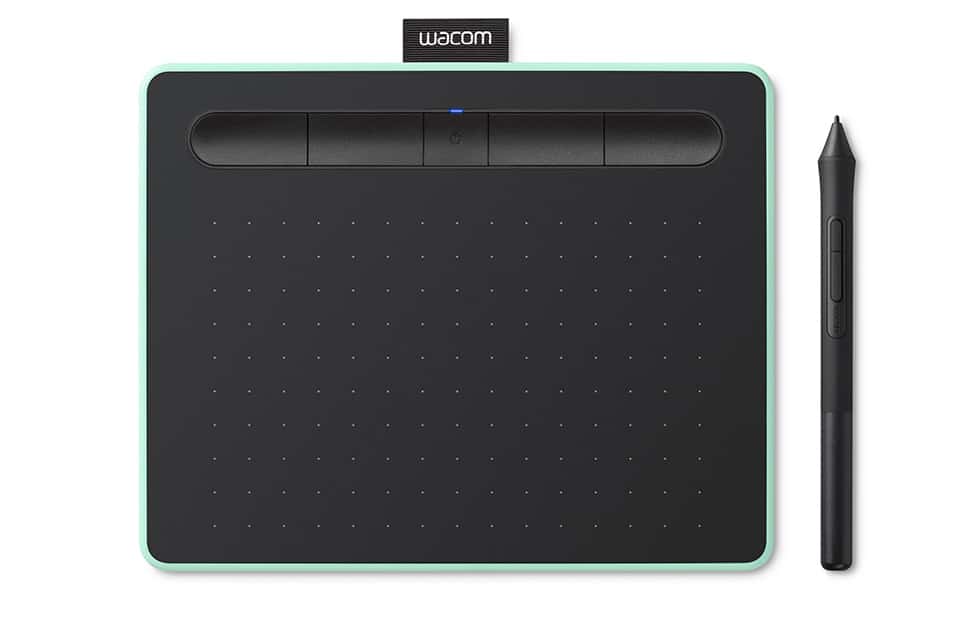 Wacom is the most popular brand when it comes to drawing tablet for all the right reasons. They have a very rich history and their devices are used in all the top-level studios and production houses. Wacom Intuos is one of their affordable devices made for beginners.
One of the best things about Wacom is, they keep on updating their devices on a regular basis. Wacom Intuos was first introduced in 2015, since then they have got multiple updates over the years. The current model of Wacom Intuos is a recent update and comes with better design and features.
Design and Build quality
Wacom Intuos has a very clean layout, the drawing surface lies at the bottom with power and shortcut buttons at the top. The white dots on the surface which demonstrates the active surface area looks very cool.
In terms of build quality, Wacom tablets are well-constructed devices made using high-quality materials. Wacom tablet is specifically appreciated for their drawing surface as it has got one of the best drawing texture which feels and sounds good while drawing.
One interesting Design they implemented is their buttons at-the-top are curved inwards. Which can be used to hold the pen while not in use, which saves them from rolling off the desk.
Features

Wacom Intuos comes in two sizes – small and medium. The smaller device has an active area of 6 x 3.7 inches and the medium has 8.5 x 5.3 inches of working area.  It has 4 shortcut buttons but they placed at the top.
It comes with the Wacom new batteryless pen which has 4096 levels of pressure sensitivity. The pen is one of the most accurate pens out there and offers precise and lag-free drawing experience. It has two customizable buttons at the sides. The rear end of the pen opens up to reveal three extra pentips.

With Wacom Intuos, you get free software packages which include – Corel Painter Essentials 6 (drawing/painting) or/and Corel AfterShot 3 (photo-editing) or/and Clip Studio Paint Pro 2-yr license (comic/manga).
Connectivity
The tablet comes with a free to download software which allows you to change pen pressure. It also allows you to customize the buttons on the pen and the tablet to any shortcut of your choice.
Wacom Intuos connects to your computer through the USB cable. It can also connect wirelessly using low power Bluetooth connection. One advantage of using Bluetooth is that you do not have to use any wireless adaptors, which are very easy to lose.
Overall it is a graeat device for beginner and gives you a little taste of premium Wacom devices.
PROs
Premium built quality
Pen with pin point accuracy
Wired/ wireless connection via Bluetooth
Long lasting battery
Perfect drawing texture which does not wears off
Free drawing software
Comes in multiple sizes and colors
CONs
Little expensive than others
Does not come with dedicated pen holder/stand
3. Huion HS 610 – Budget tablet with Android support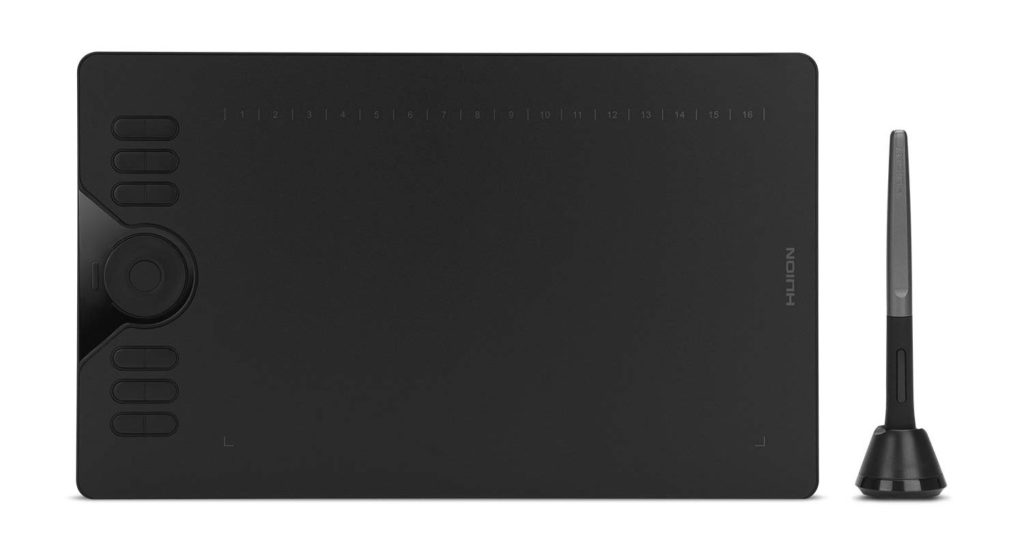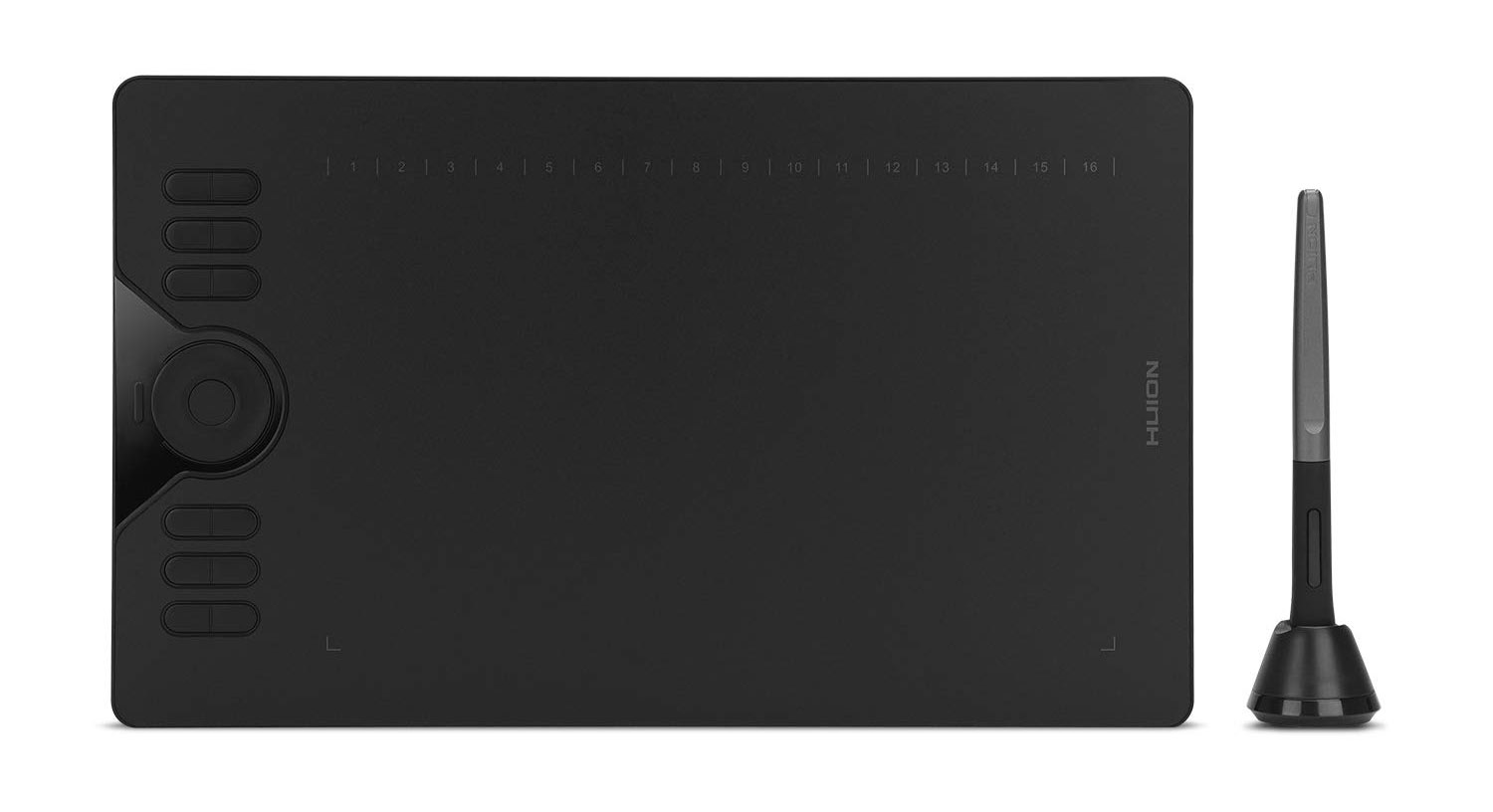 When everyone thought that Xp Pen nailed their budget lineup, Huion came out of nowhere with their HS 610 graphics tablet. The tablet comes with a very unique and cool set of features some of which have never been seen before on a pen tablet.
The three main highlights of the tablet are the touch ring, tilt sensitivity, and support for Android devices. Other than that it has all the other bells and whistles which you would expect from a tablet in this range.
Design and Build quality
The tablet is lightweight and can easily fit in a backpack. There are a total of 12 physical buttons on the sides along with a touch ring with a mode switcher button in the center. In addition to that – there are 16 pen-enabled shortcut buttons on the top edge of the drawing area.
All the buttons and ring can are customizable and be changed to any other shortcut fo your choice with the help of the driver.
Stylus – Pen with Tilt


Huion HS 610 comes with a very capable stylus. It has a pressure sensitivity of 8192 levels and supports tilt up to ±60°. In terms of pen performance, the stylus draws a very consistent stroke with well-balanced pressure curve with no sign of inaccurate pressure bumps and wavy lines.
The tilt sensitivity is one of those rare features in the budget tablet which you won't find in all the tablets. It works decent enough and useful for spray paint type art styles.
There are two physical buttons on the pen which is customizable through the driver. The package also includes a handy pen stand and few extra pen nibs.
Tablet features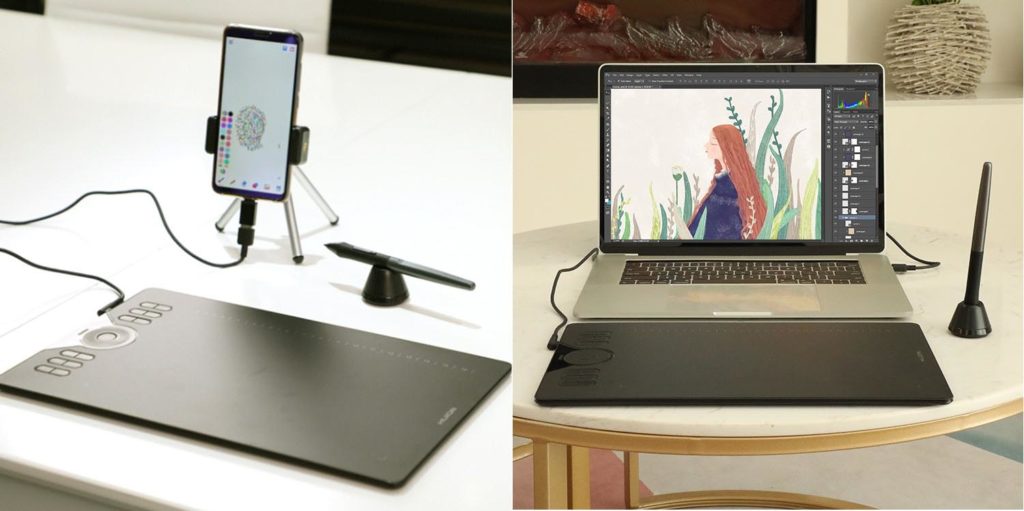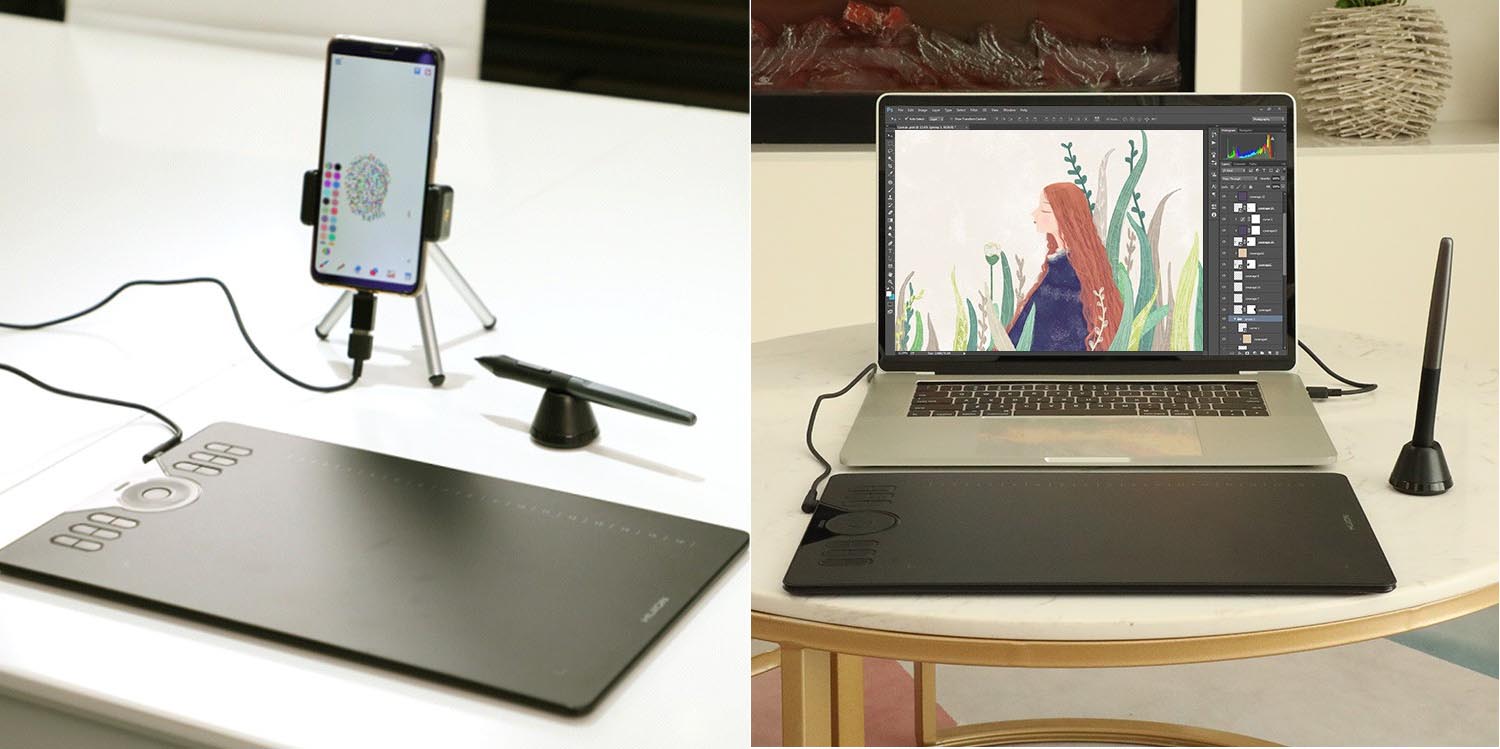 One of the very unique features of the tablet is – it could be used with a computer as well as an Android phone. The working area for the tablet mode is 254 x 158.8 mm, whereas for Android mode it is 158.8 x 99.2 mm.
It works with all the Android mobile and Tablets with Android 6.0 or later which have OTG support. You can simply plug in the tablet and start working on the phone without installing any driver.
Connectivity
For computers, the tablet comes with an L-shaped Micro USB cable with a decent length. In addition to that, you also need to install the driver which is available for both Windows and Mac computers. For connecting it to Android devices the tablet comes with an OTG adapter.
PROs
Cheapest tablet to come with the dial
Large drawing surface
Support for Computers and Android devices
Pen with 8192 level and ±60° tilt sensitivity
Pen stand included
CONs
No wireless connectivity
Drawing glove not included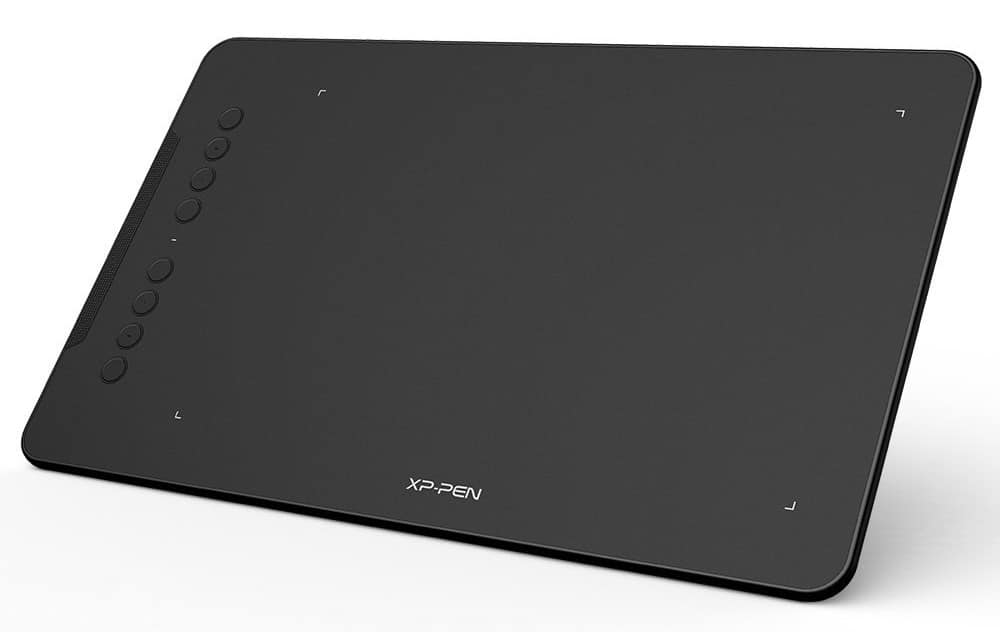 Xp Pen Deco 01 is another great option and also one of the most budget-friendly devices on the list. It has everything you need starting from a big drawing area, shortcut buttons and a very capable stylus.
Design and Build quality
From the very first look, you can easily see that this is one of the simplest and cleanest tablets out there. The black color, simple design, and a slim body make it look very modern and gives it a premium feel.
The working area is located at the right-hand side of the device whereas the eight buttons are located on the left side. It also has the largest active drawing area at its price point.
One unique feature to notice is, the four arrows at the corners glow to indicate the active working area in dark.
Features
The tablet has an active working area of 10 x 6.25 inches with a very good drawing texture. There are 8 fully customizable buttons on the left.
It comes with a passive (batteryless) pen with 8192 levels of pressure sensitivity. The pen has two buttons at the sides which can be customized with the help of the software.
It comes with a small pen stand which can hold the pen in horizontal as well as vertical position. The pen holder also contains some extra pentips. Other than that the tablet comes with a free drawing glove, which is a nice touch.
Connectivity
The devices connect to your computer through a USB cable and do not come with any wireless option. The driver is free to download and used for making quick settings and changes in the behavior of pen and the tablet.
Xp-Pen Deco 01 is one of the best devices for someone with a really tight budget. The best thing is you are not missing anything and it is totally possible to do professional level work with this.
PROs
Best value for money
Eight shortcut buttons
Large drawing surface
Pen with 8192 level pressure sensitivity
Drawing glove included
5. Wacom Bamboo CTL472 One – The Budget Wacom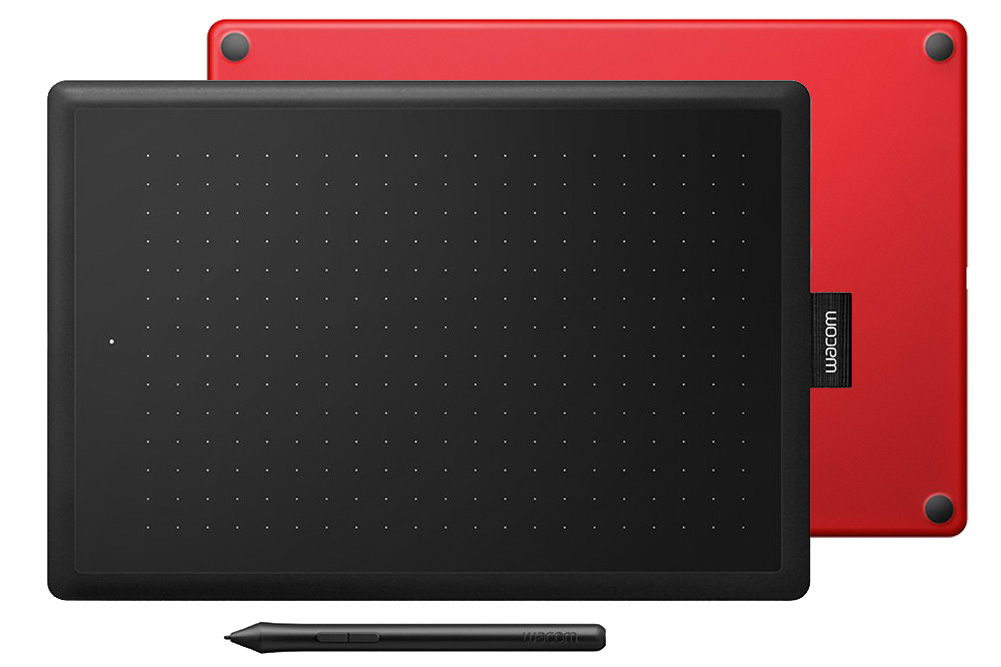 Wacom seems to be really busy these days updating all their previous models of Wacom devices. This time they have upgraded the very famous bamboo lineup. The newer bamboo model is called Wacom Bamboo One (CTL 472). It has got a very noticeable feature bump while keeping prices the same.
Design and Build quality
When it comes to design, Wacom bamboo if the simplest tablets out there. The whole top surface is covered with the drawing surface with minimum bezels, without wasting an inch of space.
It is a very functional, compact and beautiful looking devices out there. It comes in two colors black and red, the red one looks really good.
Features
The top surface of the tablet has the exact same texture which you will find in the more expensive Wacom tablets, no compromises there. The place where it compromises is the lack of any shortcut buttons, but again many people use their keyboard for the shortcut. So that may not be a big deal.
It has got the same pen which use to come with the previous Wacom Intuos models. It has got 2048 levels of pressure sensitivity. In terms of real-life uses, it is a very accurate pen and faces no tracking and jittering issues which other cheap tablets have. Even after being cheap you get the best possible quality and this tablet actually feels like a Wacom tablet.
Connectivity
The Wacom Bamboo has got its own driver which lets you change the pressure sensitivity of the pen. It also allows changing the two side buttons of the pen to any shortcut of your choice.
In terms of connecting to the computer, it uses a wired USB cable with no wireless connection, which is expected at this price range.
PROs
Cheapest wacom device
Great surface texture
Bezel-less minimilist design
Well balanced and fully functional pen
Comes in two colors
Lightweight and portable
CONs
Small drawing surface
No shortcut buttons
Box does not include pen stand

Huion is one of the major players in the drawing tablet market and has products ranging from the lowest to the highest end of the price spectrum.
If you want a drawing tablet with full of customization buttons so that you never have to touch your keyboard again, Huion 1060 plus is the device for you.
Design and Build quality
From the first look it kind of looks hybrid between Wacom and Xp-pen. It has got working area at the right and the shortcut buttons at the left and top. It also has one of those Wacom style pen holding loop at the sides.
In terms of thickness, it is slightly thicker than its Xp-Pen and Wacom counterparts but still thin enough to easily carry in the backpack.
It has got an overall working area of 10 x 6.25 Inches, which is huge with some nice texture at the top.
Features
One of the very obvious features of the device is the shortcut buttons. It has got a total of 12 physical along with 16 digital, pen-enabled shortcut keys which can feel over the top.
The stylus it comes with has 8192 levels of pressure sensitivity and has a very balanced profile. The pen performs smoothly with no signs of jitter and wobble. Its stroke is perfect along with an excellent pressure curve.
It comes with an external Sd-card slot which stores your files right into the device, which allows you to quickly switch between the computers. It can also come in handy to store the driver and settings to use with the new computer.
Connectivity
The Huion 1060 Plus driver lets you customize every single one of the 12 + 16 buttons with ease. The tablet connects to the pc through USB cable with no wireless connection.
The device also comes with a lot of accessories like drawing glove, pen holder, extra pentips and carrying case.
It also comes with a slightly more expensive model called Huion 1060P which has a slightly better pen.
PROs
Big drawing area
Multiple shortcut buttons
Easy to use software
Decent pen performance
Well put together and strong built
CONs
No dial/ roller
Average surface texture
Not as slim as other devices

The Inspiroy H640P is another great tablet by Huion and a cheaper alternative to 1060 Plus. It is a well rounded tablet and has many amazing features.
Design and Build quality
Design-wise it looks super sleek and modern and the pen has a substantial feel to it. The battery-free stylus has two buttons on it and has 8192 levels of pressure sensitivity.
Features
The 6 Physical buttons have a very satisfying click to it and can be fully customized with the help of the included software.
6.3 x 3.9 inches working area is sufficient and compact making it very portable. The paper-like surface along with bezel-less design and rounded corners gives it a modern look.
It has a screen resolution of 5080 LPI (lines per inch) and the report rate of 233 RPS (reports per second). It is compatible with both iOS and Windows devices.
Box it comes in contains a Pen holder, Extra pentips, Nib remover tool, instruction booklet and micro USB cable.
Connectivity
It comes with its own driver and connects to the computer using a USB cable.
It also comes with a slightly more expensive model called Huion Inspiroy H950P which has a more shortcut buttons.
PROs
Cheapest tablet in the list
Has everything you need
8192 level pen pressure
Decent drawing area
Good build quality
Pen stand included in the box
Conclusion
All the tablets features above are equally good and capable enough to make professional artwork. The only deciding factor is your budget and the features you want. Here we have tried to further simplify it to help you make the right decision.
The Xp-Pen deco 03 is the ultimate drawing tablet for beginners and you really can't go wrong with this. You get a massive drawing surface and the rotating wheel which helps to quickly change the brush size, rotation, opacity, zoom, and many other shortcuts and very useful in practical uses.
If you want a long lasting device with great customer service experience than Wacom Intuos is the tablet for you. It has one of the most updated advanced software.  You also get superior built quality and better pen performance.
A unique tablet with tilt sensitivity and touch ring which supports both Computers and Android devices. All while spending the least amount of money, Huion HS 610 is the right tab for you.
If you are low on budget but still want absolute best out there, Xp-Pen deco 01 is the answer.
Wacom updated their previous Bamboo devices and made it look cooler and work better. If you want to experience quality at the absolute cheapest of price Wacom Bamboo is what you should get. Plus you have the trust and experience of Wacom with you.
If you want a fully feature-loaded tablet with large drawing surface and a ton of shortcut keys than Huion 1060 plus should be the device of choice for you.
The Huion Inspiroy H640P is the most stylish looking pad and has all the features you can ask for a basic drawing tablet. Its battery-free pen has 8192 levels of pressure which is quite surprising to find in this price range.
Suggested topic:
Best drawing tablet for beginners – click here
Drawing tablets under $50 – here