Disclosure: As an Amazon Associate EssentialPicks earn from qualifying purchases.
---
When you are camping in the wild or hiking to increasing your endurance, your electronic devices are the first ones to give up.
Having a power bank that can keep your devices running for days is not only convenient but also prove to be a lifesaver in critical situations. These power banks are absolutely necessary for long camping, hiking or backpacking trips.
They are very compact and do not take a lot of space in your backpack. Which means you can carry them anywhere and everywhere you go.
These small power beasts can not only charge your smartphones but also keep your equipment such as GPS, cameras, drones, fitness trackers, Bluetooth speakers, night vision devices and even CPAP machines running.
There are a lot of cheap power banks floating in the market which will give you more frustration than helping you charge your device and should be avoided at all costs.
To help you find the perfect portable chargers we have handpicked some of the most deserving candidates for being the best power banks for camping, hiking, and backpacking. They last longer – have all the necessary ports to allow you to charge multiple devices at once.
Top recommendations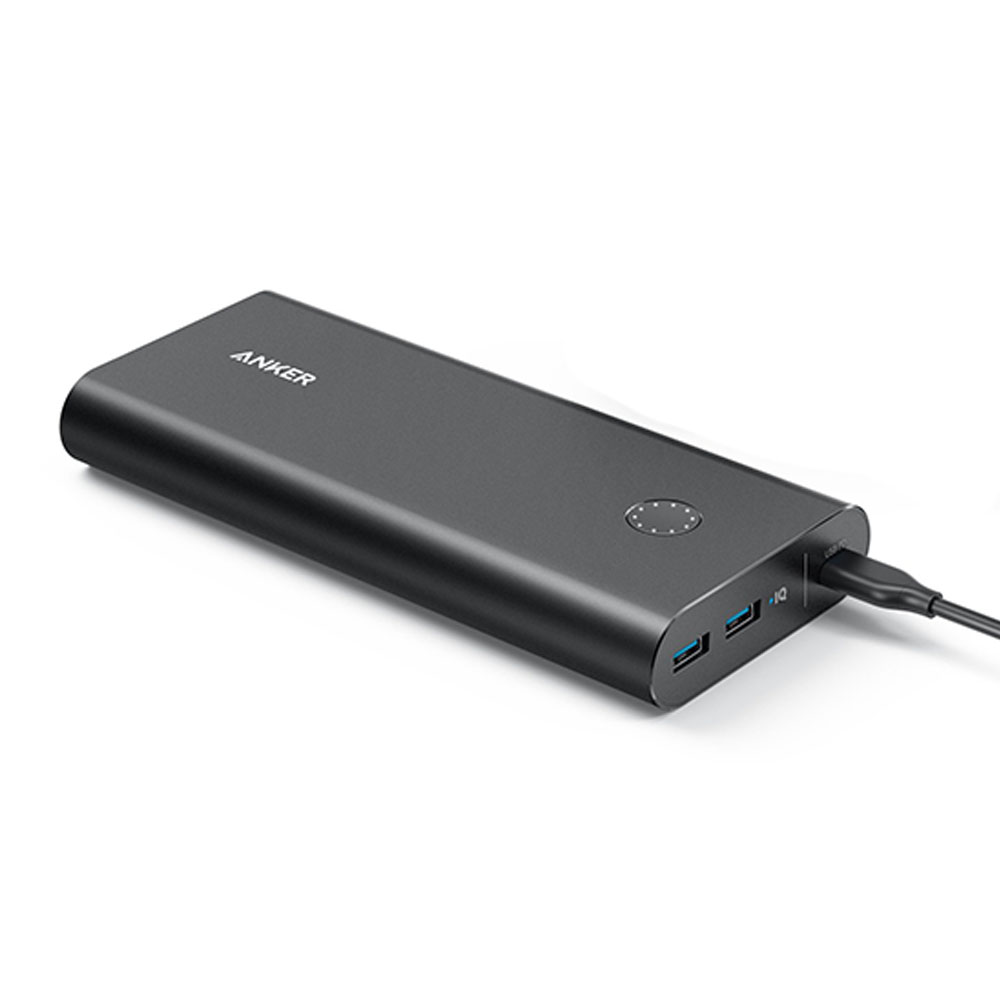 Anker Powercore +
26,800 mAh
30W output
1 USB-C, 2 USB Port
Aluminum body
Portable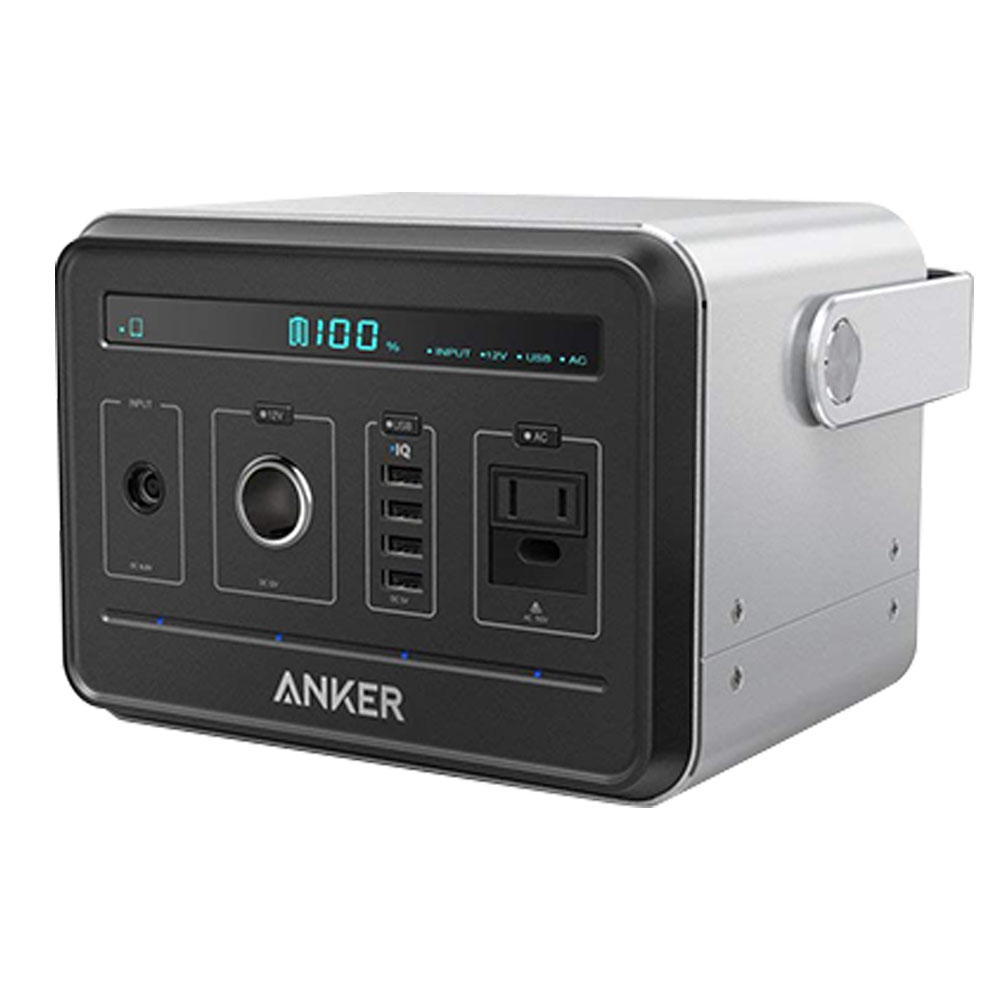 Anker Powerhouse
120,000 mAh
200 x 145 x 165 mm
AC, DC and USB output
Compact and versatile
Powerhouse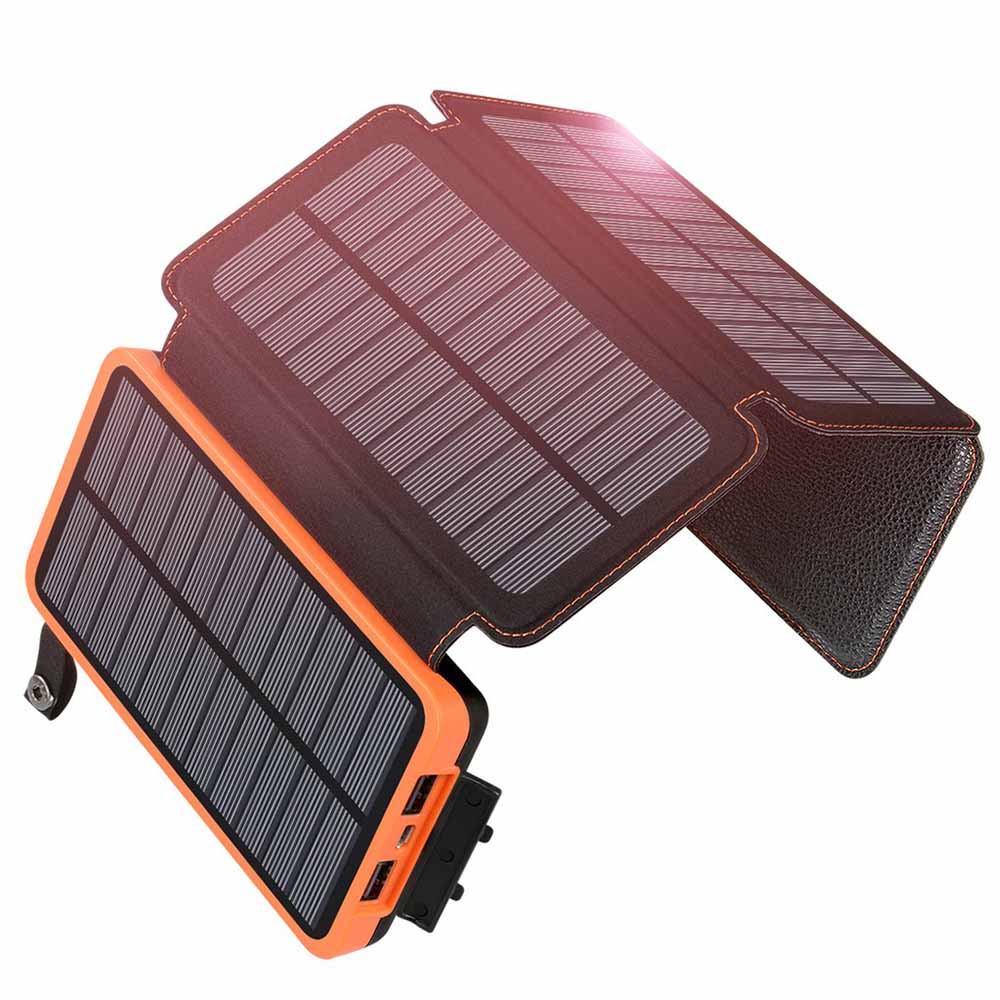 Hiluckey Solar
25,000 mAh
Inbuilt solar charger
2 USB ports
Flashlight with SOS
Solar recharge
Best power banks for camping, hiking, and Backpacking
Power banks come in different sizes, capacities and features. Some are portable other are heavy-duty high capacity chargers, others have features like waterproofing and solar charging.
We have included all these power banks on our list to make sure you get a wide range of options to choose from.
1. Anker Powercore(+): Portable, fast, All in one charger for every situation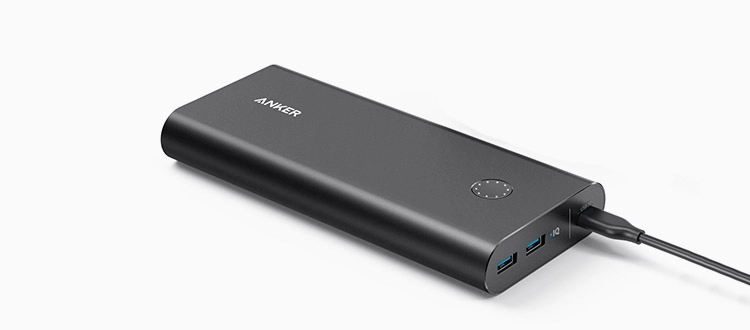 Key features:
26800 mAh
1 USB-C (30W) and 2 USB ports (5V/3A)
Fast recharging time – 4.5 hours
Weight: 580 grams (1.28 pound)
Aluminum body
If you ever wanted a compact power bank with a massive battery capacity the Anker Powercore+ (Amazon) is the perfect choice for you. It is one of the most popular chargers on the market and comes with a massive 26800 mAh battery.
It allows you to charge your devices multiple times in a row. Which means your smartphones can last for weeks. The Anker Powercore has a total of three(2 USB + 1 USB-C) charging ports. They allow you to charge three devices simultaneously.
These power banks come with fast charge technology which accelerates the charging speeds and can recharge your devices twice the speed of normal chargers.
Recharging the power bank itself is another challenge. For a 26800 mAh battery, generic chargers can take anywhere between 12 to 14 hours to fully charge them.
The Anker PowerCore uses a super-fast recharge that charges the battery pack within 4.5 hours.
Overall, it is a great choice. You get everything from power to performance as well as quick recharge times all in a very compact form factor. Making it one of the best portable chargers on the market right now.
PROs – What we liked
Small and portable
Massive battery capacity (26800 mAh)
fast charging and recharging
3 Charging ports
Battery indicator lights
CONs – What needs improvement
Only comes with USB ports
Dense and heavy (495 grams)
2. Ravpower power bank: Cheaper battery pack with larger capacity
Key features:
Portable
32000 mAh
Budget
The Ravpower power bank is another great option for a portable charger. Although you do not get the fast charging speeds, instead you get a 32,000 mAh battery capacity and few extra bucks saved in your pocket.
It has three USB charging outlets which can charge three devices at once. It takes around 14 hours to get fully charged. You can get faster recharging time by using a fast charger.
The power bank uses a high-density Li-polymer cell which allows it to be smaller in size in spite of the large battery capacity. For safety, it comes with overcharge protection along with short circuit protection.
Ravpower 32000 has a single power button and four battery indicator lights. Overall it can be a great choice as it allows you to use your phone for weeks.
PROs – What we liked
32,000 mAh battery
3 USB outlets
Overcharge protection
11 days of use
CONs – What needs improvement
No fast charging
Long recharge time
3. Anker powerhouse: Compact power station for Camping and RVs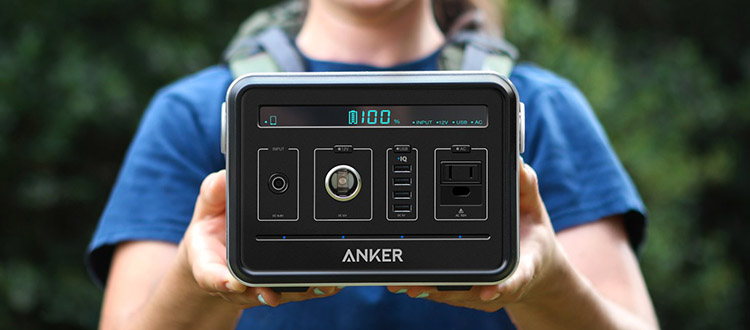 Key features:
120,000 mAh Battery capacity
Compact, strong and versatile
Intelligent power management
AC, DC, USB output
Weight: 4.2 kg (9..2 lbs)
Dimension: 200 x 145 x 165mm
If you are an outdoor enthusiast and like to go on long camping sessions the Anker Powerhouse is the must-have battery pack for you. It is jam-packed with features, starting with the mega 120,000 mAh battery with a 400Wh power supply which is extraordinarily good considering the size.
In terms of plugging options, you have AC as well as DC power supply. You get a single 12 volt DC socket along with four USB connectors. You also get a 110V – AC outlet with support for voltage converters.
Now the battery pack is 4.2 kg (9.25 lbs) in weight, but it comes with a handle that makes it convenient to carry. It also has a high-quality metallic body that protects the internals from outside forces.
As the name suggests – the Anker PowerHouse is a mini power station in itself. It can support all your electronic equipment along with camping appliances like mini fridges, signal receivers, CPAP machines, table lamps, smartphones, tablets, kindles, laptops – anything.
PROs – What we liked
120,000 mAh 400Wh
AC, DC, USB output
LCD display
10 hours recharge time
Metal build with handle
CONs – What needs improvement
Expensive
Low resolution/basic LCD display
Does not have a standard solar connector for charging
4. Jackery PowerStation explorer 240: Portable camping charger
Key features:
240 Wh power supply
Compact and easy to carry
Weight: 3kg (6.6lbs)
AC, DC power supply
The Jackery PowerStation is another big boy with some very promising features. It cost significantly lower than the Anker Powerhouse and can be a great budget alternative.
It is compact in size, fairly lightweight and has a carry handle which makes it easy to carry. The portable charger comes with a 120Wh capacity lithium batteries.
Talking about plugging options you have two USB ports, AC outlet and 12V car output. It can be recharged in multiple ways like – AC wall outlet, 12V car outlet or via an optional 60w solar panel (Amazon).
Jackery Powerstation can be a perfect companion for the car or RV trips or long camping sessions. It is compact, can be recharged through solar panel and has got every feature you will ever need in a battery pack.
PROs – What we liked
240Wh power supply
AC, DC, USB output
Digital display
Lightweight and compact
CONs – What needs improvement
Can only run single AC appliance at a time
Plastic built
5. Omni 20+: Universal AC DC power bank with wireless charging
Key features:
20,000 mAh battery
AC and DC output
Wireless charging
Portable
Most of the small-sized portable power banks are made to specifically charge smartphones and only come with USB ports. But what if you have to use AC-powered appliances and do not want to get a bulky charger.
Omnicharge 20+ is one of the very few portable chargers, which can charge almost all your appliances. It has both AC and DC outputs which are perfect for charging your laptops, drones, and cameras.
It has a single AC wall socket along with 2 fast-charging USB-A ports, 1 USB-C port, and a DC port. In addition to all these features, you also have a wireless charging option which is quite rare to see in portable chargers.
All these advance features come with a good price tag to match. But at the end of the day Omnicharge 20+ is worth your money.
PROs – What we liked
Fast charging support
Wireless charging
Multiple plugging options
Compact size
Versatile
CONs – What needs improvement
Only 20,000 mAh Battery
Confusing menu setup
6. Chargetech: External Battery Pack for Hiking and Backpacking
Key features:
27,000 mAh battery
110 V, 85 W output
Weight: 1.56 lbs (0.7 kg)
Dimension: 7.5 x 5.2 x 1
The Chargetech is another great option if you deal with multiple devices with specific charging requirements. It is a charge station with both AC and DC charging options that support a wide range of electronic equipment.
You can charge almost anything – from a simple smartphone to drones, cameras, laptops, GPS, receivers and much more. It is slightly larger than most compact chargers but still manages to fit in a backpack without occupying a lot of space.
The Chargetech power bank has a battery capacity of 27000mAh at 85W / 110V. You can also take it to remote places as it is TSA approved for Airline Travel.
In terms of ports, it comes with a single AC output and 2 USB ports. Overall it is a compact, versatile and travel-friendly power bank and a one-stop charging solution for all your equipment.
PROs – What we liked
Massive battery
Multiple charging options
AC/DC output
Lightweight and compact
TSA approved for Airline travel
CONs – What needs improvement
Do not have fast charging
No wireless charger
7. FosPower PowerActive: Waterproof power bank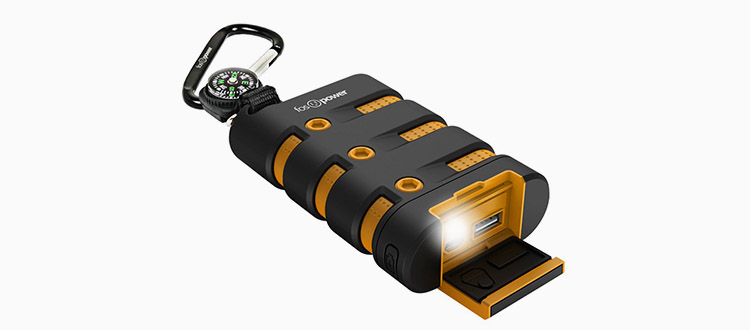 Key features:
IP67 Waterproof and Dustproof
10,200 mAh battery
2.1 A Output
Flashlight
The Fospower Poweractive is a rugged power bank with IP 67 certification. It is waterproof as well as dustproof which means it can easily handle heavy rain and small puddles.
The power bank has a battery storage capacity of 10,200 mAh which is sufficient for 2 or 3 charging cycles for your mobile phone. It comes with a small lash for easier carriage along with a simple compass.
For connection, a small sealed door opens up to reveal a USB-A port along with a small flashlight. It also features a battery indicator light. The Fospower Poweractive is the right power bank for extreme camping and emergency situations.
It is also one of the least expensive power bank in the list with sufficient battery storage.
PROs – What we liked
Fairly small and compact
Leash for easy carrying
Rugged design
Water and Dust protection
CONs – What needs improvement
Only available in one size
Average battery capacity
8. Hiluckey: Solar power bank for camping, hiking and Outdoors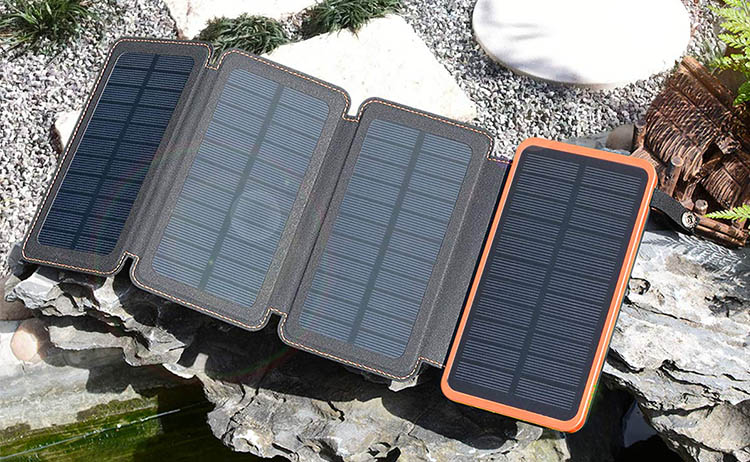 Key features:
25,000 mAh battery
Solar charger
Dual USB output
LED flashlight with SOS mode
Weight: 1.1 lbs (498 grams)
The Hiluckey Power Bank is the perfect outdoor power bank. It has multiple features that are specifically geared towards outdoor enthusiasts and making their stay easier in the wild.
Starting with the obvious – the power bank comes with a massive 25,000 mAh battery capacity. Which can easily keep your devices running for multiple days.
But what if you have used up all the power before your trip ends. The Hiluckey power bank comes with four highly efficient solar panels which give around 1A current under the direct sunlight.
The solar panels can be folded back and does not really affect the portability of the charger. Other than solar, it comes with a bright LED light with SOS mode for emergencies.
The Hiluckey power bank is also dust and water-resistant to make sure the power bank does not give up on you when you need it the most. Although there is no IP rating.
It is one of the best power banks in terms of a price – considering the battery capacity, solar capabilities and other features.
PROs – What we liked
25,000 mAh battery storage
Compact and portable
Waterproof and dustproof
Led Flashlight – Steady – SOS – Strobe modes
Solar panels
CONs – What needs improvement
Cannot attach bigger solar panels
No USB-C port
9. Hidver: Solar power bank on a budget
Key features:
25000 mAh battery
Compact and handy
Comes with a compass
If you are looking for a portable power bank with a lot of capacity, which can charge your devices using solar panels and do not want to spend a lot of cash at the same time. The Hidver power bank is the right choice for you.
It comes with a 20,000 mAh battery which can charge your phone multiple times. You also get a solar charger that comes handy in off-grid locations.
The power bank is waterproof and dustproof and can easily handle heavy rain and splashes. The charger uses a high-density lithium polymer battery which in spite of being 25,000 mAh is very compact and portable.
PROs – What we liked
20,000 mAh battery
Compact and portable
Waterproof and dustproof
Led Flashlight and compass
Solar panels
CONs – What needs improvement
Small solar panel
No fast charging
How to charge your power bank on off-grid camping locations
Power banks have a certain amount of battery storage and how long they last depend on how often you use them. But what if their batter is already used up or you forget to charge them before your trip.
Being able to charge your power bank during your camping sessions can further boost their performance. It will give you peace of mind to use your devices freely without worrying about battery conservation.
Power banks with a solar charger are a great option as you can charge them during the day and use it at night time. Alternatively, you have a simple power bank and get external portable solar panels.
This camping and outdoors-centered solar panels are very handy and can generate anywhere from 50W to 200 W of electricity depending on their size.
For portability, these power banks can be folded into a small size making them portable and easy to carry. If you have a small power bank with around 30,000 mAh battery, a small solar panel (Amazon) will be sufficient.
If you have to recharge heavy-duty power stations like Anker Powerhouse or Jackery PowerStation, you will need bigger solar chargers (Amazon) with higher power generation capabilities.
Accessories – travel case for power banks
If you are carrying a medium size to a small portable charger, the power bank itself is small but there are a lot of cables which you have to carry. They easily get tangled and have to be separated like a puzzle that can be frustrating and time taking.
If you want to make your life easier you can get a traveling case (Amazon) for your power banks. They come with small compartments for easy management of wires and cables and keep everything organized in one place.
Buyer's Guide – Choosing the right power bank for camping
Selecting the right power banks depends on various factors. We have made a small guide to help you pick the right power bank for yourself.
Battery capacity
Power banks come in various battery capacities. Larger the battery capacity, bigger and heavier the power bank gets. For a single day trekking and hiking, you just need around 10,000 mAh power bank.
Similarily for multiple days camping sessions, you should be looking for power banks with more than 20,000 mAh battery capacity.
Ports – Type of device to charge
What type of devices you frequently take on your camping trips. If you only go with your smartphone, tablets or kindle e-book reader then power banks with USB output will be sufficient.
But if you also like to bring your laptop, drones, GPS and other similar devices then you should look for chargers with Support for AC as well as DC power supply, like Omni 20+.
When you are on the heavier side of the uses and like to throw in some additional appliances like a mini cooler or CPAP machines, you should get the Anker Powerhouse.
Power output – Fast charger or slow charger
Portable chargers basically come in two types. One who charges your devices at normal speeds and the other one which charges your phone at faster speeds.
Some of the fast chargers can charge your phone at twice the speed of the normal charges. When talking about power banks, fast-changing power banks costs more than the normal charges or have less battery capacity than the normal speed chargers if they have similar prices.
Type of camping
For a backpacking trip, you should look for a compact and portable power bank, preferably one with solar panels. If you are boondocking or camping on RVs, you can look for bulkier mini power stations with more battery capacity.
Frequency of camping
The type of camping equipment depends on how often you go on camping. If you camp once or twice a year, you will be fine with generic power banks. But if you go on exploration and camping multiple times in a year, it is wise to invest in a powerful and reliable power station like the Anker Powerhouse or the Jackery PowerStation.
Location
Location plays a big role when deciding the right power bank. If you are camping on an organized campsite or other easily accessible areas you can take bulkier and powerful chargers.
Small and portable chargers are more suited for difficult to reach areas like mountain tops. They are lighter and can easily fit in your backpack. A solar power bank can be a great choice for these locations.
Number of users
Smaller power banks won't last long when multiple people are using it to charge their devices. A 25,000 mAh power bank can easily serve two people but if you are on a family camping trip consider getting a power bank with higher capacity or simply buy multiple units of portable power banks.
Size
Power banks generally come in two sizes.
Compact and Portable
Heavy-duty power station
Weight
Portable chargers may be small and compact in size but they are very densely packed and can easily weight around 500g (1 pound).
Features
Extra features like LEd light, compass, carrying case, and solar panels add to the usefulness of the power banks. An inbuilt flashlight is one of the most common features in power banks, they really useful and helps to navigate in dark and often used as camp light.
Benefits of portable power bank
Gives you peace of mind – and freedom to use your devices
Easy to carry
Inexpensive
Universal – Can charge different types of devices
Reliable
No maintenance needed
Can be recharged with sunlight
FAQs – Frequently asked questions
What devices can be charged on Power banks?
A generic power bank with a USB outlet can charge all your Android and IOS smartphones and tablets along with e-book readers or anything which has a micro USB or a USB-C charging port.
Laptops, cameras, drones, GPS, and CPAP machines can be charged by power banks with AC as well as DC power output. They usually come with multiple connectivity options.
What phones are compatible?
Virtually all the phones which use a micro USB, USB-C or a thunderbolt connector can be charged through power banks. This means no matter whether you have an iPhone or an Android phone, you are good to go.
How long does the full charge last?
Nowadays smartphones and tablets come with battery capacity anywhere between 3000 to 4000 mAh. Which means that an entry-level 10,000 mAh portable charger can recharge them twice or thrice.
If you go with higher-capacity power banks with around 25,000 mAh battery. You can easily charge your mobile phones 7 to 8 times.
Considering a fully charged phone lasts one day or normal uses. It is safe to say, these power banks can keep your devices running for a week.
How long does it take to fully charge a power bank?
The time it takes for charging your power bank depends on its battery capacity. The bigger battery, the more time it will take to get fully charged.
If we take an example of generic chargers with 25,000 mAh battery. If it uses a standard charger it takes around 12 to 14 hours to get it fully charged, which is really long.
Nowadays many power banks come with a quick charge technology that can charge them within 4 to 6 hours.
Final thoughts/ Summary
A power bank can have a very positive impact on our camping experience. It allows you to freely use your devices and always stay connected without worrying about low battery. You can take more pictures, record hundreds of videos, and collect more memories. It can also be a very useful tool for emergency situations.
It is one of those items which every camper, hiker, and outdoor enthusiast should have in their essential kit.
Related topics: