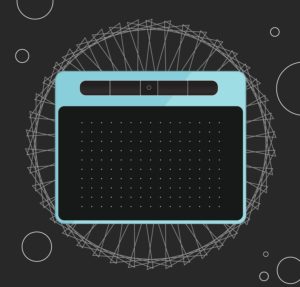 You are ready to get your first drawing tablet. But with hundreds of choices in the market, it becomes difficult to find the right one. This article will help you to find the best drawing tablets at the cheapest possible price.
We have compared the best and most talked about pentabs in the market.
These seven handpicked pen tablets will give you the best drawing experience at very pocket-friendly prices.
Tablets are getting cheaper and better, here is what one of the famous artist Borodante said in one of his videos…
 I'm so envy of the beginner artists right now. When I was a beginner artist these kinds of tablets, they were really expensive and they looked nothing like this. 
Best Drawing Tablet under $100 – Comparison
 
Wacom Intuos
Xp-Pen Deco 01
Xp-Pen Deco 02
Xp-Pen Deco 03
Huion 1060 plus
Active Drawing Area
6.0 x 3.7 inches
10 x 6.25 inches
10 x 5.63 inches
10 x 5.62 inches
10 x 6.25 Inches
Pen Pressure
4096
8192
8192
8192
8192
Shortcut Buttons
Four
Eight
Six
Six
Twelve
circular Dial/Roller
No
No
Yes
Yes
No
Wireless
Yes
No
No
Yes
No
price
$$$
Check
Now
$
Check
Now
$$
Check
Now
$$$
Check
Now
$$
Check
Now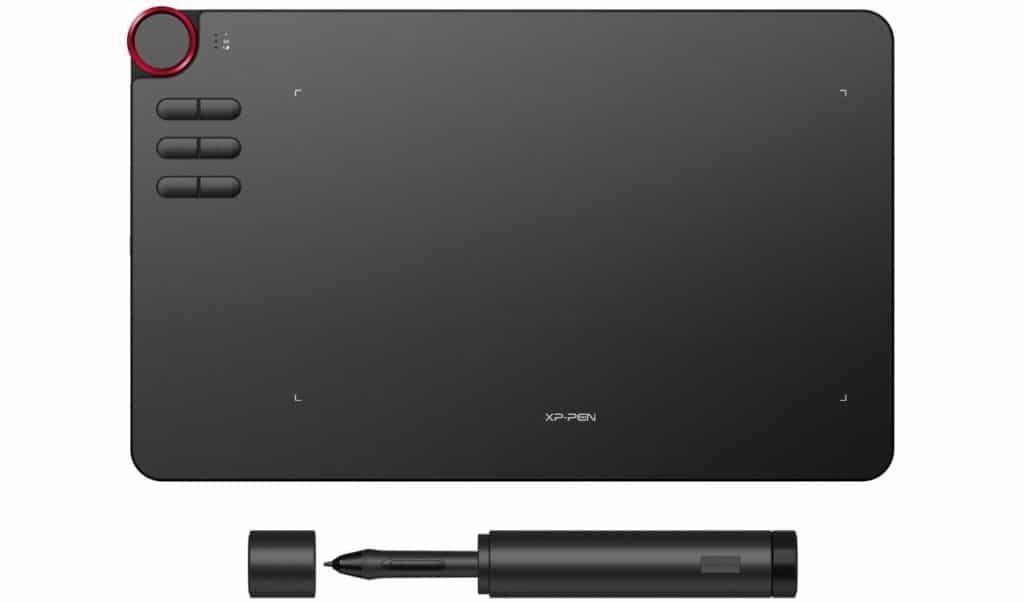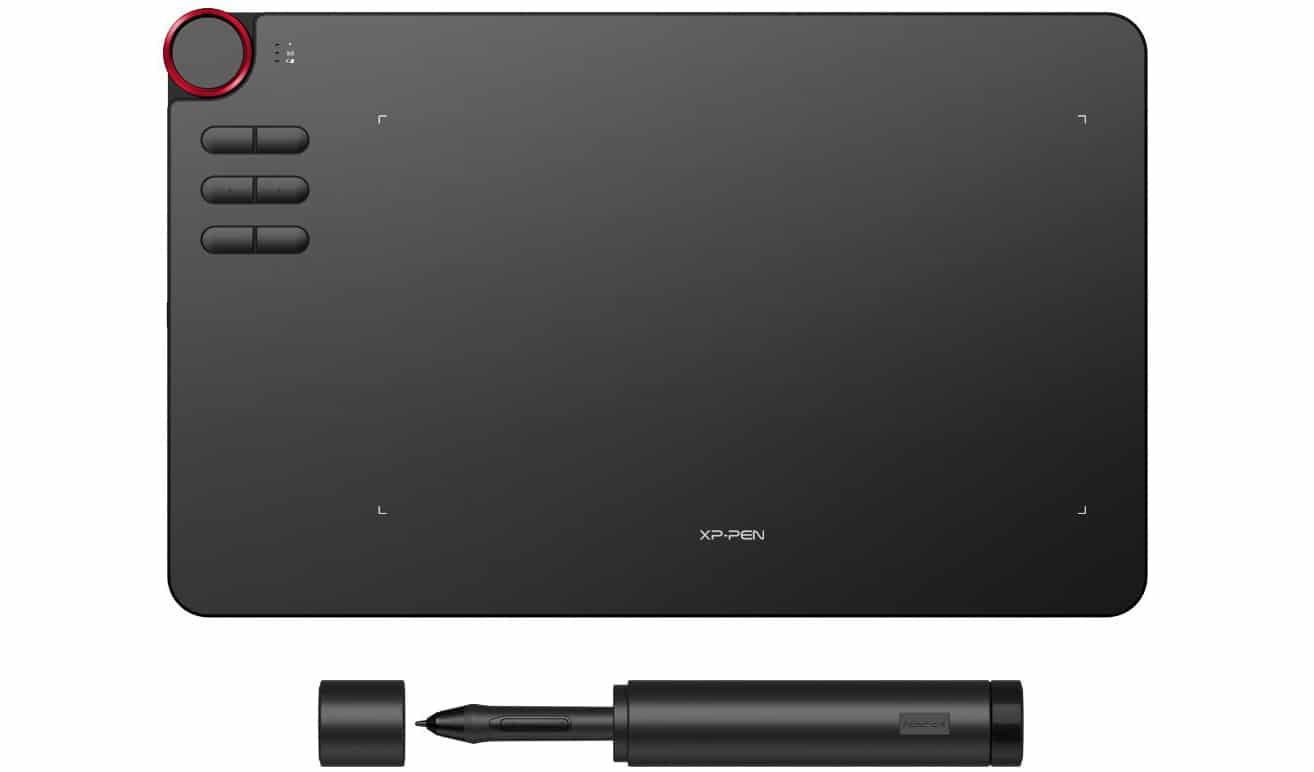 Xp-pen is easily the first name which comes into mind when talking about budget drawing tablet. It was introduced by Xp-Pen a few months ago with the aim of giving out the most amount of features while maintaining the least possible price.
Design and Build quality
The Deco 03 follows a very modern and minimalist design language. The drawing surface resides at the right-hand side. The buttons and controls are located at the top left corner which is an ideal location as it is the natural position for our hand to rest.
It has an overall thickness of 8mm which is even thinner than an iPhone. The device is very lightweight and can be carried around in a backpack.
Features
The Deco 03 is a very capable device with some of the features which otherwise could only be seen in premium devices. One such feature is the rolling dial which comes very handy and can be used to quickly rotate, zoom, scroll and change brush sizes.
It has an active drawing area of 10 x 5.62 inches, which is huge in comparison to the other devices in the price range. The massive area along with 6 shortcut buttons and dial makes it an ideal device to work on.
Deco 03 comes with a passive (battery-free) stylus with 8192 levels of pressure sensitivity. The device comes with a cylindrical pen holder which keeps the pen safe. Its front cap works as a pen holder whereas the rear cap opens up to reveal extra pentips.
Connectivity
The tablet communicates with your computer with the help of a free driver (software). With the help of the driver, you can change the pressure sensitivity of the pen. It also allows you to customize your shortcut buttons.
You can connect Xp-Pen Deco 03 to your computer with the help of USB cable or the wirelessly with the help of a wireless adapter which comes in the box.
Its battery can easily last for days in wireless mode even after heavy uses. For charging the battery you can plug it to usb cable. The included USB cable for wired connection charges the battery automatically when used in wired mode.
PROs
Best tablet under 100
Largest drawing surface
excellent pen
Rotating dial
Wireless
Comes with a lot of accessories
CONs
Average built quality
Surface texture wears off gradually
Check Price on Amazon
2. Wacom Intuos – Most Relaible – Runner Up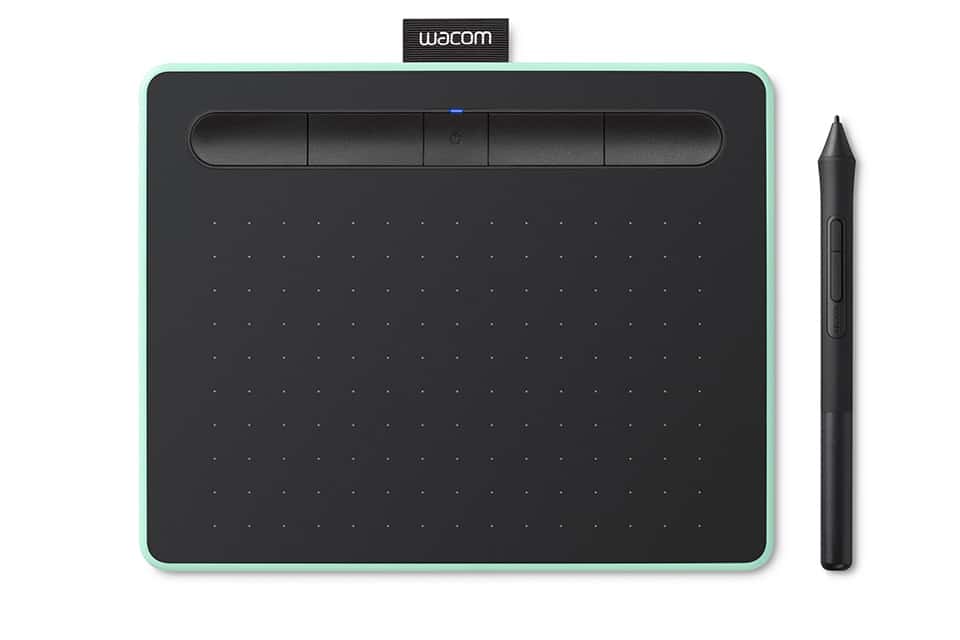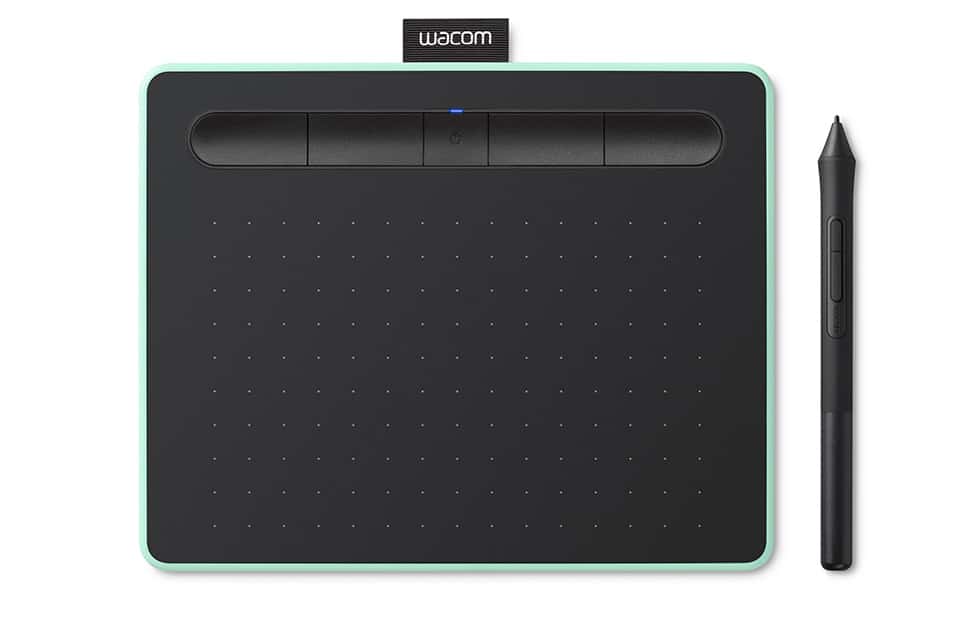 Wacom is the most popular brand when it comes to drawing tablet for all the right reasons. They have a very rich history and their devices are used in all the top-level studios and production houses. Wacom Intuos is one of their affordable devices made for beginners.
Wacom Intuos was introduced way back in 2015, since then they have got few design changes and feature updates. The current model of Wacom Intuos has been introduced a few months ago with update features, changed design, and a brand new stylus.
Design and Build quality
Wacom Intuos has a very clean layout, the drawing surface lies at the bottom with power and shortcut buttons at the top. The white dots on the surface which demonstrates the active surface area looks very cool.
In terms of build quality, Wacom tablets are well-constructed devices made using the high-quality materials. Wacom tablet is specifically appreciated for their drawing surface as it has got one of the best drawing texture which feels and sounds good while drawing.
One interesting Design they implemented is their buttons at-the-top are curved inwards. Which can be used to hold the pen while not in use, which saves space on your desk.
Features
Wacom Intuos comes in two sizes small and medium. The smaller device has an active area of 6 x 3.7 inches and the medium has 8.5 x 5.3 inches of working area.  It has 4 shortcut buttons but they placed at the top which can be uncomfortable for some people to access.
It comes with the Wacom new batteryless pen which has 4096 levels of pressure sensitivity. The pen is one of the most accurate pens out there with very precise and lag-free tracking. It has two customizable buttons at the sides. The rear end of the pen opens up to reveal three extra pentips.
With Wacom Intuos you get to choose one out of the following software for free– Corel Painter Essentials 6 (drawing/painting), Corel AfterShot 3 (photo-editing), CLIP STUDIO PAINT PRO 2-yr license (comic/manga)
Connectivity
The tablet comes with a free to download software which allows you to change pen pressure. It also allows you to customize the buttons on the pen and the tablet to any shortcut of your choice.
It connects to your computer through the USB cable. It can also connect wirelessly using low power Bluetooth connection. One advantage of using Bluetooth is that you do not have to use any wireless adaptors, which are very easy to lose.
Overall it is a graeat device for beginner and gives you a little taste of premium Wacom devices.
PROs
Premium built quality
Pen with pin point accuracy
Wired/ wireless connection via Bluetooth
Long lasting battery
Perfect drawing texture which does not wears off
Free drawing software
Comes in multiple sizes and colors
CONs
Little expensive than others
Does not come with pen stand
Check Price on Amazon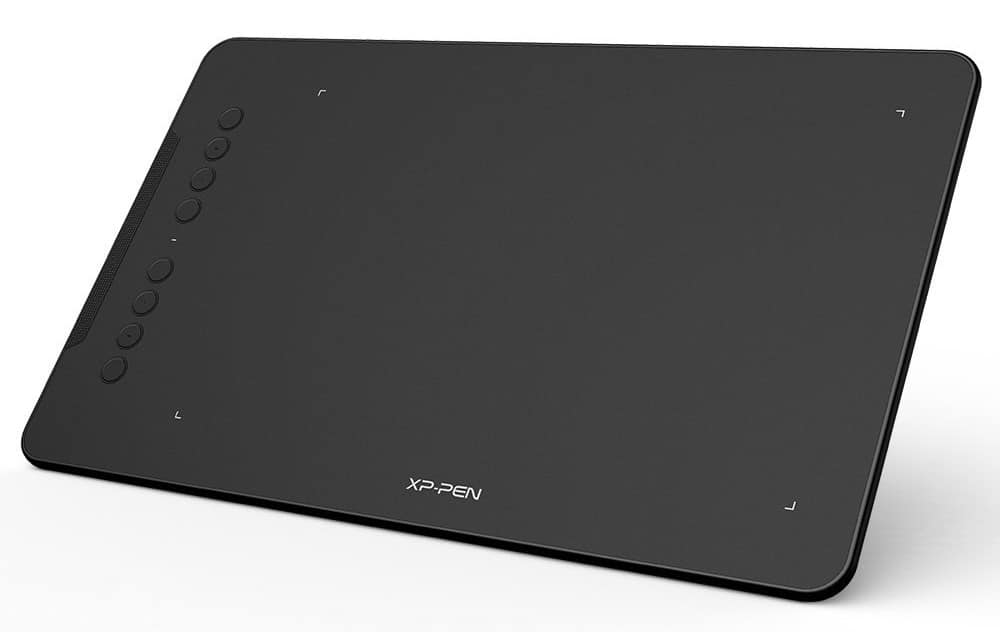 When it comes to price to feature ratio, Xp-pen Deco 01 is the clear winner. It is truly a matter of research how they have been able to cram in this many features into one of the cheapest devices in the market.
Xp-Pen have been had gone all in and have been pushing out great devices one after another.
Design and Build quality
From the very first look, you can easily see that this is one of the simplest and cleanest tablets out there. The black color, simple design, and a slim body make it look very modern and gives it a premium feel.
The working area is located at the right-hand side of the device whereas the eight buttons are located on the left side. It also has the largest active drawing area at its price point.
One unique feature to notice is, the four arrows at the corners glow to indicate the active working area in dark.
Features
The tablet has an active working area of 10 x 6.25 inches with a very good drawing texture. There are 8 fully customizable buttons on the left.
It comes with a passive (batteryless) pen with 8192 levels of the pressure sensitivity. The pen has two buttons at the sides which can be customized with the help of the software.
It comes with a small pen stand which can hold the pen in horizontal as well as vertical position. The pen holder also contains some extra pentips. Other than that the tablet comes with a free drawing glove, which is a nice touch.
Connectivity
The devices connect to your computer through a USB cable and do not come with any wireless option. The driver is free to download and used for making quick settings and changes in the behavior of pen and the tablet.
Xp-Pen Deco 01 is one of the best devices for someone with a really tight budget. The best thing is you are not missing anything and it is totally possible to do professional level work with this.
PROs
Best value for money
Eight shortcut buttons
Large drawing surface
Pen with 8192 level pressure sensitivity
Drawing glove included
CONs
No wireless connection
Surface texture wears off gradually
Check Price on Amazon
4. Xp Pen deco 02 – Budget tablet with an eraser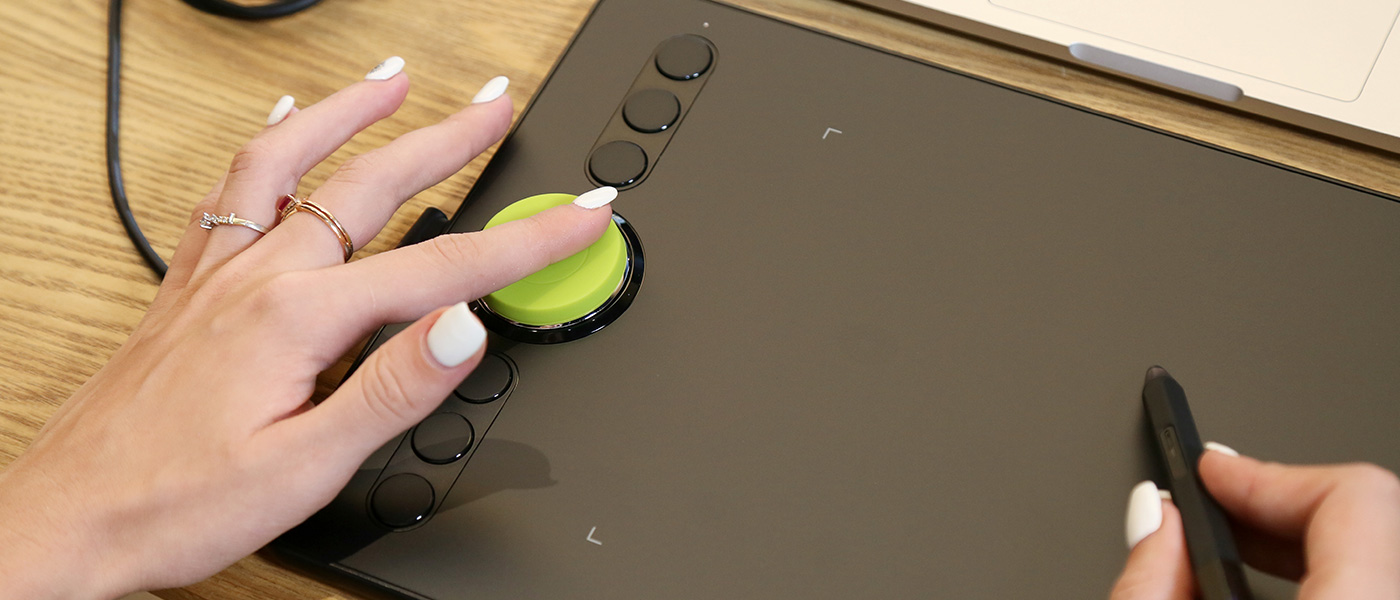 Xp-Pen Deco 02 is the third tablet of the Deco series. It is the perfect middle point for the Deco 01 and Deco 03 tablets and has some feature from both of them.
It is the only budget tablet which comes with an eraser at the back of the stylus. It is also the cheapest drawing tablet with the roller.
Design and Build quality
First time holding it in the hand, it feels heavy duty and a well-made device. It is a thin and light tablet which is very easy to carry around. In spite of the cheap prices the buttons are very tactile with a good feedback, the roller is made of metal and have a very satisfying smooth movement.
It follows the same design pattern as all the other tablets in Xp-Pen Deco series. The big 10 x 5.63 inches working area is located at the right whereas the buttons and the roller at the right-hand side.
The roller has a hole in the middle which as per Xp-Pen be used for hanging it from hooks. Its roller comes with a rubber disk which can be put on top to cover the hole if you want to. In my opinion, it is given just for the aesthetic reasons and does not influence the working of the tablet in any way.
Features
The Deco 02 comes with a lot of new and unique features.
It comes with Xp-pen new stylus which is very unique and quite different from what we have seen with other tablets. The stylus is designed to give the feel of the pencil. The hexagon shaped pen comes with an eraser tip at the back along with a single button on the sides. The pen comes with a storage cylinder which doubles up as a pen stand and nib storage.
Connectivity
The Deco 02 connects to the computer using the wired USB cable with no wireless connection. The supported drivers can help you change pressure sensitivity and button shortcuts. The driver can also add new shortcut keys (up to 5) to the roller, which gives you more control.
The tablet makes no compromises with the quality, with everything from the device to software running smooth. Overall it is one of the best devices in the market which has a lot of features at a very affordable price. Click here for Full Review.
PROs
Cheapest tablet to come with the dial
Creative and functional design
Large drawing surface
Pen with 8192 level pressure sensitivity
Eraser at the back
High quality pen holder
Check Price on Amazon
5. Wacom Bamboo CTL472 One – The Budget Wacom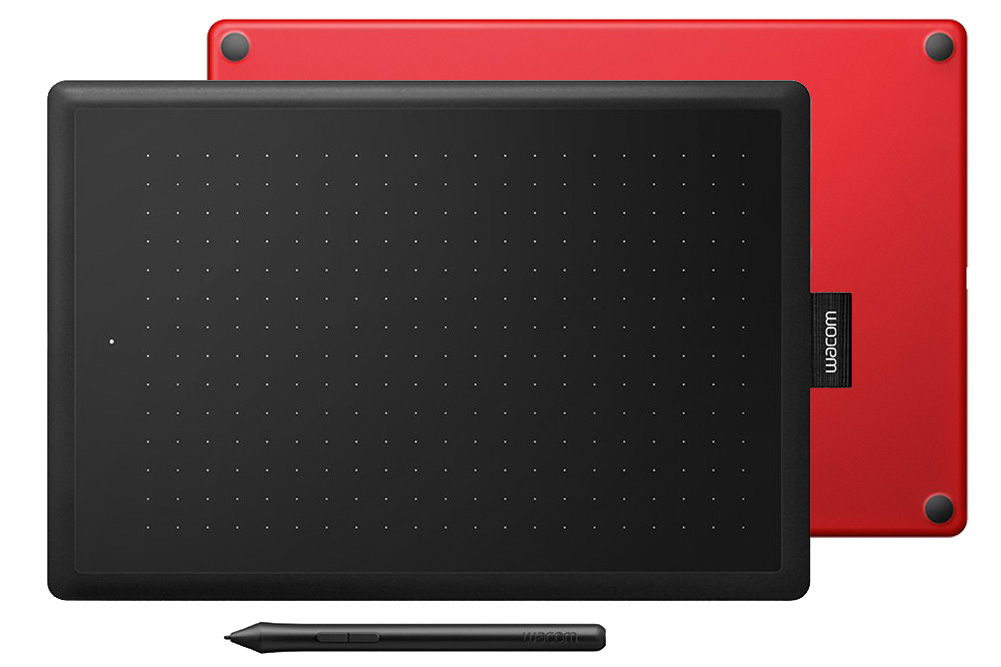 Wacom seems to be really busy these days updating all their previous models of Wacom devices. This time they have upgraded the very famous bamboo lineup. The newer bamboo model is called Wacom Bamboo One (CTL 472). It has got a very noticeable feature bump while keeping prices the same.
Design and Build quality
When it comes to design, Wacom bamboo if the simplest tablets out there. The whole top surface is covered with the drawing surface with minimum bezels, without wasting an inch of space.
It is a very functional, compact and beautiful looking devices out there. It comes in two colors black and red, the red one looks really good.
Features
The top surface of the tablet has the exact same texture which you will find in the more expensive Wacom tablets, no compromises there. The place where it compromises is the lack of any shortcut buttons, but again many people use their keyboard for the shortcut. So it is not that big of a deal.
It has got the same pen which use to come with the previous Wacom Intuos models. It has got 2048 levels of pressure sensitivity. In terms of real-life uses, it is a very accurate pen and faces no tracking and jittering issues which other cheap tablets have. Even after being cheap you get the best possible quality and this tablet actually feels like a Wacom tablet.
Connectivity
The Wacom Bamboo has got its own driver which lets you change the pressure sensitivity of the pen. It also allows changing the two side buttons of the pen to any shortcut of your choice.
In terms of connecting to the computer, it uses a wired USB cable with no wireless connection, which is expected at this price range.
PROs
Cheapest wacom device
Great surface texture
Bezel-less minimilist design
Well balanced and fully functional pen
Comes in two colors
Lightweight and portable
CONs
Small drawing surface
No shortcut buttons
Box does not include pen stand
Check Price on Amazon

Huion is one of the major players in the drawing tablet market and has products ranging from the lowest to the highest end of the price spectrum.
If you want a drawing tablet with full of customization buttons so that you never have to touch your keyboard again, Huion 1060 plus is the device for you.
Design and Build quality
From the first look it kind of looks hybrid between Wacom and Xp-pen. It has got working area at the right and the shortcut buttons at the left and top. It also has one of those Wacom style pen holding loop at the sides.
In terms of thickness, it is slightly thicker than its Xp-Pen and Wacom counterparts but still thin enough to easily carry in the backpack.
It has got an overall working area of 10 x 6.25 Inches, which is huge with some nice texture at the top.
Features
One of the very obvious features of the device is the shortcut buttons. It has got a total of 12 physical along with 16 digital, pen-enabled shortcut keys which can feel over the top.
The stylus it comes with has 8192 levels of pressure sensitivity and has a very balanced profile. The pen performs smoothly with no signs of jitter and wobble. Its stroke is perfect along with an excellent pressure curve.
It comes with an external Sd-card slot which stores your files right into the device, which allows you to quickly switch between the computers. It can also come in handy to store the driver to use with the new computer.
Connectivity
The Huion 1060 Plus driver lets you customize every single one of the 12 + 16 buttons with ease. The tablet connects to the pc through USB cable with no wireless connection.
The device also comes with a lot of accessories like drawing glove, pen holder, extra pentips and carrying case.
It also comes with a slightly more expensive model called Huion 1060P which has a slightly better pen.
PROs
Big drawing area
Multiple shortcut buttons
Easy to use software
Decent pen performance
Well put together and strong built
CONs
No dial/ roller
Average surface texture
Not as slim as other devices
Check Price on Amazon

The Inspiroy H640P is another great tablet by Huion and a cheaper alternative to 1060 Plus. It is a recently launched tablet and has many amazing specs.
Design and Build quality
Design-wise it looks super sleek and modern and the pen has a substantial feel to it. The battery-free stylus has two buttons on it and has 8192 levels of pressure sensitivity.
Features
The 6 Physical buttons have a very satisfying click to it and can be fully customized with the help of the included software.
6.3 x 3.9 inches working area is sufficient and compact making it very portable. The paper-like surface along with bezel-less design and rounded corners gives it a modern look.
It has a screen resolution of 5080 LPI (lines per inch) and the report rate of 233 RPS (reports per second). It is compatible with both iOS and Windows devices.
Box it comes in contains a Pen holder, Extra pentips, Nib remover tool, instruction booklet and micro USB cable.
Connectivity
It comes with its own driver and connects to computer usind USB cable.
It also comes with a slightly more expensive model called Huion Inspiroy H950P which has a more shortcut buttons.
PROs
Cheapest tablet in the list
Has everything you need
8192 level pen pressure
Decent drawing area
Good build quality
Pen stand included in the box
Check Price on Amazon
Suggested topic:
Drawing tablet with screen – click here to read
What to look for in a drawing tablet
If this is your first time getting a drawing tablet, here are few things which you should look for before getting a drawing tablet.
Active drawing area
Pressure sensitivity
Buttons and dials
Connectivity
Accessories
Price
Active Drawing Area
Only certain areas of the top surface of the drawing tablet can draw. The actual area which has the sensitivity where the pen works are called the Active drawing area. The more the active drawing area the better.
Pressure Sensitivity
Pressure sensitivity has to do with the pen, not the tablet itself. Pressure sensitivity is the measure of the minimum and maximum pressure at which the pen can draw. when less pressure is applied the pen draws thin lines and the width of the line increases as you increase the pressure. But these settings can be changed in software to give you a varying amount of flow and opacity instead of width or can be totally turned off.
Buttons and Dials
Buttons are an important component of a drawing tablet. The more buttons do not mean a better tablet. But it means you can have more shortcut buttons right at you hand so that you need not to reach your keyboard very often.
Some tablets also come with a circular rotating dial in addition to the tablet which can be quite handy.
Connectivity
Connectivity means how your device connects to your computer. Tablet can connect to a PC via wires, wirelessly or both.
Although tablets come with long enough wires wireless connectivity is always better. The tablets with wireless option have a buit-in battery inside.
Accessories
Pen tablets come with various types of accessories which includes pen/stylus, Pen stand, Extra pentips, USB cables and Wireless adapter. Some of the drawing tablets also come with a drawing glove and pouches to store the tablet.
price
Needless to say, the price determines all when looking for drawing tablets. Pentabs are quite cheap and you can get good tablets at a very affordable price. The baseline of a good tablet starts from 50 dollars which gives you most of the basic features. But if you spend a little more and get a tablet in about 80 dollars range than you will get a lot of features like xp-pen deco 02 which gives you a circular dial.
What else Matters
Solid design
Easy setup
No Wobble and jitter
Drivers
A solid design – Many of the cheap tablet are very poorly made and start to fall apart. But at the same time, a lot of tablets use quality materials and built like a tank even at the cheap price. These things contribute to the overall better experience.
Ideally, you want a tablet to be slim and have quality materials used in the overall construction of the device.
Easy Setup and calibration – In previous generation tablets, a lot could go wrong. Sometimes the computer refuses to identify the device or act weirdly. But with present-day tablets, all these issues have almost vanished. All the drawing tablets mentioned in the list above are very easy to set up all you need to do is plug and use. The computer handles all the background tasks for you.
Wobble and jitter – Wobble means when you draw a straight line the actual line on the screen shows small wave-like like pattern. Similarly, jitter is inconsistent strokes. Some tablets manufactured by some cheap brands suffer from this issue which can totally ruin your drawing experience.
Drivers – Drivers are the official software which helps the tablet to communicate with the computer. Drivers are also responsible to make quick settings and make changes in the pressure sensitivity of the pen. They also allow defining a custom shortcut to the buttons of the tablet.
Why cheap tablets
Cheap products are always referred to as bad quality products which do not work. Well, that may be true for many products but when it comes to drawing tablets it is far from the truth.
Some tablets like Wacom Intuos Pro are priced around 300-400 dollars, then there are tablets which are priced below 100 dollars like Wacom Intuos or Xp-pen deco 03. The question is are those tablets 4 times better than the latter. The answer is NO.
There is something called the law of diminishing returns which will help us to understand this better.
Law of diminishing returns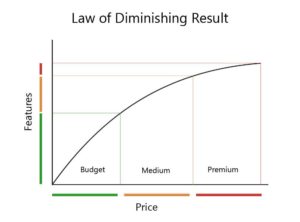 Law of diminishing returns states that with an increase in price there is a decrease of price to feature ratio.
Price and usability
It all comes down to price and usability. With a cheap tablet the price to feature ratio is high, which means you get more features at less price less. But with a premium tablet, you pay a lot more price for the tablet with comparable features to the medium priced device. Moreover, the premium device may also come with features which you don't really need and rarely use in your day to day work.
Top Brands
Wacom – It is one of the most reputed and recommended brands in drawing tablet industry. They have been making professional drawing tablets for a long time and leading studios and VFX companies use their products. Their Pen/Stylus are considered the best in the market. Their most popular products include Wacom Cintiq, Wacom Intuos Pro, Wacom bamboo etc.
Huion – It is one of the other brands which brings well-crafted tablets in the market. They are famous for making great tablet with the top of the line specs at a very affordable price. They make all kinds of tablets which includes screen pentabs as well as display tablets. Huion Kamvas is one of their most famous series of display tablets.
Xp-pen – With the release of their deco series of tablets they have established themselves as the king of the budget. Like Huion, they are also famous for making great devices with premium specifications at a fraction of prices of other manufacturers.  As said earlier, their Deco series of pentabs are very famous along with their Xp Pen Artist series of display tablets.
Artisul – Artisul which stands for "art in soul" has been making tablets for a very long time. They manufacture both pentabs and display tablets, but they are better known for their excellent quality of display tablets.
Parblo – Parblo is quite a new brand established in 2015. They make a wide variety of tablets. They are known for making large size display tablets at very affordable ranges. They are also known for using quality material in their tablet. Overall they provide us with good alternatives tablets over mainstream brands.
Conclusion
All the tablets features above are equally good and capable enough to make professional artwork. The only deciding factor is your budget and the features you want. Here we have tried to further simplify it to help you make the right decision.
Suggested topic:
Best drawing tablet for beginners – click here