Disclosure: As an Amazon Associate EssentialPicks earn from qualifying purchases.
A mouse is one of the most essential gaming peripheral. With the prices of premium gaming mouse touching the skies, you really start to wonder "how premium mouse compares to budget gaming mouse".
You would be happy to know there are a number of the mouse in the market which can give you great gaming performance without that heavy price tag. With that said there is a lot of junk floating around in budget gaming mouse space and you should stay away from them.
To help you find the right mouse for your needs, we have handpicked some of the best budget gaming mice in the market. These mice will give you great gaming experience at the fraction of the cost.
Gaming mouse on a budget
What to expect: A cheap gaming mouse may sound like a bad idea. But on the second thought, you would realize, you aren't missing much and getting more value than what you are paying for.
With that said here are some of the top gaming mouse in the market which gives you great value at pocket-friendly prices.
1. Hiraliy F300 – Best Budget Gaming Mouse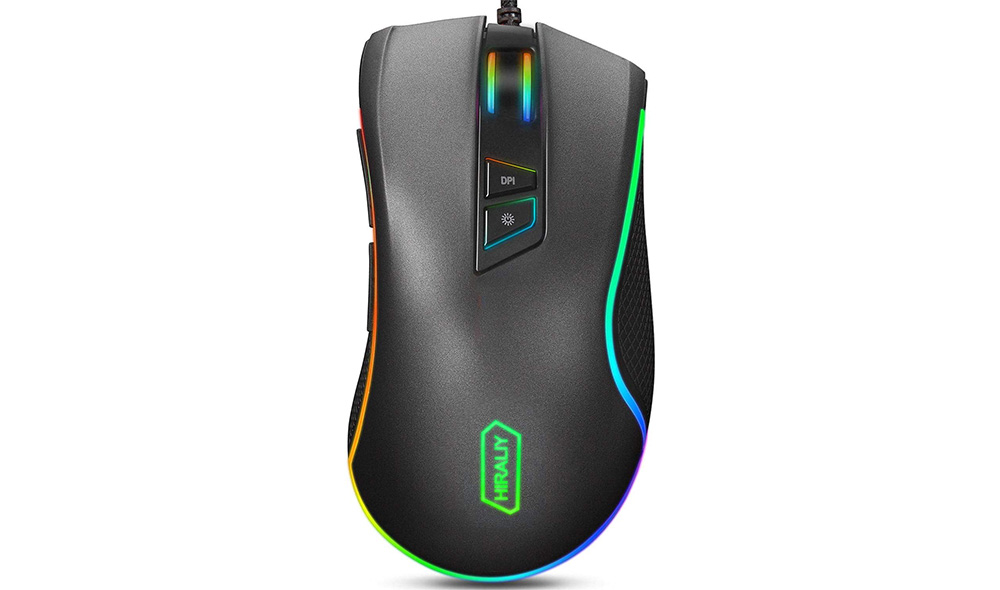 Hiraliy F300 gives its users a premium performance at a pocket-friendly price.
If you are looking for a performance-driven gaming mouse at the cheapest possible price than Hiraliy F300 is hands down the best option for you.
Design and Build quality
Starting off with the ergonomics, the mouse is very comfortable to hold and every curve perfectly fits your hand. The top surface of the mouse is rubber-coated providing a better grip and better feel.
The buttons can last up to 10 million clicks making it a very durable mouse. It has a medium weight to it and comes with braided cable.
The mouse has overall 7 programmable buttons and a rubber-coated scroll wheel. The scroll wheel scrolls smoothly with a subtle physical response and is far better than other mice in the price range.
Hiraliy F300 is a well-rounded mouse with great build quality awesome performance and very attractive looks. It feels no less than a higher-priced gaming mouse.
The mouse uses the latest gaming sensor and provides 5 adjustable DPI settings. It ranges from 500 all the way up to 5000 DPI which makes it a great choice for the FPS gamers.
5000 DPIs
High-quality buttons
Good implementation of RGB light
Great sensor
RGB and DPI control via software
No fire button
No color options
2. Corsair Harpoon Pro – Best FPS gaming mouse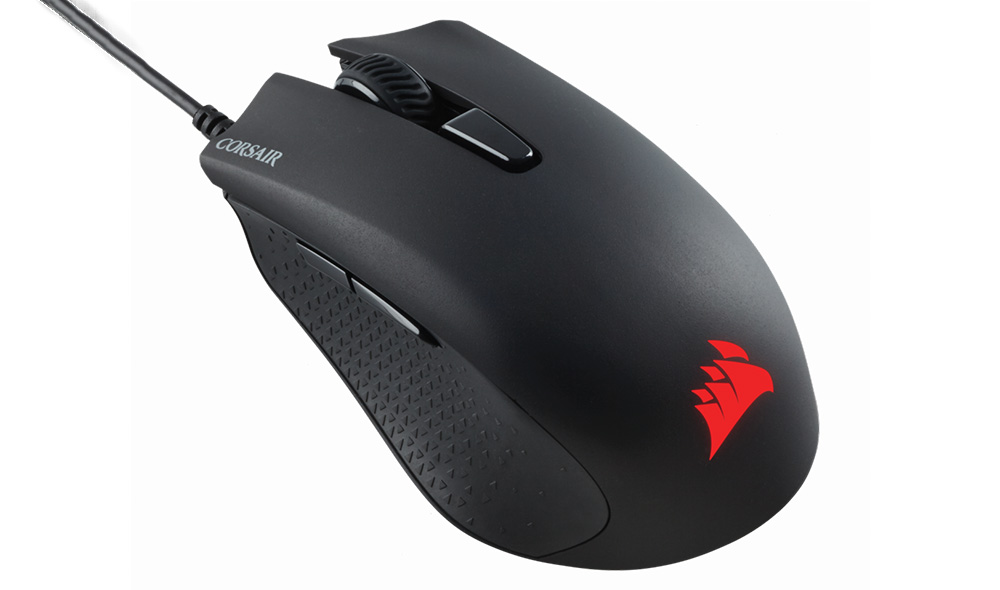 Check Price on Amazon
Corsair is popular for its top of the line premium gaming mouses. Their budget option Corsair harpoon Pro is the cheapest gaming mouse in their lineup. It shares a lot of similarities with its expensive brothers.
It is slightly expensive than Hiraliy F300 and that is the only reason why it ranks in the second position.
Design and First impression
From the first look, it gives a classical vibe and looks stealthy. The mouse has a high-quality plastic with a nice rubber coating at the back.
The side grip of the mouse has rubber pads that feel nice and gives a better grip. It is one of the lightest mice and weighs about 45 grams which you may or may not like depending on your preference.
With the DPI levels ranging from 250 to all the way up to 12000 makes it a very attractive choice for FPS gamers.
Minimalistic and clean Design
Very responsive
Software for customization
Good built quality
No fire button
No braided cable
Less use of RGB lights
3. Sharkoon Shark Force – Ergonomics king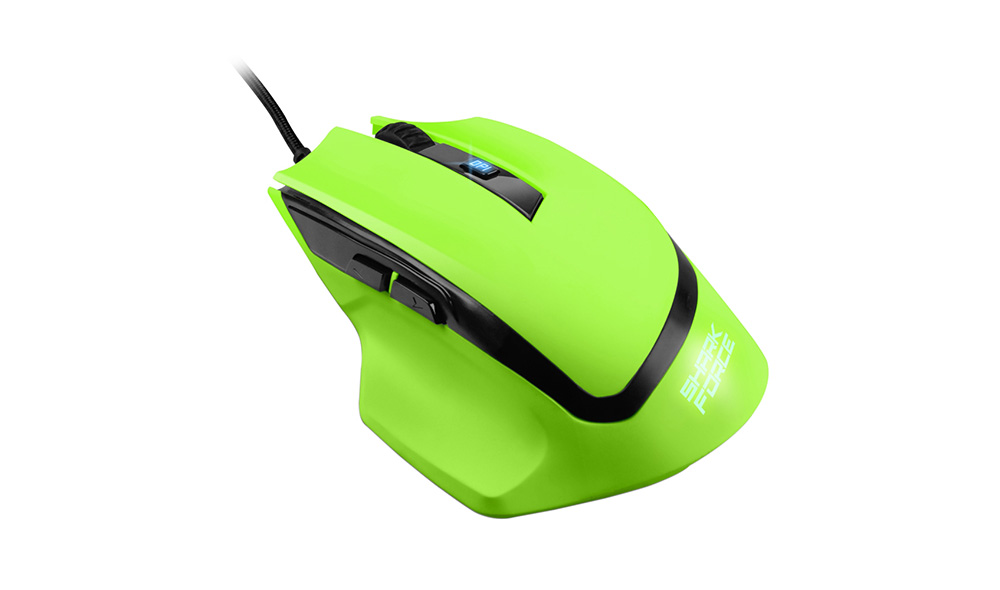 Sharkoon is the brand known for making really good products at a very low price. Evident from the name itself the Sharkoon Sharkforce means some serious business.
The Elongated thumb rest on the left and perfectly curved body on right make it a real pleasure to use especially during long hours of continuous gaming sessions.
The mouse is available in four colors which include white, black, pink, and everyone's favorite green which looks really good in real life.
Build quality
Although it is made of plastic, it has a coating of rubberized material all over its upper body which feels good in the hand.
There are a total of six buttons including the middle click the scroll wheel has an open front design with a good grip and decent spin. All the buttons have a good click to it with decent feedback. The buttons at the side are well-positioned and build solid.
DPI and RGB settings
The mouse has 3 DPI levels ranging from 600 to 1600 DPI which can be toggled by the button at the top.
It has an RGB lit logo at the palm rest which looks super cool in dark. It is a plug and play kind of mouse which supports every operating system but has no software support and button customization options.
In short, it is a well built and well-designed gaming mouse that has really solid hardware and is perfect for any casual gamer.
Very comfortable to hold
Has a good sensor
Satisfying scroll wheel
Multiple color options
No software software
Minimal use of RGB lights
No button remapping
4. Redragon M711 Cobra – Balanced Performer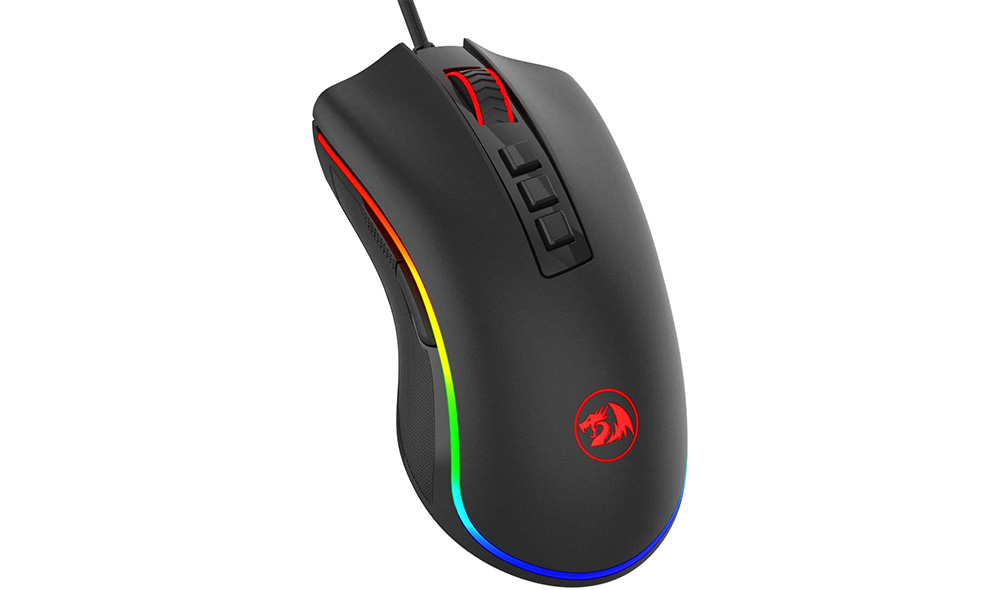 If you are a fan of classical symmetrical shape than this is the mouse for you.
The modern mouse design with all those fancy palm rest and special curves may be great for some people. But for others, it may be a nightmare which makes the mouse feel uncomfortable.
Because of its symmetrical shape and modern aesthetics, it has been really liked by people. It is an over medium-sized mouse that is perfect for someone with long hands.
The DPI levels in this mouse can go as high as 5,000 with 500 DPI being the minimum making it a great choice for FPS gamers.
Like all the other mice in the list, the Redragon has a plastic construction but it feels decent enough in hand. The top surface has textured material which makes it easier to hold after long uses with sweaty hands.
The bright and vibrant RGB light makes it looks really attractive. You can change the lighting pattern and colors of the mouse with the help of included software or the DPI button at the top.
Buttons and Scroll wheel
The mouse has an overall 7 buttons and a scroll wheel. The buttons are very clicky and of high quality. The forward and back buttons at the sides have a texture for better hold.
The scroll wheel is decent enough and has RGB light. The three buttons at the center change the DPI levels and the third button at the back changes the light pattern.
The mouse comes with a 1.8 meters long braided cable which gives it great durability. The Redragon Cobra comes with really good software. The software enables you to change the default functions of the mouse and adjust its RGB lights and patterns.
It has a total of eight different modes to choose from. The software can store 5 different profiles of settings which can be quickly toggled with the small button at the bottom of the mouse.
Fits the hand perfectly
Good use of RGB lights
Clicky buttons
Lower DPI settings for FPS games
No fire button
Feels cheap
5. IVSO Gaming Mouse – Ambidextrous Gaming Mouse
You may have noticed most of the gaming mouse is primarily made for the Right-Handed people. Starting from their shape to the placement of extra buttons, it is very uncomfortable for left-handed people to use the normal mouse.
With an estimate of 12%, people in the world are left-handed and when it comes to the gaming mouse, most of the cheap gaming mouse are exclusively made for right-handed people.
Check out our list of the top ambidextrous gaming mouse.
The IVSO gaming mouse has an ambidextrous design, its balanced and symmetrical shape fits left as well as right hand perfectly. The mouse has 9 buttons plus a scroll wheel and comes with a braided cable.
Buttons and DPI settings
For left-handed people forward and backward buttons are present on both sides of the mouse. A small red button on the bottom quickly toggles from left to right-handed mode by inverting the left and right-click buttons.
All the buttons are of decent quality and give satisfying feedback – with that said the scroll button feels a bit mushy.
As the mouse doesn't come with any software, so you have limited customization of RGB lights and no customization on buttons. With that said the button at the top enables you to change the lighting mode.
It has overall 5 adjustable DPI settings ranging from 1000 to 5000 DPI. As said earlier the mouse has no software support so the DPI button at the top of the mouse controls the DPI buttons.
It is a great package and you will end up being really satisfied especially if you are left-handed.
Good button quality
Ambidextrous design
Good RGB implementation
Quick toggle to shift modes
Weak scroll steps
DPI buttons are hard to press
6. EasySMX – Cheapest Gaming Mouse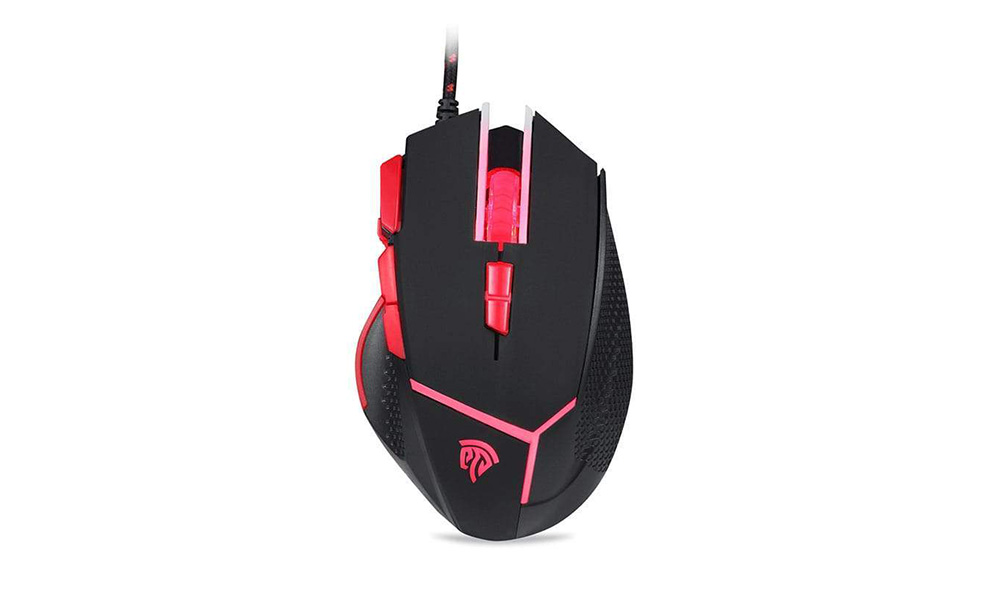 EasySMX is the least expensive mouse in our list with price as low as under 10 dollars and is one of the cheapest mouse in its price range.
It has a cheap plastic construction but offers some of the features that other mice don't. It has a lot of extra buttons which are very helpful in certain games.
the mouse has a dedicated fire button which is helpful in FPS gaming. Other than that it has a double click button sitting beside left-click along with 7 other buttons. Surprisingly the scroll wheel is not as bad as we have expected.
Although it says semi-ambidextrous on the package, it is primarily made for right-handed use.
Build quality
Once you get over the plasticky feel then the mouse has a lot to offer. The medium-sized mouse has a plastic texture at the top. The shape and curves are comfortable enough. This small mouse is ideal for gamers with medium or small hands.
The mouse has RGB light at the front near the scroll wheel and at the back.
The mouse doesn't come with any driver and the DPI settings and Lights are directly controlled by buttons at the top.
Although you cannot expect much, still it has a decent sensor underneath and gives a fairly decent gaming experience.
Overall it is the cheapest gaming mouse in the list but gives an amazing value at the price point and is perfect for beginner-level gaming.
Most value for money
Has a trigger button
Bright LEDs
Decent sensor performance
Feels cheap and plasticky
How to find the right gaming mouse on a budget
Looking for a budget mouse is very different from looking for a premium mouse. In a premium range, you have few options and have to basically compare which mouse has the most amount of features.
In the case of a budget mouse, you will be overwhelmed with hundreds of choices. Most of the mouse in the budget range will be trash with only a few exceptions.
You should also keep in mind more features are not always better. A dirt-cheap mouse with multiple buttons, RGB lighting, and crazy features might have made compromisations somewhere to keep the prices low. Maybe the build quality will be cheap or they may have used a bad sensor.
With that said all the mice mentioned above are great and you would be surprised at how good they are considering their price.