Drawing tablet comes in many shapes and forms. Each of them has their own advantages and disadvantages. Drawing Tablet with screen is used for making featured films, animations, digital paintings and many other professional projects. Right now there are many options to choose from, with each claiming their superiority over others.
Picking up the perfect pentab can be really confusing especially when you have a lot to choose from with each looking equally good. In this article, we will break down the top display tablets in the market to figure out the best of them.
Drawing tablet with screen comes in two types
With an inbuilt computer – all in one
Without inbuilt computer – the budget option


---
If you travel frequently or constantly switch between home and office, display tablets with an inbuilt computer are perfect for you. Some of the display tablets like Wacom mobile studio are very portable and can easily fit into a laptop bag.
Some other display tablets like dell canvas 7 and Microsoft's surface studio offers you massive screen size and working area. These tablet cum computers are built specifically for digital artists and come with special features like adjustable stands, custom keys and much more.
On the other hand display tablets without an inbuilt computer are cheaper in price but still gives the same level of performance and accuracy. To use it you need to connect them to an external computer. They work on both Windows and Mac devices. It is ideal for fixed office or home uses where portability is not a requirement. Other than working as a display tablet, they can also be used as a secondary monitor.
Display Tablets with built-in Computer
These tablets come in various shapes and forms. Some tablets give portability a priority while others give more value to screen size and aesthetics.
If you know anything about digital art than you must be aware that Wacom is a go-to company that everyone recommends. Since they have introduced batteryless stylus for the first time they have made a reputation for themselves and till date, they have been able to maintain that.
When it comes to drawing tablets there is no doubt that Wacom does it the best. With the introduction of Wacom mobile studio pro they have shown why they are considered the best in the game.
The device is small enough to be easily portable and large enough to have the feel of the large working area. It runs on a windows system and powerful enough to handle any task you throw at it weather it is 4K video editing or 3D gaming.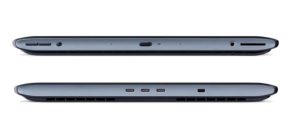 Unlike other devices in the market Wacom fully understands their devices and knows, as a creative professional you have a ton of other devices which need to talk to each other. Wacom has almost all the connectivity options to make sure dongles don't disturb workflow.
The display pentab has 8 customizable buttons along with a super convenient and sensitive touch ring. The sides have enough border space that you don't trigger something accidentally. It has a 3D camera on the back which is compatible with many software. The Stylus comes with its own storage capsule and has two buttons and an eraser at the back.

This latest and greatest Wacom device comes with Pro Pen 2 which has 8192 levels of pressure sensitivity and considered the best stylus on the market. The second generation of the pro pen has overcome all the issues with the previous generations. It has 4 times more pressure sensitivity, 4 times more accuracy, Tilt support, no lag and no noticeable parallax. The pen comes with a sleek carrying case with 3 extra pentips (2 normal 1 felt).
The aluminum build sassy provides it slimness and strength and gives it a super premium feel. The touch-enabled drawing surface along with the non-reflective and textured Etched glass makes it a pleasure to use. It has eight programmable buttons and a touch ring. The stylus has two buttons at front with an eraser at the back.
It has made many improvements like reduced fan noise, slimmer pen case, lag-free stylus improved accuracy and excellent build quality.
It uses etched glass on the screen which does two things, makes the surface less reflective and give a little resistance while drawing. Overall it is the best device on the market and 100 percent made for the digital artists. It hits all the check-points in the right places and that is why it is the most used and recommended device for creative professionals.
If Wacom is "Apple" of the drawing tablets, then Apple is "Apple" itself. When it comes to hardware Apple devices are the undisputed king. With their sharp and color accurate display, Ipads are a pleasure to use. From the time they have announced the apple pencil paired with iPads, they have been the game changer. It is an extended option against windows and ideal, especially for people who already use other Apple devices.
The tablet comes in various screen sizes (7.9, 9.7, 10.5, 12.9 inches) and preferred mainly for its portability. In spite of being small, it is a powerhouse that goes through heavy applications with ease without any performance drops or lag. The apps for this device are made specifically for iPads and are highly optimized for smooth and steady performance.


The Apple Pencil which is available separately is the most accurate stylus ever made. It gives out a natural drawing experience with absolute no parallax. The pencil has got a very responsive pressure sensor with stroke detection at lightest pressure. When we compare its tilt support with any other stylus, Apple is the easy winner. Like the pressure sensitivity, its stroke detection works flawlessly.
Other than making digital art the apple pencil has many other uses within the iPad. If you are a student or a writer, the apple pencil can really come handy. Its ability to write handwritten notes and making digital signatures are far better than that offered by others.
When iPads are so good then why professionals are still recommending Wacom devices.
The only downside to getting an iPad is that it does not have any professional apps. As Ipads have their own operating systems, many of the professional software like Photoshop, illustrator or most of the Adobe software is not supported. The support for some other software from companies like coral and ZBrush are also absent. The 3D software ecosystem is weak too.
In place of those Ipads have many IOS apps like Artstudio, Procreate which does almost the same tasks as other mainstream software. If you are comfortable with these replacement apps and can deal with not having industry standard software than this is the best Drawing Tablet with screen you can buy and is worth it.
Microsoft Surface Studio made a lot of headlines at the time of its launch because of its unique and futuristic design. It is considered the most worthy competitor of Wacom devices. These kinds of devices are best suited for people who do multiple works like digital art, video editing, 3D modeling and playing video games.
Right from the first look, the first thing you will really appreciate is the massive screen size. It comes with a screen ratio of 3:2 which is ideal for drawing on the screen. The metal built body is very thin and everything looks and feels very sturdy as it is made to last.
The next thing to notice here is the hinge which the Microsoft calls "Zero Gravity Hinge". It quickly transforms your device from computer to a display tablet. It has a nice weight and resistance to it and unlike those step-click stands, it can be easily adjusted to any angle and drawn upon without any shakiness.

The surface pro uses the same pen from the old generation and with old generations comes the old problems. To start with it comes with just 2084 levels of pressure sensitivity where others are coming with 8000 and at this price range, it is expected to have top specs. The other issue comes at the lower end of pressure, where it shows less sensitivity. Overall you will have a mixed experience with this pen.
Microsoft Surface Studio supports Surface Dial which sits over your display and gives you options and quick settings. With the help of Surface Dial, you can easily toggle between brush size, rotation, color, undo-redo and much more. Microsoft has partnered with Sketchable, Bluebeam, and Mental Canvas to the full potential of the Surface Dial.
conclusion: The Microsoft Surface Studio attempts to do multiple tasks at once and for the most part it succeeds. The high built quality, powerful performance, and beautiful design are well worth the price tag.
Want to know more? Microsoft Surface Studio – the artist's hands-on review
Display Tablets without built-in Computers
If you already own a powerful computer or does not want to spend a huge sum of money, these kinds of display come to rescue. The Display Tablets without built-in computer gives the same experience and performance as of display tablets with computers but at the lesser price.
Since we are talking about budget display tablets it is best to start with Wacom Cintique Pro. It is an entry level and the cheapest display tablet from Wacom. In terms of performance and drawing experience it as good as any premium Wacom device.
This Display tablet is packed with all the Wacom goodness. The first thing to notice is the matte finish on the screen which makes the display less reflective and gives a little bit of resistance while drawing. It comes with Wacom Pro Pen 2 which has 8192 levels of pressure and tilt support.
The Tablet connects to PC via USB-C cable which supports both windows and mac devices and powered by a separate adapter. Its 13-inch screen is a full HD 1920 x 1080p LCD display. The display supports Adobe RGB colors for the most accurate color production and the screen is very bright and vibrant.
It is a touchscreen tablet and works great with drawing applications where it can be used for zoom and rotation. The palm rejection and responsiveness of the touch are decent enough.

Normally the tablet sits flat on the table but it has an inbuilt stand which gives it an elevation of 20° (degrees) and is well hidden when not in use. It also supports external Wacom stand which enables it to stand at varying angles.
The tablet may be full of features but it does not have any physical custom buttons on the device. You need to buy Wacom Expresskey remote separately to have customizable buttons and touch ring.
Summary: It does not has any major weakness and performs as good as a premium device. The touchscreen, high-resolution display, and a very accurate pen make it the best device in its price range.
As the name suggests Dell Canvas 27 has a massive 27-inch display and was released last year. It is a display tablet which does not has any computer inside and needs to be connected to an external PC. It uses a batteryless pen with very precise and accurate strokes and also comes with tilt support.
From the initial impression, it is a big device not only because of its big 27-inch display but also due to its sides. Its side bezels are so big that it is not even right to call them side bezels, they are more like proper palmrest.
Like the Microsoft surface pro it comes with a circular dial called "Totem". The Totem sticks over the screen and performs quick toggle between brush size, zoom, rotation and other settings. Although not every application uses the full potential of Totem but software like Sketchable does.
The 27-inch touch enabled drawing monitor with QHD resolution (2560 x 1440) uses various color modes for better color accuracy. The screen has an anti-glare coating with a slight texture which gives a little bit of resistance while drawing for better drawing experience.
The Dell Canvas 27 use the Stylus with the same technology as Wacom and operates without a battery. It has 2048 levels of pressure with a decent activation force. The pen works great with no wobble issues and comes with a tilt support which works flawlessly.
It comes with many connectivity options with an easy setup and installation. Right now it only works with Windows 10 powered devices.
Still cheaper Display Tablets – Wacom alternatives
Wacom Cintique is the cheapest Wacom display tablet you can get but if you want to go cheaper, you can. There are a huge amount of not so great tablets in the lower price that it becomes really difficult to find a decent one. We have taken our time on this one and finally found few gems in the crowd.
Huion Kamvas is one of the most recommended cheap display tablet in the market. You get a pretty good deal for the price you pay. It comes with a massive 19.5-inch 1920 x1080p IPS display with an aspect ratio of 16:9. The screen has a very minimal bezel and comes with a very stable and durable stand.
The tablet is very well made and in spite of its cheap price it doesn't feel cheap. It comes with a stand which is screwed to the back. The stand is strong and stable and keeps at any desired angle. The bottom end of the tablet has a rubber pad which stops it from slipping around. Inside the box, you'll find a textured plastic screen guard which needs to be installed.
The pen of this pentab is battery-free and does not need to be recharged ever. It has 8192 levels of pressure sensitivity with no tilt support. The pen is well built and has a substantial weight and very ergonomic design.
The only downside to this tablet is that it does not has any custom buttons on the tablet itself. Other than this there is no major issue. The display is bright enough and vibrant, the pen works very smooth with no lag and parallax.
Overall for the features at this affordable price, it is a steal.
Check our list of Best Drawing Tablets