As an Amazon Associate EssentialPicks earn from qualifying purchases.
If you are looking for a small and portable drawing tablet, a 13-inch display tablet can be a great choice. A 13-inch tablet is small enough to be able to easily fit in your backpack and has a sufficiently large screen to work without feeling cramped.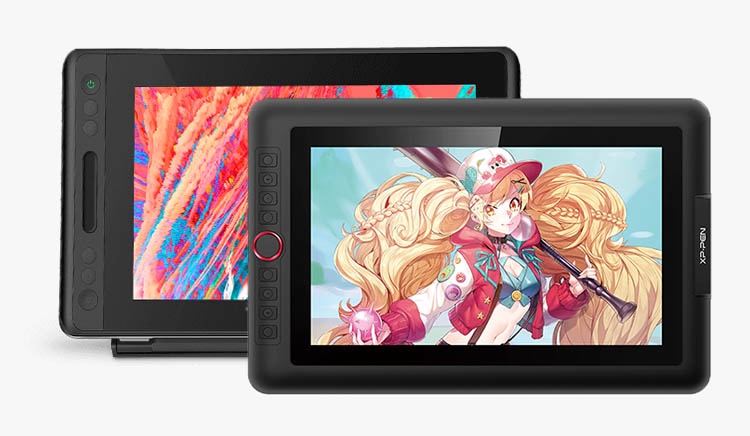 Right now Huion Kamvas Pro 13 and Xp Pen artist 13.3 Pro are the two best display tablets in the 13-inch category. So the question is – which of the two is a better choice and which tablet should you get as your next drawing device.
In this Huion Kamvas Pro 13 and Xp Pen Artist 13.3 review and comparison, we will first go through every single feature these tablets have to offer. Then we will compare them with each other to finally decide which one of the two tablets is a better choice for you.
Before we start the comparison we would like to tell you that you are already getting a lot of value for what you are paying and you cannot go wrong with either of the two devices.
This article is for helping you make an informed decision on why you should choose one tablet over the other. With that said let's continue.
Huion Kamvas Pro 13 vs Xp Pen Artist 13.3 Pro – Features
Here is the list of all the important features these tablets have to offer.
|   | Huion Kamvas Pro 13 | Xp Pen Artist 13.3 Pro |
| --- | --- | --- |
| | | |
| Display size | 13.3 inches | 13.3 inches |
| Display Resolution | 1920 x 1080 pixels | 1920 x 1080 pixels |
| Color Accuracy | 120% sRGB | 123% sRGB |
| Stylus | PW507 Battery free stylus | PA2 Battery free stylus |
| Pressure Sensitivity | 8192 levels + 60° tilt | 8192 Levels + 60° tilt |
| Pen Holder | Yes | Yes |
| Shortcut Buttons | 4 + 1 | 7 + 1 |
| Multipurpose Shortcut | Yes (touchbar) | Yes (dial) |
| Stand | Included | Included |
| Price | Check on Amazon | Check on Amazon |
As it is evident from the comparison – on paper both the tablet have more or less similar features, but in real life usage, they differ.
That is why we highly suggest you – go through the complete comparison to understand which tablet will suit your needs better so that you can avoid any chances of post-purchase dissonance.
Design and build quality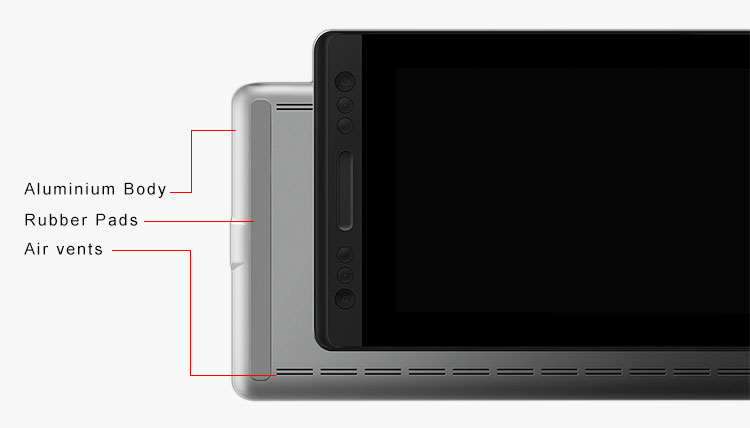 Huion takes a slight edge in terms of design. Looking at the front panel of the tablet you will notice that, apart from the shortcut buttons, the whole tablet is covered under a single sheet of glass with no visible crease between the screen and bezels which gives the tablet a really modern appearance.
Xp Pen has also done a good job in their own way, their tablet looks minimal and their shortcut buttons are well laid out.
Build Quality
Comparing the tablet side by side you would notice that the rear panel of the Huion Kamvas pro 13 is made of anodized aluminum which provides structural strength as well as feels better to hold.
Xp Pen, on the other hand, may not have used metal but still, their tablet feels well made, strong and sturdy.
Form factor and layout
Both the device has a very similar form factor and layout. The drawing area of both the drawing tablets is located on the right with shortcut buttons on the left.
Weight
Kamvas 13 and Artist 13.3 may be similar in design and layout but the same cannot be said about their weight. The Huion Kamvas pro 13 is much lighter and weighs about 2.01 lbs (900 grams) whereas the Xp Pen Artist 13.3 Pro weighs 3.3 lbs (1500 grams).
Overall, it is safe to conclude that Huion Kamvas Pro 13 takes a lead in terms of design and build quality. Their tablet has a better design and they have used more robust materials like aluminum.
What about lefties
These tablets have buttons on the left and working area on the right side, it does not mean they are only made for right-handed people.
There is an option in tablet settings to switch the tablet in the left-hand mode. After changing that setting you can simply rotate the tablet so that the buttons are present on the right and working area on the left.
Display  – Color and Resolution
A Display is one of the most important parts of a display tablet, as that is where all the action takes place. So a drawing tablet needs to have a good screen.
Starting our display comparison with the resolution, both the tablets have a resolution of 1920 x 1080 p with an aspect ratio of (16:9). Measuring the display from the edge, you get a width of 293.76 mm and height of 165.24mm.
Both panels are equally good in terms of display quality. The colors are on point with 120% sRGB color space support in Huion Kamvas Pro 13 and 123% sRGB support in Xp Pen artist 13.3 Pro. In real life, 3% of extra color coverage does not make any difference whatsoever.
The viewing angles in these displays are really good and you would notice no color shift or rainbow effect when looking off the axis.
Brightness
A 13-inch display tablet is a portable device that is meant to be used at different locations such as home and office. So it is important that the images are visible in well lit indoor as well as outdoor environments.
The display of both theses tablets are sufficiently bright and you can easily use them in bright indoor environments.
Reflections and glare
Working in a brightly lit room, you face another challenge called screen glare. These tablets have taken a very different approach to minimize reflections and glare.
The top glass of the Huion Kamvas Pro 13 has anti-glare properties which substantially reduces reflections. Xp Pen, on the other hand, comes with a super-thin anti-glare film on top of the glass which reduces glare and also protects the glass in the long run from scratches.
Do they come with Laminated displays?
Not very long ago, laminated displays were only found in premium display tablets, but slowing they are making their way into budget display tablets which is great news.
Both the Huion Kamvas Pro 13 as well as Xp Pen Artist 13.3 Pro comes with a fully-laminated display. It results in better image quality with more vibrant colors.
In older displays when you draw on the tablet there is a small gap between where the strokes appear and the point where the stylus is actually touching the display surface. This is called parallax.
This small gap affects the drawing experience and makes you feel disconnected from what you are drawing.

One of the biggest advantages of laminated displays is that – they reduce parallax and the strokes appear exactly where you draw them on the screen.
What is a laminated display? << Click here (opens in new tab) to know more about laminated displays and how they are better than the conventional displays and what other devices they are used in.
In a nutshell, you can say that both the tablets are equally good in the display department and you cannot go wrong with either of them.
Stylus – Huion PW507 vs Xp Pen PA2

How good a tablet is – ultimately depends on the stylus. A great tablet with all the latest specs is nothing without an equally good stylus. Accurate tracking with prefect pressure sensitivity, good build quality, and ergonomics is what defines a good stylus.
On paper both the stylus looks the same with each having 8192 levels of pressure sensitivity and ±60° of tilt support. In real life also, these stylus have equally good performance and apart from appearance and shape, there is no much difference between them.
Design and build quality
Often times we have to continually use these devices for hours. So ergonomics plays a huge role. For making the stylus more comfortable to hold these pens have a two-tone texture on the pen.
The front end of the stylus is made of rubbery silicone material that helps with a comfortable grip. The Stylus has the maximum width near the pen tip which slowly tapers off towards the back.
Weight distribution and balance are also optimized for better drawing performance and more control over the stylus. The pen is tip heavy which feels comfortable while drawing.
Buttons of Pen
There are two shortcut buttons that are located on the side of the pen. They are positioned in such a way that it is easy to press them with thumb or index finger. The Buttons of both the stylus is clicky and slightly raised above the pen surface to easily spot them without looking.
The shortcut buttons can be programmed and set to any shortcut in the driver settings.
Passive (battery-free) stylus
Huion PW507, as well as Xp Pen PA2, are a passive stylus. Which means they do not have a battery inside and does not need to be charged. They work using EMR (electromagnetic resonance) which is a really cool technology. You can click here to find more about EMR (opens in new tab).
Drawing performance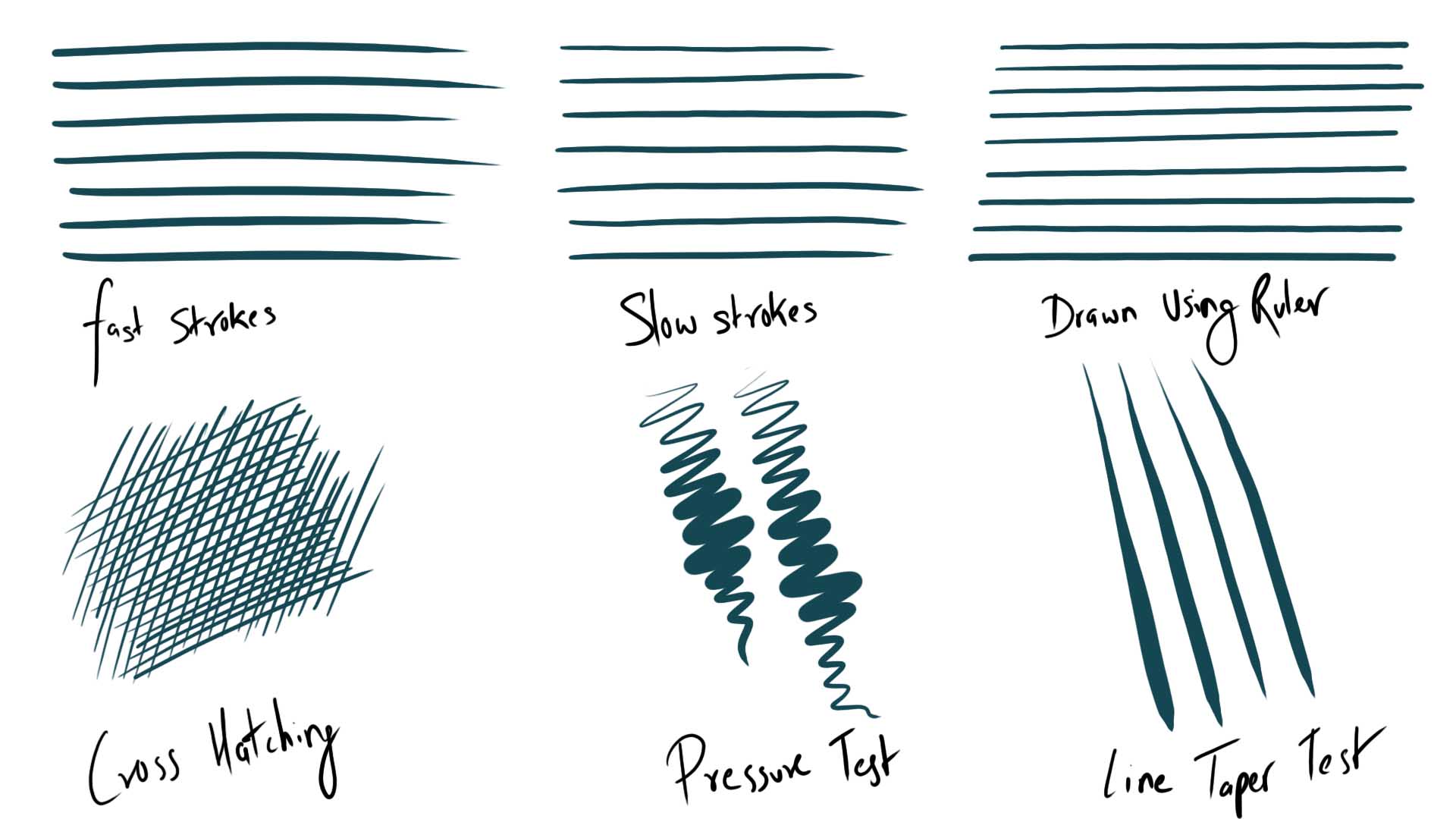 Huion and Xp Pen are popular brands and they have a lot of experience with making graphics tablets and it shows in their products.
The stylus performs good, totally on par with what you would expect from a premium tablet. The strokes are accurate with no signs of pen jitter or wavy lines. There are no issues of inconsistency or ghost strokes appearing. These pens have well-calibrated and smooth pressure curves with no weird pressure bump issues.
Overall, Huion PW507 and Xp Pen PA2 are very similar and equally good stylus and you cannot go wrong with either of them.
Pen holder/ Pen stand
Huion and Xp Pen comes with a very different style of pen holders. The Huion Kmavas Pro 13 comes with a simple pen stand whereas the Xp Pen Artist 13.3 Pro comes with a 2 in 1 Pen Holder and Pen Stand.
Huion Kamvas Pro 13 Pen Stand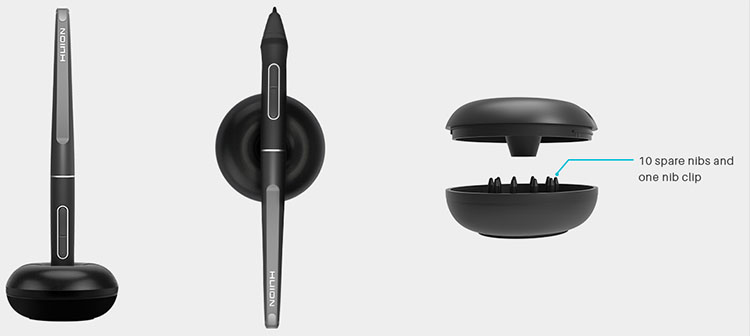 The Huion has a simple donut-shaped pen holder. The pen holder can hold your pen in vertical as well as horizontally. Opening the pen holder in half you will find storage space where 10 extra pen tips are places in a padded compartment. You will also find a nib remover clip in there which helps with replacing the pen nibs.
The Pen holder is made of plastic and does feel cheap – but honestly, it is not fair to ask for premium materials at this price range.
Xp Pen Artist 13.3 Pen holder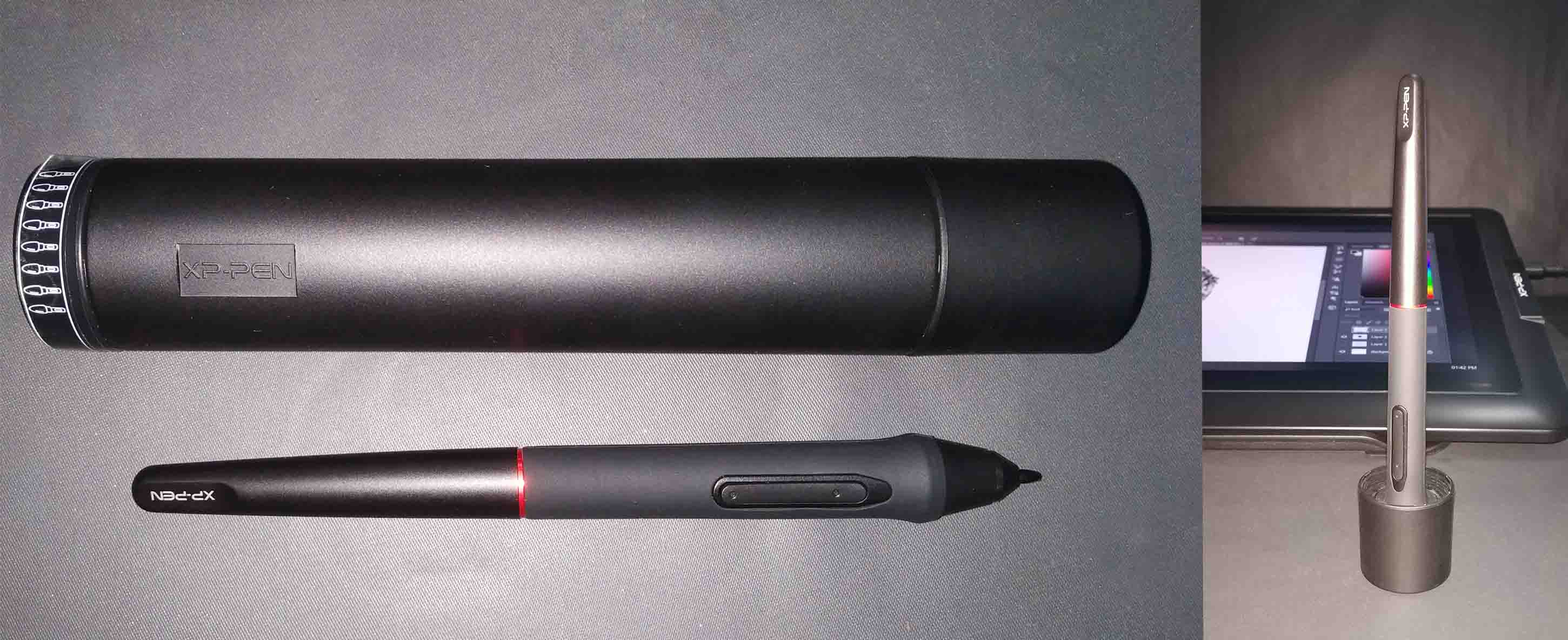 Moving over to Xp Pen, the Artist 13.3 comes with a well-built pen holder. The pen holder is cylindrical and comes with a soft-touch outer layer.
The front cap of the pen holder can double up as a pen stand as it holds the pen in the upright position as shown in the image above. The other end of the pen holder opens up to reveal the nib storage with eight extra nibs and a nib remover tool.
Comparing these two pen stands, the pen holder of the Xp Pen is more substantial and provides better protection to the pen, especially when you are carrying your tablet in the backpack.
The Huion Pen stand, on the other hand, may not be as high quality as Xp Pen, but it is more practical. The donut-shaped pen holder provides a better platform to hold your pen on the table, as it has a wider footprint which stops the pen from tipping over.
Expresskeys
If you are one of those people who heavily use express keys and try to minimize the use of keyboard than you would be happy to hear you have plenty of options here. Both the tablets are adequately equipped with express key options although they both take a slightly different approach.
These tablets have two types of express keys
Buttons
Multipurpose shortcut key
Shortcut Buttons

With Huion you get a total of 4 usable shortcut buttons along with a power button on top and a mode switching button for the touch bar t the bottom. All the four buttons can be changed to the shortcut of your choice in the tablet settings.
One more thing to notice here is the placement of the power button is a little awkward. The power button is located on the top, right next to shortcut buttons and it is easy to power off your tablet due to accidental presses.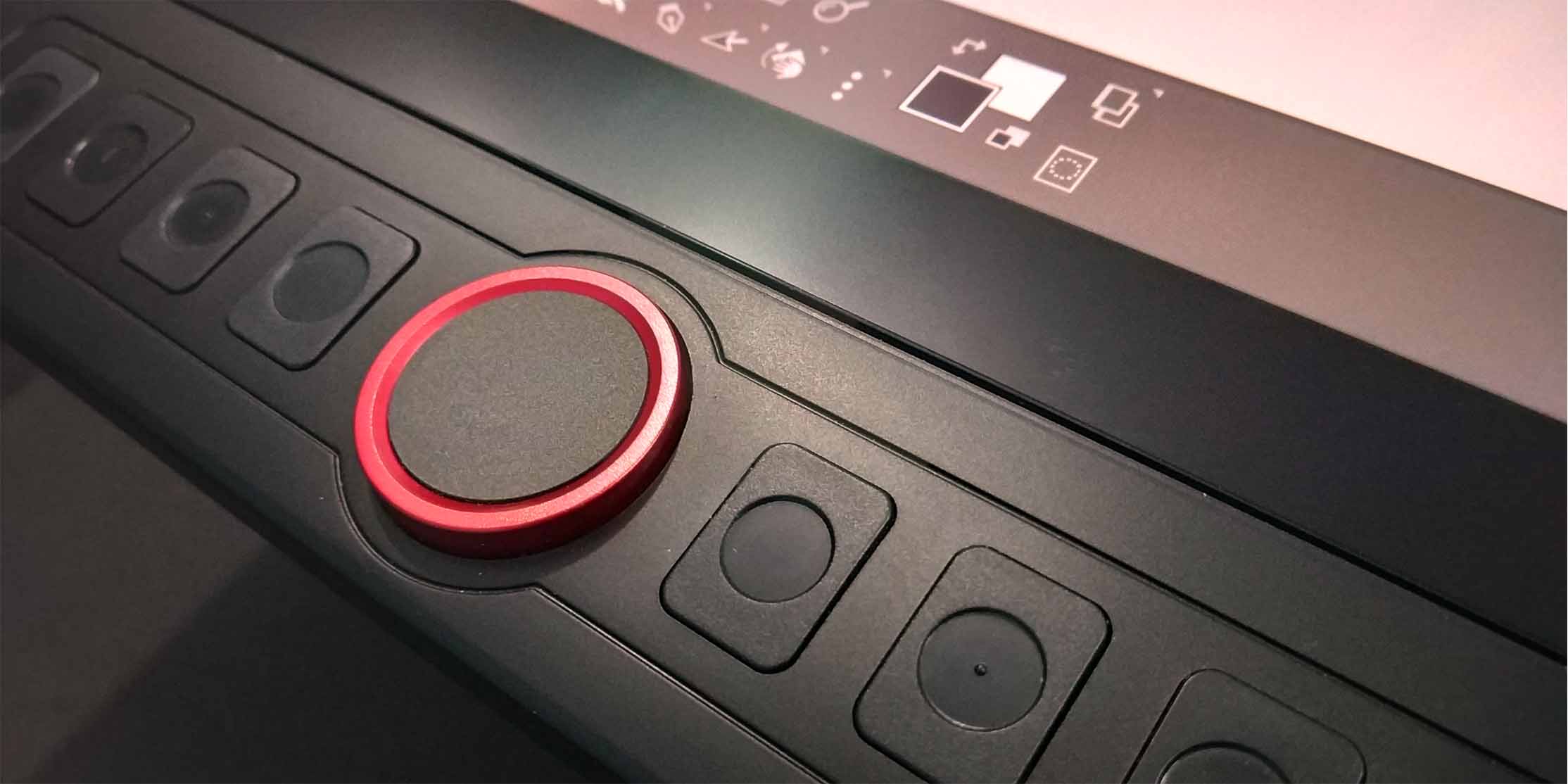 Xp Pen, on the other hand, gives you a lot of flexibility and customization options. There are a total of 8 shortcut buttons. Out of which 7 buttons can be used for the shortcut and one button can be set as a mode switcher for the multipurpose dial.
Buttons of both the tablets are easy to press and have a satisfying click to them. Some of the buttons are marked with raised dots and dashes to easily identify them without looking.
Multipurpose Dial and Touch Bar
Multipurpose shortcut buttons are great as they allow you to perform multiple shortcuts with a single button.
Huion Touch Bar
The Huion Kmavas Pro 13 comes with a touch-based shortcut which they call as touch bar. The touch bar is a narrow strip of touch-enabled surface which can perform shortcut such as pan, zoom, scroll and most importantly change the size of the brush and eraser just by swiping your hands up or down.
The only feature which is missing is the option to change the sensitivity of the touchpad.
Xp Pen Dial
Now coming to the XP Pen, the Artist 13.3 has a freely rotating dial as their multi-shortcut button. It also has the same shortcuts like changing the size of the brush and erasers, pan, zoom, and scroll. You can switch between these modes with the help of the mode switcher button.
The roller makes a clicking sound after every 15° of rotation which adds a nice touch.
Overall, most of the people would prefer the Dial of the XP Pen over the touch bar of the Huion tablet. In addition to that Xp Pen has more shortcut button which enables you to perform more tasks. So if you are a heavy shortcut user and heavily rely on expresskeys then Xp Pen Artist 13.3 will serve you better.
Tablet stand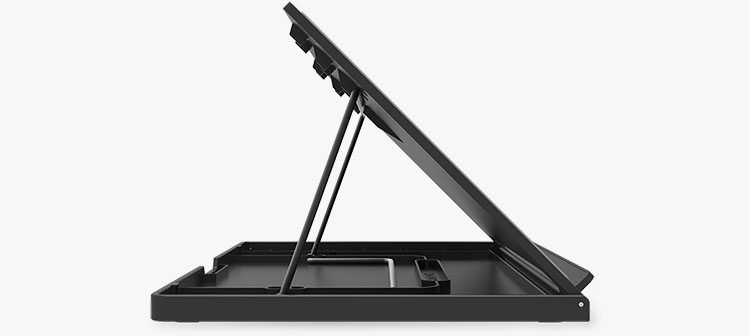 Using the display tablet flat – on the table can be uncomfortable, so it is recommended to use a tablet stand. Luckily both Huion Kamvas Pro 13 as well as Xp Pen Artist 13.3 Pro comes with a tablet stand pre-included in the box.
The tablet stand of Huion feels stronger and premium. It is made with the combination of plastic and metal and folds up in a very slim profile when it is not in use. You get the following six adjustable angles – 45 degrees – 22.5 degrees – 41.5 degrees – 19.5 degrees – 37 degrees and 14.5 degrees, which is sufficient.
Xp Pen comes with a very basic tablet stand which is made of plastic. It has a single adjustable angle of 20 degrees.
Accessories
Here is the list of all the accessories which come with Huion Kamvas Pro 13 and Xp Pen Artist 13.3 Pro.
Kamvas Pro 13
13.3 Inch Display
Huion PW507 Battery-free Stylus
Tablet Stand
Pen Stand
Cleaning cloth
Quick Guide
10 Replacement Pen Nibs
Nib remover tool
3-in-1 USB Cable
USB Extension Cord
Adapter
Cleaning Cloth
Black Drawing Glove
Artist 13.3 Pro
13.3 Inch Display
Xp Pen PA2 Battery-free Stylus
Portable Stand
Cleaning cloth
Pen Holder
Quick Guide
8 Replacement Pen Nibs
Nib remover tool
3-in-1 USB Cable
USB Extension Cord
Adapter
Cleaning cloth
Drawing Glove
Driver and tablet settings
A driver is a software that helps the computer to understand pen and tablet data. The driver for both Huion and Xp Pen are free to download and can be easily found on their respective websites.
What drivers Do?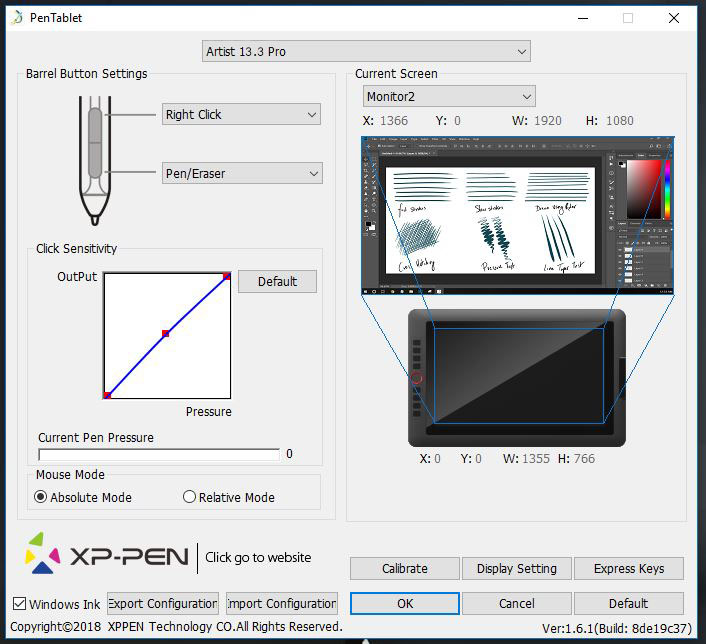 The driver gives you additional settings to makes changes in your tablet. Starting from the basics, a driver allows you to calibrate your display and choose your layout based on whether you of left or right-handed.
One of the biggest benefits of the driver is, it allows to change the Expresskeys to the shortcut of your choice. You can not only change the default short of the tablet but also you can change the two buttons on the stylus.
Further, the driver also gives you settings to tweak the pressure sensitivity of the stylus. Some of the other settings include adjusting the color, contrast, brightness of the tablet and creating application-specific shortcuts.
What are application-specific shortcuts?
Different painting, modeling, and sculpting applications have different shortcut keys. Kamas Pro 13 and Artist 13.3 Pro supports application-specific shortcuts, which allows you to set custom shortcuts based on the application you are using.
ie. when you switch from one application to other the shortcut buttons automatically change to predefined shortcuts, without needing to change shortcuts again.
How to connect the tablet to the computer
The Kamvas Pro 13 and Artist 13.3 are not standalone devices and need to be connected to a computer. Both the tablet connects to the computer in the same way. Above is a video to help you set up your device.
The tablet comes with a hybrid 3 in 1 cable. The cable has a USB Type-C connector at one end and an HDMI port, Full-size USB, and a power connector at the other end.
For connecting your tablet to the computer, first, you need to connect the single USB Type-C cable to the tablet. Next, connect the HDMI and Full-size USB cable to your computer and the power cable to the Power adapter. After that install, the driver and you are ready to go.
Some of the newer generations of laptops do not have an HDMI and full-size USB port. In that case, you can get a USB hub like Kingston Nucleum (Amazon). It has all the ports you need for connecting your tablet.
*Note*
The Xp Pen Artist 13.3 Pro can be connected to your computer/Laptop directly if it has a
Powered USB port
, without needing it to be plugged to the power adapter.
Final thoughts – Which tablet you should pick
In this rather long discussion, we did a detailed analysis of some of the key aspects of the tablet which include – Design, build quality, display, stylus, expresskeys, stand, accessories, driver, and connectivity.
Which tablet you should get depends on what your needs are – If you are looking for a well-built, better-looking tablet with good design and overall good performance than Huion Kamvas Pro 13 can be a good choice.
On the other hand, you are someone who uses the shortcut buttons a lot and overall wants a more practical tablet with better shortcut options then XP Pen Artist 13.3 Pro is the right choice for you.
Last update on 2021-03-18 at 13:27 / Affiliate links / Images from Amazon Product Advertising API
Check out other comparisons:
Apple iPad vs Wacom Cintiq
Apple iPad vs Samsung galaxy tab s4
Huion Kamvas Pro 16 vs Xp Pen Artist 15.6 Pro
Apple Pencil vs Samsung Spen