Disclosure: As an Amazon Associate EssentialPicks earn from qualifying purchases.
Drawing tablets are quickly becoming one of the essential tools for artists. With many artists switching from traditional art to digital. Maybe the lure of the UnDo button is irresistible.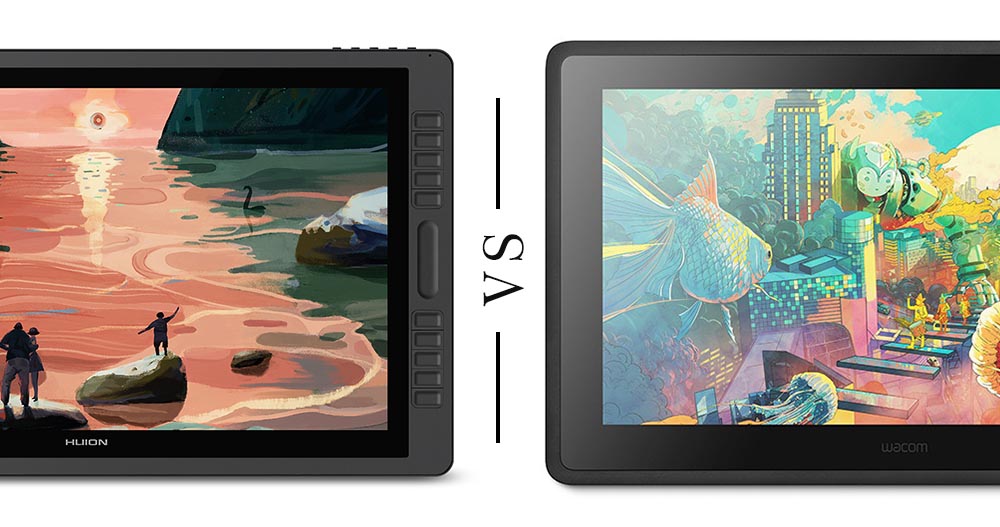 One of the things that always made people reconsider buying a display tablet was their eye-watering prices. This was especially true for the larger tables.
As more and more artists asked for affordable drawing tablets, all the major brands listened and responded. Wacom introduced the Cintiq 22 whereas Huion has come with their Kamvas Pro 22.
As the name suggests – both the Cintiq 22 and Kamvas Pro 22 are 22-inch tablets with very similar features.
Now, Wacom has always been the industry leader when it comes to digital drawing devices. But competition is slowly catching up. Huion is one of its prime competitors and lately, they have been coming up with some really lucrative options for drawing tablets.
So the question is which of the two tablets is a better drawing device and which tablet should you get as your next drawing tablet?
In this Huion kamvas Pro 22 and Wacom Cintiq 22 comparison, we will try to answer some of these questions. We will also do a side by side analysis of all the features these tablets have to offer.
So Let's get started.
Features Comparison
Starting off with specs, here is the list of all the main features Huion Kamvas Pro 22 and Wacom Cintiq 22 comes with.
|   | Huion Kamvas Pro 22 | Wacom Cintiq 22 |
| --- | --- | --- |
| | | |
| Display Size | 21.5 Inches | 21.5 Inches |
| Dimension | 23.1 x 13.54 x 0.8 in | 22.4 x 14.1 x 1.6 in |
| Resolution | 1920 x 1080 FullHD | 1920 x 1080 FullHD |
| Color Accuracy | 120% sRGB | 96% sRGB |
| Shortcut Buttons | 20 + 2 Touchbar | No shortcut buttons |
| Pen Pressure | 8192 levels | 8192 levels |
| Pen Tilt | 60 degrees | 60 degrees |
| Buttons on Pen | 2 | 2 + Eraser |
| Pen Holder | Yes | Yes |
| Extra Pentips | 10 Extra Pen tips | 3 Extra Pen tips |
| Tablet Stand | YES, Included | YES, Included |
| Weight | 9.9 lbs (4.5 kg) | 12.3 lbs (5.6 kg) |
| Price | Check on Amazon | Check on Amazon |
These raw numbers can only tell you so much about these tablets, so make sure you go through our detailed comparison.
Design and Build Quality
When we generally compare tablets, most of them have a very similar design – but that is not true in this case. Wacom and Huion have gone with very different design choices.
Wacom has implemented a very minimalistic and sleek looking design with nothing but a screen at the front.
Huion, on the other hand, chose a very practical design with a large display at the front and a variety of shortcut buttons on both sides of the screen.
Dimensions and weight
Here are the dimensions of both these tablets.
Huion Kamvas Pro 22 – 23.1 x 13.54 x 0.8 in
Wacom Cintiq 22 – 22.4 x 14.1 x 1.6 in
Observing these dimensions we find that both the tablet has a similar length and width, meaning they occupy similar space on your table. But when it comes to the overall thickness, you can see that the Wacom Cintiq 22  is twice as thick as Huion.
There is also a difference in weight. Huion tablet weighs around 9.9 lbs (4.5 kg) and Wacom Weights about 12.3 lbs (5.6 kg).
But these massive 22-inch tablets are not meant to be portable devices and always stay on the desk. These variations in thickness and weight are not that big of a deal.
Display – Resolution, and color accuracy
The display is one of the important parts of a drawing tablet. An ideal display should have a high resolution, accurate colors, good viewing angles, and sufficient brightness.
Both Huion Kamvas Pro 22 and Wacom Cintiq 22 comes with a 21.5 inch 1920 x 1080p FullHD display. A FullHD display on a 22-inch tablet does not give you the sharpest images, but it is good enough for most of the artists.
Color accuracy is important because as an artist you have to make a number of choices and minor adjustments in your artwork. A significant number of these decisions are based on the colors you see on the screen.
A bad display with inaccurate colors can be detrimental to the quality of your work.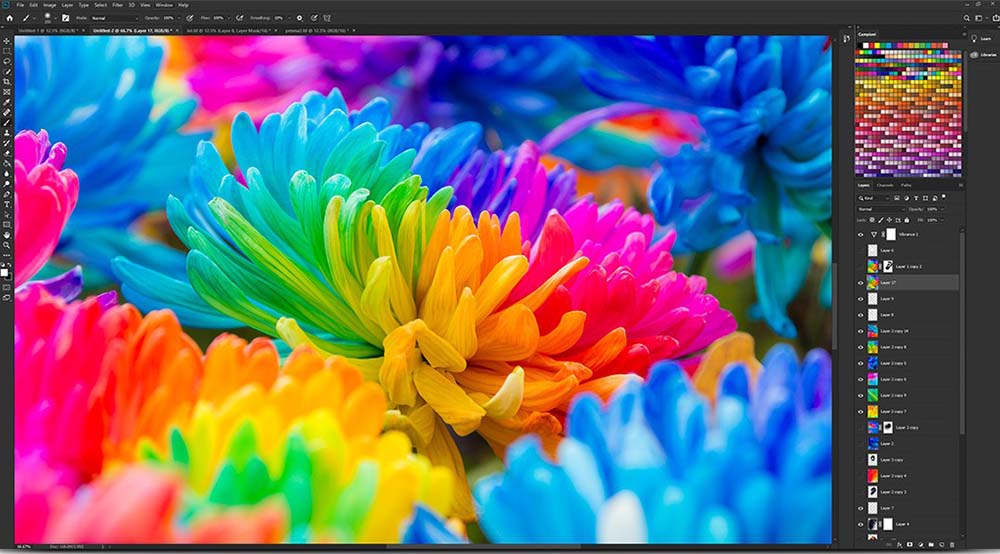 When it comes to color Huion takes a slight edge as it has a more color-accurate screen. The Huion Kamvas Pro 22 covers 120% sRGB color space compared to 96% in Wacom Cintiq 16.
To the credit if Wacom, the Cintiq 22 comes with a precalibrated display. Meaning the screen displays accurate colors right off the bat. With this tablet, you don't need to fiddle with the settings in order to get the standard colors.
Display Brightness
The Kamvas Pro 22 has the brightness of 250cd/m2 whereas Wacom Cintiq 22 has a brightness of 210 cd/m2. Drawing tablets are always used indoors and that is why these levels of brightness are sufficient enough.
Display texture and lamination
The displays on drawing tablets are primarily made of three layers.
The screen layer – that produces images.
Touch layer – detects stylus input
Top glass – provides protection to the layer beneath
Since these are three separate layers, there is a small gap between each layer.
When we draw on these screens, the strokes drawn on the screen appear a few millimeters away from the point where the stylus is actually touching the surface. This is what we commonly refer to as parallax.
This mainly happens due to the diffraction of light in air and glass and the angle at which we are looking at the screen.
To fix this, Huion Kamvas Pro 22 comes with a laminated display. Where all three layers of the display are tightly laminated together into a single unit of glass and screen. With this display, the parallax is greatly reduced and the lines appear exactly where you draw them.
Even though the Wacom Cintiq 22 does not come with a laminated display, still they have done a great job of reducing parallax on their displays.
Surface Texture and matte display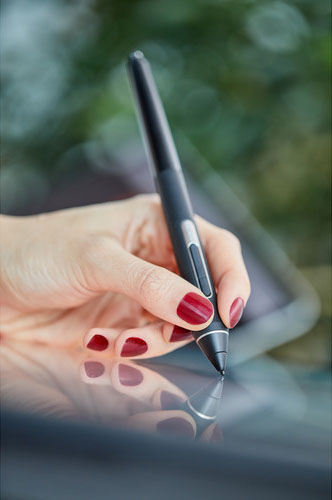 The nibs of the stylus are made of plastic and when the plastic tip of stylus interacts with the glass on the screen, it slides a little too much.
A textured screen has microscopic irregularities that provide friction to the stylus.
It stops the stylus from sliding and makes it easier to control. The textured surface also has anti-glare properties that reduce reflection on the screen.
The Huion Kamvas Pro used an etched glass for achieving this textured finish whereas Wacom uses a thin anti-glare film.
This matte display and textured glass make the screen less bright and disperse the colors of the screen.
But for the benefits they provide, most of the artists are happy to make this tradeoff.
Stylus – Huion PW500 vs Wacom Pro Pen 2
The stylus is a very important part of a drawing tablet. For a good drawing experience, it is important that the tablet comes with a good stylus that has consistent performance.
The Pro Pen 2 from Wacom is often regarded as one of the best stylus in the market. It is liked by artists for their consistent and reliable drawing performance. But Huion is slowly catching up, they have styluses that are almost as good as Wacom.
Stylus features – Pressure and tilt sensitivity
On paper both the stylus looks equally good. Huion and Wacom stylus come with the pressure sensitivity of 8192 levels with tilt sensitivity up to 60 degrees.
In real-life tests, the pressure sensitivity on both the stylus feels very consistent and balanced. You won't get any weird pressure bumps and overall everything feels in control. The same is the case with tilt sensitivity.
The difference between Wacom Pro Pen 2 and Huion PW500 starts to appear in pen jitter. When you draw straight lines with Wacom stylus, the lines drawing by it are straight as they should be.
Repeating the same with Huion PW500, we start to notice the light is slightly wavy. This is what we call a pen jitter.
This wavy lines phenomenon (pen jitter) almost does not exist when we draw faster strokes, it only happens when you draw slow straight lines.
With that said, this pen jitter is so minimal and suttle that it has almost no effect on your drawing experience.
Ergonomics and design of the stylus
Drawing tablets are often used by artists for longer drawing sessions, So it becomes important that the stylus is comfortable to hold.
Both the stylus are very similar to each other in terms of design and overall feel. These stylus have a wider tip that tapers towards the back. There is also a matte finish textured material on the front half of the stylus that provides a better grip.
Buttons on the stylus
The Wacom Pro Pen 2 comes with a two side button and a pressure-sensitive eraser at the back. Huion PW500 stylus has 2 buttons on the side with no eraser at the back.
The side button of both the stylus is programmable and can be set to any hotkey of your choice.
Response time
How long it takes for the lines drawn by the pen to appear on the screen is what we call – the response time of that stylus.
In earlier stylus, you may have noticed – when you drew, the line appearing on the screen trails behind the stylus. That is the result of high response times.
Both Wacom and Huion stylus comes with very minimum response times. If we talk in numbers, the Huion Kamvas Pro 22 has a response time of 8ms whereas the Wacom Cintiq 22 has a response time of 22ms.
Initial Activation force
How much pressure you need to apply on the stylus for it to start drawing is what we call the initial activation force.
Ideally, you want your stylus to have a low initial activation so that you can draw as naturally as possible without needing to actively press the stylus for the ink to appear.
Comparing the two styli, Wacom Pro Pen 2 seems to have a slightly better initial activation force than Huion stylus.
Power and charging the stylus (Passive Pens)
Wacom Pro Pen 2 and the Huion PW500 stylus are passive pens. Meaning they do not have a battery inside and do not needs to be charged.
They work by wireless transfer of power from the tablet using a precess called EMR (electromagnetic resonance).
Pen holder and extra Pen Nibs
The cylindrical stylus often rolls off the table and gets damaged. To stop this from happening drawing tablets generally come with a Pen holder, which helps you to store your stylus when it is not in use.

The Huion Kamvas Pro 22 comes with a donut-shaped pen holder. It can hold the stylus vertically or horizontally. Opening the pen holder, you can find extra pen nibs and a nib remover tool neatly store inside.
You get a total of 10 extra Pen nibs with the Huion Kamvas Pro 22.
The Wacom Cintiq 22 comes with a small fabric loop that is attached to the right-hand side of the tablet. You can simply slide in the Wacom Stylus when you are not using it. Initially inserting the stylus in the fabric loop is quite tedious but over time it becomes easy as the fabric loosens up.
There are three extra pentips provided with Wacom Cintiq 22. These pentips are present on the pen holder itself and can be accessed by sliding out the pen holder from the tablet. The Pen holder also stores the nib remover tool.
Shortcut Buttons and Expresskeys on tablet
Shortcut buttons are a very handy tool for digital artists. They minimize the use of the keyboard and make the overall drawing process more seamless.

The Huion Kamvas Pro 22 comes with a total of 20 buttons and 2 touch bars, located on either side of the tablet. It gives artists a lot of room for customizations. The touch bar helps with advanced shortcuts such as zoom, scroll and change the size of brush and eraser.
Wacom, on the other hand, comes with no shortcut buttons. Not having the buttons on the tablet makes the tablet look more futuristic but it also takes away some functionality.
But if you really need a shortcut buttons with Wacom Tablet, you can get the wireless Wacom Expresskey Remote (Amazon).
The Expresskey remote has a total of 17 buttons as well as a touch ring. All these buttons are customizable and can be set to any shortcut.
Adjustable Tablet Stand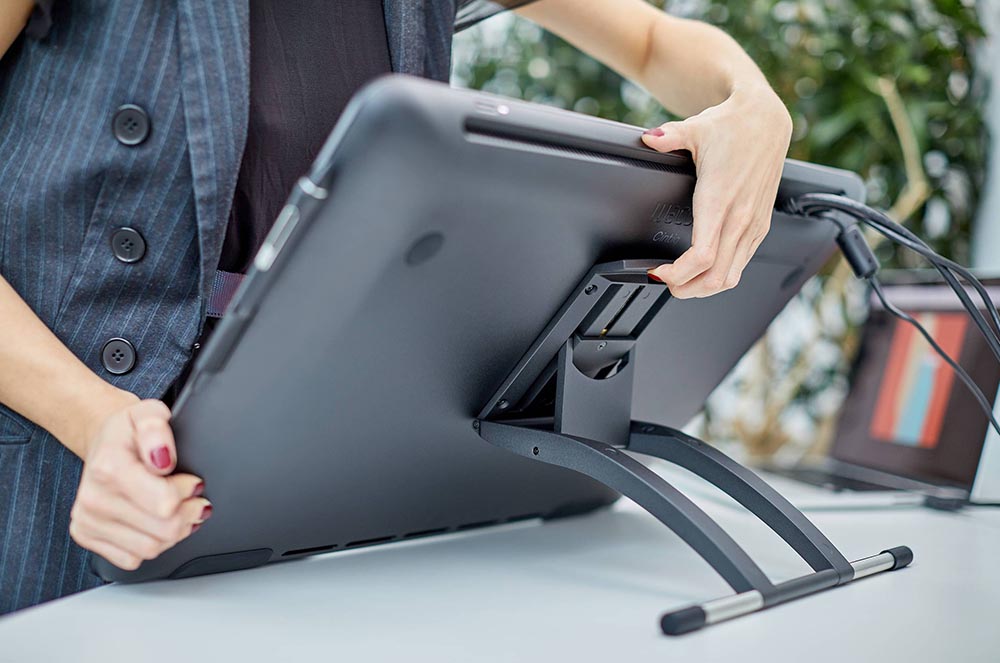 Both the Kamvas Pro 22 and the Cintiq 22 come with similar adjustable stands, which can be conveniently used to set up your work desk.
With a tilt angle ranging from 20 to 80 degrees, you get enough flexibility to adjust the screen as per your preference.
The adjustable stands are made up of metal, which provides the much-required strength and sturdiness.
Both the Kamvas Pro 22 and Cintiq 22 are VESA compatible, which means you can remove the stand to attach a monitor arm using the VESA mount, which will allow you to use your tablet in a more flexible manner.
These stands have anti-slid strips on the base that prevents any undesired skidding while drawing on smooth surfaces.
Driver and Table settings
A driver is a software that helps the computer to understand the pen and tablet data. It also helps make some additional settings to personalize the drawing tablet.
Some of these things include change the default shortcut of the tablet, adjusting the pressure sensitivity of the pen, reprogramming buttons, mapping the display, changing from right hand to left-hand mode as well as adjusting the colors on the screen.
The drivers are easy to understand and freely available for Mac and Windows devices.
FAQ: Can we use these Drawing tablets without computers?
Huion Kamvas Pro 22 and Wacom Cintiq 22 are not standalone drawing tablets, meaning they do not have a computer inside and needs to be connected to an external computer in order to work.
FAQ: Will these drawing tablets work without using drivers?
No! In order to work properly, the driver needs to be installed.
What's inside the box
Here is a list of everything that you get in the box.
Kamvas Pro 22
Huion Kamvas Pro 22 Drawing Tablet
PW500 Drawing pen
Pen Holder + 10 Replacement Nibs
Power Adapter
AC Cable
HDMI Cable
USB Cable
Quick Start Guide
2 x Artist Glove
Adjustable Stand
Cintiq 22
Cintiq 22 Drawing Tablet
Wacom Pro Pen 2
Pen holding loop + 3 Replacement Nibs
Power Adapter
AC Cable
HDMI Cable
USB Cable
User Manual
Adjustable Stand
Summary – Which is a better tablet?
Both Kamvas Pro 22 and Cintiq 22 are great drawing tablets. To help you recall some of the important things that we discussed in this comparison, here is a summary of the main differences.
Kamvas 22 Pro provides a laminated screen in comparison to the non-laminated one in the Cintiq 22.
Kamvas 22 Pro has a total of 20 programmable shortcut keys along with 2 touch bar, while the Cintiq 22 has none. In fact, you will have to purchase the Expresskey remote for the Cintiq 22 if you want to use any shortcut keys.
The screen of Kamus Pro 22 has a higher color gamut (120% sRGB against 96% sRGB).
Both the tablets provide adjustable tablet stands, which are similar in features and performance.
Cintiq 22 has a better stylus than Huion.
Both the tablets have the same screen size, resolution, pressure, and tilt sensitivity.
The Wacom Pro Pen 2 has the lowest Initial Activation Force, which provides a better drawing experience.
Wacom provides better driver support.
Kamvas 22 Pro comes with 10 extra pen nibs, while the Cintiq 22 comes only with three.
In a Nutshell
If we look closely at both the tablets, it can be observed that Huion Kamvas Pro 22 is a better value for money device.
The prices of these tablets keep on changing, you can click here to check the current price of Huion Kamvas Pro 22 (Amazon) and Wacom Cintiq 22 (Amazon).
When we see that Huion has a better display with better color accuracy, laminated screen, and etched glass. All these features for a lower price make Huion Kamvas Pro 22 a great choice for artists looking for premium features at pocket-friendly prices.
Even the design of the tablet is more practical with a number of shortcut buttons, something you can only get with Wacom after buying a Shortcut remote – which is not cheap.
On the other hand, Wacom Cintiq 22 is for those who are willing to spend a little extra for a tablet with superior drawing quality.
As we have said, a stylus is the most important feature in a drawing tablet. A better display and design are great to have but what is more important is the quality of strokes and the confidence that you get when using a good drawing stylus.
Even though both the stylus are comparable but still Wacom Pro Pen 2 is slightly better as it has no pen jitter issues. To put it in numbers – the Huion PW500 stylus gets 8.5 marks out of 10, whereas Wacom Pro Pen 2 gets 9.0 out of ten.
If this is a big enough reason to change your choice, you decide.
Buy: Huion Kamvas Pro 22 (Amazon)
Buy: Wacom Cintiq 22 (Amazon)