Drawing Tablet
It is one of the most obvious thing as a digital artist to have a drawing tablet. Some of you may be starting out and want to know which drawing tablet you can get at the cheapest price. On the other hand there may be some people who are still using that strange looking five year old Drawing tablet. In past few years the drawing tablets have become very advanced at the same time good tablets have become incredibly cheap. Here is the article which will help you to get upto date "Best Drawing Tablet"
Printer
Most of the artwork made end up staying in the hard-disk of the computer. Why not give them the love they deserve by printing them. The printer will also be helpful in various personal and client related work. You can get the touch and feel of your design and make minor adjustments accordingly.
Now-a-days printers come relatively cheap and are easy to maintain. Although laser printers are cheaper and widely used but for artists inkjet printers are recommended due to their ability to print on different kinds of materials. Check out our recommendation for the best inkjet printer for digital artists.
Speakers
Digital art may be a time consuming process but it is surely a very enjoyable process too. Having a great speaker can make your work more enjoyable and in most of the cases make your brain relax more resulting in better creativity and great outcome. For getting great audio you don't need a huge speaker with full-blown 7.1 channel surround sound system and other fancy stuff.
While buying a speaker it is very easy to over-analyze things but if you still want to do that Here is a great article which will help you with that. For other peace loving people you can go with a mid-range speaker like "Anker Soundcore" or you can go for a bit higher range and get "JBL Flip 4 Waterproof Bluetooth Speaker".
Creative Cloud Subscription

Adobe Creative Cloud is the most used creative application pack in the world and the great products they have explains in themselves they deserve to be in the no.1 position. The package contains all the important softwares for different professionals. It includes photo manipulation packs like Photoshop, Illustrator, Lightroom. Other than that it has video editing softwares like Premiere Pro, After Effects. You also get free cloud storage and mobile supported app version.
Mouse

Even though widely used, mouse is one of the most underrated device. Most of the people doesn't give it much thought while purchasing a new one, but for digital artists it is one of the very important tool. A good high quality mouse has high DPI (dots per inch) which gives you precision control. So next time you won't be missing those anchor points and handles which will make your drawing process hassle-free.
A decent mouse can be real helpful when it comes to gaming, giving you a very pin-pointed response. These mice has a ergonomic shape which doesn't give you hand cramps during prolonged uses. The extra shortcut buttons also comes in handy. With mouse you can go from dirt cheap to very expensive like Logitech MX Master 2S or you can check out some medium range mouse like Razer DeathAdder Elite which sits at the sweet spot of price and features.
Mouse Pad

MousePad may be a thing of past as most of the modern mouse doesn't need them anymore and boasts of working on any surface. However while working on a reflective or semi-reflective surface they doesn't seem to work that well. The mouse pad allows the sensor to accurately measure the surface, some of them also have a wrist pad for comfort.
It also gives the setup a kind of a more professional look. There are various kinds of mousepad available from small to large, colorful to matt and from cheap to not so cheap. Here is what i use.
Headphones
If you are an artist then you already know the importance of headphone. Maybe you are the one who has that old headphone which doesn't gives you that dope beat you need or you may not have it at all.
A headphone could be your best friend ever as it gives you the ability to totally submerge yourself in your art. It not only be helping with your work but also help you to relax. You can take it on a trip, use it during your work or even at some boring places, it is always there to keep you company.
The Headphones comes in different variants wired, wireless, waterproof, open back, closed back, noise canceling and many other geeky terms. But one thing which is most essential is their sound quality. If you want the best Headphone in the market than Sony MDR-1000X Noise Cancelling Headphones is the most appreciated choice, Audio-Technica ATH-SR5BTBK Wireless headphone is a great choice if you want a great sound experience at an affordable range.
Keyboard
If you have a laptop than you may be the person who use the default keyboard of the laptop. A laptop keyboard may be a good option for a on the go work-life, but if you are the person whose work includes typing and working on softwares than a mechanical keyboard is the must have accessory for you.
Mechanical Keyboards are made for more typing specific work and have a very satisfying click to them. One of the main benefits of a external keyboard is you get the freedom of more comfortable screen positioning and increased distance from the monitor screen which is a good for our eyes. These keyboards are very reliable and known to last long. You don't need to spend a lot for getting this Logitech G610 Orion is one of the best keyboards you can get in the medium price range.
RGB light
The best way to make those creative juices flow in your mind is to surround yourself with the surreal environment. the rgb light does exactly that for you. For some people RGB lighting is a huge no-no but in recent times they are being really appreciated and sought after thing in tech community.
The newest generation of smart lights such as Philips Hue have a support for 16 million colors and works with all the smart-assistants like Google Assistant, Siri or Alexa or you can customize them with the mobile app. The best thing about these lights are they can be used as a normal white light bulb when you are not in RGB mood.
Similarly Neoleaf is a company which have really mastered the art of rgb lighting. Their newest product called Nanoleaf Aurora Smarter Kit is a set of lights which communicate with each other and can arrange themselves is various patterns to make an amazing looking set of rgb patterns. These lights also helps you to get a better sleep and gives your room a futuristic look.
Monitor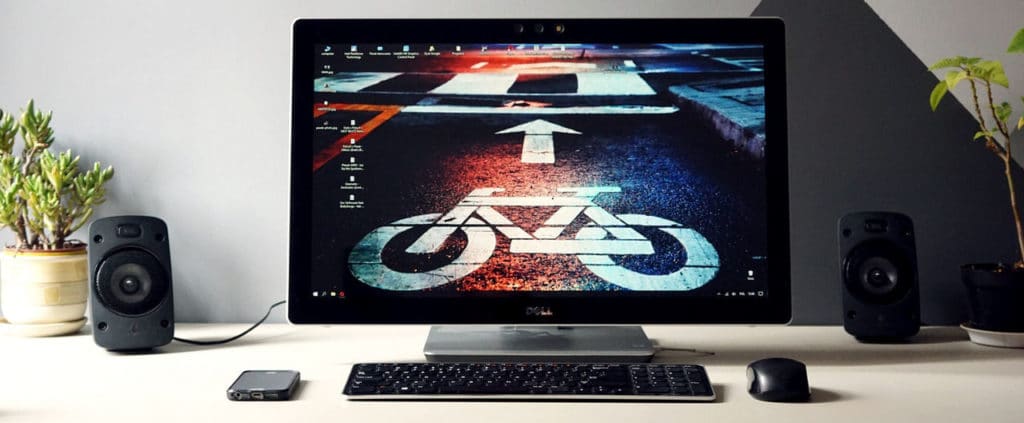 Working on a laptop screen may be a convinient option but while using some professional softwares it feels too small and cramped. Most of the laptops the market don't have the perfect color corrected screens and that is the reason your artwork may look slight off color on your laptop screen than on your device.
A drawing monitor is a perfect companion for you as it can be used as a standalone device or can be used as an expansion of your current monitor to make a multi-monitor setup. In both ways it is good for you as you will get accurate color data better resolution and playing games would also be a whole better.
If you want the best monitor in the market than BenQ PD3200U is the best choice as it has everything you need, but if you want some budget oriented monitor than LG UM57 and Samsung UE590 is the one which provides the most value for your money.
BONUS TIP:-
USB Light
It is not a suggestion but rather a life hack. As some of the laptops and keyboards doesn't comes with an backlight and it becomes extreamily tiresome to type in dark. That is exactly when the USB Light comes into rescue. Just plug and use it also works with poerbanks and can be used for various things at various occassion.