Disclosure: As an Amazon Associate EssentialPicks earn from qualifying purchases.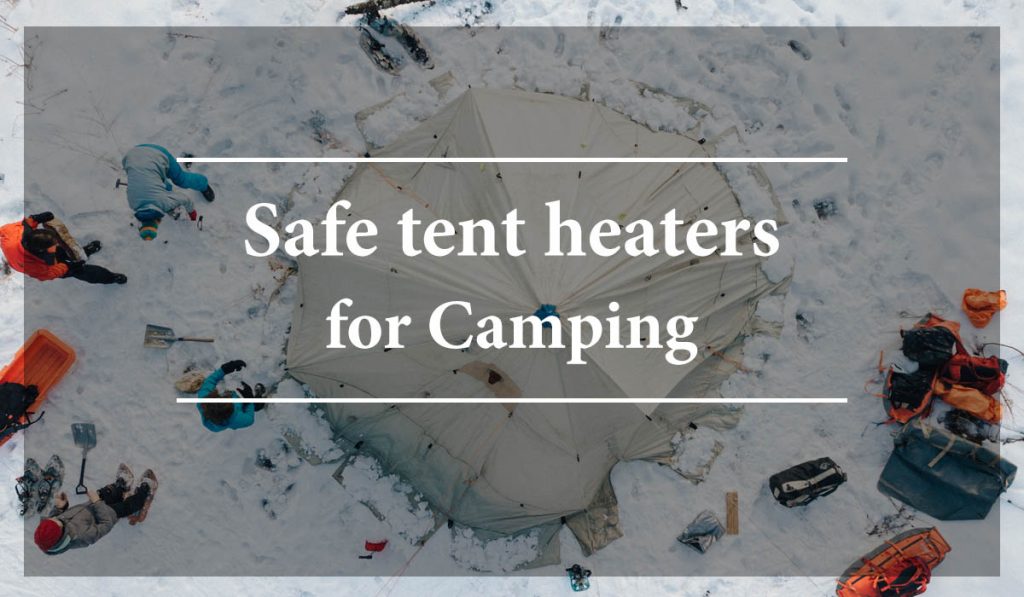 Camping in winter takes a lot of planning and preparation. Keeping yourself warm can be tough as the cold constantly tries to lower your body temperature. Campers wear multiple layers of warm clothes and use quality sleeping bags but it still takes time to get your body temperature under control.
A tent heater is a smarter, efficient and low effort way of keeping yourself warm. More and more campers are using them for their winter camping trips. 
You cannot use a generic patio heater in your tents as they are not made for indoor spaces. There are special heaters which are specifically made for small spaces like tents and RVs.
We have made a list of safe tent heaters for camping which will keep you warm, without compromising with safety.


Camco Wave 3
Catalytic heater
3000 BTUs
Fuel: Propane
Catalytic heater
Safest Propane heater
CHECK ON AMAZON

Lasco 5409
Electric heater
5100 BTUs
Fuel: Electric
Overheat protection
Adjustable thermostat
CHECK ON AMAZON

Little buddy
Propane heater
3800 BTUs
Fuel: Propane
Oxygen depletion
Compact and portable
CHECK ON AMAZON
Benefits of tent heater
Getting a tent heater can transform your camping experience and make it comfortable and fun. It lets you focus less on survival and more on exploring. Here are some of the benefits of having a tent heater.
Easy to set up – low effort low maintenance
Tent heaters are very easy to set up and need almost no maintenance. Once you set them up, they can provide you a warm and cozy atmosphere all night long.
Creates a comfortable environment inside the tent
Sleeping in layered clothing is uncomfortable and it restricts your movement. Bringing up the temperature of your tent allows you to be more comfortable and helps you sleep and relax better.
Lightweight and portable
As far as the portability goes, heaters come in all shape and sizes. The camping heaters are designed to be more efficient and portable than your average patio heaters.
Safe and efficient
Camping tents are generally small. Safety is one of the biggest concerns when it comes to getting a heater for your tents. 
There are special heaters which are specifically made for small spaces. They are very efficient and use less fuel while emitting a lower amount of gases. 
Safe tent heaters for camping
Here are some of the safest tent heater in the market which we have handpicked for you. They come with special features like catalytic combustion and sensors to ensure total safety.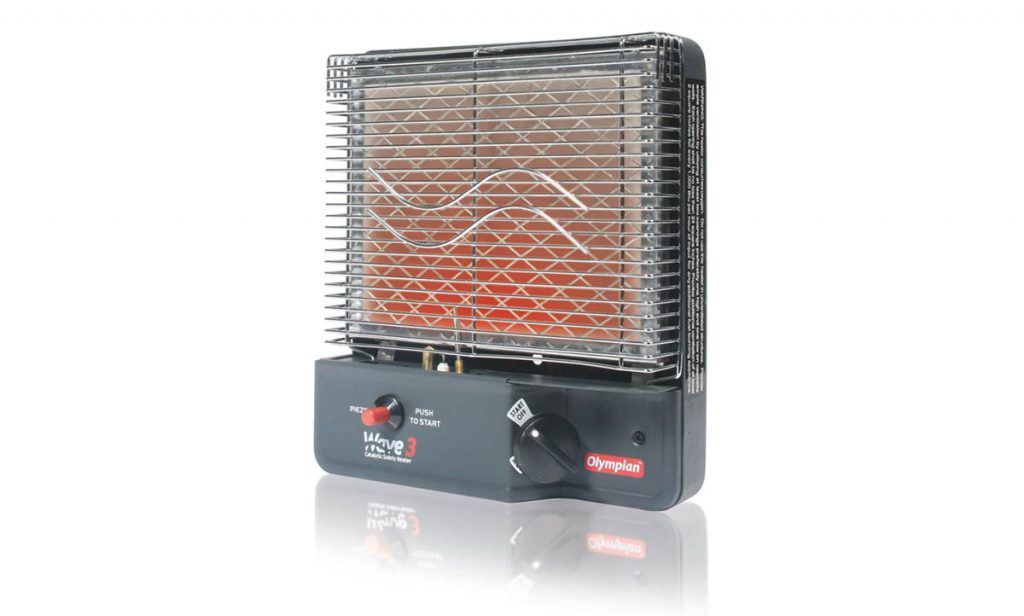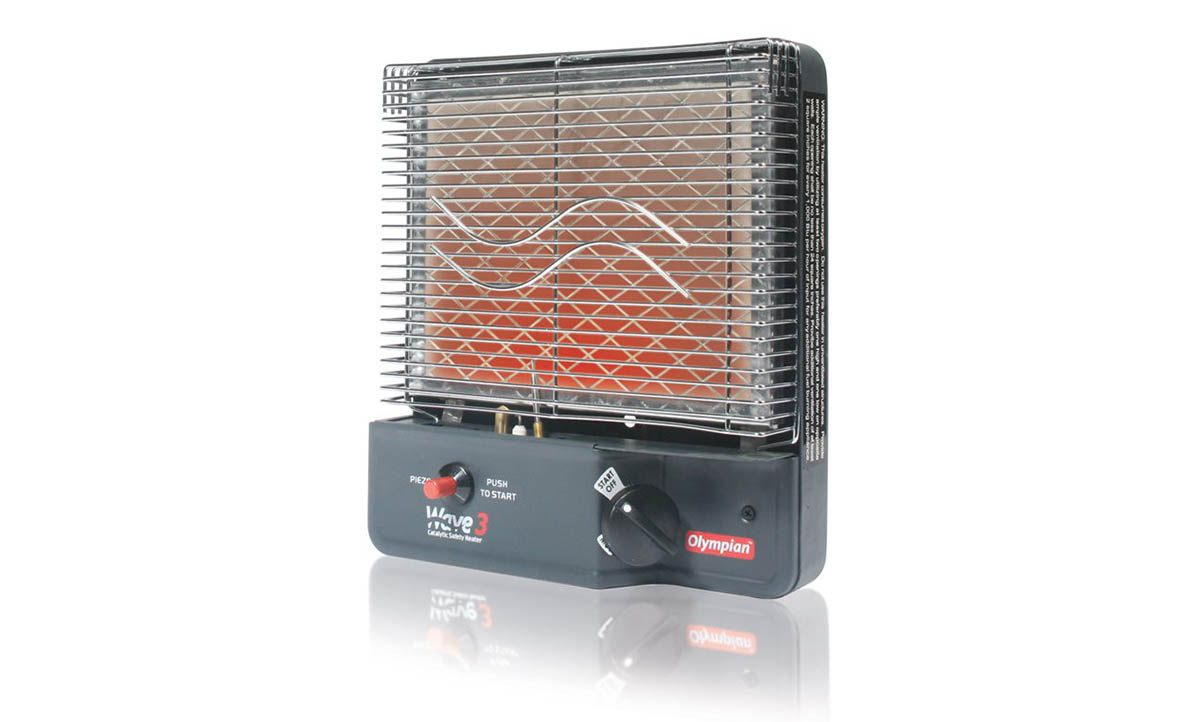 Camco Olympian series is one of the safest indoor tent heaters you can get right now. It uses special catalytic technology, set of filters and a ton of other features which gives you 100% safety.
The Camco Wave 3 has adjustable heat units from 1600 BTUs to 3000 BTUs, which is perfect for small spaces. The heater does not require any electrical connection or battery making it a perfect heater for boondocking or dry camping.
It operates silently without using any internal fans which is great if you are a light sleeper. The Camco Olympian wave 3 is suitable for a 230 sq. ft. space.
The heater uses catalytic combustion which is very efficient and releases a very low amount of gases in comparison to generic heaters. It has special materials like platinum and quartz fabric foam which absorbs harmful gases.
All these advanced features make it a little expensive than other heaters in the market but it is worth every penny considering the safety it provides.
1,600 or 3,000 adjustable BTUs per hour
Available in multiple sizes
Suitable for up to 130 sq. ft.
Safety shut-off valve
Safest propane heater for tent and RVs
Uses Piezo igniter
No flame, flue or chimney
AGA and CGA approved.
Silent heater with no fan
Produces no harmful amounts of carbon monoxide
No battery or electricity needed
Fuel: Propane
Indoor safe: Yes
2. Mr. heater buddy – Indoor safe portable propane heater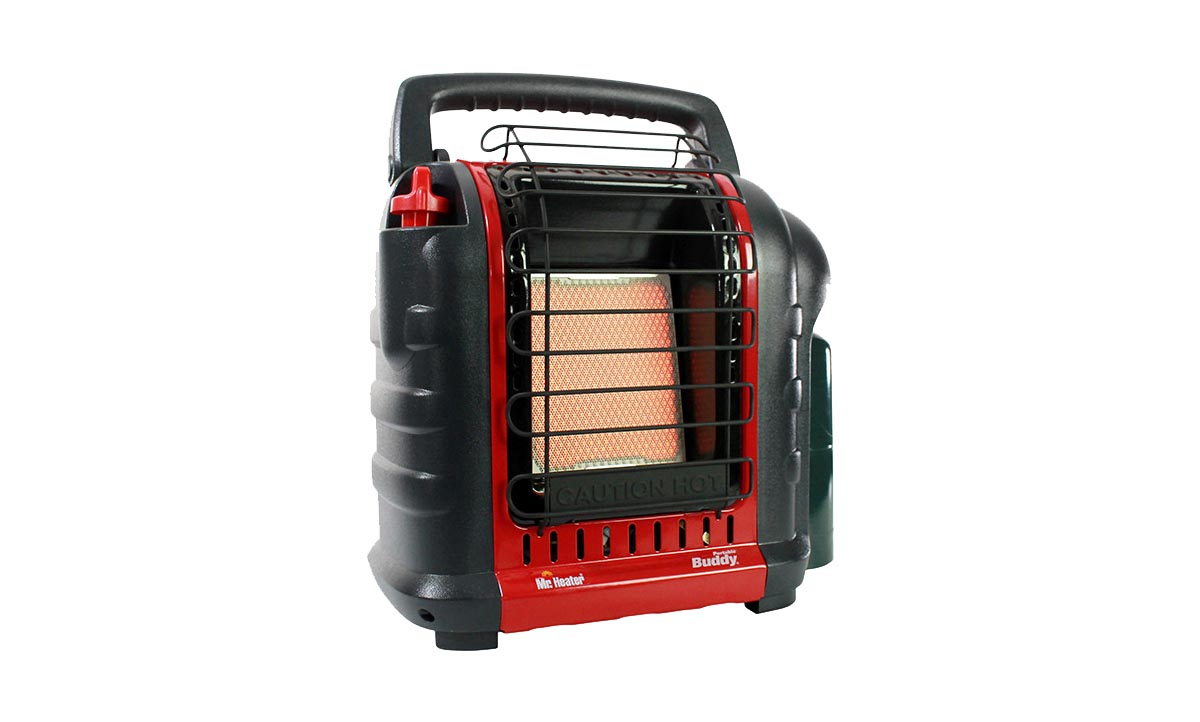 Mr. Heater Buddy is an indoor safe camp heater which is made specifically to be used indoors. It is compact in size and comes with a carrying handle which can be folded down.
It works on a 1lb (0.45 litre) LP gas cylinder which can be attached to its side. You also have the option to use a hose and a filter to attach bigger propane tanks.
Safety – It comes with a number of safety features. First, it has a wire guard which protects your pets from accidentally touching the heating element.
The buddy heater comes with an ODS (oxygen depletion sensor) which shuts off the heater on detecting low oxygen levels. It also has a safety tip-over switch.
It is important to note that the heater cannot be used over 7000 feet elevation.
4,000 or 9,000 BTU per hour
Burn rate: 6 hr on 1lb gas cylinder
Suitable for up to 225 sq. ft.
Hi-Low heat settings
Uses Piezo igniter
ODS (oxygen depletion sensor)
Safety tip-over switch
Weight: 10.60 lbs (4.8 kg)
Fuel: Propane
Indoor safe: Yes
Build material:

Steel, Plastic, Nickel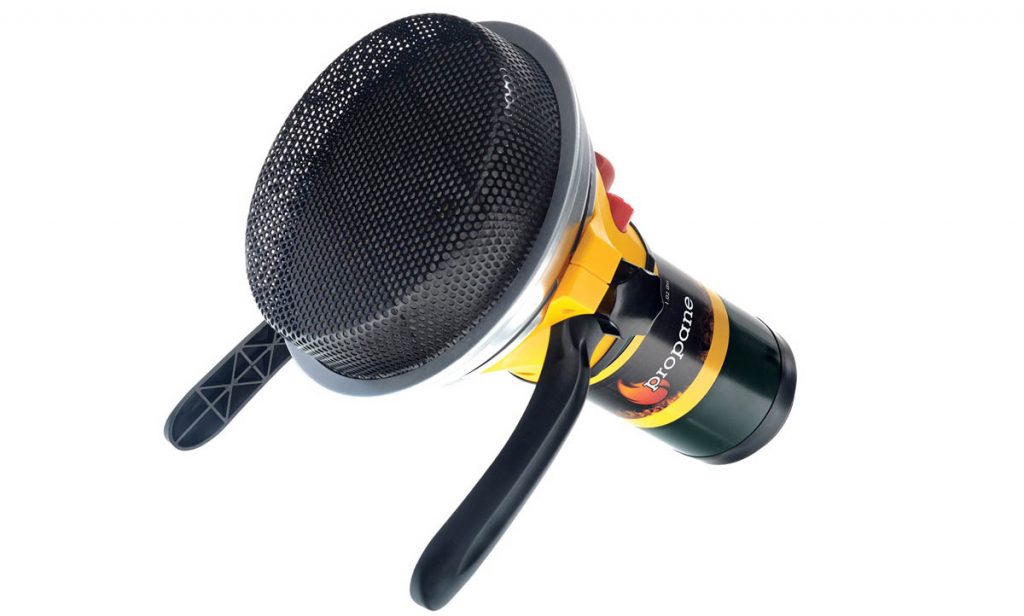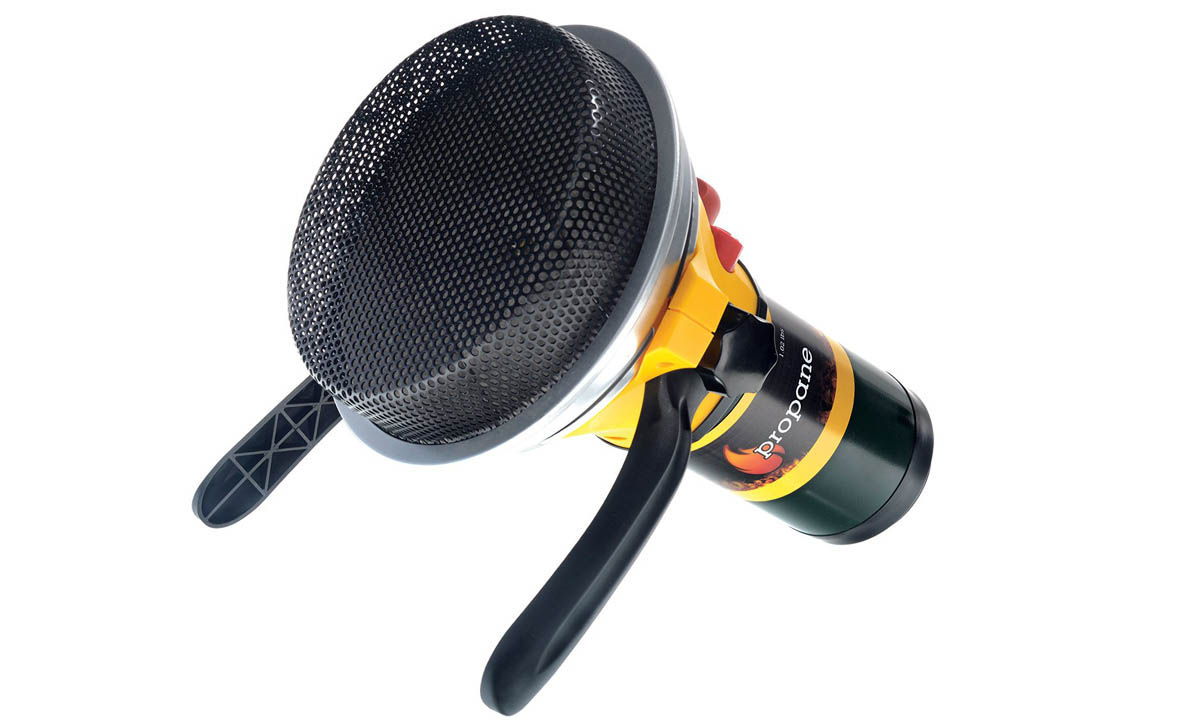 Martin catalytic heater is another safe option for those looking for a portable tent heater. The heater works by providing flameless radiant heat. It has a foldable leg which allows you to use it anywhere.
It uses a 1 lb propane cylinder which is plugged at the back. The Martin heater is one of the most efficient heaters which can last up to 7 hours on a 1lb propane tank.
This heater is specifically made for being used in small spaces like tents and RVs. It uses the catalytic heating which has the highest efficiency and produces very low levels of carbon monoxide compared to regular indoor safe heaters.
For safety, it has an auto fuel shut off when the flame goes out but it does not include a low oxygen sensor. It is important to note that no matter how efficient a heater is, you should always ensure proper ventilation in the tent.
3,000 BTU per hour
Efficient Catalytic technology
Burn rate: 7 hr on 1 lb gas cylinder
Flameless and Silent heater
Indoor/ Tent safe: Yes (CSA certified)
Fuel shut off if the flame goes out
Electronic ignition
Fuel: Propane
Hi-Low heat settings
Folding legs
Electric camping heater is another safe solution. Although they are not as efficient as propane heaters in terms of cost per unit heat. One major disadvantage of electric heaters is – they cannot be used for off-grid camp sites.
4. Lesko electric ceramic tent heater with adjustable thermostat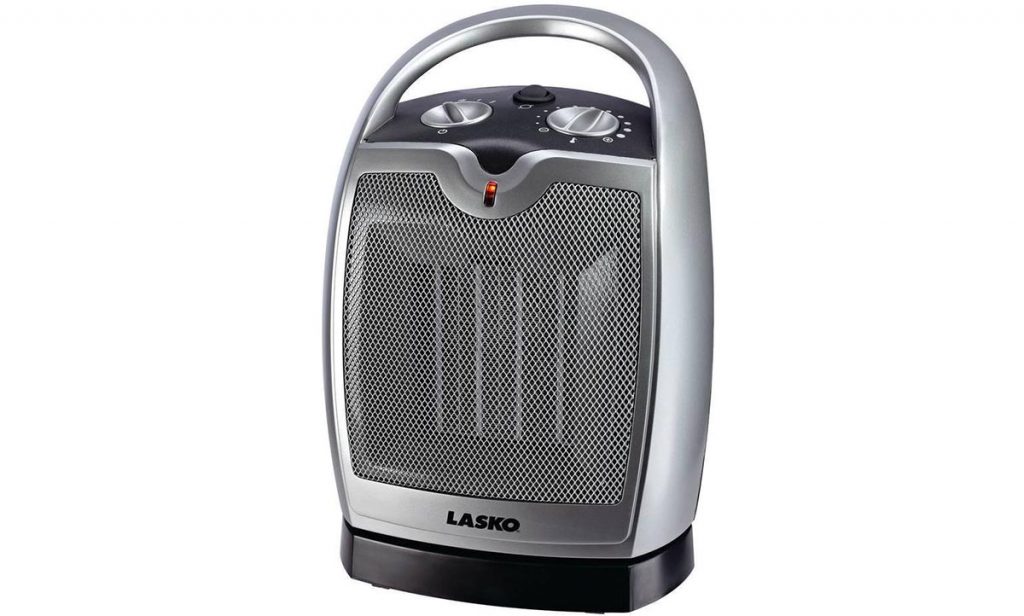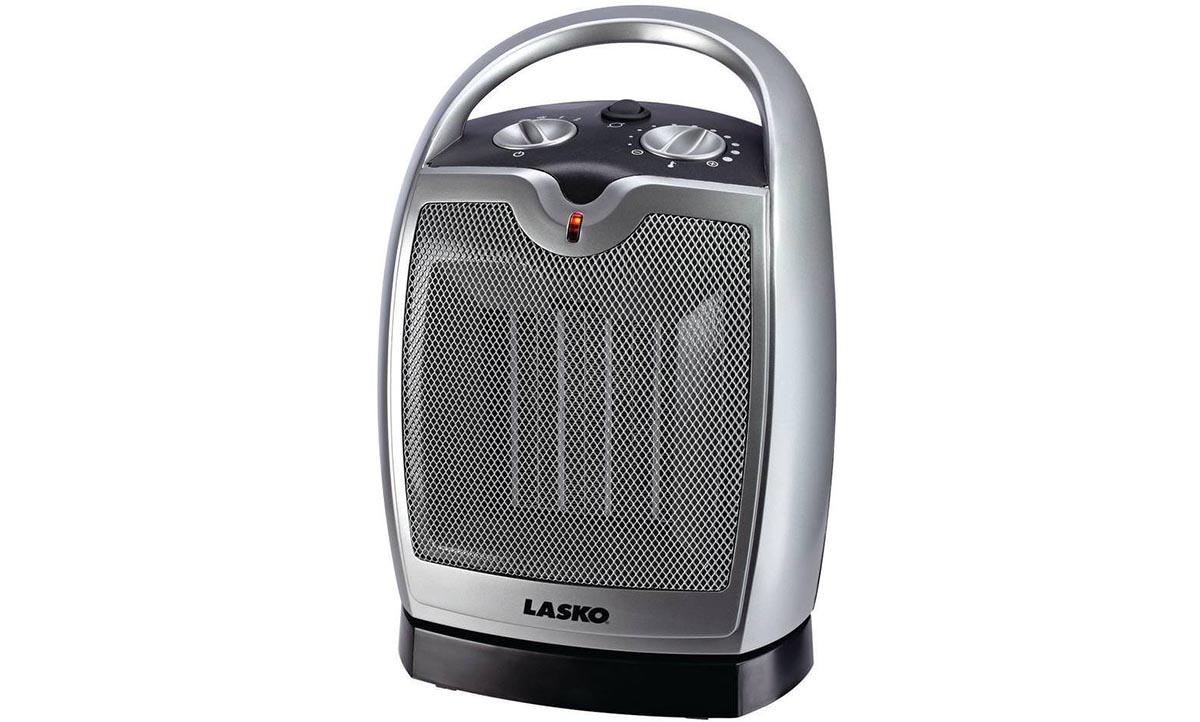 The Lesco ceramic is an electric heater and suitable for campsites with electricity. One of the major benefits of using an electric heater over propane is they do not release any harmful gases. In addition to that, you are not handling any flammable fuel.
It is a 1500 watts heater which is sufficient for small spaces. It has manual controls and an adjustable thermostat. There is a handle at the top for easily carrying it around.
It comes with safety features like overheat protection and cool touch exterior. There are three heat settings – high heat, low heat & fan only. The heater also oscillates and covers a wider area for maximum effectiveness.
1500 Watts (5100 BTU) ceramic heater
3 Heat settings
Adjustable thermostat
Overheat protection
Oscillation controls
Weight: 4.5 lbs (2.04 kg)
Dimension:  

6″L x 4.5″W x 9.2″H

Fuel: Electric
Carry handle
Cheap price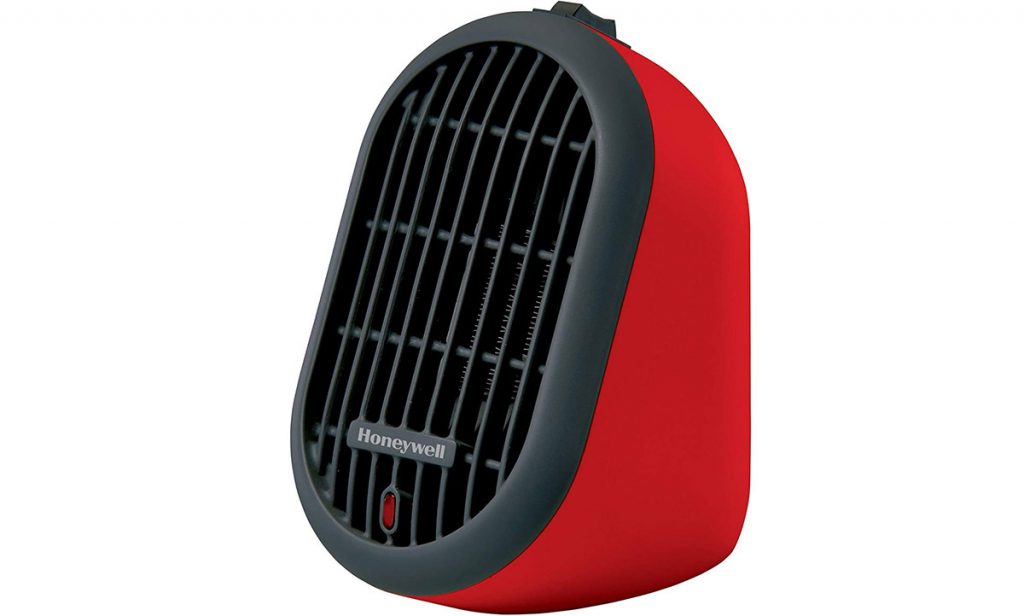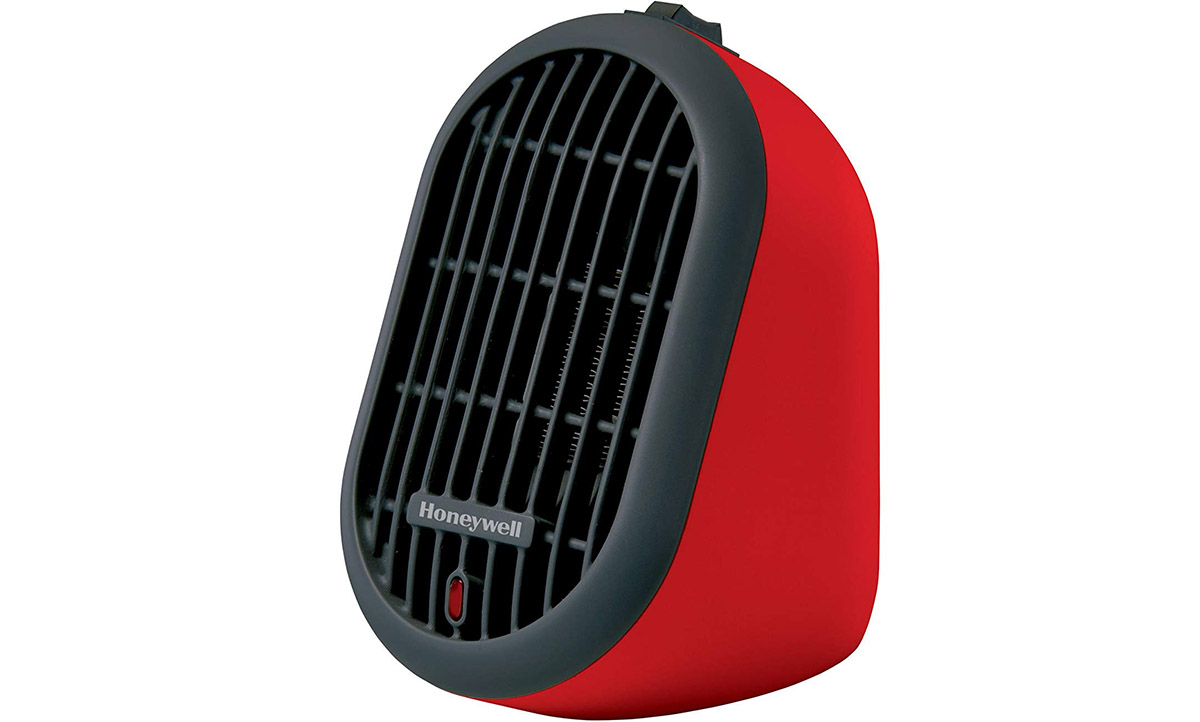 Honeywell heat bud is a simple ceramic heater which can be used for personal heating. It is really compact in size which is great for small tents and solo camping.
It is a ceramic heater with 250 Watts output. There are two different heat settings. For safety, the Honeywell heat bud comes with a tip-over switch off and overheat protection.
It can also be used as a tabletop or nightstand heater. Overall you get a really good heating solution in a budget. The important point to keep in mind is – the Honeywell heat bud is only made for small spaces. If you have a medium to large size tent consider other heaters in the list.
250 Watts (800 BTU) ceramic heater
2 Heat settings
Overheat protection
Auto tip over switch
Personal heating
Weight: 1.36 lbs (616 grams)
Dimension: 4.13 x 5.67 x 6.5 in
Fuel: Electric
Budget heater
6. Mr. Heater little buddy – personal heater for camping, fishing and hunting

If you are looking for a compact, anywhere indoor safe heater then Mr. Heater little buddy can be a good option. It is a propane powered heater which can be used indoors or in the wild.
So no matter whether you are on the alpine forest or the mountain top, boondocking or ice fishing you always have heating available.
The heater generates 3,800 BTU per hour which is sufficient for 95 sq. ft. tent. It uses 1 lb. disposable propane cylinder for fuel and runs for 5.6 hours on a single cylinder.
For safety, it has features like tip over switch and automatic low oxygen shut-off system (ODS) which ensures your safety. It takes a small floor space and requires sufficient clearance and ventilation.
The heater can be operated till the maximum elevation of 7000 ft.
3,800 BTU per hour
Burn rate: 5.6 hrs on 1lb gas cylinder
Suitable for up to 95 sq. ft.
Uses Piezo igniter
ODS (oxygen depletion sensor)
Safety tip-over switch
Weight: 5.85 lbs (2.6 kg)
Fuel: Propane
Indoor safe: Yes
Portable and easy to handle
Camping Wood Stove can be a great alternative to the electric and propane-powered heaters. One of the main advantages of wood stove heaters is they are multipurpose and can also be used for basic cooking.
The stove heaters need more setup time and proper ventilation and exhaust to be set set up. It is also wise to use a battery-powered carbon monoxide detector for extra security.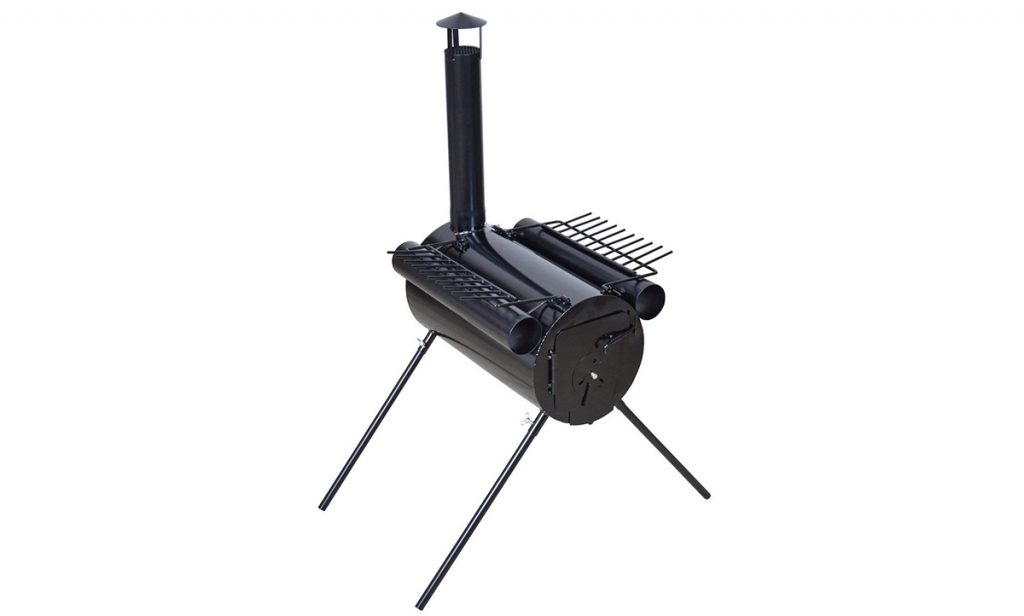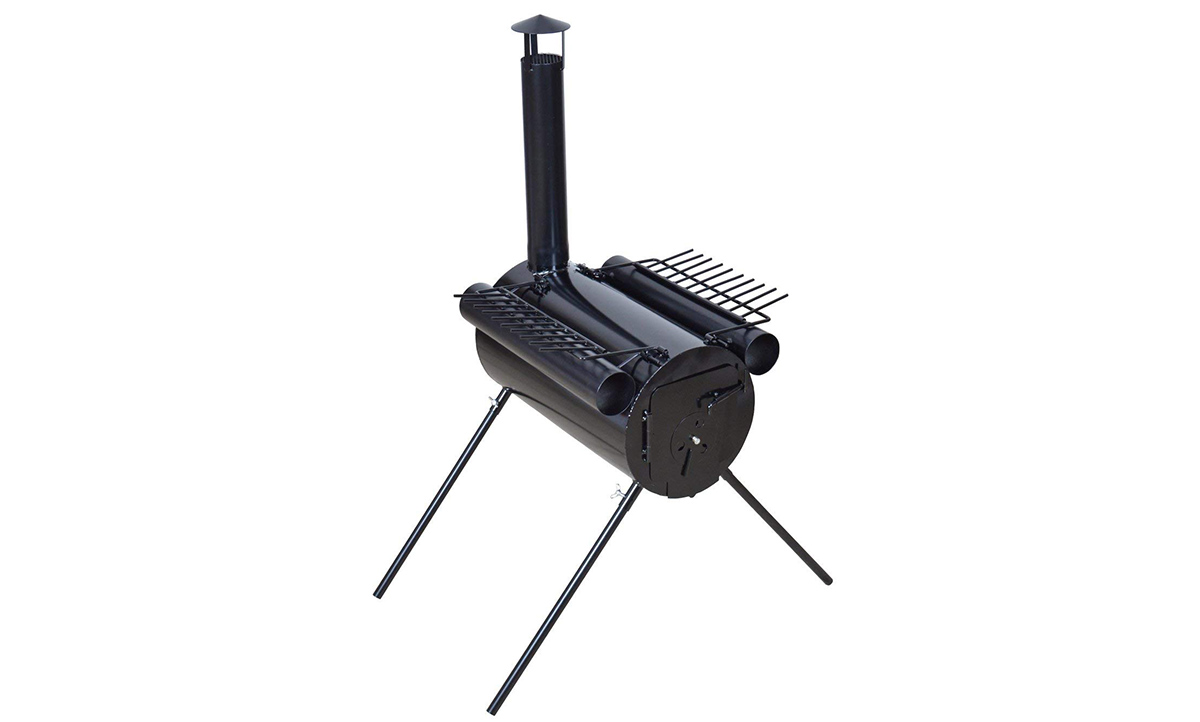 The TMS camping wood stove is an indoor/ outdoor multipurpose tent heater. In tent, it can be used after properly setting up the stove pipe vent and maintaining adequate ventilation.
Wood is a readily available resource especially if you are camping in the wild. One of the biggest advantages of these wood-burning heating stoves are – unlike propane heaters, they never run out of fuel.
It has a removable dual side cooking tubes that can be used for baking potatoes, foil meals, etc. The stove has a front and rear airflow regulator and easy bottom access for convenient cleanout.
The stove can also be used to dry out your wet gloves, socks and other small items. In areas where open fires are not permitted this portable stove could be a handy item to have.
The only disadvantage of using these type of heaters that they need a bit of effort to start burning and cleaned up. They are also heavier and bigger than your standard propane or electric heaters.
Wood powered stove heater
Ideal for medium to large tents
Multipurpose: Heating and cooking
Extendable exhaust pipe
Easy cleanup
Folds into a small unit
Dimension: 18 x 10 x 12 inches
Use: Camping, fishing, hunting
Easy to carry and transport
Buyers guide: how to find the right tent heater
So which heater should you buy for your tent – here is a simple guide to help you with selecting the right type of heaters.
Size of the tent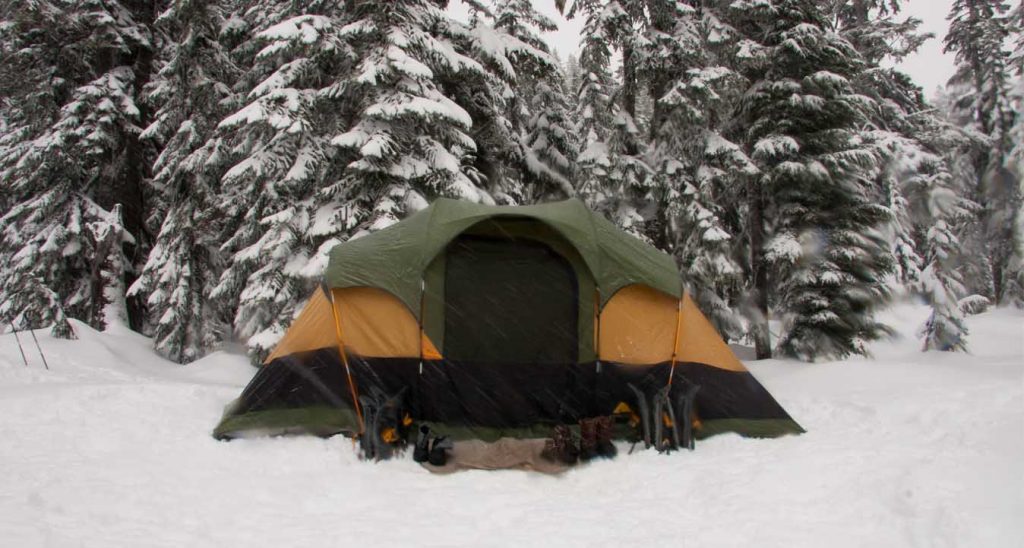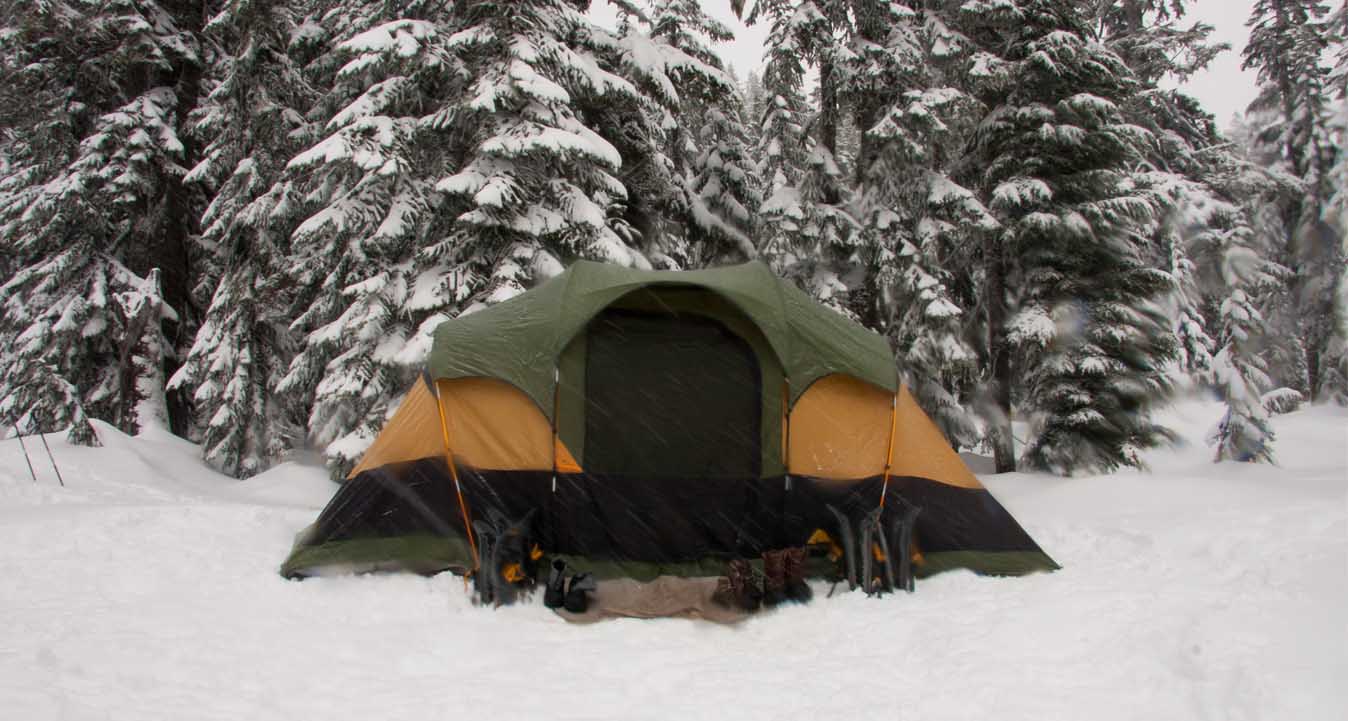 To calculate the required heating power according to the size of your tent, we will have to do a very simple calculation.
Required heating in wattage
(Length x Width) x 10 = wattage
A 12ft. x 15ft. room requires 1800 watts heater. (12 x 15) x 10 = 1800 watts
1 watt is roughly 3.41 BTUs
For a 12ft. x 15ft. room – which needs 1800 watts, you need 6138(6000) BTUs of heat. 1800 x 3.41 = 6138
Fuel – Electric, Propane or Wood
Electric heaters are great for campsites with electricity. Propane heaters are handy and portable and work in off-grid areas. Wood powered stove heaters are also ideal for off the grid camping or boondocking but they are heavy and can be difficult to carry in deep woods.
Safety – Which is the safest type of heater for camping
Electric heaters are the safest and do not release any harmful gases. Catalytic propane heaters come next in terms of safety. Pellet or wood powered stove heaters need proper venting to be used safely.
Types of tent heater
There are three types of safe indoor heaters based on the fuel they use.
Gas(propane) heater
Gas heaters use propane as their fuel. They are low maintenance, long-lasting heaters. They are also the most efficient heaters with the highest heat output (in BTU) per unit fuel.
These heaters do not require electricity which means they can be used in the full wilderness. They are also very portable and that is why campers love them so much. 
One of the downsides of using a propane heater is they release carbon monoxide gas. It is a colorless and odorless gas that can be very dangerous for one's health. There are special heaters that have carbon monoxide sensors as well as oxygen sensors. Only indoor safe tent heaters are recommended for any kind of indoor usage.
Catalytic heaters are other great propane heaters that are specifically made for being used in tents and indoors. They use special catalytic technology which minimizes carbon monoxide emissions. These heaters are totally safe for indoor usage as long as you follow instructions.
Electric heater
If you are camping in campsites with power outlets, electric heaters are the best options. Using them is as simple as plugging them to a power outlet. The disadvantage of electric heaters is they cannot be used on "off the grid" locations. On top of that, they are also not optimized for saving electricity which means it won't last long on battery power. 
Wood(pallet) stove heater
Pallet powered wood heaters are a great choice to be used as a camping heater. They use wooden pallets which lasts a long time and release a low amount of harmful gases. These heaters are generally heavier than other types of heaters and require a little extra effort to operate. But once they get going they outperform every other heater.
Essential guide for safe heating
Here are some of the basic safety tips that you must follow for a safe heating
Carefully read manufacturers instructions
Only use indoor safe heaters in an enclosed environment
Do not block any air intake and exhaust
Maintain proper ventilation in the tent/ room
Do not use unauthorized accessories
Remove the propane tank or disconnect the electric plug before maintenance.
Do not tamper any part or try to fix it yourself
Allow it to cool down before storing
Clearance to combustible objects
Check for leakage in LP  gas haters using soapy water
For more in-depth safety instruction check out this propane heating guide.
Final thoughts/ Summary
Not everyone needs a heater. Every heater is different and so is everyone's needs. You should select the heater based on what you will use it for and what type of adventures you go on. 
If you are a backpacker you should be looking for a heater that is small, lightweight and easy to use. For these situations, propane heaters like little buddy can be a good solution.
In another scenario, if you are camping in an organized campsite, you are likely to have an electric supply. An electric heater is a right choice for these situations.
But what if you are camping in the total wilderness for a couple of days or maybe weeks. Propane heaters won't last that long. A stover heater which is powered by wood would be a good choice.