In the last few years, we have seen a bunch of new drawing tablets. But there is one tablet which gets all the attention for all the right reasons and that is Wacom Intuos Pro. Wacom has been making pentabs for years and Intuos pro is one of their most popular devices. Recently it got a design and feature update which again made it one of the most attractive devices.
Main features
Intuos Tablets comes in three sizes Small, medium and large. But in their last update, only medium and large sized tablets got the updated features. For this, we will only consider the medium and large sized tablets.
|   | Wacom Intuos Pro |
| --- | --- |
| Active Area | 8.7 x 5.8 , 12.1 x 8.4 Inches |
| Pen Pressure | 8192 Levels |
| Tilt Support | Yes, Up to 60° |
| Custom Buttons | 8 (Eight) + Touch Ring |
| Multi-touch | Yes |
| Connectivity | Wired and Wireless |
Dimensions
medium : 13.2 x 8.5 x 0.3 in
large : 16.8 x 11.2 x 0.3 in
Build Quality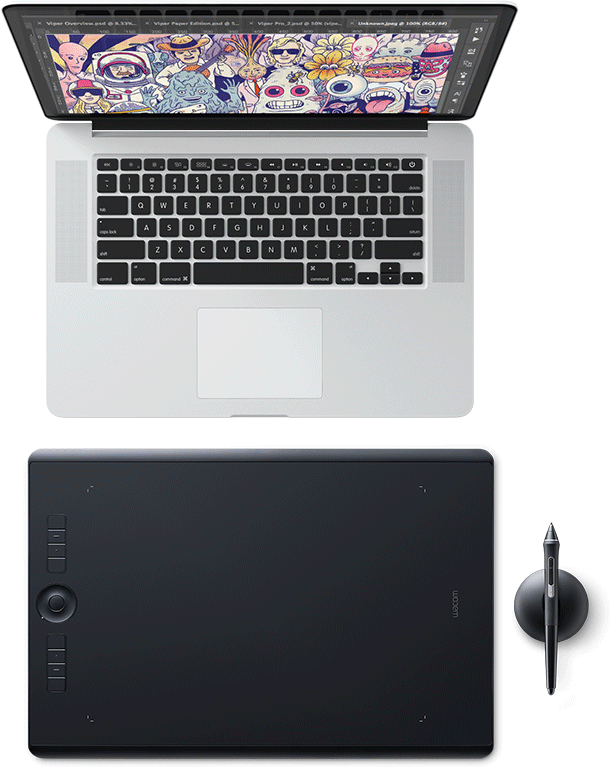 The device is made with right materials at all the right places. The majority of the tablet which includes the whole rear surface and the sides are made of aluminum. The top is made of some hybrid plastic material which is scratch resistant and does not accumulate ugly marks with prolonged pen uses. The base has two big strips of rubber pads to avoid it slipping off.
Like the tablet, the Pen has been made in a very thoughtful way. It is very ergonomic, lightweight and well balanced. The rear area is made of plastic to reduce weight the front portion is made of silicon material which feels great in hand.
The pen stand has a substantial weight to it and made of metal. The top has a black matte finish and the bottom has rubber pads.
Size – Active Drawing Area
Size is one of the most important features in a drawing tablet. The medium size Intuos Pro has an 8.7 x 5.8 inches active drawing area whereas the large size has 12.1 x 8.4 inches drawing surface. The medium tablet is ideal if your monitor is less than 19-inches and for people having 19-inch or bigger monitor larger size is better.
Drawing Surface
The whole top surface is covered in a special texture to mimic the feel and sound of the original paper and pen while drawing. Although the tablet already comes with a standard texture, it also comes with 3 other sample textures. The texture sheet can be ordered separately as per your preference. It sticks perfectly on top of your tablet and works as the normal surface.
Touch and gestures
The tablets support multi-touch, which enables you to do simple hand gestures like pinch to zoom, rotate etc. It has got palm rejection built into the tablet so that you can draw as well as touch activate things with none interfering with each other. The touch can be toggled on or off with the help of a switch located at the sides.
Pen (Stylus)
This is the most important feature of any pentab especially in case of this device. Your whole drawing experience is dependent on the pen. This is the reason you buy the drawing tablet in the first place, to get rid of that mouse.
Right now Wacom has the most advanced and accurate pen. Their pen which is called Pro Pen 2 is one of the most advanced pens on the market. One of the most important reasons people recommend and buy Wacom Intuos is the support for the pro pen 2.
The pen has 8192 levels of the pressure range. It is well calibrated and does not face line wobble and lagging issues like many other pens with similar pressure range faces. It also has tilt support up to 60° which is supported by many brushes in photoshop and 3D sculpting programmes.
The pen has two buttons on at the front which can be customized to any shortcut. The button at the back works as an eraser by default but it can also be set to any shortcut.
Pentips
The pen comes with two types of pentips. One is normal and the other is felt. The normal is the standard tip which comes preinstalled. It is smoother and has less friction and noise on the surface. The other pen tip is felt which has a bit more resistance on the surface and makes a bit more sound.
Shortcut keys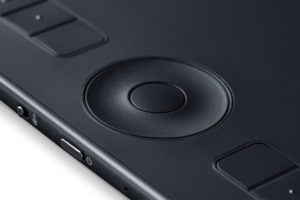 Wacom Intuos Pro has eight physical buttons and a touch ring. The buttons are arranged in two groups of four. They can be customized to any shortcut with the help of the software.
The touch ring is a fixed touch sensor which does not rotate. It is located in-between the other shortcut buttons. The ring can be used to change brush size, color, rotation, zoom, and scroll. The touch ring has a toggle button at the center which is used to toggle between various shortcuts.
Connectivity
Wacom Intuos Pro has two connectivity options
wired
Wireless
Wired
It connects to your computer with the help of USB cable. The cable is 2 meters (6.5  ft) long so that you have a little bit freedom of movement. There is an L-shaped connector on the USB-C end of the cable. This design feature keeps the cables flush with your tablet with nothing protruding out.
Wireless
Yes, this tablet is wireless but an interesting one. Most of the other tablets have a small USB microcontroller which acts as a wireless receiver. These are pretty small and easy to lose, and they also block one of your ports which are scarce these days. If you work with laptops than it is possible it does not have a traditional full-sized USB port, welcome to dongle life.
Wacom has tackled all of these issues by simply removing the need for the micro-controller. These devices connect to your computer through a Bluetooth connection.
Software
Like all the other tablets it also comes with a companion software. The Software allows setting application specific custom shortcut to buttons on tablet, pen and touch ring. Other than that it also helps to assign touch gestures.
One of the very handy features of the software is its ability to change settings automatically. It enables you to have separate settings for each application and changes to other assigned settings as you switch to other application.
Accessories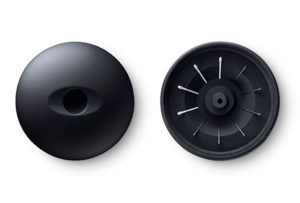 The Wacom Intuos Pro comes with a lot of accessories, some are included in the pack while others need to be purchased separately.
Included in the box: Pen stand, Extra pentips, Drivers, USB cable, Pro pen 2, Instruction booklet and the sample texture pad.
Separately purchased: Tablet cover(bag), Texture sheet.
Summary
Wacom Intuos is one of the most popular devices in the market. It is a very powerful tool used by professionals. It is a perfect blend of price, features, and quality and feels well crafted.
Support for the Pro Pen 2 at prices as low as this is one of the main reason for it being recommended over and over again. Other than that, these type of tablets avoids neck pain and soreness on prolonged uses.
Overall it is worth your money and would not disappoint you in any form.