Disclosure: As an Amazon Associate EssentialPicks earn from qualifying purchases.
---
Autodesk Maya is one of those softwares for which apparently nothing is enough, the more processing and graphics power you throw at it, the more it demands, and the better it performs.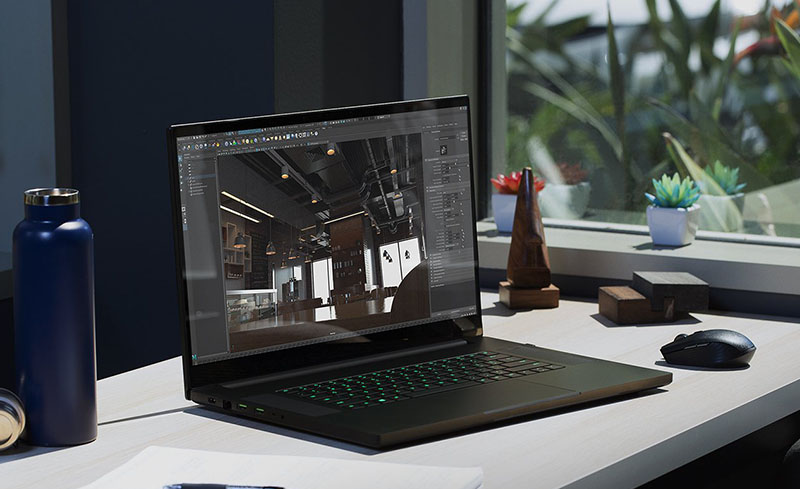 Well, it is true that many of the new popular laptops in the market can "technically" run Maya. But their true nature is only evident when you dig into the core features of Maya.
When you start working on some serious projects with complex modeling, simulation, animation, lighting and render them at high settings – these everyday run of the mill laptops can't keep up and kind of falls apart.
An ideal laptop for Maya should have a powerful processor, a highly capable graphics card, dual-channel high-speed RAM, adequate storage, and a good cooling system for sustained clock speeds.
After spending a full week shortlisting some of the most deserving laptops, we are excited to present our final list of the best laptops for Autodesk Maya.
Our top pick (MSI GL 65 Leopard – Amazon) is a fantastic laptop that has the right blend of features and comes at a surprisingly good price tag.
Going down the list you will find more exciting stuff such as laptops with a dual-screen (which is great for productivity) as well as the most value-for-money laptop for Maya at the number 3 spot.
Features comparison
Here is a list of all the main features of the laptops mentioned in our list.
*Note
Swipe/pan left or right to see the full table (↔),
 Or use the slider at the bottom
MSI GL 65 Leopard
Asus ZenBook Pro Duo
Lenovo Legion 5
Dell XPS 15 (9500)
Razer Blade Pro 17
Asus ROG Strix G17
Acer Nitro 5
Dimension
357 x 248 x 27.5 mm
359 x 246 x 24 mm
363 x 260 x 26.13 mm
344 x 230 x 18 mm
394 x 260 x 20 mm
398 x 292 x 26 mm
363 x 255 x 24 mm
Screen
15.6 inches
FullHD
144 Hz
100% sRGB
15.6 inches
4K resolution
60 Hz
100% DCI-P3
15.6 inches
FullHD
144 Hz
100% sRGB
15.6 inches
FullHD/ 4K
16:10 aspect
100% Adobe RGB
17.3 inches
FullHD/ 4K
120/ 300 Hz
100% sRGB
17.3 inches
FullHD
144 Hz
100% sRGB
15.6 inches
FullHD
60 Hz
100% sRGB

Processor
Intel i7-10750H
6 cores
Intel i7-9750H
(i9 - optional)
6/ 8 cores
AMD Ryzen 7 4800H
8 cores
Intel i7-10750H
6 cores
Intel i7-10875H
8 cores
Intel i7-10750H
6 cores
Intel i5-9300H
4 cores
Graphics
Nvidia RTX 2070
8 GB VRAM
Nvidia RTX 2060
6 GB VRAM
Nvidia GTX 1660Ti
6 GB VRAM
Nvidia GTX 1650Ti
4 GB VRAM
Nvidia RTX 2070 Max-Q
8 GB VRAM
Nvidia RTX 2070 Super
8 GB VRAM
Nvidia GTX 1650
4 GB VRAM
RAM
16 GB
16 GB
16 GB
16 GB
16 GB
16 GB
16 GB
Storage
512 GB
1 TB
512 GB
Up to 1 TB
Up to 1 TB
512 GB
256 GB
Battery
51 Wh
230 W adapter
71 Wh
230 W adapter
60 Wh
86 Wh
130 W adapter
70 Wh
230 W adapter
66 Wh
230 W adapter
51 Wh
Weight
5.07 pounds
2.3 Kg
5.51 pounds
2.5 Kg
5.51 pounds
2.5 Kg
4.53 pound
2.05 kg
6.06 pound
2.74 kg
6.24 pound
2.83 kg
5.07 pound
2.3 Kg
Check Price
Mid-range
Amazon
Premium
Amazon
Budget
Amazon
Mid-range
Amazon
Premium
Amazon
Mid-range
Amazon
Budget
Amazon
Looking at the raw features can give you a rough idea of the laptops. But we would not recommend you to form an opinion just by looking at these raw numbers.
We highly recommend you to read our detailed report on each of these laptops.
1. MSI GL 65 leopard – Best laptop for 3D modeling in Maya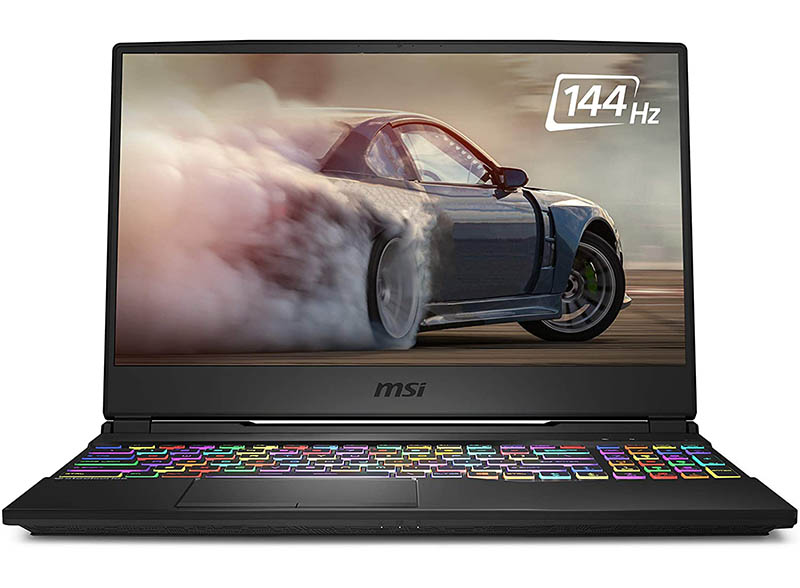 Check MSI GL 65 Leopard – Amazon →
In our final list, there were quite a number of deserving candidates for being at the top spot. But out of all the choices the MSI GL 65 Leopard, in spite of having a stupid name, stood out as a winner.
Having a top-tier processing and graphics performance is great, but making these top tier performances available at more pocket-friendly prices is what makes the MSI GL 65 Leopard (Amazon), the best laptop for running Autodesk Maya.
There are other options in the market with a faster processor and better graphics, but that 3000+ bucks price tag makes them way out of range for most people.
And at that price range, you should seriously be looking for a desktop Instead.
The MSI GL 65 Leopard is a 15-inch laptop that comes with a 6 core Intel i7 processor and a very capable Nvidia RTX 2070 GPU with 8 GB VRAM.
After the introduction of Arnold 6 with GPU rendering and real-time rendering in viewport 2.0 Maya, the industry is rapidly shifting towards the GPU side of things.
Even at this stringent budget, it is nice to see that MSI has heavily focused on the Graphics performance and made this super capable graphics unit available at this price range with a massive 8GB of Video-RAM.
RAM, Storage, and upgradability
The MSI GL 65 comes with a dual-channel 16 GB of RAM which can be further upgraded up to 64 GB.
On the storage side of things, you get 512 GB NVMe storage along with an additional slot for 2.5″ SSD/HDD drive, which is great for expanding the storage when you need it.
Cooling and temperature control
All that processing and graphics power is of no use if your laptop overheats and throttles.
The MSI GL 65 comes with one of the best cooling systems with 7 heat pipes and 2 silent fan setup. It has 3 hot air outlets along with a large air intake at the bottom, making sure the CPU/GPU performs their best – at all times.
Other than that, the laptop has a color-accurate screen with a 144Hz refresh rate making it an ideal choice for gaming as well.
The RGB backlight on the keyboard gives it an added flair and a good build quality gives the laptop a very reassuring and high-quality feel.
Overall, the MSI GL 65 Leopard is an absolute package and no other laptop in the market comes with this diverse range of features. If you are one of those lucky people buying it, this laptop will definitely exceed your expectations.
Pros – What we liked
Excellent 15-inch screen with narrow bezels
144 Hz refresh rate with 100% sRGB support
Powerful CPU (Intel i7 with 6 cores)
Nvidia RTX 2070 GPU with 8 GB VRAM (best in the segment)
Excellent choice for 3D modeling, animation, and rendering
Great keyboard layout with RGB lighting
Wide selection of ports
Good design and build quality (metallic lid + plastic base)
Smooth and accurate trackpad
Excellent cooling system
Not too heavy
L-shaped charging connector
Cons – But not dealbreakers
Fans can be loud
Some bloatware installed
Average speakers
Low battery backup
No fingerprint unlock
2. Asus ZenBook Pro Duo – Dual screen for more productivity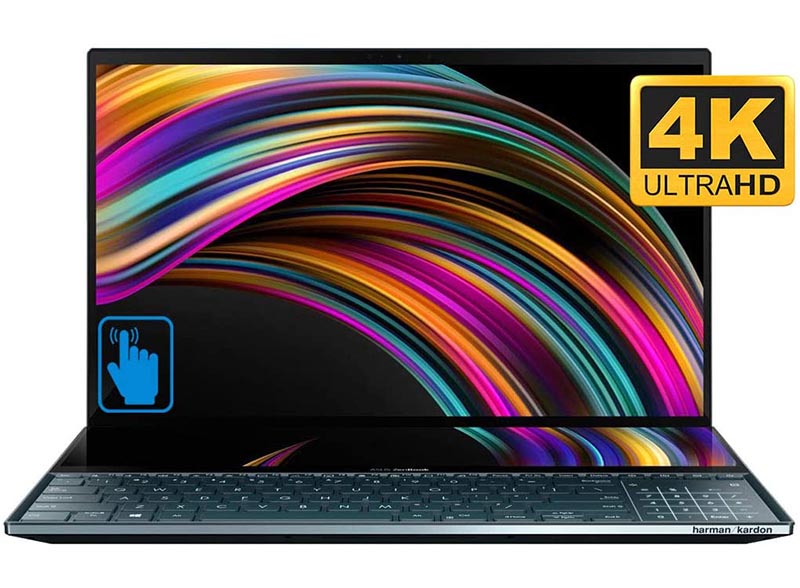 Check Asus ZenBook Pro Duo – Amazon →
Laptops have a limited amount of screen space, which can be inconvenient to work on when running an application like Maya or any other 3D application for that matter, with literally hundreds of menus and buttons.
The Asus ZenBook Pro Duo came with a unique solution with no other laptop in the market offers.
The laptop has a secondary screen right above the keyboard.
Benefits of Secondary screen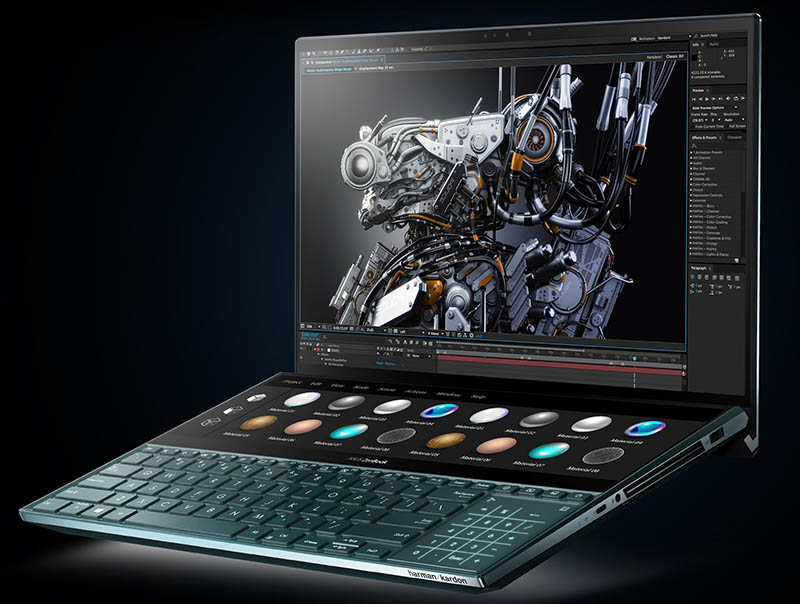 The second screen maximizes the screen space and makes the laptop more productive to work on, especially when using a multi-window 3D application.
The second screen can really come in handy while UV unwrapping or applying new materials (aiStandardSurface) in the Arnold shader window.
Also during final touchups, you can snap the render view window to the lower screen freeing up the viewport.
Other than that, you can also open up files on the lower screen and simply drag and drop stuff or just use it as a reference screen.
What about the main screen
The laptop comes with a 4K resolution touch-enabled screen, with the second screen also supporting pen input, which can be helpful while texture painting or weight painting.
The display has a 100% coverage of DCI-P3 color space giving you a true render output with accurate colors. Meaning you can rely on this screen even on a professional level.
Asus ZenBook Pro Duo comes with an Intel i7 or i9 processor with 6 and 8 cores respectively along with a very capable Nvidia RTX 2060 graphics card with 6 GB of video-RAM.
How different is the keyboard layout
Since the laptop has a screen on the keyboard deck, the keyboard is shifted downwards and the touchpad has been relocated to the right.
The touchpad also doubles as a number pad with a touch of a button which is a great use of space and overall very intelligent design.
For improving comfort, the box includes a detachable wrist rest which is a nice addon.
Talking of price, this laptop is obviously not cheap but with the features and functionality it brings, it is well worth its price.
Pros – What we liked
The most productive laptop in the market
The best laptop for 3D applications
Touch-enabled 4k display (Narrow bezels)
Very color accurate (DCI-P3 color coverage)
Counted amongst one of the most powerful laptops
Premium metallic build
Well designed and great use of space
Backlight on the keyboard
Good hinge design (raise the laptop a few mm, improving ergonomics and airflow)
Available in multiple configurations
Stylus included
2-in-1 Numpad touchpad
Face unlock
Detachable Palm rest
Attractive color options
Cons – But not dealbreakers
Sharp edges on the air intakes
Weak speakers
Overheating issues on intensive tasks
Off-centered webcam
Power adapter is big and heavy
A little expensive (which is expected)
Can be inconvenient to use on lap due to the positioning of the keyboard
3. Lenovo Legion 5 (with AMD Ryzen 7) – Budget laptop for Maya
Check Lenovo Legion 5 – Amazon →
If you are looking for a good drawing tablet that is powerful enough to handle intensive Maya sessions, but you have a limited budget. In that case the Lenovo Legion 5 can be a great option.
One of the biggest advantages of this laptop is, in spite of being a budget laptop it still comes with a very powerful 8 core AMD Ryzen 7 48ooH processor.
How come a budget laptop comes with an 8 core processor?
Now you must be asking, how come a budget laptop comes with an 8 core processor when even some high-end laptops only come with a 6 core processor.
In the laptop market, you must have observed the majority of the laptop come with an Intel processor.
So AMD stepped up their game and came with their latest series of processors which are more powerful than their Intel counterparts while being cheaper at the same time.
The AMD Ryzen 7 4800H is comparable to the Intel i9 processor, which is often found in high-end processors.
This demonstrates how powerful the Lenovo Legion 5 actually is.
It also comes with Nvidia GTX 16660Ti GPU, which is also a good choice for the price.
For running everything smoothly, this laptop comes with 16GB of RAM and 512 GB of NVMe storage, both of which are user upgradable.
For extending the storage, it comes with a hybrid SSD slot, which allows you to either plug in a traditional 2.5″ SSD or a superfast NVMe slot.
The overall design of the Legion 5 is very minimal and professional. With subtle Legion branding on the top panel and a white backlight on the keyboard.
The port situation is also on point with this laptop as all the main ports are located at the back – reducing cable clutter and giving you a cleaner workspace.
So, if you want a budget laptop with performance way above its league, the Lenovo Legion 5 is the right choice for you.
Pros – What we liked
Best bang for the buck laptop
Most powerful processor in the price segment
Sleep and professional design and look
Although plastic, still the build quality is superb
The screen opens and can be extended at quite far angles
144Hz screen with 100% sRGB color accuracy
Privacy shutter on the webcam
Good cooling system
Typing experience on the keyboard is great
Ports on the back (with some on the sides for better accessibility)
User-upgradable RAM and Storage
Low fan noise
Cons – But not dealbreakers
No RGB light on the keyboard (white light only)
No fingerprint unlock
Keyboard deck vibrates on the full speaker volume
Ports at the back (some people may find it inconvenient)
Average webcam quality
4. Dell XPS 15 (9500) – Powerful, Portable, Premium laptop or 3D modeling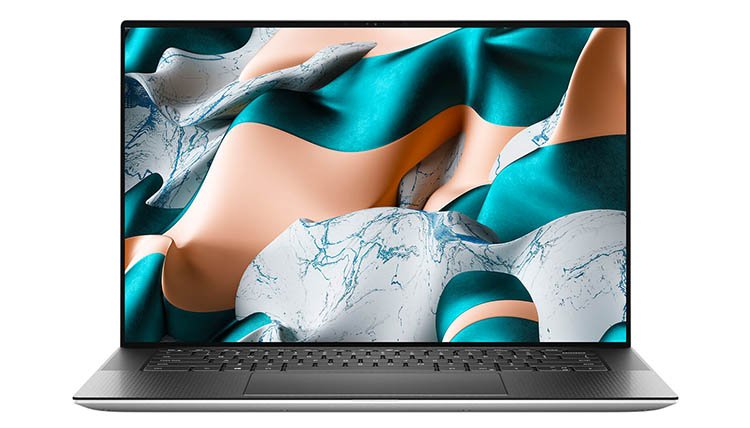 Check Dell XPS 15 – Amazon →
Whenever we think of a powerful laptop, we usually imagine a beefy-looking muscular laptop with large air vents and RGB light all around. This is great if you want to go for an aggressive gamer look.
But what if you want to go for a modern minimalist-premium-looking laptop – that is compact and portable enough to go places and still have the power to compete with the big boys.
But what if you want a modern minimalistic-looking laptop that is compact and portable and feels premium to hold on to.
If you are someone who values the design and build quality of the laptops as much as its performance itself, the new Dell XPS 15 is definitely the right laptop for you.
Design and build quality
Starting with design. The XPS 15 is made of a unified CNC cut aluminum shell, which gives it great strength and stiffness.
Combined with a soft-touch carbon fiber material on the keyboard deck and that gorgeous bezel-less all-screen design makes it feel special every time you power up this little beast.
With all the newer devices shrinking their bezels, the Dell XPS 15 design will hold up well and wouldn't look outdated in the next two~three years.
The laptop comes with a 15.6-inch screen with FullHD and 4K resolution options. The full Hd has a matte finish on top, whereas the 4k version has touch support.
With a color accuracy of 100% of Adobe RGB, it is also one of the most color-accurate displays on the market.
It has an aspect ratio of 16:10, which gives it a slightly more vertical screen space which is considered better for productivity compared to 16:9 displays.
Due to its bezel-less design, Dell has managed to fit in a 15.6-inch screen in a body of a 13-inch laptop. This makes the Dell XPS 15 the most compact and portable 15-inch laptop in the market.
Power and performance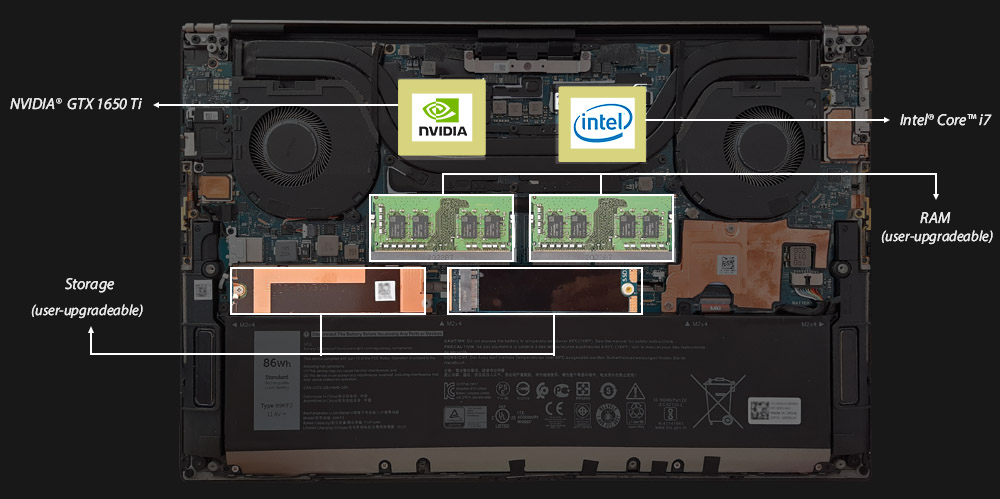 The laptop is not a slouch either in terms of performance. It comes with an Intel 6 core i7 – H series (high-performance) processor, which is right online with other laptops in the price tag.
It also comes with a dedicated Nvidia GTX 1650 Ti which is sufficient enough to handle Maya pretty well.
It comes with 16 GB of RAM and 512 GB of internal storage.
What is really amazing about these laptops is, in spite of having a small space for the internal components, Dell has still been able to fit in a user-upgradable dual-channel RAM and 2 NVMe slots, which is kind of difficult to find in compact laptops these days.
Other features
It also comes with a 86 Wh battery pack, which is the highest battery capacity in any of the 15-inch laptops on our list.
Finally, this laptop also has one of the largest and most accurate touchpads in the Windows realm, which again goes to say about the attention to detail.
In a nutshell, the Dell XPS 15 brings the best of both worlds, you get a powerful machine in a premium body with a sleek and compact form factor.
Placing this laptop next to any other laptop in this list, the Dell XPS 15 defiantly looks a generation ahead of its competition.
Pros – What we liked
Bezel-less: from all four sides
Powerful 6 core i7 processor and decent GPU
The best trackpad on a Windows Laptop
Outstanding 500 nits brightness with great color accuracy (100% Adobe RGB)
Windows Hello (face unlock) plus fingerprint unlock
User-upgradeable RAM and Storage (even in this slim form factor)
Backlit keyboard
Superior sound quality (speakers – they are actually really good)
86Wh battery capacity for great battery backup
Premium looking carbon-fiber keyboard deck
15-inch laptop in a 14-inch body (ie. compact)
Powerful enough for 3D modeling and gaming
Best trackpad in a Windows laptop
Cons – But not dealbreakers
Noisy fans when running at full power
Average video calling camera
No number pad
Only USB-C ports (But comes with a handy HDMI + USB-A dongle)
Earlier models experienced trackpad wobble issues – Which has now been completely fixed
5. Razer Blade Pro 17 – Premium 17-inch laptop for animation Maya
Check Razor Blade Pro 17 – Amazon →
As we just discussed, a 15-inch screen feels kind of congested at times when working with 3D applications such as Maya.
Many full-time 3D artists prefer a larger 17-inch screen when looking for a laptop. It gives them a larger working area where it is easier to manage multiple windows within a software.
A 17 inches laptop is a great option especially for 3D artists who have their laptops stay in their room for the most part.
Out of all the 17-inch laptops, the Razor Blade 17 is one of the most powerful and premium-looking laptops in the market.
It is specially made for these high-end tasks and thanks to the larger internal space due to a bigger screen, it is one of the few laptops in the market with a Vapour-chamber cooling system.
Due to its premium design with CNC aluminum body and narrow bezels, in spite of being a 17-inch laptop – it does not look bulky. In fact, it can still fit in a larger size backpack.
Razer laptops are known for their power and performance and the Razor Blade Pro 17 does lives up to its name.
Most powerful CPU and GPU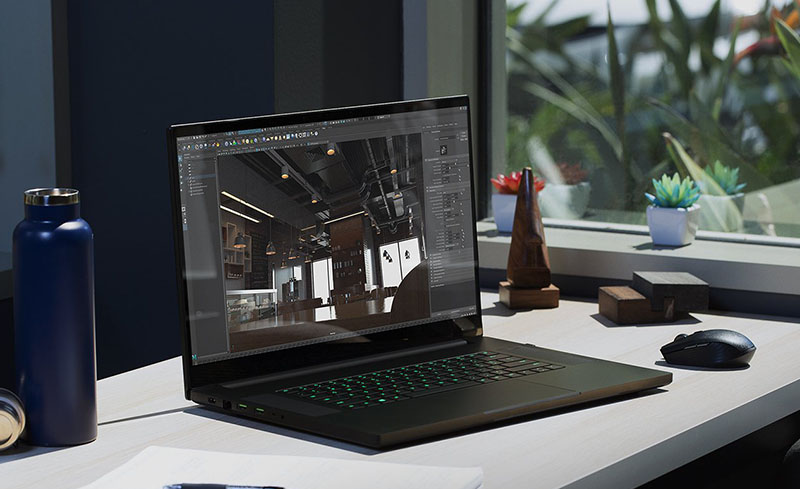 This particular model comes with a very powerful 8 core Intel  i7 H series processor. The two extra cores on this 8 core processor provide a significant boost in power compared to other laptops in the list with 6 cores.
On the graphics side of things, you get an Nvidia RTX 2070 Max-Q 8 GB VRAM, which is also one of the top-end graphics cards.
This processor and graphic card setup combined with a vapor-chamber cooling glide through regular day-to-day Maya usage. The particle system and fluid simulation on Maya run very smoothly.
But all that power and premium-ness comes with a hefty price tag. But if you are a pro-grade artist and really need the power offered by Razor Blade Pro 17 – this laptop is well worth the price.
Pros – What we liked
Larger 17-inch screen for more productivity
Good color accuracy and fast refresh rate
Very powerful processor
Top of the line graphics performance
Available in multiple configurations
Premium metallic body
Excellent choice for graphic-intensive tasks (3D modeling, rendering, and gaming)
Good trackpad with a large area
Quality RGB lighting on the keyboard
Outstanding vapor-chamber cooling system
Cons – But not dealbreakers
Expensive
No number pad on the keyboard
Average speakers for the price
Average battery capacity (70 Wh) in spite of the large size
Ok'ish typing experiance
6. Asus ROG Strix G17 – Value for money 17 inch laptop for 3D animation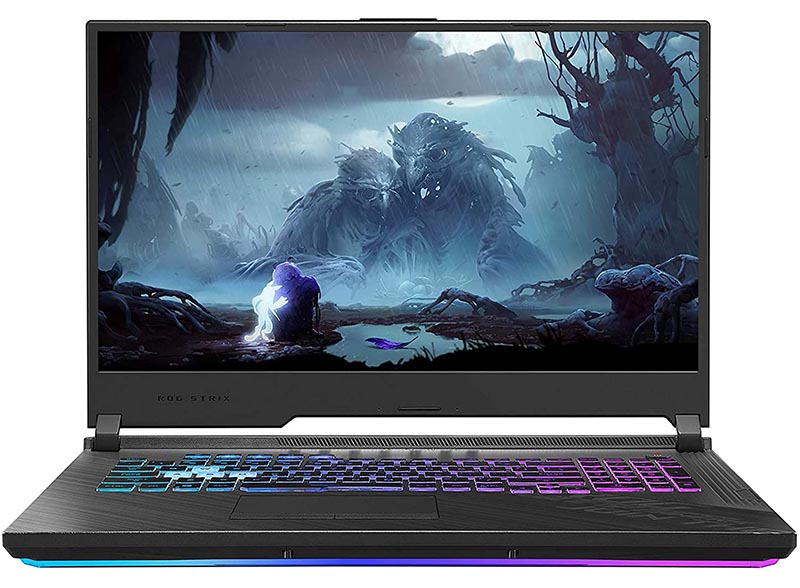 Check Asus Strix G17 – Amazon →
We have already told you about the top-tier 17-inch laptop – the "Razor Blade Pro 17". But it can be way too expensive for most people, especially if you are a student.
The Asus ROG Strix G 17 is one of the best options for a pocket-friendly 17-inch laptop and compared to the aforementioned Razer Blade Pro 17 – you aren't missing much.
As we mentioned, the Strix G17 comes with a 17.3 inch 144 Hz display with a Full HD resolution and a color accuracy of 100% sRGB.
Now a FullHD resolution on a 17-inch screen is not that impressive but it is fine for the asking price but sure gets the job done.
The Laptop comes with a 6 core Intel i7 processor, which is good. But the real shocker comes with the Graphics card.
It comes with a very powerful "Nvidia RTX 2070 Super" with a massive 8 GB VRAM. Mind you, this graphics card at this price point is not that common.
Keyboard and RGB lighting
Compared to Razor Blade 17, the Asus ROG Strix G 17 also has one more advantage, and that is the keyboard comes with a number pad.
A number-pad is super useful as Maya as well as many other 3D software have Numpad-specific shortcuts.
The Strix G17 also stands out in terms of how nicely they have implemented the RGB lighting.
The keys on the keyboard, as well as the front and side portion of the laptop, have an RGB strip towards the base which looks great – especially in dark environments.
As this is a 17-inch laptop, this has a lot of internal space compared to regular 15-inch laptops.
They have utilizes this extra space by implementing a good cooling system and provided as many as 3 NVMe storage slots. They also have a user-upgradable dual-channel 16 GB of RAM.
One area where the Asus could have done better is providing a bigger battery. The laptop comes with only a 66Wh of battery, which is shameful for a 17-inch laptop.
So overall, in spite of all the cost-cutting measures – the laptop still comes with a bang-on processor plus Graphics and a larger screen – all at a reasonable price.
That is why the Asus ROG Strix G17 is a good option for those who are looking for a laptop with a larger screen.
Pros – What we liked
17-inch laptop in an affordable price tag
Very powerful processor and graphics for the price
144Hz FullHD screen with 100% sRGB color accuracy
Excellent use of RGB (with colorful underlight)
Good value for money
Available in multiple configurations
Narrow bezels from three sides
User-upgradable RAM and Storage
Adequate ports (on both sides as well as the back)
Also comes in a 15 inch variant
Cons – But not dealbreakers
Low screen resolution for 17-inch size
Weight is on the havier side
Average built quality
Quite thick compared to other laptops
No fingerprint scanner for unlocking
7. Acer Nitro 5 – Cheapest laptop we recommend for Maya (beginners/ students)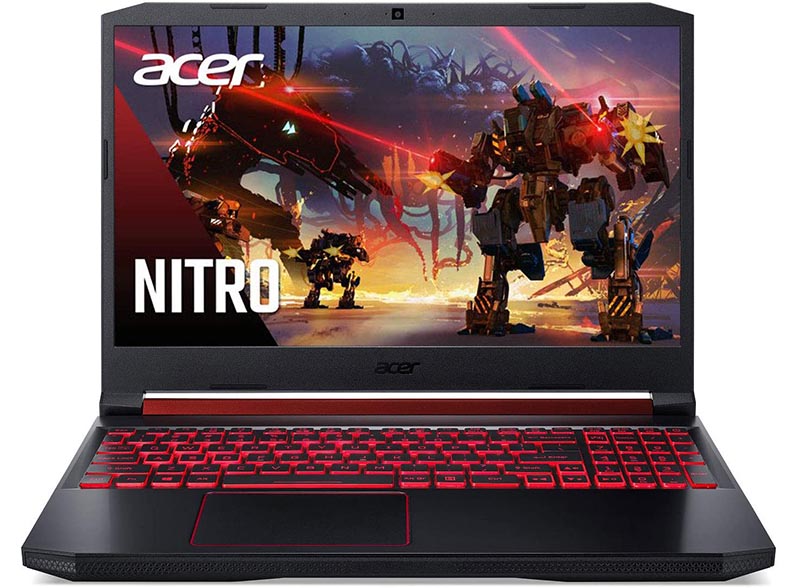 Check Acer Nitro 5 – Amazon →
Although we have featured a number of really good mid-range laptops on our list but they still cost north of a thousand bucks, which is still considerably expensive.
What if you are a student or a hobbyist who is just starting out and just want a laptop capable of handling Maya without any of those bells and whistles and blazing fast render times.
As a 3D artist, about 90 to 95 percent of your time is spent in modeling, texturing, and animation stuff.
So if you think about it, you can get about 80~85 % of Maya requirements met while saving almost 40% of the money.
And when you really need the horsepower, you can use those Render Farms. Right!
If you want to get low, there is one and only one laptop that we recommend and that is the Acer Nitro 5.
The Acer Nitro 5 is a very popular laptop and comes with an Intel i5 and i7 processor with four and six cores depending on your choice.
It also comes with an Nvidia GTX 1660 Ti, which is great to see at this price point.
RAM and Storage capacity and upgrade options
Now it is true that it comes with only 8GB of RAM which is not that great. But since the RAM is user-upgradable, depending on your needs you can upgrade your RAM to 16 or even 32 GB.
To save costs, Acer has decided to only provide 256 Gb of storage. But just like the RAM, the storage can also be expanded.
Overall the laptop comes with a decent processor and a good graphics unit. You may be getting lower RAM and storage capacity, but since they can be replaced with a better one, that is not a big deal.
Pros – What we liked
full HD resolution screen with good color accuracy (100% sRGB)
Cheapest laptop that we recommend for Maya
One of the most popular laptops in the budget segment
Comes with a surprisingly good CPU and GPU
Multiple choices depending on your needs and budget
Cheaper variants come with lower RAM and storage
User-upgradable RAM and Storage
Great for power-intensive tasks (3D programs/ gaming)
Comes with multiple ports
Large trackpad (with RED accent light around it)
Keyboard feels great to type on
Cons – But not dealbreakers
Bad cooling design (with both fans on the same side)
Only RED backlight on the keyboard (Can't change color)
Short battery life
Bezels are on the larger side as per today's standards
How to choose the right laptop for Maya (Minimum system requirements)
As we all know, Maya is very resource-hungry software. How much power you actually need depends on your usage.
On laptops with underpowered CPUs and GPUs, you will experience constant screen freezes and random app showdown, which is definitely not ideal.
Here are some minimum requirements that need to be met in order for the Maya to run properly.
Which is the right processor for Maya?
For a smooth and consistent Maya experience a minimum of 6 cores is recommended. The Intel Core i7 processor is the most popular choice. and available in both 6 and 8 core variants.
For artists who work on complicated scenes with heavy particle and fluid simulations, the Intel i9 processor would be a better choice.
You can also go with AMD 6 core and 8 core processor as well.
How much RAM is needed for Maya? Is 16 GB RAM enough?
In most cases, 16 GB of RAM is enough. But when you are working on complex projects you may need to upgrade to 32 GB of RAM.
You can check out your RAM usage in the task manager of your computer, if it often shows RAM usage up to 75 or 80 percent, you will surely benefit from an upgrade.
That is why we recommend getting a laptop with user-upgradeable RAM slots. While you are at it – you should also make sure the computer has dual-channel RAM (ie. two RAM slots).
Which GPU should your laptops have
Anything above Nvidia GTX 1650 will do the job for Maya. For faster renders and better playback, you should be looking for a Nvidia RTX 2060 or 2070 range of graphics cards.
How much storage do you need?
A single project in Maya can have a number of resource files. All the texture, maps, and image exports can easily take multiple GBs of storage space.
That is why we recommend you to have a minimum of 512 GB of onboard storage. But ideally, you should have around 1 TB of space.
Why you should avoid smaller 13 or 14-inch laptops for Maya?
As we already mentioned, Maya is a complicated software with thousands of smaller menus and buttons. In addition to that, a separate window opens up every time your open UV unwrapping tools or create new materials and even when rendering scenes.
All these different elements take their own screen space. A 13 or 14-inch laptop simply do not have sufficient screen space to manage everything. That is why a 15-inch laptop is the minimum screen size that we recommend for working with Maya.
Other than that, smaller 13-inch laptops do not have enough internal space to fit in a powerful processor, graphics or even cooling system – resulting in compromised performance.
The sad truth about battery backup
The sad truth about battery backup on laptops is – no matter which laptop we are referring to, it won't last long under heavy load.
Even doing basic tasks in Maya consumes enough resources that the battery starts draining fast. Realistically you can expect not more than 3 to 4 hours of Maya usage on a good laptop.
How important is a good cooling system?
The cooling system of a laptop is one of the most under-rated, yet a very important feature of a laptop.
No matter how fast your processor is and how many cores it has, when it gets hot – the clock speed plummets. A good cooling system is essential to maintain a cooler temperate and maintaining a good clock speed without thermal throttling.
That is why gaming laptops have an overall larger footprint with huge air intakes and exhausts.
Related: Best laptop for drawing (Digital artist)