Disclosure: As an Amazon Associate EssentialPicks earn from qualifying purchases.
---
Advanced 3d applications like Autodesk Maya and 3Ds Max are notorious for being power-hungry little monsters.
No matter how much processing power and graphics you have, they seem to churn through it all.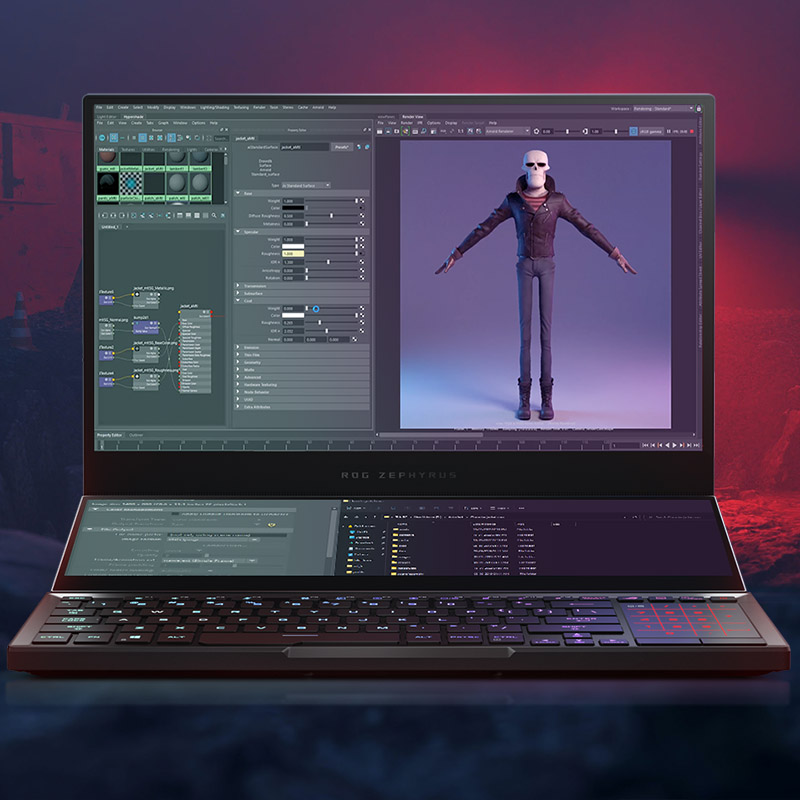 Well, it is true that many of the new popular laptops in the market can "technically" run Maya. But their true nature is only evident when you dig into the core features.
When you start working on some serious projects with complex modeling, simulation and effects, animation, lighting – and render them at high settings – these everyday run-of-the-mill laptops can't keep up and kind of fall apart.
An ideal laptop for Maya should have a powerful processor, a highly capable graphics card, dual-channel high-speed RAM, adequate storage, and a good cooling system for sustained clock speeds.
After spending a full week shortlisting some of the most deserving laptops, we are excited to present our final list of the best laptops for Autodesk Maya.
Our top pick (Asus ROG Strix G15 – Amazon) is a fantastic laptop that has the right blend of features and comes at a surprisingly good price tag.
Going down the list you will find more exciting stuff such as laptops with a dual-screen (which is great for productivity) as well as the most value-for-money laptop for Maya at the number 4 spot.
Top Recommendations
In a hurry? Here are our top picks…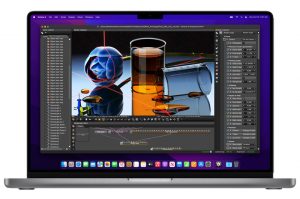 Apple Macbook Pro 16
16.2-inch screen
16:10 Aspect ratio
Apple M1 Pro/Max chip
Integrated GPU (16 core)
P3 wide color gamut
All-metal body
Premium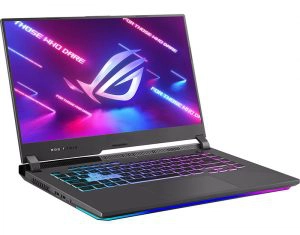 Asus ROG Strix G15
15.6-inch screen
16:9 Aspect ratio
AMD Ryzen R9-5900HX
NVIDIA® RTX 3070 Graphics
100% sRGB color
Build: Plastic
Super Powerful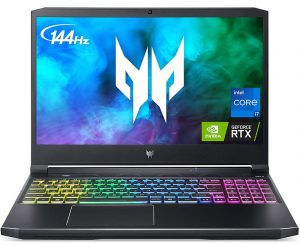 Acer Predator Helios 300
15.6-inch screen
16:9 Aspect ratio
Intel® Core™ i7 (11800H)
NVIDIA® RTX 3060 Graphics
100% sRGB color
Plastic build
Affordable
1. Asus ROG Strix G15 – Hands down "the Best" laptop for Maya
Our pick
Buy Asus ROG Strix G15 on – Amazon →
You know – working with 3D graphics is the most demanding task for a computer.
Unlike a normal web browsing laptop where you can comprise with a thing or two and still get away with it.
Making compromises on a laptop for 3D graphics could be a huge bottleneck and can massively affect your progress.
So we put a lot of effort into searching a laptop that we can confidently recommend to our readers. The one that makes no compromises and has the right blend of everything. And we found it!
If you are in the market looking for the best laptop for Maya, The Asus ROG Strix G15 (Amazon) is the perfect choice for you.
It comes with a mighty powerful AMD Ryzen 9 5900HX Processor along with massive 32 GB of DDR4 3200MHz dual-channel RAM.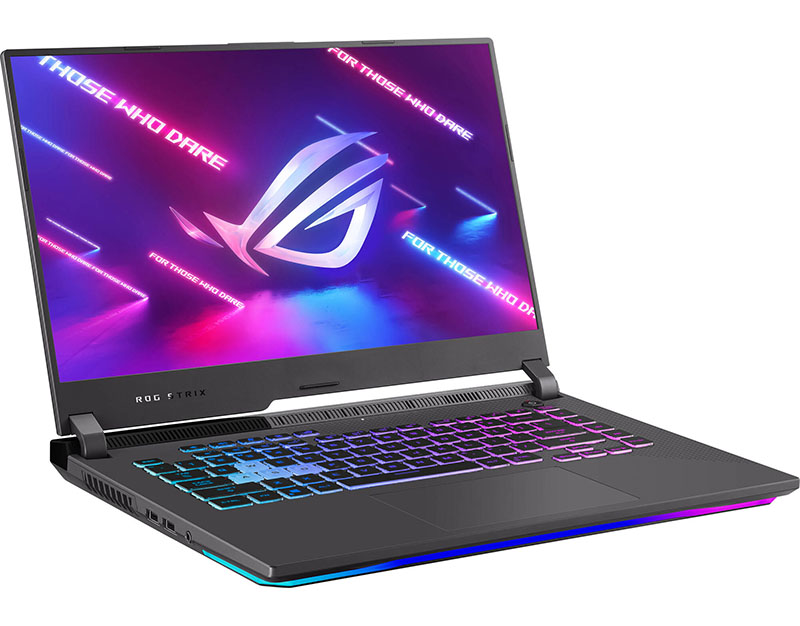 The laptop is not a slacker either when it comes to graphic performance.
It comes with NVIDIA GeForce RTX 3070 graphics with massive 8 GB of GDDR6 graphic memory with ROG Boost up to 1660MHz at 115W (130W with Dynamic Boost 2.0).
If you ever wanted a literal powerhouse of a laptop for Maya, This is it!
No matter what you throw at it and which software you run, the Asus ROG Strix G15 glides through it all.
You can have Autodesk Maya open on the one end, Substance Painter and ZBrush on the other, and photoshop on the side – all running simultaneously without no issues at all.
Since we are talking about performance we should also shift our attention to cooling. It is one of the most overlooked features of a laptop.
But since working with 3D graphics requires running your processor and graphics chip at full power for prolonged periods, cooling becomes an essential feature that shouldn't be overlooked.
The cooling of the ROG Strix G15 is nothing less than impressive.
Just look at the number of heat pipes in the picture above. Asus sure does take their plumbing seriously.
For greater cooling, the multiple heat pipes provide wider coverage, plus each cooling fan has two air outlets, one at the top and the other at the sides.
When you are involved in graphics-related work, it is important to have a color-accurate screen.
The ROG Strix G15 comes with a 15.6-inch FullHD screen with 100%sRGB color accuracy. The 300Hz screen refresh rate makes it a great choice for gaming too.
Probably the best feature of this laptop is – even after being packed with top-of-the-line features and graphic performance, this laptop still comes at a reasonable price. Making it a great choice for 3d artists looking for the ultimate modeling and rendering machine.
Pros – What we liked
Great value for money
Powerful Ryzen 9 5900HX processor
Excellent graphic performance (RTX 3070)
32 GB of RAM for uninterrupted multitasking
Decent screen 15.6 inch FullHD (300Hz)
Good color accuracy (100%sRGB)
Anti-glare coating
One of the best cooling systems
Can sustain high loads for prolonged periods (good for rendering)
RGB keyboard light
RGB strip at the base for the added flare
Some ports present at the back for a cleaner setup
Made of plastic but still feels strong and high quality
Excellent choice for 3D modeling, rendering, particle/fluid simulation, and gaming
Cons – But not dealbreakers
No Numpad
Average display brightness
Mediocre sound quality
Just a single USB-C port
No built-in camera
Ports at the back are not easily accessible
2. Apple Macbook Pro 16 – The complete package
Runner-up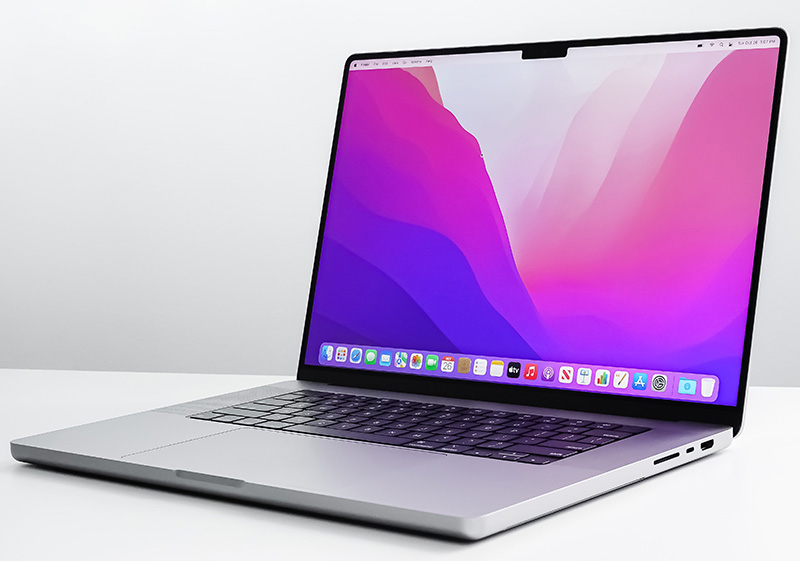 Buy Apple Macbook Pro 16 on – Amazon →
As sleek as the Apple laptops are, they have been criticized for putting "form over function" and making their device so thin that get thermally limited and their performance suffers.
Well seems like Apple finally listened to their users and came with their new generation of Macbook laptops that is a huge step up from their previous models.
Earlier we were quite hesitant about recommending Apple Laptops to 3d artists.
But ever since the design overhaul, and upgrades to the processor, screen, and connectivity options, we can finally wholeheartedly recommend Macbook Pro for 3D artists.
The Apple Macbook Pro is available in two models, the 14-inch and 16-inch Macbook Pro.
When you are modeling in Maya you often work in split-screen where you can see the models from different views.
During the various stages of modeling, you have to open additional dialog boxes such as UV editor, Hypershade, render view. Plus you have the outlier of the left and editor on the right.
All these dialog boxes, split screens, and windows fill up your workspace fast and leave little to no room for the viewport.
That is why we recommend you get the larger 16-inch Macbook pro.
Color and contrast are very important for 3d renderings, and this is where the Macbook Pro absolutely shines.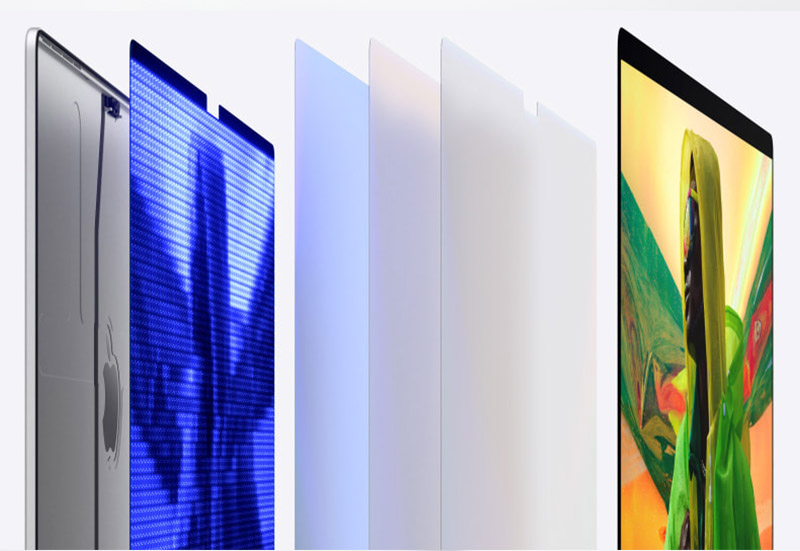 It has a Wide color DCI-P3 color gamut coverage along with a mini-LED screen. Giving you amazing contrast and color.
The mini-LED screen also has excellent outdoor visibility with 1000 nits of sustained brightness and can reach up to 1600 nits of max brightness.
The 16:10 aspect ratio of the Macbook further helps by giving you are larger vertical screen space.
The Macbook Pro is not all about the screen, the real power where it dismantles its competition is its 5 nanometer-based M1 Pro and M1 Max processors.
It comes with 10 core CPUs and 16 or 32 core GPU and 16 or 32 GB of unified RAM all integrated into the same chip (SOC – system on a chip), resulting in groundbreaking speeds and performance.
Apple Macbook is comparable to top-end Intel and AMD processors in terms of CPU performance. Plus it has the most powerful integrated graphics in the market and is comparable to Nvidia RTX 20 series.
video credit: 3D games
Further, out of 10 cores – 8 are performance cores and 2 efficiency cores. That combined with 5nm (nanometer) architecture, results in unmatched power efficiency.
Meaning the fans does not have to work as hard, the processor can sustain great performance for a longer duration, and the overall battery life of the Macbook Pro is well above its competition.
The thicker cheesy on the newer design also helps with better cooling efficiency plus it makes room for the inclusion of wider ports such as HDMI, MagSafe.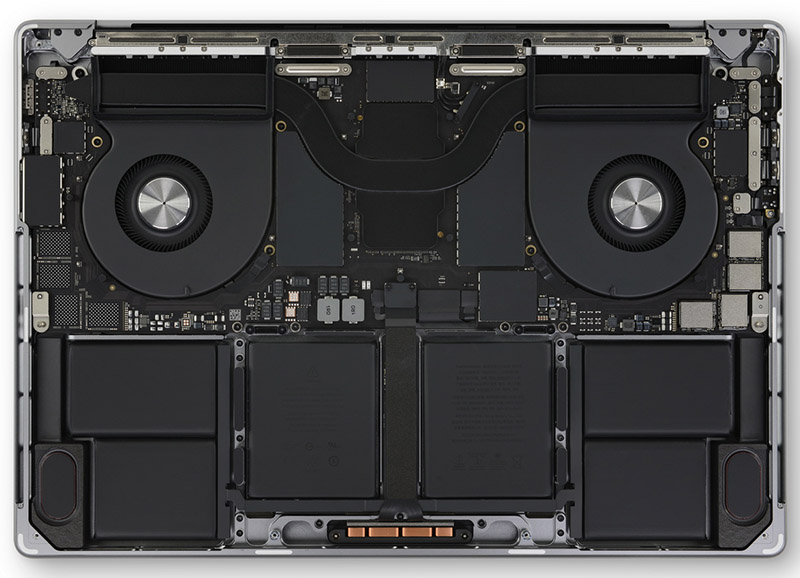 Overall, if you want a premium laptop with powerful internals, the beauty with brains, a laptop that can do it all, the 16-inch Apple Macbook Pro is the right laptop for you.
It will handle all your modeling and rendering needs no matter how many polygons you throw at it.
Pros – What we liked
Larger 16.2-inch screen for multi-window management
Mini-LED – "best in class" color and contrasts (excellent outdoor visibility)
16:10 aspect ratio for greater productivity
120 Hz refresh rate
Premium: All-metal unibody chassis
10 core CPU with top of the line performance
16 core Integrated graphics (above average graphic performance)
5nm architecture > Good power efficiency > no heating issues > consistent performance on sustained loads (rendering)
Multiple connectivity options (USB-C, HDMI, Card reader)
Best in class inbuilt Webcam
Best in class speakers
Best in class touchpad
Fingerprint unlock
Great keyboard
Highly recommended for 3d modeling in Autodesk Maya or 3DS Max
Cons – But not dealbreakers
Notched display
No numpad
No user upgradable components (storage, RAM)
Eyewatering storage and RAM upgrade costs (at the time of purchase – cannot be upgraded afterward)
Expensive
3. Razer Blade 15 Advanced – The ultimate powerhouse for Maya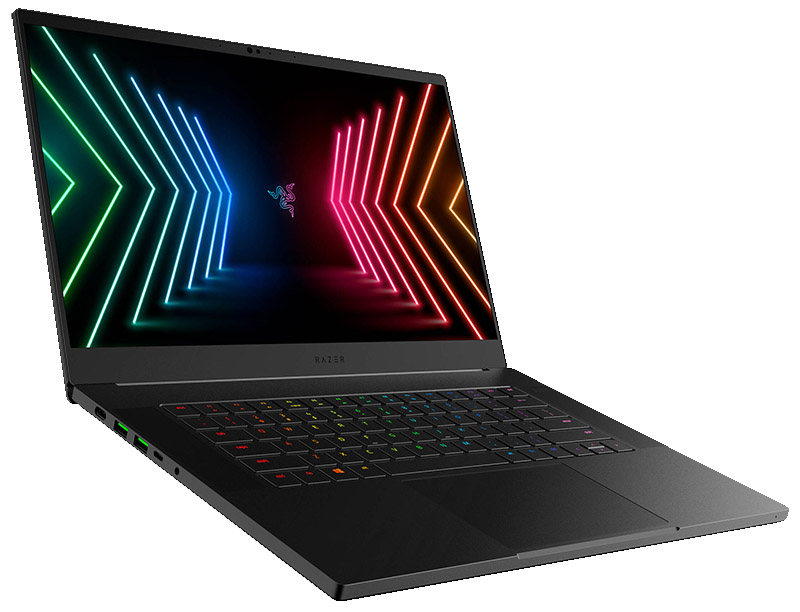 Buy Razer Blade 15 Advanced on – Amazon →
Razer is known for its high-end gaming laptops that pack the most powerful hardware in a very professional and sleek-looking ultra-modern package.
Since there are so many similarities between high-end gaming and 3d modeling a laptop for gaming is also a perfect choice for 3D artists.
The Razor Blade 15 is a very popular lineup. It comes with Intel i7-11800H (45Watts) 8 core processor with is plenty powerful and can handle modeling, animation, and fairly complex particle and fluid simulation with ease.
But the real power of the Razer Blade 15 lies in its graphics. It comes with either Nvidia RTX 3060/ 3070/ 3080 whichever you choose.
As a Maya user, you will benefit from these high-end GPUs in things like Arnold's GPU rendering, AI denoiser, and Ray tracing.

But Power is not the only strong point of the Razer Blade 15. To complement the power the laptop comes with a beautiful 15.6-inch QHD screen.
Just like the Macbook Pro 16, Razer Blade 15 has 100% coverage of the DCI-P3 color gamut. Plus Razer claims each of the individual screens on their laptops are factor calibrated or accurate colors.
The screen also has a high refresh rate of 240 Hz (165/ 360 Hz optional), with a response time of 2.5 ms making it a perfect device for AAA gaming titles.
When we talk of Maya – Processor, Graphics, and RAM are the three of the most important parts.
We have already discussed Processor and Graphics, now let's have a look at the RAM.
RAM has a huge effect on the overall performance and fluidity of the Maya. The more RAM there is – the smoother Maya/ Max will run.
Other than being used in the day-to-day operation, the RAM also helps with catching particle simulation and determines how many steps you can undo/redo.
It also affects the overall stability, minimizes computer freezes (especially when rendering scenes), and avoids crashing of the application.
Normally 16 GB of RAM is considered decent for Maya, but the Razor Blade holds nothing back and comes with a massive 32 GB of RAM, allowing you to go all out.
Plus you also have the option to upgrade to more RAM, since it is user upgradable.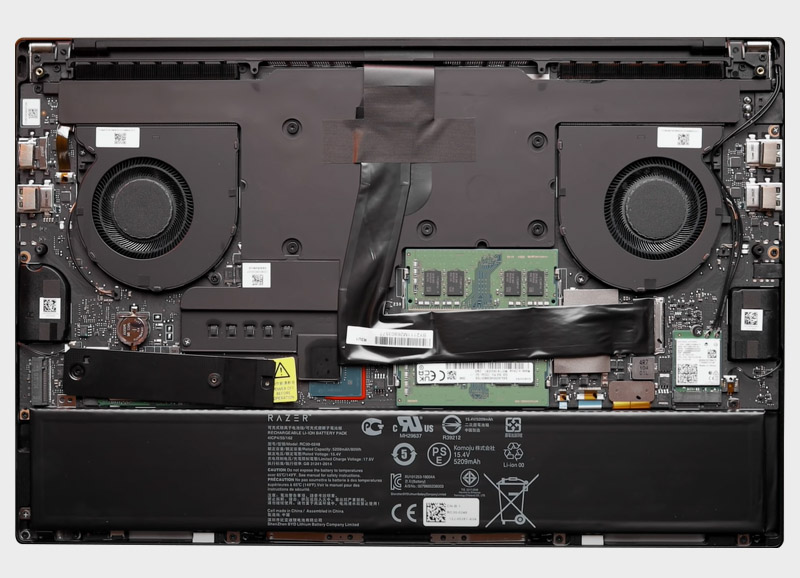 Same is the case with the storage. The laptop already comes with a 1TB NVMe SSD but you also get an empty SSD slot for future upgrades.
Design is another highlight of this laptop as it is made of solid aluminum unibody and houses an excellent keyboard and a large trackpad. Making it a good choice for a professional environment.
Pros – What we liked
15.6 inch screen with multiple resolution and refresh rate options available
High color accuracy DCI-p3
Intel Core i7-11800H 8-Core processor (45 watts)
NVIDIA GeForce RTX 30 series (3060, 70 or 80)
Massive 32 GB of RAM
User upgradeable RAM and Memory
Vapour chamber cooling
Windows Hello face unlock
thin and strong with an all-metal unibody design
RGB keyboard
1080p webcam
Decently usable speakers
Multiple ports and connectivity options
Large touchpad
Most powerful premium laptop you can get
Cons – But not dealbreakers
Mediocre battery life
Overheating issues
No numpad
Shallow keyboard
Just a single thunderbolt 4 capable USB-C port
Expensive
4. Lenovo Legion 5 – Value for money laptop for Maya/Max/3D modeling
Vale-for-money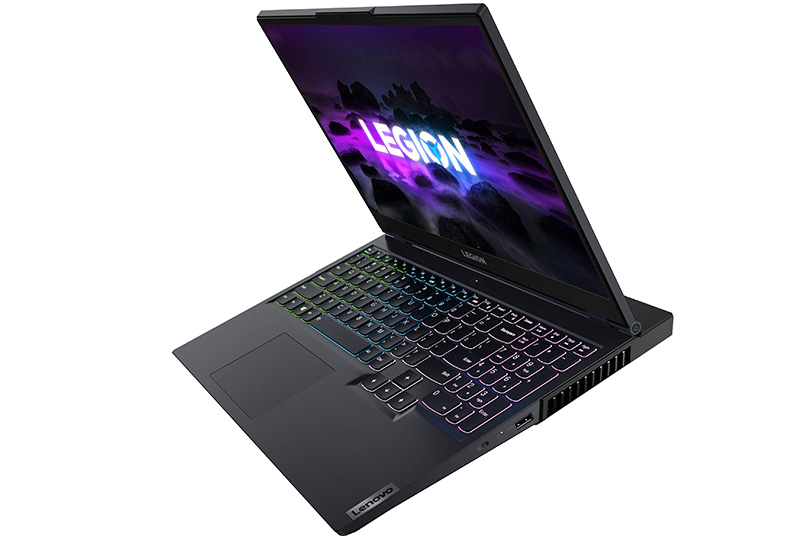 Buy Lenovo Legion 5 on – Amazon →
Lenovo Legion 5 is one of those laptops that has been in production for quite a while and is very popular amongst creative professionals.
Every year Lenovo updates the laptop with the latest hardware and some design tweaks, making them even more amazing.
This year around the Legion 5 comes with the AMD Ryzen 7 5800H, 8 core 45 watts processor with an NVIDIA GeForce RTX 3050Ti graphics.
These two are very powerful combinations considering the mid-range price tag.
To take full advantage of the power, the laptop has an overall thicker profile with an excellent cooling system.
The laptop has two large fans that suck up air from the bottom and throws them from the top and sides, maintaining high airflow and cooler temperatures throughout.
One of the best things about the Lenovo Legion 5 is the layout of the port.
On the side of the laptop, you get a USB-C and a headphone jack. On the opposite side, you have a USB-A 3.2 port and a physical camera cutoff button for privacy.
All the other ports have been shifted to the back of the laptop for a clutter-free desk environment.
This can be handy if you use multiple monitor setup or use a peripheral device such as a drawing tablet for Maya or sculpting in Zbrush/Blender.
The keyboard is very satisfying to use and comes with beautiful RGB lighting.
You know how important the screen is for a creative laptop. Thankfully Legion 5 makes no compromises with the screen to keep the process low (some brands do that).
It comes with a 15.6-inch FullHD screen with a 16:10 aspect ratio. This gives you a slightly larger vertical length, this is better for software like Maya which has a lot of vertical menus like the outliner.
Color accuracy is another important feature to look for in a laptop for Maya. The Legion 5 comes with a 100% sRGB color accuracy, which lets you see every little change in the color shift in your render output.
Overall, if you want a laptop that is plenty powerful can handle all your Maya workload while still coming at a pocket-friendly price tag. The Lenovo Legion 5 is what you should get.
Pros – What we liked
Outstanding value for price
15.6-inch screen with good color accuracy
16:10 aspect ration for more vertical space
Outstanding thermal design for better cooling
User upgradeable RAM (comes with 16 GB)
User upgradable Storage (1NVMe + 1 HDD slot)
RGB Keyboard with quality keys
180-degree hinge
Ports at the back for clutter(wire) free deskspace
One of the best 3D modeling (Maya) laptops for the price
Excellent built quality
Comes with a Numpad
Plays almost all modern game titles
Above-average speakers
Cons – But not dealbreakers
Poor webcam
No Numpad
Heavy laptop with larger footprint
Mediocre battery life
5. Asus Zephyrus Duo – 3D modeling powerhouse with dual screen
Dual-screen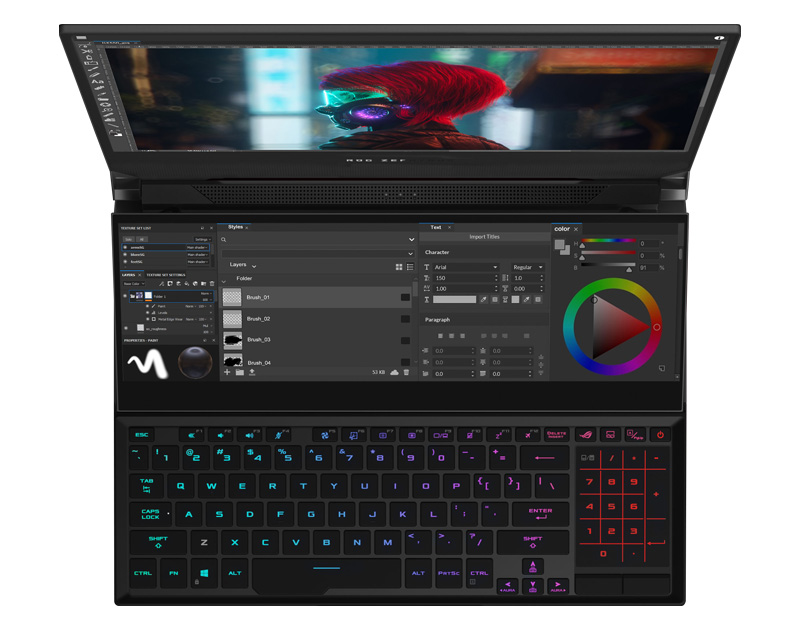 Buy Asus Zephyrus Duo on – Amazon →
Earlier we mentioned how Maya (due to its layout) can be challenging to work on a smaller screen.
A 15 inch or larger screen is somewhat better but for the best 3D modeling (Whether in Maya or any other 3D software) experience we highly recommend a second screen.
But when you add an extra screen, you lose portability, and you kind of get tied down to a fixed desk setup.
That is where the Asus Zephyrus Duo comes as a solution.
The Zephyrus Duo is roughly the same size as a normal laptop in overall footprint, but somehow Asus has managed to squeeze in a second screen in that space.
It comes with a 15.6-inch FHD IPS screen with a 300 Hz of refresh rate and 100%sRGB color accuracy and 16:9 aspect ratio.
The secondary screen is touch-enabled and 14 inches in size. It is present on the keyboard deck, right beneath the main screen.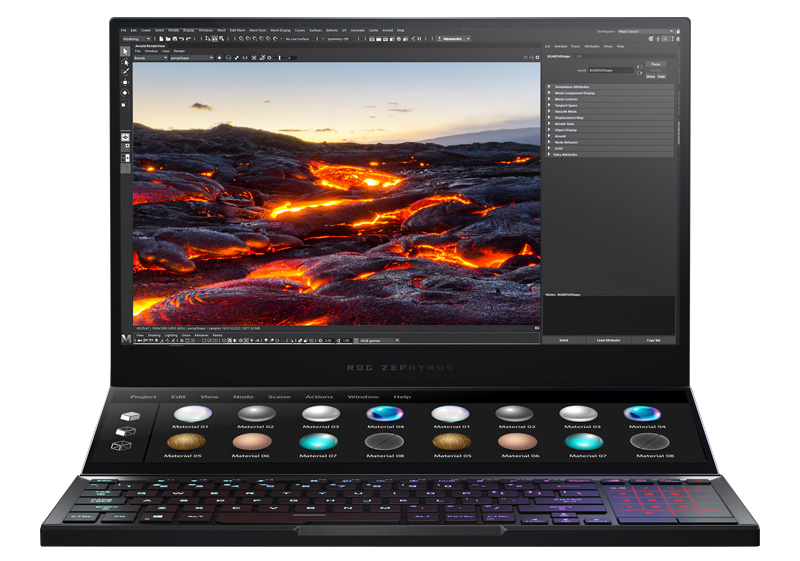 Having a second screen in Maya or any 3D software is great – as it allows you to move your UV tool/shader or rendered view or any other window on the secondary screen and you have the whole viewport to yourself on the main screen.
You can also use the second screen as a reference screen(PureRef), or open a browser and play video/tutorial or music in the background.
The secondary screen supports multiple windows allowing you to multitask.
Due to the second screen, the Keyboard is moved down in the palace of the touchpad and the touchpad is shifted to the right side.
To make sure you do not miss out on anything, Asus has integrated a digital Numpad on its touchpad which works great and can be very handy in Maya for shortcut operations.
The Zephyrus Duo is powered by the absolute beast of a processor – the AMD Ryzen 9 5980HX 8 core processor.
For graphics, you have the NVIDIA GeForce RTX 3060.
The combination of powerful CPU and GPU, dual-screen, and a very functional and practical design makes the Asus Zephyrus Duo a productivity Powerhouse.
Here is a video to showcase its productive capabilities. credit: Pitch
It is not just an ideal choice for 3D modeling (Maya), but also for any other interface-heavy task such as graphics design, animation, editing, programming, or gaming.
Overall if you are looking to push Maya to its limits the Asus Zephyrus Duo is the one you should seriously consider.
Pros – What we liked
Dual screen for maximum productivity
15.6 inch full HD IPS screen with great colors
Great viewing angles and 300Hz refresh rate
Anti-glare coating
Touch capable second screen
Both screens support "Asus Pen Stylus"
Powerful AMD Ryzen 7 or 9 processors
Extremely powerful Graphics
User upgradeable RAM and Storage
Numberpad integrated into the touchpad
Great speakers
RGB keyboard
Comes with a wrist pad for comfortable keyboard usage
Reasonable Priced
Great for gaming, drawing, Desing – plus heavy 3d modeling, animations, and rendering
Cons – But not dealbreakers
Keyboard layout differs from other laptops (might need some getting used to)
Mediocre battery life
Stylus does not come included and has to be purchased additionally
Heavy weight – 5.47 lbs (2480 grams)
6. Acer Predator Helios 300 – Cheapest laptop we recommend for 3D modeling in Maya
Budget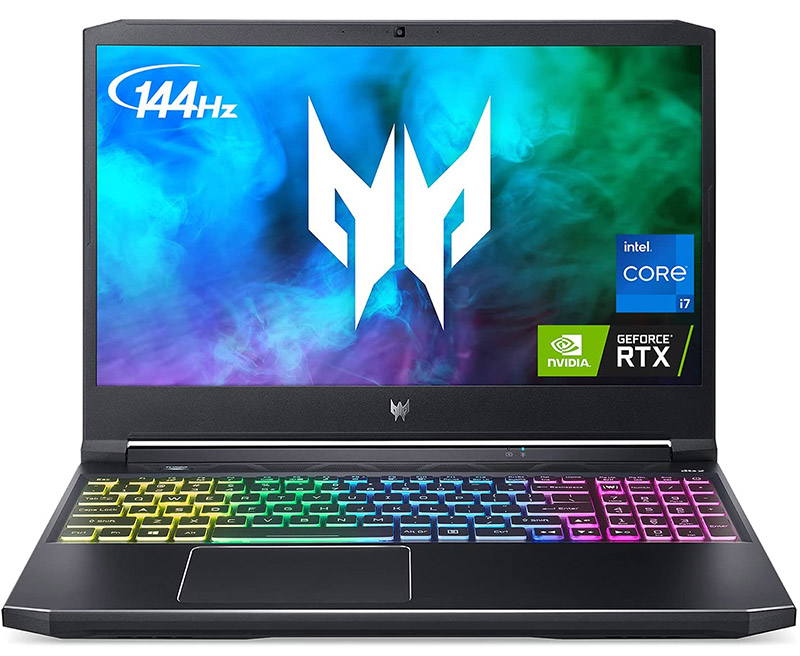 Buy Acer Predator Helios 300 on – Amazon →
3D modeling inherently requires fast and powerful hardware which by default bumps up the prices.
Although we have featured a number of really good mid-range value for money laptops on our list, but they are still is still considerably expensive.
What if you are a student or a hobbyist who is not interested in blazing fast render times and just want a pocket-friendly laptop capable of handling Maya workload.
As a 3D artist, about 80 to 85 percent of your time is spent in modeling, texturing, making joints/handles for movement, and animating stuff.
So if you think about it, you can get about 80~85 % of Maya requirements met while saving almost 40% of the money.
And when you really need the horsepower, you can use those Render Farms. Right!
If you want to get low, there is one and only one laptop that we recommend and that is the Acer Predator Helios 300.
The Acer Predator Helios 300 is a very popular laptop and comes with an Intel i7-11800H processor with 8 cores.
It also comes with an NVIDIA GeForce RTX 3060, which is more than what you can ask for in the given price tag.
RAM/ Storage capacity and upgrade options
This particular model of the laptop comes with 16 GB of dual-channel RAM and 512 GB of NVMe SSD.
Plus you also have the option to upgrade the RAM as well as the extra storage. This is great if you want to extend the capabilities of your laptop in the future by adding more RAM.
The laptop comes with a 15.6 inch 144Hz 3ms IPS display.
The good thing is – unlike many other budget-conscious laptops, the Helios 300 comes with good color accuracy covering 100% sRGB color gamut.
Implementation of RGB backlight is great on this bad boy with extensive RGB controls.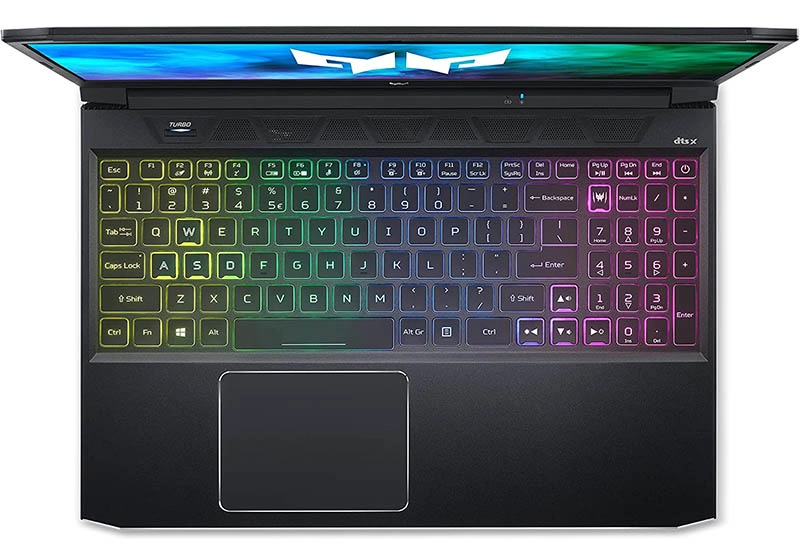 You also get a number pad on the right which is again a good thing as a Maya user.
Overall, Acer Predator Helios 300 gives you everything you need for 3D modeling – an excellent processor, good graphics, great display and future upgrade options. You simply cannot go wrong with it.
Well, it is true that you can find other laptops that are cheaper than Predator Helios 300, we do not recommend you to get an aggressively cheap laptop, only to realize it is not good enough and kind of gives up on you on fairly basic 3D operations.
Pros – What we liked
Best value for price laptop
15.6 inch color accurate 144 Hz display
Powerful Processor (the same processor can be found in some top tier laptop)
Good graphics capability (RTX 3060)
RGB keyboard looks good
Has a Numpad
User upgradeable RAM and Storage
Wider selection of Ports
Ports at the side as well as back for a cleaner setup
Made of plastic still feels strong and sturdy
Excellent cooling with good thermal design (large vents and fans)
Good touchpad
Highly recommended for 3D modeling
Cons – But not dealbreakers
Just a single USB-C port (Although Thunderbolt 4 capable)
Circular power connector (outdated)
Mediocre battery life
Bad video camera
Average speakers
How to choose the right laptop for Maya (Minimum system requirements)
As we all know, Maya is very resource-hungry software. How much power you actually need depends on your usage.
On laptops with underpowered CPUs and GPUs, you will experience constant screen freezes and random app showdown, which is definitely not ideal.
Here are some minimum requirements that need to be met in order for the Maya to run properly.
Which is the right processor for Maya?
For a smooth and consistent Maya experience a minimum of 6 cores is recommended.
The Intel i7 or the AMD Ryzen 7 are the processors that we recommend for 3d Modeling. They can be found in fairly cheaper laptops and can handle pretty rough Maya usage.
If you are a power user who does a lot of particles, cloth, and fluid simulation or work with large project files that push Maya to its limits, you should go for Intel i9 or AMD Ryzen 9 processors.
Since most of the operations in Maya are more CPU-dependent, getting a better CPU should be prioritized over getting a better GPU.
If you are an absolute beginner, you can go for Intel i5 processor or AMD Ryzen 5, but we generally do not recommend these processors for 3d modeling.
How much RAM is needed for Maya? Is 16 GB RAM enough?
In most cases, 16 GB of RAM is enough. But when you are working on complex projects you may need to upgrade to 32 GB of RAM.
You can check out your RAM usage in the task manager of your computer, if it often shows RAM usage up to 75 or 80 percent, you will surely benefit from an upgrade.
That is why we recommend getting a laptop with user-upgradeable RAM slots. While you are at it – you should also make sure the computer has dual-channel RAM (ie. two RAM slots).
Which GPU should your laptops have
The more powerful the GPU, the better it is. Just make sure the laptop comes with the current generation of CPU and pick depending on your personal usage.
How much storage do you need?
A single project in Maya can have a number of resource files. All the texture, maps, and image exports can easily take multiple GBs of storage space.
That is why we recommend you to have a minimum of 512 GB of onboard storage. But ideally, you should have around 1 TB of space.
Why you should avoid smaller 13 or 14-inch laptops for Maya?
As we already mentioned, Maya is a complicated software with thousands of smaller menus and buttons. In addition to that, a separate window opens up every time your open UV unwrapping tools or create new materials and even when rendering scenes.
All these different elements take their own screen space. A 13 or 14-inch laptop simply does not have sufficient screen space to manage everything. That is why a 15-inch laptop is the minimum screen size that we recommend for working with Maya.
Other than that, smaller 13-inch laptops do not have enough internal space to fit in a powerful processor, graphics or even cooling system – resulting in compromised performance.
The sad truth about battery backup
The sad truth about battery backup on laptops is – no matter which laptop we are referring to, it won't last long under heavy load.
Even doing basic tasks in Maya consumes enough resources that the battery starts draining fast. Realistically you can expect not more than 4 to 5 hours of Maya usage on a good laptop.
The Numpad situation in Maya
Many of the high-end laptops, whether we talk about Apple, Razer or Dell – do not come with a Numpad on the keyboard.
Now as a Maya user, you know that a number of Maya hotkeys are present on the Numpad.
For laptops that do not come with a Numpad, here are some of the things you can try to solve the Numpad situation (new tab). Although the tutorial is made for Blender, they also apply to Maya.
The best solution is to get a wireless Numpad accessory as shown abave (Amazon link – new tab).
How important is a good cooling system?
The cooling system of a laptop is one of the most under-rated, yet very important features on a laptop.
No matter how fast your processor is and how many cores it has, when it gets hot – the clock speed plummets. A good cooling system is essential to maintain a cooler temperate and maintaining a higher clock speed without thermal throttling.
That is why gaming laptops have an overall larger footprint with huge air intakes and exhausts.
Related: Best laptop for drawing (Digital artist)