Disclosure: As an Amazon Associate EssentialPicks earn from qualifying purchases.
---
It is already happening, more and more artists are switching from traditional to digital art. The magic of the "undo button" is irresistible.
Drawing tablets are one of the first things you need as a digital artist. The good news is, the price and quality of the drawing tablet have come a long way from what they use to be a few years ago.
All the major drawing tablet brands are trying to put their best foot forward and introducing new devices one after another.

With so many choices in the market, selecting the right drawing tablet, more importantly, avoiding the wrong tablet becomes really important.
After comparing more than 50 graphics tablets from all the major brands. We have handpicked some of the most deserving candidates for being the " Best drawing tablet".
All the tablets mentioned in the list are great choices and you can't go wrong with any of them. All you have to decide is – Which tablet fits your requirements and budget.
Top Recommendations

Xp Pen Deco Pro
11 x 6 inches
8 Shortcut buttons
Mechanical dial
Touchpad
Wacom One
13.3-inch screen
1080 p FullHD
Tilt Support
Foldable stand

Huion Kamvas Pro 16
15.6 inches
Laminated display
Tilt support
Budget-friendly
Best Drawing Tablet for digital art – Pen and Display tablets
Here are our top picks for the best drawing tablet. Our list contains both the Pen tablets (without screen) and display tablets (with screen).
1. Wacom One – Great Quality, Affordable Price
Sale
Wacom One HD Creative Pen Display, Drawing Tablet With Screen, 13.3" Graphics Monitor; includes Training & Software, works with Mac, PC & Chromebook, photo/video editing, drawing, design, & education
Wacom One Creative Pen Display: High definition creative pen display designed for creative hobbyists, visual thinkers, and anyone needing a second screen or bigger digital canvas for work or play
Last update on 2023-09-29 at 01:31 / Affiliate links / Images from Amazon Product Advertising API
If you are looking for a drawing tablet that has the perfect combination of price, features, and quality – the Wacom One drawing tablet is the right choice.
The Wacom One is a budget-friendly pen display tablet that is specifically made for beginners who are looking for a good drawing device.
It comes with a 13 inch Full HD screen which gives you an advantage of drawing directly on the screen, unlike normal Pad-based graphics tablet.
Stylus – Wacom One Pen

The tablet comes with the Wacom One Pen that has a pressure sensitivity of 4096 levels and Pen tilt detection up to ±60°. The pen has a single button on the side that can be programmed to perform any shortcut. Further, the pressure sensitivity of the pen can also be customized.
| | Wacom One Pen Display |
| --- | --- |
| | |
| Tablet Dimensions | 8.9 x 14.1 x 0.6 in |
| Display Size | 13.3 Inches |
| Active Drawing Area | 11.6 x 6.5 in |
| Resolution | 1920 x 1080 p (16:9) |
| Color Accuracy | 72% NTSC (93% sRGB) |
| Brightness | 200 cd/m2 |
| Pen Pressure | 4096 Levels |
| Tilt Support | YES (60 degrees) |
| Shortcut Buttons | 1 (on stylus) |
| Tablet Stand | Inbuilt Foldable stand |
| Weight | 2.2 lbs (1 kg) |
Tablet Stand – Foldable legs

The Wacom One also comes with an inbuilt foldable stand that gives the tablet an elevation of 19°. This drawing angle is more comfortable and ergonomic than drawing on a flat surface.
PROs
1080p Full HD display
4096 Levels of pressure sensitivity + Tilt support
Supports Windows, Mac, and Android
Built-in Foldable legs
Matte display with Texture
Compact and lightweight (2.2 lbs or 1 kg)
CONs
No shortcut buttons
No VESA mount
2. Xp-Pen Deco Pro – Alternative to Intuos Pro
Last update on 2023-09-29 at 01:31 / Affiliate links / Images from Amazon Product Advertising API
Looking for an affordable graphics tablet? The Deco Pro from the Xp Pen is a top of the line drawing tablet. It has all the features you ever need in a graphics tablet and it totally justifies its price tag.
Deco Pro features
The tablet comes with a massive active drawing area of 11 x 6 inches. Its stylus has a pressure sensitivity of 8192 levels of pressure sensitivity along with tilt recognition up to ±60°.
Deco Pro comes with a metal body that feels strong and sturdy in hands, it also gives it a professional look. In terms of the overall design, the tablet looks modern and minimalistic.
Shortcut Buttons and Android support
If you are one of those artists who heavily use shortcut buttons, you will be happy to know that you get a wide variety of shortcut options. There are a total of eight shortcut buttons along with a mechanical wheel and a touch-sensitive trackpad.
Other than connecting the tablet to the Windows or Mac computer, you can also use this tablet with Android smartphones and tablets, making it really versatile.
Xp Pen Deco Pro - Features
Dimension
399.7 x 227 x 16.5 mm
Active Area
11 x 6 Inches
9 x 5 Inches (small)
Shortcut Buttons
8
Roller Wheel
Mechanical wheel + Trackpad
Pen Pressure
8192 Levels
Pen Tilt
±60° degrees
Report Rate
200 RPS
Buttons on Pen
2
Support
Windows, Mac and Android 6.0 and above
Connectivity
Wired
Wireless/ Bluetooth (optional)
In short, the Xp pen Deco Pro is one of the best drawing tablets right now in terms of features as well as value for money. Read the full review of the Deco Pro.
PROs
8192 pressure with tilt support
Works with Android phones and tablets
Metallic body
Massive drawing area
Good price to value – ie. affordable
8 buttons with mechanical wheel and touchpad
CONs
No wireless connectivity
No color options
3. Wacom Intuos Small – budget Wacom tablet
Sale
Last update on 2023-09-29 at 01:31 / Affiliate links / Images from Amazon Product Advertising API
If you know anything about drawing tables you would already be aware of Wacom devices. They are the most recommended brand famous for high quality and reliable drawing tablets.
The Wacom Intuos is popular among beginners as a budget tablet. It has been in the market for a couple of years and has got many upgrades over the years.
The latest Wacom Intuos comes with a couple of interesting features such as wireless connectivity as well as support for Android devices.
Stylus and Shortcut Buttons
It comes with a stylus with 4096 levels of pressure sensitivity with a very balanced and smooth pressure curve. The stylus has two programmable buttons on the sides.
The stylus is a passive stylus, which means it does not needs to be charged. It gets its power wirelessly from the tablet with the help of EMR (electromagnetic Resonance). The back end of the stylus can be opened up to reveal extra pen tips stored inside.
The shortcut button on the tablet is located towards the top edge of the tablet. The buttons have an inward slope that acts as a pen holder.
The tablet comes in two sizes small and medium. The surface of the tablet is textured which provides better grip and control over the stylus. The texture also gives the tablet a paper-like feel.
| | Wacom Intuos Small |
| --- | --- |
| Active Drawing Area | 6.0 x 3.7 inches |
| Pen Pressure Sensitivity | 4096 levels |
| Shortcut Buttons | 4 |
| Resolution | 2540 Lines per inch |
| Reading Rate | 133 PPS |
| Pen | Batteryless |
| Colors | Black and Pistachio |
| Wireless Support | Yes (Bluetooth) |
| Touch Support | No |
Summary: It is a great product, at prices as cheap as this you get a very capable device from a trusted brand like Wacom which will serve you for a long time.
PROs
Great drawing experience
The texture does not wear off easily
Excellent Build quality
Works with Android devices
Wireless connectivity via Bluetooth
Free drawing software
CONs
No dedicated pen holder
Expensive price tag for the larger model
4. Huion Kamvas Pro 16 – best drawing tablet on a budget
Last update on 2023-09-29 at 01:31 / Affiliate links / Images from Amazon Product Advertising API
Gone are the days when you had to spend thousands of dollars on a professional-grade drawing tablet. Huion has come up with one of the cheapest and most value pack drawing tablets in the market.
The Huion Kamvas Pro is made for beginners who want premium features such as laminated display and tilt support, at budget-friendly prices.
Huion Kamvas Pro features
The tablet comes with a 15.6 inch Full HD display monitor with 100% sRGB color accuracy. The display is sufficiently bright with excellent viewing angles.
It has a great build quality as metal is used all around its body for a strong and sturdy feel.
For shortcuts, you get a total of 6 shortcut buttons along with a touch bar. With a touch bar, you can easily change the size of the brush and eraser. It can also be used for zoom, panning, and scrolling.
Stylus – Huion Kamvas Pro 16
The stylus of the Huion Kamvas pro has a pressure sensitivity of 8192 levels along with ±60° tilt support. In terms of performance, the stylus draws perfect and precise strokes with a good balance of pressure sensitivity. It does not have issues like line jitter or wavy lines.
| | Huion Kamas Pro 16 |
| --- | --- |
| Screen | 15.6 inches |
| Resolution | 1920 x 1080 p Full HD |
| Color | 120% sRGB |
| Pressure and Tilt | 8192 pressure, ±60° tilt |
| Shortcut Buttons | 6 + Touch bar |
Overall it is a great alternative to Wacom devices and gives more features at a lower price. You can read the full review of Huion Kamvas Pro 16 here.
PROs
15.6-inch laminated display
1920 x 1080p Full HD resolution
6 shortcut buttons with Touchbar
Metallic body
Premium feel
CONs
Tablet stand not included
Bad placement of power button
5. Xp Pen Artist 15.6 Pro – Best budget display tablet
Last update on 2023-09-29 at 01:31 / Affiliate links / Images from Amazon Product Advertising API
Budget display tablets generally come with a lot of compromisations. In some tablets, you have to compromise with the display quality in other tablets the stylus will not be as good.
This changes with the Artist 15.6 Pro tablet from the Xp Pen. It is one of few budget display tablets which does not compromise with quality or features and gives you a complete drawing experience.
Artist 15.6 Pro features
It has features like laminated displays which could be only found in premium display tablets a few years back.
The Artist 15.6 Pro (Amazon) has a 15.6 inch Full HD matte display and comes with a stylus with 8192 levels of pressure sensitivity. The stylus also has tilt sensitivity up to ±60°.
There are eight shortcut buttons on the left side of the tablet. All the buttons can be customized to custom shortcuts in driver settings. Along with shortcut buttons, you would also find a red roller.
The red roller is a game-changer and very useful while drawing. It can do tasks like zoom, ran, scroll and most important – change the size of the brush or eraser by simply rotating it.
The tablet comes with a ton of accessories such as a pen holder which also doubles up as a pen stand, a tablet stand, drawing glove and all the required cables.
| | Xp Pen Artist 15.6 Pro |
| --- | --- |
| Resolution | 1920 x 1080 p |
| Size | 15.6 Inches |
| Color | 88% NTSC (120% sRGB) |
| Viewing Angle | 178° |
| Active Drawing Area | 344.16 x 193.59 mm |
| Pen / Pen Holder | Passive Pen / Included |
| Pressure and Tilt | 8192 Levels / 60° Tilt |
| Shortcut Keys | Eight |
| Roller Wheel | One |
| Tablet Stand | Included |
In short: If you are looking for a tablet that is as competent as premium drawing tablets and do not want to compromise on any features than Xp Pen Artist 15.6 Is the right tablet for you. See the full review of Artist 15.6 Pro.
PROs
15.6-inch laminated display
1920 x 1080p resolution
Matte surface for reducing glare
8 shortcut buttons with Roller
Lightweight and slim
Tablet stand included
CONs
No Carrying case
Tablet stand has just one angle
6. Wacom Cintiq 16 – Wacom's budget display tablet
Sale
Last update on 2023-09-29 at 01:31 / Affiliate links / Images from Amazon Product Advertising API
Wacom is known for its expensive premium devices which costs thousands of dollars. They surprised everyone with the release of new Wacom Cintiq 16. It not only an excellent drawing tablet but also comes at a very affordable price tag.
In spite of being a low-priced tablet, they have not compromised with the features and quality. The tablet comes with a 15.6-inch matte screen with full HD resolution. The bezels around the screen have been noticeably reduced. The Cintiq 16 overall feels compact and lightweight. In addition to that, it is very thin which makes it easier to carry around.
Display tablets need a tablet stand for an ergonomic drawing position, Cintiq 16 comes with its own high-quality pop-up legs. The legs are strong and do not wobble at all.https://essentialpicks.com/best-drawing-tablet-under-50/
Stylus – Wacom Pro Pen 2
One of the most lucrative things about Wacom Cintiq 16 is – it comes with the Wacom Pro Pen 2. It is considered the best stylus in the market. The pen has 8192 levels of pressure sensitivity along with tilt sensitivity. As it is the best stylus – you get very consistent strokes with no wobble, pen jitter and inconsistent pressure bumps.
The pen has two shortcut buttons on the side which can be set to any shortcut of your choice. The pen is very balanced and ergonomic which feels comfortable to hold for a prolonged period.
As Cintiq 16 is a cheap tablet – to cut the cost, it does not come with a dedicated pen stand. In place of pen stand the tablet comes with a pen holding loop that is present on the right-hand side of the tablet as seen in the image above.
| | Wacom Cinitq 16 |
| --- | --- |
| Screen | 15.6 Inches |
| Resolution | 1920 x 1080p Full HD |
| Pen Pressure | 8192 |
| Stylus/ Pen | Passive (battery-free) |
| Buttons on Tablet | Zero |
| Stand Included | Yes (pop-up legs) |
In a nutshell, it is totally worth your money – Wacom Cintiq 16 full review.
PROs
15.6-inch display
1920 x 1080p resolution
Matte surface for reducing glare
Wacom Pro Pen 2
Foldable Legs
CONs
No dedicated pen holder
No shortcut buttons on the tablet
Click here – for the complete list of display tablets with screen
Here is what Marco Escobedo has to say…
The tablet is a very good complement when working in photography and illustration. It allows us to better control the details when trying to play with masks in Photoshop and select slices in a photograph, it is much more accurate than using the mouse.
Its use is essential in illustrations, most illustrators have a regular tablet to draw while watching the screen, others have a tablet to draw directly on the screen, this is much more intuitive when making strokes in the drawing.
An ideal tablet
A tablet should be comfortable to use. Some prefer large tablets and more space to arrange the materials on the screen (brushes, windows, and canvas), others are more comfortable with a not very large tablet, it also allows portability.
There are regular tablets of 13, 15 and 16 cm and large of 22, 24 and 27 cm. You can choose from many brands, the best known is Wacom but there are other options like Xp-pen that can also give you good results.
And we also have another option that is the model Surface Studio, an innovative proposal for the work of artists but the cost is quite high if you want to enjoy it.
Finally, I have seen many artists use regular tablets and make great art, they are very talented. The tablets are useful but it takes someone eager to learn and talent to shine work on these machines.
Buyer's Guide – How to select the right drawing tablet?
Here is the list of important features you should look for – before buying a drawing tablet.
Drawing Area (size)
You already know "bigger the better" but it is not true. The more practical way of choosing the right drawing tablet is to look at your monitor size.
If you have a small monitor of around 13-15 inches than a medium-size drawing tablet will work better. Similarly, if your screen is 19 inches or bigger than you must go for a larger tablet. (*only applies to tablets without screen)
Why?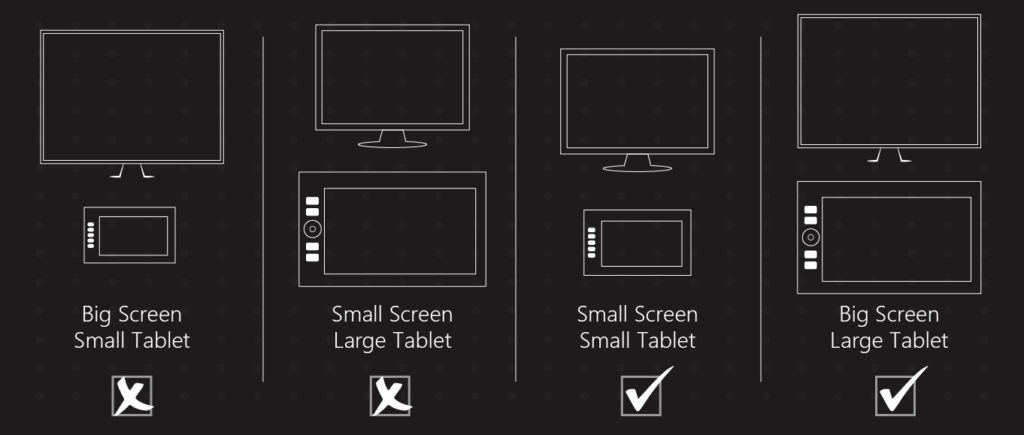 Imagine having a large monitor and a small pen tab. For a small stroke on the tablet, you will get a long stroke on the screen. Same is true when you get a large tablet for a small monitor. A smaller line will appear on the monitor for a longer stroke drawn on the tablet.
Pen and Pen Pressure
A batteryless Stylus (passive pen) should be preferred over those with battery. They are lighter as well as maintenance-free and generally don't get damaged easily by accidental drops. With that said you should still avoid dropping it.
Regarding Pressure, nowadays almost all the tablets come with 8192 levels of pen pressure. But very few people use the full pressure range, most of the people reduce it in the software. So anything more than 4096 levels is fine.
Number of Buttons and other shortcut options
As a rule of thumb – more the number of buttons, the better. But there is more, the placement and arrangement of the buttons also play a big role.
Ideally, you want all the shortcut buttons placed on the left or right side of the working area where it is more accessible. Other than that, there should also be additional shortcut options like touch bar, touch ring or rolling dial. It helps to make quick changes in brush size or zoom which saves time while drawing.
Connectivity
There are two ways in which a drawing tablet can connect to the computer. The first is the wired connection in which a USB cable connects your graphics tablet to the computer.
In the case of display tablets, there are three wires instead of one. The first wire carries power, the second wire carries display data and the last cable transmits pen movement and pressure data. Nowadays the display tablet comes with 3 in 1 cable which reduces clutter.
Coming to wireless connectivity – there are two types of wireless connections. The one is through Bluetooth which is present in Wacom devices.
The second way of wireless connectivity is through a wireless receiver. The wireless receiver connects to the USB port of the computer. It is very important to take special care of the wireless receiver as it is tiny and easy to lose.
The display tablets do not come with wireless connectivity as the high amount of data transfer requirements cannot be satisfied by a wireless medium.
Final thoughts/ Conclusion
With the improvement in technology, more and more tablets are showing up in the market. Features that were exclusively available in premium tablets a few years ago are now available in basic budget tablets.
It is safe to say that not all cheap tablets are bad. You can actually get a better value for your money and overall a better tablet, provided you know what to look for.
All the tablets we have mentioned on our list are extremely good and you cannot go wrong with any of them. Which tablet you choose depends on your budget and the features you are looking for. Before we end this, here is the comparison table to further help you decide the right tablet for yourself.
Related Topics:
Cheap drawing tablet with screen
Drawing tablet for beginners
Graphics tablets under $50