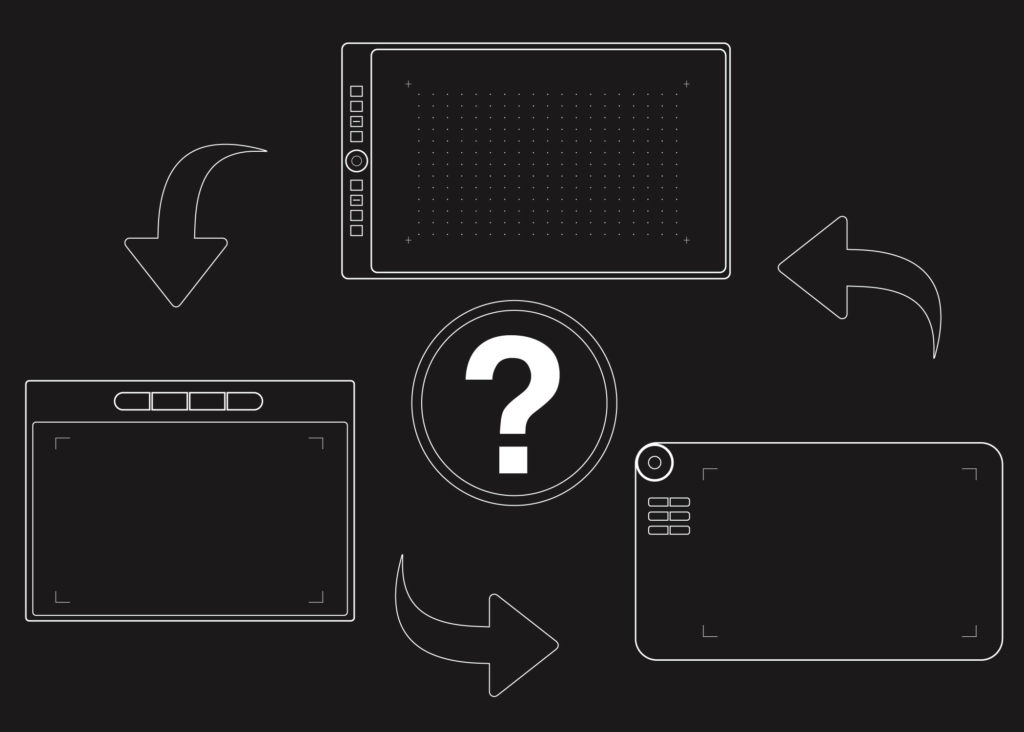 It is already happening, the traditional art is slowly switching to Digital. A drawing tablet is one of the very first things you need – to get started with digital art. They are being used for more than a decade in professional studios but thanks to their reduced prices they have become very popular amongst beginners and hobbyists.
There are a lot of drawing tablets in the market to choose from, each claiming to be better than others. It is very easy to get confused and end up getting something which is not really good. This guide will help you find the best drawing tablet to make sure you get the absolute best drawing tablet out of your money.
Two types of drawing tablet
Without screen – Drawing Tablet/ Pen tablet/ Graphic tablet
With screen – Display Tablet
Although both types of tablets are equally capable of making professional art, each has its own advantage and disadvantages.
Normal pen-tablets without a screen are very affordable. But they have a learning curve as you have a get used to hand and eye coordination. Whereas display tablets have a higher price. They are easier to get used to, and the drawing experience is more immersive.
Best Drawing Tablet of 2018
|   | Image | Price | Ratings | Features |
| --- | --- | --- | --- | --- |
| 01. Wacom Intuos Pro | | $$$ | 4.8 / 5 | From the best pen to the touch and gesture enabled drawing surface, it has everything you want, need and expect from a good drawing tablet |
| 02. Xp-Pen Deco 03 | | $$ | 4.6 / 5 | A big drawing surface, wireless connectivity, responsive stylus, dial and shortcut keys in a budget |
| 03. Wacom Intuos | | $$ | 4.5 / 5 | The best drawing tablet under 100 bucks with excellent built quality and most balanced pen and tablet experiance. |
| 04. Xp-Pen Artist 15.6 | | $$$ | 4.2 / 5 | A 16 inch drawing tablet with screen with all the basic features you need. |
| 05. Gaomon PD 1560 | | $$$ | 4.5 / 5 | Wacom cintiq alternative with quality drawing experiance and one of the most color accurate displays. |
Wacom Intuos Pro – Top Pick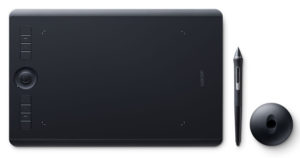 If you want to get the absolute best drawing tablet, Wacom Intuos is the answer. It is one of the professionally used devices in the market. Main reason people like it that it supports pro pen 2 – which is considered the best stylus ever and have features like tilt support.
The Wacom Intuos Pro comes in three models (small, medium and large). The medium and large versions have recently got an upgrade from their previous generations. They have a better and more modern looking design along with improvement in performance.
It has a total surface area of 13.2 x 8.5 and 16.2 x 11.2 inches with the whole surface covered in the textured coating. The active working area is 8.7 x 5.8 and 12.1 x 8.4 Inches. It supports multi-touch and gestures which essentially acts as a big trackpad.
Shortcut Buttons
There are eight custom buttons laid out in two groups of four along with a multifunctional touch ring. The touch ring gives quick access to some handy options like rotation, zoom, brush size and scroll. It is very handy while working. Toggle button in the middle quickly switches between different modes.
Driver
The included Wacom driver is very handy and allows you to set application-specific shortcuts. The best thing about Wacom drivers is their ability to change the settings automatically as you switch to a different programme. Other than shortcuts, the software controls the pen pressure and active working area along with tilt settings and touch gestures.

Pen/Stylus
The device supports Wacom pro pen 2 which is considered the best stylus on the market. The Pen has 8192 levels of pressure with tilt support up to 60°(degrees). The pen does not has any battery inside and works by wireless transfer of energy. The pen comes with a well-built pen holder which contains extra pentips.
Many artists prefer this over the display tablets and there are two main reasons for that.
They are way cheaper than a display tablet
They support pro pen 2
|   | Wacom Intuos Pro |
| --- | --- |
| Active Area | 8.7 x 5.8 , 12.1 x 8.4 Inches |
| Pen Pressure | 8192 Levels |
| Tilt Support | Yes, Up to 60° |
| Custom Buttons | 8 (Eight) + Touch Ring |
| Multi-touch | Yes |
| Connectivity | Wired and Wireless |
PROs
Premium built quality and minimal design
8192 Levels of pressure sensitivity + Tilt support
Can connect wirelessly through Bluetooth
Touch with multi gesture support
Thin compact and easy to travel with
CONs
Expensive
Does not come with a case
Check Price on Amazon
Xp-Pen Deco 03 – Best pen tablet under 100 dollars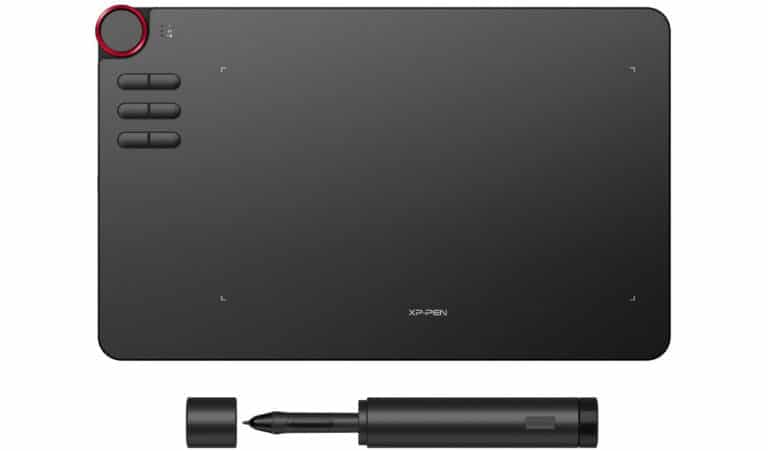 Deco 03 is one of the latest device launched by Xp-Pen. It costs slightly higher than Wacom Intuos but has a lot of features to compensate. It is one of the true value for money devices and a complete package in itself.
The tablet features a large drawing surface of 10 x 5.62 inches which no other tablet offers in the price range. The drawing surface has a paper-like texture which seems quite durable.
It has six customizable buttons and a rotating dial. The Dial controls zoom, rotation and brush size. The pentab is 8mm thick which also makes it the slimmest drawing tablet.
Xp-pen Deco 03 comes with wired and wireless connectivity. It connects to your computer through a wireless USB micro receiver. It uses the latest USB-C port for the wired connectivity.
The device comes with the latest battery-free passive stylus. It has a pressure range up to 8192 levels and works very well in real life uses. For protection, the pen comes with a special pen holder which doubles up as a pen stand. The pen holder also stores some extra pentips.
The included driver supports Windows, Mac, and Linux devices. It enables you to customize pen sensitivity and change shortcuts.
It is one of the best devices out there in the market and provides a lot of features and value for the price.
|   | Xp-Pen Deco 03 |
| --- | --- |
| Active Area | 10 x 5.62 inches |
| Pen Pressure | 8192 levels |
| Pen Battery Needed | No |
| Buttons on Pen | 2 |
| Buttons on Tablet | Yes (Six) + Dial |
| Connectivity | Wired + Wireless |
| Tablet Resolution | 5080 LPI |
| Report Rate | 266 RPS |
| OS Support | Windows, Mac, Linux |
PROs
Large Drawing Surface
Excellent pen with 8192 pressure levels
Comes with a rotating Dial
Pen case for protection
Can connect wirelessly (via wireless USB receiver)
More features at lower price
CONs
No Bluetooth wireless connectivity
Does not come with a tablet case
Check Price on Amazon
Wacom Intuos Small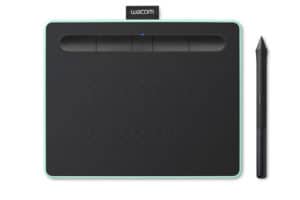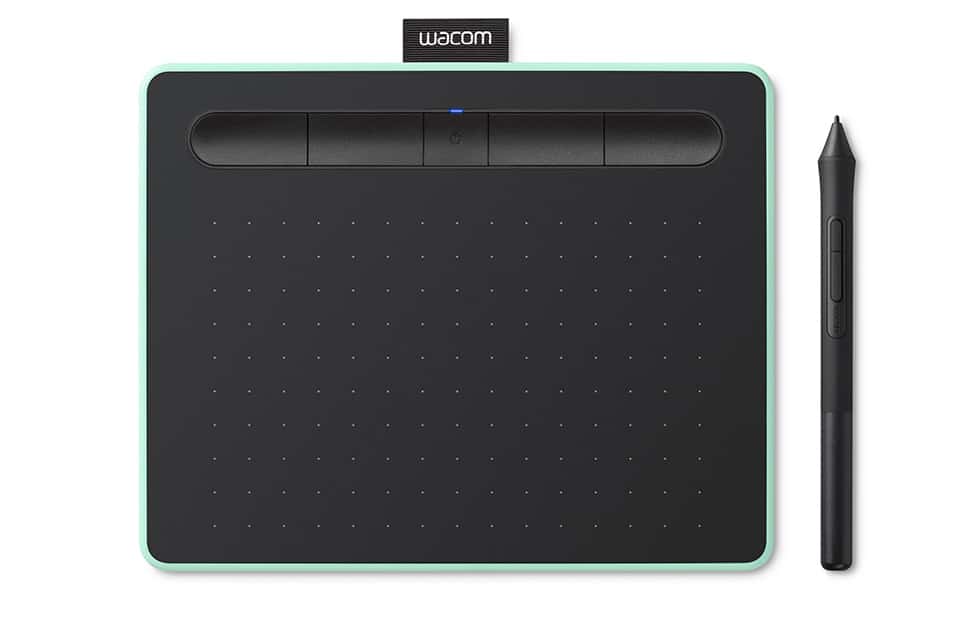 If you know anything about drawing tables you would already be aware of Wacom devices. They are the most recommended brand famous for high quality and reliable products.
The Wacom Intuos is the newest lineup in the Wacom family. It recently got a major upgrade from their previous generations and it is one of the cheapest Wacom devices you can get.
The most noticeable upgrade was the introduction of wireless connectivity. Now it can connect to the computer over Bluetooth.
Other than connectivity the pressure range has upgraded to 4096 levels. The shortcut buttons are now placed at the center of the device which also acts as a pen holder. There is a Matt texture on the surface of the tablet. It provides slight resistance while drawing which gives a more natural paper-like experience.
It comes with driver for Windows and Mac devices. Using software you can change pressure sensitivity and assign application specific shortcuts.
This device comes with a newer pen which has a removable back. This removable back stores the extra Pentips.
The tablet is available in black and pistachio colors. Check out the full review here "
Wacom Intuos full review
".
Summary: It is a great product, at prices as cheap as this you get a very capable device from a trusted brand like Wacom which generally lasts for a long time.
|   | Wacom Intuos Small |
| --- | --- |
| Active Drawing Area | 6.0 x 3.7 inches |
| Pen Pressure Sensitivity | 4096 levels |
| Shortcut Buttons | 4 |
| Resolution | 2540 Lines per inch |
| Reading Rate | 133 PPS |
| Pen | Batteryless |
| Colors | Black and Pistachio |
| Wireless Support | Yes (Bluetooth) |
| Touch Support | No |
PROs
Perfect surface texture
Texture does not wears off easily
Very accurate stylus
Excellent Build quality
Wireless connectivity via Bluetooth
Free drawing softwares
CONs
No pen holder
Have to pay extra for larger size model
Check Price on Amazon
Suggested posts:
Graphics tablets under $100 – click here
Graphics tablets under $100 – click here
Xp-Pen Artist 15.6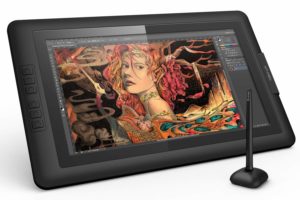 Everyone knows that display tablets are very expensive and often overpriced. Budget display tablets have been there for many years but didn't deliver the satisfactory output and lagged in certain key areas. But this changes with the arrival of Xp-Pen Artist Lineup. This is perfect for those looking to step up from screenless alternatives.
The tablet comes with a 1920 x1080 full HD IPS panel and has a decent display quality. There are six customizable shortcut keys at the right along with a power and brightness button at the sides. The top surface of the screen is textured coated and provides a bit of positive resistance while drawing.
It comes with an Xp-pen passive pen with 8192 levels of pressure sensitivity. The pen has two physical buttons which can be customized to any shortcut using the included software. The box includes a pen holder which has a nib remover and extra pentips case built into it.
The device connects to the computer through a USB type cable. It comes with a software which supports Windows and Mac devices and helps to assign a shortcut to specific buttons. The software also enables to adjust pressure sensitivity of the pen.
The only downside to this device is when compared to the previous model it does not comes with the tablet stand and has to be purchased separately.
|   | Xp-pen Artist |
| --- | --- |
| Screen | 15.6-Inches |
| Resolution | 1920 x 1080p Full HD |
| Pen Pressure | 8192 Levels |
| Stylus/pen | Passive (battery-less) |
| Buttons on tablet | 6 |
| OS support | Windoes, Mac |
| Stand Included | NO |
PROs
15.6 inch display
1920 x 1080p resolution
Matte surface for reducing glare
Handy shortcut keys
Well balanced and accurate stylus
CONs
No tablet stand included
No touch ring/bar
Check Price on Amazon
Gaomon PD 1560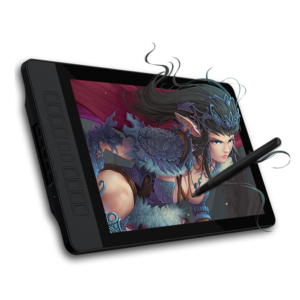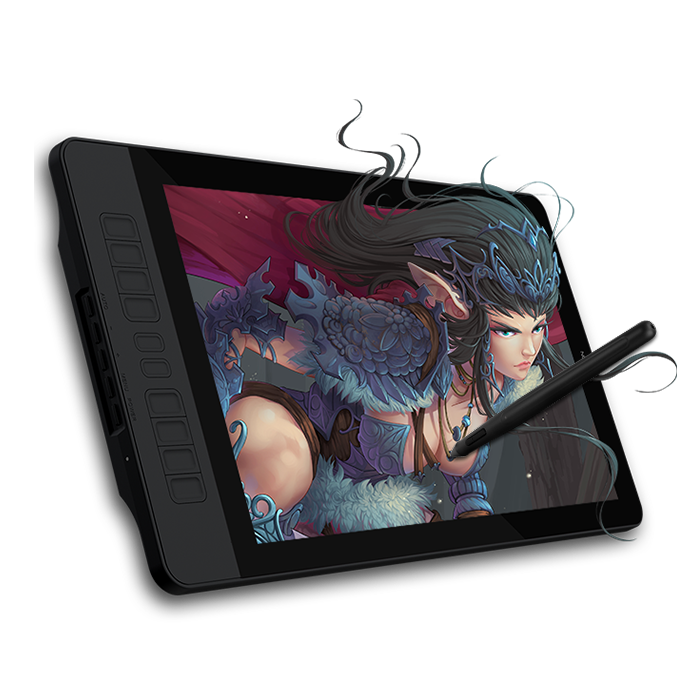 Gaomon PD 1560 is one of the best budget display tablets with very capable hardware. It comes with a 16.5 inch bright and vibrant screen with a resolution of 1920 x 1080. The screen comes precalibrated right from the box.
There are a total of 10 shortcut buttons located on the left side of the screen. There are additional power and screen settings buttons located at the left edge of the display.
The drawing tablet connects to the computer using a hybrid 3 in 1 cable. The cable has three ports on one side which connects to the computer, the side which connects to the tablet has just a single wire. This reduces unwanted clutter on the workstation.
There is a decent quality tablet stand included in the package which gives you multiple angles to work with. The stans can go anywhere between 10 to 90 degrees which is great for working on and consuming content.
Pen – Quality and Performance
The included pen is well balanced and has a comfortable width and weight to it. There are a total of 8192 levels of pressure sensitivity and two buttons at the sides. Many of the display tablets have line jitter where the strokes are wavy at the slower speeds but that is not the issue with this one.
Dark grey color and minimal modern clean design make it look much expensive and professional. The buttons are very clicky and tactile and everything looks well put together. Overall it is a great choice and will exceed your expectations.
PROs
15.6 inch display
1920 x 1080p resolution
Matte surface for reducing glare
Pre-included tablet stand
Best budget tablet
Check Price on Amazon
Suggested posts: Best drawing tablet with screen – click here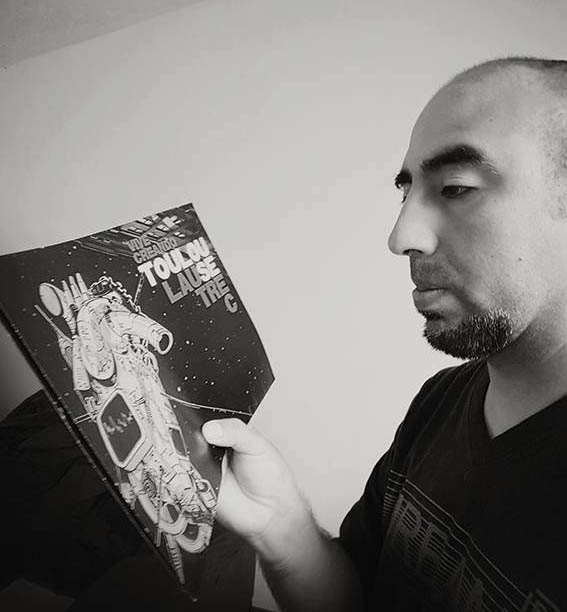 The tablet is a very good complement when working in photography and illustration. It allows us to better control the details when trying to play with masks in Photoshop and select slices in a photograph, it is much more accurate than using the mouse.
Its use is essential in illustrations, most illustrators have a regular tablet to draw while watching the screen, others have a tablet to draw directly on the screen, this is much more intuitive when making strokes in the drawing.
An ideal tablet
A tablet should be comfortable to use. Some prefer large tablets and more space to arrange the materials on the screen (brushes, windows, and canvas), others are more comfortable with a not very large tablet, it also allows portability.
There are regular tablets of 13, 15 and 16 cm and large of 22, 24 and 27 cm. You can choose from many brands, the best known is Wacom but there are other options like Xp-pen that can also give you good results.
And we also have another option that is the model Surface Studio, an innovative proposal for the work of artists but the cost is quite high if you want to enjoy it.
Finally, I have seen many artists use regular tablets and make great art, they are very talented. The tablets are useful but it takes someone eager to learn and talent to shine work on these machines.
What to look for?
Drawing Area (size)
You already know "bigger the better" but it is not true. The more practical way of choosing the right drawing tablet is to look at your monitor size.
If you have a small monitor of around 13-15 inches than a medium-size tablet is the best. Similarly, if your screen is 19 inches or bigger than you must go for a larger size tablet. (*only applies to tablets without screen)
Why?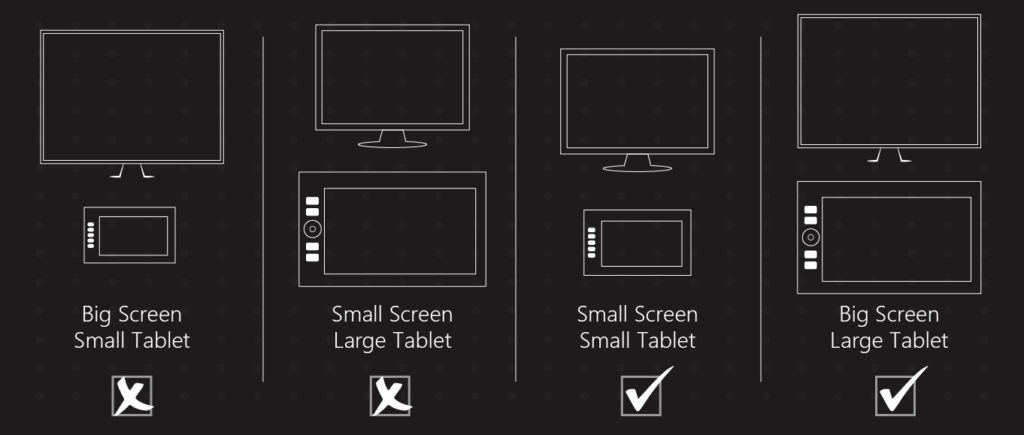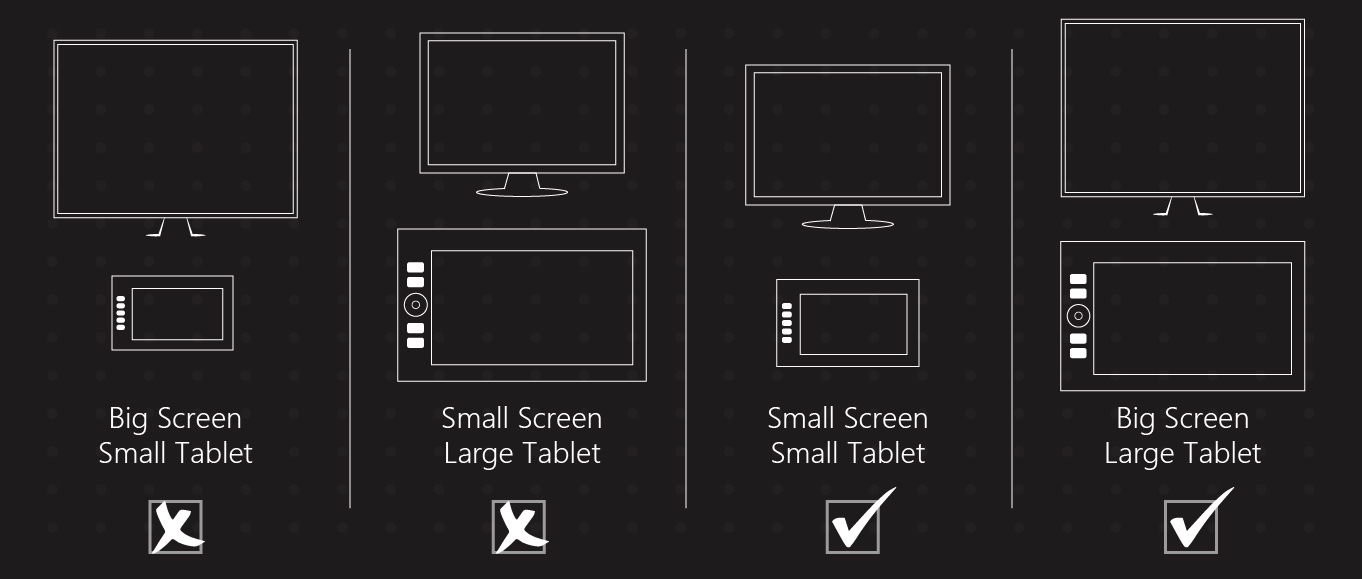 Imagine having a large monitor and a small pentab. For a small stroke on the tablet, you will get a long stroke on the screen. Same is true when you get a large tablet for a small monitor. You will draw a small line on the monitor for a larger line drawn on the tablet.
Pen and Pen Pressure
A batteryless Stylus (passive pen) should be preferred over those with battery. They are lighter as well as maintenance free and generally doesn't get damaged easily by accidental drops. With that said you should still avoid dropping it.
Regarding Pressure, nowadays almost all the tablets come with 8192 levels of pen pressure. But very few people use full pressure range, most of the people reduce it in the software. So anything more than 4096 levels is fine.
Number of Buttons and other shortcut options
As a rule of thumb – more the number of buttons, the better. But there is more, the placement and arrangement of the buttons also play a big role.
Ideally, you want all the shortcut buttons placed on the left or right side of the working area where it is more accessible. Other than that, there should also be additional shortcut options like touch bar, touch ring or rolling dial. It helps to make quick changes in brush size or zoom which saves time while drawing.
Connectivity
There are two ways in which a drawing tablet can connect to the computer. The first is the wired connection in which a USB cable connects your graphics tablet to the computer.
In the case of display tablets, there are three wires instead of one. The first wire carries power, the second wire carries display data and the last cable transmits pen movement and pressure data. Nowadays the display tablet comes with 3 in 1 cable which reduces clutter.
Coming to wireless connectivity – there are two types of wireless connection. The one is through Bluetooth which is present in Wacom devices.
The second way of wireless connectivity is through a wireless receiver. The wireless receiver connects to the USB port of the computer. It is very important to take special care of the wireless receiver as it is tiny and easy to lose.
The display tablets do not come with wireless connectivity as the high amount of data transfer requirements cannot be satisfied by a wireless medium.