Disclosure: As an Amazon Associate EssentialPicks earn from qualifying purchases.
---
With regular new updates – Blender has gotten significantly more potent over the years. A powerful 3D program like Blender needs equally powerful hardware to match.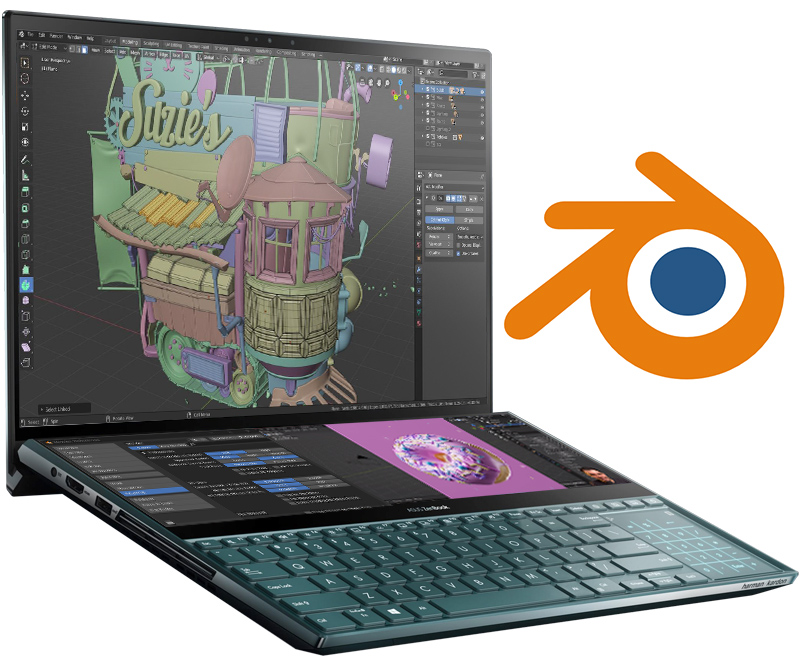 Newer generation laptops on the market come with incredibly powerful processors. In fact, processors inside laptops nowadays are more powerful than desktop processors from a year ago.
On the GPU side – you have technologies such as Ray tracing ( Cuda, Optix, HIP, oneAPI, Metal ) with dedicated hardware which makes rendering super fast.
You also get features like tensor cores which are AI-based systems used for tasks such as denoising in Blender.
Although almost all modern laptops with dedicated graphics come with these cutting-edge features, but some laptops do a better job implementing them.
– For example by providing adequate power to the GPU, having a larger GPU memory, or implementing a better cooling design.
Taking all these into consideration, we have spent the last few days making a list – to help you find the perfect laptop for Blender.
Out of our original list of over 15 laptops, we have shortlisted 6 of the best laptops for Blender artists.
A lot of work has gone into writing this article with in-depth explanations and real-world data comparisons. By the end of this article, we are certain you will find the perfect laptop that you are looking for.
Top Recommendations
In a hurry? Here are our top picks…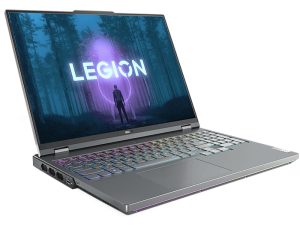 Lenovo Legion Pro 5i
16-inch screen
16:10 Aspect ratio
Intel i9-13900HX
NVIDIA® RTX 4070 Graphics
100% sRGB color
Good build
Balance of everything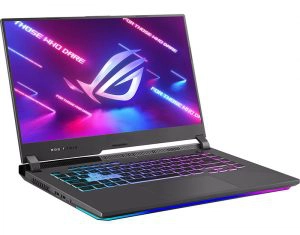 Asus ROG Strix G17
17.3 inch screen
16:9 Aspect ratio
AMD Ryzen™ 9 7945HX
NVIDIA® RTX 4070 Graphics
100% DCI-P3 color
Build: Plastic
Super Powerful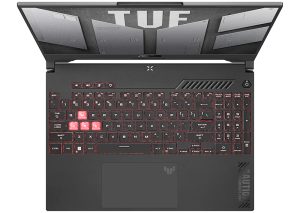 Asus TUF GamingA15
15.6-inch screen
16:9 Aspect ratio
AMD Ryzen™ 7 7735HS
NVIDIA® RTX 4050 Graphics
100% sRGB color
Plastic build
Affordable
1. Lenovo Legion Pro 5i – The overall "best laptop for Blender"
Our pick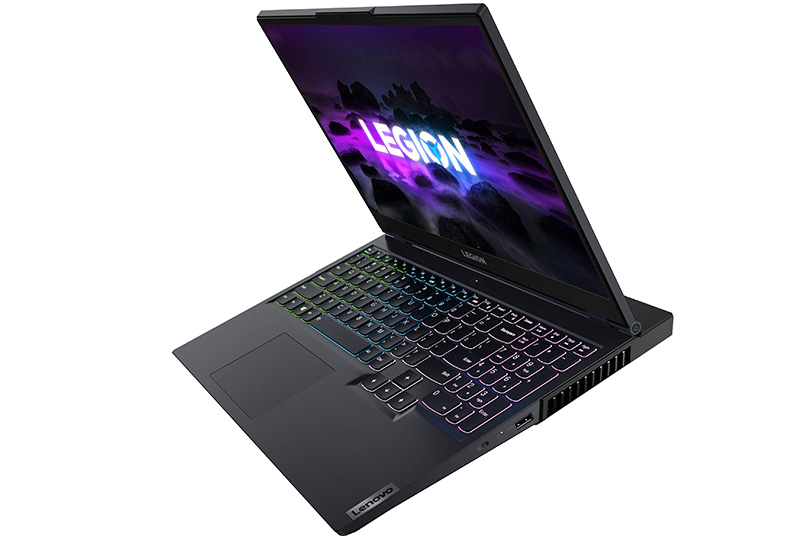 Buy Lenovo Legion Pro 5i on – Amazon →
The Lenovo Lenovo Legion Pro 5i is one of those laptops that we can wholeheartedly recommend to Blender Artists.
It fits into any kind of workflow and can be used for a wide variety of tasks – and most importantly it is not overpriced by fluff features or by the super fancy brand logo.
This laptop has a lot going for it – starting with the CPU itself. It comes with Intel's latest-gen i9-13900HX processor (HX – stands for Highest performance).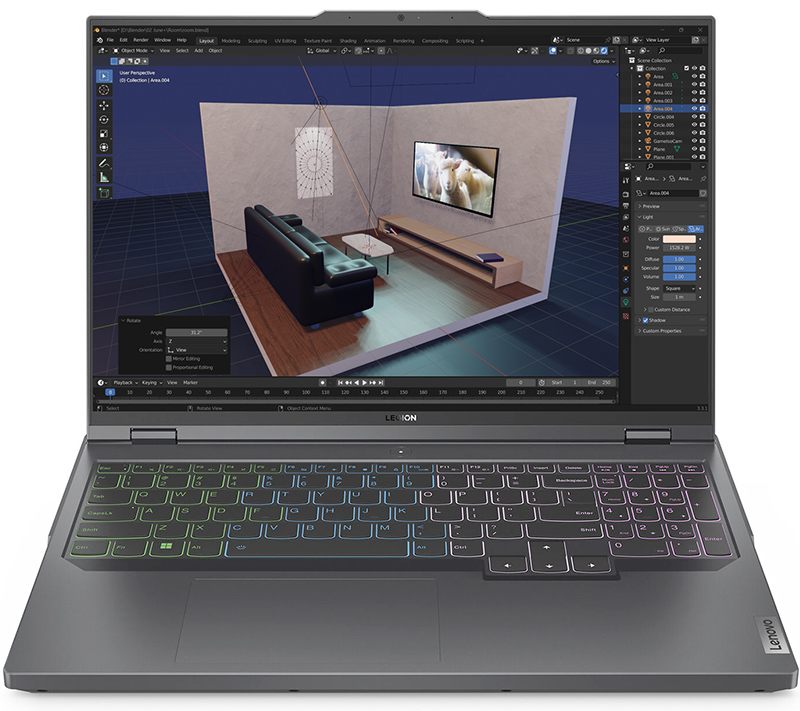 It is Intel's most powerful laptop processor available on the market and it delivers unmatched performance. It results in super smooth viewport performance with all your simulations running smoothly with real-time animation playback capabilities.
On the graphics side, you have the NVIDIA GeForce RTX 4070 graphics card with 8GB GDDR6 running at 140W.
Unlike many other laptops which limit the power to the GPU, The Lenovo Legion Pro 5i gives it all the power it needs.
This means the laptop generates a lot of heat. To keep the temperatures in control the laptop has a thicker profile for more airflow and an excellent cooling system that can handle sustained workload (rendering).
The laptop comes with multiple RAM choices, starting from 16 GB, all the way up to 64 GB.
You would also be happy to know that RAM and the Memory of this laptop are user upgradable with 2 slots each.
Next comes another important feature – which is the screen.
The Lenovo Legion Pro 5i comes with a 16-inch 2560 x 1440 resolution (WQHD) screen with a 16:10 aspect ratio and 165 Hz refresh rate for gamers out there.
The 16:10 aspect ratio gives you a taller screen height which is better suited for software like Blender which has a lot of user interface elements (buttons, menus, etc…) spread across the screen.
Color accuracy on this screen is also on point (100% sRGB) which helps with final fine-tuning and achieving picture-perfect renders.
For connecting peripheral devices, the port selection on this laptop is great as well with ports spread across both sides as well as the back.
The lid of the laptop is metallic while rest of the body is plastic. This material combination makes the laptop look good and feel strong while still keeping the prices low.
Overall, Lenovo Legion Pro 5i does everything right and has all the features and power you need. For Blender artists, this is a perfect laptop.
Pros – What we liked
Outstanding value for money
16-inch screen with 1440p resolution
good color accuracy (100% sRGB)
16:10 aspect ratio for more vertical space
500 nits bright screen for good outdoor visibility
Anti-glare matte film on the screen
Outstanding thermal design for better cooling
User upgradeable RAM (upgradable up to 64 GBs)
User upgradeable Storage
Very satisfying typing experience
RGB lighting implanted without gamer vibes (good for office use)
180-degree hinge (with sturdy stable hinge design)
Physical button to cut off the webcam (1080p)
Ports at the back for clutter(wire) free deskspace
The best 3D modeling (Blender) laptops for the price
Excellent built quality (Metallic lid + plastic body)
Comes with a Numpad (great for Blender shortcuts)
Plays almost all modern game titles on higher settings
Above-average speakers
Cons – But not dealbreakers
Heavy laptop with a larger footprint
Mediocre battery life
Average microphone output
May not fit in smaller backpacks
2. Asus ROG Strix G17 – All-Maxed-out power package (Render machine)
Power pick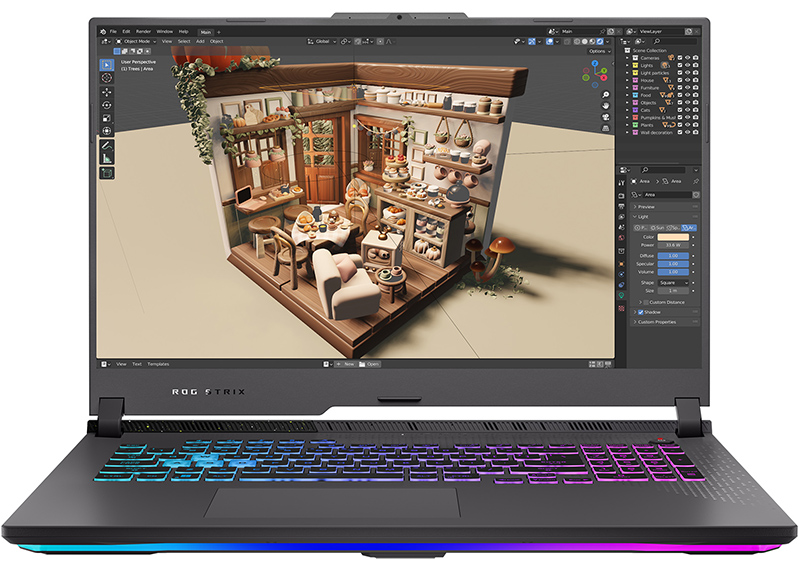 Buy Asus ROG Strix G17 on – Amazon →
Blender being a UI-heavy software, a considerable amount of screen space is occupied by things like menubar, tools, sidebar, floating panels, timeline, footer, etc…
This shrinks the actual working area. Further, when modeling complex models you often use horizontal and vertical splits to get a view of the model from multiple angles, this further reduces the working space.
A normal 15-screen laptop manages just fine but a larger 17-inch laptop makes managing things in Blender way more easier.
Out of all the 17-inch laptops out there, the Asus ROG Strix G17 stands out as a clear winner.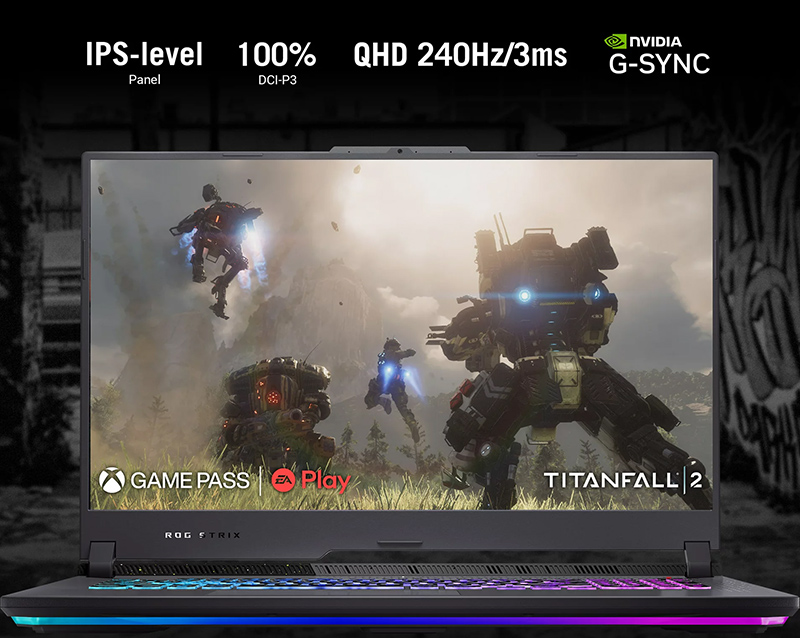 It comes with a very high-quality 17.3-inch screen with a resolution of 2560 x 1440 QHD and a refresh rate of 240 Hz.
What makes this laptop a true delight to use is its incredibly good color accuracy which covers 100%DCI-P3 color gamut.
The experience of using Blender on this big, bright, and color-accurate monitor is superior to any other laptop on this list.
Coming to the power specs. The Asus ROG Strix G17 is powered by the latest 7th Gen AMD Ryzen™ 9 7945HX processor with 16 cores.
In almost all Blender benchmark and performance tests, the Ryzen 9 7945Hx performs slightly better than the 13the gen Intel i9 offerings.
In terms of GPU the said model comes with NVIDIA® GeForce® RTX 4070 power at 140W . But there are options for RTX 4060, 80 as well as 90. So you can pick and choose GPU as per your budget and requirements.
Since it is a 17-inch laptop there is a lot more space on the keyboard deck and hence the laptop does come with a numpad.
The keyboard is satisfying to type on and features things like programmable hotkeys, spaced-out arrow keys and other minor enhancements.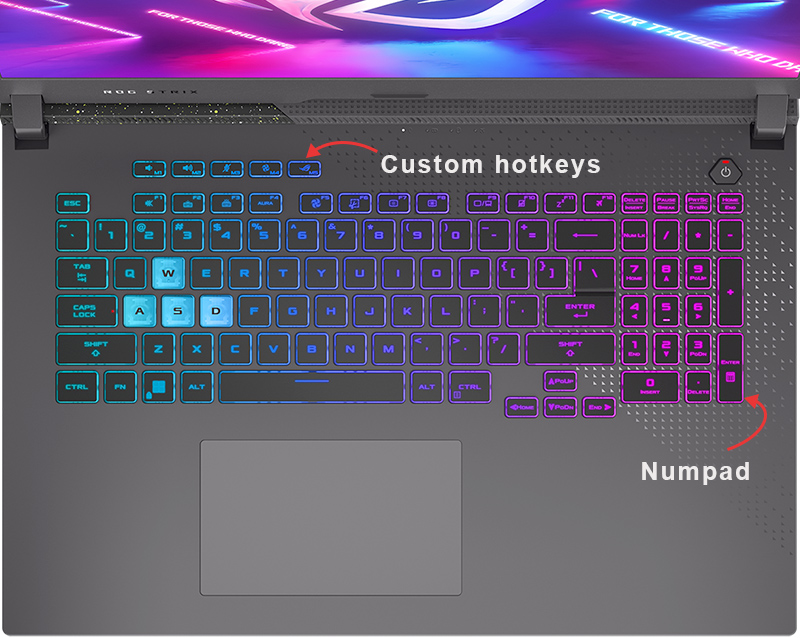 The use of RGB on this laptop is incredibly good and eye-catching. You get RGB light on the keyboard as well as an RGB strip at the bottom edge firing downwards.
Another thing to note is, the laptop comes with 16 or 32 GB of RAM capacity and 1TB or 2TB of storage options.
But you can get the lower RAM and Storage capacity to save some money and upgrade them later on as per your needs.
The laptop has 2 user-upgradable RAM slots and 2 Memory slots.
The cooling design on this laptop is very commendable.
The larger chassis gives more space for airflow, plus the laptop uses liquid metal paste for better heat dissipation. The designs of the fans are also fine-tuned for increased airflow and quieter operation.
Overall the Asus ROG Strix G17 offers a big sharp and beautiful screen and a CPU-GPU combo that is ready for anything you throw at it. It looks good, is priced reasonably, and has a very good user satisfaction rating.
We highly recommend the Asus Strix G17 for power users of Blender who want to push their laptop to its limits.
Pros – What we liked
Incredibly powerful
7th Gen AMD Ryzen™ 9 7945HX processor
Equally powerful Ryzrn RTX 4070 graphics
Other GPU options available (4060, 4080, 4090)
Excellent CPU GPU combination for Blender
17.3-inch sharp and beautiful screen
Superior color accuracy – 100% DCI-P3 color coverage
240 Hz refresh, 3ms response for gamers out there
Full-size keyboard with numpad
Keyboard comes with customizable hotkeys
Beautiful RGB light on the keyboard
Bottom firing RGB strip at the bottom edge for ambient effect
Larger trackpad
Excellent cooling system
Liquid metal for better heat exchange from the cpu/gpu
Quieter fan with anti-dust design
Ports on the side as well as the back
Made of plastic but still feels strong and high-quality
Very Reasonably priced
Excellent choice for 3D modeling, sculpting, rendering, and running simulations in Blender
Cons – But not dealbreakers
Could have included a larger battery
Mediocre sound quality
720p camera instead of 1080p
Larger footprint (can still fit inside a backpack)
A bit on the heavier side – 6.17 lbs (2.8 kg)
Some people may not like heavy-handed use of RGB (you can of course turn it off)
3. Acer Predator Helios 16 – Value for money laptop for Blender
Mid-Range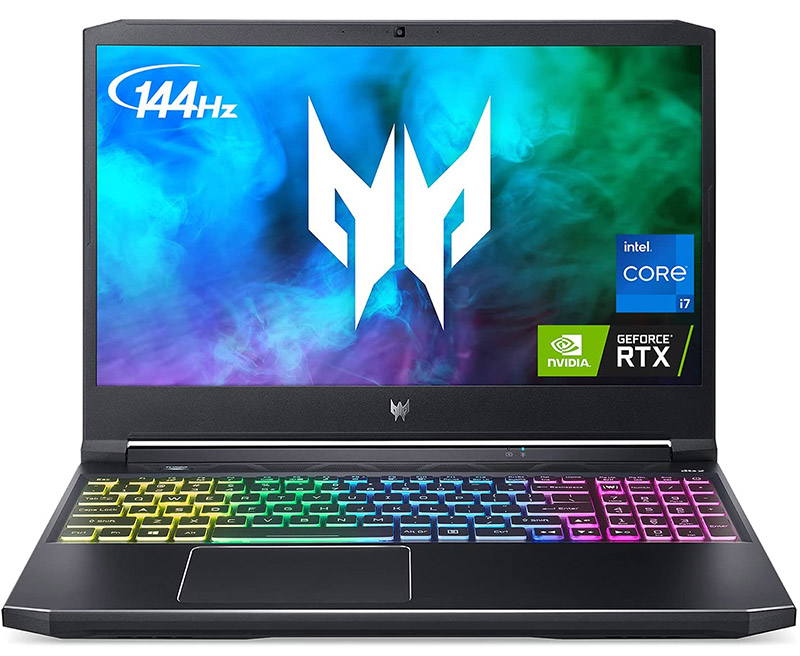 Buy Acer Predator Helios 16 on – Amazon →
3D modeling inherently requires fast and powerful hardware which by default bumps up the prices.
Although we have featured a number of really good mid-range value-for-money laptops on our list, they are still is still considerably expensive.
But you do not always need the highest-end specs for a good 3D experience.
Often times when I check the task manager while 3D modeling in Blender, even on scenes with cloth/water simulations – the CPU seldom runs at 100 percent. (Here we are talking about non-rendering tasks – ie. working within the viewport.)
Most of the time the CPU is at a comfortable ~30-40% load.
What that tells us is when working in the viewport (where you spend 90 percent of your time in Blender) you do not necessarily need all the processing power, which means you can get away with mid-range processors.
The Acer Predator Helios is the perfect candidate for this. It comes with Intel 13th gen i7-13700HX processor which has got the capability to handle viewport-related processes.
And the good news is when you are done with your modeling and you go to render your frames – you are not losing rendering performance as the laptop comes with higher-end NVIDIA GeForce RTX 4070 graphics.
This is the same graphics card that comes with other higher-end laptops on this list.
Meaning, you save money by going with a mid-tier Intel i7 processor
>>
the processor can still handle your Blender workload almost as well as the i9 processor
>>
and you do not lose the rendering performance coz of the RTX 4070 GPU
.
RAM/ Storage capacity and upgrade options
This particular model of the laptop comes with 16 GB of RAM and 1TB Gen4 SSD.
Plus you also have the option to upgrade the RAM as well as the Storage (2 slots for each is available).
This is great if you want to extend the capabilities of your laptop in the future by adding more RAM (supports up to 32 GB).
The laptop comes with a 16-inch 165Hz IPS (3ms) display with a high resolution of 1560 x 1600 and a display brightness of 500 nits.
Color accuracy on this laptop is also on point as the screen covers 100% sRGB color gamut.
This means the screen is large, bright, sharp, fast, and displays accurate colors, making it a great choice not only for Blender but things such as gaming as well.
Implementation of RGB lighting is great on this bad boy with extensive RGB controls.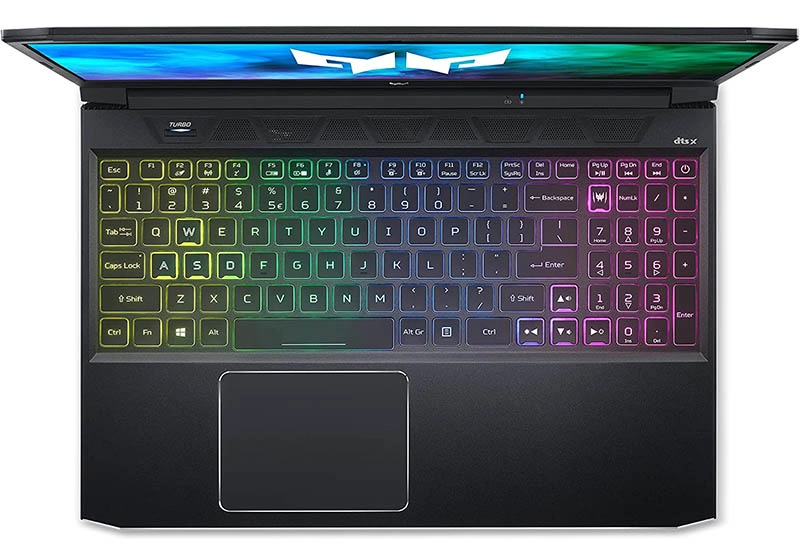 You also get a number pad on the right which is again a good thing as a Blender user (easy access to Blender shortcuts).
Overall, Acer Predator Helios 16 gives you everything you need for 3D modeling – an excellent processor, good graphics, great display and future upgrade options. You simply cannot go wrong with it.
Pros – What we liked
Excellent value for money laptop
larger 16-inch screen
16:10 taller aspect ratio
Fast 165 Hz display for good gaming experience
Good brightness of 500 nits with great color accuracy
Powerful Processor (Intel i7 and i9 13th gen)
Good graphics capability (RTX 4060/70/80)
Good implementation of RGB light on the keyboard
Has a Numpad (helps with Blender shortcuts)
User upgradeable RAM and Storage (with 2 slots each)
A wide range of ports
Ports at the side as well as back for a cleaner setup
Made of plastic still feels strong and sturdy
Excellent cooling with good thermal design (large vents and fans)
Good touchpad
Highly recommended for 3D modeling
Cons – But not dealbreakers
Circular power connector (outdated)
230W power adapter has a large footprint
Both USB-C ports are on the back, one of the sides would be preferable
Ok'ish battery life
Mediocre video camera
Average speakers
4. Asus Zenbook Pro Duo 14.5 – Dual screen multitasking workhorse for Animation and 3D modeling in Blender
Multi-tasker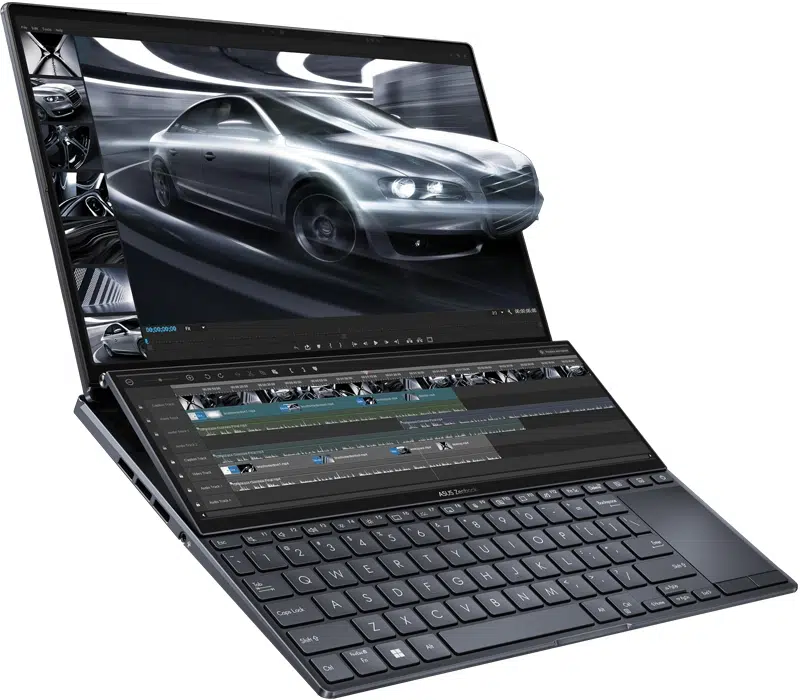 Asus ZenBook Pro Duo on – Amazon →
Blender always requires a couple of supported apps such as – File Manager, PureRef (for reference images), and browser windows open in the background.
On a single screen, you have to frequently switch between these apps, some artist even use their mobile phone for reference images or playing a tutorial. This is of course not ideal.
The Asus ZenBook Pro Duo is one of the most unique and practical laptops on the market. It comes with a secondary screen built into the laptop.
For softwares such as Blender, you may have the Blender running on the main screen – while you have the file manager and browser window open on the second screen.
You can also use it for showing reference images or running a tutorial while you practice the things you learn on the main screen.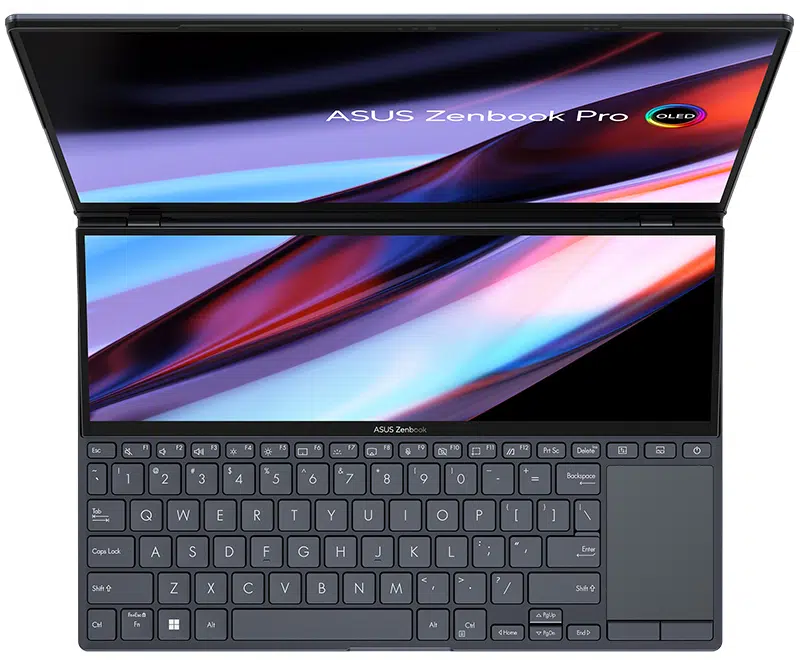 Its main screen measures 14.5 inches and comes with a 16:10 aspect ratio and 2.8K (2880 x 1800) resolution with 100% DCI-P3 color gamut coverage.
The secondary screen measures 12.7 inches and has a resolution of 2880 x 864.
Both the screens have touch support, plus the secondary display also comes with support for the stylus.
Another neat feature of this laptop is, when you open the lid, the lower screen raises up for an ergonomic viewing angle as well as better airflow. Very clever engineering from Asus indeed.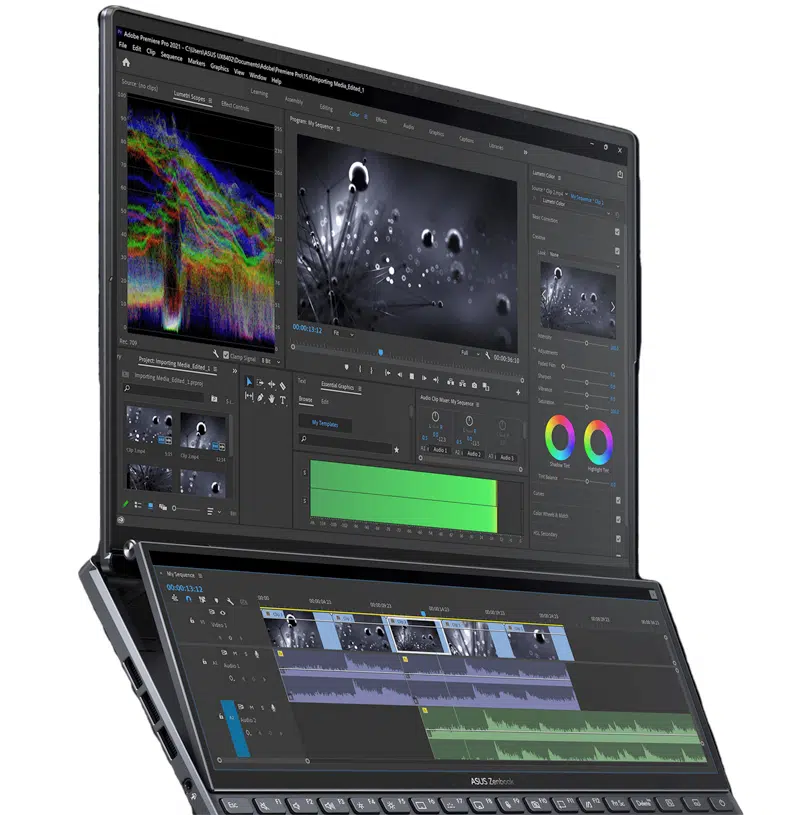 The Asus Zenbook Pro 14 Duo comes with Intel's latest Intel i9-13900H processor and the NVIDIA® Geforce RTX 4060 graphics card.
Allowing you to easily handle your creative workload. No matter how complex and high-resolution your project is – this laptop can handle it.
The laptop has also got plenty of ports to connect all your peripheral devices.
This laptop is a high-end device that comes with some really interesting and unique features (second screen, stylus support) that can be very useful for professionals such as digital artists, animators, 3D creators, or even gamers.
People who have bought it love it so much that they swear they can't go back to using a normal laptop.
*Note
– Since the second screen pushes done the keyboard to the touchpad area, and the touchpad is shifted to the side – there is no Numpad on this laptop. Check out our article on how to use Numpad
Blender shortcut on laptops without Numpads
.
Pros – What we liked
Excellent Multitasking workstation
14.5-inch and 12.7 inches – 2.8k resolution screens
Max brightness of 550 nits
100% DCI-P3 color gamut
Both the screens have touch support
Primary screen is reflective, secondary screen has a matte finish
Secondary screen supports a stylus (Asus Pen 2.0)
Built-in software for easy organization of secondary display
Incredibly powerful 14-core Intel i9-13900H processor
Studio-grade graphics RTX 4060
Excellent cooling system
Good layout and design
No change in the overall footprint in spite of the inclusion of the secondary screen.
Keyboard feels really good to type on, and has a backlight
Extra smooth glass touchpad
One user upgradable Memory slot
Relative compact power brick (180W)
Face unlock (Windows Hello)
1080P video camera with good video output
Portable, can be easily carried in a regular backpack
Excellent build quality (metallic lid and plastic body), the laptop feels robust in spite of many moving parts
Recommended for Artists, animators, 3D artists or any other UI-heavy work environments
Cons – But not dealbreakers
No wrist rest (Asus provides a wrist rest accessory)
The main screen is reflective (some people don't like that) – but you can apply third party matte film
No user-upgradable RAM
No Numpad
Below average battery life (2 screens consume more power)
5. Asus TUF Gaming A15 – Cheapest laptop we recommend for Blender
Budget pick
Buy Asus TUF Gaming A15 on – Amazon →
There are two ways of making cheaper laptops, either compromise on features or cut down the unessential fluff.
Since we are talking of laptops for 3D modeling we need as much power as we can for the least amount of money.
After looking at more than a dozen of options, the Asus TUF A15 is the cheapest laptop we recommend to people on a tight budget.
This laptop offers everything you want while keeping the prices low. So much so that you will actually have a good experience working with some of the most resource-intensive parts of Blender.
The Asus TUF Gaming A15 is a very popular laptop in its category.
It comes with the mighty powerful AMD Ryzen™ 7 7735HS processor. These are powerful mid-range processors that are capable of handling your complicated 3D scenes.
Now agreed your render times wouldn't be as low as what you get with top-tier Ryzen 9 or Intel i9 processors, but the difference is not that big either – especially when it comes to non-rendering tasks.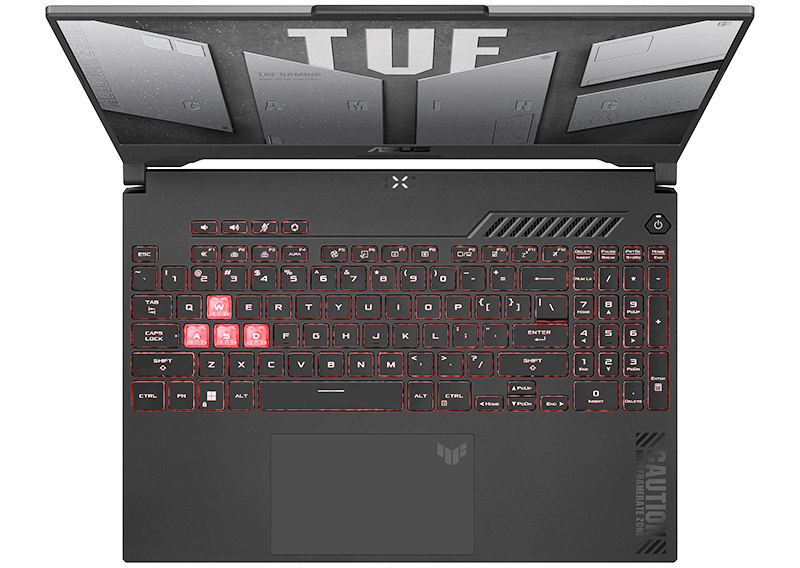 On the graphics side of things, you get the NVIDIA GeForce RTX 4050 at 140W with 6GB GDDR6 onboard. This is the entry-level RTX 40 series graphics, but still has all the features you expect such as ray tracing cores and Tensor cores for AI denoising.
Considering a number of popular laptops do not even come with a dedicated graphics card in this price range, you are actually getting a lot out of your money.
The laptop comes with a 15.6-inch Full HD display. Now we would have liked to see a QHD 1440 screen on this one, but this is where cost-cutting has been done.
But hey, when it comes to 3D modeling, I am more than happy to compromise on screen in favor of a powerful processor and graphics card any day.
On the brighter side, even though the resolution is just 1080p, the screen actually has very good color accuracy with 100%sRGB color gamut coverage and comes with an anti-glare matte finish, which is good.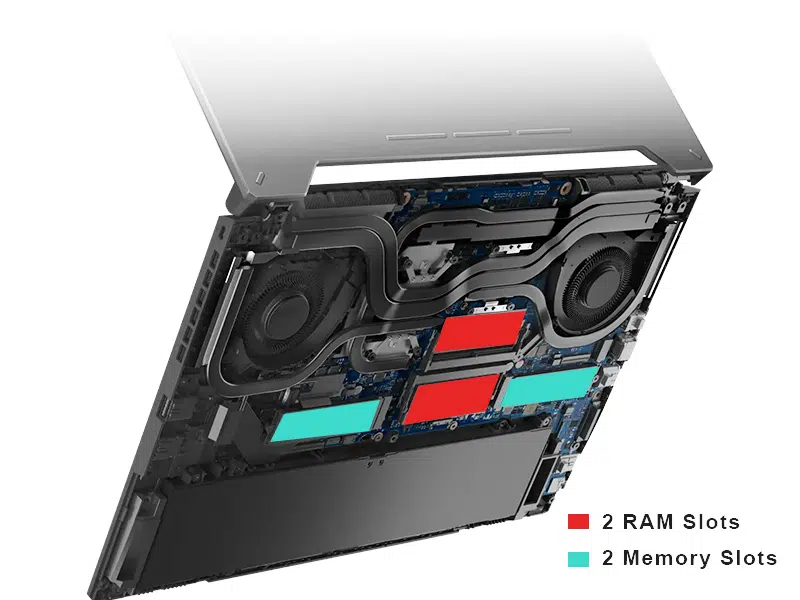 The laptop comes with 16 GB of RAM and 1 TB of memory, both of which are user upgradable. The laptop has a maximum supported RAM capacity of 64 GB.
If we recollect – you are getting a good processor and graphics combination, a color-accurate screen, 16Gb RAM with the option for future RAM upgrades, a keyboard with numpad, and a surprisingly good build quality – all at a very reasonable price.
Even though Asus TUF Gaming A15 makes a few compromises to keep the prices low, it delivers a powerful processor and Graphics card – that's what matters the most for Blender.
Overall, there is no better laptop than Asus TUF A15 in this segment, you are paying a budget price for mid-tier performance.
Pros – What we liked
The best value for money
Cheaper prices without compromising on the core features
15.6-inch display with 16:9 aspect ratio
Good color accuracy with 100% sRGB coverage
144Hz high refresh rate
7th gen AMD Ryzen™ 7 7735HS processor
NVIDIA GeForce RTX 4050 graphics
User upgradable RAM and Memory with 2 slots each
Plastic body, but incredibly good build quality
Excellent cooling design
Arc flow fans for low noise
Backlight keyboard
Keyboard with numpad
A large and responsive touchpad
Muted minimal laptop design
Good port selection
An incredibly good option for 3D modeling in Blender
Cons – But not dealbreakers
FullHD screen – good enough resolution but 1440p expected
No ports at the backside
Mediocre webcam
Mediocre speakers
6. Apple Macbook Pro M2 – Who should buy the Macbook for Blender?
Mac for Blender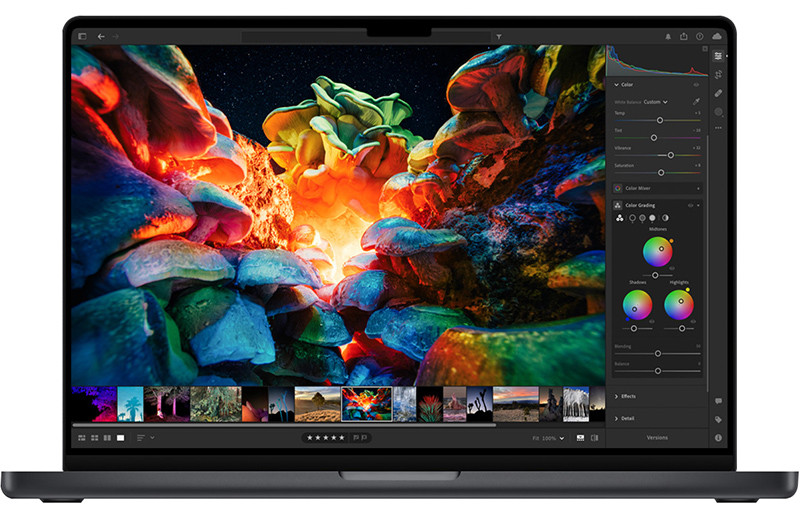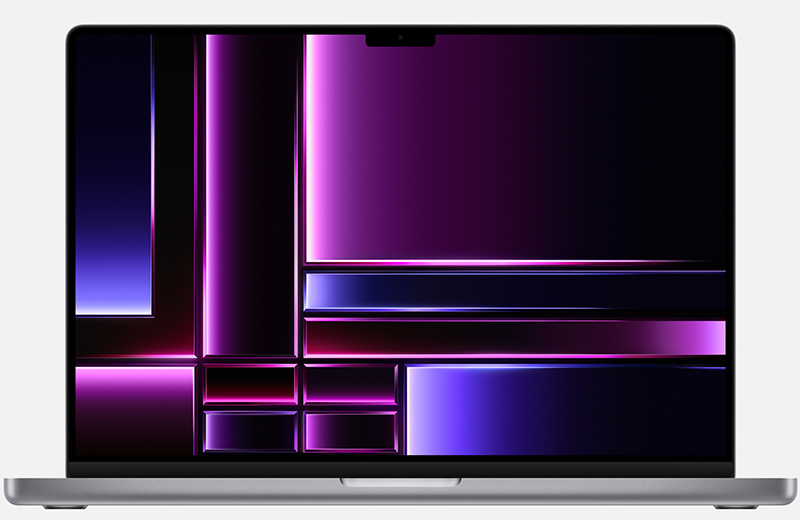 Buy Apple MacBook Pro on – Amazon →
In an ideal world, you buy a laptop for Blender, use Blender on it happily and that is the end.
But fortunately or unfortunately we live in a real world. And in the real world, you are almost never gonna use a single software.
Blender is so versatile it finds its place in a wide variety of workflows.
Designers use it, architects use it, photographers use it, and so do professionals like animators, VFX artists, web developers, programmers, video creators, product developers, and the list goes on and on.
Traditionally, Windows devices have been the go-to choice for most Blender artists, and Macbooks were generally avoided.
But in the Blender 3.1 release – Blender brought Metal GPU rendering for M series Apple processors.
Since the "Metal" update – Apple's M series processors were able to utilize their GPUs better when working with Blender.
Does Blender runs well on Macbooks?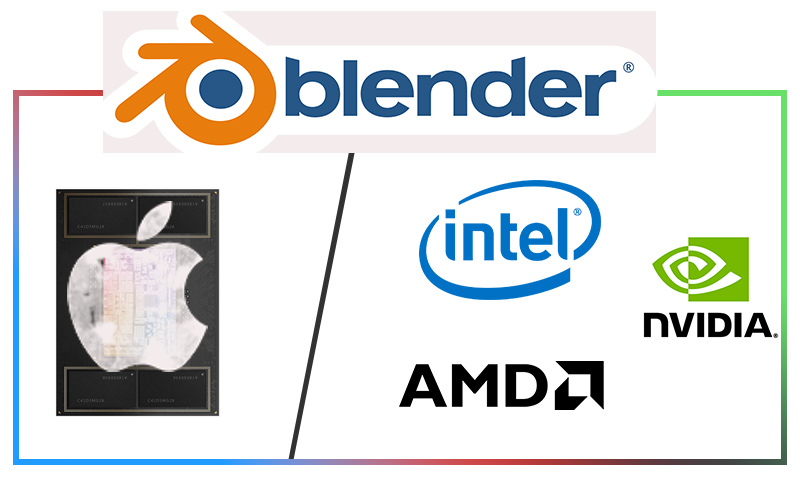 Here are some real-life benchmark scores comparison between CPU and GPU of Windows-based laptop vs. Apple M series processor and graphics. This is the official data taken from Blender.org opendata.
CPUs (laptop) and their Blender benchmark scores
Intel i9 13900HX (24 cores) – 372.48
Intel i9 13980HX (24 cores) – 385.55
AMD Ryzen 9 7945HX (16 cores) – 477.58
Apple M2 Pro (12 cores) – 196.84
Apple M2 Max (12 cores) – 255.17
Intel i7 13700HX (16 cores) – 265.85
Intel i9 12900HX (16 cores) – 250.58
GPUs (laptop) and their Blender Benchmark Scores
Apple M2 Pro GPU (19 cores) – 964.24
Apple M2 Max GPU (38 cores) – 1920.58
NVIDIA GeForce RTX 4050 – 2861.59
NVIDIA GeForce RTX 4060 – 3646.47
NVIDIA GeForce RTX 4070 – 3978.28
NVIDIA GeForce RTX 4080 – 6148.54
NVIDIA GeForce RTX 4090 – 8203.46
From these average benchmark scores, it is clear that if you want the most amount of Blender performance per dollar spent – stick to Windows devices with Intel, AMD CPUs, and Nvidia GPUs.
However, if you use the Macbooks for things like programming, web development, AR/VR development, and Blender is a small part of your workflow – only in those case, you should consider getting a MacBook for Blender.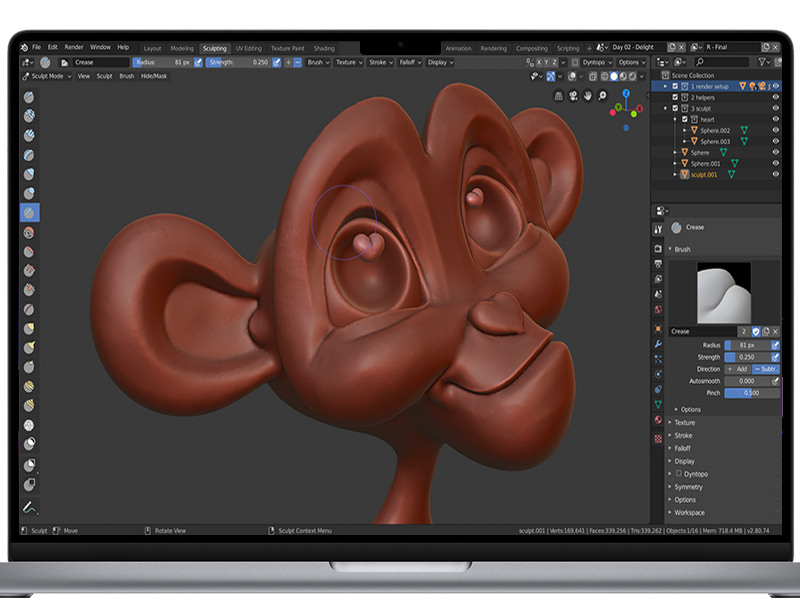 Other than Blender, in areas such as video editing, code compilation Macbooks are either on par or ahead of Windows devices in power and performance.
Macbooks have some really nice premium features that make them incredibly good general-purpose machines.
The Macbook Pro M2 comes with a 16.2 inch (16:10) liquid retina Mini-LED display with 3456 x 2234 resolution. It has 100% DCI-P3 color accuracy and an industry-leading sustained screen brightness of 1000 nits and peak brightness of 1600 nits.
In a nutshell, it has the best-looking display out of any laptop on this list.
The Macbook Pro comes with two processor choices – the Apple M2 Pro (12-core CPU and 19-core GPU) and Apple M2 Max (12-core CPU and 38-core GPU).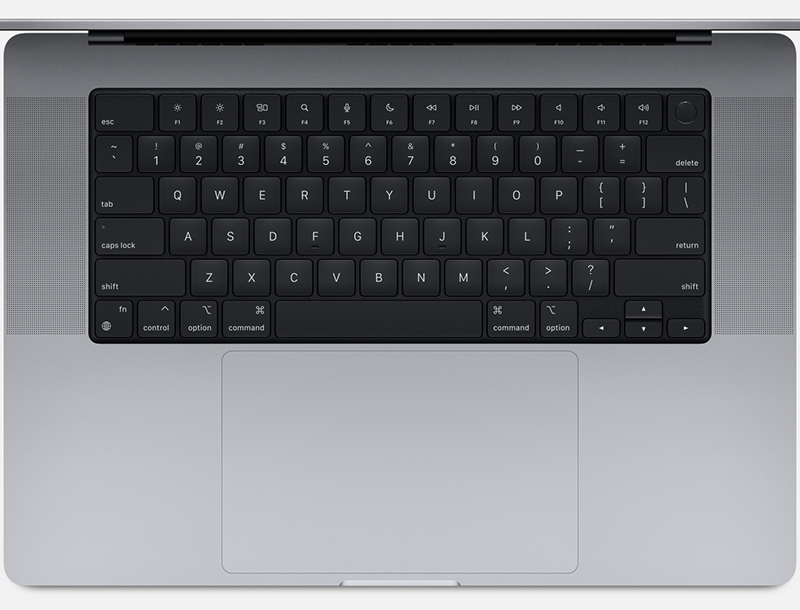 The Macbook Pro is widely regarded as the most premium and well-built laptop out there with large trackpad and unibody metallic design.
The MacOS is also preferred by many over Windows.
Overall if you like the MAC ecosystem and want to do just light Blender work, only in that case we can recommend the Macbook Pro for Blender.
Pros – What we liked
Incredibly good screen
Larger 16.2-inch screen size with 16:10 aspect
Mini-LED display allows 1000000:1 contrast
1000 nits of sustained brightness and 1600 nits of peak brightness
Highly versatile machine
Comes with M2 Pro or M2 Max processors
Excellent speakers
Robust Metallic unibody design
Large trackpad
FullHd camera with best video calling quality
Excellent microphone output
Good port selection
Magnetic Magsafe charger cable
Incredibly power-efficient processor
The best battery life on any computer
The best battery life on any computer
One of the largest capacity battery on a laptop (100Wh)
The quietest laptop out there
Many people prefer MacOS over Windows or Linux
Recommended to artists who use Blender as a small part of their workflow
Cons – But not dealbreakers
No Numpad
Non-user-upgradable RAM and Storage
Not ideal for gaming
Integrated GPUs not as powerful as dedicated GPUs on Windows devices
Runs Blender well, but not the best choice as there are other better options
FAQs – Frequently asked questions
Here are some of the most frequently asked questions – artists generally have when deciding to buy a laptop for working with 3D in Blender.
Which is more important, CPU or GPU for Blender?
Both CPU and GPU are important for a good Blender experience.
In Blender, the CPU is responsible for things like modeling, sculpting, texturing, rigging, running simulations, motion tracking, etc.
In addition to that, the Blender can also render frames using the CPU. But rendering using GPU is much faster, so GPU is primarily used for things like final rendering or real-time viewport rendering.
Is 16 GB RAM enough for Blender?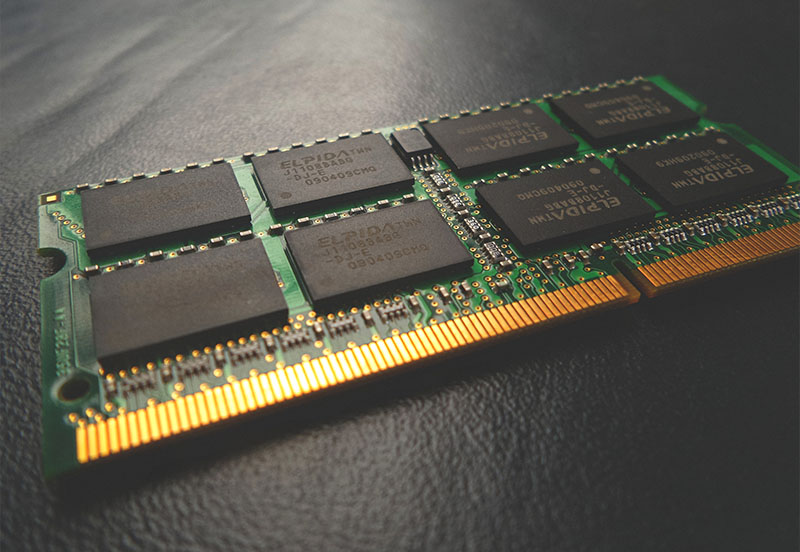 As per the documentation on Blender.org, the minimum RAM required to run Blender is 8GB. But the ideal recommended RAM is 32 GB.
Is 8 GB RAM enough?
In real-world usage, 8 GB is simply not enough for Blender. It can technically run Blender, but you are gonna have a restricted experience.
8GB RAM holds back your laptop from using the full potential of your CPU. Once the memory is full it will slow down the CPU to reduce load on RAM memory.
If you have a laptop with 8GB RAM, it is highly likely that the RAM is upgradable to 16 GB, please do that.
Is 16 GB RAM enough?
Coming to the 16 GB RAM, you can go much further on a 16GB RAM on Blender.
If you are someone just starting out and working with the basic stuff like 3D modeling, lighting, texturing, and things like that – 16 GB RAM is fine.
But as you go ahead and start getting into complex 3D scenes you would start to feel the need for a higher RAM capacity.
One of the easiest ways to tell if you need more RAM is to check your task manager on Windows. (search > task manager, or ctrl + shift + esc)
Go to the performance section on the Task Manager and look at the RAM (Memory) usage. If your RAM usage frequently reaches 75% to 80%, you need a higher capacity RAM.
The best way is to get a laptop with user-upgradable RAM and make future RAM upgrades as per your need
.
Therefore except for the Asus ZenBook Pro Duo and Macbook Pro, all other laptops on our list come with user-upgradable RAM slots, all of which are upgradable all the way up to 64GB.
How important is the Upgradable RAM and Storage?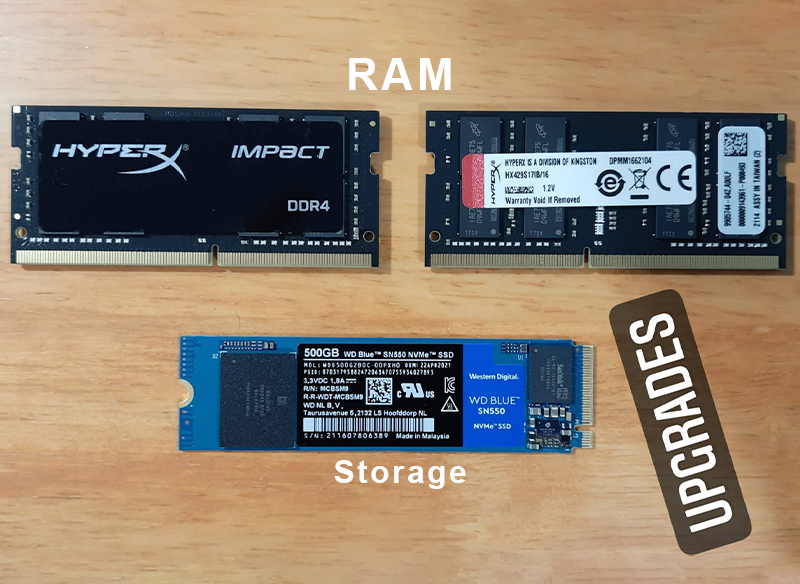 As we discussed in the previous section, it is difficult to guess how much RAM you need. It depends on the complexity of your project and your personal work style.
For example, if you have multiple different software such as Photoshop, Substance Painter, Premiere Pro, After Effects, etc. running in the background.
Or you are someone like me who has 20, or 30 tabs open in the browser – naturally, your RAM requirements would be higher. How much exactly? You can't really tell.
Therefore it is great to have a laptop with user upgradable RAM, which can be changed later on if you see the current capacity is not enough.
On laptops with no upgradable RAM, to make yourself future-proof you might need to get a higher RAM capacity (say 32 GB), but if your actual usage never reaches that high – you essentially paid for specs that you don't really use.
Also, you can buy a laptop with less RAM at a cheaper price and then make upgrades in the future.
Importance of upgradable storage.
When working on 3D projects, you have to deal with a huge number of large files, where a single project can easily reach up to 10, 20, 50, or 100 GBs (depending on your project).
So it is nice to have the capability of being able to increase your onboard storage.
However, Since you can save files on external drives and SSDs, upgradable storage is not as important as upgradable RAM.
But still, for 3D modeling – try to get a laptop with a bare minimum of 512 GB and ideally 1 TB storage capacity.
How important is the Numpad for Blender?
In Blender, the Numpad has quite a selection of really handy shortcuts that help you through processes like modeling, setting camera views, lighting, and rendering.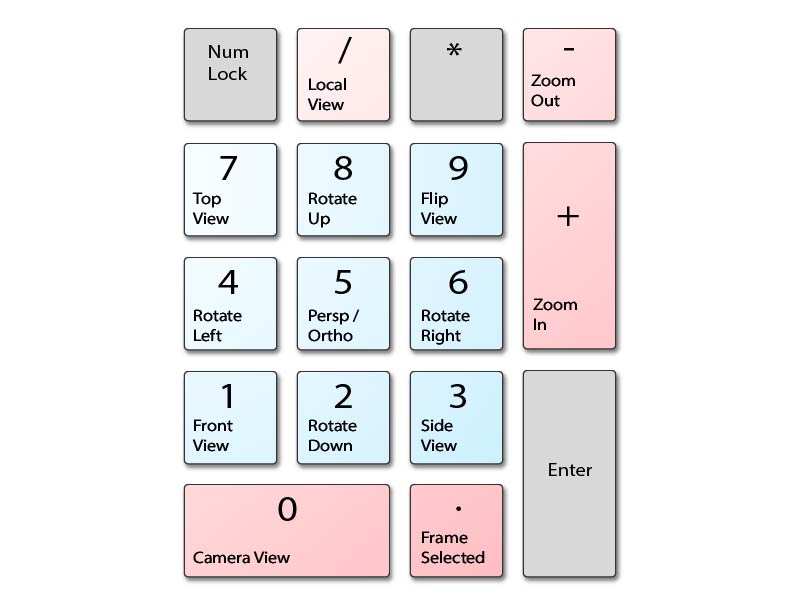 As you can see these numpad shortcuts are incredibly handy and help a lot, especially during modeling objects.
Except for the Asus ZenBook Pro Duo and Macbook Pro, all the other laptops on our list have a numpad on their keyboard deck.
But even if your laptop does not have a numpad, it is not the end of the world. There are multiple ways in which you can use Blender Numpad Shortcuts on a laptop without Numpad – check out this article.
The sad reality of battery life when working with 3D software
Normally the demonstrated battery backup on a laptop is calculated based on how long the battery lasts on day-to-day tasks such as web browsing or playing a video file.
By that metric, most of the laptops on the list last between 6 to 8 hours in normal usage.
When working Blender, the laptop is way more stressed. It is often pushed to its limits and that results in high power consumption. All this results in the laptop's batteries not lasting for long.
For example, my laptop lasts about 5 to 6 hours on normal usage (web browsing, PDF, Excel), but when using Blender on battery power, it lasts for less than 2 hours and even lesser on rendering. So I essentially keep it plugged in.
Also, for battery optimization purposes on many Windows laptops, the power supplied to the CPU and GPU is reduced while on battery power, so it is recommended to use the laptop while plugged in to extract the full performance out of your laptop.
Related topics (*opens in new tab):
Pen tablet for 3D sculpting
Blender CPU and GPU benchmarks
People praising Dual-Screen laptop for Blender (Reddit)