Disclosure: As an Amazon Associate EssentialPicks earn from qualifying purchases.
---
For someone saving up money for their first display tablet, looking at the available options you realize, – most of the so-called budget pen displays are still quite expensive.
Of those who are actually affordable, they come with tiny 12, 13-inch sizes with mediocre run-of-the-mill display units alongside questionable compromises in other areas as well.
So as an artist, you are left with two choices. Either spend more money to get a better tablet or compromise on your drawing experience.
Well, the above statement use to be true up until now.
Ugee is one of the brands that is known for pushing the boundary – making incredible tablets at equally incredible prices.
With their newer Ugee U1600 pen display (Amazon), seems like they have done it again.
When other brands are handing out small basic display tablets, the Ugee U1600 is a full-fledged 15.4-inch display tablet with a highly color accurate and responsive display.
In this Ugee U1600 review, we will go through everything this tablet has to offer and help you figure out whether this tablet is the right fit for you or not.
Ugee U1600 – Detailed features and specifications
Ugee U1600
Dimension
402 x 263 x 14.74 mm
Display Size
15.4 inches
Active Working Area
341.0 x 191.8 mm
Resolution
1920 x 1080
Color Accuracy
90% NTSC
127% sRGB
94% Adobe RGB
Contrast
1000:1
Brightness
220 cd/m2
Screen Lamination
Yes, fully-laminated display
Drawing Surface
Matte + textured
Screen Protection
Plastic protective film
Stylus
Ugee PH12, Battery free
Pressure and Tilt
8192 levels pressure
60° tilt sensing
Buttons (on stylus)
2 side buttons + eraser
Buttons (on tablet)
No
Tablet stand
Not included
Build Material
Fibre
Power Input
DC 5V-2A
OS Support
Windows, Mac, Linux, Chromebook, Android
Weight
2.9 pounds
(1320 grams)
Check Price on
Amazon
Ugee Store
Unboxing – What do you get in the box?
Here is the list of everything included with the Ugee U1600 Pen Display.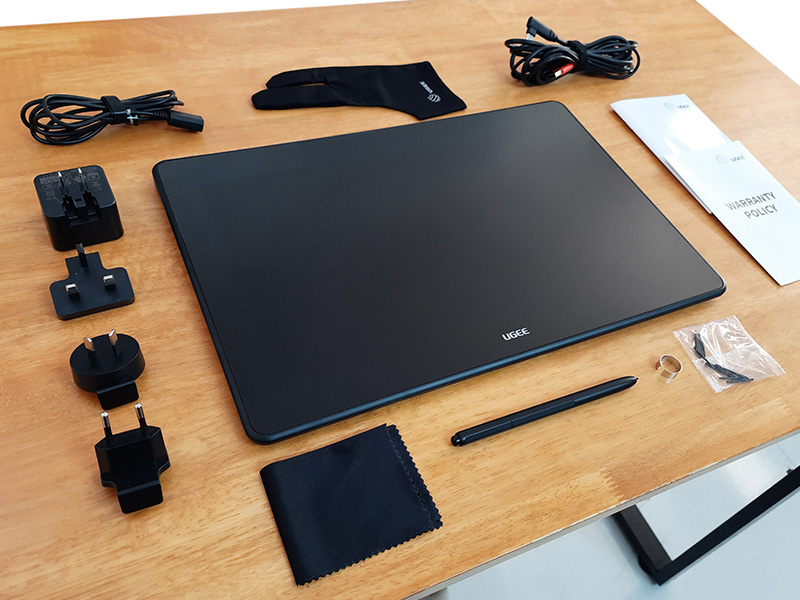 Ugee U1600 Pen Display
PH 12 stylus
10 replacement nibs
Nib extractor tool
Power brick
International adapter attachments
USB-A extension chord
3 in 1 cable
Drawing glove
Cleaning cloth
User guide
Warranty card
Design and build quality of the tablet
The overall design language of the tablet can be summarized as – simple and practical.
Starting with the front face. The front face of the pen display looks like a flawless glass panel from corner to corner. There is a small Ugee branding at the bottom and a thin plastic border all around.
There is no button on the tablet resulting in a distraction-free, flawless front panel.
Turing the tablet to its back you would see four silicon strips on four corners of the tablet. They provide grip to the tablet so that it does not move around while drawing.
Build material and quality
The tablet is almost entirely made out of plastic.
But looking at the fit and finish of the tablet – how well their panels fit together with no flex or movements and how it has rounded corners and beveled edges – the overall construction quality feels reassuringly high quality.
Plus the plastic not only helps with cutting down the costs but also helps keep down the weight to just 2.9 pounds (1320 grams).
Dimensions
The Ugee U1600 dimensions measure 402 x 263 x 14.74 mm which is similar to a 15-inch laptop.
The 14.74 mm thickness means you can easily carry it in your backpack alongside your laptop.
On the top edge of the Pen display, you have your connectivity ports along with a brightness control button, a power button, and a lanyard hole.
Ugee U1600 Screen review
When you are buying a display tablet for digital art or any form of creative work, the quality of the display matters a lot.
The Ugee U1600 comes with a 15.4-inch display which gives you an active drawing area of 341.0 x 191.8 mm (13.4 x 7.5 inches).
This is an adequately large size to move your hands around, with this tablet you certainly won't be complaining about the size.
The display has 1920 x 1080p FullHD resolution along with an excellent color accuracy covering 127% of the sRGB color gamut.
Having 1080p resolution on a 15.4-inch display is absolutely fine. While drawing – the pictures look sharp and you do not notice any pixels even at a closer distance – unless you are intentionally looking for them.
Color accuracy is yet another important feature.
When drawing or photo editing a lot of creative decision-making is based on the colors or the shades of colors appearing on the screen.
Having a color-accurate screen gives you the confidence that your work looks consistent across different screens (tv/laptop/smartphone screen).
Ugee U1600 color accuracy
127% sRGB
90% NTSC
94% Adobe RGB
Having access to a highly color-accurate screen that too at this price range is a big deal.
The difference between the brightest pixels and darkest pixels has a huge effect on the final picture output of the screen.
The Ugee U1600 comes with a good contrast ratio of 1000:1. It makes the colors pop and results in better picture quality.
Next coming to the brightness – the display has a maximum brightness of 220 cd/m2, which is good enough for indoor uses, but it won't be comfortable to use in a bright outdoor environment or direct sunlight.
Almost 90% of drawing tablet no matter the price range, (yes, even the Wacoms) come with similar screen brightness.
Laminated screen
A display-based drawing tablet is made out of several different component layers stacked on top of each other. This whole display unit is then protected by a glass surface at the top.
In older drawing tablets, especially the cheap ones – these layers were simply stacked on top of each other which results in small air gaps between them.
The light from the screen gets caught in between and bounces within resulting in a hazy image.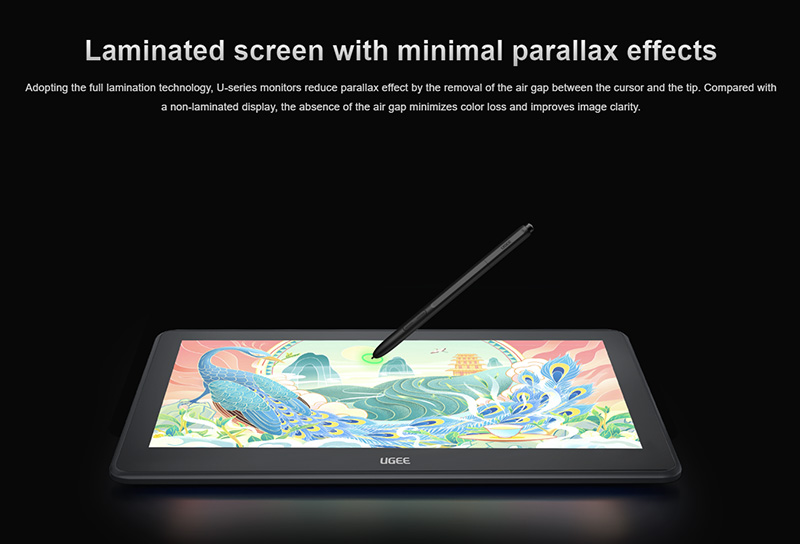 In addition to that, when drawing with a stylus, the strokes appeared a few millimeters away from the point where the tip is actually touching the surface, due to the parallax effect.
Newer tablets come with laminated displays where all the layers of the screen including the top protective glass are laminated together into a single unit.
It results in no air gap in between resulting in clearer picture quality and better stylus accuracy.
Click here to know more about laminated displays and the parallax effect.
Surface Texture
Drawing with a pointed stylus on a glass surface – as you can imagine, the stylus slides around too much and feels out of control.
To give you better control over the pen movements, all professional drawing tablet including Ugee U1600 comes with a textured surface.
The textured surface has microscopic irregularities which provide slight friction to the pen tip (just like paper provides friction the pencil tip).
This not only results in controlled pen movements but also a superior drawing feel.
Protective Anti-glare film
To get the textured feel on the tablet, the Ugee U1600 uses a plastic film with the texture embedded on it.
Since the film is textured, it converts the reflective glass screen of the tablet into a smooth matte finish.
The matte screen is resistant to reflections from light bulbs and windows and makes the contents of the screen more visible in reflective conditions.
Since there is a plastic film covering the glass screen of the tablet, it protects the screen from getting scratched by the pointed tip of the stylus.
When needed you can simply replace the top plastic film with a new one (which are super cheap), and your tablet essentially feels brand new.
A normal plastic film lasts more than a year on heavy uses, and even more on casual tablet uses.
Ugee PH12 battery-free stylus
Ugee U1600 comes with a very capable Ugee PH12 stylus.
It is a battery-free stylus, and it takes its power wirelessly from the tablet itself with the help of the coils present inside them.
Having no batteries makes the stylus incredibly lightweight and also makes them last longer as you don't have to deal with battery degradation.
The PH12 stylus is stacked with all the standard features.
It has 8192 levels of pressure sensitivity along with up to 60 degrees of tilt detection.
Its reporting rate is fast and things appear on the screen with no visible lag.
Shape and ergonomics
Ugee has decided to go with a ball-point pen-like shape when it comes to their stylus.
The stylus has a straight cylindrical shape and a narrow width comparable to a ballpoint pen or a pencil.
For artists who like using thin styluses, this will make you feel right at home.
Here is Ugee PH12 compared to an Apple pencil, a ballpoint pen, and a pencil.
Unlike some other pens where the center of weight is towards the front, the center of weight on the Ugee PH12 stylus is perfectly at its center.
The stylus feels well balanced and comfortable while drawing, plus its lightweight construction makes it nimble and maneuverable.
Buttons on the stylus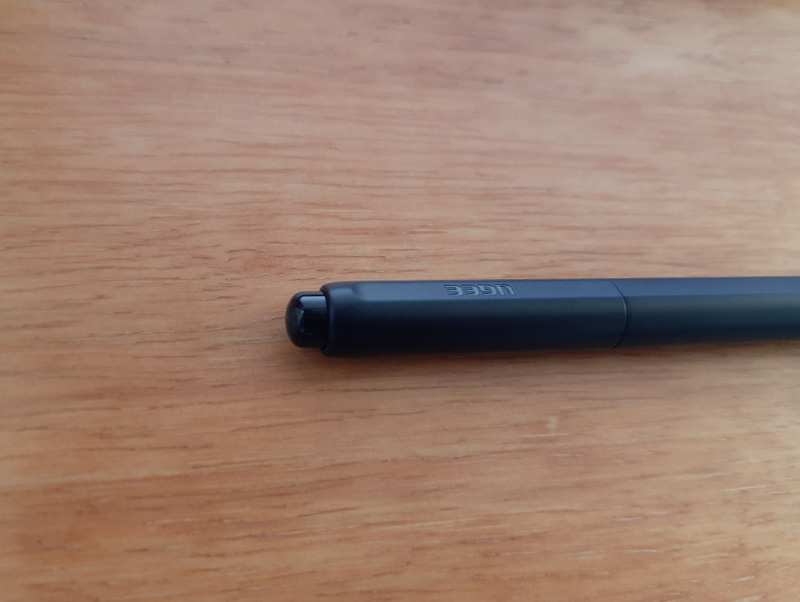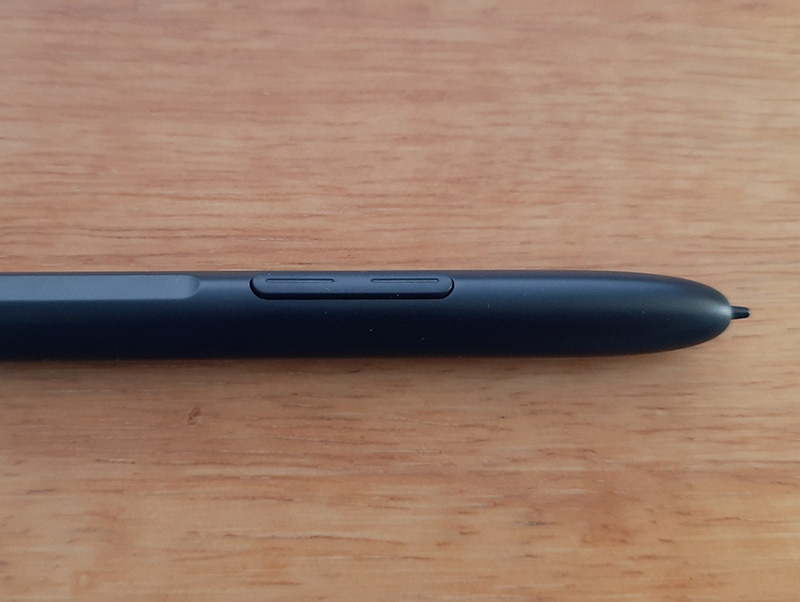 Usually with styluses, what you see is – either they will have two side buttons or they will have a single side button and an eraser at the back.
the With Ugee PH12 stylus not only do you get two side buttons, but you also get a pressure-sensitive eraser at the back.
The side buttons on the stylus are programmable and can be set to any shortcut of your choice.
The buttons are also very tactile and clicky, they give you good feedback to let you know the button has been pressed.
Drawing performance – Ugee PH12 stylus
The quality of the strokes is one of the basic things to check out when getting a drawing tablet.
The lines drawn by the stylus should be straight and consistent. There should not be any breakages in between and it should taper nicely at the end of the stroke.
Lines drawn by PH 12 stand tall on these benchmarks and the strokes come out perfect every single time.
Next coming to pressure sensitivity. The pressure response of the PH12 stylus is good.
The pen is able to detect slight variations in pressure and responds beautifully. Further, you can also customize the pressure sensing curve as per your preference.
The initial detection force on this tablet is good as well, you do not need to apply a lot of pressure for the stylus to start drawing.
It starts drawing with the lightest of pressure – which is good.
The tilt sensitivity works as expected and it is able to detect pen tilt on supported brushes.
But when you are near the left and right edges of the screen, the pen tilt stops working the same way and shows signs of inconsistency.
As long as you are not approaching the corners, you do not need to worry about this, after all, most artists use this pen tilt detection feature very rarely anyways.
The eraser at the back of the stylus is a pressure-sensitive eraser.
The pressure detection on the eraser is fine but the only inconvenience I found is – you need to press the eraser a little bit on the screen for the tablet to detect it.
Connection – how to connect the tablet to the computer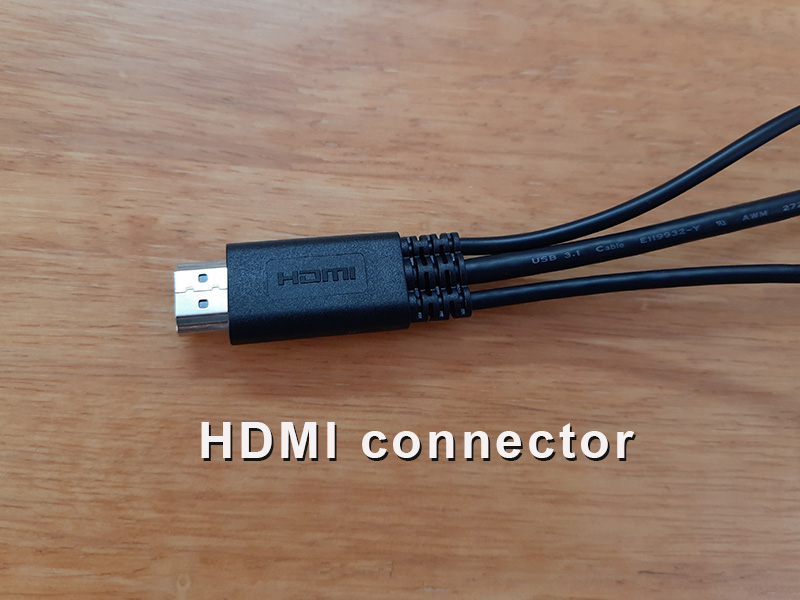 The tablet comes with a hybrid 3-in-1 cable, where it has an HDMI port on one side that connects to the computer/laptop. It has three cables coming out of it.
USB-C cable – connects to the Ugee U1600 tablet
USB-A cable – connects to laptop/computer
Power cable – connects to power adapter or computer
Notice the red USB-A cable.
The tablet works on 5V-2A (5 volts and 2 Amperes), if the USB-A port on your computer or laptop can provide this power then you can simply connect the RED connector cable to your computer.
Alternatively, if your laptop port can't provide sufficient power, the tablet comes with a Power adapter that connects to your wall outlet.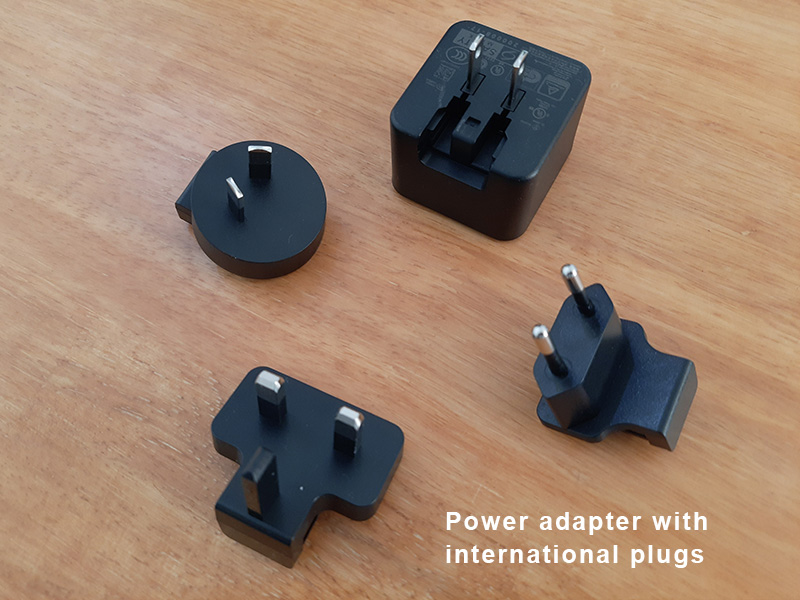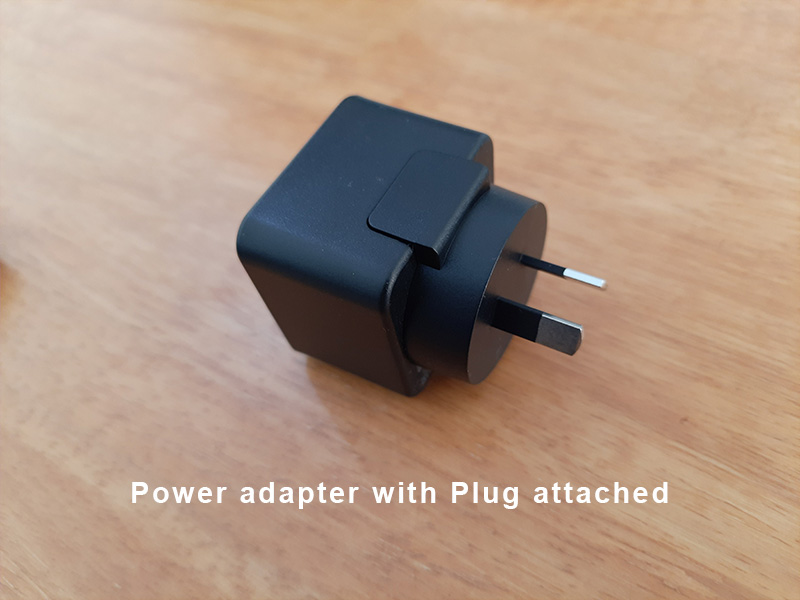 If your laptop has a Thunderbolt4 port, The Ugee U1600 can also be connected to the computer using a single USB-C to USB-C cable.
But this USB-C to USB-C cable is not included in the box and has to be purchased separately.
Cable length of included connection cables
– 3 in 1 cable
HDMI to USB-C wire – 190 cm (6.2 feet) the longest cable
HDMI to USB-A wire – 75 cm (2.5 feet)
HDMI to power chord – 75 cm (2.5 feet)
– USB extender cable – 150 cm (5 feet)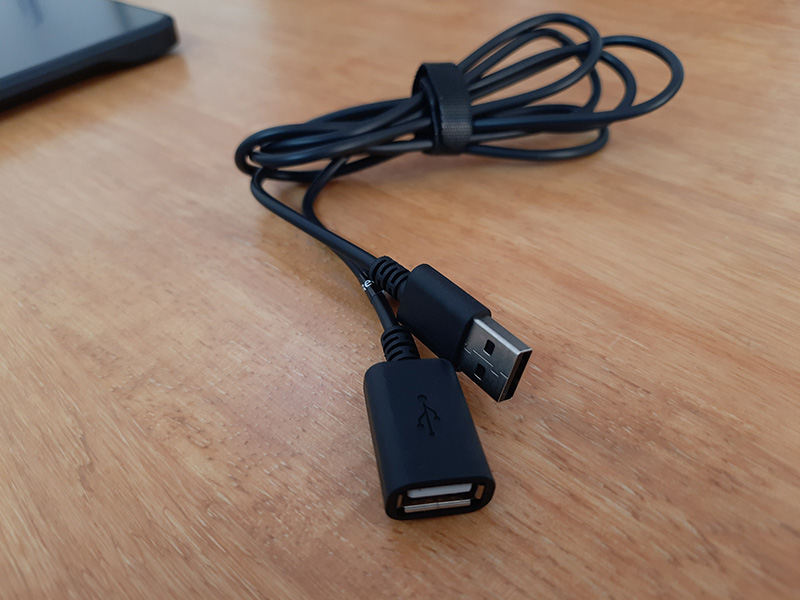 If you feel like the power cable is short for your setup, you can connect the USB extender cable to make it longer.
*tip – The tablet can also be powered by a power bank. (But be careful about the power readings on the power bank the tablet takes 5V 2A)
Using Ugee U1600 as a second monitor or extended display
Other than being able to use this tablet as a second monitor on computers, this tablet can be connected to an android smartphone using a using USB-C to USB-C cable to extend the screen.
After connection what you get is a larger screen without the stylus capabilities.
This feature works with select Samsung Android smartphones and tablets.
Driver and tablet settings
Since the Ugee U1600 has no buttons on the tablet, the tablet settings are pretty simple.
One, you have the tablet area settings where you can define which monitor or what portion of monitor you want to use with your tablet.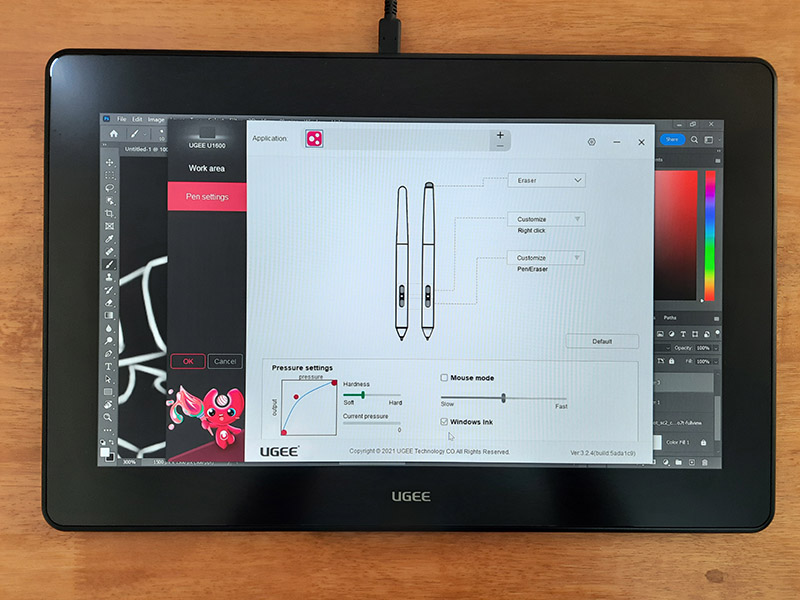 Second is the pen setting where you can change the default shortcut button on the stylus to any button of your choice.
You can also adjust the pressure curve of the stylus to customize the pressure sensing.
Summary – Should you get the Ugee U1600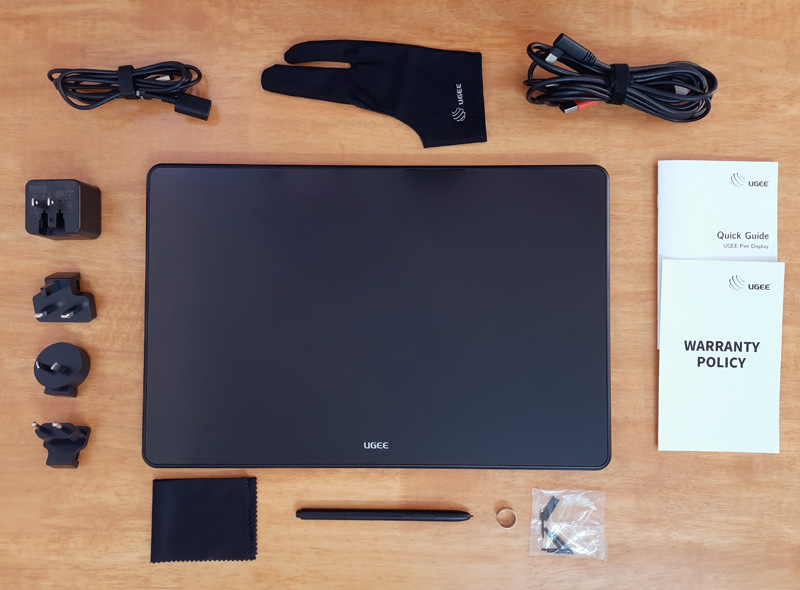 When it comes to a display drawing tablets, there are two important features that make or break the deal.
One is the screen, second is the stylus performance.
With Ugee U1600, during our review, we had a good look at the display.
The Ugee U1600 comes with everything you can ask for in a display – whether it is the resolution, color accuracy, contrast ratio, laminated display, surface texture, or matte finish – this display has got it all.
Similarly, the tablet shines in the stylus compartment as well.
The stylus has all the bells and whistles – whether you talk about pressure sensitivity, tilt detection, fast response, programmable side buttons, or a pressure-sensing eraser, you get everything.
When it comes to stylus performance, the Ugee PH12 stylus works as good as some of the styluses in the higher price segment.
Although, some of the things like the tablet stand and USB-C to USB-C cables are not included in the package, but considering the price – and features you are already getting in this price segment – the tablet gets a pass.
If you are looking for a no-compromise pocket-friendly display tablet – look no further and get the Ugee U1600 (Amazon).
Buying options (Where to buy?)
• Get Ugee U1600 Pen Display on –
Related posts:
Ugee S640 budget pen tablet review
Cheap drawing tablet with screen