Disclosure: As an Amazon Associate EssentialPicks earn from qualifying purchases.
---
It is becoming a fairly standard practice for tablet makers to not include any tablet stand with the drawing tablets.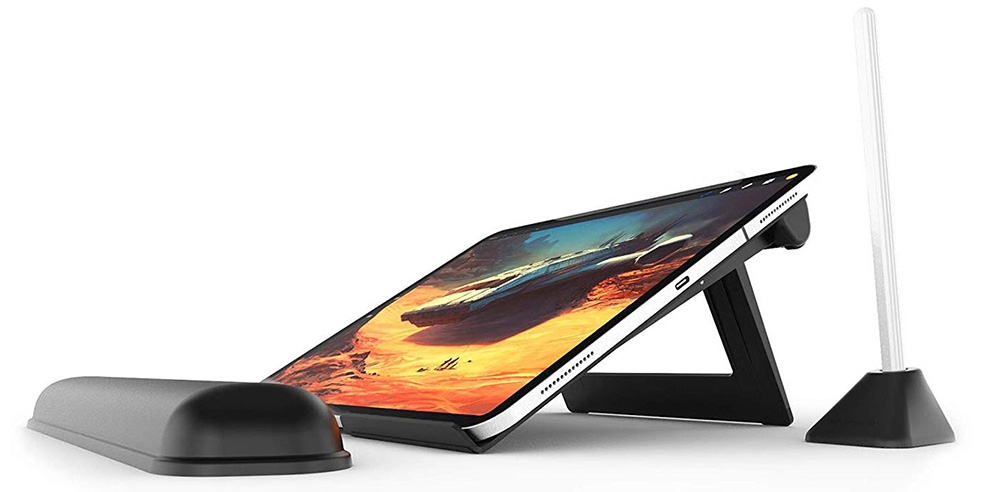 Even the very expensive tablets such as Wacom Cintiqs and iPads do not come with pre-included stands, which is very inconvenient.
What adds to the confusion is, different tablets are compatible with different tablet stands. Meaning you may end up buying stands that do not fit your tablet.
If you are looking for the perfect stand for your drawing tablets, you have come to the right place.
To save you from all the confusion and inconvenience we have done all the work for you and have selected some of the best drawing tablet stands. These stands will nicely fit your drawing tablet and meet all your requirements.
Recommended Tablet stands
Here are some of our top recommendations that you should consider.

Parblo PR112
Up to 16-inch tablets
4 Heights (Angles)
Premium Metallic body
Folds into a slim plate
Strong and sturdy

Adjustable Lap Desk
Lappable desk stand
Tablets and laptops up to 15-inches
8 Heights (angles)
Plastic with rounded edges
High-quality soft foam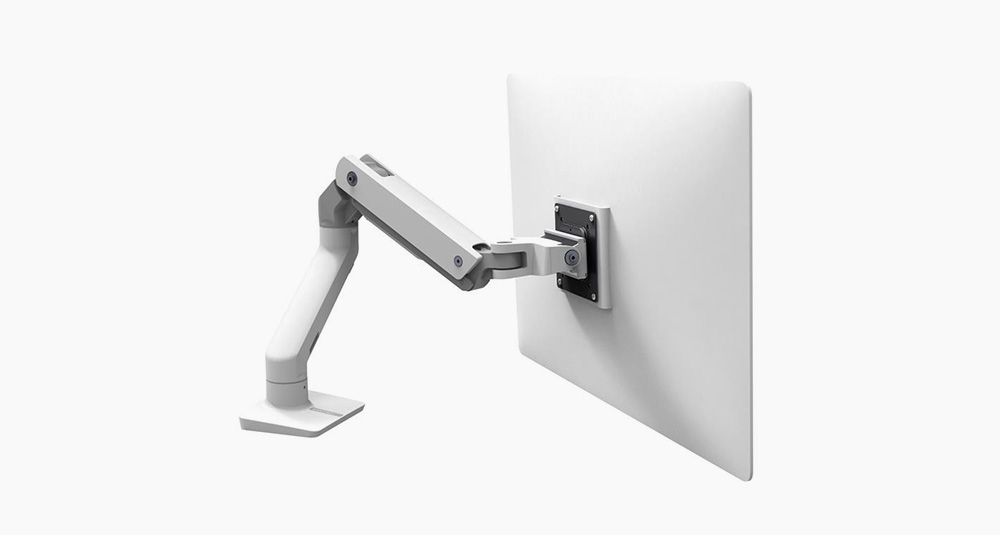 Ergotron Arm
For display drawing tablets (VESA mount)
Unlimited position
Adjustable stiffness
Strong all-metal design
Stable and secure hold
Best drawing tablet stands for digital artists
Keeping the drawing tables – flat on the surface is not only uncomfortable to use but also an open invitation to back pain, fatigue, and neck cramps.
What intensifies these issues is – most of the artists use these tablets for long drawing sessions, which makes it essentials for them to invest in a quality drawing tablet stand.
Tablet stands provide ergonomic drawing positions and a lot of flexibility that improves the overall drawing experience, in addition to ensuring proper body posture.
1. Parblo PR112 – All in one tablet stand for Apple iPad Pro and Wacom drawing tablets
Our pick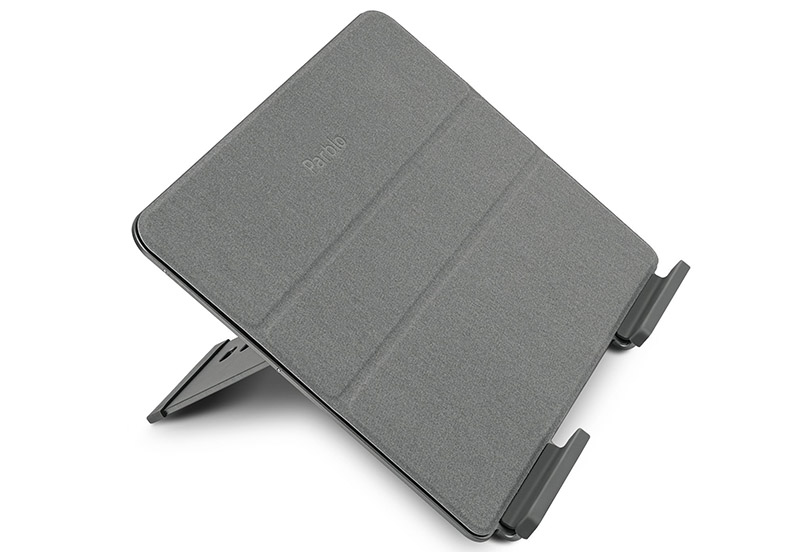 Parblo PR 112 – Amazon →
No matter whether you use a drawing tablet, iPad, or a stylus-supported laptop, the Parblo PR112 is the perfect all-in-one tablet stand for all your drawing devices.
There is a lot to like about Parblo PR 112 (Amazon). It is made of aluminum alloy with a very smooth surface finish and beveled sides and edges.
It ensures you do not get any nicks or scratches on your tablet, which are very common with many low-grade tablet stands.
But that is not it, the designers have gone a step further and added a soft fabric material at the base plate to further protect the tablet from behind.
To hold the tablet in place there is a soft rubber holder towards the lower end of the stand which keeps the tablet in place. Other than that there are 4 large rubber strips on the front face as well as two rubber feet to keep it stable on smooth surfaces.
Elevation and Adjustability
The stand has a 4 adjustment angle ranging from 25° to 40° which gives you sufficient angles to work comfortably.
One of the biggest advantages of an all-metal design is you can put heavy devices such as Wacom Mobile Studio Pro and the stand won't wobble. It can easily handle weights up to 20 Kg (44lbs).
The stand is great for tablets ranging from 10 inches to 16 inches.
In addition to that, you can also use it as a stand for holding your ultralight laptops with slim form factors such as Macbook Pro and That is why we call it a true All in one stand.

Last but not least if you are concerned with carrying the stand it in your backpack, No Problem. The Parblo PR110 collapse into a thin metal plate and takes up minimal space in your backpack.
PROs – What we liked
Excellent Build quality
Great for drawing tablets, iPads as well as laptops
All-Metal design with no plastic
Soft fabric material for the tablet to sit on
Beveled edges and rubber pads for protection
Folds into a thin metal place
Reasonably priced
CONs – What can be improved
Only 4 changeable angles
Not suitable for larger 19 or 21-inch tablet
2. Foldable tablet stand – Foldable design, greater flexibility
Foldable
Foldable tablet stand – Amazon →
If you are someone who got a drawing tablet that can be carried anywhere with you. You also want a tablet stand that is equally portable and can be carried alongside your drawing device.
The foldable tablet stand is the perfect choice for anyone looking for a high-quality and practical tablet stand.
It has a very smart design with multiple hinges and sliders – which allows you to unfold the stand when using it and fold it back when you are done.
Its metallic build makes it strong enough to hold heavy devices such as laptops.
There are silicone pads at the base that helps it get a firm grip on smooth surfaces.
In addition to having pads at the bottom, there are multiple soft pads on top as well.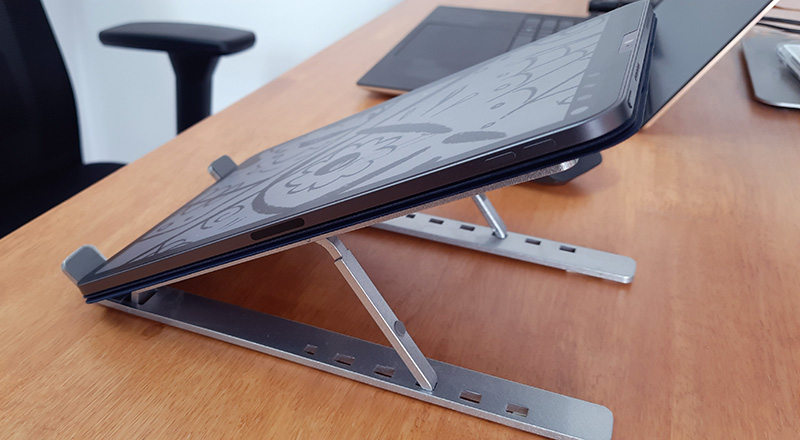 They are scattered across all the contact points to help it get a firm grip on the drawing tablet as well as protect it from scratches.
As far as comfort and ergonomics go, the foldable tablet comes with multiple height settings – allowing you to get a comfortable drawing angle.
Suitable for: iPad, drawing tablets, lightweight Ultrabook computers.
PROs – What we liked
Smart foldable desing
Compact and portable
Metallic build
Multiple adjustment height
Can carry heavy load
Very stable
Silicone grips for firm grip
CONs – What can be improved
Not ideal for soft surface (coutch/bed)
3. Wacom Cintiq Adjustable Stand – For Wacom Cintiq 16
Cintiq 16 stand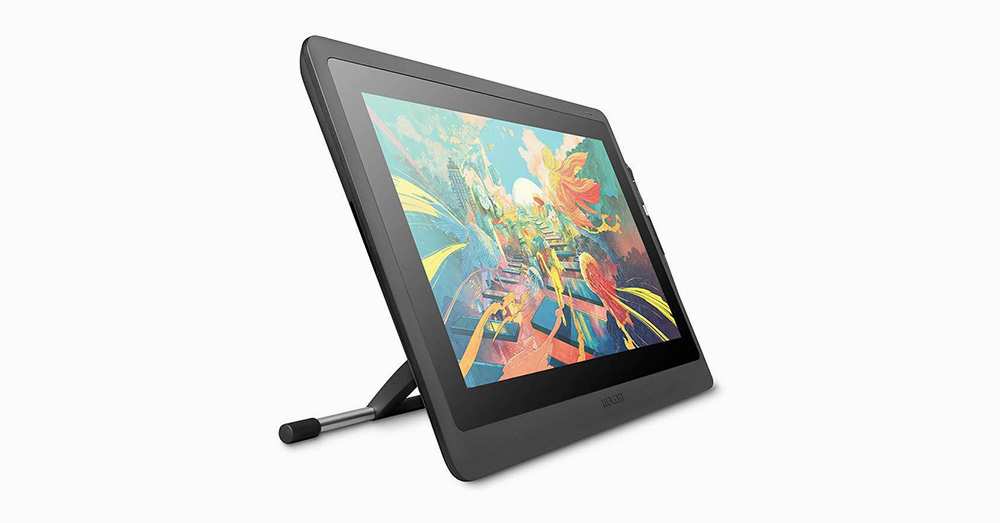 Wacom Cintiq 16 tablet stand – Amazon →
The Adjustable stand by Wacom is a heavy-duty tablet stand that is specifically made for Wacom Cintiq 16. The Cintiq 16 by default stand has just one standing angle which gives you limited flexibility.
The Wacom Cintiq 16 adjustable stand allows you to keep your tablet anywhere between 19° to 68°. The stand has a locking mechanism at the top portion of the stand, which makes it very easy to move the tablet to the desired position and lock it firmly at its place.
The metal construction and the locking mechanism ensure that the tablet does not collapse down when heavy pressure is applied. You also won't experience any wobble.
To stop the tablet from slipping on smooth surfaces, there are two rubber pads on the base of the tablet. The installation process is fairly simple and the included guide is easy to understand.
In a nutshell, if you have a Wacom Cintiq 16 tablet and you want more flexibility and comfort, you should definitely get this stand.
Compatible with: Wacom Cintiq 16
PROs – What we liked
High-Quality Metallic stand for Cintiq 16
19° to 60° adjustable angles
Easily handles pressure and weight
No Wobbles
Rubber pads on the legs
CONs – What can be improved
4. Adjustable lap desk with built-in cushion – Soft Lap Stand
Lapdesk
Lapdesk tablet stand – Amazon →
Artist has to sit in the same position for a longer period of time which can feel very tiresome.
Well here is the perfect lazy tablet desk you have been waiting for. The mind reader lap desk has two cushions attached to the bottom. It allows you to use your tablet comfortably on your lap.
The cushion is well padded and distributes the weight around to feel light. On top of that, it also gives you some inches of extra height.
The tablet is made of plastic and looks simple and straightforward.
It has eight adjustable angles and can handle fairly heavy loads. The tablet can handle laptops, iPad, tablets, and other similar devices.
Overall the tablet gives you multiple angles and very ergonomic working positions. It is great for people who have to continuously work for multiple hours.
PROs – What we liked
Multiple standing angles and ergonomic position
Two cushions at the bottom
Multipurpose stand – suitable for laptops, iPad, and tablets
Folds up in a slim profile which makes it very portable
CONs – What can be improved
Not very portable
Cushions are not detachable
5. Ergotron
 Arm – Infinite adjustability stand
Monitor arm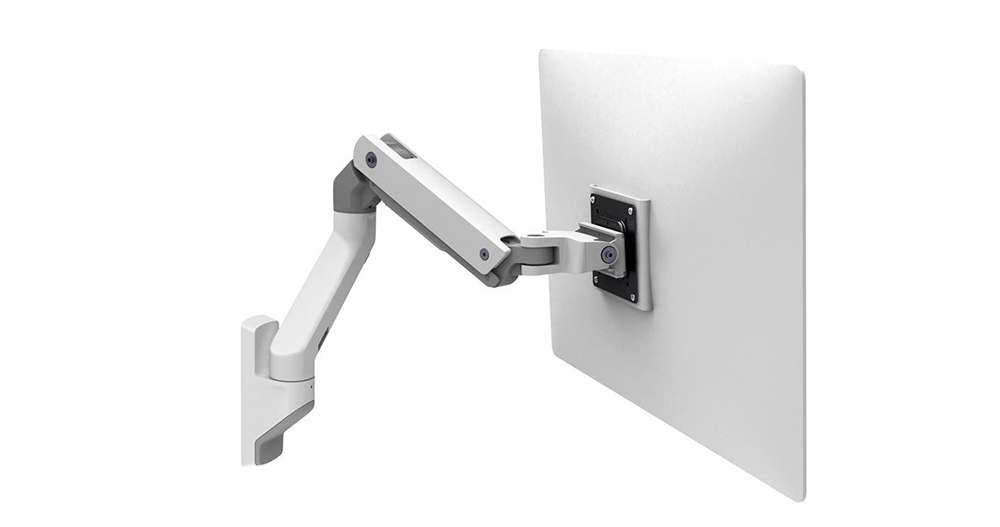 Ergotron monitor arm – Amazon →
If you want a true floating monitor that can be adjusted whichever and wherever you want the Ergotron monitor arm is a great choice.
The Ergotron HX Desk Arm provides 25 inches (64 centimeters) of extension and 11.5 inches (29.2 centimeters) of lift. Meaning you can basically place your monitor anywhere in-between that range.
After mounting the drawing tablet in this stand, you can easily pan, tilt as well as rotate your screen.
The HX model of Ergotron stand is made of strong metal making it ideal for securely holding tablets up to 43 inches and 42 pounds (19 kilograms).
There are other less expensive monitor arms in the market but most of them are made for simple computer monitors and not ideal for heavy drawing tablets.
You even have the option to adjust the friction and make the moving joints tighter for more stable operation. The stand can be mounted with any drawing tablet that has a VESA-supported mount at the back.
For drawing tablets such as Wacom Cintiq Pro 24 and 32, which do not have VESA mount you can get the Wacom Flex Arm which is specifically made for the above-mentioned Wacom Drawing tablets.
PROs – What we liked
Ultimate Flexibility and ergonomics
All metallic build
Strong and secure hold
Takes minimum space in the table
Allows you to lift the tablet above the surface of the table
Tilt, Pan, and rotate
Easy to switch between monitor mode to drawing mode
CONs – What can be improved
Heavy
Takes longer to install
Expensive
Slightly wobbly
6.
Wacom Ergo Stand – official stand for Wacom Cintiq 24 and 32
Wacom ergo stand – Amazon →
Stands for larger drawing tablets are quite tricky to make. Tablets like Wacom Cintiq Pro 24 and 32 are quite heavy and heavy tablets on wobble on weak tablet stands. This may not be a big deal in normal monitors but can ruin the drawing experience in drawing tablets.
The Wacom Ergo stand has high-quality metallic components all over its body. That combined with a large base gives it the required strength and stability that it needs to hold large and heavy tablets.
The next big challenge for larger tablet stands is they need to be easily adjustable and change from one drawing position to another without much effort.
If you keep the joints loose they won't give you a stable hold whereas if you make them tighter, they would make it incredibly difficult to change position.
Changing position and Rotation
Wacom Ergo stand uses a set of levels that are present at both sides of the tablet. Pressing the lever unlocks the tilt mechanism which allows you to easily rotate the head of the stand to any angle of your choice.
Other than changing the angle and moving the table front and back the Ergo stand also allows you to rotate the tablet up to 180° giving you added flexibility.
This stand could be a nice addition to your drawing setup, giving you unlimited customizability and overall a better drawing experience.
The Wacom Ergo stand is compatible with Wacom Cintiq Pro 24, Cintiq Pro 32, and Cintiq 27QHD and comes in multiple sizes to accommodate the differences in the size of the tablets.
PROs – What we liked
Premium Build quality
Multiple positions
Screen tilt as well as rotation
Easy to change Position
Stronger hold with no wobble
Good cable management
CONs – What can be improved
Heavy
Expensive
A bit complicated to set up
Takes a lot of desk space
7.
Elevation Lab DraftTable Kit For iPad Pro
For iPads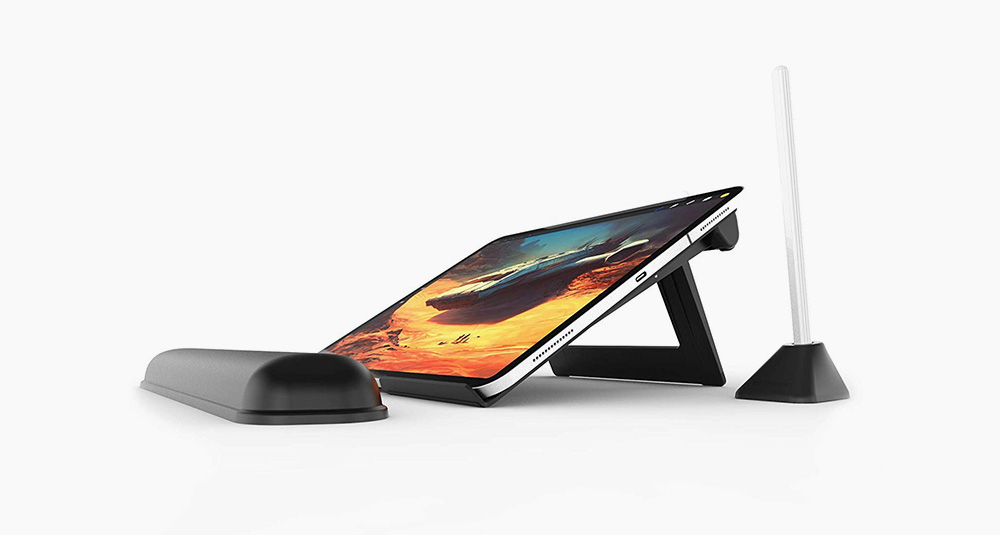 Elevation Lab draftTable – Amazon →
We all know that the iPad's official stand is very limited in terms of the elevation it provides. This can be a little uncomfortable for the artist who uses iPads for long drawing sessions.
That is where the Elevationlab Draft-table steps in. It is an all-in-one solution for iPads or any other similar-sized tablet. The kit includes a tablet stand a high-quality palm rest and an Apple Pencil (stylus) holder.
DraftTable stand is strong and sturdy and made of quality materials. On the front, you have a medical-grade soft silicone that protects the tablet from scratches. Its legs have rubber pads that keep it stable on slippery surfaces.
The stand gives you a total of 4 adjustable angles which are 6°, 16°, 32°, 45°. The hinge itself is spring-loaded making the tablet snap into its position and maintain the angle on heavy load.
The Elevation Lap Draftable folds into a slim pack making it easier to carry it with your iPad in your backpack. It is a reasonably priced accessory that makes drawing on iPads much more convenient.
PROs – What we liked
Supports iPads (even 12.9 inches) or any similarly sized device
Multiple adjustment angles
Comes with a pen holder and palm rest
Soft materials protect the tablet
CONs – What can be improved
Not ideal for large drawing tablets
Only available in one size
8. Xp Pen Multifunctional Metal Stand for Display Tablets
Xp Pen metal stand – Amazon →
If you use an Xp-Pen display tablet, this one is the must-have accessory for you. It is the official stand made specifically for Xp Pen devices.
The stand is made of aluminum and has rubber pads on the rear ends. The aluminum build enables you to keep heavier tablets on top without making the tablet insecure. The tablet can go from 1° to 65° with an increment of 1°.
When folded the stand almost takes up no space which makes it very easy to carry around with your tablet. Although it is originally made for Xp-Pen tablets, the overall design allows you to attach any other similar tablet.
PROs – What we liked
Great for smaller display tablets
Metal construction – can hold even heavier devices with ease
A wide range of adjustment 0° to 65°
Folds up in a slim and portable form factor
CONs – What can be improved
Snaps shut with force on closing
9. Artisul Freestyle Stand – Most pocket-friendly tablet stand
Multi-angle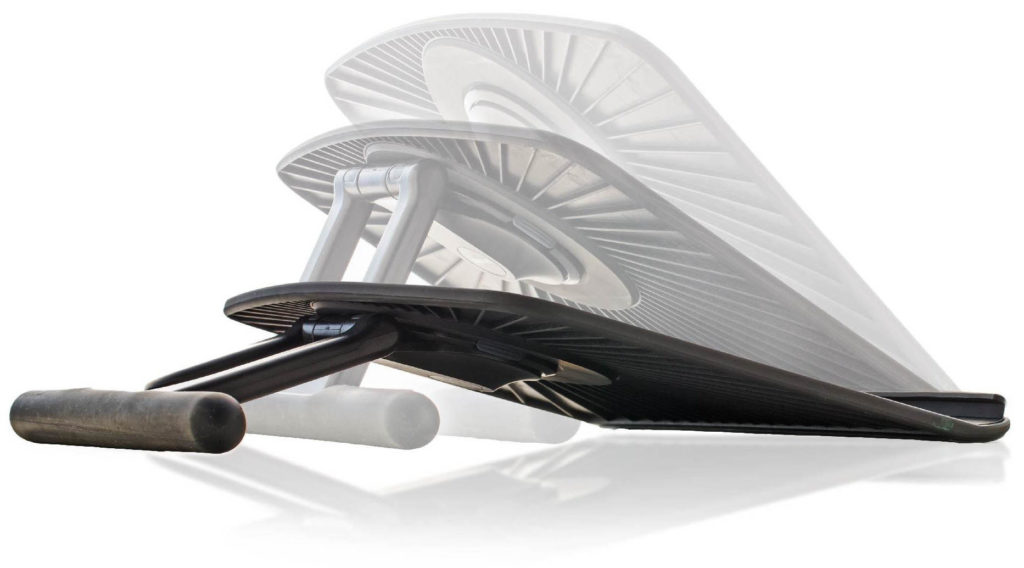 Artisul Freestyle stand – Amazon →
Artisul Freestyle stand comes with Artisul tablets but also supports other similar tablets. The stand can hold a wide variety of tablets from smaller to mildly heavier ones. It has a plastic construction along with rubber pads at at its legs which makes it very stable on smooth and slippery surfaces.
The U-shaped curve at the front helps to hold the device securely and the rubber padding protects the devices from accidental scratches.
It can stand up to an almost straight 85° angle. The stand at the back can physically rotate in four directions, making it easier to stand at any angle.
Although the tablet is quite firm, it has the tendency to fall back when pushed hard.
It can also work as a laptop stand but its front grips only allow thinner laptops to fit in. The stand is thin and light enough to be portable. But if portability is your priority then you should take a look at the next tablet stand in the list.
PROs – What we liked
One of the most affordable tablet stand
Great for lightweight tablets
The rubber legs provide good friction to avoid slipping off
Folds up in a slim profile which makes it very portable
CONs – What can be improved
Not very portable
Collapses when pressed hard
10.
Max Smart Drawing 
Tablet 
stand – Cheap and functional 
Cheapest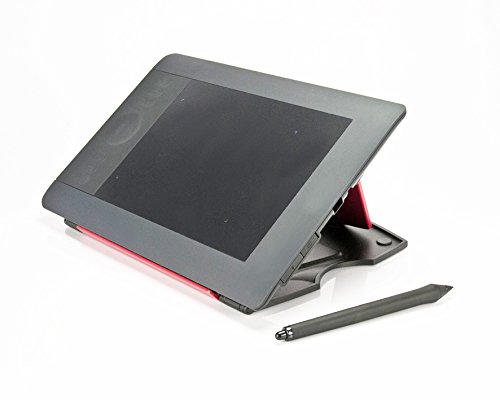 Max smart tablet stand – Amazon →
Max Smart is one of the cheapest tablet stands in the market. It has a very simple design and is made of plastic that just does its work without a lot of extra bells and whistles.
The stand can hold smaller as well as large display tablets. There are a total of six supported angles which allows it to adjust to 15°, 17°, 19°, 35°, 37°, and 39°.
It has also got some sort of anti-slip rubber pads which stop the stand from sliding on smooth surfaces. The overall quality is not that great but still decent enough considering the low price tag.
It comes in two colors Red and Black and is ideal for any lightweight drawing tablet.
PROs – What we liked
Very cheap and functional
Folds up in a slim profile which makes it easier to carry with you
6 different adjustment angles
Can support medium-sized tablets
CONs – What can be improved
Made of plastic
Cannot hold heavy loads
Cheap Vs expensive tablet stands
Tablets come in all shapes and forms some have plastic construction and others are made of metal. Some give you limited adjustability others give better support.
The cheaper tablets are generally made of plastic and ideal for smaller/lighter tablets. They give you two or three adjustable heights. On the other hand, more expensive tablet stands are ideal for a heavier drawing tablet. They give them better support and more adjustability.
Related:
Wacom Ergo Stand vs Wacom Flex Arm Comparison
Wacom Expresskey Remote Alternatives
Monitor Calibration devices for color-accurate monitors
Portable Drawing tablets