Disclosure: As an Amazon Associate EssentialPicks earn from qualifying purchases.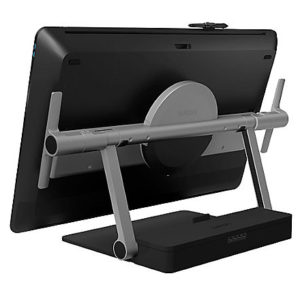 It is becoming a standard practice to not include the tablet stands with the display tablets. Even the very expensive tablets like Wacom Cintiqs and iPads do not come with pre-included stands.
If you are looking for a good stand for your drawing tablets, you have come to the right place.
We have made a list of best tablet stands for digital artists which will take care of all your needs and give you ergonomic drawing position.
 Before you go ahead it is important to know that some tablet stands (in the list) are specifically made for particular type/model of tablet and it may or may not be compatible with your drawing device. 
Best drawing tablet stands for digital artists
Keeping display tables flat on the surface is not only uncomfortable but also an open invitation to neck pain, fatigue and muscle cramps. Adding the fact that most of the people using these devices work for multiple hours at a time, it makes the situation worse.
Tablet holders and stands can solve these issues by providing ergonomic drawing positions which gives you comfortable and proper working postures.
1. Parblo PR 100 – best stand for tablets, iPads and notebook computers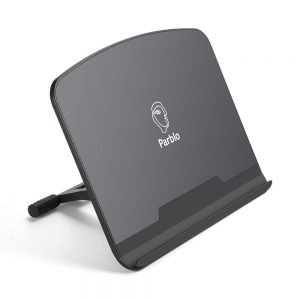 Good tablet stands are expensive and cheap tablet holders are not good. The Parblo PR 100 has the perfect combination of price and features. Its adjustment range is between 15° to 90°.
The Parblo PR 100 has a very strong frame which has a mixture of alloy and plastic. It is capable of holding fairly heavy pen tablets. The stand has a curved bottom lip with soft rubber pads. It holds your tablet in place as well as protects it against scuffs and scratches.
Rubber pads are also present at its legs and base of the stand to keep it stable on smooth surfaces.
Suitable for: iPad, drawing tablets, lightweight Ultrabook computers with a thin body.
PROs
Great tablet stand at reasonable price
Easy to adjust and switch between different angles
Does not collapse on heavy loads
Folds up in a slim form factor
Alloy and plastic frame
CONs
Only available in one size
2. Wacom Stand for mobile studio pro – official stand by Wacom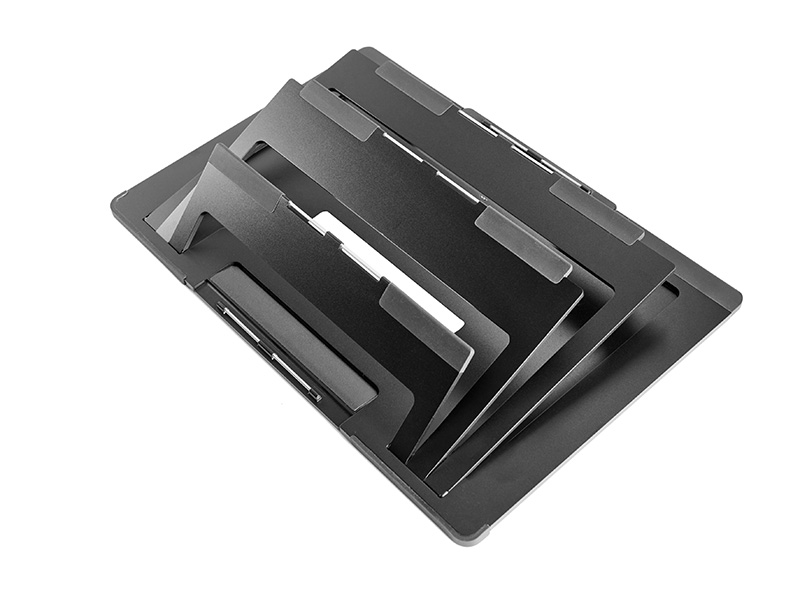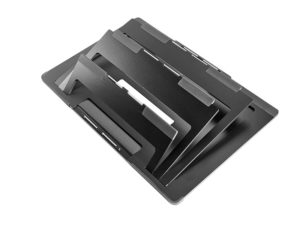 Wacom's mobile studio pro comes at a very premium price tag, but sadly it does not come with a pre-included tablet stand. Mobile studio Pro is a heavy device which cannot be steadily held by a cheap plastic stands.
Wacom has come up with their own solution and made a stand which is strong, lightweight as well as portable.
The stand is constructed out of brushed metal and has rubber pads on all its legs. It attaches itself to the device with the help of detachable laches at its base and legs. Once is it attached, it becomes the part of the device and due to its slim profile, it does not take any extra space which makes it very portable.
The stand gives you 3 adjustable heights which are good enough for any working position. If you have the mobile studio pro save yourself all the trouble and get the official stand.
PROs
Tailor made spacifically for Wacom mobile studio pro
Made from brushed metal
Extreamily thin and strong
CONs
Limited adjustment angles
Expensive
3.
Wacom Ergo Stand – official stand for Wacom Cintiq Devices
compatible with: Cintiq 27QHD Touch and Cintiq 27QHD
So you own Wacom Cintiq display tablet and planning to get a new stand. Wacom makes its own stand custom made for Cintiq devices which works flawlessly.
Display tablets are very difficult to mount as they are heavy and often have so many cables coming out of them. The Wacom stand for Cintiq devices solves all these issues making your setup clean and clutter free.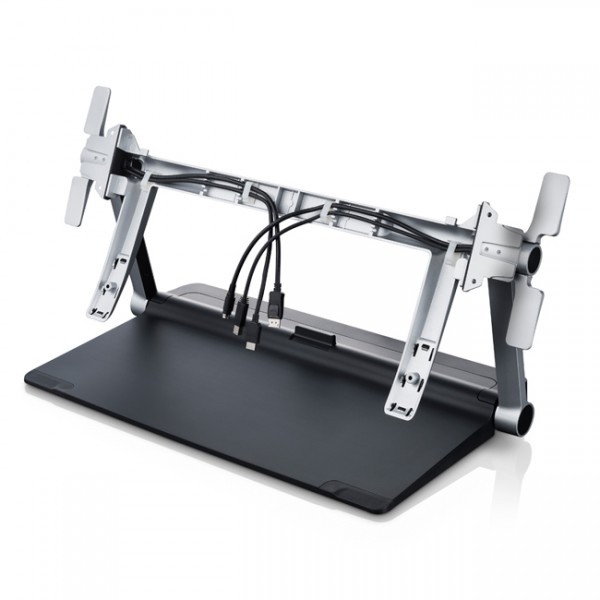 The stand has a metal construction with a very secure and high-quality hinge. It allows you to use your display tablet at any angle without any wobble and vibrations. It also allows your device to freely suspend in the air or lean over the table for better and more immersive drawing experience.
The stand comes with the preinstalled wires which pass through the hollow tubes of the stand. Other than that it comes with extra cover panels to hide all your wire inlets and open screws, making the setup look flawless.
It has got some wing-like structures at both the sides. These help to easily change and lock the tablet from one position to other.
you would be very satisfied with this stand and have a wonderful drawing experience using this.
PROs
Made for Wacom cintiq devices
Excellent cable management makes your workspace clutter free
Strong and premium quality materials used
Infinite adjustment angles
CONs
Heavy
Expensive
Supports only selected devices
4.
LX Desk Mount LCD Arm – Infinite adjustibility monitor stand
Wacom stands are good if you want strong and stable support for your device. But they are very restricted in their movement. The official Cintiq stand is great but what if you want greater flexibility and movement.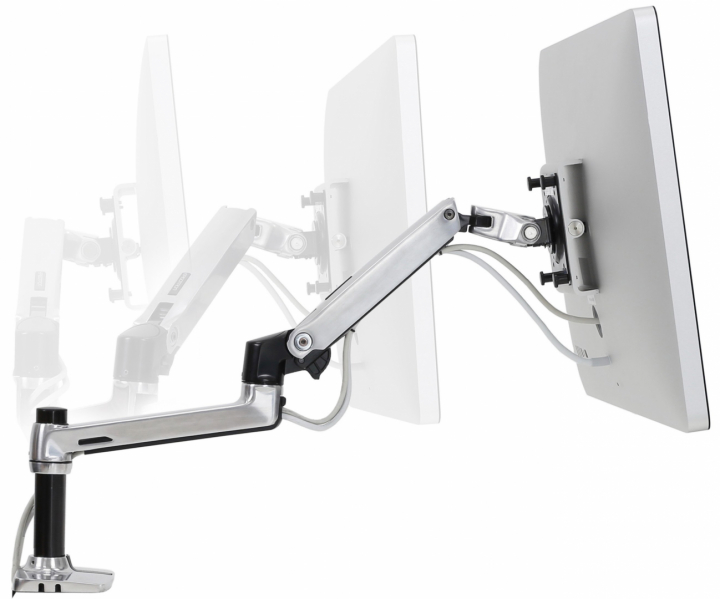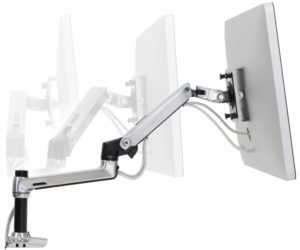 Lx desk mount was initially made for tv. screens but over time it started being used for mounting display tablets. It securely clamps to your table and does not occupy much space on your table.
It has a very flexible arm which allows you to move it in all the directions at any angle. One of the best features of this tablet holder is it enables you to use your device while standing. So if you want a better and more flexible stand than this is a great option.
PROs
Can move horizontally and vertically and be adjusted to any angle
Strong all metal design
Easy to switch between one angle to other
CONs
Heavy and takes up space
Takes longer to install
5.
Elevation Lab DraftTable Kit For iPad Pro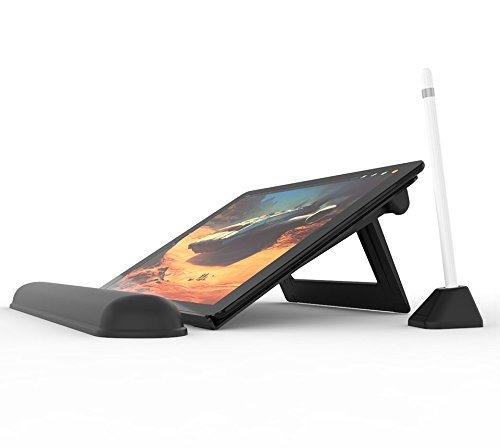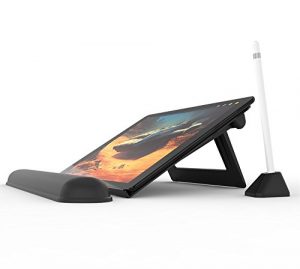 We all know that iPads official stands are very limited in their usability as they can only stand at certain levels and angles.
Elevation Lab DraftTable Kit For iPad Pro is one of the best stand alternatives for iPads. It comes with three adjustable legs which give you multiple angles to work with. It comes with a pen holder and a nice palm rest. Its front face has soft material which won't leave any scratches on your device. Its metal body has a very slim profile making it easy to carry around.
Although this stand is specifically made for iPad but it can also be used with other display tablets. One of the most important things to notice is that it will only work with devices which are thin and fairly light.
PROs
Suppoets iPads or any similarily sized device
Multiple adjustment angles
Comes with a pen holder and palm rest
High positive ratings on amazon
CONs
Not ideal for large display tablets
6. Xp Pen Multifunctional Metal Stand for Display Tablets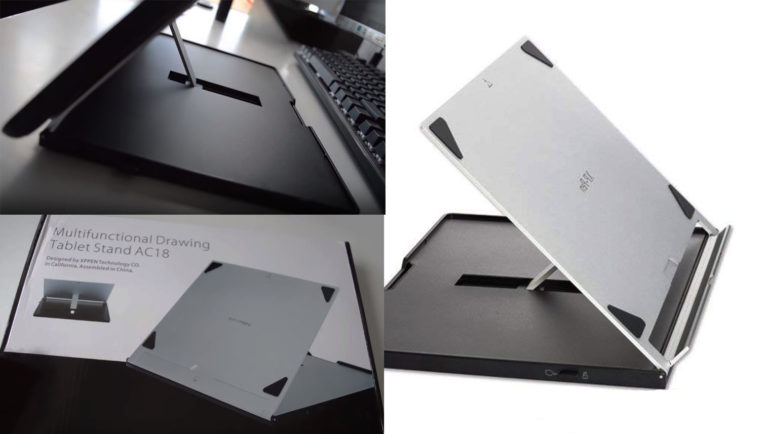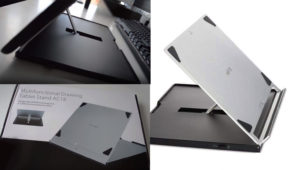 If you use an Xp-Pen display tablet, this one is the must-have accessory for you. It is the official stand made specifically for Xp Pen devices.
The stand is made of aluminum and has rubber pads on the rear ends. The aluminum build enables you to keep heavier tablets on top without making the tablet insecure. The tablet can go from 1° to 65° with the increment of 1°.
When folded the stand almost takes up no space which makes it very easy to carry around with your tablet. Although it is originally made for Xp-Pen tablets, the overall design allows you to attach any other similar tablet.
PROs
Great for smaller display tablets
Metal construction – can hold even heavier devices with ease
A wide range of adjustment 0° to 65°
Folds up in a slim and portable form factor
CONs
Snaps shut with force on closing
7. Artisul Freestyle Stand – Most pocket-friendly tablet stand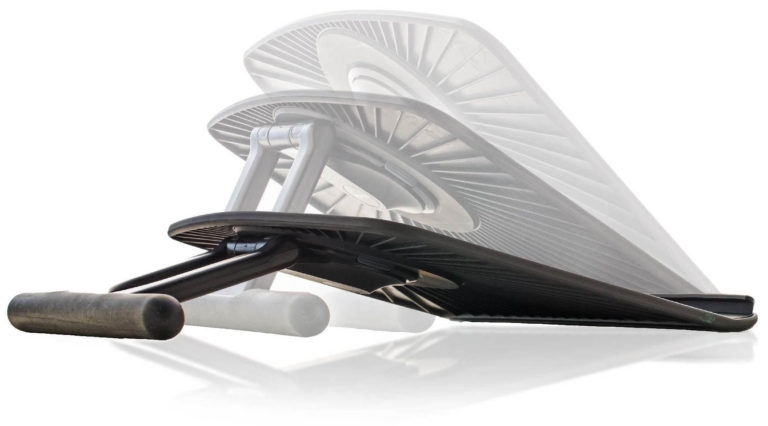 Artisul Freestyle stand comes with Artisul tablets but also supports other similar tablets. The stand can hold a wide variety of tablets from smaller to mildly heavier ones. It has a plastic construction along with rubber pads at the at its legs which makes it very stable on smooth and slippery surfaces.
The U-shaped curve at the front helps to hold the device securely and the rubber padding protects the devices from accidental scratches.
It can stand up to almost straight 85° angle. The stand at the back can physically rotate in four directions, making it easier to stand at any angle. Although the tablet is quite firm, but it has the tendency to fallback when pushed hard.
It can also work as a laptop stand but its front grips only allow thinner laptops to fit in. The stand is thin and light enough to be portable. But if portability is your priority then you should take a look at the next tablet stand in the list.
PROs
One of the most affordable tablet stand
Great for lightweight tablets
The rubber legs provide good friction to avoid slipping off
Folds up in a slim profile which makes it very portable
CONs
Not very portable
Collapses when pressed hard
8. Mind Reader lap desk with built-in cushion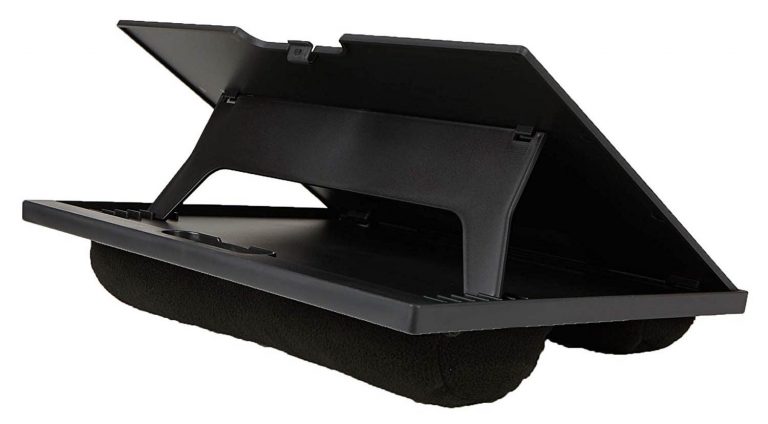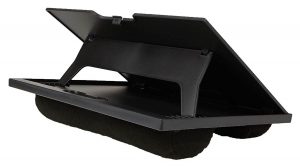 Artist has to sit in the same position for a longer period of time which can feel very tiresome. Well here is the perfect lazy tablet desk you have been waiting for. The mind reader lap desk has two cushions attached to the bottom. It allows you to use your tablet comfortable on your lap.
The cushion is well padded and distributes the weight around to feel light. On top of that, it also gives you some inches of extra height. The tablet is made of plastic and looks simple and straightforward. It has eight adjustable angles and can handle fairly heavy loads. The tablet can handle laptops, iPad, tablets and other similar devices.
Overall the tablet gives you multiple angles and very ergonomic working positions. It is great for people who have to continuously work for multiple hours.
PROs
Multiple standing angles and ergonomic position
Two cushions at the bottom
Multipurpose stand – suitable for laptops, iPad and tablets
Folds up in a slim profile which makes it very portable
CONs
Not very portable
Cushions are not detachable
9.
Max Smart Drawing 
Tablet 
stand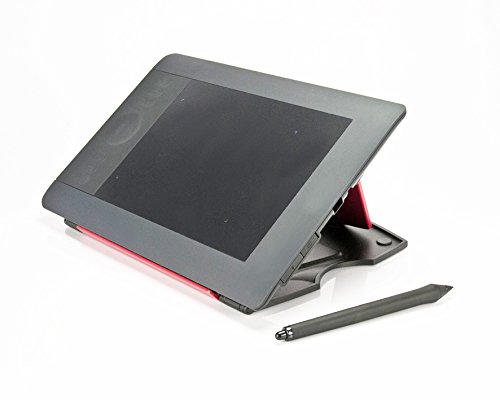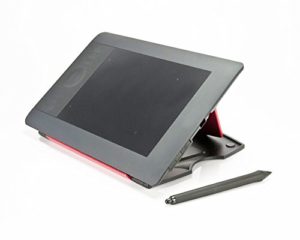 Max Smart is one of the cheapest tablet stands in the market who has got a ton of positive reviews on Amazon.
It is a simple stand made of plastic which can hold smaller as well as large display tablets. There are a total of six supported angles which allows it to adjust to 15°, 17°, 19°, 35°, 37° and 39°. It has also got some sort of anti-slip rubber pads which are not the best but good, given its price.
It comes in two colors Red and Black.
PROs
Very cheap and functional
Folds up in a slim profile which makes it easier to carry with you
6 different adjustment angles
Can support medium sized tablets
CONs
Made of plastic
Cannot hold heavy loads
Cheap Vs expensive tablet stands
Tablets come in all shapes and forms some have a plastic construction and others are made of metal. Some give you limited adjustability others giver better support.
The cheaper tablets are generally made of plastic and ideal for smaller/lighter tablets. They give you two or three adjustable heights. On the other hand, more expensive tablet stands are ideal for a heavier drawing tablet. They give them better support and more adjustability.