Disclosure: As an Amazon Associate EssentialPicks earn from qualifying purchases.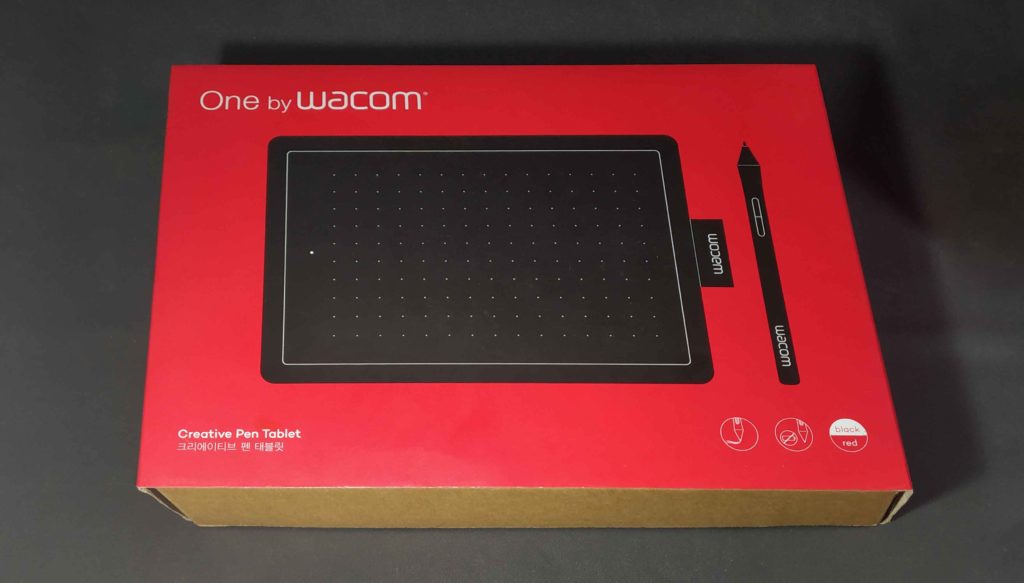 One by Wacom is one of the most beginner friendly tablets in the market. With this tablet, you will be saving a lot of money without compromising with any key features. Wacom have done a great job of updating its Bamboo series. Now they look very modern and unlike previous Bamboo models, the drawing area now covers the whole front surface.
In this detailed One by Wacom review, we would take a look at all the key features the tablet has to offer and why you should get it.
One by Wacom – Features
The One by Wacom is available in two varients – Small (CTL-472) and Medium (CTL-462).
|   | One by Wacom |
| --- | --- |
| Active Area | 6.0 x 3.7 in, 8.3 x 5.7in |
| Pen Pressure | 2048 |
| Buttons on Pen | 2 |
| Buttons on Tablet | None |
| Tablet Resolution | 2540 lpi |
| Report Rate | 133 pps |
| Colors | Black, Red |
Wacom Bamboo (One) – Updates over the years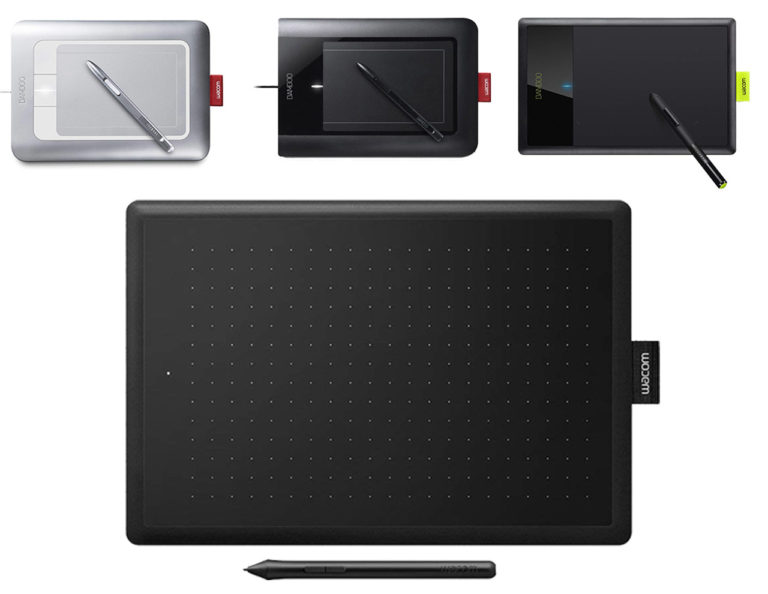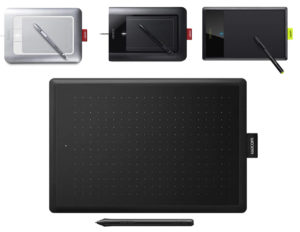 The Wacom Bamboo is one of Wacom's most famous models. Most of the beginner artist get it as their first drawing tablet.
Wacom has been actively updating their bamboo devices over the years. The updates usually take place after every two or three years.
In the latest update of the Wacom Bamboo tablet, they have done some major design changes. First, they got rid of all the unnecessary space on the left (as seen in the image). Next, they made the tablet slimmer.
The new Bamboo looks very modern and minimalistic and feels like a well put together device. In the image you can see how Wacom Bamboo use to look and changes they went through over the years.
Design and Build Quality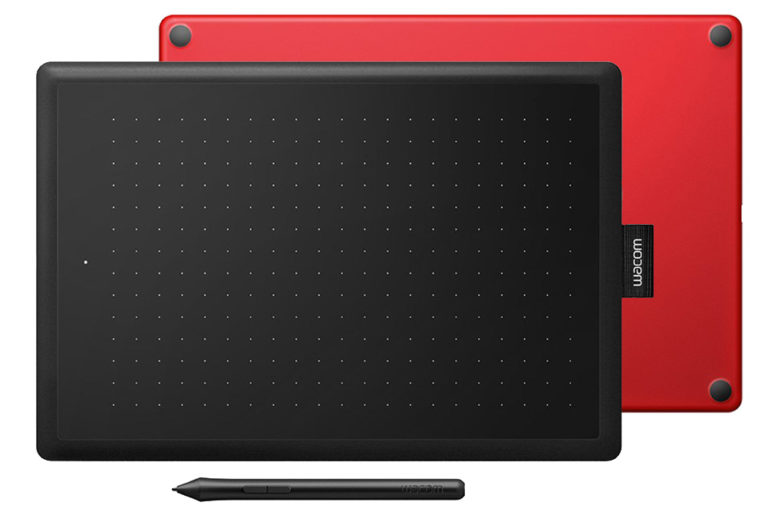 Build Quality and material used
Wacom devices are known for their excellent quality of drawing tablets which lasts a long time. Even though One by Wacom is the cheapest tablet they make, they have done a great job of maintaining the overall quality.
The Bamboo has the exact same textured drawing surface which you will find in much expensive Wacom Intuos and Pro models. The tablet is made of plastic but still feels strong and sturdy in hand.
Design – Changes in the new update
When it comes to design, One by Wacom has gone with the minimalistic design. The whole top surface is covered with a textured drawing area with virtually no wasted space. The rear end on the tablet has rubber pads on all its four sides. These rubber pads make the tablet stable on smooth surfaces.
Pen Holder – simple yet genius design

Stylus are round in shape, which is very easy to roll of your desk and get damaged. Most of the drawing tablet come with a dedicated pen stand to hold the pen while not in use. But considering how cheap One by Wacom is – adding a pen holder could have significantly increased its price.
To get around this issue Wacom has come up with a very simple yet genius design choice. There is a pen holder loop that sticks out of the right-hand side of the tablet. Where you can simply slide in your stylus when not in use.
Color – The new color option
Most of the drawing tablets – cheap or expensive – come in just one color that is "Black". Wacom has gone a different route and introduced a new color in its latest Bamboo update.
The red-colored tablet has the whole rear panel colored in bright red. The top surface is still black which makes a pleasing contrast between colors and looks really cool. For those who are wondering – The Tablet is also available in the traditional all-black color option.
Stylus – Pressure range and Buttons
One by Wacom comes with a new, more ergonomic and more capable pen. The new pen is lighter and very comfortable to hold. The pressure sensitivity has also increased from 1024 to 2048 levels.
The included pen is a "passive stylus" which does not need any power and has no batteries inside. It takes its electrical power from the drawing tablet with the help of a wireless technology called EMR. One of the biggest advantages of these types of pens is they do not need to be charged ever. These pens are less prone to damage on accidental drops.
The pen is made if plastic from top to bottom and has two buttons at the side. The button is of high quality and has a tactile response on clicking. The initial activation pressure is very balanced and well optimized. While using you just need to write naturally and it will start working.
The tablet comes with three extra pentips and a nib remover tool. The nib is very easy to change and only takes a few seconds.
Drawing Surface
One by Wacom has a very true to paper like the texture on the drawing surface. It provides a slight resistance and makes a paper like sound which the drawing experience very pleasing. It uses the same materials for the drawing surface which they use in their more expensive tablets.
Many other cheap tablets can get scratch marks on their tablet over prolonged uses. But Wacom Drawing surface lasts a very long time and you would not have any scratch issues even after heavy uses.
Performance
One by Wacom may be a cheap tablet but when it comes to real-life uses it is no less than any expensive tablet. The strokes are smooth with virtually no lag or delay. The strokes are smooth and the tablet does not have wobble and jittering issues where the line is not straight and comes out like a wave. Many other cheap tablets face these kinds of issues but not this one.
Accessories – What you get in the box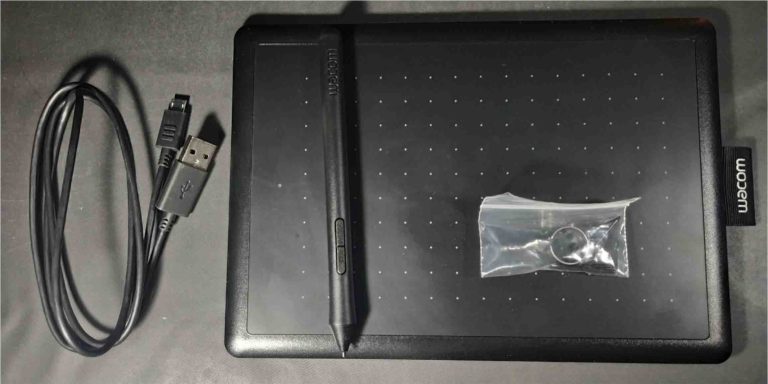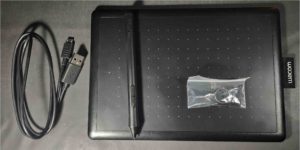 In the box, you get the Stylus, a long USB Cable, nib remover tool, three extra pentips and the tablet itself. The USB cable has a USB-A port at the end which connects to the tablet and a traditional full-size USB to connect to the computer. If you are on the latest laptop which does not has the full-size traditional USB port, then you need to grab a dongle.
One more point to note is – the extra pentips and the nib remover tool comes in a transparent plastic bag. There is no place inside the tablet to store them, so you need to be extra careful and store them safely.
One by Wacom Driver/ Software
Other than the tablet you need to install the Driver for the tablet to work properly. The Driver is free and can be easily downloaded from the Wacom official site for both Windows and Mac devices.
What does the driver do?
The driver is the communication link between your tablet and your computer. It helps your computer to understand pen pressure data and other inputs to help your device to work properly.
Other than communication, the driver also gives you extra functionality and settings. you can change the pressure range (how hard and soft you want to press). It also helps to customize buttons on the pen to any shortcut of your choice.
Setup and Installation
One by Wacom is very easy to set up and you can start working within minutes.
First, you need to connect you drawing tablet to the computer using the USB cable.
Download the official Wacom Driver from the Wacom official site. (One by Wacom Driver for Windows, Mac)
Go to your downloads folder and Install the Software.
You are ready to rock…
An important thing to note is the above-mentioned process needs to be done only once when you use the device for the very first time. After that you just need to plug in the tablet to the computer and the driver will automatically get activated and the tablet will start working without you needing to do anything extra.
Summary – Who it is made for?
If you are a graphic designer and or do any kind of digital creative work this tablet is for you. You can easily make a selection, mask objects paint and do a lot of other stuff using it. It is a very popular device among photographer who uses it for photo retouching. These are also great for learning digital painting and it is fully capable to make professional digital art.
Other than that 3D software like ZBrush takes full use of the device capabilities for 3D sculpting. These devices are also used in offices for making digital signatures and making handwritten notes. Some also use the device to play games like OSU. In a nutshell, it is an all in one device for all your digital needs.
Check out other Beginner Drawing tablets