Disclosure: As an Amazon Associate EssentialPicks earn from qualifying purchases.
---
Now is the best time to be a digital artist. Not only there are numerous free tutorials and resources available to learn digital art but also there has been a substantial increase in the quality of tablets.

Every single brand is putting their best foot forward and releasing premium drawing tablets at very affordable prices.
Wacom and Huion are the two brands that every artist is familiar with. They both have recently come up with their budget tablets aimed at providing the best drawing experience in least possible price. Wacom have released their latest Cintiq 16 whereas Huion has come with Kamvas Pro 16.
So which tablet is better and which device should you pick as your next drawing tablet.
In this Wacom Cintiq 16 vs Huion Kamvas Pro 16 comparison, we would take a look at all the features these tablets have to offer and help you decide which tablet will fit your needs better.
Wacom Cintiq 16 vs Huion Kamvas Pro 16 – Comparison
Before we move ahead to explain everything in detail, here is a quick look at all the features the tablet has to offer.
Cintiq 16
by Wacom
15.6 Inch Full HD display
96% sRGB color accuracy
Anti-glare film
8192 pressure levels ±60° tilt
No shortcut buttons
Inbuilt tablet stand
CHECK ON AMAZON
Kamvas Pro 16
by Huion
15.6-inch Full HD
120% sRGB color accuracy
Laminated display
8192 pressure levels ±60° tilt
6 Shortcut buttons
No tablet stand
CHECK ON AMAZON
Which tablet has a better screen – Cintiq 16 or Kamvas Pro 16
As the name suggests – Wacom Cintiq 16, as well as Huion Kamvas Pro 16, comes with the same screen size of 15.6 inches, but this is where the similarities end.
Huion takes the lead in terms of accurate color production on the screen. The screen of Huion Kamvas Pro 16 has  120% sRGB color coverage, Where the Wacom Cintiq 16 has 96% sRGB color support.
In real life – the color on the Wacom looks more accurate than Kamvas Pro 16 because the screen of Cintiq 16 comes pre-calibrated out of the box. In the case of Kamvas pro 16, you have to play with color settings to reach its full potential.
The screen of both the tablets is matte and has an anti-glare coating which enables them to be used in bright reflective environments. The viewing angles of both the tablets are equally good and you will not face any weird color shift when looking from off-axis.
Surface Texture
Wacom Cintiq 16 comes with an anti-glare film that reduced glare and reflections. The anti-glare film has a slight texture that gives you better control over the stylus. The texture feels balanced, it is neither too smooth nor too rough.
The texture on Huion Kmavas Pro 16 is almost as good as Wacom. Its texture feels slightly different from what you get with Cintiq 16 but it is very comparable in terms of overall quality and feel.
Laminated screen
One of the highlights of Huion Kamvas Pro 16 is its laminated display. In laminated screens, the display layer and the top glass are laminated together with no air gap in between. Laminated screens reduce parallax and make the screen brighter and colorful.
What is parallax
In traditional displays, there is a small gap between the display layer and the top glass. So when you draw the actual cursor shows up a few millimeters away from where your pen is actually touching the surface. This is called parallax and the laminated displays do not have them.
Having parallax in your drawing tablet is not the end of the world but it surely breaks the – otherwise seamless drawing experience.
Does Wacom Cintiq 16 has parallax
As we told that Cintiq 16 does not come with a laminated screen so it must have parallax, Right? Wrong!
Wacom has done a really good job of minimizing the parallax. The end result is so good that you won't really notice any parallax in normal uses unless you are specifically looking for it.
Design and build quality – Wacom vs Huion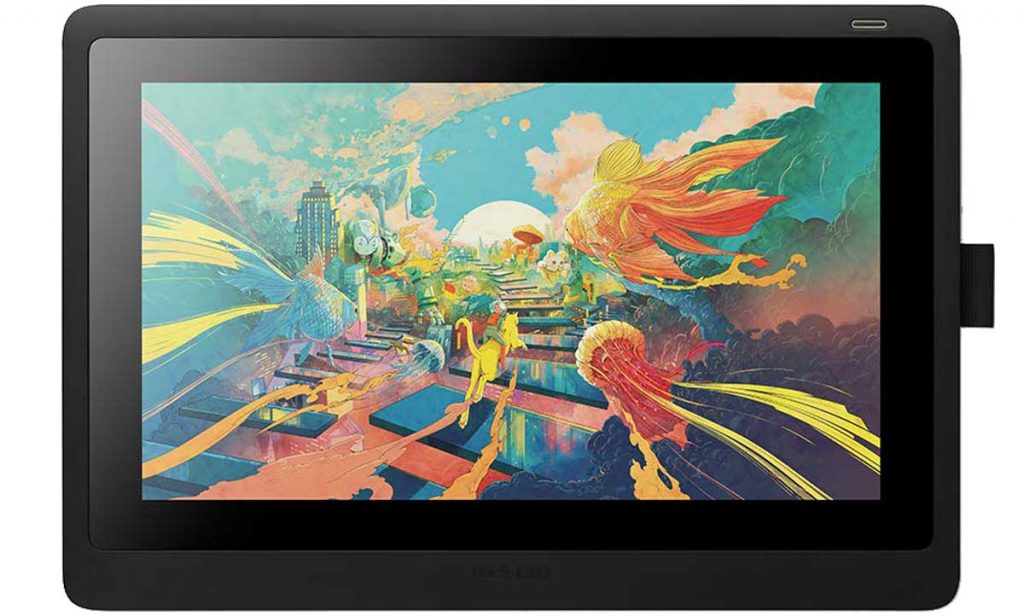 Huion Kamvas Pro follows the conventional design where you have a drawing area on the right and shortcut button on the left. With Cintiq 16 you have a very clean design with drawing space in the center and a small power button the top right.
Usually, Wacom tablets always take the credit for build quality but this time around Huion Kamvas pro 16 have managed to outshine them. Cintiq 16 has a really nice build quality with everything feeling strong and sturdy. But it is easily outshined by Huion's metal box.
The Huion Kamvas Pro 16 is made of metal that feels very dense and premium. You have a flat metallic panel at the back with two big rubber pads. The single piece metal wraps around the edges and meets the glass at the front which feels really nice to hold.
Tablet Stand and mounting options
A 16-inch drawing tablet is a fairly large device and using it on a flat tablet can be uncomfortable. The Wacom Cintiq 16 comes with an inbuilt kickstand which gives it a working angle of 20°.
The stand can be folded back in place when not in use. It sits fully flush with the back panel and feels strong and well-engineered.
Other than the foldable stand, the Cintiq 16 also has holes at the back for the VESA mount. It allows you to use any third-party VESA mount supported stand or you use a normal drawing tablet stand. Click here for our list of top drawing tablet stands.
For Huion Kamvas Pro 16 the mounting options are limited and you get no VESA mount support. They do not even come with a foldable leg. The stand for the Kmavas Pro 16 needs to be purchased separately. Huion recommends using their tablet stand which was made specifically for tablets like Kamvas Pro 16.
Stylus – Wacom Pro pen 2 vs Huion PW507
A stylus is one of the very important components of a drawing tablet. It can make or break your drawing experience. Both Cintiq 16 and Kamvas Pro 16 stylus comes with 8192 levels of pressure sensitivity along with ±60° of tilt sensitivity.
The pen performs equally well in terms of performance and accuracy. You will get perfect strokes with very consistent pressure sensitivity and no pen wobble and pressure bumps. The pen works equally smoothly – at fast as well as slower speeds.
Pen ergonomics and build quality

Wacom Pro Pen 2 and the Huion PW507 look very similar to each other. They both have rubber grips at the front for a better hold. Their ergonomic shape makes them feel comfortable especially in longer drawing sessions.
Wacom pen has two buttons on the side and an eraser at the back whereas Huion stylus has two side buttons with no eraser at the back.
Both the stylus are passive pens which means they do not need to be charged. They work and transfer data using Electromagnetic waves (read how digital pens work). The Wacom Pro pen 2 feels better in terms of overall build quality and feel in hand but this can be subjective.
Pen stand

Huion Kamvas Pro 16, comes with a pen stand. It allows you to keep your stylus in a horizontal or vertical position when not in use. With Cintiq 16, you just get a simple cloth loop that can attach/detach on the right side of the tablet.
The pen stand of Huion Kmavas Pro 16 is shaped like a donut and feels plasticky and cheap. Opening the top cover you get access to storage space for the extra pen tips. You get a total of 10 extra pen tips along with a nib remover tool.
With Wacom, you get 3 extra pen tips which can be accessed by pulling the pen holding loop out of the tablet.
Shortcut buttons
The Huion Kamvas Pro 16 comes with a total of 6 shortcut buttons along with a touch bar. All the shortcut buttons are located on the left side of the tablet.
With Wacom Cintiq 16 you get no shortcut buttons on the tablet. The Cintiq 16 may look minimalist and elegant but by getting rid of the shortcut buttons from the tablet but they lose functionality.
Alternatively, you can get a Cintiq 16 compatible Wacom Expresskey remote (Amazon) which has a total of 17 shortcut buttons. This adds another chunk of money on top of the already expensive tablet which defeats the purpose of being a budget device.
Driver and advanced settings
A driver is a software that allows your computer to communicate with the drawing tablet. It also helps the computer to understand the pressure and tilt data and gives you extra settings and controls for your tablet.
You can change the custom shortcut for your tablet and pen buttons to the shortcut of your choice. It also allows you to customize the pressure of your pen.
The driver of both the tablets are easy to understand and free to download. The Wacom Driver is a tiny bit ahead of Huion as it gives you special shortcut options like the radial menu which Huion does not have. You can also set application-specific shortcuts.
Accessories
Wacom has always been known for providing a limited number of accessories or in other words you only get what you actually need in the box, which is not really a bad thing.
With Huion you get a few extra accessories like the pen stand and the drawing glove which is always appreciated.
Final thoughts/ Summary
Both Wacom Cintiq 16 and Huion Kmavs Pro 16 are very capable device and you cannot go wrong with either of them. The Kamvas 16 comes with features like the laminated display and a super premium metallic body. On top of that, it costs lower than the Wacom Cintiq 16.
Overall if you want the best value for your money, Huion Kamvas Pro 16 (Amazon) is the right tablet.
With Wacom, you get an overall quality in terms of hardware and software. The Cintiq 16 is not made of metal but still, it feels sturdy and premium. With Wacom Cintiq 16 (Amazon) you are essentially investing in Wacom as a brand which is known for their reliability. You get an excellent stylus, stable software, and overall a very smooth drawing experience.
Wacom Cintiq 16
Huion Kamvas Pro 16
Display Size
15.6 Inches
15.6 Inches
Resolution
1920 x 1080 Full HD
1920 x 1080 Full HD
Color Accuracy
96% sRGB
120% sRGB
Shortcut Buttons
None
6 + Touch bar
Pen Pressure
8192 Levels
8192 Levels
Pen Tilt
±60° (degrees)
±60° (degrees)
Buttons on Pen
2 + Eraser
2
Pen Holder
Fabric loop
Dedicated stand
Extra Pentips
3
10
Tablet Stand
Inbuilt foldable Leg
Not Included
Tablet Surface
Matte/ Textured
Matte/ Textured
Price
Check on Amazon
Check on Amazon
Check on Huion.com