Disclosure: As an Amazon Associate EssentialPicks earn from qualifying purchases.
---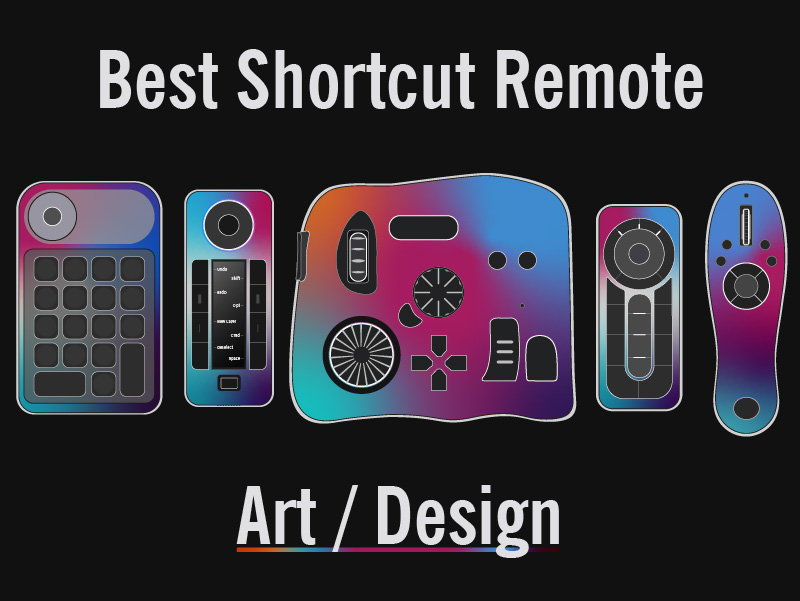 As an artist, you already know how important keyboard shortcuts are. They give you easy access to functionalities that are usually stashed under layers of menus and submenus.
They literally shave off hours out of your total work time and helps with the creative flow by making the drawing process way more engaging.
So most artists use a keyboard alongside their graphics tablet as part of their work setup.
The graphics tablet helps with things like pointing, clicking, drawing, and making selections – while the keyboard helps with making quick changes using shortcut combinations.
But there are a few problems with this setup. Can you guess what?
The problem – Why keyboard is not ideal for shortcuts?
• Ergonomics – hands spread out too wide apart, which is not ergonomic and may result in fatigue and discomfort during long working periods.
• Desk space – Occupies a lot of space on your desk.
• Unused onboard buttons – Since your other hand is too far away from the drawing tablet, the onboard programmable shortcut buttons present on the drawing tablet remain unused.
• Lack of Customizability – You can't reprogram keys on your keyboard.
• Issues with larger display tablets – If you use larger display drawing tablets (21 inches and above) using the keyboard becomes even more difficult (as the tablet itself takes a lot of space and there is no ideal space to place the keyboard).
Solution – Here is why you need Shortcut remote!
When drawing you often don't need all the shortcut combinations at once, in most cases you use a handful of keyboard shortcuts over and over again… The Shortcut remote can be very useful in these situations.
• Reprogrammable – Change buttons to any shortcut combination you want. You can also have different set of shortcuts for different applications.
• Compact/ Flexibility – Small size, can be placed anywhere on the desk, or can even be handheld.
• Placing on top of your drawing monitor – can even be placed right on top of your drawing monitor's screen, especially helpful when using large display tablets
• Efficient – More efficient workflow when compared to a keyboard.
• Better user Experience – Better interface, feels more natural when performing actions such as zoom, changing the size of brush and eraser, compared to hitting keys on the keyboard multiple times.
• Support for all programs – Can also be used for non-art, graphic, design-related tasks such as media/volume controls, browser, or games.
• Shape and feel – Have buttons, dials, and Knobs of different shapes and sizes, you can locate the right buttons without even looking.
• Multiple actions – Single dial/ rotating wheel on these shortcut remotes can perform multiple tasks such as changing the size of the brush and eraser, zoom, scroll, pan, rotate, etc.
• Shortcut remote + Tablet buttons combination – Since the shortcut remote can be placed right next to the tablet, you now have the option to use the buttons on the tablet in conjunction with the shortcut remote.
It was not that long ago when only a handful of shortcut remotes were available for artists and most of them were crappy.
But in the last few years, we have seen more and more shortcut controllers that are mostly made by drawing tablet brands specifically for digital artists.
These remotes are highly customizable and come with an easy-to-use user-friendly design.
Top Recommendations
Here are some of our top recommendations for shortcut remote.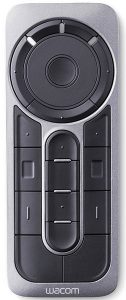 Wacom Expresskey Remote
Used by Pro artists
17 buttons
Touch ring
Wireless/wired
Can be handheld
Metallic build

TourBox Neo
Deeply customizable
11 buttons
Dial/roller/scroll (1 each)
Practical/tactile
Skin-friendly silicone material
Black, white, translucent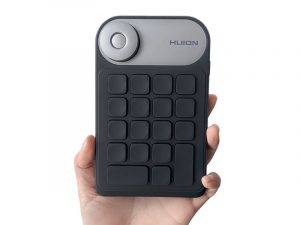 Huion mini KeyDial 100
Value for money
18 buttons
1 Dial
Plastic body
Wireless/wired
Black
1. TourBox – Best shortcut Controller for artists
Our pick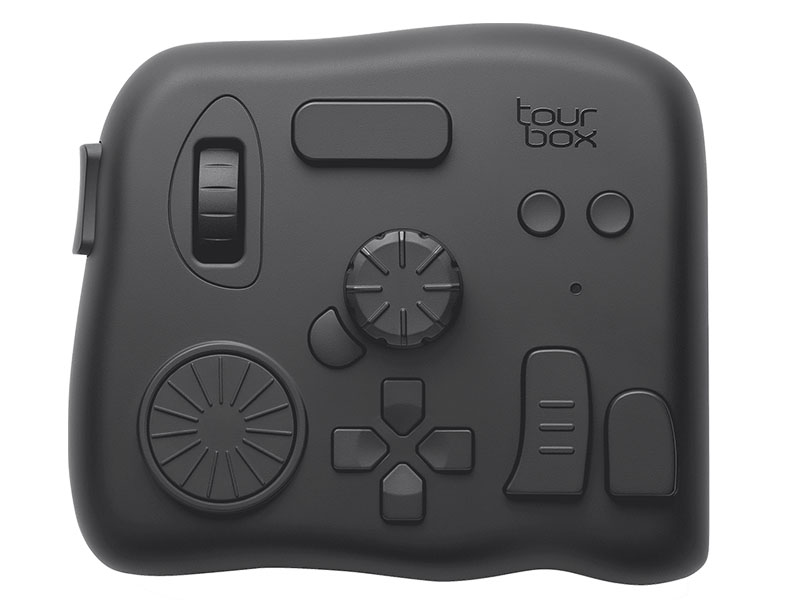 TourBox Shortcut Remote
Deeply customizable, practical, productivity workhorse. Works with all drawing, design, animation, editing, and 3D applications.
• Buttons: 11 buttons, 1 scroll wheel, 1 knob, 1 dial – all clickable
• Colors: Matte Black, Matte White, Translucent (TourBox Neo, Elite)
• Connection: Wired
The TourBox Neo is one of the most unique shortcut controllers on the market which has made a name for itself in the creative community.
While other shortcut controllers look like fancy accessories with their sleek rectangular designs, the TourBox neo looks like a real workhorse and leans more towards being practical and ergonomic.
It has a larger footprint (300 grams/0.6 lbs) and comes with multiple knobs, dials, and rollers.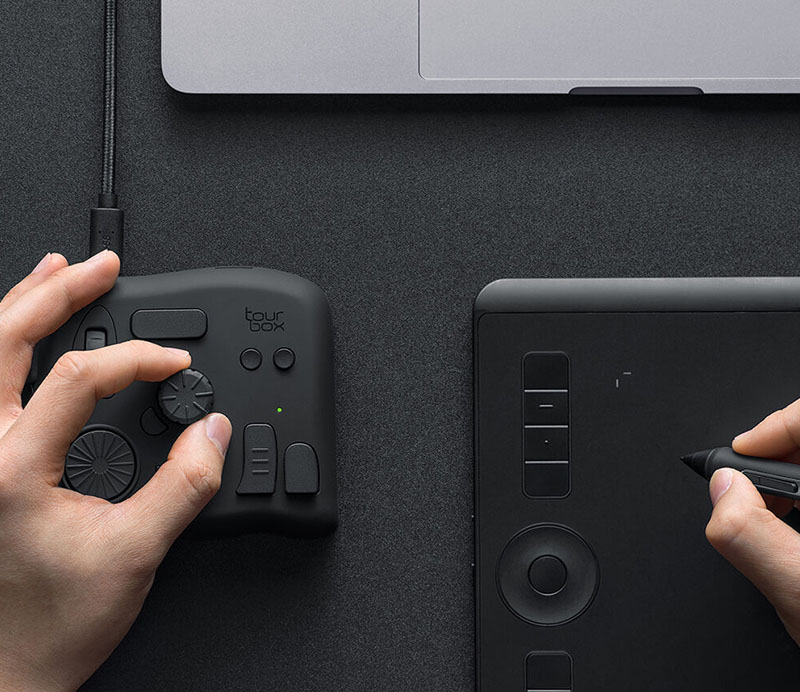 After the initial break-in period, once you get your hands accustomed to the interface, it feels very intuitive, physical, and almost twice as useful as any other shortcut remote on the market.
TourBox Customizability
The deep customizability options of TourBox are one of its key features.
Other than setting the button to any shortcut of your choice in any art and creative program, it also allows things like multiple key combinations and double clicks.
It takes customizability up a notch by allowing things like – sending commands when you lift the button, long press to send continuous commands, and changing the sensitivity (speed) of dials/wheels.
It also has a resizable on-screen D-pad shortcut menu that can be positioned anywhere you like on the screen.
Due to these advanced options, the TourBox manages to cram in more shortcut combinations than shortcut remotes with more buttons.
Pros – TourBox shortcut controller
Very practical
Looks and feels like a real tool
High quality tactile buttons
All the rollers have a distinct tactile feel
Easy navigation dur to different button shapes
Allows you to perform shortcuts without even looking
Supports double click and key combinations
On-screen shortcuts
Works with all applications (Windows/Mac)
Comes with very user-friendly software
Skin-friendly rubberized coating
Available in multiple colors
Has rubber feet
Cons – TourBox shortcut controller
Expensive
Can't type words
Big footprint (less portable)
Stains easily (gets oily), but cleans easily
Not ideal for right handed artist
Not compatible with iPad
Buy TourBox Neo on Amazon →
2. Xencelabs Quick Keys – Wireless Shortcut Remote with OLED display
Runners up!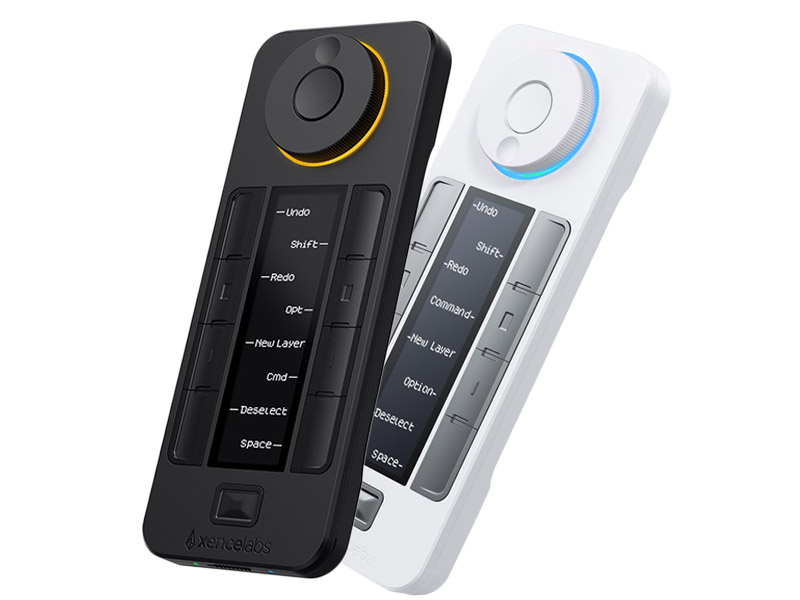 Xencelabs Quick Keys
Most shortcuts per application, have an AMOLED screen and a well-thought-out practical design, which is well complimented by its software.
• Buttons: 8 buttons, 1 dial, 2 mode buttons
• Colors: Black, White
• Connection: Wireless/ wired
The Xencelabs Quick Keys is one of the most unique shortcut remotes as it comes with an AMOLED screen located right at the center.
Compared to other shortcut remotes – where once you set up the keys – you have to remember which buttons have been assigned for which action. This setup won't work for this shortcut remote as it follows a completely different philosophy. Umm… let us explain!
While working on your projects you go through different stages. First, you plan things, then you do the rough sketching, after that you create the final form, then you fill in the colors, then add shadows and texture, and so on and so forth.
These different stages of your project require different sets of tools. The Xencelabs Quick Keys allow you to set custom shortcuts for each stage of your workflow and switch between them using the set buttons.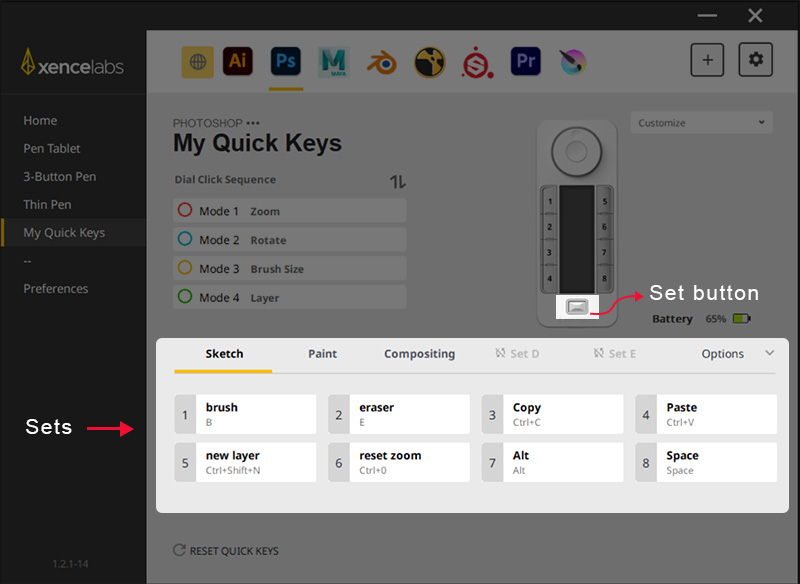 Since you can have multiple sets within one software (up to 40 shortcuts within one application), therefore you need a screen to display which buttons are which and in which set you are currently working in.
If you have a similar kind of workflow, the Xencelabs Quick Keys is hands down one of the best options for you.
There is also a dial on the top that can be set to 4 different modes. The modes can be switched by pressing the button in the middle of the dial.
There is also a LED light around the dial, that indicates which dial mode you are currently working in.
You do get wireless connectivity as well as USB-C wired connectivity. Its battery lasts a long time and comes with auto power off in case you forget to switch this device off.
Considering the advanced features, the customization options, the inclusion of the screen (which – by the way, makes your setup look way cooler), controllable dial sensitivity, and practicality – the Xencelabs Quick Keys provides itself to be a worthy option for artists looking for some serious hardware.
Related: Xenelabs medium tablet bundle review (new tab)
Pros – Xencelabs Quick Keys
Up to 40 shortcut combinations within one application (5 sets with 8 shortcuts each)
Has a handy AMOLED display that shows button functionality
Compact and well laid out
Comes with a smooth rotating dial
The dial supports 4 modes and can perform actions such as zoom, pan, rotate, scroll, change the size of brush and eraser, and so on…
LED lights around the dial to indicate the current mode
Dial sensitivity, as well as LED brightness and colors, are customizable
Easy to use software
Supports wireless connectivity
USB-C cable connector for charging and using in wired mode
Long-lasting battery backup with sleep timer
Easily see on the screen what buttons are mapped to which function without opening settings (no other remote offers this feature)
Good build quality
Large silicone pad at the back (allows you to place the shortcut remote on top of your display tablet without scratching it)
Cons – Xencelabs Quick Keys
Plastic body
Fairly expensive
Dial feels soft, a bit more resistance while rotating would have been better
No Bluetooth, connects wirelessly via a wireless adapter
Buy Xencelabs Quick Keys on Amazon → Xencelabs Store →
3. Huion mini Keydial KD 100 – Pocket-friendly yet capable Remote controller for artists
Value for money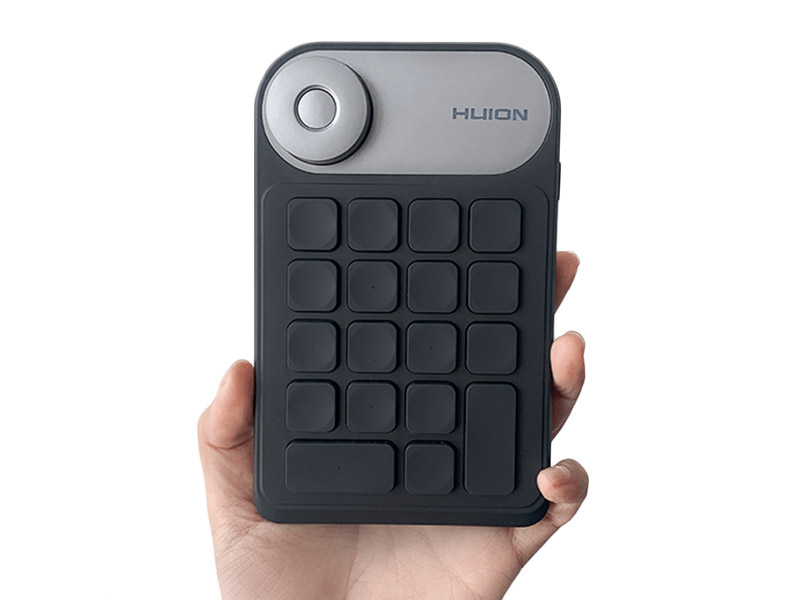 Huion mini KeyDial KD 100
Shaped like a Numpad, comes with large number of buttons (all customizable), and a simple-practical design, the dial produces a very satisfying click sound, overall an excellent value for money.
• Buttons: 18 buttons, 1 dial, 1 mode button
• Colors: Black (grey)
• Connection: Wireless / wired
This is one of the most understated and creative implementations of the shortcut remote.
What Huion has essentially done with their mini Keydial KD 100 shortcut remote is – they implemented programmable keys into a Numpad-like design.
This actually makes a lot of sense, you get four buttons in one row which is a perfect place for your four fingers to rest.
Since the buttons are laid out in perfect rows and columns, the buttons are located at expected places and you do not have to hunt for them.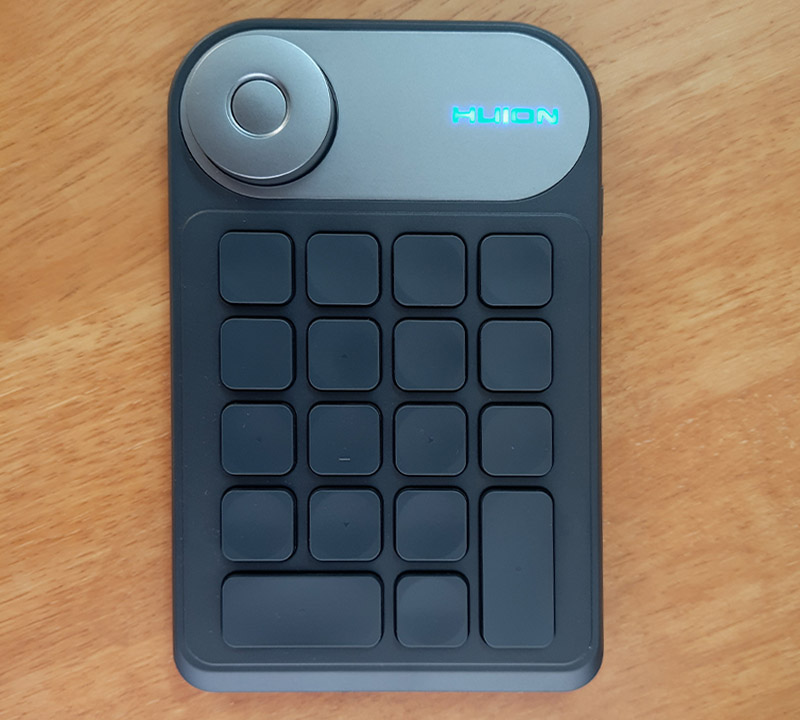 If you are someone who uses 3D applications such as Autodesk Max, Maya, or Blender, you know some of the important shortcuts are located on the Numpad side. Since it is shaped like a Numpad, you can reprogram the keys to work like a Numpad.
Even though the Huion mini KeyDial KD 100 is made entirely out of plastic, the built quality and the fit-and-finish are actually really good.
The buttons are clicky and produce good feedback to never miss a click.
The dial located on the top left has three modes. You can have the dial do different operations for different applications.
For example in photoshop I use the dial for zoom, rotate, and adjust brush size, while in the browser, I use it for volume control, scrolling (up/down), and flipping between tabs.
The movement of the dial is light and smooth and it makes a satisfying click sound while rotating.
(click to play – 🔊 Sound on)
In the tablet settings, you will find the option to change the sensitivity of the dial as per your liking.
The Huion logo located on the top right lights up and has brightness control built into the settings panel.
When it comes to pricing, the Huion mini KeyDial KD 100 does not disappoint either.
You can do almost everything a Wacom Expresskey remote does at a little above half the price, making it a good alternative to Wacom Expresskey Remote.
Pros – Huion mini KeyDial KD 100
Excellent value for money (pocket friendly)
18 fully programmable buttons
Dial with 3 modes (dial clicks when rotating)
Allows you to set application-specific shortcuts (different shortcuts for different applications)
Huion logo lights up (has brightness control)
Dedicated shortcut preview button to see which button has been assigned to what function
Adjustable sleep timer
Wired/wireless modes
USB-C connector
Good build quality
Rubber strips at the back
Buttons have good feedback
Rechargeable battery
Winner of RedDot design award (new tab)
Cons – Huion mini KeyDial KD 100
No support for multiple profiles
The remote has no place to store the USB receiver
Slightly wider than other shortcut remotes
The markings/ bumps and small indentations on the buttons are present, but they are so small they can't be felt
Buy Huion mini KeyDial KD 100 on Amazon → Huion Store →
4. Wacom Expresskey Remote – Top rated premium shortcut remote for drawing tablets
Popular choice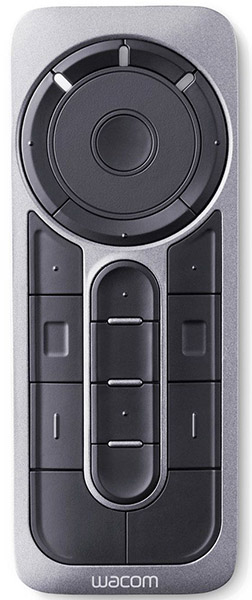 Wacom Expresskey Remote
Popular, trusted, compact (can be handheld), premium all-metal construction with wireless operation. Works with all drawing non-drawing applications.
• Buttons: 17 buttons, 1 touch ring, 1 mode button
• Colors: Metallic
• Connection: Wireless (Bluetooth)/ Wired (mico-USB)
Wacom Expresskey remote is one of the go-to choices when it comes to shortcut remotes. It has been in the market for quite a while and has become really popular amongst artists.
The remote has a premium aluminium construction and feels incredibly hight quality in hand. Even the backplate is made of metal – protecting the internal components well.
It comes with a total of 17 fully programmable buttons which you can set to any shortcut of your choice within any creative program.
There is also a very handy touch ring towards the top portion allowing you to perform actions such as zoom, scroll, pan, rotate, and change the size of brush and eraser.
We have already told you about the build quality. But what is even more impressive is – in spite of having these many shortcut buttons, the Wacom Expresskey remote has the smallest form factor, making it great for handheld usage.
On the backside, there is a large silicone strip covering almost the entire back. This allows you to place this shortcut remote directly on top of your screen without fearing getting scratches on your screen.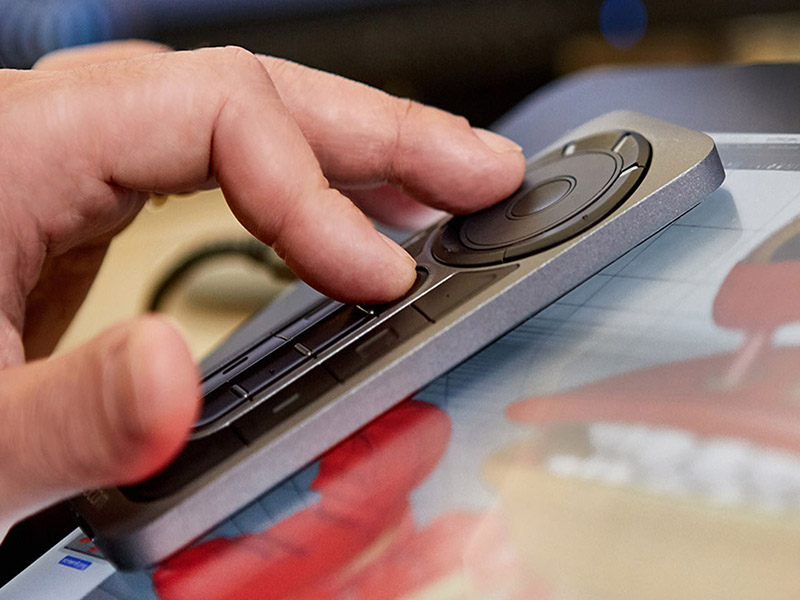 If you have 24 and 32-inch Wacom Cintiq Pro drawing tablets, the Wacom Expresskey Remote has a magnetic at the back which sticks to the bezels of the aforementioned drawing tables (this does not work with tablets of other models/brands).
The Expresskey remote comes with wireless connectivity. In wireless mode, the battery lasts a long time and you do not need to charge it frequently.
For charging, you can use the included micro-USB cable, and the remote does work while being charged.
Overall, it is a well-thought-out product, the placement of buttons, how they are shaped, the customizations, the on-screen radial dial menu, everything makes sense.
If you want a trusted product from a trusted brand that tens of thousands of artists are already using, the Wacom Expresskey Remote is a perfect choice.
Pros – Wacom Expresskey Remote
Trusted and reliable
17 shortcut buttons
Touch wheel with 3 modes
On-screen menu with added shortcut options
Compact – can be handheld
Wired/wireless connectivity
Excellent customizability
Premium metallic construction
Large rubber pads at the back
Comes with auto sleep mode
Works with Wacom/non-Wacom drawing tablets
Works with all creative/non-creative applications
Cons – Wacom Expresskey Remote
Expensive
The touch wheel is not as satisfying to use as a physical dial (depends on personal preference)
micro-USB port (USB-C is preferable)
No Bluetooth connectivity (connects via wireless receiver)
Software does not have multiple profiles
Buy Wacom Expresskey Remote on Amazon →
5. Xp Pen AC 19 – Cheapest shortcut remote for artists
Budget friendly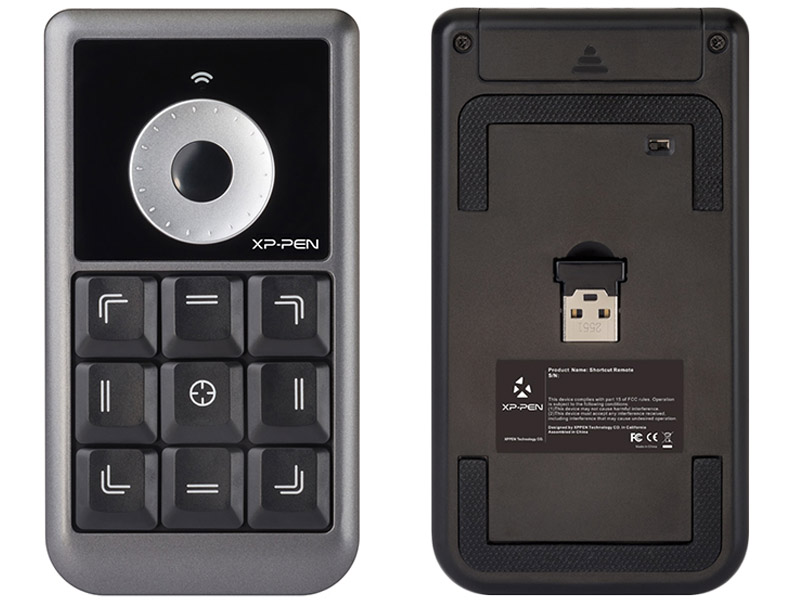 Xp Pen AC 19
The most affordable shortcut remote, as good as some premium shortcut remotes, comes with wireless connectivity and overall does its job well.
• Buttons: 9 buttons, 1 dial, 1 mode switch button
• Colors: Black
• Connection: Wireless/ Wired
If you have observed carefully, you must have noticed that most of the shortcut accessories on the market cost as much as an graphics tablet. Which makes them out of reach for newer artist who wants a shortcut remote but are on a tight budget.
Well, with the arrival of Xp Pen AC19 shortcut remote, that is not the case anymore.
The Xp Pen AC19 costs a fraction of other shortcut remotes on the market, in spite of coming with almost 90% of their features.
It has got a total of 9 programmable shortcut buttons, as well as a physical rotating dial located right above the buttons.
The dial allows you to zoom, rotate, pan, scroll, and change the size of the brush or eraser. The button at the middle of the dial switch between five different modes(rotate, zoom etc.).

The Xp pen shortcut remote connects to your computer wirelessly using a USB wireless receiver. There is a cutout at the base of the remote to store the USB receiver when not in use.
Although the remote does not feel super high quality (which is okay at this price point), but it is well laid out and does its job well.
The remote uses a AAA non-rechargeable battery. Although the battery lasts a very long time – a rechargeable battery would have been more convenient.
Pros – Xp Pen AC19 shortcut remote
Excellent value for money (has almost everything that premium shortcut remotes have, at less than half the price)
Well laid out and does its job well
Good customization options
Very satisfying scroll wheel
Has rubber strips at the backside
Wireless connectivity via USB receiver
Storage space at the back for the USB receiver
Works well with all applications
Stable and easy-to-use driver
Cons – Xp Pen AC19 shortcut remote
Plastic body
Flimsy buttons
No rechargeable battery (uses AAA battery)
Buy Xp-Pen AC 19 artist remote on Amazon → Xp-Pen Store →
6. Clip Studio Tabmate – Handheld remote controller for (Clip Studio Paint) artists
For clip studio users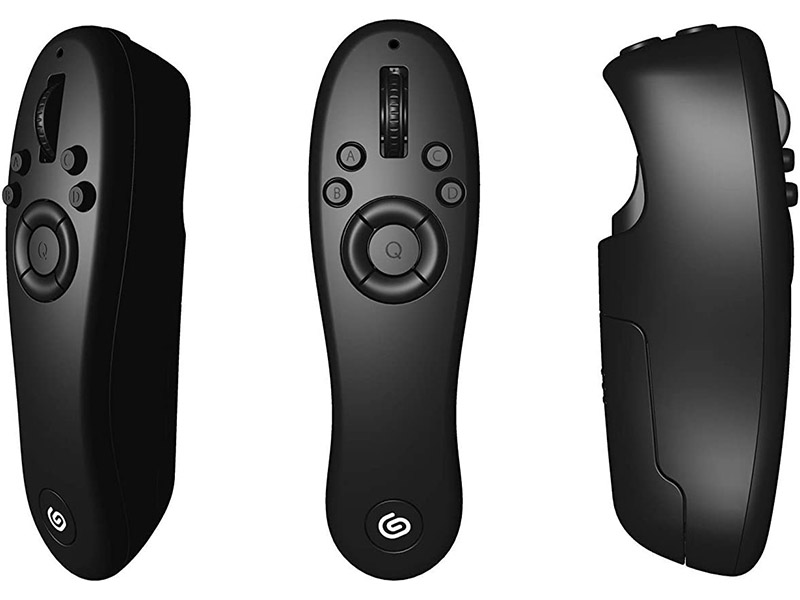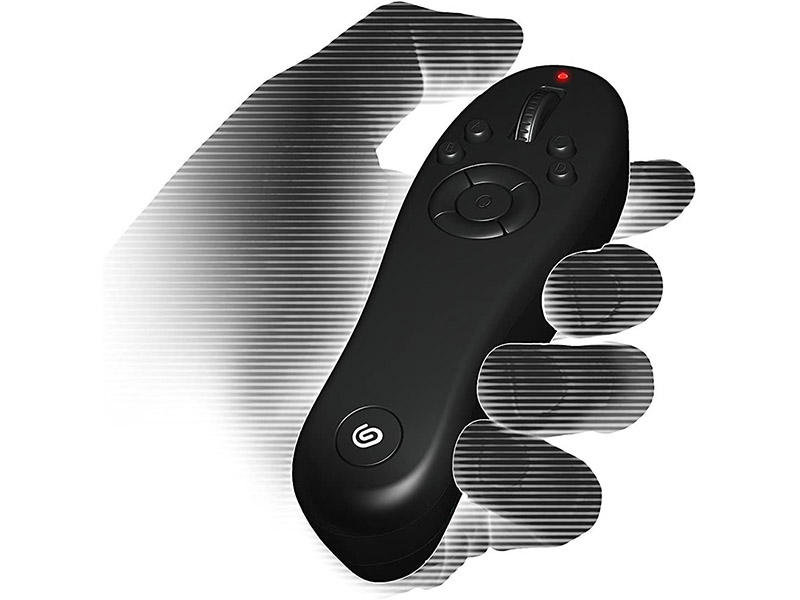 Clip studio Tabmate
Specifically designed to be handheld and made to work with Clip Studio Paint drawing software/app, has a compact ergonomic design and well-placed shortcut buttons.
• Buttons: 13 buttons, 1 scroll wheel, 1 mode button
• Colors: Black
• Connection: Wireless only
While other shortcut controllers are primarily made to be kept on top of desks and can be handheld if they are small enough.
The Clip Studio Tabmate is made to be handheld. It comes with a rounded cylindrical design that is contoured at all the right places to perfectly and comfortably fit in your hands.
It has a total of 13 fully programmable shortcut buttons that can be set to any shortcut of your choice. There is also a wheel that can be used for changing brush sizes, zoom, rotating, and so on.
What really makes the Clip Studio Tabmate stand out is the positioning of the buttons.
Most of the buttons are located on the upper half at the front, 2 at the top edges, and one button at the rear.
All these buttons are super easy to access while holding the remote in your hand.
The Tabmate has a fully wireless operation and works on either a Bluetooth connection or by using the included UBS receiver.
It supports Windows/ Mac as well as Android devices.
What is really cool about the setup is, that you do not have to install any driver in order for Clip Studio Tabmate to work. The Clip Studio Paint drawing program has an inbuilt settings panel for the Tabmate remote.
But that also means the Clip Studio Tabmate does not work with any other application except for Clip Studio Paint.
Overall if CSP is your primary drawing application then Clip Studio Tabmate is the right choice for you.
Pros – Clip Studio Tabmate
Compact and ergonomic
Designed to be handheld
Very convenient and thoughtful positioning of the buttons
13 fully programmable buttons
Good feedback on the buttons and scroller wheel
Wireless operation (Bluetooth and USB receiver)
One of the best ways of avoiding hand fatigue or carpal tunneling
Supports multiple modes – can have up to 4 different sets of button settings
Dedicated mode switch button at the bottom
Works with Windows/Mac/Android
No need for downloading any driver (built-in settings in Clip Studio Pro drawing app)
Cons – Clip Studio Tabmate
Only works with Clip Studio Paint
Expensive
Uses one AA battery (not rechargable)
Scroller whell sensitivity cannot be changed
Buy Clip Studio Tabmate on Amazon →
7. Contour Design Shuttle Pro V.2 – Ergonomic shortcut pad
Dual dial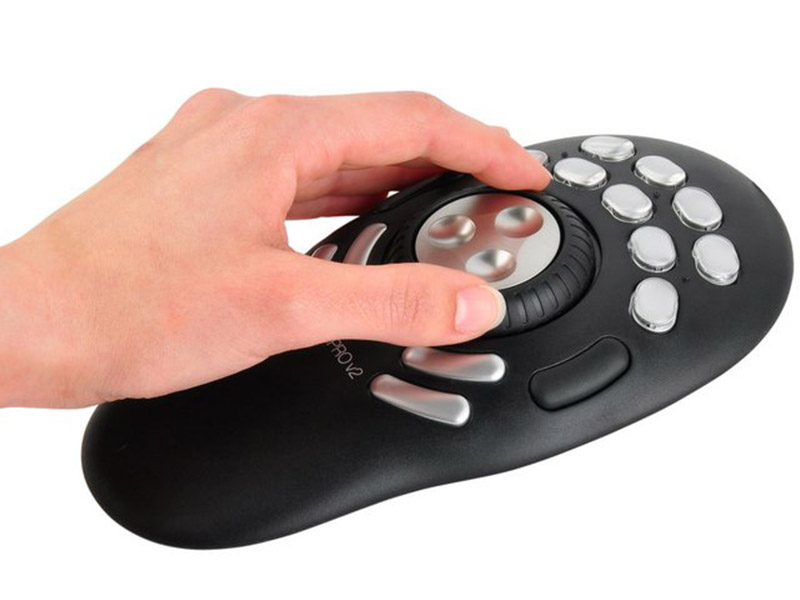 Shuttle Pro V2
A serious tool for pro artists, designers, and editors. Has 15 programmable buttons as well as dual dials as well as a large palm rest area for perfect ergonomics.
• Buttons: 15 buttons, 2 dials
• Colors: Black
• Connection: Wired
The Shuttle Pro V.2 is primarily made for video editing but it is a perfect tool for many other applications. It has a total of 15 customizable buttons with not one but two dials.
The buttons and dials can be programmed to any shortcut of your choice through the driver settings.
Button layout
The buttons are divided into three separate groups.
There are nine buttons at the top which are similar in shape and size. The next two buttons are placed on either side of the dial.
The last four buttons are placed below the dial at an angle. All the buttons are easy to reach and have a sharp distinct click.
The driver is easy to navigate and the whole setup process takes just a couple of minutes. The inner ring rotates 360° whereas the outer ring is spring-loaded.
It connects to the computer using a USB cable with no option for wireless connectivity. It has a fairly big footprint and takes up some extra space on the desk. The Shuttle Pro V2 has an ergonomic design and fairly big palm rest – in fact, the whole lower half of the device is just the palm rest.
The nine buttons at the top can be popped off and you can place custom notes inside them, which makes it easy to recognize what function the buttons are assigned to.
Pros – Shuttle Pro V2
15 Buttons
2 dials
Easy to customize
Support all windows and Mac devices
Wired connection using USB
Bigger footprint – takes extra space on the desk
Ergonomic and has a large palm rest
Good build quality
Comes with stickers which can be placed under the keycaps
Cons – Shuttle Pro V2
Expensive
Okish driver layout (not that user friendly)
Buy Shuttle Pro V2 on Amazon →
What are some alternatives to using the Shortcut remote
Well, using the keyboard for your shortcut need is the first obvious choice.
Alternatively, you can get a drawing tablet that offers a lot of shortcut options. We would recommend you to check out the full reviews of Xp Pen Deco Pro or the Huion Inspiroy Keydial KD 200.