Disclosure: As an Amazon Associate EssentialPicks earn from qualifying purchases.
---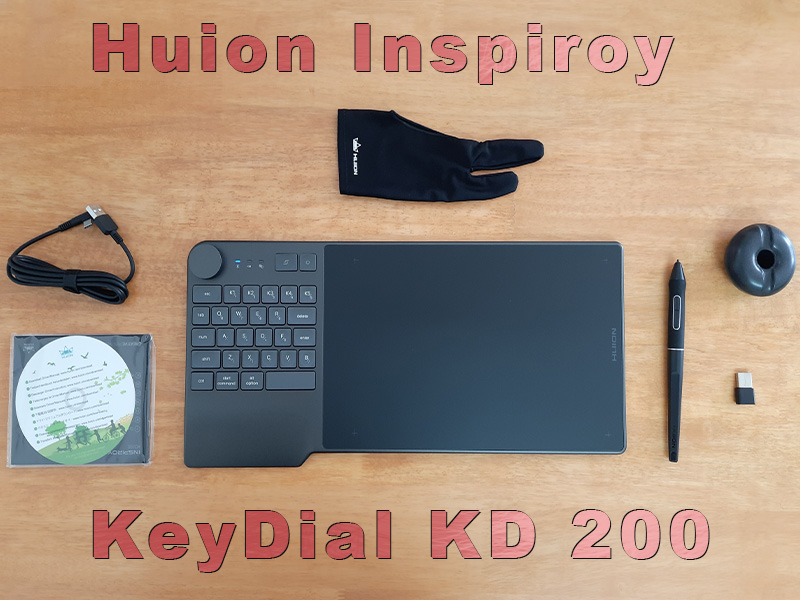 We have all seen those drawing tablets with a large working area in the middle and a few shortcut buttons towards the top or the left.
The majority of the drawing tablets follow the same old boring design.
As someone looking to buy a new drawing tablet, you feel like you have limited choices (in spite of having plenty of options) – as they all essentially look the same.
Well, Huion recently came with their Inspiroy Keydial KD 200 (Amazon) drawing tablet which has been getting a lot of attention from the artist community as it has some really interesting features.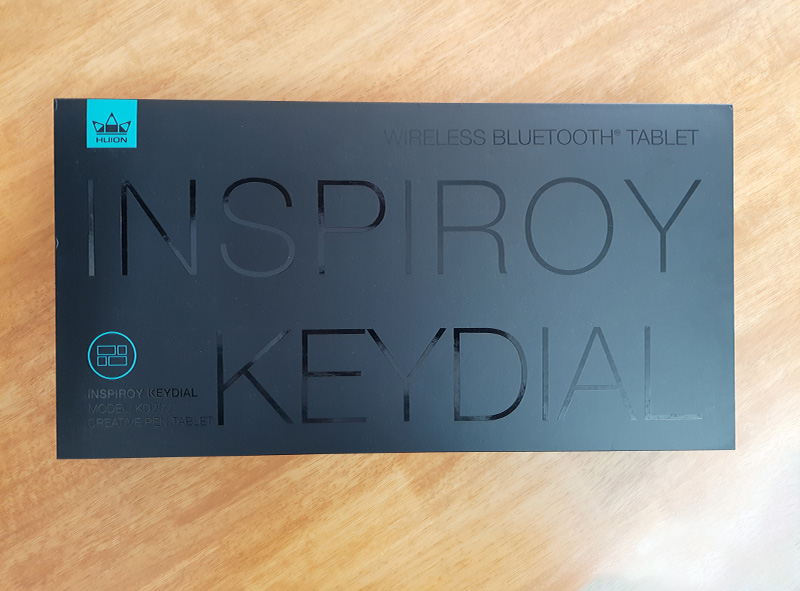 The Huion Inspiroy Keydial KD 200 is a medium-sized drawing tablet that comes with a mini-keyboard attached to the left.
Not only does it look very different from any other graphics tablet out there, but it also seems way more practical.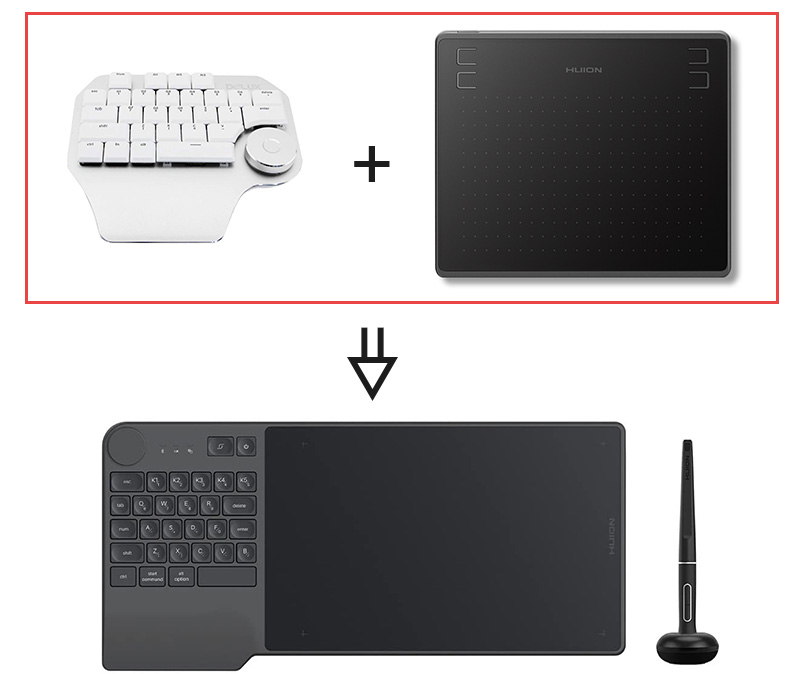 To deal with the lack of shortcut buttons many artists use external shortcut remotes and other third-party devices – alongside their drawing tablets.
The Huion Keydial KD 200 essentially merged these two devices into one and created a better solution that works flawlessly.
We are publishing this review after using the tablet for a month as my main drawing device.
In this review, you will get in-depth information about everything Huion Keydial KD 200 has to offer. We would also share our thoughts on the practicality of the mini-keyboard and how much it helps during the drawing process.
By the end of the article, you will know exactly whether you should get the Huion Inspiroy Keydial KD 200 or not.
Features list (spec. sheet)
Here is everything this tablet has to offer.
Huion Inspiroy Keydial KD 200
Dimension
394.5 × 187.7 × 8.5mm
Active Drawing Area
226 x 142.88mm
(8.9 x 5.6 inches)
ie. Medium size
Stylus
Huion PW 517
(battery-free)
Pen Pressure
8192 Levels
Pen Tilt
up to ±60° (degrees)
Tablet Resolution
5080 LPI
(lines per image)
Stylus Report Rate
220 RPS
(reports per second)
Shortcut Buttons
Dial + mini-keyboard
(5 programmable keys)
Connectivity
Wired
Wireless (via. dongle)
Bluetooth 5.0
Battery
1100 mAh
(18 hours battery life)
Charging Time
1.2 - 3 hours
(depending on the power output of your computer)
Weight
1.43 lbs
650 grams
Check Price
Amazon
Huion Store

Design – Huion Inspiroy Keydial KD 200
So far it is clear that the design is one of the highlights of this tablet.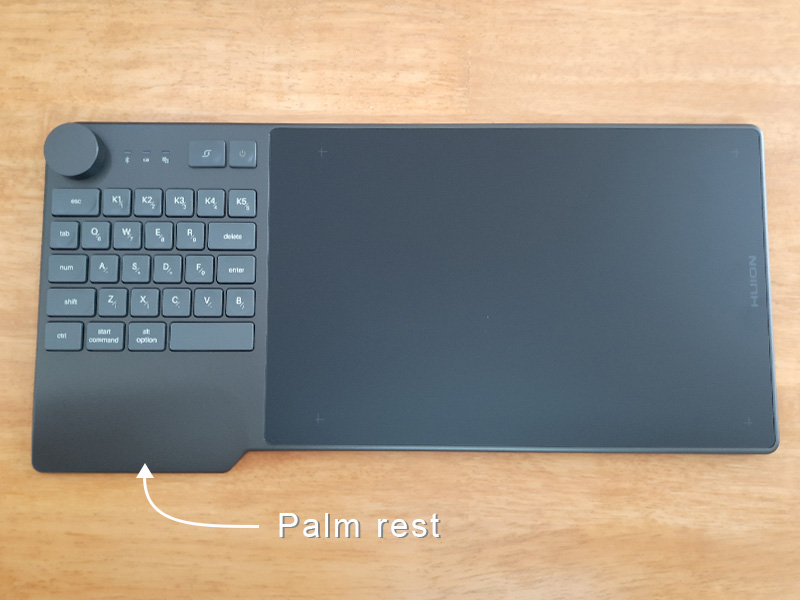 Its overall dimensions are 394.5 × 187.7 × 8.5 mm, making it easy to carry in your backpack. It measures only 8.5 mm in thickness, making it one of the thinnest pen tablets out there.
At the front, you have the drawing area on the right, which is accompanied by a mini keyboard located on the left.
There is a handy dial controller placed at the top left-hand corner of the tablet. Plus there are LED indicators and Power button located right beside it.
At the lower end of the palm rest, there is a slight slope that acts as a palm rest.
In a natural drawing position where your right hand is busy drawing with the stylus, the slops work as a natural resting position for your left hand.
Build material and Build quality
Even though the whole tablet is made of plastic, but still – the tablet overall feels strong and well put together.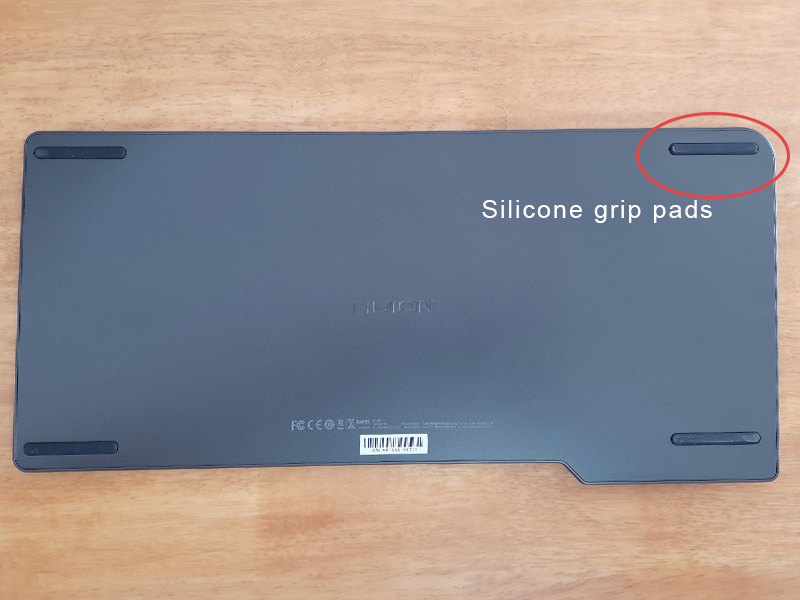 On the back, you will find 4 grip pads located on the four corners with a subtle "Huion" branding at the center.
The front plastic portion wraps around the whole front face and finally meets the backplate.
This two-piece design gives it better structural rigidity. Also, because of this, there are no hard edges or cutouts visible on the sides and corners.
Drawing Area and Surface
Huion Inspiroy Keydial KD 200 comes with a drawing area measuring 8.9 x 5.6 inches. This is considered a medium-size tablet.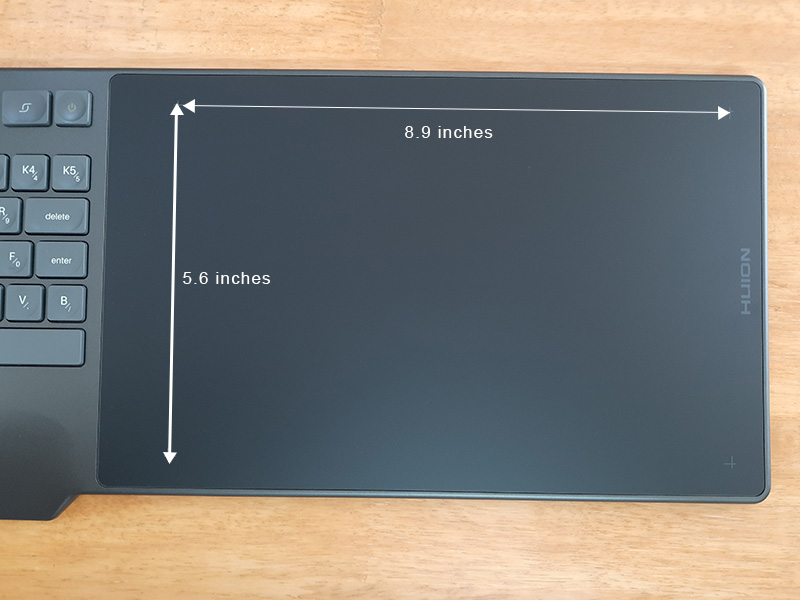 As an artist, you might be aware that we should select the size of the drawing tablet depending on the size of our computer screen.
This medium size drawing area on Keydial KD 200 is perfect for laptop screens and monitors measuring 13 inches to 24 inches.
Next, coming to the drawing surface.
Huion has been making drawing tablets for quite a while, during which period they have perfected their drawing surface.
Like all other drawing tablets, the Keydial KD 200 comes with a textured drawing surface.
Why do you need a textured surface?
Drawing on a plastic surface with a stylus – that also has a plastic nib and you can imagine, that the stylus will slide around too much.
the textured surface on the surface has microscopic irregularities which provide resistance to the tip of this stylus. It results in controlled stylus movements.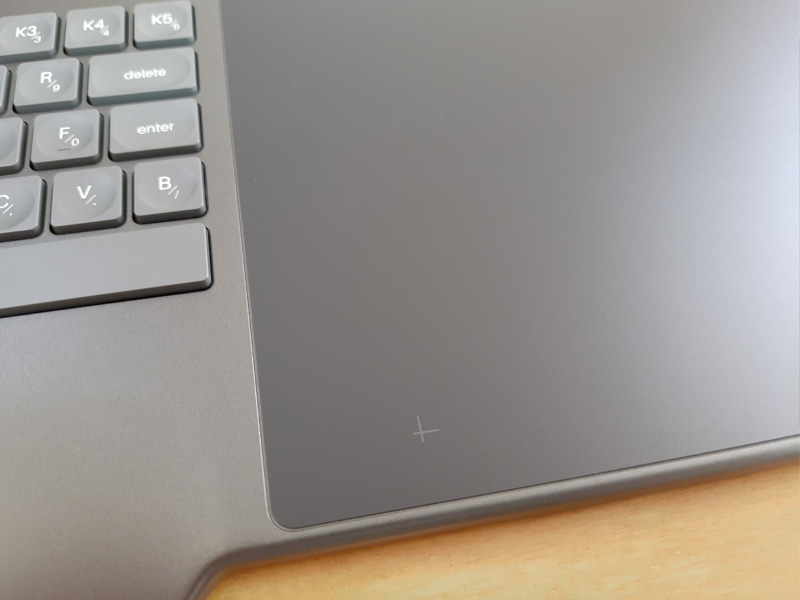 The texture on the surface of Keydial KD 200 is very balanced and is neither too aggressive nor too soft.
Here is what it sounds like when you drag your pen along the surface.
The surface texture is designed to emulate the surface of a paper. So not only do you hear the nice scratchy sound, but it also feels sort of like drawing with a pencil on paper.
On normally touching the drawing surface with your fingertips, it feels smooth and normal, the texture is only felt when using a stylus.
Scratch resistance
The drawing surface on Huion Inspiroy Keydial KD 200 does have a scratch-resistant drawing surface. It protects the tablet from getting scratches from the pointed nib of the stylus.
In addition to being scratch resistance, the drawing surface also has anti-fingerprint properties.
Huion PW517 stylus – Design and ergonomics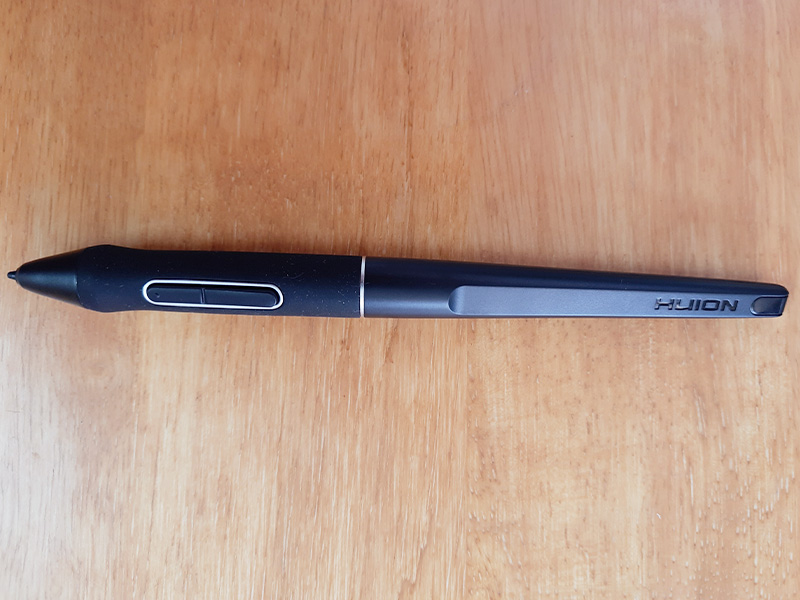 The included Huion PW517 is a battery-free stylus and comes with 8192 levels of pressure sensitivity along with tilt detection.
Since it is made of plastic the stylus is incredibly lightweight, but at the same time, it has a good build quality that makes it feel strong and robust.
The pen has an ergonomic shape with a wider front and a tapered tail end. Its center of the weight is also located towards the front.
The wider front end with forward-weight distribution contributes to the handling of the stylus. It feels incredibly comfortable to hold and draw with.
To help with the grip, the stylus comes with a silicone grip that is present towards the front.
Stylus performance – PenTech 3.0
Over the last few years, we have tried multiple Huion styluses, although there were great in terms of tracking and pressure sensing, there was still some fine-tuning needed.
The new Huion Styluses with their PenTech 3.0 is a massive improvement compared to their previous stylus. This update focuses on things like initial activation force and greater tracking accuracy.
I have used styluses from all the major tablet brands and in my list the Huion PW517 gets the spot in the top 5, sitting comfortably along the likes of Wacom Pro Pen 2 and Apple Pencil.
The pen tracking on this stylus is great with a fast and accurate response.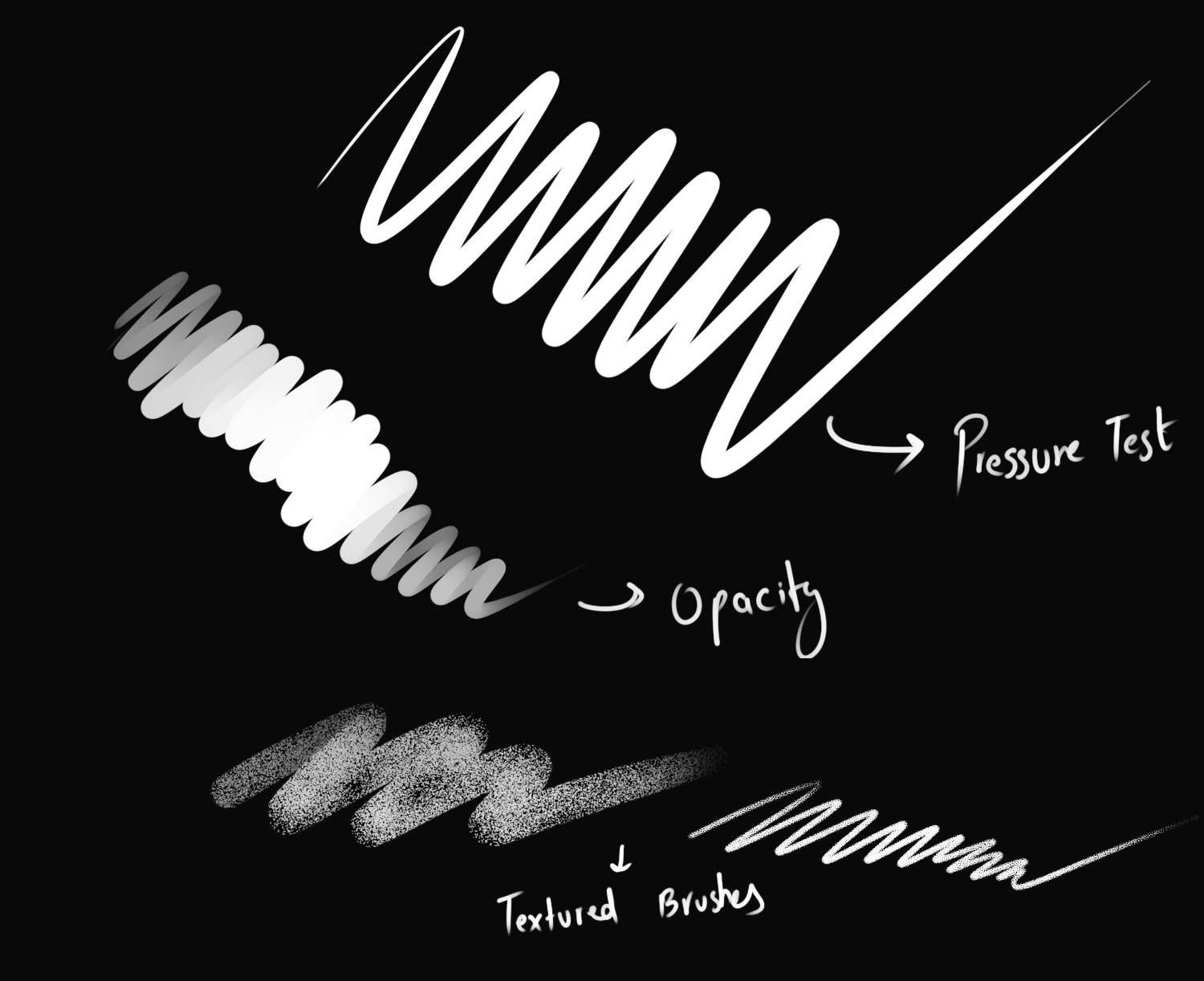 Similarly, the pressure sensitivity performs as expected. Since it has 8192 levels of pressure detection, the stylus responds beautifully to minor changes to pressure.
Further, in the pen settings, you have the ability to customize the pressure curve of the stylus to suit your personal drawing style.
As far as tilt sensing is concerned, I don't personally use this feature much, but I tested it and it seemed to work fine.
One of the biggest changes that we found in Huion PW517 compared to older Huion Styluese – is how it responds to light touches.
Unlike older modes where you have to apply some pressure for the pen to start drawing. The Huion PW517 draws stroke as soon as you touch the surface.
This might feel like a small thing, but since styluses play such a huge part in digital drawing, it makes a lot of difference in real-life usage.
Also, the tip of the stylus does not feel springy, which also makes the drawing feel better.
Buttons on the Huion PW 517
The Huion PW 517 comes with two shortcut buttons located on the side of the stylus.
The buttons can be programmed to any shortcut of your choice. You can use it to switch between pen and eraser, left/right-click, as a hand tool, color selector tool, or whatever else you want.
In order to locate them easily, the buttons are raised above the surface of the pen.
The buttons themselves are very tactile and give a distinct feel on being pressed.
Circular Pen Stand
When you keep the stylus on your desk, it might roll off and get damaged.
To hold the stylus safely while it is not in use, the Huion Inspiroy Keydial KD200 comes with a circular pen holder.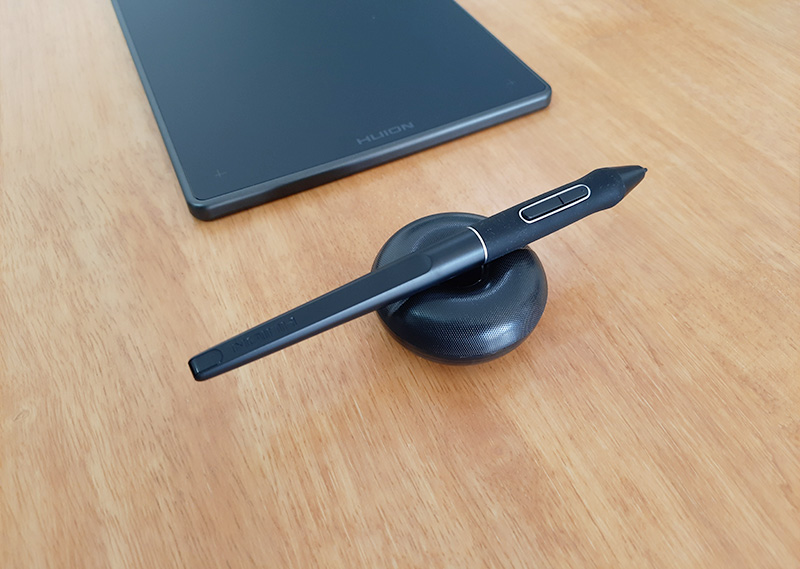 You can store the stylus either vertically (as a pen stand) or in horizontal orientation.
Since the center of the weight of the stylus is towards the front, the pen is super stable when kept in a vertical position in the pen holder.
The pen holder is made of plastic and kind of feels cheap, but it is functional and does its job well.
On the back of the pen holder, you have a silicone ring to stop the pen holder from slipping around on smooth surfaces.
Extra pen nibs and nib remover tool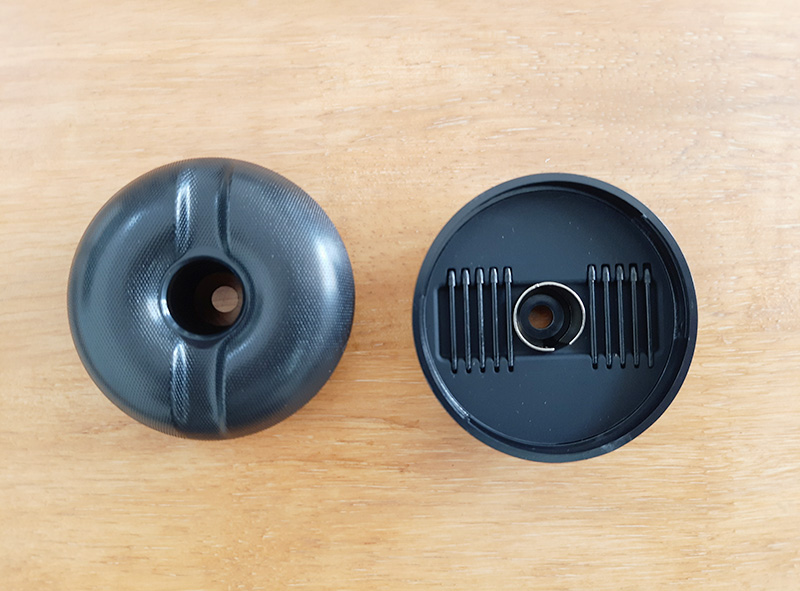 On twisting the pen holder, it opens up to reveal a neat little storage space.
Inside the pen holder, you will find 10 extra pen nibs as well as a circular nib remover tool, all securely stored in a padded storage compartment.
The nib remover tool is convenient and makes the nib replacement fast and easy.
Huion Keydial KD 200 – Shortcut buttons and mini-keyboard
It is one of the key features of this tablet and this is what separates it from all the other tablets on the market.
On the left side of the tablet, you would find an extensive shortcut section that comprises programmable shortcut buttons, a rotating dial, and keyboard buttons.
Programmable shortcut buttons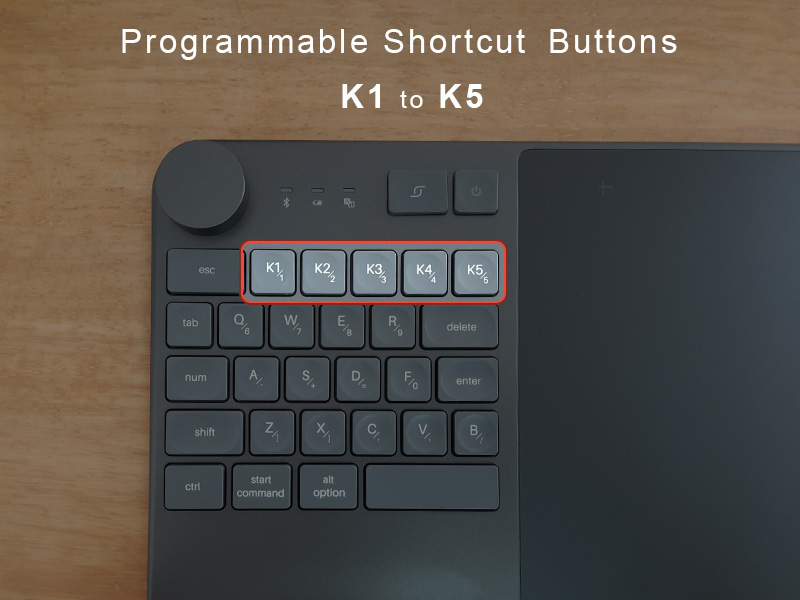 The Huion Inspiroy Keydial KD 200 has five fully programmable buttons.
They are located in the top row – right next to the escape key, from K1 to K5.
These five buttons can be programmed to any shortcut of your choice. You can set them to perform actions such as keyboard combination, emulate mouse keys, open a program, pan/scroll or use them as a multimedia key.
These shortcuts are application-specific, meaning – you can set different shortcuts for different applications.
Rotating shortcut Dial controller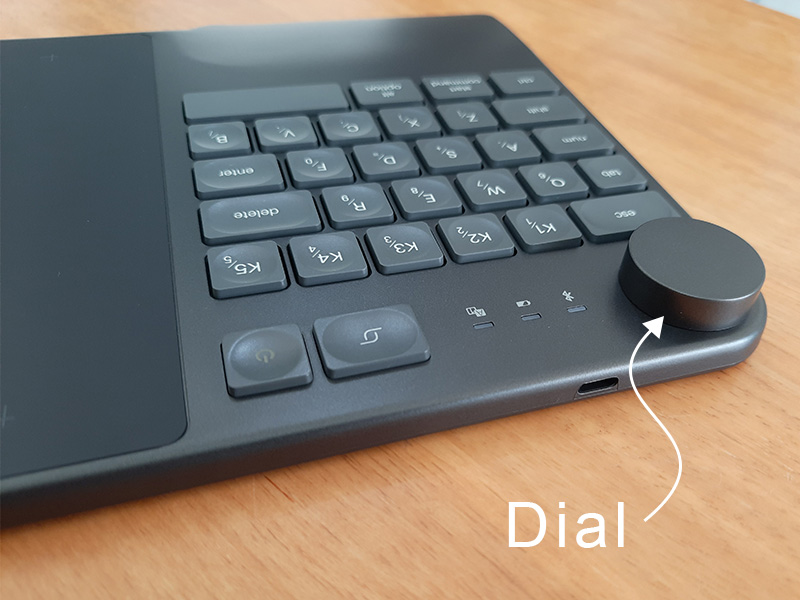 On the top left corner of the tablet, you have the rotating shortcut dial which is used for advanced shortcuts.
With the help of the dial, you can perform actions like zoom, scroll, pan, rotate, change the size of the brush and eraser and s0 on…
At one time, the dial supports three modes. You can switch between different modes such as zoom, rotate, and brush size with the help of the "mode switch" button located right next to the power button.
The three default modes are as follows…
Zoom In/Out
Adjust brush size
Scroll Up/Down
But you are free to change the default shortcuts to any shortcut of your choice. For example in animation-based software, you can use them to scroll across the timeline or you can use the dial as a volume controller.
During the years, I have tried multiple tablets with rotating shortcut dials, but what I like about Huion's implementation is their dial makes a soothing click sound which feels really good.
It is also important to note that – the sensitivity of the dial can be changed in the driver, which is nice.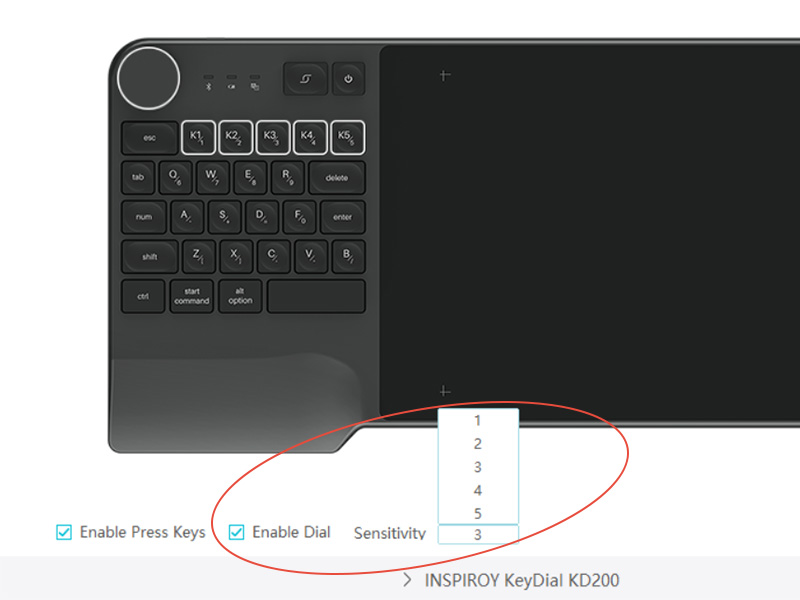 Mini-Keyboard
These are non-customizable standard keyboard buttons that have been integrated into the tablet.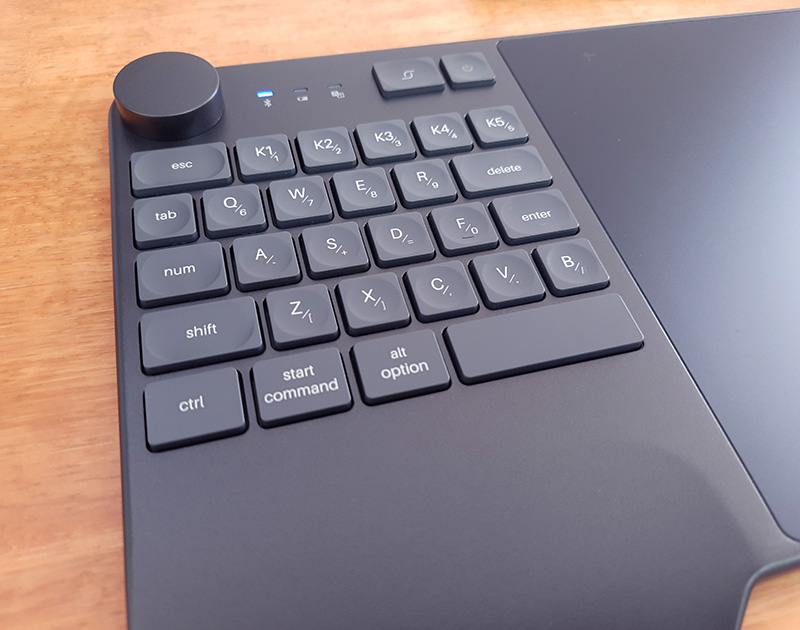 In most creative applications a majority of shortcut combinations are located on this small region of the keyboard, so having a half keyboard makes sense and is very practical.
You have all your standard buttons such as ESC, Tab, Num, Shift, Ctrl, Start/Command, Alt/Option, and Spacebar.
Not only that, but you also have the delete and enter keys which have been smartly placed even in this half keyboard design.
So in total, you have 5 programmable buttons, an advanced shortcut Dial, and a mini-keyboard.
These options eliminate the need for any full-size keyboard and help streamline your workflow and simplify your drawing setup.
LED indicators on the tablet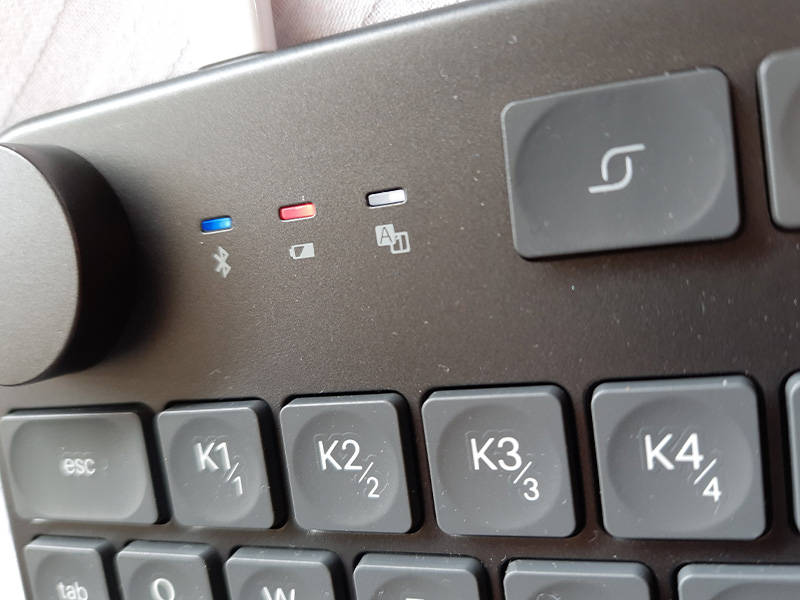 There are three LED lights on the tablet.
• Wireless/Bluetooth indicator – Pulsating blue light means it is in pairing mode. Solid Blue light indicates it is connected.
• Battery Indicator – Pulsating Red (low battery), Red (charging), Green (charged)
• Num indicator – White light (alternative keys activated)
Driver and tablet settings
In order for the tablet to function properly, you need the Huion Inspiroy Keydial KD 200 tablet driver.
The driver is free and the installation process is fast and easy.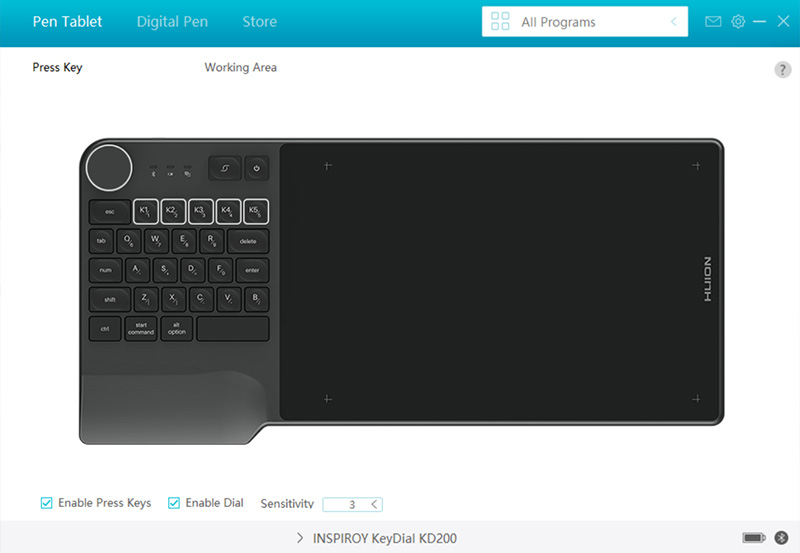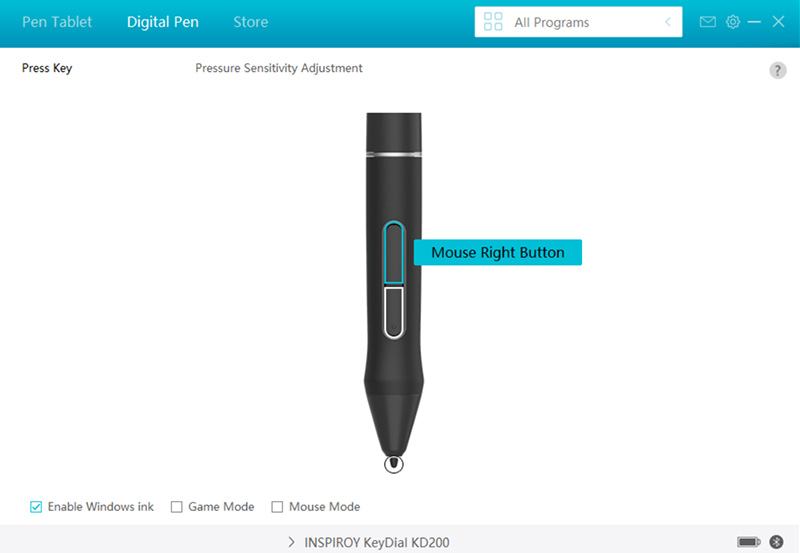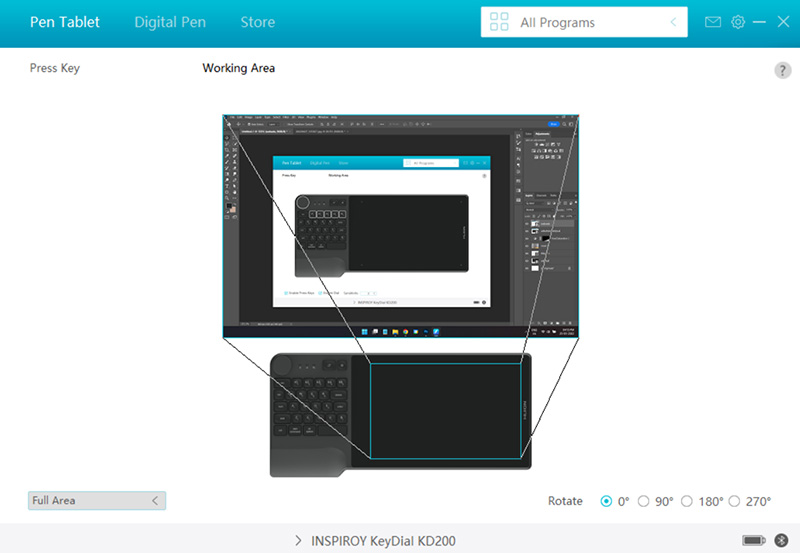 Pen tablet drivers help your computer understand location, pressure, and pen tilt data. Additionally, they allow you to customize the tablet.
The driver allows you to change the default shortcuts of 5 programmable buttons as well as change the default dial functionalities.
As we mentioned the driver also allows you to change the sensitivity of the Dial.
You can also customize the pressure response of the stylus and change the 2 shortcut buttons on the styles.
There is also a game mode for the pen which is great for OSU players who want a fast response from the tablet.
Overall, the driver is stable and packed with features, although – the layout and placement of buttons and menu could be improved (It may happen in future updates).
Connectivity – Wired/wireless/Bluetooth
The Huion Inspiroy Keydial KD 200 is the first tablet from Huion that comes with Bluetooth (5.0) connectivity.
Having a tablet connected via Bluetooth is hugely beneficial as you do not carry around your wireless connector everywhere you go.
But for the added option, the tablet does come with a wireless dongle. So overall two ways of wireless connectivity.
In addition to wireless connectivity, you also have the option of a wired connection. The box comes with a USB-A to USB-c connector cable.
While in wired mode, the tablet charges itself. So when the battery discharges, simply plug in the cables and continue working.
The connectivity speed and tablet response are the same across wired/wireless connections – you will not experience any lag in wireless mode when drawing.
Battery capacity, charging, and standby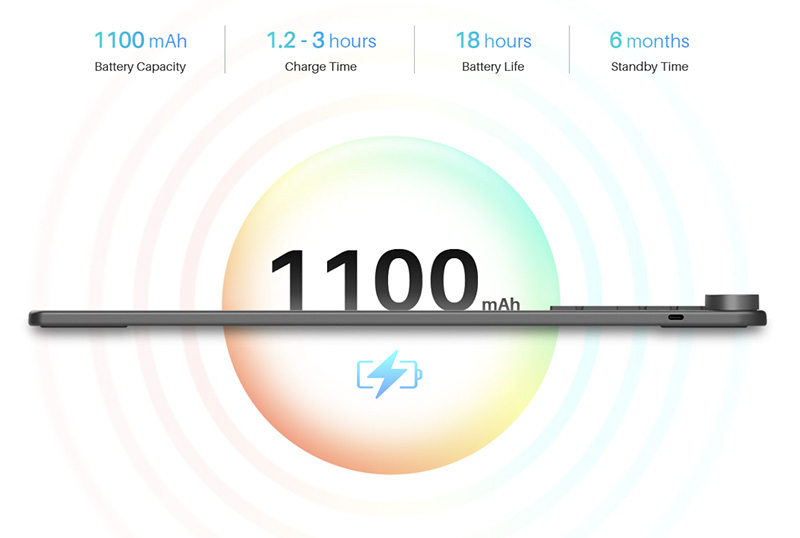 The Huion Keydial KD 200 has 1100 mAh of battery capacity which takes 1.3 to 3 hours to charge (depending on the power output of your laptop).
On a single charge, the tablet lasts up to 18 hours. The device also has a sleep timer that powers off the tablet when not in use (or when you forget to turn it off).
Power Button
The power button is located on the top right of the mini-keyboard area.
The neat thing with the power button is that – in order to turn the drawing tablet on or off, you need to long-press the power button for a few seconds.
It helps avoid accidental power on/off situations.
Operating system support
The Huion Keydial KD 20o works with both Windows and Mac devices. Additionally, it also works with Android devices.
With Android devices, you simply connect the tablet and start working without needing to install the driver. But the shortcut buttons may not work depending on the Android device you are using.
Accessories – What do you get in the box
Here is the list of everything that comes included in the box of Huion Inspiroy Keydial KD 200.
Pen tablet – Huion Inspiroy Keydial KD 200
Stylus – Huion PW 517
Pen Stand
10 extra pen nibs
Nib remover tool
Wireless connector
USB-C to USB-A cable (150 cm/5 ft length)
Drawing
User manual
Although the box comes with all the basic accessories you need, but you may have noticed that – Wireless connector and the USB cable come with a USB-A connector.
I personally have a laptop with only USB-C ports, so I feel like a USB-A to USB-C adapter should also be included in the package.
Drawing glove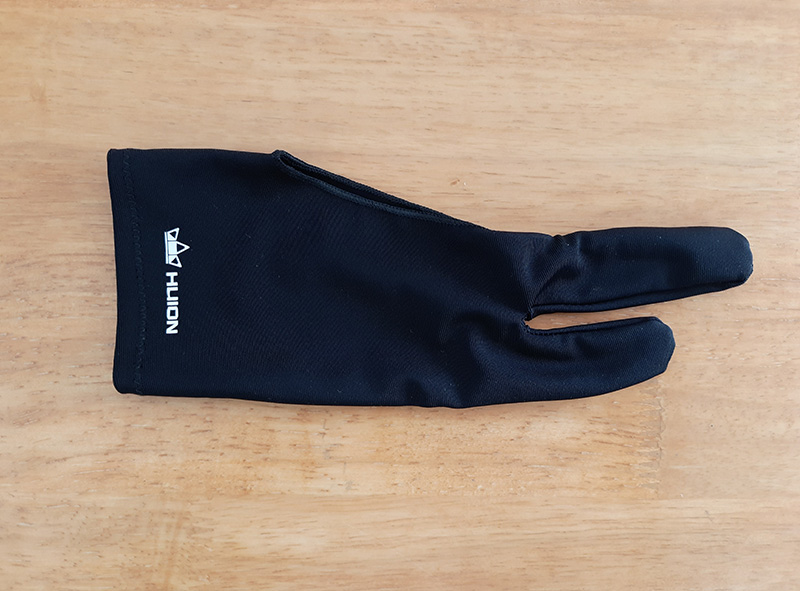 As we mentioned earlier, the tablet comes with a Huion branded 2-finger drawing glove.
The glove is made of good material and during our month-long uses, it did not get damaged and neither the stitching came off – which is good.
Huion Inspiroy Keydial KD 200 – Detailed Pros and Cons
Pros – What we liked
Large drawing area
Super thin profile
Excellent build quality (even though it is made of plastic)
Battery-free stylus
Pentech 3.0 shows significant improvement over older styluses
Excellent stylus performance, particularly in the initial activation force
High quality drawing surface does not get scratched easily
Multiple connectivity options – Wired/wireless/Bluetooth
No lag in wireless connectivity
Long lasting battery life
Tablet charges in wired mode
has sleep timer to save battery
Mini keyboard is very handy
Palm rest below the mini-keyboard is a nice touch and helps greatly in proving comfort
The quality of buttons on the mini-keyboard as well as the stylus is great
Dial controller produces a satisfying click
Sensitivity of the dial can be customized
The Huion Keydial KD 200 driver is very stable
The mini-keyboard can also be used for other tasks such as playing games or a simpler Streamdeck alternative
Tablet has a fast mode for playing games like OSU!
Comes with all the required accessories
In-depth tablet documentation on the website
Cons – What needs improvement
Due to the mini-keyboard, the tablet is a fair bit longer
This is not the tablet for left-handed artists (which is very sad – should have come with a detachable mini-keyboard)
The package does not include a USB-A to USB-C adapter, so people with USB-C connectors on laptop – you need to get your own adapter
Only 5 programmable buttons (K1 to K5), ideally all the buttons should have been programmable, but no.
The mini-keyboard is not backlit
Bad grip on the dial (it should have had some corrugated structures or some grippy material at the edge of the dial)
When using the dial, you will notice the dial scrapes the tablet surface a tiny bit – which is not ideal.
The stylues has no eraser at the back – some people really care about that (i personally don't)
User interface on the tablet driver is clunky and needs improvement
Final thoughts – is the Huion Inspiroy Keydial KD 200 the right drawing tablet for you?
So far we have seen that the tablet comes with an excellent drawing surface and a top-notch stylus and there is nothing really to complain about the drawing experience on this device.
Choosing this drawing tablet over others all comes down to the mini-keyboard part.
Initially, when I got my hands on this device I knew the shortcut buttons will help, but then I started using it and it all made sense.
I really liked how they have managed to squeeze in all the key buttons.
Using Photoshop with Huion Keydial KD 200
As a Photoshop user, I was delighted to see that they have been able to squeeze in the Enter and Delete buttons.
In practical uses, I was very comfortable with the setup and did not need to touch my full-size keyboard. And as a full-size keyboard user, I can assure you it achieves its purpose.
Overall verdict, I absolutely loved using the Huion Keydial KD 200 with Adobe Photoshop.
Using Zbrush with Huion Keydial KD 200
After a few days in photoshop, I switched to Pixologic ZBrush for 3d sculpting.
I was comfortably using the mini keyboard for the most part.
But unlike other software, Zbrush has long complex combination shortcuts (for example B-C-L key combination for selecting the clay brush) and in situations like this, I wish all the buttons on Huion KeyDial 200 were programmable instead of just 5.
So instead, I set the 5 programmable buttons to my 5 most used brushes.
Overall, for 3d sculpting, I found the Huion Keydial KD 200 setup to be less convenient than using my tablet and a full-size keyboard.
Is Huion KeyDial KD 200 the right tablet for you?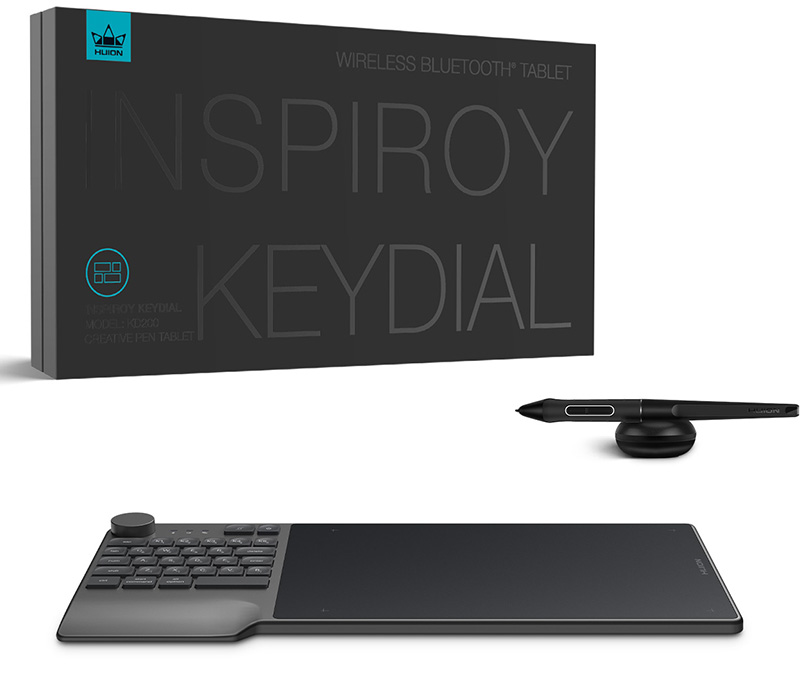 So, in order to get an idea of whether Huion Keydial KD 200 would be a good choice for you or not. You need to list all your most-used creative software.
Then look at the shortcut layout of those software and figure out whether a half keyboard + 5 programmable buttons and a Dial can handle your shortcuts needs.
The Huion Inspiroy Keydial KD 200 is one of a kind drawing tablet, if it fits your creative process and you can see the benefits that come with having a mini keypad attached to the tablet, you should definitely come get it.
Buying options (Where to buy?)
• Get Huion Inspiroy Keydial KD 200 on –
– Similar tablets to check out (opens in new tab)
Xp Pen Deco Pro
Xencelabs Pen Tablet