Disclosure: As an Amazon Associate EssentialPicks earn from qualifying purchases.
---
iPads are one of the go-to choices for digital artists. It is the most powerful and compact drawing device out there and is used by thousands of artists on a daily basis.
Unlike traditional drawing tablets that are specifically made for creating digital art, iPads are more of an all-in-one device that are designed to appeal to multiple use cases.
Other than digital art, iPads are used for many different tasks such as browsing the web, watching videos, playing games, attending web classes, and so on…
The good news is – there are a number of third-party accessories that enhance the capabilities of the iPad and make it a better device for artists.
For this article, we have handpicked some of the essential addons for iPad that will take your iPad drawing experience to the next level.
Why do you need accessories for your iPad (as an artist)
Well, there is no problem rocking with just the bare-bone iPad and the Apple Pencil without using any external accessory.
But if you are a practical person you kind of wanna protect your device from scuffs, scratches, and accidental drops.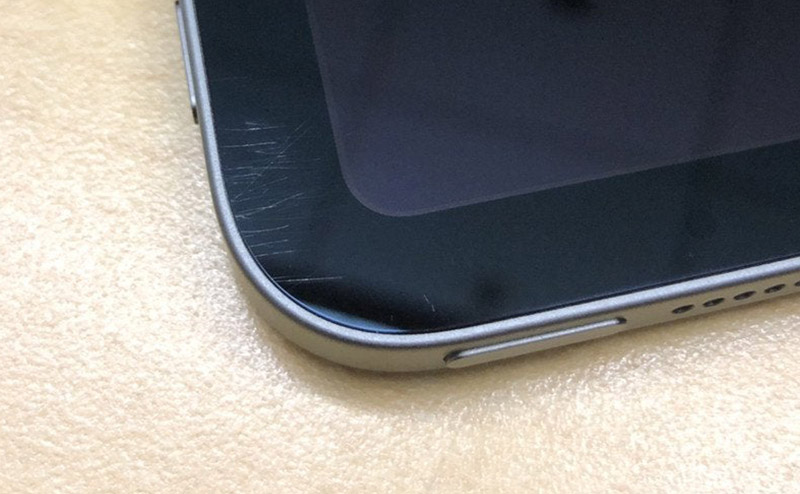 You also wanna enhance the drawing feel of the Apple pencil which you can do by applying accessories on your iPad and/or the Apple Pencil.
Next comes the ergonomics and comfort.
If you are someone who spends a lot of time working on iPad – You definitely want to prop up your device at a proper angle that is most comfortable to draw on.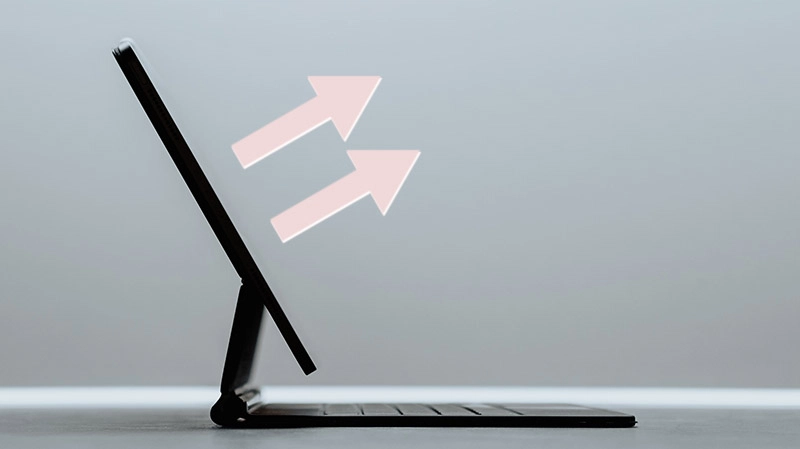 Additionally, you would also want to keep your hands dry on the hot summer days and keep the sweat away from the screen – as it makes the screen sticky and restricts free hand movements.
Well, there are accessories available that help you avoid every single problem that we have mentioned above, plus more.
Below, you will find the list of some of the most common accessories used by artists.
iPad (Pro) and iPad Accessories – Drawing essentials
Before you get the accessories you obviously need the iPad itself.
The iPad is available in 4 variants – the iPad, iPad mini, iPad Air, and iPad Pro.
iPad and the iPad Mini are great choices for beginners and young kids whereas for professionals and serious hobbyists we recommend iPad Air or the iPad Pro.
You can have a look at this very helpful resource to figure out which is the best iPad for your needs.
Now moving on to the drawing accessories for iPad, here are the best ones.
1. Matte screen protector (with the textured surface) – best iPad accessory for artists
Every time when you use the Apple Pencil, the tip of the stylus constantly rubs against the surface of the iPad.
Over a prolonged period, this constant rubbing leaves permanent scratches and marks on the screen. The marks do not go away and don't look good.
The soft blunt tip of the Apple Pencil helps a bit by delaying this wear down of the screen. But in the end, the screen will still get scratched.
Most people who use Apple Pencil on a regular basis recommend getting a screen protector.
There are two types of screen protectors available in the market.
One is the normal glossy screen protector, which is just as shiny as the original iPad screen.
The other option is the matte screen protector with a textured surface. These screen protectors are mostly used by artists as they enhance the drawing experience of the iPad.
By default – iPads come with smooth-shiny screens. Writing on a smooth glass screen with a plastic stylus does not give you enough of a bite.
This results in the stylus feeling a little too slippery – resulting in an underwhelming drawing experiance.
If you have ever used traditional drawing tablets, you would know that – they all come with a textured drawing surface.
The textured surface has microscopic irregularities which replicate that satisfying scratchy sensation (sound and feel) that you get while drawing with paper and pencil.
Textured screen protectors provide very light friction to the stylus tip making it grippy, which improves the overall handling of the Apple Pencil.
In addition to improving the handling, it also changes the surface finish of the screen from shiny to matte.
Matte screens minimize glares and reflection on the screen. This is especially helpful when you are working in a bright outdoor environment or next to a window or light.
So overall, with a textured screen protector you not only get the protection against scratches but also added benefits like matte screen, better stylus handling, and a more satisfying drawing experience.
This cheap and simple plastic film (screen protector) has a lot of advantages and that is why you see them on the screens of most digital artists.
Protects from scratches/ damages
Reduces reflections and glares
Provides texture for better control over the stylus (stylus handling and movement) (ie. improves handling)
2. Artist Gloves for iPad (Pro)
When we draw – our hands are in constant contact with the surface of the iPad.
On prolonged drawing sessions it is natural for our hands to get a little sweaty.
Sweaty hands make the drawing surface feel sticky. They also make it difficult to get a good grip on the Apple Pencil.
Many artists use drawing gloves to counter these issues.
A quality artist's glove absorbs the sweat from your hands and keeps them dry. It stops sweat and oil on your hands from getting transferred onto the iPad.
It also reduces friction between your palm and iPad screen allowing you to smoothly glide your hands over the screen.
These artist gloves are comfortable to wear for a longer duration. They are designed such that they cover only the little finger and the ring finger plus the palm region.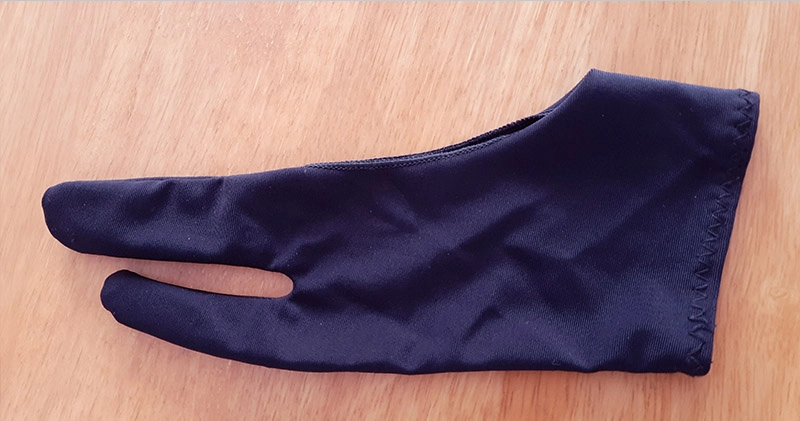 All the important fingers which help you draw – namely the forefinger, middle finger and thumb are not covered by the gloves.
One more advantage of using the drawing glove is they help provide a better palm rejection.
3. Tablet Stand for better ergonomics
Drawing on the iPad while laying it flat on the table is not the most ergonomic position.
Using the iPad in such a position for prolonged periods is an open invitation to nack strain and muscle cramps.
A tablet stand for iPad can really help you position your tablet in a comfortable ergonomic position.
Drawing on a surface that is slightly tilted from the back is a very comfortable position to draw. It reduces strain on your neck as well as your wrists.
There are a number of tablet stands available in the market. Some of they offer multiple adjustment angle others are compact and portable.
When looking for a tablet stand, there are two important points to consider.
One is how strong and sturdy they are – can they handle the weight of your hands while drawing.
The second important point to check is whether the tablet has soft rubbery material at all the contact points for better protection against scratches.
With that said, here are some of the best tablets stands that we recommend for iPad artists.
Often when you place the iPad on the stand, you make finer adjustments to properly position the tablet. Which sometimes leads to minor scuffs.
The soft-touch fabric of the Parblo PR112 (Amazon) tablet stand protects the tablet from random scuffs and scratches.

The fabric top also folds down and provides an additional 35 degrees of tilt angle, which is great.
Once you are done using this tablet stand, you can simply fold it down into a thin sheet of metal and slide it into your backpack.
Other than using the tablet for iPad, you can also use the Parblo PR112 tablet stand for your laptops or other similarly sized devices, making it a multi-functional tablet stand.
As evident from the photographs, one of the best things about this stand is how it folds up into a compact form.
Once you are done using it you can simply put it into the side pocket of your backpack which is super convenient.
Its hinge is super smooth and effortlessly folds and unfolds. The metal build quality provides more than adequate strength to sustain weight.
There are a number of adjustment holes on the base plate that gives you multiple adjustment angles.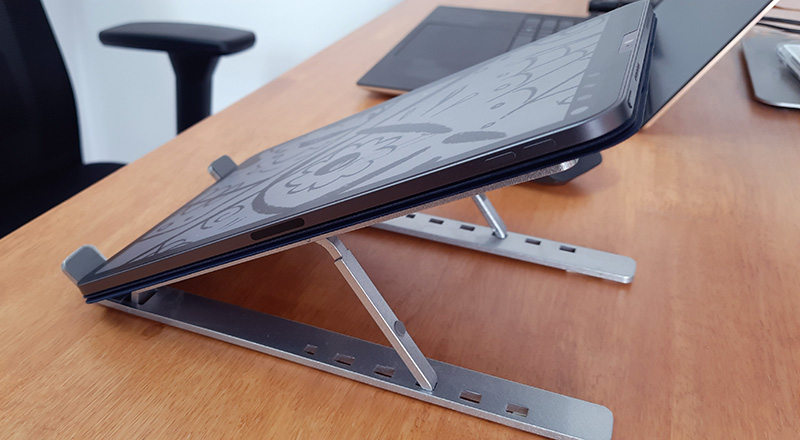 It has got soft rubbery material at all the contact points to better protect your devices against scratches.
This stand is ideal for 11 and 12.9-inch iPad Pro as well as your laptop.
When you get tired of working on your fixed desk setup how about laying on your bed for some change.
The lapdesk tablet stand allows you to use your devices from the comfort of your couch.
It comes with soft cushions at the base that allows you to comfortably place it on your legs while laying down.
There are multiple height settings given for added comfort. Plus the plastic build helps keep the weight down.
This is Apple's default solution that protects your device without making it look bulkier or compromising with its premium look.
The cover-cum-stand magnetically attaches to your iPad and protects its back as well as the screen from scratches.
The inside layer of the cover is made of soft fibrous material that protects it from scratches.
You get two height settings. The one lifts your tablet by a few inches which is perfect for drawing over it.
The second angle props up the iPad in a near-vertical position. This is ideal for watching videos and attending online classes.
Apple Smart folio is available in multiple color options and you can check them out by clicking here (Amazon).
There are a number of keyboard accessories out there for the iPad. But the Logitech iPad Pro Keyboard case stands out for its practicality as well as its build quality.
Compared to Apple's default keyboard case there are a lot of advantages of this Logitech keyboard case.
Start with the stand itself, unlike Apple's magic keyboard which has limited angles, the Logitech offers up to 50 degrees of angle adjustment.
Also, you can simply fold the Logitech keyboard case to its back and use the iPad as a normal tablet – something that you can't really do in the Apple's magic keyboard.
Lastly the Logitech not only just protects the tablet from the front and the back – but it also provides protection from the sides.
The typing experience on this keyboard case is good, the button and clicky and backlit to work in the dark. The trackpad works great too.
The layout is just like the Macbook pro, plus the function bar. Allowing you to perform all the in-app shortcuts that your drawing app of choice provides you with no compromises.
4. Microfibre cleaning cloth
When you have a portable device with a large screen that often encounters touches from your fingers and palms as well as environmental dust – it quickly gets dirty.
The slow buildup of oils, moisture, and dirt makes the screen look dull and blurry, you may even notice the rainbow effect on the screen.
Well, you can clean the screen with a normal cloth but it requires a lot of rubbing and sometimes force which is not good for long terms usage.
A microfibre cleaning cloth softly interacts with the screen and easily wipes off all the oil and dirt, leaving you with a clean and dry screen.
Now there are a lot of microfibre cleaning cloths for screens in the market but you should strictly stay away from low-quality synthetic fabrics since they are not that effective.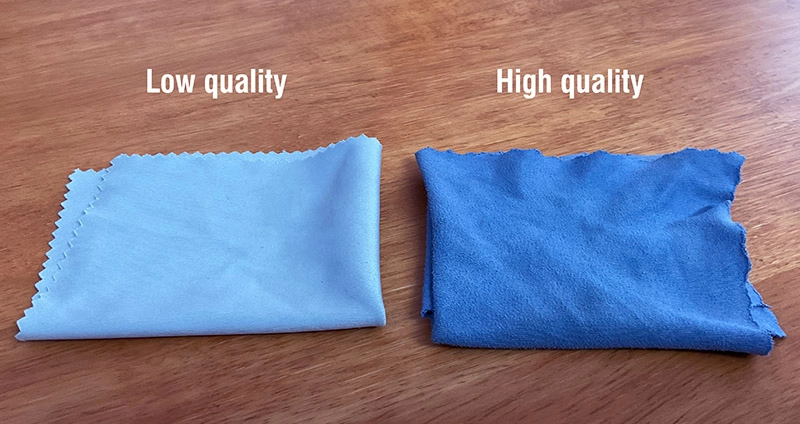 Here is a comparison between a high-quality microfibre cloth and a cheap synthetic microfibre cloth.
After using and comparing a lot of screen cleaners, this is the "best Microfibre cleaning cloth (Amazon)" that we can confidently recommend.
5. Keyboard for iPad
As handy as the touch-based shortcuts on the iPads are, there are still a number of repetitive settings and options in drawing apps – that require you to dig through menus and sub-menus quite frequently.
Keyboard shortcuts are a handy way of making quick changes with a click of a button.
If you are someone spending a considerable time drawing on an iPad, getting a wireless Bluetooth keyboard is a wise choice.
Almost all the popular drawing and creative applications whether be it Procreate, Affinity, Vectornator, or Adobe – they all come with support for keyboard shortcuts.
These keyboard shortcuts and key combinations simplify your workflow and speed up your projects.
On top of using these keyboards within drawing apps, you can also use them for messaging or normal day-to-day usage.
Ideally, we recommend keyboards that are small and can be carried alongside the iPad.
The Logitech k380 (Amazon) is a good choice as it is compact and portable and can be connected to three devices.
It also has a very appealing look that goes well with the iPad (as seen in the image).
6. Multi-device Bluetooth Mouse
It was not that long ago when the iPad did not allow you to connect an external mouse or a touchpad. Luckily that is not the case anymore.
There are a number of tasks such as graphics design, animation, and vector-based projects that require clicking on small anchor points, moving point handles as well as a lot of zoom in and out.
A mouse is a very convenient tool for these kinds of work.
If you are a graphic designer or work on vector projects on a frequent basis you should get a mouse for the iPad.
A mouse makes using the iPad very convenient as it allows you to perform hands-free navigation.
You can open apps, switch between apps and perform general tasks without even touching the iPad.
For iPads, we recommend a wireless Bluetooth-powered mouse that does not need a USB connector for connection.
One great option is to get a mouse that can simultaneously connect with both your computer as well as the iPad and allows you to easily switch between them.
Our personal favorite is the Logitech MX anywhere (Amazon). It can connect to up to 3 devices and can switch from one device to another at a click of a button.
7. iPad Carrying case (travel case/ protective sleeve)
This one is pretty simple. If you travel with your iPad – you do not want want to shove it into the same bag as your laptop.
As iPads are very thin devices, there is real probability of them bending from the pressure – which is obviously not good.
Getting a padded travel bag for iPad is a much safer way of carrying the iPad while traveling.
The bag should also have extra compartments for keeping the Apple Pencil, the iPad charger as well as your other iPad accessories.
The Tomtoc Soft and Hard cases are two of our favorite choices for keeping your iPad safe.
This soft case is available in two sizes 11 inches and 12.9 inches and fits the respective iPads perfectly.
The inner lining is padded and made of soft materials. The outer layer is dust and water-resistant.
There is a small storage space at the front for smaller items such as chargers or earphones.
Overall it is a simple but quality case that gets the job done.
Outdoors are full of unexpected surprises. If you want to ensure the proper protection of your iPad when you are on the move – the Tomtoc hard case is the right choice for you.
The build quality and the fit and finish of this iPad storage case is outstanding.
In addition to being water-resistant and dust resistant, it is also shockproof.
There is extra protection on the corners that does not let the case bulge in when you accidentally drop it.
Apple Pencil and Apple Pencil Accessories
Now coming on to the Apple Pencil and Apple Pencil Specific accessories.
Apple Pencil is available in two models – the First Generation Apple Pencil and the Second Generation Apple Pencil.
You can click here to know which iPads are compatible which Apple Pencil (new tab).
As we all know, the Apple Pencil is an important tool for artists. There are a number of upgrades that you can do to change its look and feel.
8. Stylus Grip
You know Apple Pencil has a pencil-like narrow body that is made of plastic.
Many artists report that using Apple Pencil as it can be uncomfortable as it plastic body combined with its narrow form factor does not give you a firm grip on sweaty hands.
Well, there is a simple accessory that increases the width as well as the grip of the Apple Pencil.
The Uppercase Nimble Grip is a high-quality grip that simply slides into your Apple Pencil.
It has a very thoughtful design where the it has angled flat edged grip on one end and a plain circular grip on the other side.
So if you are not sure whether you should get the round grip or pencil-like flat grip, this gives you both the options in one design.
The flat edge also stops it from rolling off your desk.
It has an ergonomic shape that is thinner from the center makes it comfortable to hold.
The grip is made of high-quality soft silicone which is skin-friendly.
9. Silicon Pentips
In the iPad accessory section we told you about the textured screen protector that helps provide better control over the stylus.
Well, the textured screen protector is a good option but it does have a grainy textured look that interferes with the colors of your screen. Some people don't like it.
Getting a silicon rubber tips for your Apple Pencil is another great way of providing resistance to the tip Apple Pencil, which results in a more controlled movement of the stylus.
Compared to using a screen protector which feels grainy and scratchy, the drawing feel of using a silicon pen tip is different.
When the soft silicon interacts with the glass screen it squishes and produces resistance to the stylus.
Drawing with the silicon pen tips on feels like you are drawing with a rubber stylus.
The only demerit of using silicon pen tips is – it makes the Apple Pencil feel less accurate because of its blunt tip as well as the actual tip of the Apple Pencil tip not touching the surface.
10. Pen holder and Pen Stand
In the previous section, we have talked so much about protecting the iPad with a case or a travel bag. But what about the Apple Pencil.
You cannot just rely on its magnetic attachment system to keep it safe.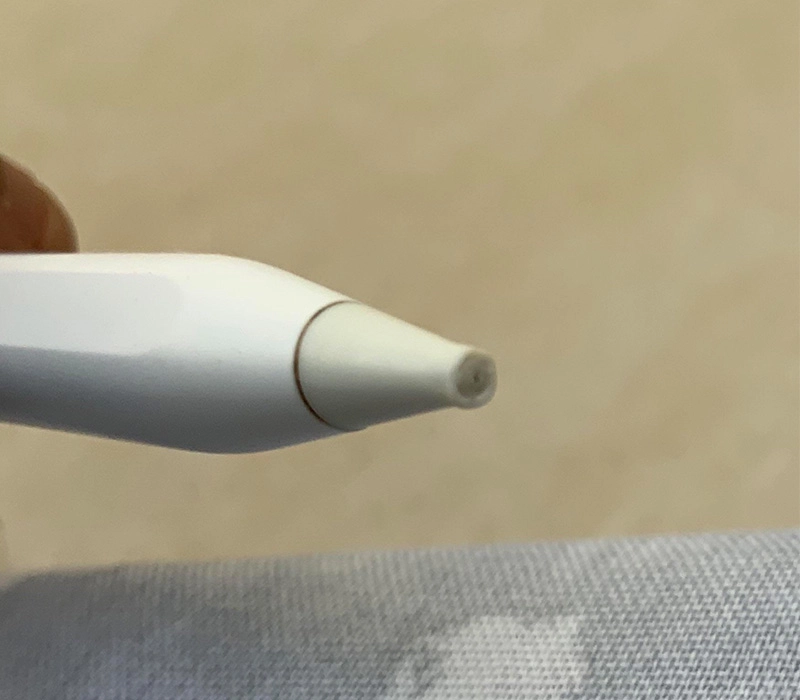 Talking of magnets, the first-generation Apple Pencil do not even have magnets to store them.
Considering how expensive the Apple Pencil is and how there is no way to repair them once they get damaged, spending a few extra bucks for their proper protection doesn't seem like a bad idea.
The soft case is perfectly fine when the pencil falls from a small height but it does not have the same professional look and feel that you get from the Apple pencil hard case shown below.
The best part is – it also has a built-in pen stand with soft interiors to safely hold the stylus when not in use.
Accessories to enhance iPad Capabilities
There are a number of smaller accessories that help you in your day-to-day usage of iPad. Here are some of the most essential ones that you may need as a digital artist.
11. USB Hub for iPad
iPads come with just a single USB-C port and lack even common ports such as a headphone jack. This is obviously very limiting and only allows you to connect one device at a time.
And guess what – you can't connect anything while charging you iPad which is not ideal.
You may have a number of peripheral devices that may still come with older USB-A or other similar connectors.
A USB Hub connects to your iPad and gives you access to multiple connector port options where you can connect your non-USB-C devices.
But there are a number of peripheral devices that come with an older USB-A or other types of connectors.
USB hubs connect to the iPad and give you access to multiple connection ports through which you can connect your non-USB-C devices.
The "Baseus USB-Hub (Amazon)" is one of the best USB-Hubs out there and has the right mix of connectivity ports.
Not only you get a USB-A connector and headphone jack but also an HDMI with 4K output and SD Card slots.
12. USB-A to USB-C adapters
If you have a storage drive or an SSD that comes with a USB-A plug, and you don't want to carry a large USB Hub with you – just to plug in a thumb drive.
Instead, you can get a small and nimble USB-A to USB-C adapter.
It is small, compact, handy, and does its job well. It is so small that you can even let it be connected to your USB-A drive permanently.
Apart from the compact form factor, these USB-A to USB-C adaptors are also very cheap.
13. Storage drive
If you look at all the upgrade options on the purchase page of iPad you would be surprised at how quickly the price tag raises up when you upgrade from lower storage to higher storage capacity on iPads.
Most artists go for the lower storage variant of the iPad and later get a storage drive at the fraction of the price.
The only point to remember is – Since you are buying the storage drives for the iPad it is better to get storage drives with a USB-C connector instead of the older USB-A.
14. Powerbank – Portable Charger for iPad
If you are someone who is always on the move or travel frequently, or just have your power board a little too far from your bed or desk – you need a power bank.
Generally speaking, iPads come with fairly good battery life and can last a whole day of casual usage.
But when you are working on large processor-intensive projects and using Apple Pencil alongside (which ramps up its refresh rate to 120Hz), you will notice your battery drains out by the afternoon or evening.
A power bank simply connects to your iPad and allows you to continue working while it changes your iPad in the background.
Now different models of iPad have different battery capacities. You generally want to get a power bank that can charge your iPad at least twice.
We recommend getting the Anker Powercore Essential (Amazon) power bank with 20000mAh of battery capacity.
Enough to handle your iPad as well as iPhone/Android phone.
It comes with a fast-charging which charges your devices at the rate of 20Watts. It also allows you to charge two devices simultaneously at fast charging speeds.
(Digital accessories for iPad) iPad Applications
Apart from getting physical accessories, there are also multiple digital accessories that can really help you expand the uses of your iPad.
15. AstroPad – Screen mirroring for Mac and Windows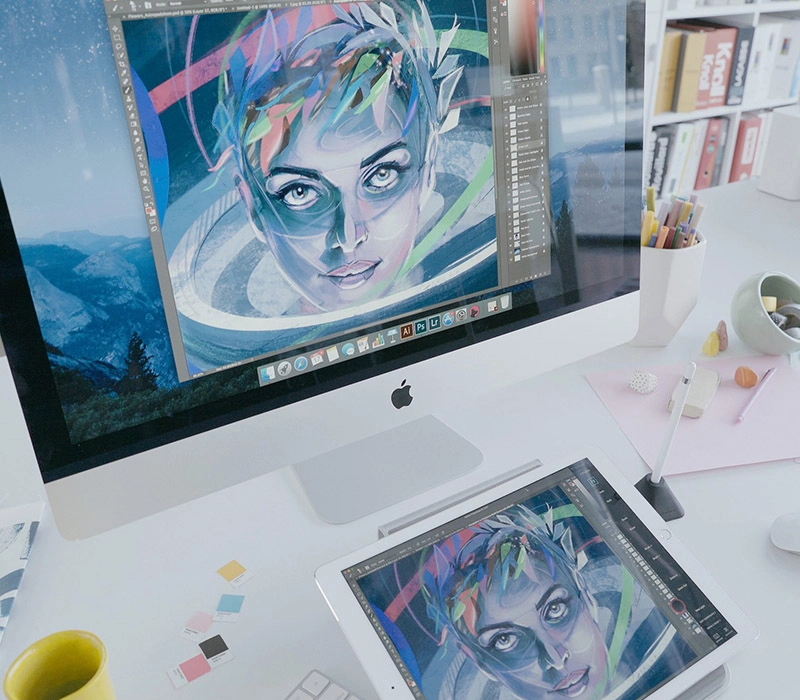 Astropad is one of the essential tools that we recommend to all artists.
It is one of the coolest apps out there which massively boosts the capabilities of the iPad and makes it as powerful as a desktop computer.
As an artist you may already be aware – as good as the iPad drawing apps are – there are still a number of useful desktop software for artists that are not yet available on iPad.
Well, Astropad allows you to use your favorite desktop software right on the iPad.
Not only that, but you can also use your Apple Pencil to interact with these softwares with little to no latency.
All you need to do is wirelessly connect your iPad to your computer through the Astropad App and you are ready to use any software of your choice.
Astropad works on both Mac as well as Windows computers. So you can also connect your iPad to your Windows computer and use Windows software on iPad – which is very cool.
Alternatively using Astropad (or sidecar – which is Apple's default solution to screen mirroring) you can use the highly sharp and color-accurate screen of the iPad as a secondary monitor.
16. Drawing Apps
This one is self-explanatory, As an artist, you definitely need a good drawing application.
Here are some of the most popular iPad drawing apps that you can check out. (All links opens in new tab)
17. Education: Learning how to draw and paint
When it comes to digital art – Knowledge is more important than tools.
No matter which software you use and how advanced of a drawing device you have – if you don't have your basics of digital art clear – you are not ready to create those jaw-dropping artwork that you often see online.
If you are new to digital art or just starting out here are some of our favorite resources to get you started on your digital art journey.
Other accessories for the iPad (Ergonomics)
When you are involved in activities that require you to sit for a long time every single day, it becomes essential to get your ergonomics right.
Overlooking the ergonomics might result in nasty pain and strain that won't be fun.
The chair and the desk that you work are two of the most important parts of your setup.
For this, we do not have any recommendation as such – as these topics require a detailed article on their own.
With that said the main thing to consider is – the desk should be of appropriate height – neither too high nor too low.
The best option, in this case, is to invest in a sit-stand desk that can be set to different height levels. It also allows you to work while standing which is good.
Likewise, the chair also plays a big role. Get a chair with a cushion of appropriate firmness and good lumbar support.
Let us know in the comments if you would like us to make a detailed post on chairs and desks for artists.
Related Posts:
iPad Pro vs iPad Air for drawing