Disclosure: As an Amazon Associate EssentialPicks earn from qualifying purchases.
---
Some artists really like to stretch their hands and work on a larger drawing tablet. But getting a larger tablet has not always been easy, especially for beginners.
For a long time, the Wacom Cintiq Pro 24 was the only option for artists who wanted a larger tablet. The problem was – this is a very expensive tablet which not everyone can afford.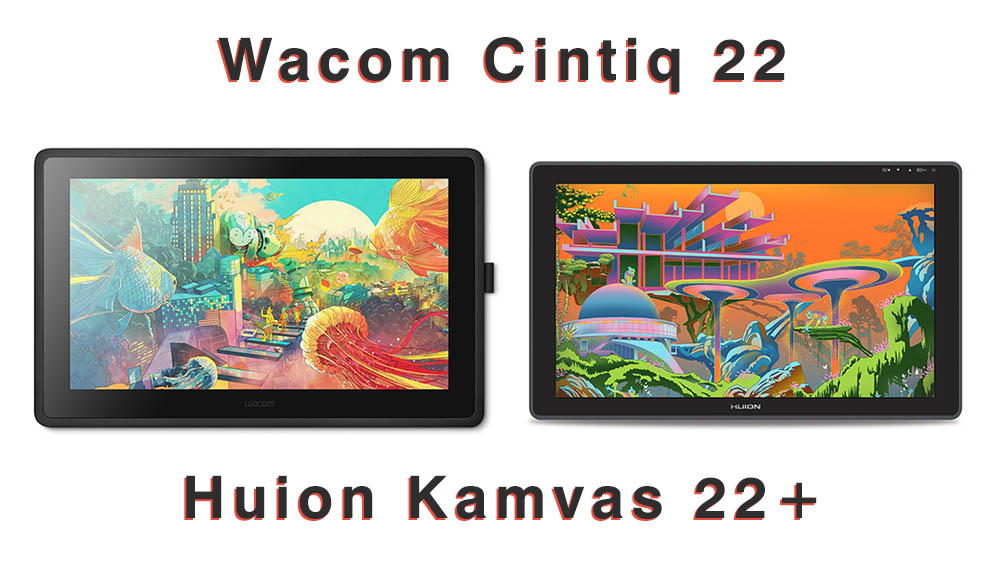 Then came the wave of more affordable drawing tablets including the Wacom Cintiq 22, which had all the essential drawing features at a very pocket-friendly price.
Other brands such as Huion noticed the success of the Wacom Cintiq 22 and decided to jump on the bandwagon by launching their own 22-inch drawing tablet.
Now since Huion is known for its value for money drawing tablets, the new 22-inch Cintiq 22 competitor called "Huion Kamvas 22 plus" generated a lot of interest amongst artists.
That brings us to now – if you are an artist looking for a larger drawing tablet, the Wacom Cintiq 22 and the Huion Kamvas 22 Plus are two of the best options in the market right now.
In this Wacom Cintiq 22 and the Huion Kamvas 22 Plus comparison, we will take a detailed look at both these tablets in order to find out – which of the two tables are packed with better features? and which tablet provides a superior drawing experience?
By the end of this comparison, you will have have a clear idea on which tablet you should pick.
Features Comparison – Cintiq 22 vs Kamvas 22 Plus
Let's start by having a quick look at all the features that Wacom Cintiq 22 and Huion Kamvas 22 Pro offer. The Huion Kamvas 22 comes in two variants – the Kamvas 22 and the Kamas 22 Plus.
Wacom Cintiq 22
Huion Kamvas 22
Huion Kamvas 22 Plus
Dimension
570 x 359 x 40 mm
546 x 323 x 19~26.7 mm
546 x 323 x 19~26.7 mm
Display Size
21.5 Inches
21.5 Inches
21.5 Inches
Working Area
476 x 268 mm
476.64 x 268.11 mm
476.64 x 268.11 mm
Resolution
1920 x 1080p (16:9)
1920 x 1080p (16:9)
1920 x 1080p (16:9)
Color Accuracy
96% sRGB
120% sRGB
140% sRGB
Brightness
210 cd/m2
220cd/m2
250cd/m2
Contrast
1000:1
1000:1
1200:1
Response Time
22 ms
14 ms
14 ms
Laminated Display
No
No
Yes
Screen Type
Matte + Textured
Matte + Textured
Matte + Textured
Top Protective Layer
Anti-glare plastic film
Anti-glare plastic film
Anti-glare etched glass
Stylus
Battery-free
Battery-free
Battery-free
Pressure and Tilt
8192 pressure + 60° tilt
8192 pressure + 60° tilt
8192 pressure + 60° tilt
Shortcut Buttons
No (Expresskey Remote -
sold saperatily)
No
No
Tablet Stand
Adjustable 16°~82°
Adjustable 20°~80°
Adjustable 20°~80°
Build Material (tablet)
Plastic
Plastic
Plastic
Weight
13.2 lbs (6 KG)
8.5 lbs (3.9 KG)
8.5 lbs (3.9 KG)
Price
Check on Amazon
Check on Amazon
Check on Amazon
The comparison tablet shown above tells a lot about these drawing tablets, now we will go through these features in detail.
Build Quality and Design
Looking at the design of the tablet you can see that, both the Cintiq 22 and Kamvas 22 follow a minimalist design with nothing but a screen at the center.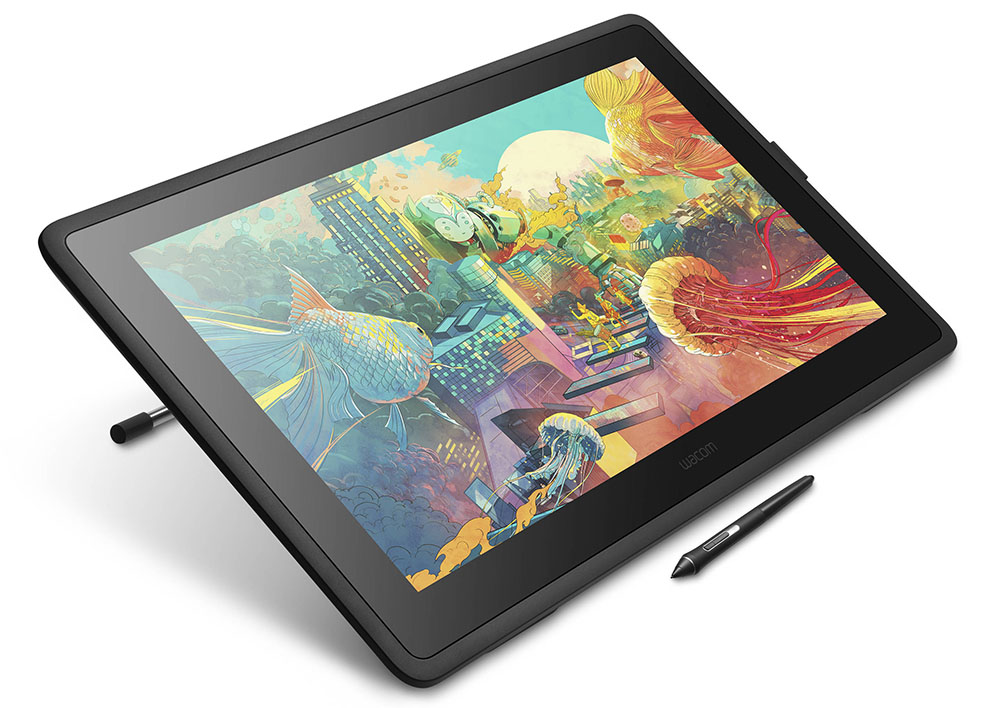 You may have also noticed there are no programmable shortcut buttons on the tablet which can be found in a number of other drawing tablets. Some artists really like this simple and distraction-free design. On top of that – most people use their keywords for shortcuts anyway.
The tablet has all the ports at the back, this helps with cable management with no cable running across your working region.
Next coming to the build quality if the tablet, both the tablets are made of plastic but the quality of the plastic used is actually really good. The tables feel strong and sturdy and with no flex or wobble to be found anywhere.
The dimensions of Wacom Cintiq 22 and the Huion Kamvas 22 are similar in terms of height and width. But when it comes to the thickness and bulkiness of the tablet, Huion takes the big lead.
Huion Kamvas 22 is almost half as thick as the Wacom Cintiq 22. The same trend can be seen when comparing the weight of these tablets, the Cintiq 22 is twice as heavy as the Kamvas 22.
Wacom Cintiq 22 and Huion Kamvas 22 – Which tablet has a better screen?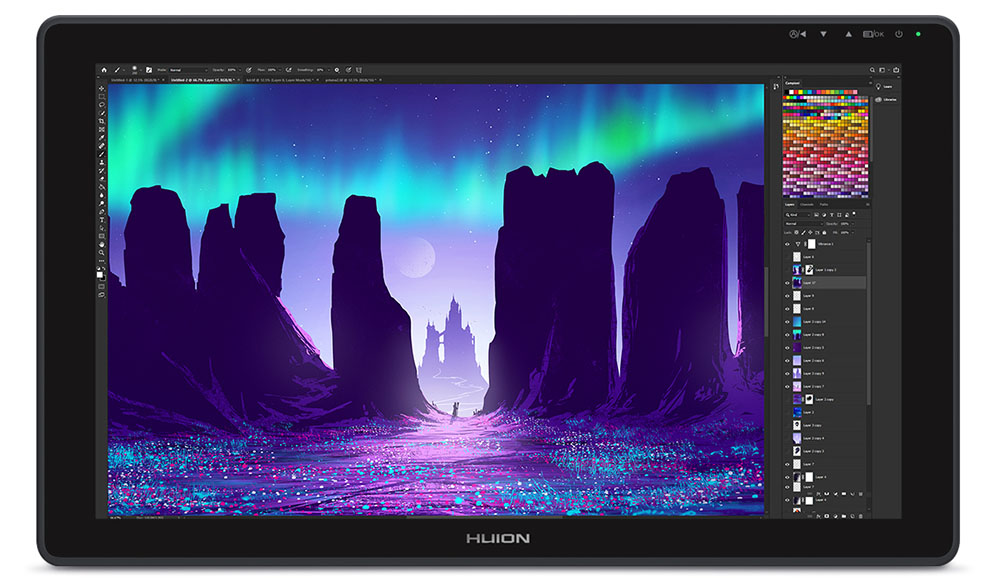 The screen is one of the most important parts of a drawing tablet because that is where everything happens.
For a drawing tablet, you ideally want a screen with a good resolution and higher color accuracy. Things like higher brightness and better viewing angles are also nice features to have.
Screen size and Resolution
Wacom Cintiq 22 and the Huion kamvas Pro 22 both come with a 21.5-inch screen with a resolution of 1920 x 1080p and that is pretty much where the similarities end.
Color accuracy and Contrast
The color accuracy is one of the main areas where these displays differ the most. A drawing tablet should be able to display accurate colors because color plays an important role in digital art and as an artist, you have to make a number of creative decisions based on the color combinations on your artwork.
The more color-accurate display means the screen has a wider color palette and can displays minute difference in colors. Most of the common computer monitor comes with color accuracy of 90% sRGB color coverage.
The Wacom Cintiq 22 comes with a color accuracy of 96% sRGB. The Huion Kamvas 22, on the other hand, comes with 120% sRGB color accuracy which is very good.

But you get even a higher color accuracy of 140% sRGB with the Plus version of the Huion Kamvas 22, which cannot be found in any other drawing tablet in the market.
To achieve this insane color accuracy the Huion Kamvas 22 Plus uses a quantum dot IPS display compared to the normal IPS panels used on Kamvas 22 and Cintiq 22.
This quantum display enables Kamvas 22 Plus to have a higher 1200:1 contrasts which result in deeper blacks and brighter white colors producing more vibrant colors.
For comparison, the normal Kamvas 22 and the Cintiq 22 comes with a contrast ration of 1000:1, which is decent enough but not as good.
Brightness
Unlike a laptop or a mobile phone a drawing tablet is not meant to be used outdoors so they do not require super-bright displays. With that said, here is the max brightness of these displays.
Wacom Cintiq 22: 210 cd/m2
Huion Kamvas 22: 220 cd/m2
Huion Kamvas 22 Plus: 250 cd/m2
These brightness levels are sufficient enough for a bright indoor environment. These displays come with a matte finish on the screen which helps with improving the visibility and minimizing glare and reflection from windows and lightbulbs.
Laminated displays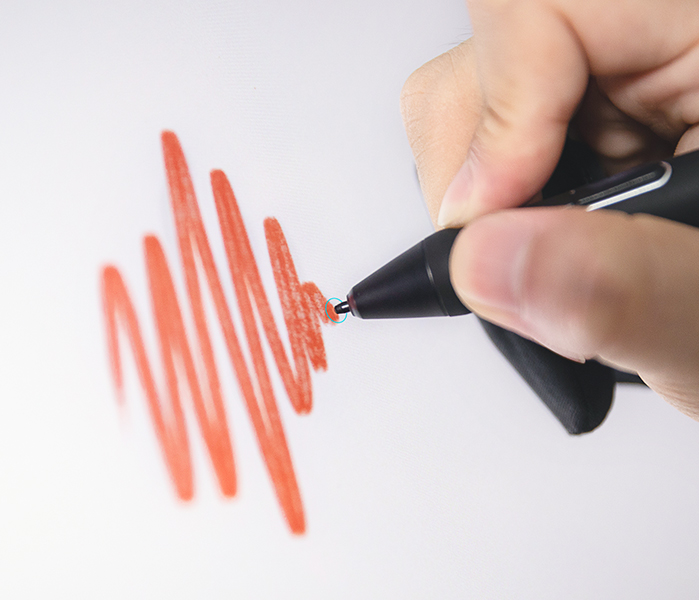 Out of these three tablets, only the Huion Kamvas 22 Plus comes with a laminated display. A display on a drawing table is made of multiple layers, in a laminated display, the layers of the display are laminated together.
One of the biggest advantages of a laminated display is – they help reduce parallax. Now you may be asking what is parallax?
In older drawing tablets you may have noticed that the lines drawing by the stylus appear a few millimeters away from the point where the stylus is actually touching the surface.
Although all the drawing tablets have gotten very good at keeping the parallax to the minimum – the best results are achieved using a laminated display.
On top of that, the colors on a laminated display appear brighter and more vibrant.
Neither the Wacom Cintiq 22 nor the Huion Kamvas 22 comes with a laminated display. With that said, these tablets still do a good job of minimizing parallax.
Textured surface for better drawing experience
Drawing on a glass screen of the tablet using a stylus with a plastic nib, you will notice the stylus starts to slide too much on the smooth glass surface.
To counter that and to make the stylus feel more in control, drawing tablets comes with a textured surface.
The textured surface on the drawing tablet has microscopic irregularities that provide resistance to the stylus giving you more control over them.
The textured surface is also responsible for the pleasing scratchy sound you hear when you draw on these tablets.
With Wacom Cintiq 22 and the Huion Kamvas 22, you get a thin plastic film applied over the surface of the tablet which is responsible for introducing texture to the surface. The plastic film also protects the tablet from getting scratches.
Whereas with the Huion Kamvas 22 Plus you get a superior etched glass, where the surface texture is present on the glass itself.
This results in a superior drawing feel and also unlike the plastic film, the texture on the glass does not wear off easily.
Stylus – Huion PW517 vs Wacom Pro Pen 2
A stylus is one of the most important parts of a drawing tablet, a better stylus results in a more satisfying and enjoyable drawing experience.
For a long time, the Wacom Pro Pen 2 is considered as a gold standard for a digital stylus. But it has been a while since Wacom has upgraded this stylus in the meantime stylus from competing brands such as Huion have quickly caught up.
At present, the Huion PW517 is almost as good as the Wacom Pro Pen 2 and provides a very similar drawing experience.
Stylus – Design and ergonomics
Since these styluses are used for extended periods by artists, it is essential that they are comfortable to hold.
For that reason, the stylus of both Huion and Wacom has an ergonomic design that perfectly fits the contours of our hands, providing better comfort.
Pressure and tilt sensitivity
Both the Huion PW 517 and the Wacom Pro Pen 2 comes with 8192 levels of pressure sensitivity ±60° of tilt sensitivity.
The real-life performance of these styluses is also very good and with accurate pen tracking and pinpoint accuracy. The pressure sensitivity feels very balanced and can be further customized in the pen settings.
The Wacom Pro Pen 2 performs slightly better in the initial activation force – where it better detects the lighter pressure.
With that said the Huion PW517 performs just as good as Wacom Stylus and you would honestly not even feel the difference in initial activation force unless you are paying very close attention and comparing the two stylus side by side.
Pen response time
As we told you the Wacom Pro Pen 2 has not seen an update from a while. The Pro Pen 2 comes with a response time of 22ms which is sufficiently fast but not as impressive as the 14 ms that you get with Huion PW517.
Buttons on the stylus
You get a pair of side buttons on the Pro Pen 2 along with a pressure-sensitive eraser at the back. On the other hand, the PW517 Pen from Huion doesn't have an eraser but comes with two side buttons.
In the pen settings, you can configure these side buttons to any hotkey of your choice.
Pen Holder and Extra Pen Nibs

The Huion Kamvas 22 and Kamas 22 Plus comes with a donut-shaped pen stand. The pen holder also doubles up as a storage space for 10 extra pen nibs.
With Wacom, you do not get a dedicated pen stand. Instead, you get a small fabric loop that is attached to the right side of the tablet. You can simply slide in your stylus for storing it while not in use.
The Pen holding fabric loop can be pulled out of the Cintiq 22 tablet revealing 3 extra pen nibs attached to it along with a small nib remover tool.
How long does the Pen nib last?
In case you are wondering, a pen nib lasts for several months before it needs to be replaced. The good thing is changing the pen nib is super easy and can be done in just a few minutes.
Shortcut buttons
As mentioned earlier, neither the Kamvas Pro 22 (plus) nor the Wacom Cintiq 22 comes with programmable shortcut buttons.
This is not really a big deal as most of the artists use their keyboard for performing shortcuts anyway. But in case you like to use a dedicated shortcut button, you can get the Wacom Expresskey Remote (Amazon).
The Wacom Expresskey has a total of 17 programmable buttons along with a touch ring – giving you ample custom shortcut buttons. Keep in mind that Expresskey Remote is only compatible with Wacom drawing tablets and needs to be purchased separately.
Huion does not come with any similar shortcut accessory but they do come with a 24-inch tablet which is very similar to this one called (Huion Kamvas Pro 24). It has a total of 20 shortcut buttons and two touch bars.
Tablet Stand
One of the best features found in the Cintiq 22 drawing tablet is the presence of an adjustable stand built into the tablet. Unlike previous models that came with foldable legs, the adjustable stand found in the model is far more flexible.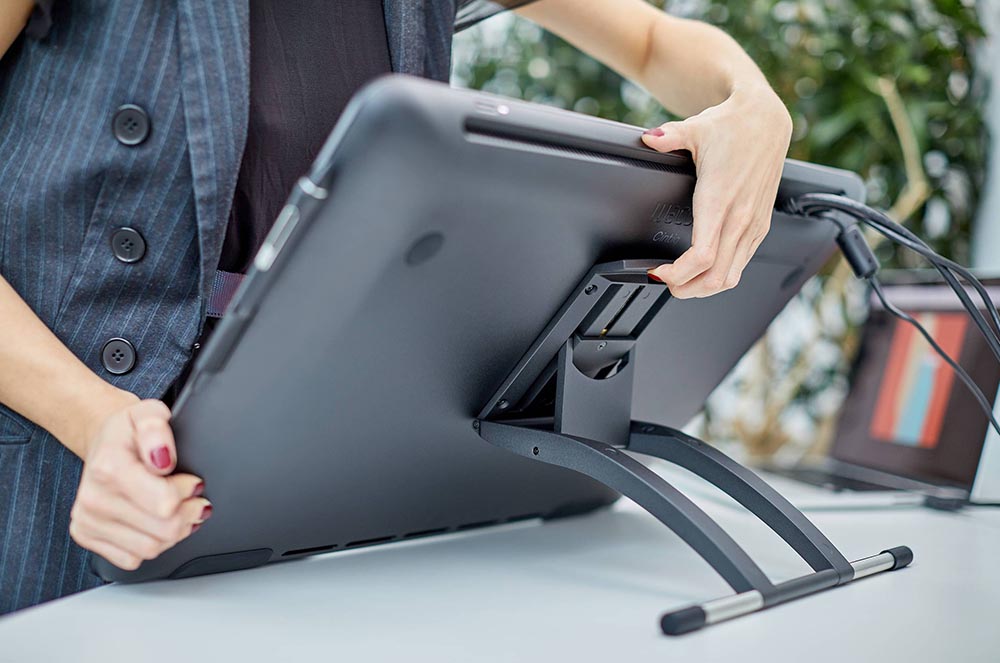 Thus, you can tilt the display until you achieve your desired and comfortable drawing angle. It can be adjusted from 16 degrees up to 82 degrees. Thus, you can have it lying nearly flat on your table or almost vertical like a computer monitor.
The Kamvas 22 Plus also comes with a similar tablet stand giving you an adjustable tilt angle between 20° to 80°.
The stand on both the tablets is very strong and sturdy and does not move or wobble even when you apply some pressure on them. These stands come with anti-slip pads at the base of the stand which keeps them stable on smooth surfaces.
Ports and USB passthrough in Kamvas 22
The Wacom Cintiq 22 has the following ports:
Huion Kamvas Pro 22 comes with these ports:
2 USB-C ports
1 USB-A port
The cool thing about the Huion Kamvas 22 is that the USB-A port and the USB-C port works as a USB passthrough. It can be used to plug-in peripheral devices such as Keyboard and Mouse and even an android phone directly to the tablet.
Drivers comparison – Huion vs Wacom
The driver is an important component of any drawing tablet, without the driver, the drawing tablets won't work.
The Tablet driver helps to establish a better connection with the computer and helps it understand and process pen pressure and location data.
Drivers of both Wacom and Huion are available for both Windows and Mac devices.
In addition to Windows and Mac the Huion Kamvas 22 and 22 plus also supports and can connect to Android smartphones and tablets.
They allow you to customize things like buttons and the pressure sensitivity of the pen and the color settings of the tablet. They can also be used to switch the tablet from right to left-handed mode for all the artists who draw with their left hands.
Comparing the two drivers, you can say that the drivers of Wacom are slightly better as they allow you to set advanced on-screen shortcuts.
Android Support on Huion Kamvas 22 Plus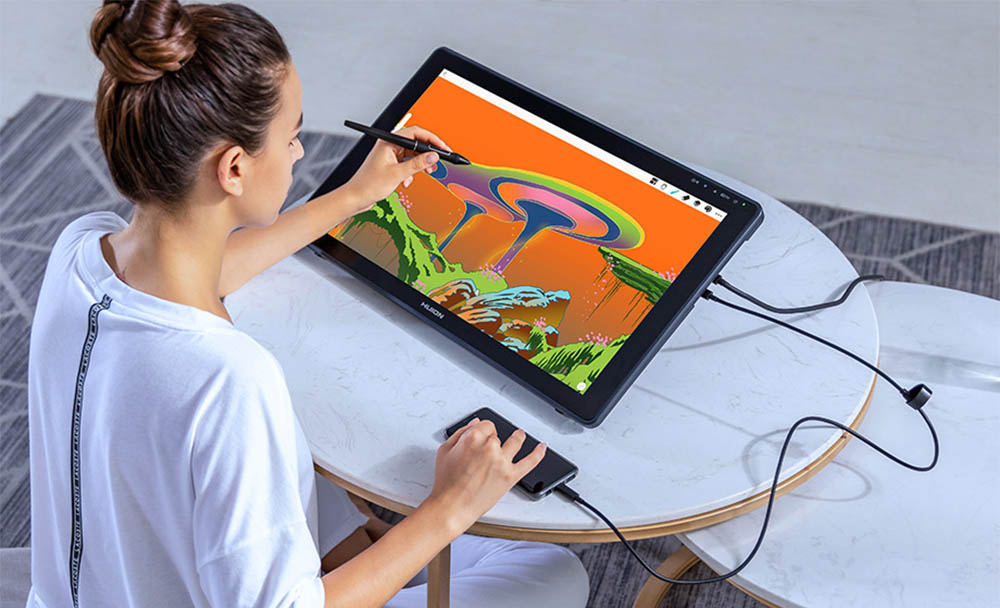 As we mentioned earlier the Huion Kamvas 22 and 22 Plus can be plugged into an android device. It allows you to extend the screen of the phone and use the drawing application directly on the larger screen of the drawing tablet.
It should be noted that Kamvas 22 can only connect to only some models of Samsung and Huawei Android phones and tablets at present.
This feature is not supported by Wacom Cintiq 22.
What's included in the box
Here is everything that comes with Wacom Cintiq 22 and Huion Kamvas 22.
Wacom Cintiq 22
Cintiq 22 Drawing Tablet
Adjustable Stand
Wacom Pro Pen 2
Pen holding loop
3 Replacement Nibs
Nib Remover
Power Adapter
AC Cable
HDMI Cable
USB Cable
User Manual
Huion Kamvas 22 (Pro)
Huion Kamvas 22 (plus)
Adjustable stand
PW517 battery-free stylus
Pen holder
10 Extra pen nibs
Nib remover tool
Power Adapter + AC cable
USC-C to USB-C cable
3 in 1 cable
Artist glove
Cleaning cloth
Quick start guide
Summary: Huion or Wacom – Which is a better tablet?
So far we have compared various aspects of the tablet and So far in almost every category the Huion Kamvas 22 came on top.
Starting from the screen, the Kamvas 22 has a more color-accurate screen and the Kamvas 2 Plus even comes with a top-of-the-line display with Quantum Dot technology and etched glass on the top for a better texture.
Other than that, the tablet has support for Android devices as well as a USB-C port which is absent from the Wacom Cintiq 22.
The Wacom Cintiq 22 only takes a small lead in stylus performance – specifically due to its lower initial response time and better tilt sensitivity handling.  If you are someone who extensively uses tilt sensitivity for your work, you should actually get the Wacom Cintiq 22.
With that said, pressure sensitivity and pen tracking on Huion is actually better due to its faster response time of 14ms compared to 22ms on Cintiq 22.
The final blow comes in the form of a price tag.
Even though both the table comes with a screen size with the same resolution but the difference in their price tag is pretty steep. The Huion kamvas 22 and even the Kamvas 22 Pro costs considerably lower than the Wacom Cintiq 22.
Overall if you are looking for a good drawing tablet that gives you top-of-the-line features without burning a big hole in your pockets the Huion Kamvas 22 Plus is a perfect choice.
The Huion Kamvas 22 is also a great choice for budget-conscious artists.
Related topic: