Disclosure: As an Amazon Associate EssentialPicks earn from qualifying purchases.
---
In the last few years, Apple's iPad Pro has established itself as a go-to drawing device for digital artists. The Apple Pencil played a major role in creating that image.
But Samsung has been gearing up in the background and making constant improvements generation after generation in their "galaxy" lineup of tablets.
At present they have reached the point where Samsung tablets can give some serious competition to the iPad Pro or perhaps outshine them.
For a long time, there was no other stylus in the market that could match the performance, speed, and accuracy of the Apple Pencil.
But now with the arrival of the all-new Samsung S Pen, things are not the same anymore.
The new S Pen with its updated hardware is now as good as Apple Pencil both in terms of speed and accuracy. And combined with Samsung Galaxy Tab S7+, they become a great alternative to the Apple iPad Pro.
So, the question is – which of the two tables provides a better drawing experience, and proves to be an overall better package.
For this article, we will compare the Apple iPad Pro and Samsung Galaxy Tab S7 plus from the perspective of a digital artist.
We will discuss the screen, the stylus as well as the drawing apps to give you a clear idea about which of the two devices will suit your needs better.
Features comparison
The iPad Pro comes in two variants – the Apple iPad Pro 11 inch and 12.9-inch, Whereas the Samsung Galaxy Tab S7 and S7+, are available in 11 and 12.4-inch variants respectively.
Here is a quick comparison between all the features these tablets come with.
(Note for mobile users: Pan left/right to see the whole table)
Apple iPad Pro
11 Inch
Apple iPad Pro
12.9 Inch
Samsung Galaxy
Tab S7
Samsung Galaxy
Tab S7+
Dimension
247.6 x 178.5 x 5.9 mm
280.6 x 214.9 x 5.9 mm
253.8 x 163.3 x 6.3 mm
285.0 x 185.0 x 5.7 mm
Display Size
11 inch
(IPS)
12.9 inch
(IPS)
11 inch
(LCD)
12.4 inch
(OLED)
Resolution
2388 x 1668 p
2732 x 2048 p
2560 x 1600 p
2800 x 1752 p
PPI (pixels per inch)
264
264
274
266
Aspect Ratio
1.43:1
4: 3
16:10
16:10
Color Accuracy
112% sRGB
112% sRGB
104% sRGB
122% sRGB
Refresh Rate
120 Hz
120 Hz
120 Hz
120 Hz
Brightness
600 nits
1000 nits
500 nits
500 nits
Stylus
Apple Pencil
2nd Gen
Apple Pencil
2nd Gen
Samsung
S-Pen
Samsung
S-Pen
Stylus included in the box
No
No
Yes
Yes
Stylus Response Time
9ms
9ms
9ms
9ms
Processor
Apple M2
Processor
Apple M2
Processor
Qualcomm
SnapDragon M865+
Qualcomm
SnapDragon M865+
Storage
128 GB
256 GB
512 GB
1 TB
2 TB
128 GB
256 GB
512 GB
1 TB
2 TB
128 GB
256 GB
128 GB
256 GB
Expandable SD Card
No
No
SD card slot
SD card slot
Memory (RAM)
8/16 GB
8/16 GB
6 / 8 GB
6 / 8 GB
Operating System
iPad OS
iPad OS
Android
Android
Camera
Rear: 12MP & 10MP
Lidar Scanner
Front: 12MP
Rear: 12MP & 10MP
Lidar Scanner
Front: 12MP
Rear: 13MP & 5MP
Front: 8MP
Rear: 13MP & 5MP
Front: 8MP
Connectivity
WiFi/ Cellular
WiFi/ Cellular
WiFi/ Cellular
WiFi/ Cellular
Battery Life
7,812 mAh
9,720mAh
8,000mAh
10,090mAh
Weight
1.04 lbs
(470 grams)
1.50 lbs
(635 grams)
1.10 lbs
(498 grams)
1.30 lbs
(589 grams)
Colors
Silver,
Space Grey
Silver,
Space Grey
Bleck,
Silver,
Bronze
Bleck,
Silver,
Bronze
Price
Check on Amazon
Check on Amazon
Check on Amazon
Check on Amazon
Design and Built quality
For a compact drawing tablet, it is important that the tablet has an easy-to-carry portable form factor that is comfortable to hold and carry for long periods.
Both the iPad Pro and the Galaxy tab S7 have a very industrial and minimalist design with flat side edges and an all-screen front display with super-thin bezels.
All these tablets are incredibly thin and have a metallic construction that feels nice to hold in hand.
Tablet thickness in millimeters (1 cm = 10 mm)

Apple iPad Pro (11-inch) – 5.9 mm
Apple iPad Pro (12.9-inch) – 5.9 mm
Samsung Galaxy Tab S7 – 6.3 mm
Samsung Galaxy Tab S7+ – 5.7 mm
Speakers – All the tablets come with a total of 4 speakers with great sound output. Comparing the two, the speakers on the iPad Pro sounds better.
It is important to note that neither the Apple iPad Pro nor Samsung Galaxy Tab S7 has a headphone jack.
Display Comparison – Apple iPad Pro vs Samsung Galaxy Tab S7(+)
A display is the most important part of the drawing tablet because that is where everything happens.
For a good drawing tablet, it is important for the display to have a high-resolution and good color accuracy.
What is the right size for a portable drawing tablet? – Artist Guide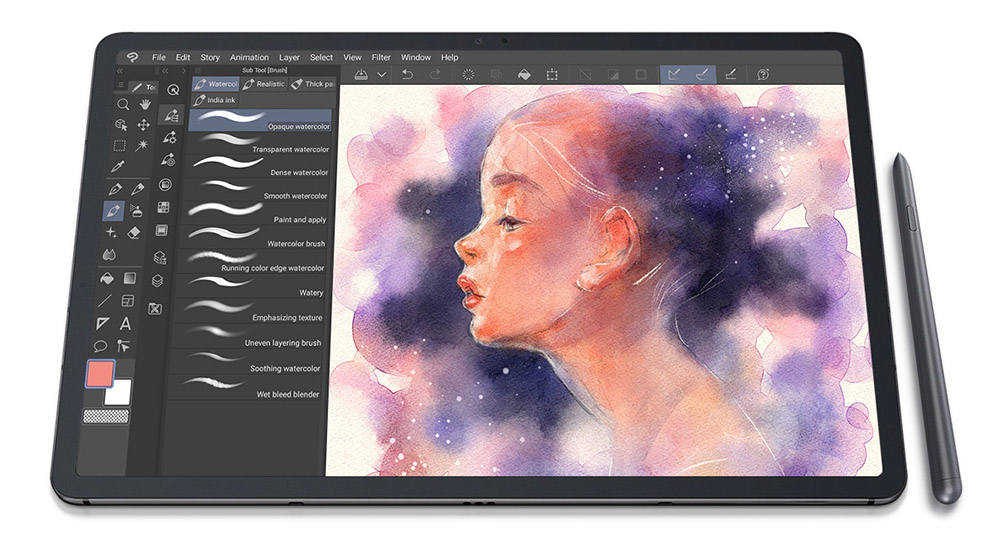 The size of a screen plays an important role in the overall drawing experience of the tablet. As an artist, you always want to have the largest possible screen. But with the increase in screen size, you start to lose portability.
These mid-size tablets with 11 and 12-inch screens provide the right blend of size, comfort, and portability – giving you a large drawing area while still maintaining a smaller footprint.
On top of that, drawing Apps for Android tablets and iPads are well optimized for the smaller screen. They do not have menus and buttons occupying unnecessary screen real-estate, which overall maximizes the available workspace.
As mentioned before, both the iPad Pro and the Samsung tab S7 are available in two sizes. The Apple Ipad Pro comes in 11-inch and 12.9-inch variants.
The Samsung Galaxy Tab S7 comes with an 11-inch screen whereas the Samsung Galaxy Tab S7+ is available in 12.4 inches.
Aspect Ratio is important too – How to pick the right tablet size
The size of the tablet is only one side of the story. The Aspect ratio also plays an important role in determining the overall shape of the screen as well as the tablet itself.
Here is an infographic showing the difference between the "relative sizes" between the screens of the Apple iPad Pro and the Samsung Galaxy Tab S7+.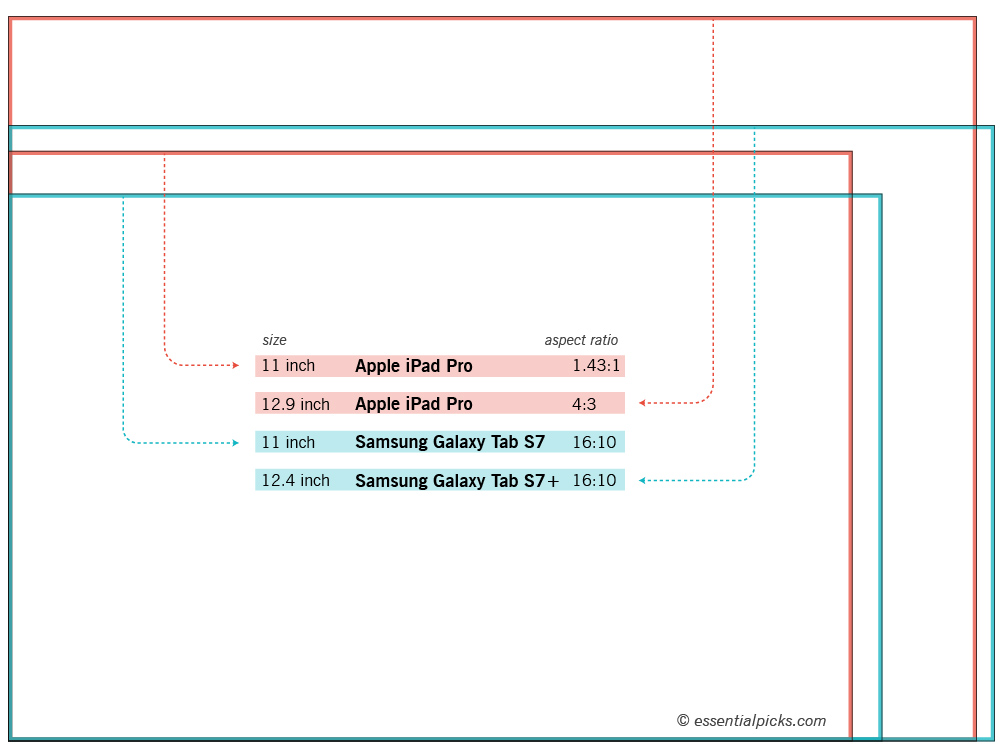 From the image above you can conclude that the iPad Pro is more squarish in shape, whereas the Samsung Galaxy Tab Su7 plus is rectangular.
Compare prices on Amazon
11 inch iPad Pro
12.9 inch iPad Pro
11 inch Galaxy Tab S7
12.4 inch Galaxy Tab S7+
Comparing the Screen you would notice that – iPad Pro has a more of squarish shape where the Samsung tablet is more rectangular.
If you are just looking for a large tablet, as you can see in the image above the Apple iPad Pro 12.9 inch is the right choice. Its screen size is very much comparable to a 13-inch laptop.
With the 12.4 inch Samsung Galaxy Tab S6 you get a screen that has a similar width to that of the 12.9-inch iPad Pro, without any of that massive vertical screen space.
But if you prefer a compact and portable tablet, you can get 11-inch variants of iPad Pro and Samsung Tab S7.
Display Resolution, and PPI (pixels per inch)
Looking at the numbers from the Comparison tablet at the top – you would find that – all the tablets come with a 2.5K (QHD) resolution screen with a PPI (pixel per inch) count in the range of 265-274 PPI.
Having a 2.5k QHD resolution is more than enough for an 11 to a 12.9-inch screen. All the given tablets produce very sharp images with great clarity.
Color Accuracy
Having good color accuracy is very important for a drawing tablet. The higher color accuracy means the screen is capable of showing more colors.
A screen with great color accuracy can correctly show minor differences in the shades of various colors. This is very important for artists, as they have to constantly make creative decisions based on the colors they see on the screen.
For reference, most computer monitors have color accuracy anywhere in the range of 90~100% sRGB color coverage.
Here is the color accuracy of the iPad Pro and the Galaxy Tab S7+
Apple iPad Pro – 112% sRGB
Samsung Galaxy Tab S7 – 104% sRGB
Samsung Galaxy Tab S7+ – 122% sRGB
The Samsung Galaxy Tab S76+ variant has the highest color accuracy because of its Super AMOLED Display. The Apple iPad Pro comes with a respectable 112% sRGB color accuracy with their Retina Display technology.
Stylus – Apple Pencil vs new Samsung S-Pen
Needless to say – a stylus is the most important part of a drawing tablet. No matter how good the tablet is, a stylus has the power to make or break your drawing experience of using that tablet.
In the beginning, we touched a little bit on how Apple Pencil has established itself as the best digital stylus for creative professionals.
Till now there was no other stylus in the market that could match the performance of the Apple Pencil. Other brands such as Hp, Dell, Wacom, and Microsoft have been trying to make a comparable stylus but they are nowhere near yet.
Samsung is another big player when we talk about digital stylus. They have been shipping stylus with their phones and tablet for a long time now.
Their stylus was the only digital pen that kind of managed to have a similar performance to the Apple Pencil, but they still lacked responsiveness.
That changes now with the arrival of their new and redesigned Samsung S Pen and Galaxy Tab S7+. With this, Samsung has been finally able to match (or maybe outdo) the speed, accuracy, and quality of the Apple Pencil.
Let talk about them in detail…
Stylus design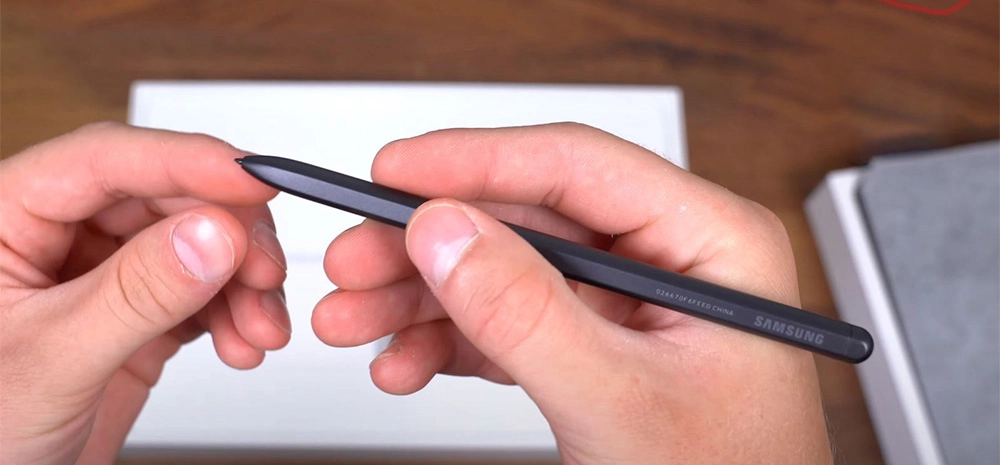 Apple Pencil – The design of the stylus is fairly simple with a long-narrow cylindrical body with a flat region on the side. The Flat side contains a touch button which helps in changing for brush and eraser.
The Flat face also has powerful magnets that help the stylus to stick on top of the Apple Pencil where it charges wirelessly. Finally, at the front, you have a Plastic writing tip.
Samsung S Pen – The S Pen is very similar in shape to the Apple Pencil. It also has a long-narrow cylindrical shape with a flat face. You would find a single customizable button on the side.
It magnetically sticks at the back of the Galaxy Tab S7 to charge wirelessly. It can also be magnetically stuck to the top right side of the tablet for holding the stylus when it is not in use.
Features and Performance
Both Apple Pencil and the Samsung S Pen have very accurate stylus tracking and support both pressure and tilt sensitivity. The biggest improvement with the Samsung S Pen is its faster response time with a 9ms latency, which is exactly the same as the Apple Pencil.
Drawing and writing with the tablet, the pressure sensitivity feels well balanced. Both Apple and Samsung allow you to customize the pressure sensitivity (how hard you need to press) on the stylus. Tile detection also works equally well as well.
Drawing with both tablets feels equally comfortable. The Apple Pencil has a slightly matte texture on the pen which feels better to hold compared to the gloss and smooth texture on the S Pen. But that as well be a personal preference.
Charging
Charging the stylus is very easy, simply attach the stylus to their magnetic docking station and it starts to charge automatically. The battery on these stylus lasts a long time on a full charge and they both come with fast charging.
Price of the stylus
Apple Pencil needs to be purchased separately and it is fairly expensive. You can click here to check the latest price of Apple Pencil on Amazon.
Samsung S Pen, on the other hand, does not need to be purchased as it is included with the tablet for free.
Refresh rate and stylus performance
The refresh rate of the screen has a huge effect on the speed and response time of the stylus.
For a good stylus experience, the Pen and the tablet need to work together. The Pen is responsible for measuring the pressure and touch data, whereas the tablet helps with positioning and tracking the stylus.
A display with a faster refresh rate scans for the stylus position more often which allows the tablet to get more accurate tracking data.
For that reason, both the Apple iPad Pro and the Samsung Galaxy Tab S7+ come with a very fast 120Hz refresh rate. Where the screens scan for the stylus position 120 times in a second – which results in a blazing-fast 9ms response time in both the stylus.
Recommended read – how Apple Pencil and S Pen work?
Drawing apps – Android vs iPadOS
So far we have learned that Apple iPad Pro and the Samsung Galaxy Tab S7 are very similar to each other in terms of design, build, display quality, and stylus performance. So how and on what basis can you pick one tablet over the other?
The Answer is – their operating system and choice of drawing application.
The Samsung Galaxy Tab S7 runs on Android and the Apple iPad Pro Runs on iPadOS. Comparing Android with iPadOS from the point of view of an artist, the iPadOS seems to have more advantages.
iPadOS is a very mature platform with not only has most of the popular drawing applications available on the platform but also some iPad-only apps such as Procreate – which cannot be found anywhere else.
In comparison, Android does not have all the apps that you can find on iPads but there are still plenty of options available.
Moreover, there are plenty of cross-platform drawing applications that are available on all operating systems – whether it is Windows, Mac, iPadOS, or Android – and more and more drawing apps are working towards cross-platform support as we speak.
It is important to note that if you are looking to work on things like 3d design, 3d modeling, or digital sculpting – neither the iPadOS nor Android have good drawing apps for those tasks.
Processor, power, and performance
Here is what Apple iPad Pro and Samsung Galaxy Tab S7 come with in terms of processor.
Apple iPad Pro – Apple M2 chip
Samsung Galaxy Tab S7 – Qualcomm SnapDragon M865+
On comparing, the Apple M2 is far superior to Snapdragon M865+ and has a faster processing speed and lower energy consumption. But at the same time, the Snapdragon 865+ is sufficiently powerful enough to handle anything that you throw at it.
Drawing on a tablet is processor-intensive work, but it is not as demanding as – let's say gaming. So both the iPad Pro and Galaxy Tab S7 can easily handle high-resolution project files with hundreds of layers and effects.
While using either of these tablets you will experience no lag or jitteriness, which is great.
Battery Capacity
Battery life is another important feature to consider in a drawing tablet after all – you want your tablets to last as long as possible on a single charge.
Here are the battery capacities of these tablets.
Apple iPad Pro 11-inch – 7,812 mAh
Apple iPad Pro 12.9-inch – 9,720mAh
Samsung Galaxy Tab S7 – 8,000mAh
Samsung Galaxy Tab S7+ – 10,090mAh
As the battery capacity suggests the Samsung Galaxy Tab S7 has a slightly better battery life than the Apple iPad Pro. But the difference is very small and not that significant
Camera
Having a good camera is essential as it allows you to take pictures of something that you are gonna paint later, right on your drawing tablet.
The primary camera of the iPad Pro is 12 megapixels, whereas the camera on Samsung Galaxy Tab S7 is 13MP, which is very similar. Both the tablets take equally good photographs.
Portability
Looking at the overall size and dimension of the tablet and considering the battery life, you can say that both the tablets are equally good in terms of portability.
Further, styluses of both these devices magnetically stick to the tablet making them easier to carry along, which is always good for artists.
Ports and connectivity
Both the Apple iPad Pro and the Samsung Galaxy Tab S7+ come with a single USB-C port with no headphone jack.
This USB-C port can be used to plug in everything from charging cable to external storage and USB Hub.
Other than the USB-C port, you also have the connectors to attach keyboard accessories on both tablets. And finally, you have the wireless charging dock to charge the respective styluses.
In terms of wireless connectivity – both tablets support WiFi and Cellular connection.
Accessories
Keyboard cover accessory – For expanding the usability of the tablet, you can get a keyboard accessory for both tablets. These keyboard accessory magnetically attaches to their respective docking connectors and have a keyboard and a touchpad.
As an artist, you don't really need this, but again if you are someone who does a lot of typing then you can consider them.
Comparing the two keyboard accessories the Apple keyboard is more high-tech whereas the Samsung keyboard is more functional.
The Apple keyboard has an intelligent hinge that lifts the tablet a few centimeters above the surface which makes the tablet look more futuristic. But on the flip side, the Apple Keyboard is havier than the tablet itself and makes the setup a little bulky.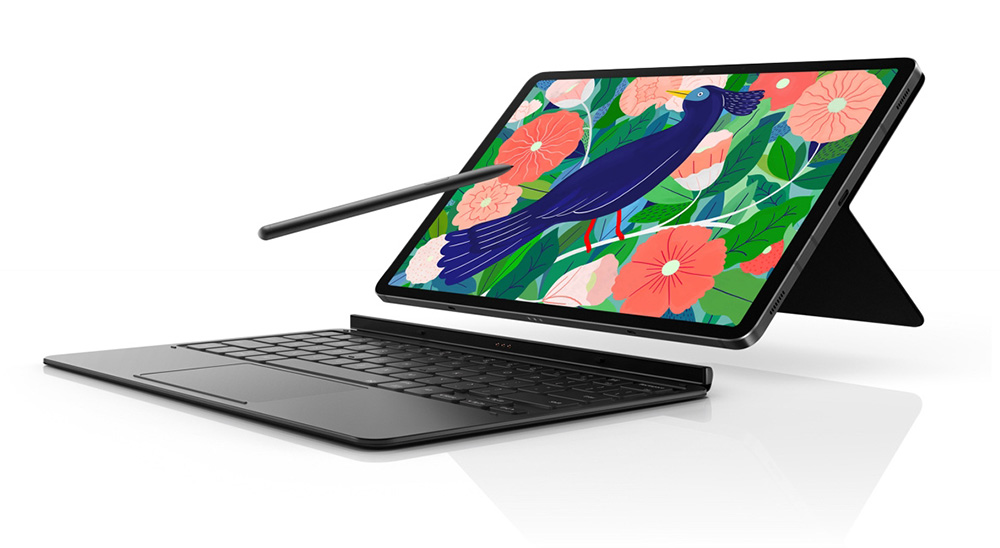 The Samsung Keyboard accessory has two parts. The keyboard is present at the front and the adjustable stand cover at the back. What you will really appreciate is – the back cover with the integrated stand can be used independently without the keyboard.
The only shortcoming of the Samsung Keyboard cover is it does not comes with a backlight.
Textured screen for better drawing experience
Drawing on a smooth and shiny glass screen with a plastic stylus can make your stylus to slip around a little too much.
Some artists really like the smooth and slippery feel but others consider it annoying.
If you like your tablets to have a slight grip and a little bit of texture when you use the stylus on the screen – you can get a textured film for your tablet.
The textured film has microscopic irregularities that provide friction to the stylus and gives it a more controlled movement, just like textured paper.
The textured film also protects the screen from getting scratched by the constant pocking of the stylus. These screens are fairly cheap and easy to apply on the screen.
Get Textured film for Apple iPad Pro (Amazon)
Get Textured film for Samsung Galaxy Tab S7+ (Amazon)
Summary: Apple iPad Pro or the Samsung Galaxy Tab S7+
With the launch of the Samsung Galaxy Tab S7+, Samsung has not necessarily raised the bar for portable tablets, but more like – they have matched the standard already set by Apple.
From the comparison, it is clear that both Apple iPad Pro and the Samsung Galaxy Tab S7 can be equally good choices to be used as a drawing tablet. They have a similar screen, stylus, and responsiveness.
At this point, all we can say is – the Operating System is the only major difference between the two devices.
Which tablet should you get?
The Apple iPad Pro is a good choice for artists who want zero compromises with the hardware and software – mainly considering the fact that Apple has a more mature App Store with better drawing apps available.
Getting an iPad Pro is also a better choice for the artists who have already invested in the Apple ecosystem and have products such as Macbooks, iPhones, and Apple AirPods.
These Apple devices can seamlessly integrate with each other and share files between themselves via airdrop, providing a superior user experience.
Using iPads and Mac system, you can use tools like Apple sidecar or the Astropad, which mirrors your MacBook screen on the iPad. It allows you to use desktop apps on your iPad and use Apple and allows you to use the stylus on iPad with apps running on the MacBook pro.
Now for people who are happy with the selection of drawing apps available on Android, the Samsung Galaxy Tab S7+ is actually a better choice.
The tablet has a very color-accurate Amoled screen which is superior to the Apple iPad Pro, plus the new S Pen is a very capable stylus.
To top to all off, unlike iPads the S Pen is included in the box for free, so you are already saving a hundred bucks.
In the end, Apple iPad Pro and the Samsung Galaxy Tab S7+ are two of the best tablets in the market. So irrespective of whether you pick the Apple or Samsung – you are getting a good drawing tablet, which will for sure impress you with its drawing capabilities.
Buy and compare Prices
– Apple iPad Pro 11-inch on Amazon
– Apple iPad Pro 12.9-inch on Amazon
– Samsung Galaxy Tab S7 on Amazon
– Samsung Galaxy Tab S7 Plus on Amazon
Related Topic: Apple iPad Pro vs Microsoft Surface Pro 7 comparison