Disclosure: As an Amazon Associate EssentialPicks earn from qualifying purchases.
---
If you are an artist and looking for a compact and powerful drawing device, you must have come across Apple iPad Pro and the Microsoft Surface Pro.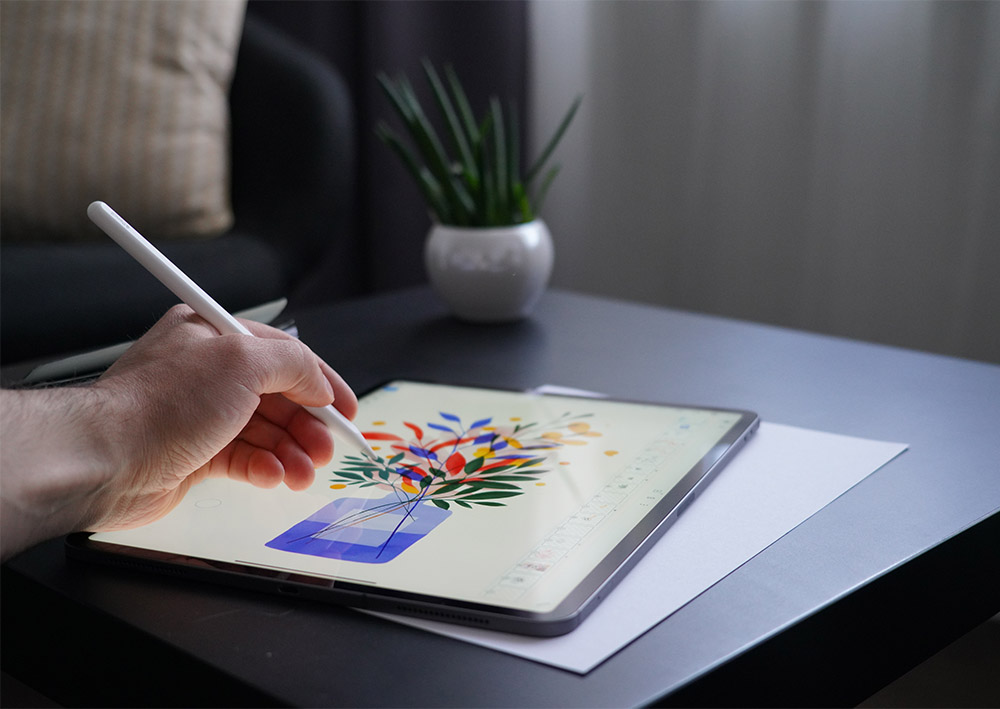 The iPad Pro is definitely the prettier and shinier of the two but Surface Pro 7 has some unique set of features and advantages that shouldn't be overlooked.
In this Apple iPad Pro and Microsoft Surface Pro 7 comparison, we will take an objective look at both these tablets to help you figure out – which of the two tablets is a superior drawing device? and which tablet will suit your needs better?
So if you are thinking about getting either the Apple iPad Pro or Microsoft Surface Pro 7 for drawing, sketching, writing, or as a two in one work/ entertainment device – this is a must-read for you.
Display comparison – iPad Pro and Surface Pro 7
A screen is one of the most important parts of a drawing device because that is where everything happens.
Here is the list of all the features and the overall rating of displays that come with Apple iPad Pro and Microsoft Surface Pro 7.
Apple iPad Pro
(11-inch)
Apple iPad Pro
(12.9-inch)
Microsoft Surface
Pro 7
Size
11 inches
12.9 inches
12.3 inches
Resolution
2388 x 1668 p
2732 x 2048 p
2736 x 1824 p
PPI (Pixels per inch)
264
264
267
Aspect Ratio
1.43:1
4: 3
3:2
Color Accuracy
122.9% sRGB
122.9% sRGB
102% sRGB
Brightness
600 nits
1000 nits
430 nits
Refresh Rate
120 Hz
120 Hz
60 Hz
Price
Check on Amazon
Check on Amazon
Check on Amazon
*Color measurement data from Tom's guide
Selecting the right size for a drawing tablet
When you are looking for a portable drawing device, you ideally want a tablet with a larger drawing area. But as we increase the screen size, we lose on portability.
Most people agree that a 12 or 13-inch screen size is a sweet spot between size and portability, giving you the best of both worlds.
The Apple iPad Pro comes in two screen sizes – 11 inches and 12.9 inches. Whereas the Microsoft Surface Pro 7 comes with a 12.3-inch display.
Here is an image that shows an accurate representation of relative sizes (not actual size) and aspect ratio between the screens of Apple iPad Pro and Microsoft Surface Pro 7.
From the image, you can see that with iPad Pro 12.9 you get a lot of extra screen real estate – especially compared to the Surface Pro 7.
12.9 inch variant of the iPad Pro is kind of comparable to a 13-inch laptop, which is great for artists who want a massive screen area. But at the same time, the screen is so big that can be inconvenient to bring it with you all the time.
The Microsoft Surface Pro 7 with its 3:2 aspect ratio gives you a similar screen width to the 12.9 inch iPad pro, in spite of having a smaller screen. This gives you ample of drawing space without increasing the overall bulkiness of the device.
But talking of portability it is interesting to note that, the Surface Pro 7 weighs the most – measuring 1.7 pounds (770 grams), followed by the 12.9 inch iPad pro measuring 1.4 pounds (635 grams).
Next coming to the smallest tablet. The 11 inch Apple iPad Pro is a very popular choice amongst artists – mainly for its compact and portable size.
It literally takes no space in your backpack and can be used anywhere you like whether you are on a bus, metro, or flight. It is also the lightest tablet making it easier to hold in your hands for a longer duration.
The 11-inch screen area is sufficiently large to provide a pleasing drawing experience. On top of that, the drawing apps on iPads are well optimized to work with smaller screens.
Weight of the tablet
Apple iPad Pro (11 inches) – 1.04 lbs (470 grams)
Apple iPad Pro (12.9 inches) – 1.41 lbs (635 grams)
Microsoft Surface Pro 7 – 1.7 lbs (770 grams)
Display resolution and sharpness
From the comparison, we can see that – tablets from both the brands come with very good displays.
They have a similar resolution of around 2.5K (QHD) with a 264 and 267 PPI (pixels per inch) count – producing very sharp and clear images.
Color accuracy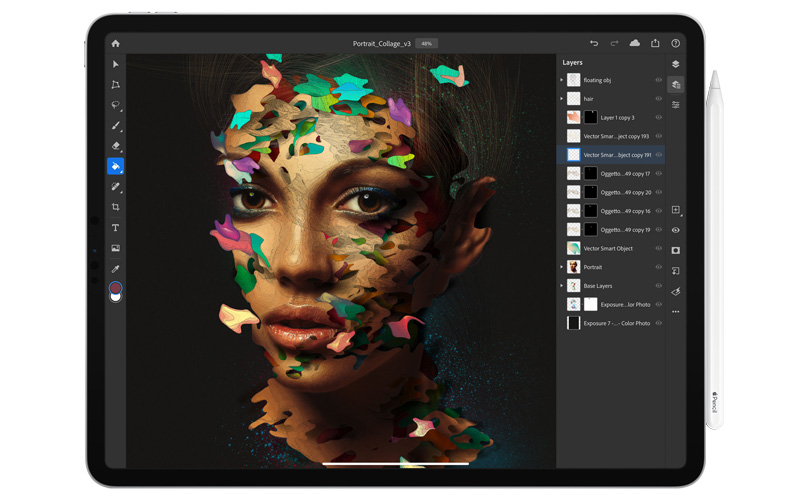 Good color accuracy is a key feature that digital artist look for, as they greatly rely on display color accuracy for making creative drawing decisions.
While the color accuracy on both the Surface Pro and iPad pro is higher than what you get with normal computer monitors – which is a good thing.
Comparing the two tables, iPads have a color accuracy in the range of 120%+ sRGB color space coverage, whereas the iPad Pro comes with a lower 102% sRGB color coverage.
This means the screen on iPads is more vibrant and colorful than the Surface Pro 7.
Display Brightness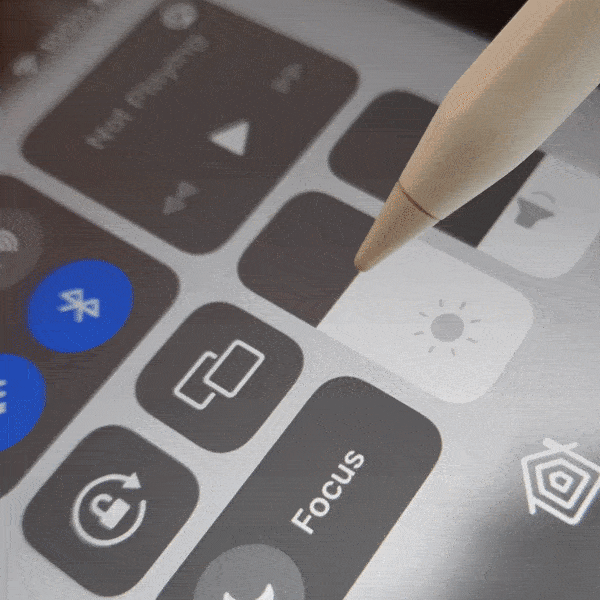 The 11-inch Apple iPad Pro has a max brightness of 600 nits which is sufficient for bright outdoor environments.
But the real kicker is the 12.9-inch iPad Pro that can go up to 1000 nits of sustained brightness and 1600 nits of peak brightness, thanks to its mini-LED screen.
Meaning the screen is visible even under direct sunlight.
The Microsoft Surface Pro 7 on the other hand comes with 430 nits of screen brightness – which is decent for indoor usage but not ideal for outdoors.
Display refresh rate
The Surace Pro 7 comes with a normal 60 Hz refresh rate, whereas both the 11 and 12.9-inch iPads come with a 120 Hz refresh rate.
This faster refresh rate really makes a noticeable difference when you are using the stylus. The strokes drawn on iPads have virtually no lag and drawing feels as natural as drawing on a paper.
Bezels
In the last few years, we have seen bezes (space around the screen) shrink. Comparing the two tablets the iPads definitely look more futuristic due to their slimmer bezels.
Stylus – Apple Pencil 2 vs Microsoft Surface Pen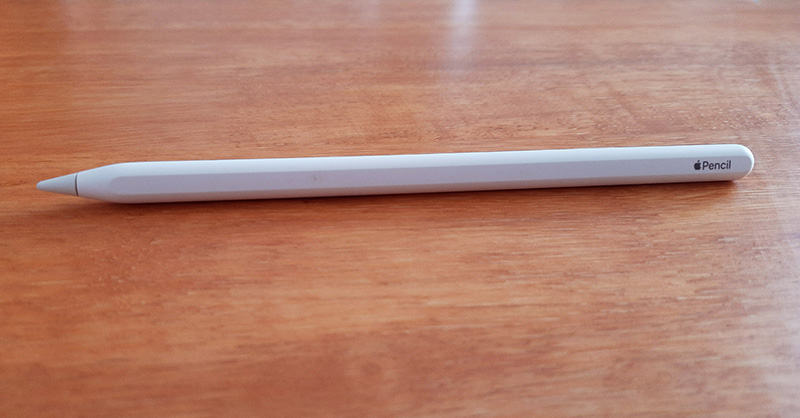 Apple Pencil is considered one of the most advanced styluses in the market and known for its consistent, smooth, and reliable performance.
Microsoft on the other hand has been making stylus for a long time and has definitely mastered their stylus recipe. The newer Microsoft Surface Pen is better than ever and provides a very mature drawing experience.
Design and features of the stylus
Talking of the design and shape, the Apple Pencil is longer whereas the Microsoft Surface Pen is slightly wider.
Both the Surface Pen and the Apple Pencil comes with support for pressure sensitivity and tilt detection.
The Surface Pen has a single button as well an eraser at the back, whereas the Apple Pencil has a touch button with no eraser at the back.
When it comes to comfort and ergonomics, the Apple Pencil is slightly more comfortable to use but that may just be a personal preference as we have seen many artists prefer the wider barrel of the Surface Pen.
The Surface Pen feels more premium as it is made of metal compared to the textured plastic used on the Apple Pencil.
Charging the stylus
The Apple Pencil magnetically attaches to the top of the iPad where it wirelessly charges. It lasts a long time on a single charge and also comes with a quick charging feature.
The advantage of the surface pen is – it is a battery-free stylus that does not needs to be charged. It gets its power wirelessly from the tablet itself using EMR. You can know more about EMR by clicking here.
Just like the Apple Pencil, the Surace Pen magnetically sticks to the side of the Surface Pro 7, making it easier to carry.
Price – Apple Pencil and Surface Pen

Sadly, neither the Apple iPad Pro nor the Microsoft Surface Pro 7 comes with a stylus included in the box. They need to be purchased separately.
The Apple Pencil is more expensive of the two, whereas the Surface Pen is cheaper.
While there are a number of cheaper knockoff stylus available in the market for both the iPad Pro and the Surface Pro 7 but for the best drawing experience we highly recommend you to get the original Apple and Microsoft stylus.
Check Price: Apple Pencil 2 (Amazon)
Check Price: Microsoft Surface Pen (Amazon)
Palm rejection
Both tablets come with palm rejection that works flawlessly. You will have no accidental touch issues and you can comfortably lay your wrist on the screen while drawing.
Drawing surface texture
Surface texture plays an important role in the overall drawing experience.
In the case of Apple Pencil, drawing with a stylus with a plastic tip on a glass screen is not that pleasing – as the stylus tends to slip around a bit too freely.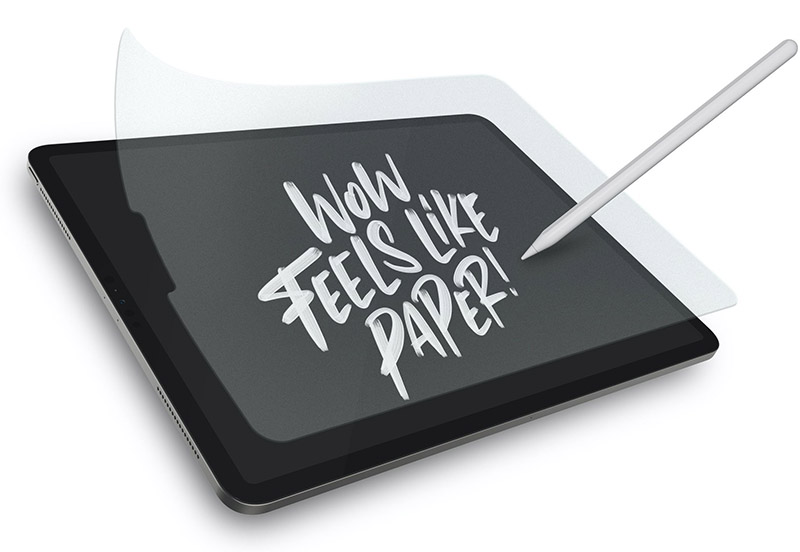 To counter that many artists like to use a textured plastic film (such as Paperlike on Amazon) over the screen of their tablet. The plastic film has minute irregularities that make the pen get a little more grip on the surface -resulting in a very controlled stylus movement.
On top of that, the Apple Pencil also makes a pencil-like scratching sound in this textured screen, which feels very pleasing.
Unlike the Apple Pencil, the tip of the Microsoft Surface Pen has a small rubber tip that provides much-needed grippy control over the stylus when writing or drawing on the smooth glass screen.
And for that reason, you don't need to apply any external plastic film over your tablet.
Design and build quality
After comparing the screen and the stylus, let's have a look at the design and the build quality of the tablet.
The Dimensions of all these tablets are as follows.
Apple iPad Pro (11 inches) – 9.74 x 7.02 x 0.23 inches (247.6 x 178.5 x 5.9 mm)
Apple iPad Pro (12.9 inches) – 11.04 x 8.46 x 0.23 inches (280.6 x 214.9 x 5.9 mm)
Microsoft Surface Pro 7 – 11.5 x 7.9 x 0.33 inches (292 x 201 x 8.5mm)
Out of the two tablets, the Apple iPad Pro is slimmer and better looking of the two devices, mainly due to its slimmer bezels. But on the flip side, it has a massive camera protrusion at the back which looks ugly.
Surface Pro 7 can be said as a more functional tablet. It may not be breaking records in terms of slimness but it is still very compact.
The best part of the Surface Pro 7 is that it has an inbuilt tablet stand which is very handy in day to day usage.
Other than that, both the tablets rock a metallic unibody design that feels premium in hand.
Ports and removable SD card
The Apple iPad Pro comes with a single thunderbolt compatible USB-C port, whereas the Microsoft Surface Pro 7 comes with a USB-C port, MicroSD card slot as well as a headphone jack plus the Surface Connect connector for charging.
Apple iPad Pro: USB-C Port
Microsoft Surface Pro 7: USB-C port, MicroSD card slot, headphone jack, and Surface Connect
Power, Performance, and Variants
Without going into the nitty-gritty, when you compare the two devices the processor on the Apple iPad Pro is more powerful than the Surface Pro 7. With that said, both the tablets are sufficiently powerful to handle intensive drawing-related works.
Microsoft Surface Pro 7 variants
Processor – Intel i5 and i7 (10th gen)
RAM – 8, 16 GB
Memory – 128, 256 GB
Colors – Platinum, Matte Black
Connectivity – WiFi
Apple iPad Pro variants
Processor – Apple M2 chip
RAM – 8 GB
Memory – 128, 256, 512 GB, 1 TB and 2 TB
Colors – Silver, Space Grey
Connectivity – WiFi and WiFi + cellular
Battery life
As an artist, you ideally want your tablet to have longer battery life. The one that doesn't require frequent recharging and doesn't do dark on long trips.
As per the battery drainage test done by Tom's Guide, the iPad Pro lasted a little more than 10 hours whereas the Surface Pro 7 lasted around 8 hours.
Operating system – iPadOS vs Windows
This is one of the most important things to consider when you are looking for a drawing tablet.
The operating system has a massive effect on the overall usage of the tablet. It determines what type of application would run on the device and what kind of tasks can be done on it.
The Apple iPad Pro comes with an iPadOS and the Microsoft Surface Pro comes with a Windows Operating system. Both the OS (operating system) have their own advantages and disadvantages which makes them ideal for some users over the other.
Advantages and disadvantages of each operating systems
Due to its full-fledged Windows 10 operating system, the Surface Pro 7 is like a mini-computer. As an artist, one of the biggest advantages of using this tablet is you can run all your desktop drawing applications.
The operating system is one of the biggest disadvantages of the Apple iPad Pro. Manu popular desktop drawing applications are still not available on the iPadOS.
And out of the apps which are available, many of them are trimmed down version of their full-fledged desktop application and do not have all the features that you get on the desktop version.
With that said there are many good iPad only apps such as Procreate which are exceptionally good.
All things considered, if you are purely a digital artist and create digital paintings, illustrations, and comics, you would be very happy using the Apple iPad Pro.
But if your work and workflow consist of switching between multiple applications such as photoshop, illustrator – or if your favorite desktop drawing software is not available on the iPad Pro, you are better off with the Surface Pro 7.
iPad Pro and Surface Pro 7 – Not ideal for 3D Artists
If you are a 3D artist or want to learn 3D modeling and sculpting in the future, you should know that none of the two options is a good choice.
Unlike drawing apps, iPad Pro does not have any notable 3D apps that can substitute desktop-class 3D modeling applications.
With Surface Pro 7, you can technically install applications such as Autodesk Maya, Max, Houdini, or Blender – but the Surface Pro 7 does not have enough horsepower to run these heavy applications.
But at the same time, you can definitely use these devices as part of your 3D workflow/pipeline such as creating concept art or preproduction.
Tablet stand
Microsoft Surface Pro 7 takes the lead in this category. As we told you earlier, it comes with a built-in tablet stand which allows you to prop up the tablet at any angle of your choice.
This eliminates the need for any external stand that people buy to hold the tablet at an angle. The stand is firm and sturdy enough to not collapse even when your hands are placed over it while drawing.
Next coming to the Apple iPad Pro, it does not come with a stand at the back which makes the tablet look sleek from the back but you also lose on the usability provided by the stand.
Connectivity and Accessories
Both the tablets come with an official keyboard cover which extends the usability of the tablet.
The keyboard accessory, which the Apple calls the "magic keyboard for iPad Pro", the cool thing about the magic keyboard is – when attached to the tablet the keyboard lifts the tablet a few inches above the surface.
Other than the keyboard cover, the Surface Pro 7 also supports the Surface Dial, which is a shortcut remote specifically made for digital creatives.
Summary – Which is the right tablet for you?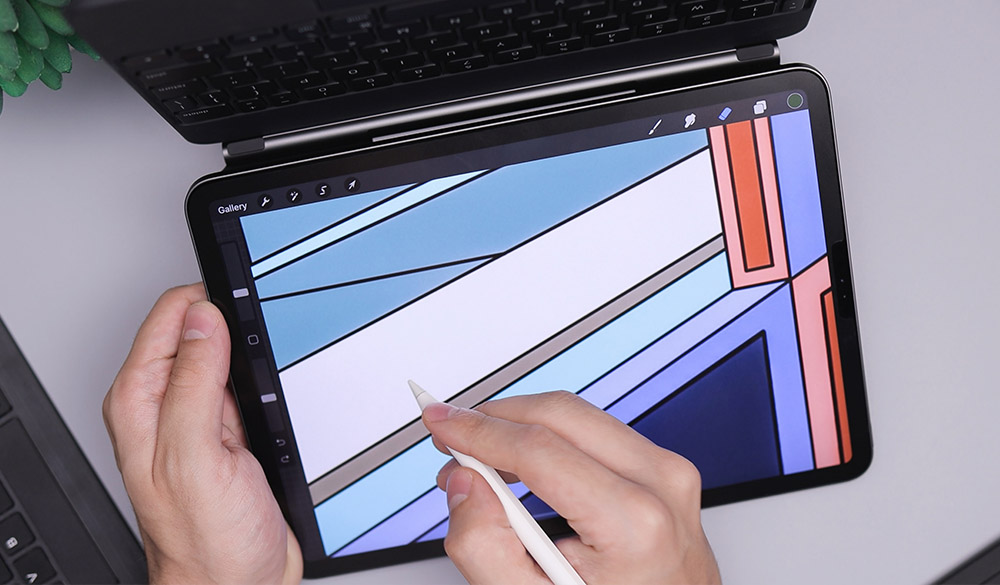 So far in this comparison, we have discussed various aspects of the tablet such as screen, stylus, power, performance, battery life and in most of the categories, the Apple iPad Pro came on top as a superior tablet.
The Apple iPad Pro screen has a better color accuracy with a higher refresh rate, the Apple Pencil has a superior writing and drawing experience, the iPad Pro is a more powerful processor.
On the flip side, the Surface Pro 7 has more ports and connectivity options, supports an external SD card, and has a built-in stand at the back which massively improves the user experience.
Prices – Premium tablet premium pricing
Talking of the price – Both the Apple iPad Pro and the Microsoft Surface Pro 7 are very closely priced. The base variants of these tablets are available at reasonable prices but as you get some upgrades the price increases rapidly.
In a nutshell, you are getting two of the most advanced and premium drawing tablets in the market and the price you pay reflects that.
So if you have to choose one of the two tablets as an artist, we would say this – If you are one of those artists who really need Windows 10 and can't live without your favorite desktop drawing application – get Microsoft Surface Pro 7.
But if you are looking for the best of the best drawing device with top-of-the-line features, a very capable stylus, and great battery life and you are happy with the choices of drawing apps available on iPadOS – get the Apple iPad Pro.
Compare Prices and select varients
Apple iPad Pro (11 inches) – Amazon
Apple iPad Pro (12.9 inches) – Amazon
Microsoft Surface Pro 7 – Amazon
The Surface Pro also has a smaller, less powerful, and cheaper sibling called Microsoft Surface Go (Amazon) – which can be a great option for casual artists.
Check Out – Drawing 101: Introduction to Digital Illustration by Jean Fraisse (recommended course)
Related topics:
How does Apple Pencil work?
Essential iPad Pro accessories for artists