Disclosure: As an Amazon Associate EssentialPicks earn from qualifying purchases.
---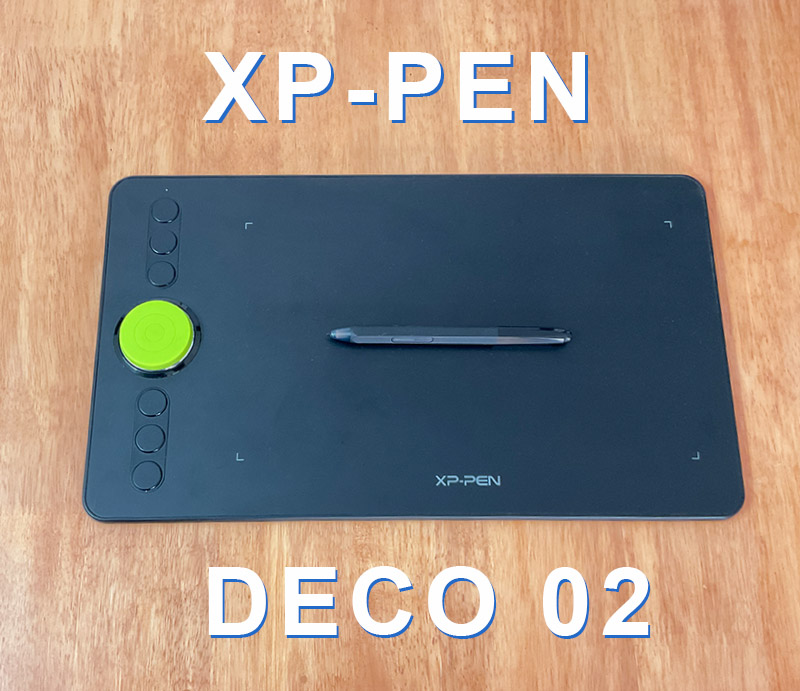 As a graphic designer, I have been using the Xp-Pen Deco 02 as my daily driver for the past few weeks. If you are looking for a drawing tablet this guide will help you make the right decision.
Right from its release Xp Pen deco 02 is considered as the best budget drawing tablet.
It is the missing piece of the Deco family which already consist of Xp pen deco 01 and Xp pen deco 03 which are considered great tablets in their respective price range.
Before we talk about my views on the device, let's have a look at its features.
Xp-Pen deco 02 – features
| | Xp Pen Deco 02 |
| --- | --- |
| | |
| Active Area | 10 x 5.63 inches |
| Pen Pressure | 8192 |
| Pen Battery Needed | No (passive pen) |
| Buttons on Pen | one + Eraser |
| Buttons on Tablet | Yes(Six) + Roller |
| Resolution | 5080 LPI (lines per inch) |
| Report Rate | 266 RPS (reports per second) |
| OS Support | Mac, Windows |
Design and Build Quality
Xp Pen has put a lot of thought and effort into this device. They have gone very creative and have literally put a hole into it. Which not only makes it unique but also serves the practical purpose of housing a roller wheel.
The dimensions of the device are 362*210*9 mm which is very sleek and easy to carry in your backpack. It has the active working area of 10 x 5.63 inches which is more than enough.
It has a very modern minimalist design with the working area on one side and buttons on another.
The rear surface has four circular rubber pads to avoid slipping on smooth surfaces. Overall, the device looks and feels strong with everything well rounded and smooth.
Shortcut keys
Deco 02 comes with 6 customizable buttons arranged in two groups of threes, in-between which sits a rolling wheel.
All the shortcut buttons are placed on the left side of the device which is an ideal position for your hand to rest naturally.
The buttons are circular in shape and made of plastic. They sit pretty snugly with no wobble or vibrations, giving it a premium feel. The quality of the buttons is great as they make a crisp click sound with good feedback.
By default, the top three buttons are set to Brush, Eraser and undo shortcuts respectively in photoshop.
The next two buttons are set to the Hand tool, color selection (alt) and the last button changes the modes for the roller.
With the help of the driver, you can reprogramme any of these buttons to perform any shortcut for any software.
Other than that you can also assign application-specific shortcuts which automatically changes the buttons as you switch from one application to another.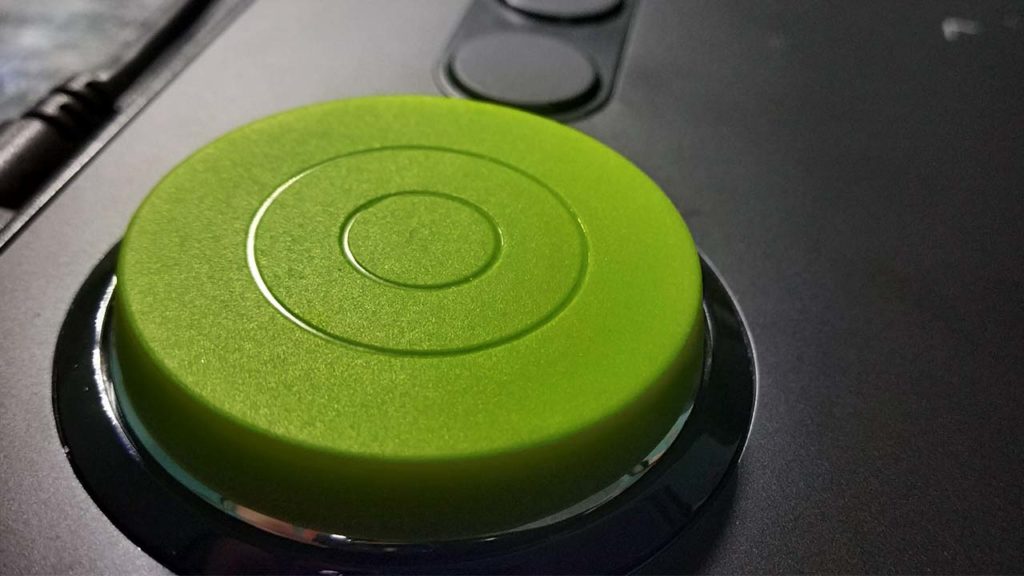 The rolling wheel is one of the highlights of the device as it has not been seen in any other tablet at this price range. At default settings, it is set to perform three tasks which include Zoom, Scroll and changing the Brush size.
With the help of the driver, you can change these default settings and add two extra shortcuts.
On rotating the roller have a very satisfying feel to it. The metal body gives it a dense feel and the ball bearings inside them make its movements very smooth.
The tablet comes with a green rubber disk that sits on top of the roller.
Its main use is to cover the hole and provide a rubber surface to hold instead of metal.
In the end, it comes down to your personal preference whether you want to place your hand on rubber or metal.
Pen
A Pen is the most important piece of hardware which determines your decision of getting that pen tablet. Luckily, in this case, they have created a well-rounded and extremely well-performing pen.
Xp pen deco 02 comes with a brand new pen design, which is quite different than any other stylus in Xp-pen lineup.
The shape of the pen is heavily influenced by a pencil as it has got six sides. This pencil-like design avoids the pen from rolling down the surface.
The pen comes with 8192 levels of pressure sensitivity and works without any battery with the help of EMR (electromagnetic resonance).
It has a single button on the side and an eraser at the back making it the only pen with an eraser in its price category.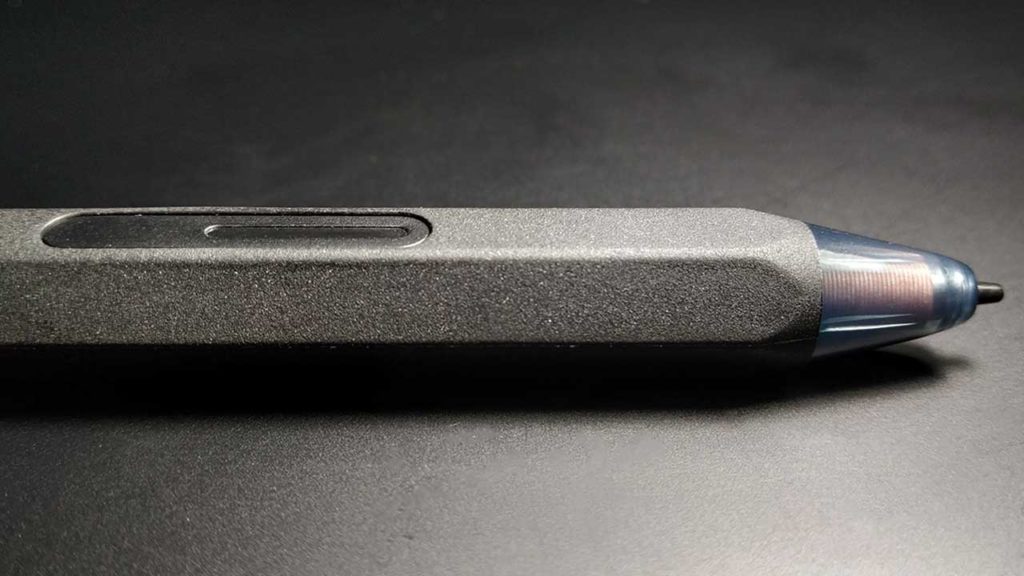 From the raw appearance, the pen looks beautiful and well designed.
The front cap is made of translucent plastic through which coils of wire are visible, which looks very cool.
The front portion of the pen has a matt black grippy texture which makes it very comfortable to hold.
On the rear end of the stylus you have a glossy black plastic which gives a great contrast to the matte texture at the front.
The pen is well balanced and comfortable to hold for longer durations.
Pen holder and Stand
If you know about Xp-Pen you may already be aware that every model of Deco series comes with a pen holder, and Deco 02 is no exception to it.
The Xp-Pen Deco 02 comes with a very robust and high-quality cylindrical pen holder. Its outer shell is covered with a soft textured material that feels really good in hand.
The top and bottom ends have circular rubber pads to help it stand upright.
Its top cover opens out to reveal a pen stand. The stand is bottom-heavy and stores the pen in an upright position.
The base of the pen holder has a small-cap that contains extra pentips (8 of them) and a nib removal tool.
All these extra pentips are well organized and safely stored in padded compartments.
As not all manufacturers include these extra accessories, so I really appreciate Xp-pen for doing that.
This Penholder keeps the very sensitive stylus safe, especially during travel.
Connectivity
The device connects to your computer using the latest generation USB type-C connector.
One of the main advantages of USB-C is, it can be plugged on both sides which makes it very comfortable to use in both left or right-handed mode.
It comes with L-shaped connectors which makes the wires swiftly run along the sides of the tablet without making a mess. The wires are long and seem to be made of quality materials.
Driver
Like all the other tablets, Xp Pen Deco 02 comes with a driver. The driver enables the tablet to properly communicate with the computer and take full advantage of the hardware.
On the very first page of the driver, you will find a pressure curve that changes the pressure sensitivity of the pen. You also get the option for mapping your monitor, changing your button shortcuts and much more.
Accessories
Unlike other drawing tablet makers, Xp-Pen is known for giving out so many useful accessories.
Other than graphics tablet and pen you would find a pen holder/pen stand, extra pentips, USB cable, Rubber disk, and a smooth black colored drawing glove.
My thoughts
As we have got past the technical details, now is the right time to talk about my personal experience and thoughts over Deco 02.
As already mentioned I have been using this tablet for a few weeks as my primary device and the overall experience has been really good.
There are certain things which I really liked about the tablet, like…
Surface Texture –  Historically Wacom is credited for the most natural drawing surface with near-perfect texture.
But the texture on Deco 02 is equally good if not better. I pulled out my Wacom tablet and Xp-Pen Deco 02 for side by side comparison.
What I found is the texture feels and sounds slightly different in both devices. But, in my opinion, it all comes down to personal preference, no tablet could be called better over the other in terms of surface texture.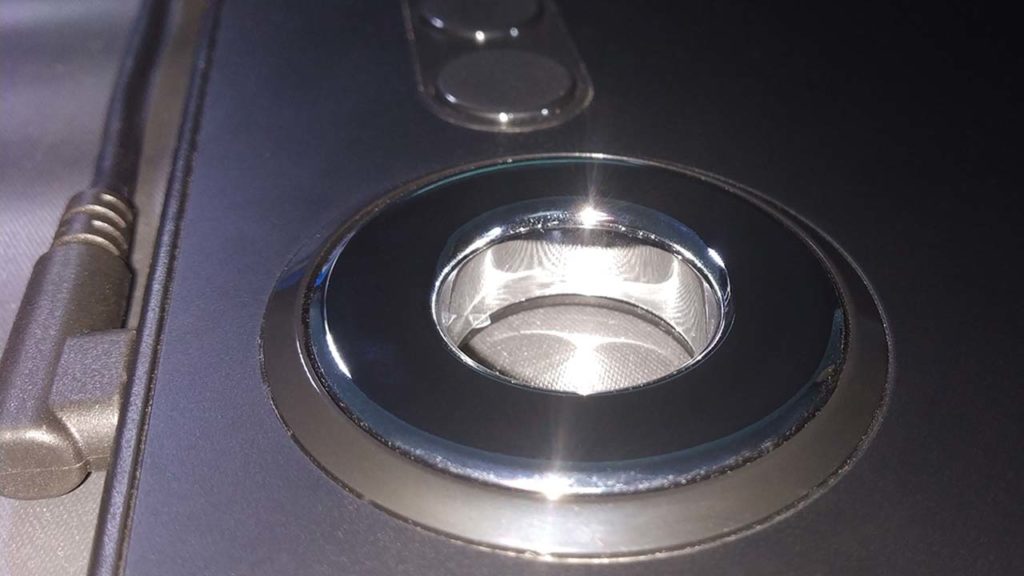 Rolling Wheel – The rolling wheel was a pleasant surprise and well-executed hardware.
Its metal construction in combination with ball bearings makes its movements smooth and a very satisfying user experience.
As per the practical uses, it can perform rotate, scroll, zoom and also change the brush size, which can be very handy.
Pen – The various texture and the matte black finish works really well and it is a pleasure to hold in hand.
Apart from the physical feel, it performed great in various digital painting software. Its pressure sensitivity was on point, and there were no wobble and jittering in fast as well as slow movements.
The transition from low pressure to high very accurate and on point with no traces of pressure bumps.
Now as you know the pen comes with a single button on its side and an eraser on the top.
At first, I was kind of unhappy about this, as I use my second button for the "alt" shortcut (color selection) in photoshop and also to change the brush size.
But because of the shortcut buttons and rolling wheel, I was able to change my brush size much faster so I did not really felt the need for it. And within a few hours, I got adjusted and was fine with just one button.
My one and only complaint with the device is the side button on the pen which could be difficult to find as it is totally flush with the surface. But again after using it for a while, I was fine.
Overall the pen was a very accurate and capable and needed a little getting used to which is not a big deal. And as a reviewer, I can happily recommend it to anyone.
Summary
When it comes to cheap drawing tablets there are a lot of choices in the market. But with all the other devices, you get some and you lose some (features).
Xp-Pen Deco 02 comes closest to perfection and gives you a feature-packed device fully capable of making professional-grade digital paintings.
They have really nailed the basics and made a great tablet at a very affordable range. Making it one of the best drawing tablets in the market.
(Update) Deco 02 After one year
So guys, one of our team members has been using this tablet for about a year and we are here with an update for you.
We are happy to report that we have not yet encountered any issues with the tablet so far and everything is working fine (as it should be).
The tablet really took some beating, here is how the drawing surface looks after a year of rough usage.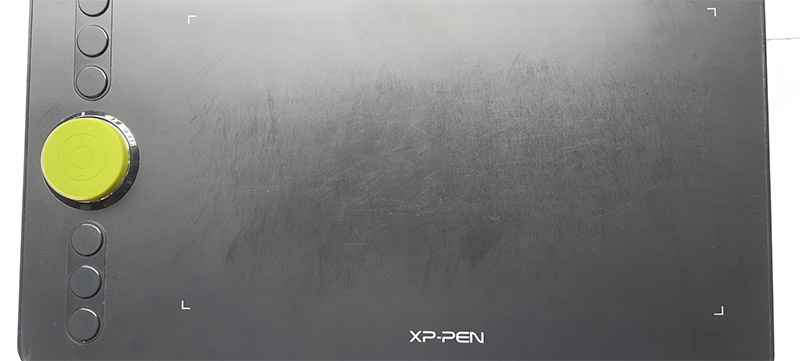 This is a good result.
Although you can see some scratches (which is quite normal to have for any drawing tablet after prolonged usage), But none of these scratches are deep enough to catch the pen tip while drawing.
You may not be able to tell from the image, but it has almost completely lost its surface texture, especially in the middle area (this is also very normal for drawing tablets).
Overall we would give it a good 7/10 (7 out of 10) in terms of long-term durability, which is right on par with other tablets that we tested.
Do we still recommend this tablet after one year?
Considering, how smooth and hassle-free our experience has been with the tablet, with normal and totally acceptable wear and tear – we still highly recommend the Xp-Pen Deco 02.
Related:
Xp Pen Deco Pro Review