Disclosure: As an Amazon Associate EssentialPicks earn from qualifying purchases.
Standalone drawing tablets have a lot of advantages over traditional drawing devices. One of the biggest being – they do not need to be connected to a computer.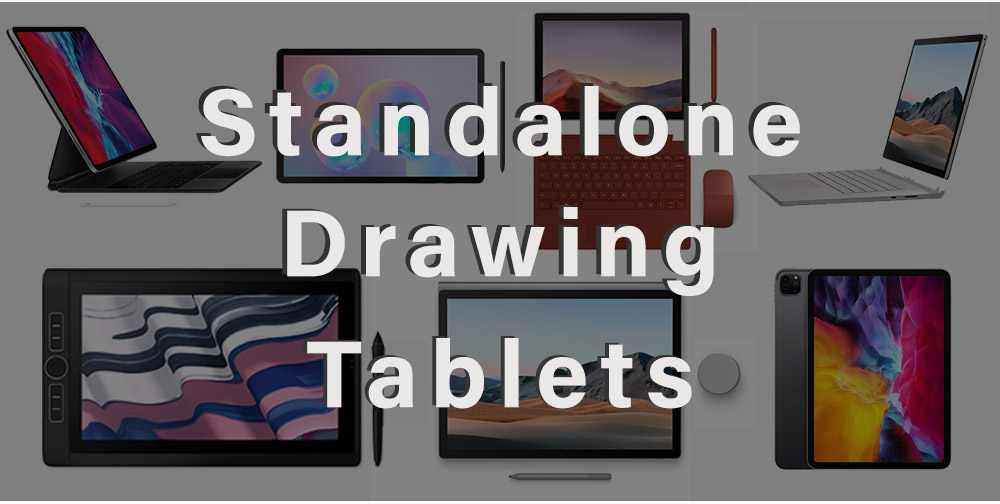 Having a computer built inside your drawing tablet does not only give you a compact drawing device that you can take anywhere with you but also provides a number of added features and functionalities.
A number of these tablets come with special features such as shortcut buttons or accessories such as surface dial, magnetic stylus, desktop-grade app support that adds to the overall drawing experience.
If you are looking for the perfect standalone drawing tablet for yourself, you have come to the right place.
After spending weeks – comparing and evaluating over 50 tablets. We finally made a list of some of the most deserving tablets for being the best standalone drawing tablets in the market.
In a hurry? Here are our top recommendations.
Top Recommendations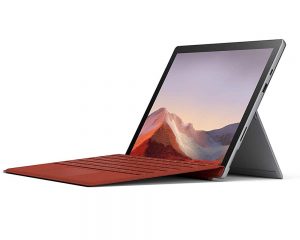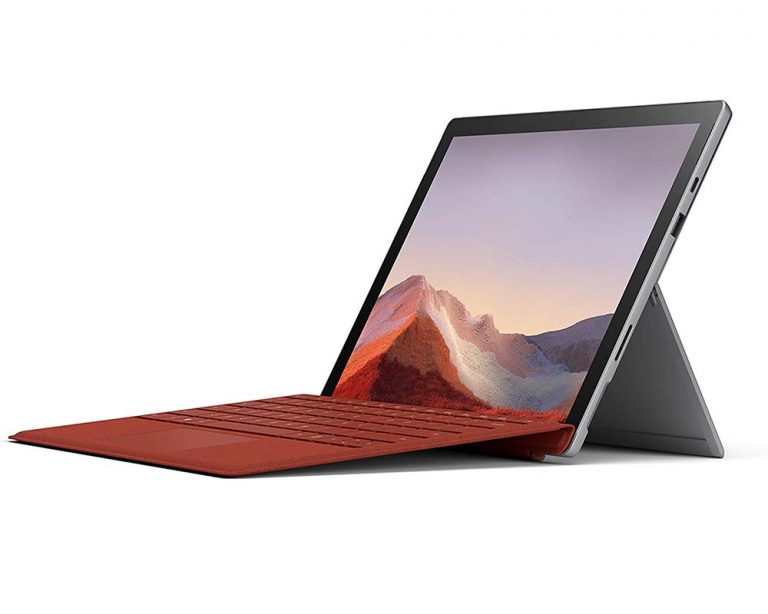 Surface Pro 7
by Microsoft
12.3 Inch display
Portable tablet with Windows
Can run desktop-grade apps
Inbuilt tablet stand
CHECK ON AMAZON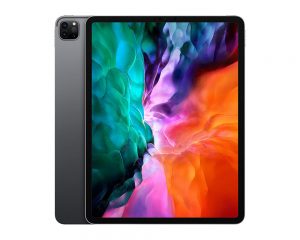 iPad Pro
by Apple
11/12.9 Inch
Excellent Stylus (Apple Pencil)
Perfect color accuracy
Ultra-portable
Good battery life
CHECK ON AMAZON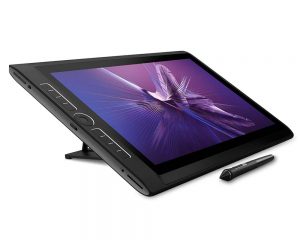 Mobile Studio Pro
by Wacom
15.6 Inch display
Fully standalone tablet
Can run all Windows apps
Excellent stylus
Shortcut buttons
CHECK ON AMAZON
Standalone drawing tablets come in various sizes and forms and have a number of advantages over traditional drawing tablets.
Standalone drawing tablets are a combination of a drawing tablet and a computer.
These drawing tablets have a built-in computer inside, that allows them to work independently without needing to be connected to an external computer like the traditional drawing tablets.

Based on size
Portable standalone drawing tablet
Large size standalone drawing tablet
Based on OS (Operating system)
Windows (PC tablets, 2-in-1 convertibles, all in one PCs)
IOS
Android
Advantages of standalone drawing tablet
Comes with a pen-enabled screen
Portable - Can be used on the go
Comes with a built-in computer
Cleaner workspace with minimum clutter
Some of them support keyboard accessories that essentially makes them a computer
Added drawing centric features
Multiple choices in terms of size and operating system
It can be used on a couch, patio, lawn, park or wherever you feel comfortable
Overall better drawing experience
Disadvantages of standalone drawing tablet
Expensive than traditional drawing tablets
Minimum to no upgradability - So make sure to pick best possible specs
Generally smaller screen sizes - 10 to 13 inches but some are also available in larger 22 and 27 inches
Difficulty running heavy 3D applications
1. Microsoft Surface Pro 7 – Best standalone drawing tablet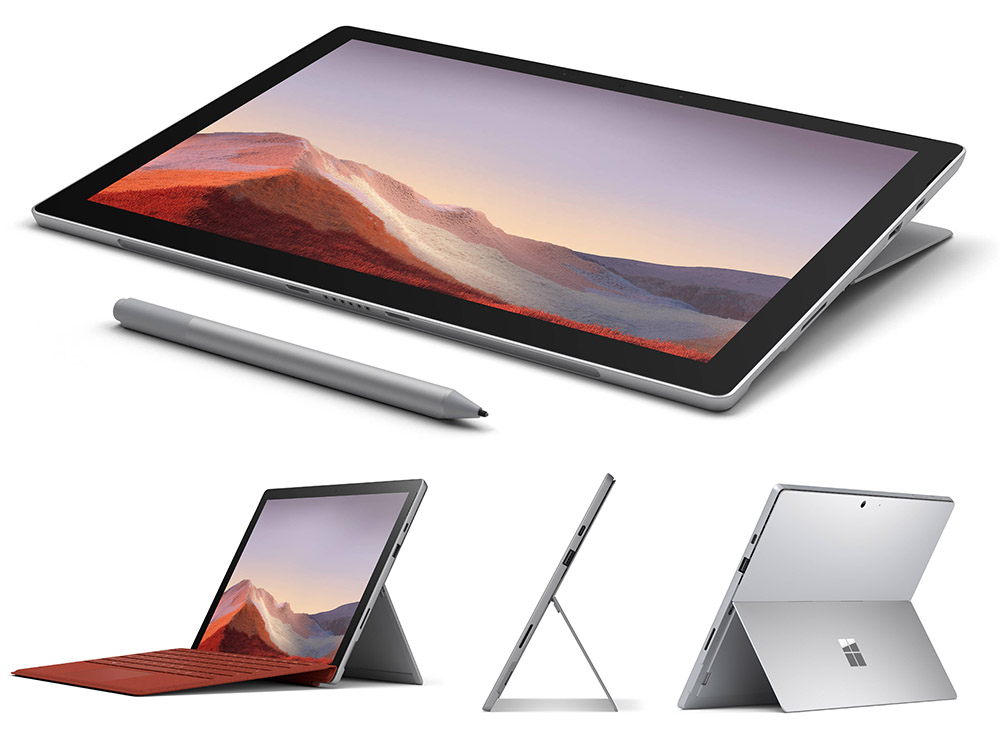 There are so many good standalone tablets out there that it was kind of difficult to decide which tablet should hold the first spot.
After having a good look, it was clear that the Microsoft Surface Pro is the best standalone drawing tablet you can get as it brings a lot to the table.
The Surface Pro 7 comes with a 12.3-inch screen that is small enough to be portable but still has a sufficiently large screen that it doesn't feel cramped while drawing.
The support for Windows 10 is one of the biggest advantages of this tablet. Windows allows you to use all your favorite desktop-grade drawing and modeling applications right on this handy computer.
The processor is powerful enough to handle light 3D applications and hundreds of drawing layers of your project. The battery life is also decent with fast charging enabled.
Microsoft Surface Pen
Last but not least – the Surface Pen. The Surface Pen is counted amongst some of the very capable styli in the market. Ir comes with support for both the pressure and tilt sensitivity.
The Microsoft has put a lot of attention to the details, the writing tip of the stylus has a rubbery tip instead of plastic that you find with other tablets.
This helps with providing better control over the stylus when drawing on the glass surface of the tablet.
Surface Pro 7 being a touch screen, the palm rejection is equally important. The palm rejection on this tablet is spot on and does an excellent job of handling accidental touches.
Available Configurations
The Microsft Surface Pro is available in multiple configurations where you can choose everything from processor to RAM and even storage.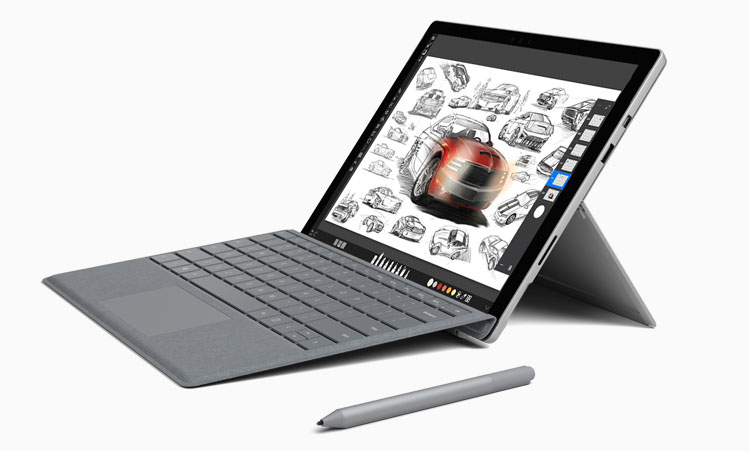 Surface Pro 7 is the perfect choice for artists who need the desktop-grade application support in a handy form factor.
If you are a multitasker who constantly switches between digital art to graphic designing and uses Adobe sweet of applications or just want the flexibility of a desktop operating system, the Microsoft Surface Pro is the best option for you.
PROs of Microsoft Surface Pro 7
12.3 Inch large display
Powerful and compact
Windows 10 operating system
Above-average stylus
Above-average battery life
Built-in Kickstand
Available in multiple configurations
CONs of Microsoft Surface Pro 7
Average display quality
Pen needs to be purchased separately
2. Apple Ipad Pro – Compact and Powerful
If you hang out in art communities, you know that Apple iPad is gaining popularity with some of the artists permanently switching from traditional drawing tablets to iPad Pro.
Getting the basics right is one of the best ways of making a good drawing device, that is essentially what Apple has done with its iPad Pro lineup.
Apple iPad Pro Screen
Starting with the display – a display is where all the action happens, so it is one of the most important components of a drawing tablet.
The display on the Apple iPad Pro has a resolution of 2388 x 1668p (11-inch) and 2732 x 2048p (12.9-inch).
The screen is vibrant with good color accuracy. The display is bright enough to be comfortably used outdoors.
One of the great things about this screen is that it comes with ProMotion technology. Where the screen refresh rate is boosted up to 120hz giving you a faster and smoother response when drawing with Apple Pencil.
Apple Pencil – Stylus perfection
If you ask us – "Which is the best stylus that one can get?" – Apple Pencil would be the answer.
Accurate tracking, balanced pressure sensitivity, tilt recognition and faster response rate and good ergonomics are some of the ingredients of a good stylus. The Apple Pencil stands tall at almost every benchmark.
At the heart of it – Apple Pencil is the main reason what makes the iPads so popular amongst the artist. It has a very precise stylus tracking and good pressure and tilt sensitivity.
What sets it apart from another stylus in the market is its amazingly fast response rates measuring just 7ms.
The only area where the Apple Pencil falls short is the ergonomics. Although a vast number of artists like the overall shape and size of the Apple Pencil but some of them feel that it is a little too thin and may feel slippery on sweaty hands.
To counter that, some artists like to use an Apple Pencil grip that not only provides a better grip but also increases the thickness of the stylus.
Other than that the pen has a customizable touch-enabled button on the side that can be used to quickly switch between a pen and eraser. It also comes with features such as wireless charging and quick charging.
The only shortcoming of the Apple iPad Pro
So far the Apple iPad seems like a great choice – Right? but the biggest roadblock that stops many artists from getting this tablet is the Operating system iPadOS.
Although there are a number of good drawing apps available for iPads, still some of the most popular desktop drawing apps are not available for iPads yet.
Further, if you use a combination of different programs as a part of your workflow, you may find it difficult to find the iPad alternatives of those desktop apps – leading you to change your workflow.
In short, iPads are for sure ahead of the game in terms of hardware and power but their operating system is what holds them back.
The iPad Pro is a great choice if you are strictly a digital artist or if you feel the iPads easily fit your workflow, in that case you will love the drawing experience provided by it.
PROs of Apple iPad Pro
Powerful and compact
Excellent stylus (Apple Pencil)
Fastest response time of 7ms
Support keyboard accessory
Long battery life
Powerful drawing apps
Excellent palm rejection
CONs of Apple iPad Pro
The pen needs to be purchased separately
No matte display
3. Wacom Mobile Studio Pro 2 – Standalone drawing tablet for Professionals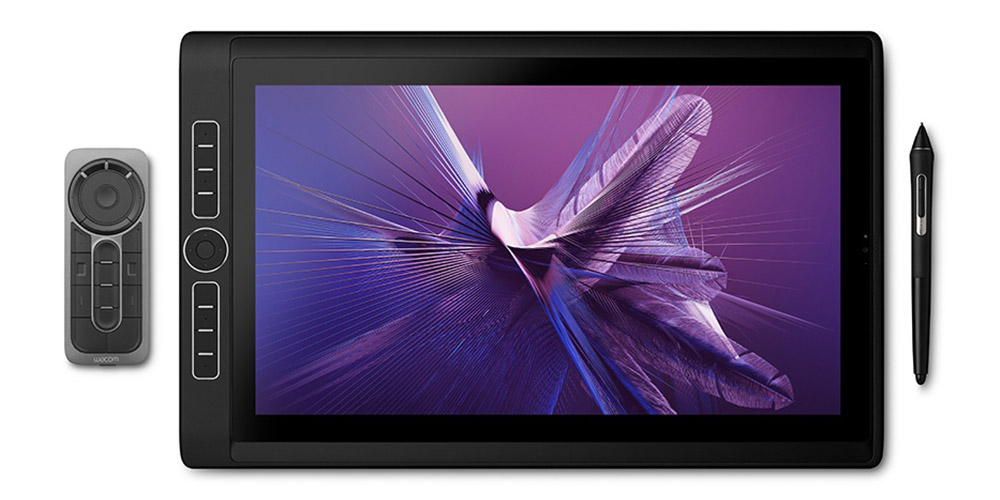 If you are looking for a portable drawing device that runs Windows and has a very capable stylus then look no further.
If you are an artist, you might be aware that Wacom is a well-known brand that is popular for making excellent digital drawing hardware.
The advantage of getting the Wacom Mobile Studio Pro is you are getting the best of both worlds. This tablet runs Windows that allows you to transfer your ongoing projects to the Mobile Studio Pro and continue working even when you are away from your studio.
Now you may be asking – the Microsoft Surface Pro can also do the same. That is true but the advantage with the Wacom Mobile Studio Pro is – in addition to Windows support you are also getting one of the best stylus in the market.
Wacom Pro Pen 2 – The best digital stylus
The Wacom Mobile Studio comes with the stylus called "Wacom Pro Pen 2" which has the pressure sensitivity of 8192 levels. The stylus is fully customizable and has support for the tilt sensitivity.
The Pro Pen 2 has two shortcut buttons on the side as well as an eraser at the back. It has a very fast response rate second only to the Apple Pencil.
In addition to all these, the Wacom Pro Pen 2 has a very ergonomic design that feels comfortable to hold during longer drawing sessions.
Now some of you may be wondering if the Wacom Mobile Studio has a better stylus than the Microsoft Surface Pro 7 and unlike Apple iPad, it has Windows 10 OS – So why did we not place it on the first position.
The answer is – because of its below-average battery life. Most of the drawing or designing apps are fairly heavy applications that need more processing power and in result eat up the battery fast.
In real life usage of the battery on the Wacom Mobile Studio Pro only lasts 4-5 hours when using productivity applications.
Who should buy the Wacom Mobile Studio Pro 2?
If you are looking for a portable Windows drawing tablet that is powerful enough to handle your day to day uses and comes with a good stylus.
The one that is custom made for artists and provides a great drawing experience, the Wacom Mobile Studio Pro is the right choice for you. Provided you don't mind the short battery life.
PROs of Wacom Mobile Studio Pro
15.6-inch 4K display
Physical shortcut buttons
Battery-free stylus (No need to charge)
Natively runs all windows apps
Matte display with a textured surface
Available in two sizes
CONs of Wacom Mobile Studio Pro
Low battery backup
No touchscreen
4. Samsung Galaxy Tab S6 – Promising features reasonable price
If you are an artist and you like the freedom and customizability that Android offers than you would love this one.
Samsung tablets are some of the most reliable tablets on the Android side and they have been doing some great stuff with their stylus lately.
The Samsung Galaxy Tab S6 is the latest iteration of the Samsung tablets whose features are kind of similar to the iPads.
Display – Color and Resolution
The tablet comes with a 10.5-inch display with a 2560 x 1600 resolution and aspect ratio of 16:10 in a modern minimalistic bezel.
Samsung has used AMOLED screen on this tablet meaning you will be getting great colors and contrast. On top of that, the screen is bright enough to be comfortably used outside.
S Pen – The Samsung stylus

Samsung has been doing a lot of good stuff with their stylus. For starters, the S Pen sticks to the back of the tablet. That means you don't have to actively carry it with you, it's always there.
The S Pen has good pen tracking as well as pressure sensitivity that makes the overall drawing experience really good.
The response time of the S Pen is not as good as you would get with an iPad but you won't really notice the difference unless you compare them side by side. Check out our Apple Pencil vs S Pen comparison (new tab).
One important thing to know about the stylus is the shape of the S Pen in Galaxy s6 is not round. It is slightly flat from the sides (kind of like a carpenter pencil).
Cheaper Alternative
If you want a round stylus then you can go with the Samsung Galaxy Tab S4 (Amazon), it will save you some money while providing similar drawing features.
Overall it is a good option to be used as a standalone drawing tablet. It is a fully feature-packed tablet with Samsung Dex support which can handle a lot of heavy tasks with ease.
Check out some of the other options for Android drawing tablets.
PROs of Samsung Galaxy Tab S6
Best in class display quality and resolution
Powerful stylus with air gesture support
Bright display – for comfortable outdoor usage
Long battery life
Pen included in the package
Good palm rejection
Keyboard accessory support
CONs of Samsung Galaxy Tab S6
No matte screen
Only a few drawing apps supports tilt
No headphone jack
5. Huion Kamvas Studio 22 – Larger standalone drawing tablet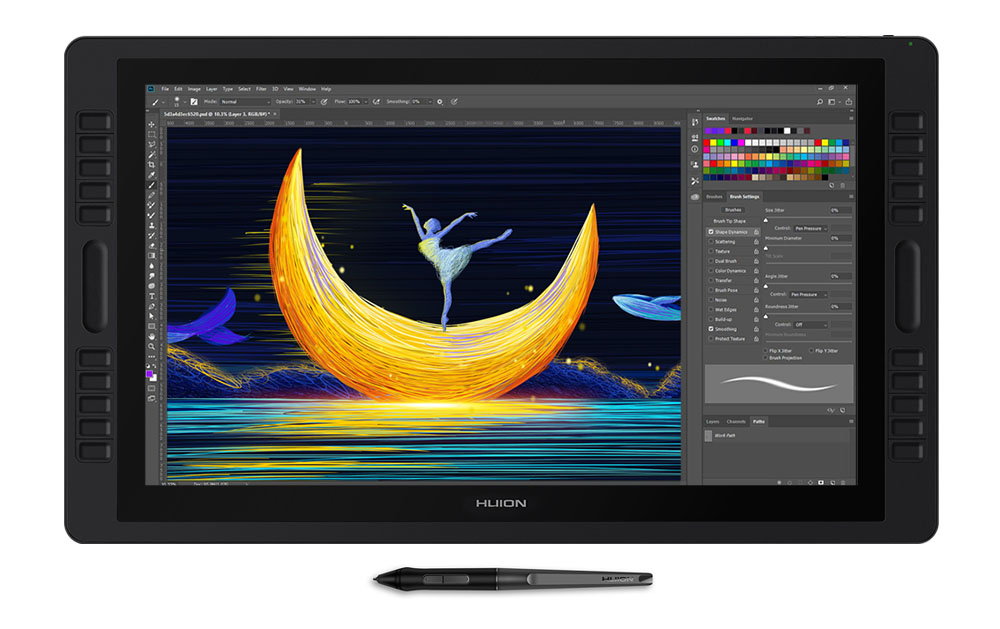 Till now we have seen a number of tablets measuring 10 to 13 inches. These tablets are great in terms of portability but they do compromise with screen size.
What if portability is not your priority and you actually want is a larger drawing area (bigger screen) instead.
The Huion Kamvas Studio 22, as the name suggested is a standalone drawing tablet with a massive 22-inch screen. Huion is known for its digital drawing devices. Artist like them because they provide top of the line features at very reasonable prices.
The advantage of this type of tablet is – It replaces your computer and your dedicated drawing tablet with a single device which is a computer as well as a drawing tablet.
It simplifies your work setup and makes it clutter and wire-free. The Kamvas Studio 22 comes with an Intel i5 – 8400 processor and a FullHD IPS screen with the color accuracy of 120%sRGB color gamut.
Stylus – Huion PW500
Since Huion primarily makes drawing tablets, they are expected to have a good stylus and they do. The Kamvas Studio comes with a stylus that has 8192 levels of pressure sensitivity with good pressure and tilt sensitivity.
Since this drawing computer is primarily made for artists there are a number of extra features that help provide a better drawing experience.
When you draw with a stylus on a glass screen over time it starts getting scratches. The Kamvas Studio 22 comes with a tougher etched glass, that not only provides better protection against scratches but also provides a textured surface for better drawing experience.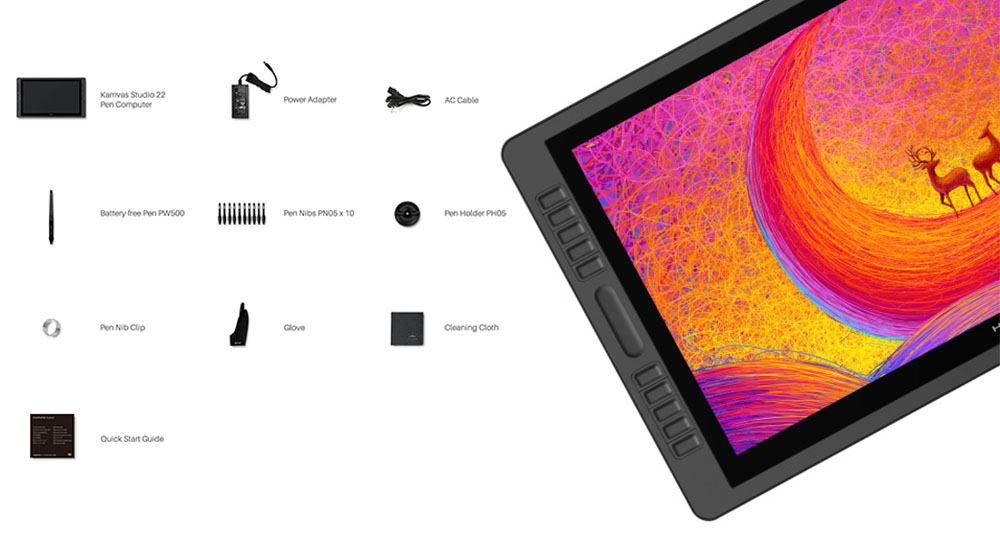 There are a total of 20 fully programmable shortcut buttons as well as 2 touch strip on both the sides of the screen.
Now one of the main reasons why this tablet is recommended is that it provides great value for money. Even though technically it is a combination of a computer and a drawing tablet but still it manages to keep its price low.
If you like then the idea of having a large size standalone drawing computer that is compact and has an inbuilt computer of its own, you should definitely get this.
PROs of Huion Kamvas Studio 22
Massive 22-inch screen
Good color accuracy
Fully Laminated
Etched Glass for better texture
Excellent stylus
Free wireless keyboard and mouse
Good build quality
Cons of Huion Kamvas Studio 22
Average design
Thick bezels around the screen
6. Apple iPad Air – Same drawing performance at pocket-friendly prices
We have already talked about iPad Pros and their superior stylus and how they are ahead of the pack in terms of providing great features and outstanding drawing performance.
Well, these discussions sound great but when people see the price of the tablet and how quickly it climbs when you add in a few upgrades, it makes some of us reconsider our decision.
What if there was a way of getting a very similar drawing experience at a more affordable price. The updated Apple iPad Air offers you exactly that.
With iPad Air, you are getting a fast processor, a fully-laminated screen, and a very capable stylus. Meaning you can draw using heaviest texture brushes without the tablet feeling laggy. All at a considerably cheap price than the iPad Pro.
First Generation Apple Pencil

Now some of you may have noticed the iPad Air only supports the first generation of Apple Pencil. The reality is the actual drawing experience of the first-gen and second-gen Apple Pencil is very similar.
You may not get the cool wireless charging and the pencil may not attach magnetically to the tablet, like what you get with iPad pro, but the raw features such as stylus accuracy, pressure sensitivity, and response times are similar.
PROs of Apple iPad Air
Great value for money
Excellent display
Good stylus (Apple Pencil)
Headphone jack
Slim and portable
CONs of Apple iPad Air
Thick Bezels
Two speakers (Instead of 4)
No Promotion 120hz refresh rate
7. Microsoft Surface Go 2 – A cheaper alternative to Surface Pro
The Surface Go 2 is a 10.5-inch touch-enabled and Surface Pen enabled portable standalone drawing tablet. One of the best things about his tablet is in spite of being a small and handy device it still runs a full-fledged Windows operating system.
It can be seen as a smaller version of the Microsoft Surface Pro and it shares a number of features that come with Surface Pro.
Starting with that hinge at the back. It is built-inside the body if the tablet and allows you to place your tablet at any angle you want. The hinge also helps you provide a better grip while drawing handheld.
Microsoft Surface Go 2 stylus – Surface Pen
The tablet works really well with the Surface Pen, the pen tracking is good, you can customize the pressure sensitivity and you also get the tilt support.
There are a number of accessories that you can get with this tablet such as the Surface Keyboard as well as the surface dial.
Other than that the tablet has a good battery backup and everything works smoothly and as expected. The processor of this tablet is good but not that powerful.
But at the same time, as far as the drawing is concerned, it can comfortably handle heavy project files.
This drawing tablet is an ideal choice for those who want a tablet size Windows-powered standalone drawing tablet which allows them to use their desktop drawing applications.
PROs of Microsoft Surface Go 2
Windows 10 support
Built-in stand
Keyboard cover support
Compact and Portable
Good stylus performance
Good value for money device
CONs of Microsoft Surface Go 2
Surface Pen (stylus) needs to be purchased separately
Average speakers
8. Hp ZBook x2 G4 – Drawing tablet – Laptop combo for artist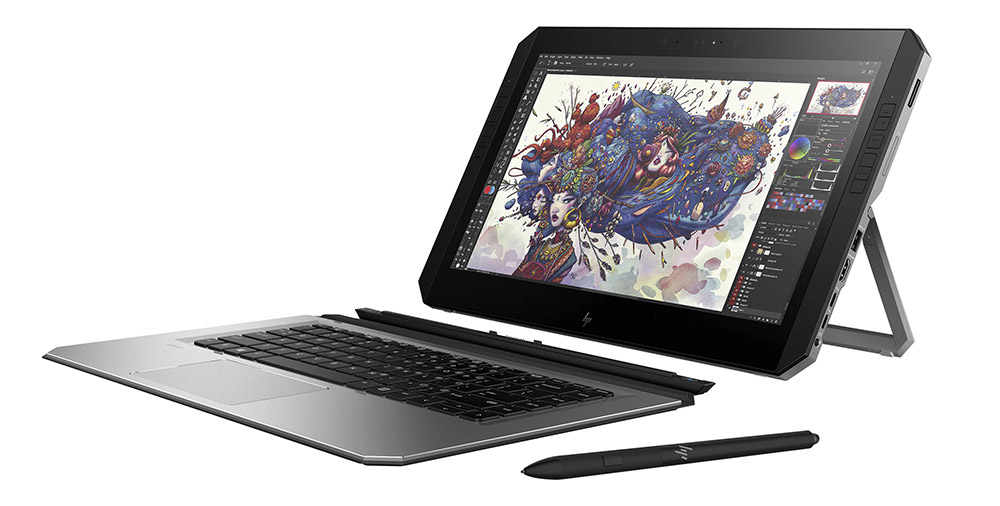 Hp ZBook X2 G4 is a mouthful name which does not tell a lot about the device. The ZBook X2 is a combination of a laptop and a drawing tablet essentially making it a standalone drawing laptop.
It is not really a popular device and we have not seen many people talk or even know about this so when we were looking into this drawing computer we did not expect much. But from what we found out, we were pleasantly surprised.
Two parts of the tablet
The Hp ZBook X2 is a very well throughout device which is catered especially towards the digital artist. This drawing computer has two parts, one is the screen side which contains all the internals components, processors, graphics, battery, etc. The second part is the keyboard deck.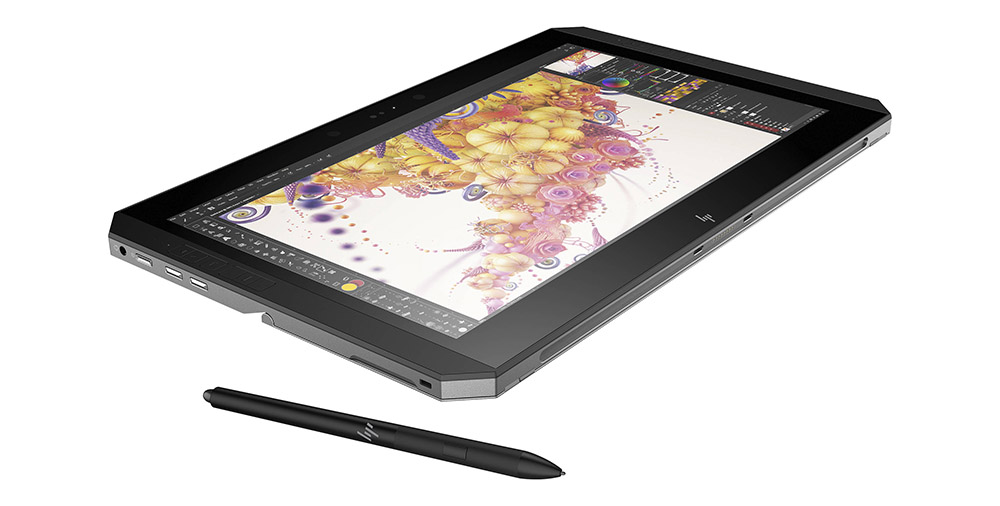 when combined it looks like a laptop but you can detach the keyboard deck and use the tablet as a normal drawing tablet. There is an inbuilt stand at the back which gives you a comfortable working angle.
The best feature of this drawing laptop is that you can still use the keyboard for shortcuts while it is detached from the main body – which is very convenient.
Shortcut Buttons
The standout feature of this drawing laptop is there are physical shortcut buttons present on both sides of the screen which is usually only found in some traditional drawing tablets. It allows you to assign a custom shortcut of your choice.
The pen of the Zbook X2 is battery-free which means you do not need to charge it. The only caveat is the pen is not included with this drawing computer and has to be purchased separately.
PROs of the Hp ZBook X2 G4
2 in 1 laptop- drawing table combo
Programmable shortcut buttons
Detachable keyboard deck
Built-in stand
Good design
Matte display
CONs of the Hp ZBook X2 G4
It does not come with the pen – needs to be purchased separately
Average stylus
Large bezels around the screen
9. Microsoft Surface Studio 2 – Convertablet drawing PC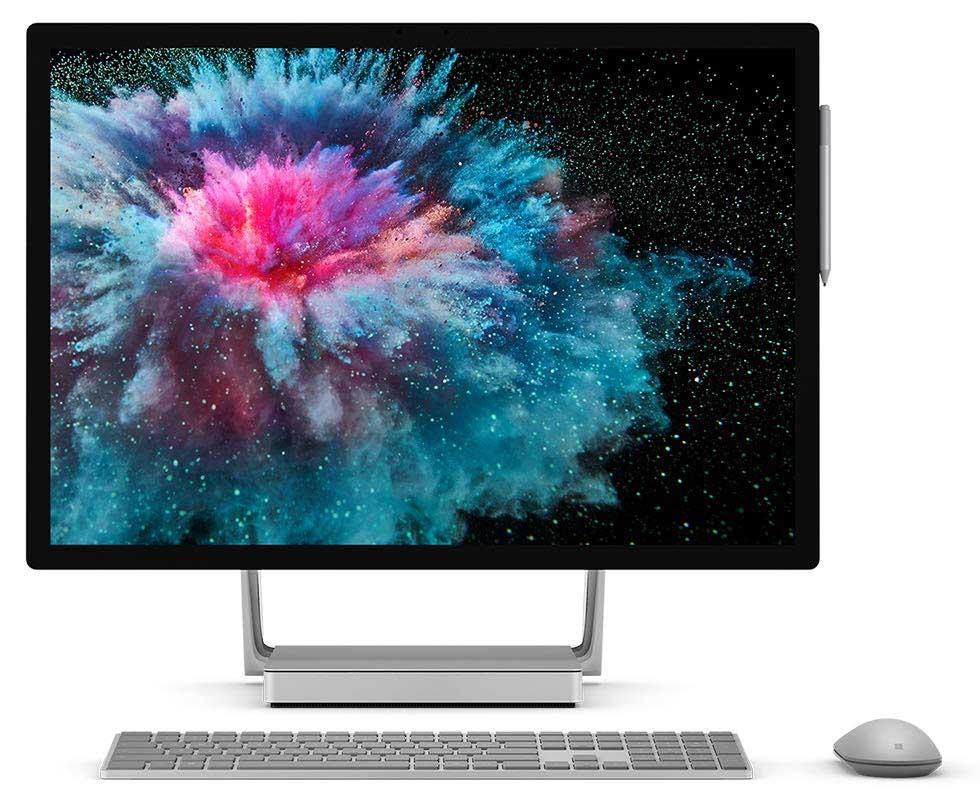 When we talk of a standalone drawing tablet we expect a computer and a drawing tablet combined into a single device. Most of the standalone drawing tablet is small in size measuring below 15 inches.
What if you want a larger standalone drawing device that does not needs to be connected to the computer and has a smaller footprint that occupies minimum space on your desk.
One good option is the Huion Kamvas Studio 22 that we already mentioned on our list. The thing is – Huion Kamvas Studio 22 is more of a functional tool that focuses more on features and kind of neglects the design and aesthetics.
If you want a larger drawing device that not only has a good stylus and powerful internals but also looks modern, elegant, and elevates the overall look of your setup, the Microsoft Surface Studio 2 is the right choice for you.
It comes with a massive 28-inch display which 3:2 aspect ratio giving you more vertical screen space which is great for productivity tasks.
The Hinge – PC Mode, Drawing Mode
Its unique hinge mechanism is the standout feature that you can't really find anywhere else. In normal mode, it works as everyday all in one computer.
The real magic happens when you tilt the monitor, with the help of its cleverly designed hinge mechanism, the drawing monitor lays flat on the desk. Where it essentially feels like a draft-table on which you can comfortably draw on.
The Microsoft Surface Studio also supports accessories like the Surface Dial that provides a number of handy shortcuts.
In a nutshell, this all in one drawing computer is expensive and it is not for everyone, but if you are someone who likes to have an elegant working setup and appreciate good design, you will love this one.
Pros of Microsoft Surface Studio 2
Massive 28-inch display
Stunning looks
Cleaver design
Easy to adjust from one position to other
Good stylus support and performance
Multiple drawing centric accessories
Productivity focused 3:2 aspect ratio Screen
Sufficiently powerful computer inside
Cons of Microsoft Surface Studio 2
10. Apple iPad Mini – Portable and powerful
As Apple describes it "mini just got mightier". The latest upgrade from the apple has added a number of extra features in the iPad mini which makes it a much better tablet than before.
One of the biggest upgrades to the iPad mini is – it now supports the Apple Pencil (First Gen).
The iPad mini is the smallest tablet featured on this list and comes with a 7.9-inch screen. When it comes to portability, there is no match for it. It can easily fit in your handbag or backpack and it is so lightweight that you won't even notice it.
Small and Powerful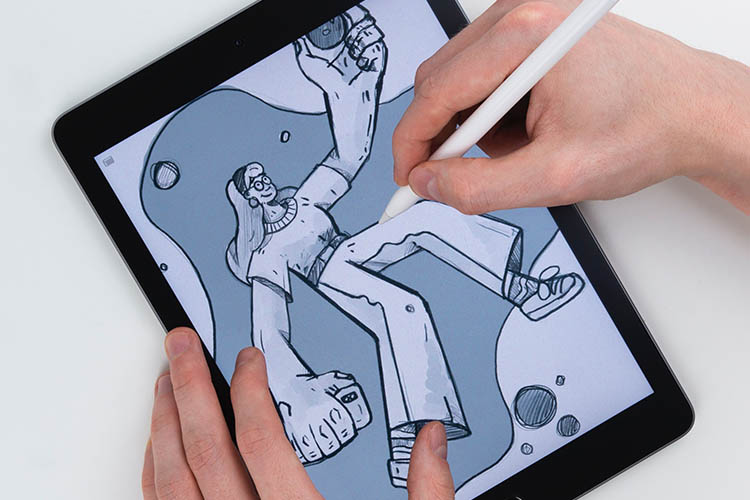 In spite of being so small, it comes with a very powerful A12 Bionic processor that can not only handle large project files but also can be used for multiplayer online games.
To top it all, the iPad mini is super affordable and one of the cheapest standalone drawing tablet on this list.
The only negative point about this tablet is its outdated design. It has got massive bezels on the top and bottom which some people may not like.
Overall if portability is what you care about and you want a tablet that won't make a huge dent in your bank balance at the same time that has the power to handle daily use and abuse – iPad mini is what you should get.
Pros of Apple iPad Mini
One of the smallest drawing tablet in the market
Great value for money
Superfast processor
Excellent stylus
Good battery life
A number of really good drawing application support (iPad OS)
Cons of Apple iPad Mini
No laminated screen
Large Bezels around the screen
Apple Pencil needs to be purchased saperatily
11. Samsung Galaxy Tab S6 lite – Cheaper Android drawing tablet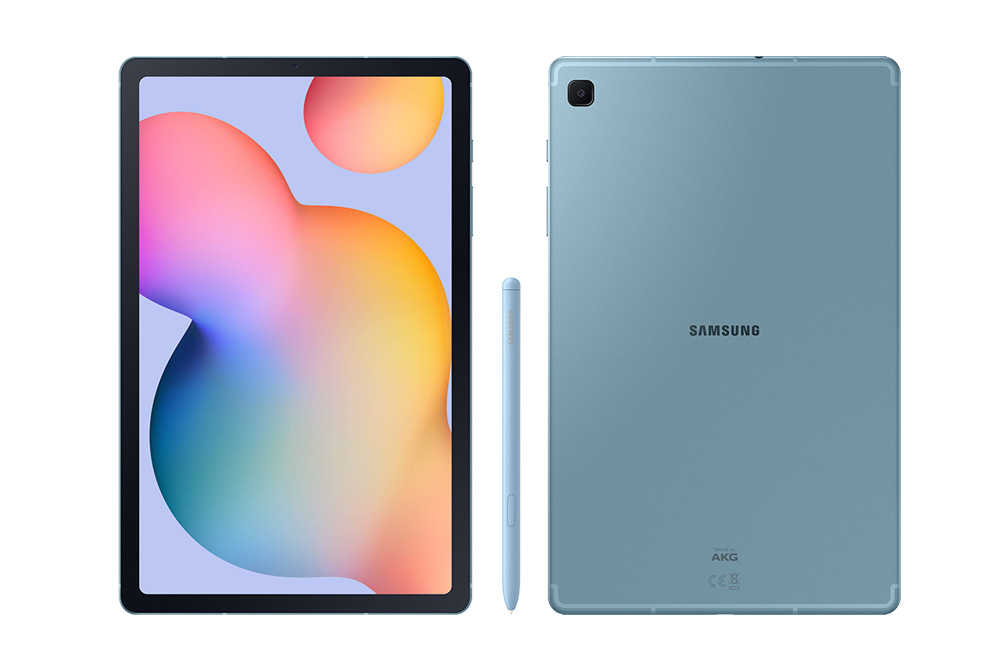 After the huge success of the Samsung Galaxy Tab S6, Samsung has introduced the new Galaxy Tab S6 Lite where Samsung has ditched some un-necessary features in favor of keeping the prices low.
The Galaxy Tab S6 lite comes with a 10.4-inch screen that has a resolution of 12000 x 2000 and an aspect ratio of 5:3. The stylus comes included in the box and it has a good response rate and pressure sensitivity.

There are other cheaper android tablets available in the market but none of them has the combination of a good screen and an excellent stylus that you get with the Samsung Galaxy Tab S6 lite.
The tablet excels in other areas as well as such as battery life and a fast processor. There are a number of good Android drawing apps that can run on this device.
Other than being a good drawing and note-taking tablet, this can also be a good device for media consumption.
This tablet is a good alternative to Apple iPad mini and iPad Air as it comes with a minimal bezel around the screen giving you more screen space in a similar form factor.
https://www.amaz on.com/Samsung-Galaxy-Lite-Tablet-Oxford/dp/B086Z2XFYP
PROs of Samsung Galaxy Tab S6 Lite
One of the best displays in its price range
A lot of features at a lower price
Excellent stylus
Small bezels around the screen
Good battery life
Decent speakers
Good multimedia experiance
CONs of Samsung Galaxy Tab S6 Lite
Mid tier processor (which is okay at this price point and more than enough for day to day usage)
12. Alternative – 2 in 1 ultrabook with stylus support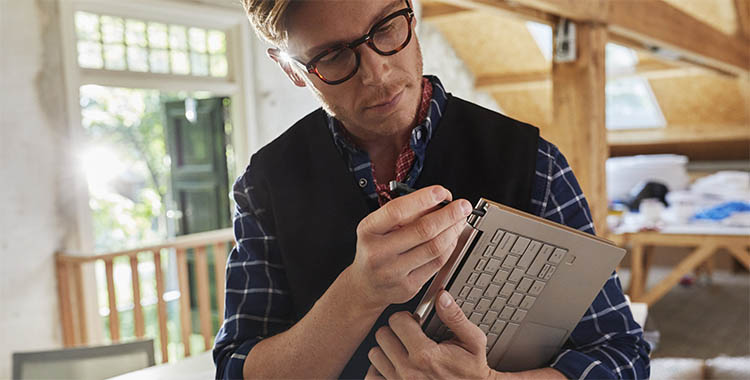 When looking for a standalone drawing device you want something that is portable and powerful and supports pen input. Considering the requirements a 13-inch 2 in 1 ultrabook can be a great alternative.
These ultrabooks are very slim and lightweight devices that are easy to carry with you. Ultrabooks like Hp Spectre X360 and Levono Yoga C940 with 10th generation Intel Ice Lake precessors can run through any drawing, modeling, and 3D applications with ease.
Both of these devices come with a stylus that has above-average drawing and writing performance. And yes they come with 4K display – something you will appreciate as an artist.
These ultrabooks are recommended for the casual artist who likes to draw stuff every once in a while.
Why avoid getting the Microsoft Surface Pro X?
Some of you may be thinking why we have included the surface pro 7, Surface Go, and Even Surface Studio in the list but we are not recommending the Surface Pro X. After all, it is also a windows 10 device with stylus support.
The reason why we do not recommend the Surface Pro X runs on the ARM processor instead of an x86 Intel processor.
The problem with ARM processors is, it cannot sustain high speeds like Intel chips can and most Windows apps are not optimized for ARM.
Most of the powerful applications such as photoshop are 64 bit and designed to run on x86 but not ARM. In short, you will have a laggy experience running most of the popular drawing and editing applications and that is why we do not recommend Surface Pro X.
Standalone drawing tablet: Simplified Buyer's guide
What style of artwork do you make? Which Drawing Apps and Programs you use? Are you a beginner, or a professional? How often do you travel? You like to work indoors or outdoors? Do you like tablets with smaller or larger screens?
Everyone's needs are different, So one tablet that is a perfect fit for you may not be the best choice for someone else. There is no perfect drawing tablet, every tablet brings some special set of features which are unique to that device.
When getting a standalone drawing tablet you should try to figure out what features are important to you and get the right tablet accordingly.
Related:
Wacom Cintiq Alternatives
Android drawing tablets
Apple Pencil vs Samsung S Pen
Xp Pen Artist 22r Pro Review
Samsung Galaxy Tab S6 vs Apple iPad Pro
If you have come this far, you are Awesome. Writing this article took a lot of time and effort and we hope that we were able to help you find the right Standalone Drawing Tablet.
So, did you find our article informative, is there something that we missed, please let us know in the comment section. We would really appreciate that.