Disclosure: As an Amazon Associate EssentialPicks earn from qualifying purchases.
Standalone drawing tablets have a lot of advantages over traditional drawing devices. One of the biggest being – they do not need to be connected to a computer.
Portability and freedom to make quick sketches whether you are on a bus, train or cafe is something that many artists appreciate. Traditional drawing tablets simply cannot give you that freedom.
Unlike traditional tablets, a standalone drawing tablet has a pen-enabled screen as well as a computer integrated into one device. This definitely pushes the price but what you get in return is a better device with superior drawing experience.
After days of testing and research, we have selected some of the best standalone drawing tablets in the market right now.
Our list includes a wide selection of tablets that makes sure you get the perfect tablet that you are looking for. With that said here is a quick look at our top recommendations.
Top Recommendations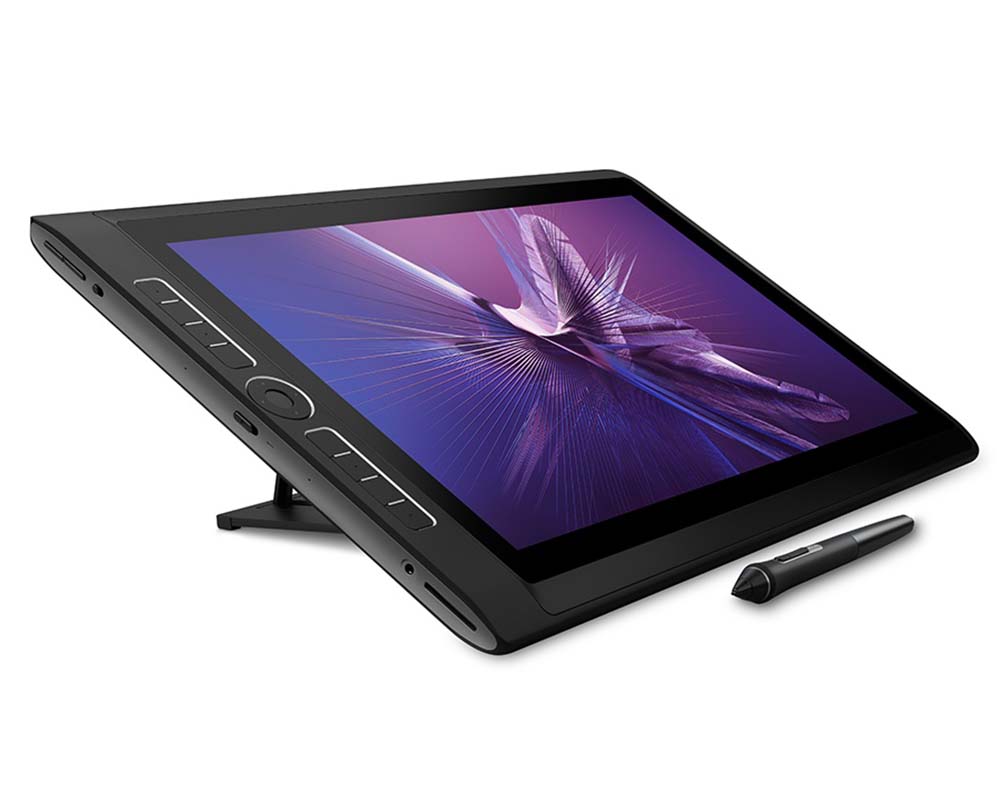 Mobile Studio Pro
by Wacom
15.6 Inch display
Fully standalone tablet
Can run all Windows apps
Excellent stylus
Shortcut buttons
CHECK ON AMAZON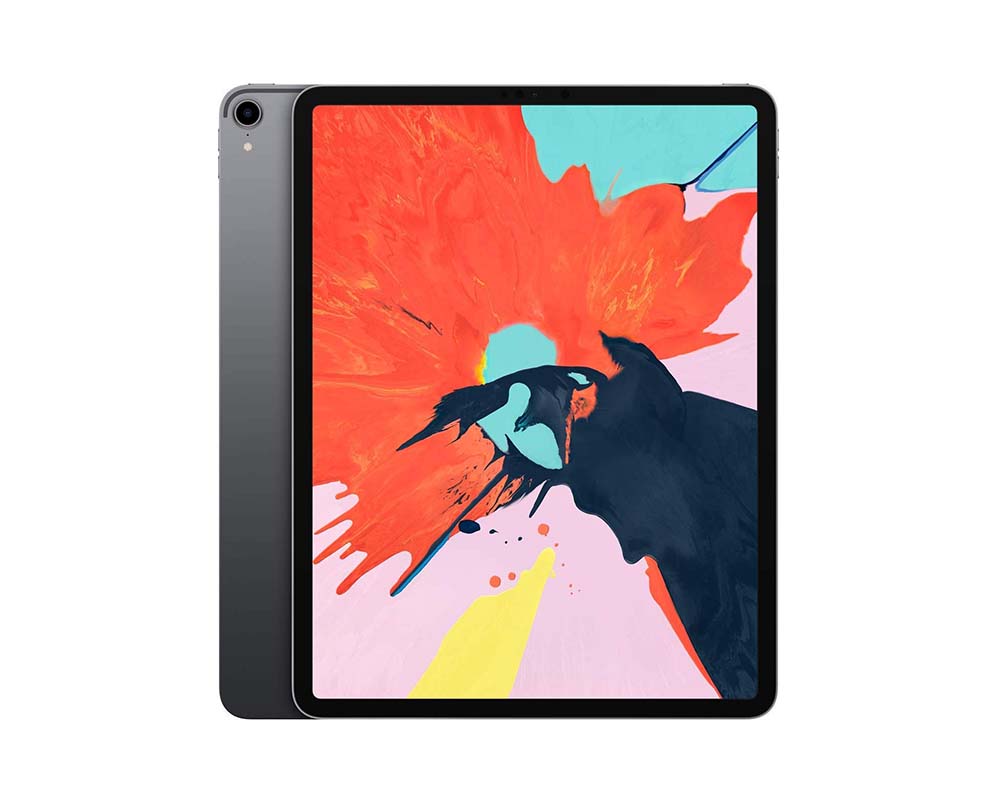 iPad Pro
by Apple
11/12.9 Inch
Excellent Stylus (Apple Pencil)
Perfect color accuracy
Ultra-portable
Good battery life
CHECK ON AMAZON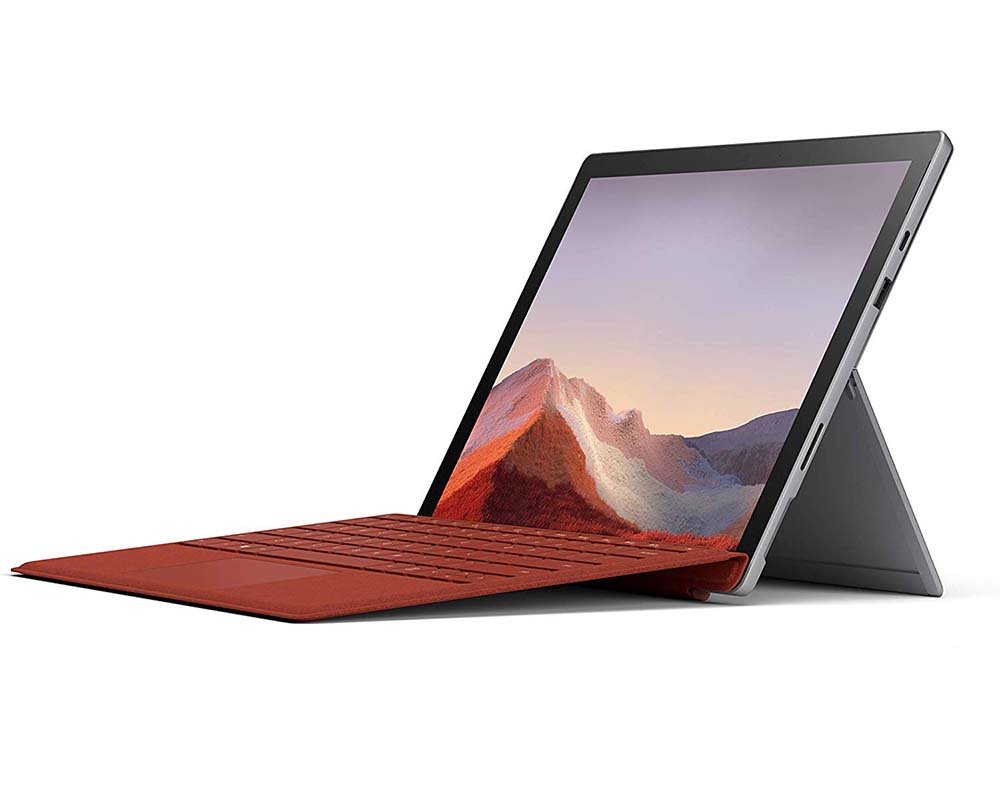 Surface Pro 7
by Microsoft
12.3 Inch display
Portable tablet with Windows
Can run desktop grade apps
Inbuilt tablet stand
CHECK ON AMAZON
Standalone drawing devices at a glance
There are a number of options you can go for when it comes to standalone drawing tablets. Most of these tablets range from 10 inches to 15 inches.
These tables are available in all the major operating systems such as iPad OS, Android as well as Windows.
How to pick the right size and right operating system? What features to look for in a drawing tablet? – we will discuss all these topics in full detail in our buyer's guide. So make sure to check that out at the end of this post.
With that said, here are some of the best standalone drawing tablets that do not need to be connected to a computer.
1. Apple iPad Pro – Best standalone drawing tablet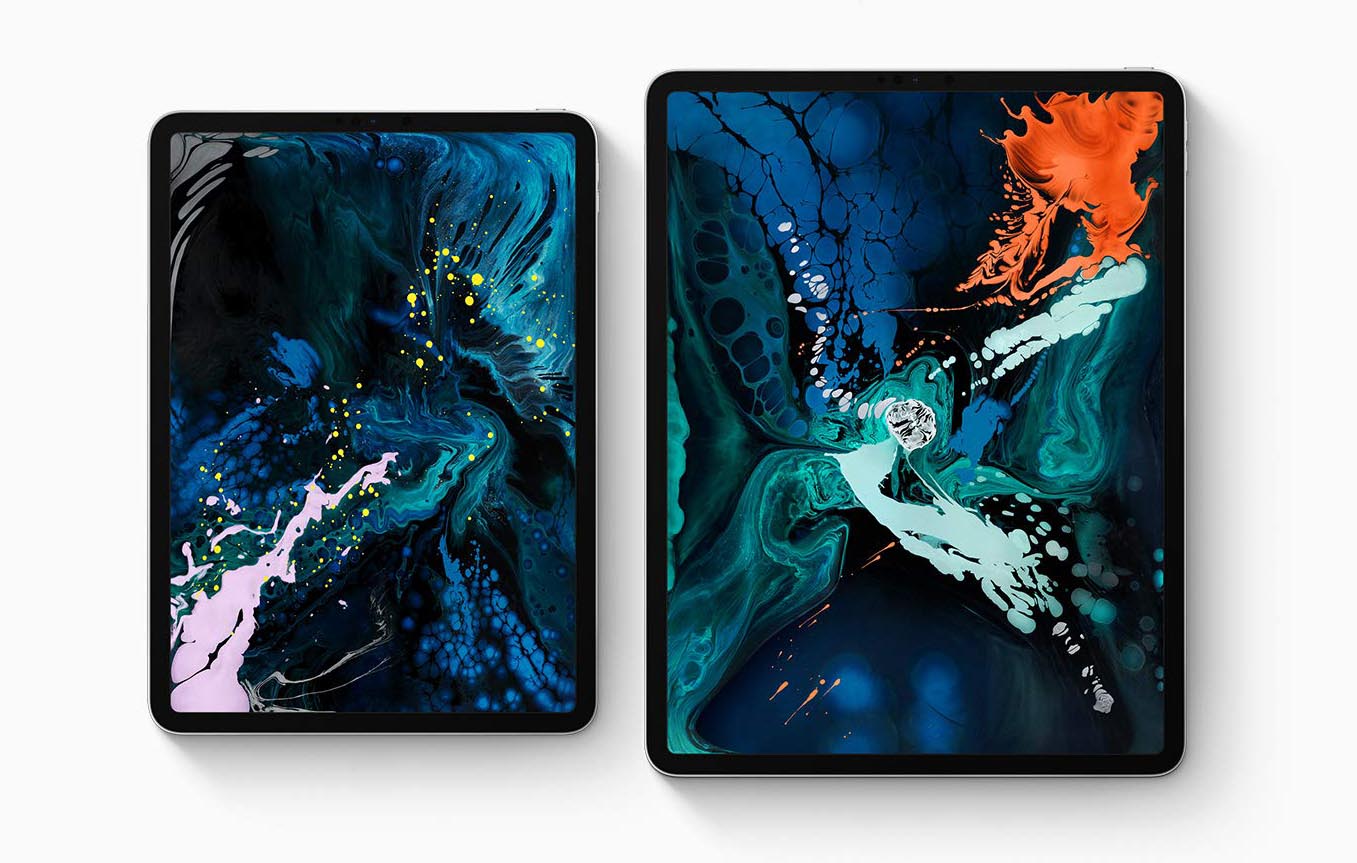 If you are an artist, you already know that the iPad Pro is the best drawing tablet in the market right now, here is why.
Getting the basics right is one of the best ways of making a great drawing device. The iPad comes with the Apple Pencil – which many artists consider it their favorite for its performance and speed.
Apple Pencil – Stylus perfection
Many popular tablets have the issue where the strokes appear after a few milliseconds on the screen. It affects the drawing experience and makes the tablet feel slow.
In reality, it happens due to slow response times. The Apple Pencil has the fastest response time of 7ms, no other tablet comes anywhere near this speed.
Other than that, Apple Pencil has excellent stroke tracking with a very balanced pressure and tilt sensitivity.
In addition to that, it supports wireless charging and has a customizable touch button on the side that switches between a pen and an eraser with a single tap.
iPad Display
The next important ingredient of a good standalone drawing tablet is the screen. The Apple iPad Pro comes with its Liquid Retina display with ProMotion technology.
In simple words, the display is bright and sharp with very accurate colors. It comes with a promotion technology which increases the refresh rate making the tablet feel extra smooth.
Overall if you are looking for a good standalone drawing tablet – the Apple Ipad Pro (Amazon) is the best choice. It comes in two versions – 11 inches and 12.9 inches. Plus the Apple Pencil 2nd gen needs to be purchased separately.
If you want to save up some money while maintaining similar drawing experience, you can check out other budget models of iPad on Amazon's Apple store that supports apple pencil.
PROs – What we liked
Powerful and compact tablet
Excellent stylus (Apple Pencil)
Fastest response time
Long battery life
Powerful drawing apps
Excellent palm rejection
CONs – What can be improved
The pen needs to be purchased separately
No matte display
2. Wacom Mobile Studio Pro (2nd Gen.) – Standalone Wacom tablet that does not require a computer
Wacom Mobile Studio Pro is the only standalone tablet that is specifically made for artists.
It comes with a number of features that make drawing on this tablet – easy and fun and that is why you will often find it on the desk of professional artists.
Portable and powerful
The Wacom Mobile studio comes with an inbuilt computer which means that you can use it indoor, outdoors or anywhere you want.
One of the best things about getting this tablet is you get a full-fledged Windows machine that can run all the professional drawing and modeling applications. If you are a professional artist and want a standalone tablet that perfectly compliments your workflow, Mobile Studio Pro 2 (Amazon) is the right choice.
Wacom Pro Pen 2
The Wacom mobile studio Pro is available in two sizes – 13 inches and 16 inches. It comes with its infamous Wacom Pro Pen 2 which is really loved by artists. Now you may be thinking we also told the same about the Apple Pencil – So which stylus is actually better.
Second-generation Apple Pencil Vs Wacom Pro Pen 2
Both the stylus have their own strengths and weaknesses and that is the reason some artists prefer one over the other.  Apple Pencil is a very responsive stylus and has a well-calibrated pressure and tilt sensitivity.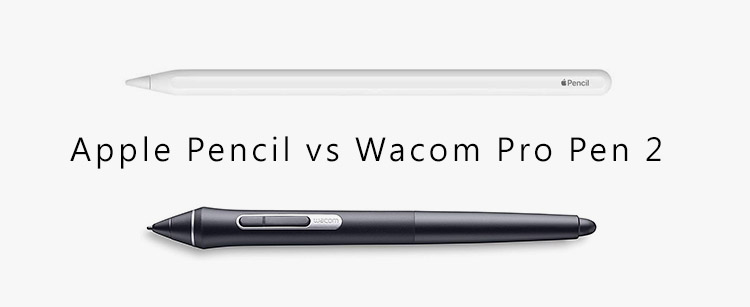 On the other hand, the Wacom Pro pen has equally good pressure and tilt but the responsiveness depends on the power of the computer it is running on.
The reason why some artists love the Wacom stylus is its shape. The Wacom Pro pen has an ergonomic design, that makes it easier for artists to use it for a longer period of time. Whereas the Apple pencil is too thin for some people which starts to feel uncomfortable on longer drawing sessions.
The other difference between the two stylus is the Apple pencil needs charging but Wacom Pro Pen does need to be charge as it is a passive stylus.
Shortcut Buttons and Touch ring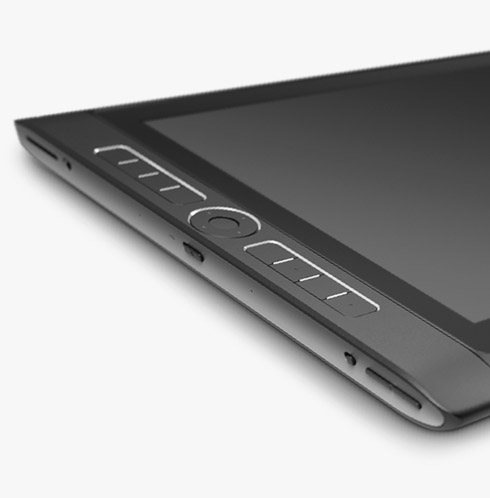 It comes with a set of 8 buttons on the left side of the tablet which can be programmed to any shortcut of your choice. You can even have a different shortcut for different applications.
There is also a multipurpose touch ring in the middle which can perform complex shortcuts such as changing the size of brush and erasers.
This device can be used by both left or right-handed artists.
In addition to all these features – the tablet supports multiple accessories such as Wacom Expresskey remote – which is a small device that has additional 17 shortcut buttons.
You can also purchase a separate tablet stand which is specifically made for Wacom mobile studio pro.
Overall if you are a serious professional who wants a mobile drawing device without compromising any features – look no further – the Wacom Mobile Studio Pro 2 (Amazon) is the right device for you.
It is basically available in two sizes but you can further customize it and choose parts such as processor and internal storage as per your needs.
PROs – What we liked
15.6-inch 4K display
Physical shortcut buttons
Battery-free stylus (No need to charge)
Natively runs all windows apps
Matte display with textured surface
CONs – What can be improved
Low battery life on full charge
Not as portable as other tablets
No touchscreen
3. Samsung Galaxy Tab s6 – Standalone Android tablet for drawing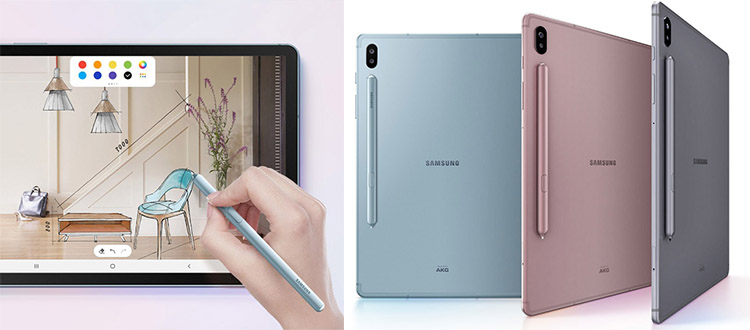 If you are an artist and you like the freedom and customizability that Android offers than you would love this one.
Samsung tablets are some of the most reliable tablets on the android side and they have been doing some great stuff with their stylus. Samsung galaxy tab S6 is the latest tablet from Samsung whose features are very comparable to Apple iPad pro.
When you are thinking about an Android-based drawing tablet then you need to consider the quality of drawing apps available on Android.
Android has come a long way from what it used to be. Lack of good drawing apps is the main reason why many artists often resisted using Android drawing devices in the past.
But the last few years have seen rapid growth in the quality of drawing apps for android. Almost all the popular drawing apps are available on android. Check out some of the best Android drawing apps(new tab).
The tablet comes with a 10.5-inch display with a 2560 x 1600 resolution and aspect ratio of 16:10 in a modern minimum bezel style. The screen is AMOLED which means the color, contrast, and brightness is top-notch.
S Pen – The Samsung stylus
Samsung has been doing a lot of good stuff with their stylus. For starters, the S Pen sticks to the back of the tablet. That means you don't have to intentionally carry it with you, it's always there.
The S Pen has good pen tracking as well as pressure sensitivity that makes the overall drawing experience really good.
The response time of the S Pen is not as good as you would get with an iPad but you won't really notice the difference unless you compare them side by side.
One important thing to know about the stylus is the shape of the S Pen in Galaxy s6 is not round. It is slightly flat from the sides (kind of like a carpenter pencil).
If you want a round stylus then you can go with the Samsung Galaxy Tab S4 (Amazon), it will save you some money while providing similar drawing features.
Overall it is a good option to be used as a standalone drawing tablet. It is a fully feature-packed tablet with Samsung Dex support which can handle a lot of heavy tasks with ease.
Check out some of the other options for Android drawing tablets.
PROs – What we liked
Best in class display quality and resolution
Powerful stylus with air gesture support
Long battery life
Pen included in the package
Good palm rejection
CONs – What can be improved
No matte screen
Only few drawing apps supports tilt
4. Microsoft Surface Pro 7 – Windows tablet for drawing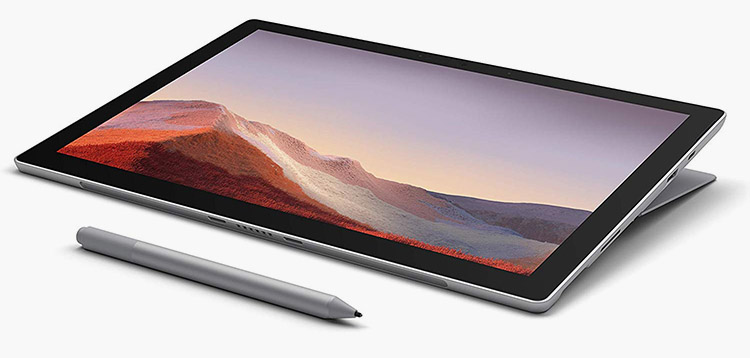 Microsoft Surface Pro 7 is a great option to be used as a portable drawing device. It is basically a laptop in a tablet form factor.
One of the biggest plus points of using this device is you get the benefit of full windows 10 in a tablet. What it means is – all your pro desktop applications can natively run on this device. Plus you get the full version of the apps, not some watered-down clone looking thing.
The Tablet comes with a 12.3-inch screen which makes the tablet large enough to draw comfortably and sufficiently small to use it anywhere and everywhere you go.
The tablet has touch support which makes it great for shortcuts such as zoom, pan, scroll and rotating the canvas.
The Surface Pen
Surface Pro 7 supports the Surface Pen. It has magnets at the side of the tablet that holds the stylus when not in use. The stylus has been massively improved and now it has faster response time and smoother pressure sensitivity. The overall drawing and writing experience is as good as it gets.
One great feature of the Surface Pro lineup is they have a very practical design. There is a high-quality tablet stand built into the tablet that allows you to position the tablet at any angle of your choice.
In a nutshell, Surface Pro 7 is one of the most versatile standalone drawing tablet which you will love using.
PROs – What we liked
12.3 Inch larger display
Powerful and compact
Runs all desktop-grade softwares
Above-average stylus
Above average battery life
Built-in Kickstand
CONs – What can be improved
Average display quality
Pen needs to be purchased saperatilty
Why to avoid the Microsoft Surface Pro X?
Some of you may be thinking why we have included the surface pro 7 in the list but we are not recommending the Surface Pro X. After all, it is also a windows 10 device with stylus support and inbuilt stand.
The reason why we do not recommend the Surface Pro X is it comes with AMD precessors instead of Intel. Now AMD processors are as powerful as Intel and sometimes perform better than intel in ceratin areas.
But the problem is – most of the current windows applications do not support AMD processors. Popular apps like full-fledged 64-bit photoshop cannot run on AMD you need to run the 32-bit version. In that also the AMD processors simulate it – as it was running on Intel processors.
Long story short – you will have bad – really bad experience running most of the popular drawing applications on AMD processors.
Alternative – 2 in 1 ultrabook with stylus support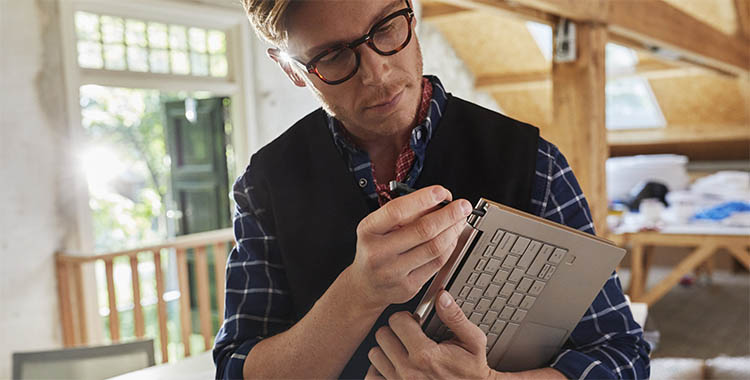 When looking for a standalone drawing device you want something that is portable and powerful and supports pen input. Considering the requirements a 13-inch 2 in 1 ultrabook can be a great alternative.
These ultrabooks are very slim and lightweight devices that are easy to carry with you. Ultrabooks like Hp Spectre X360 and Levono Yoga C940 with 10th generation Intel Ice Lake precessors can run through any drawing, modeling and 3D applications with ease.
Both of these devices come with a stylus that has above-average drawing and writing performance. And yes they come with 4K display – something you will appreciate as an artist.
These ultrabooks are recommended for the casual artist who likes to draw stuff every once in a while.
Buyer's Guide – How to picks the right tablet for drawing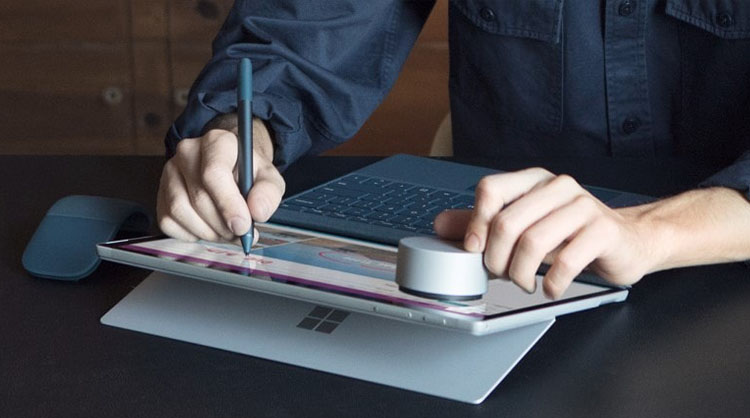 The tablets mentioned in this list are very different from each other in terms of features, operating system, form factor, and overall Drawing experience.
For selecting the right tablet you need to figure out what do you actually want. Do you prefer IOS over windows? How important is the size? Is your favorite drawing software supported?
In this guide, we will help you figure out which tablet will suit your needs better.
The physical Features – Display, Stylus, and Shortcut Buttons
One of the easiest ways of finding out which tablet is better is to look at their features. But a slightly faster processor and a better camera are not as big of a deal as the quality of display and stylus in a standalone drawing tablet.
With that said, here are some of the important features you should compare before buying a tablet.
Display – Quality and Resolution
The display is one of the most important aspects of a drawing tablet. This is where everything happens and as an artist you want the screen to be as sharp and color accurate as possible.
Here is the screen comparison of all the devices mentioned in the list
Display Size
Resolution
PPI (Pixels per inch)
Color Accuracy
Display Type
Apple iPad Pro
11 Inch
12.9 Inch
2732 x 2048
264
112% sRGB
Retina Display
Wacom Mobile Studio Pro
15.6 Inch
3840 x 2160 (4K)
280
85% Adobe RGB
IPS Display
Samsung Galaxy Tab S6
10.5 Inch
2560 × 1600
287
122% sRGB
Super Amoled
Microsoft Surface Pro 7
12.3 Inch
2736 x 1824
267
98% sRGB
LCD
Looking at the numbers it can be concluded that Samsung has the most color-accurate screen, but some people find it a bit saturated. Most of the people prefer the iPad screen as it has some of the most fined tuned colors as well as high resolution.
But if you want a slightly bigger screen (15.6 Inch) with 4K resolution, the Wacom Mobile Studio Pro (Amazon) is a good option. Although it may not be the champion of color accuracy, still it is good enough to be used at the professional level.
Screen Type – Matte or gloss
Displays are made of glass and glass is reflective. The reflections on the tablet screen may make your drawing experience a bit uncomfortable. That is why the Wacom Mobile Studio Pro comes with a Matte display.
The matte display substantially reduces glare and reflections. In addition to that, it also generates friction between the pen and the screen. The friction stops the plastic pen-tip from slipping on the glass screen and this way helps you control your stylus better.
Other than Wacom Mobile Studio Pro, every other tablet comes with a glossy screen. But there are matte display protectors available in the market for each tablet.
Stylus – The most important accessory

If you are looking for a standalone tablet to draw on, needless to say, a Stylus is the most important accessory. You ideally want a stylus that has accurate tracking, good pressure sensitivity, tilt support and the one that is comfortable to hold.
Apple Pencil and Wacom Pro Pen are the 2 stylus which comes closest to fulfilling the above-mentioned requirements. These two are closely followed by Samsung S-Pen then followed by Microsoft Surface Pen.
Here is a comparison between Apple Pencil and Wacom Pro Pen 2 that we did before in this article.
Buttons and Shortcut keys

Some artists really like to use physical shortcut buttons for making quick changes in their drawing application. Whether it is simple Undo, Redo or changing the size of brush and Eraser.
Out of all the devices in our list, only Wacom Mobile studio pro comes with the physical Shortcut buttons. But that does not mean all the other tablets do not have shortcut buttons.
A number of drawing applications on IOS as well as Android have these expresskeys built right into the UI. Which means you get to use on-screen shortcuts.
Battery life
A portable device needs to last as long as possible. There are a number of things that influence battery backup such as screen resolution, brightness, the apps running on the device, number of devices connected to it.
Here is the Official battery backup of all the tablets in our list.
Apple iPad Pro – 10,307mAh battery – Up to 11 hours backup.
Apple iPad Pro (11-inch) – 7812 mAh battery – Up to 10 hours backup
Wacom Mobile Studio Pro – 4630mAh battery – No official backup time
Samsung Galaxy Tab s6 – 7040mAh battery – Up to 9 hours backup
Microsoft Surface Pro 7 – No official battery capacity – Up to 10.5 hours
*Note*
Real-life battery backup may vary
The Operating System – IOS vs Windows vs Android for drawing
Every operating system has its own advantages and disadvantages.
If you are someone who regularly uses desktop applications such as photoshop, Krita, Rebelle, Affinity designer along with other CAD and 3D modeling software then you should look for Windows tablets such as Wacom Mobile studio pro or Microsoft Surface Pro 7.
On the other hand, there are excellent drawing applications such as Procreate – that is available on IOS. Other apps such as Photoshop are also slowly making their way to iPads. So if you are a digital artist iPads can be a great device to have. It is portable, powerful and comes with an excellent stylus.
Check out the detailed comparison of Wacom Cintiq vs Apple iPads.
Historically, Android devices have not been the best in terms of the quality of the drawing apps on the platform. But things have changed, nowadays, you can easily find equally capable Android drawing apps for Android devices.
Portability – How important it is for you
When you are looking for a standalone drawing tablet you for sure want a tablet that is portable. Apple iPad, Samsung Galaxy tab S6 and Microsoft surface Pro are all portable devices.
On the other hand, Wacom Mobile Studio Pro has a slightly larger form factor. Its footprint is more comparable to a laptop than a tablet. But larger size comes with certain advantages too. It has the largest screen out of all the devices in the list as well as a physical shortcut button.
Now the question is – can Wacom Mobile studio Pro be used outdoors or in cafes? The answer is, Yes! for sure it can.
Summary: Standalone drawing tablet in a nutshell
What style of art do you make? Whether you are a beginner or a professional? how often you travel? Do you like to work indoors? These are some of the questions you should ask yourself when looking for a standalone drawing tablet.
No tablet is necessarily better than others, everyone has its own advantages and disadvantages. Your requirements are what matters the most.
If you want a bigger screen plus support for desktop-grade drawing and modeling applications then go with Wacom Mobile Studio Pro.
Or if you want a portable and powerful device with excellent stylus go With iPad Pro. Want an Android equivalent of iPad – get Samsung Galaxy Tab s6. But if you need portability along with windows support – Microsoft Surface Studio will be the perfect drawing tablet for you.
*all of the above links go to Amazon