Disclosure: As an Amazon Associate EssentialPicks earn from qualifying purchases.
---
Looking for a new laptop for drawing and animation is very different from searching for a normal college laptop.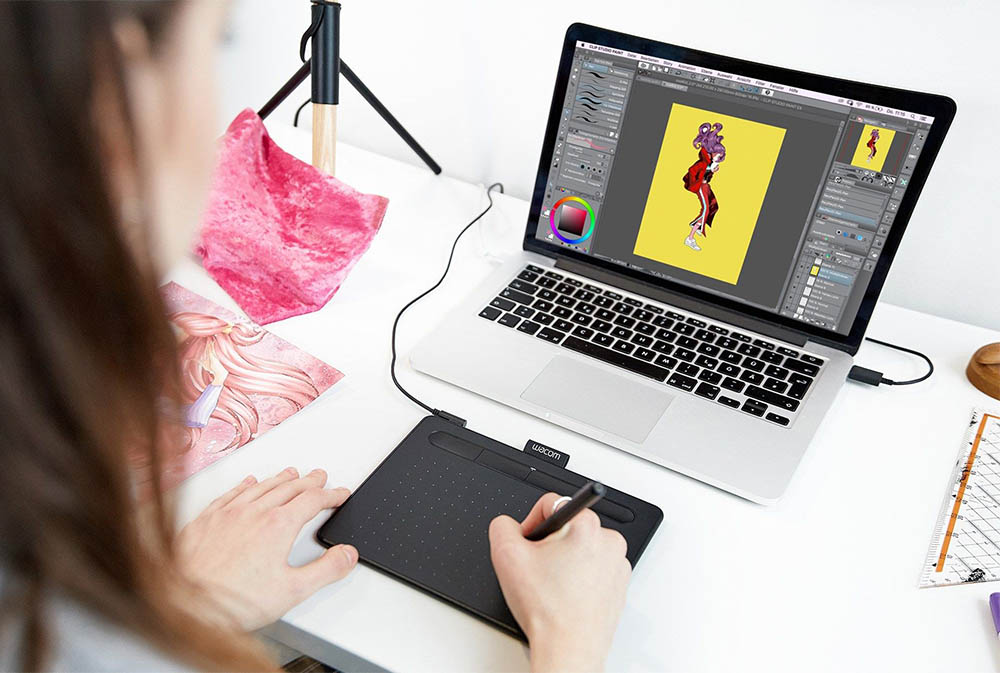 Since drawing and animation are graphics-intensive tasks, they have a different set of requirements compared to normal web browsing.
An ideal laptop for graphics should have a high-resolution color-accurate screen, powerful processor, good graphic performance as well as adequate ports to connect peripherals such as a graphics tablet.
Other features such as user-upgradeable RAM and storage plus a minimum of 4K output @ 60 FPS, when connected to an external monitor, is also ideal.
Some of the popular laptops in the market simply cannot fulfill these requirements and won't fit your needs as a digital artist.
After spending over a week – comparing, testing, and benchmarking over 30 laptops, we have finally been able to find some of the best laptops for drawing and animation.
Our top pick is a fantastic laptop that has the perfect blend of features including a modern bezel-less design, premium built, great performance, compact form factor, and most importantly – "a reasonable price".
Other options in our list consist of everything from portable 13-inch laptops to larger 17-inch options. Some of them even come with touch and stylus support as well as a 2-in-1 convertible design. Giving you a wide range of options to choose from.
Top Recommendations
In a hurry? Here are our top picks…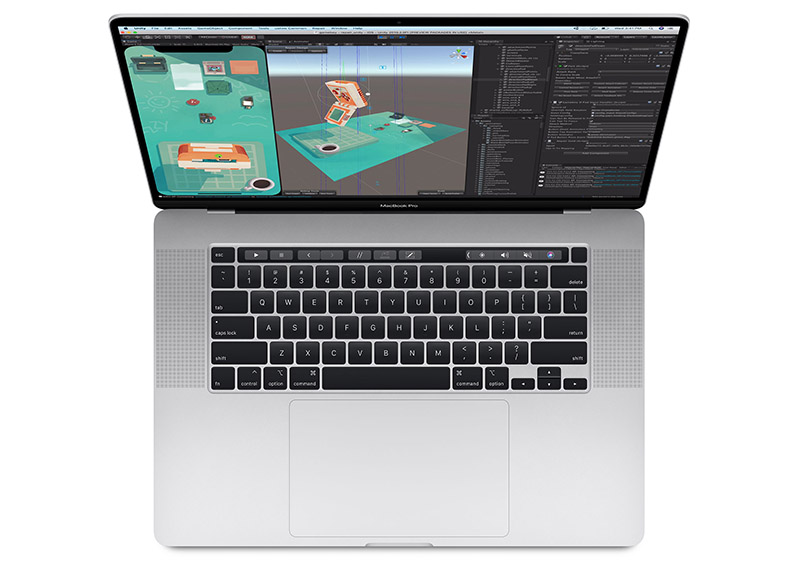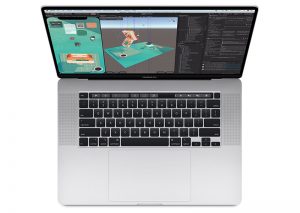 Apple Macbook Pro 16
16-inch screen
16:10 Aspect ratio
Intel® Core™ i7 or i9 (9th gen)
AMD Radeon Pro 5300M
P3 wide color gamut
Premium laptop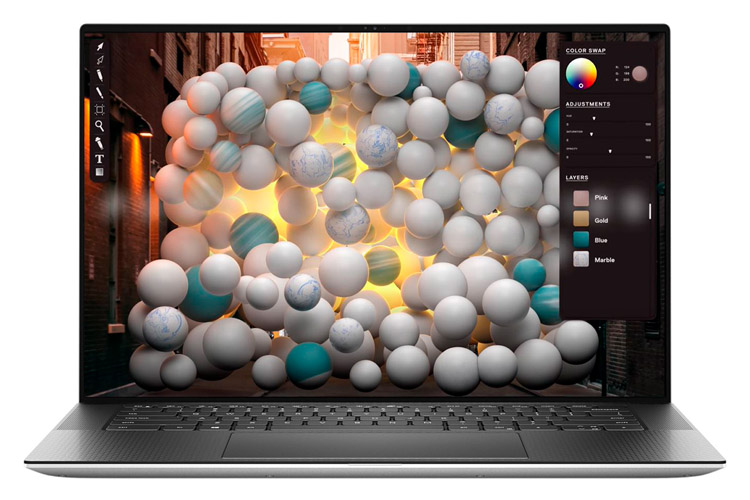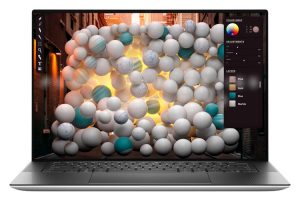 Dell XPS 15 (9500)
15.6-inch screen
16:10 Aspect ratio
Intel® Core™ i5, i7, or i9 (10th gen)
NVIDIA® GTX 1650 Ti Graphics
100% Adobe RGB
Premium laptop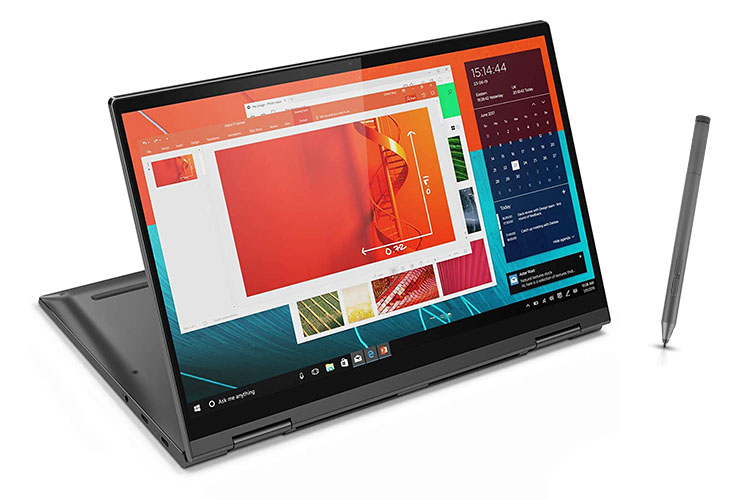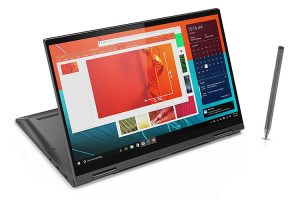 Lenovo Yoga C740
14-inch screen
16:9 Aspect ratio
Intel® Core™ i5 or i7 (10th gen)
Integrated Graphics
99% sRGB color
Pocket-friendly 2-in-1 laptop
Minimum hardware requirements for drawing/animation
One of the first steps of buying a laptop is to be aware of the basic requirements.
A laptop with a slow processor and 4 GB of RAM simply do not have the horsepower to smoothly run any graphic-intensive application.
Here are some of the minimum requirements your computer needs to have…
Processor – Faster processor equals smoother performance
4 core 8 threads for Intel Processors
6 cores and 6 threads for AMD processors
RAM – for stability and better multi-tasking
Ideally 16 GB, minimum 8 GB
Storage – More is always better
256 GB min storage – NVMe or SSD
Other requirements
More than 90% sRGB color gamut coverage (color accuracy)
Scree brightness of more than 300 nits
4K, 60Hz output for external monitors
With the basics out of the way, now let's move on to our list. You would be happy to know all the laptops mentioned in this list fulfill the minimum requirements mentioned above.
1. Dell XPS 15 – The Best laptop for drawing and animation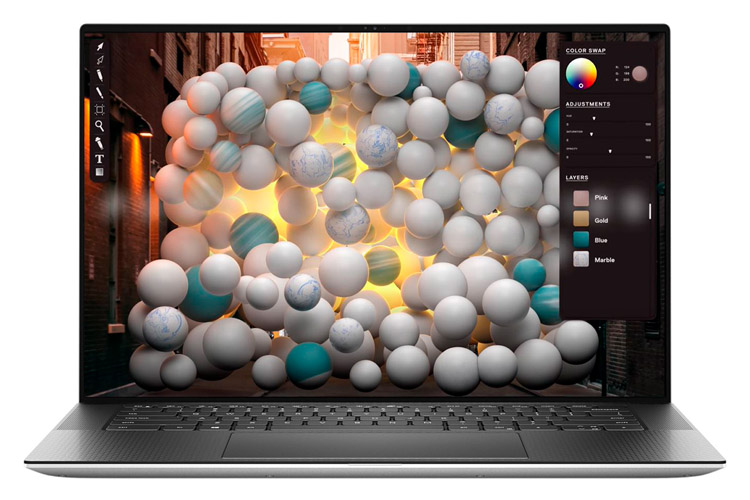 Check Dell XPS 15 on –  Amazon
From our initial list of a little over 30 laptops, we had a number of potential candidates for being at the top spot for the best laptop for drawing and animation.
Out of all these laptops, the Dell XPS 15 (Amazon) stood out as an ideal choice. It has the most extensive list of features as it comes with an extremely color-accurate display along with a powerful processor, a modern and compact design, and a premium feeling chassis – all in a single package.
Probably the best feature of this laptop is – even after packing so many features in a compact design, the laptop still comes with user-upgradeable RAM and storage – essentially making you future-proof.
Quite frankly we haven't seen this diverse range of features in any other laptop so far, and that is what makes the Dell XPS 15, the best laptops in the market right now.
Dell XPS 15 (9500) display
The laptop comes with 15.6 inch (16:10), 4K, and 1080 p resolution screen options with 100% Adobe RGB color support (mind you – this is Adobe RGB, not the regular sRGB).  This level of color accuracy is quite difficult to find on laptops.
Dell XPS 15 with its all-screen design with virtually no bezels on any of the four sides makes you go wow every time you open and power up this laptop.
Due to its bezel-less design, Dell has been able to fit a 15-inch laptop in a body of a 13-inch laptop, giving you ultimate portability without compromising with the screen size.
Compared to other premium laptops, the design of the XPS 15 defiantly looks a generation ahead of its competitors.
Power and Performance
The laptop is not a slouch either when it comes to graphic performance. It comes with a 10th Gen Intel i7 processor with the NVIDIA GTX 1650 Ti graphics card with 4 GB of video memory.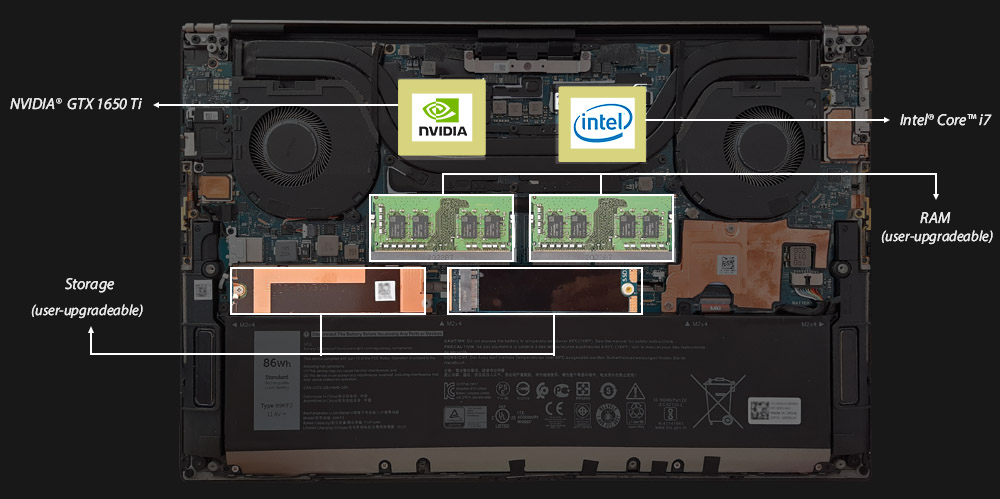 In real life usage, this laptop can effortlessly handle drawing, and 2D animation applications without even warming up.
This laptop is available in multiple processors, RAM, and Memory options, that you can customize as per your needs and budget.
Out of all the available variants of Dell XPS 15, this variant (click here to check out – Amazon) is the most value for money.
In a nutshell, the Dell XPS 15 is an all-rounder laptop that has something for everyone. We can quite frankly recommend this to anyone looking for a quality laptop for digital art, design, and animation work.
If you are one of those lucky people buying it, we are sure this will exceed your expectations.
Pros – What we liked
Bezel-less: from all four sides
The best trackpad on a Windows Laptop
Outstanding 500 nits brightness
Superior color accuracy (100% Adobe RGB)
Windows Hello (face unlock) plus Fingerprint sensor
User-upgradeable RAM and Storage
Backlit keyboard
Superior sound quality (speakers)
130W charger plus 86Wh battery capacity
Comfortable carbon-fiber keyboard deck
15-inch laptop in a 13-inch body (ie. compact)
Good for drawing, animation as well as some respectable gaming
Cons – But not dealbreakers
Noisy fans when running at full power
Average video calling camera
No number pad
Only USB-C ports (But comes with a handy HDMI + USB-A dongle)
Wrist rest area on keyboard deck picks up fingerprints from oily hands (but cleans off easily)
2. Apple MacBook Pro 13 – Best laptop for digital art and animation students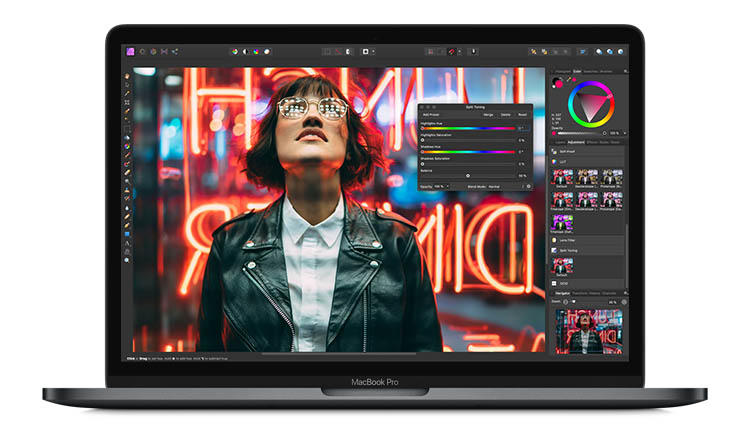 Check Macbook Pro 13 on –  Amazon
Apple MacBooks are some of the most widely regarded laptops for graphics work. Their premium design, good display quality, and a very satisfying overall user experience is the reason why creatives love it so much.
The 13-inch Macbook Pro (Amazon) is a great laptop for those who want a compact, powerful, and lightweight laptop that they can take anywhere with you.
The 13-inch screen with its 16:10 aspect ratio is slighter taller than the regular 16:9 screen, giving you more vertical space which is better for productivity.
The Macbook Pro 13 screen has a high display resolution of 2560 x 1600, which produces super sharp images. It supports the p3 wide color gamut, which is great for color accuracy.
The new Apple Silicon (Apple M1 processor)
Powered with the new Apple's custom silicon M1 chip, it becomes an even more attractive option.
The M1 chip has 8 core processor and an integrated 8 core graphics unit, providing more than enough power for heavy graphics-intensive tasks.
You can use this laptop for drawing, animation, 3D modeling, and other day to day usage, this laptop shines in all of these areas.
The build quality of the Macbook Pro is top-notch and it is one of the most premium looking laptops in the market.
It also comes with a touch bar which can be very useful – as it allows you to customize the buttons and slide through the timeline in animation softwares.
Battery life
The battery life of this laptop is unrivaled.
As this laptop is based on the ARM architecture – it uses a very low amount of power while still providing the same processing performance which dramatically increases battery life.
Overall, the 13 inch Macbook Pro has everything you need. It is a very reliable laptop and has got a good screen and enough power for graphic-intensive tasks.
If you are looking for a compact laptop that you can take anywhere with you – this is the best choice.
Pros – What we liked
High-resolution color-calibrated display
500 nits max. brightness (good for outdoor usage)
Great sound quality
Available in multiple configurations
Touchbar for timeline scrolling in animation software
Best trackpad on a laptop
Excellent 500 nits brightness
Touch ID
Backlit keyboard
Excellent processor and graphics performance
Silent fans
Cons – But not dealbreakers
Expensive
Only 2 USB-C ports
Metallic keyboard deck (feels cold during the winters)
No user-upgradeable RAM and storage
3. Lenovo Yoga C740 – Budget-friendly 2 in 1 laptop for animation (stylus supported)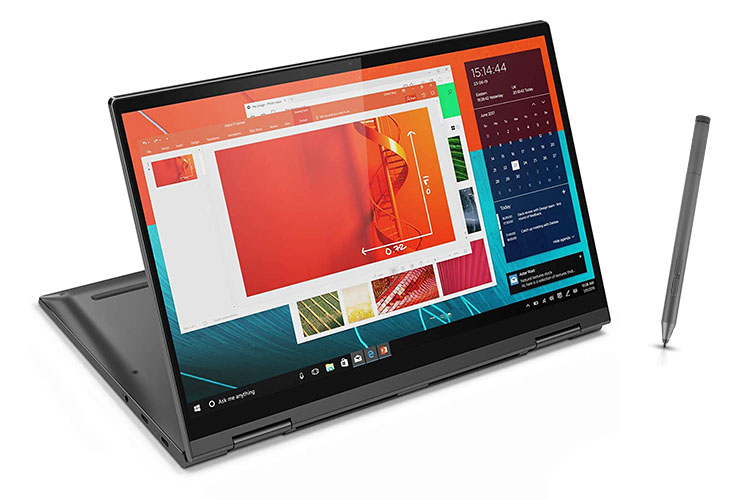 Check Lenovo Yoga C740 on –  Amazon
2 in 1 convertible are a good option for artists who want a pen-enabled laptop that they can directly draw on.
The benefit of using a 2-in-1 laptop is, you can use it as a normal laptop mode for day to day work. And when you want to draw over it – you can transform this laptop into a tablet and directly draw over it.
The Lenovo Yoga C740 is one of the best foldable 2-in-1 laptops in the market right now. The good thing is- in spite of being a relatively cheap laptop, it still has an all-aluminum body that looks stunning and feels great to hold.
Due to its slim design, even after folding the laptops in tablet mode, it still feels very compact.
Display of Lenovo Yoga C740
The Yoga C740 comes with a 14 inch full HD touchscreen. Most people consider 14 inches –  the perfect size for a convertible laptop. As far as the resolution is concerned, a 1080 p screen on a 14-inch laptop is quite sufficient.
The display has a color accuracy of ~99% sRGB color space. Meaning the display is good for drawing, animation, and graphic work.
Display of the Yoga C740 has a gloss finish on top – which improves the color quality of the screen. But at the same time, due to their mirror-like reflectivity, the screen can be challenging to use in a bright environment.
Intel U-Series Processor
The Lenovo Yoga C740 comes with the 10th Gen Intel i5 U series processor, which is sufficient to work with drawing and 2D animation software.
The U-series processor used in this laptop is known for its low power input, which greatly improves battery life. You can expect about 6-8 hours of battery life with this laptop.
Talking of drawing, this laptop supports the stylus input but does not comes with an included stylus. It works with compatible styluses such as the Lenovo Active Pen and the Wacom Bamboo Ink stylus.
Overall, if you are looking for a 2-in-1 laptop experience, the Lenovo Yoga C740 is the best option out there and will serve you well.
Pros – What we liked
Excellent value for money
Touch Screen enabled
FullHD resolution with good color accuracy (~99%sRGB)
360 degree foldable design
Stylus support
Fingerprint Scanner and camera privacy shutter
Backlit keyboard
2-in-1 versatile design
Lightweight and compact
Good performance
Metallic – Quality feel even in this lower price segment
Cons – But not dealbreakers
Reflective glossy screen
No dedicated Graphics Card
No Thunderbolt-compatible USB-c ports
Average speaker quality
Stylus not included and has to be purchased separately
No user-upgradeable RAM
4. Asus ProArt StudioBook Pro – Workstation Laptop for Creatives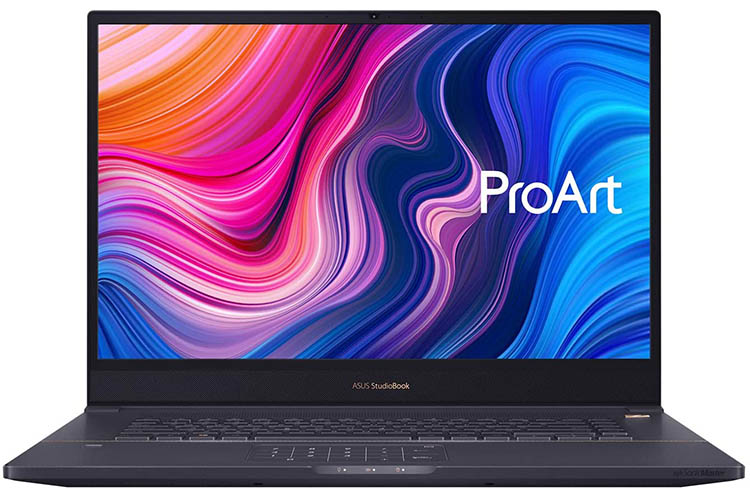 Check Asus StudioBook Pro on –  Amazon
As the name suggests, the Asus ProArt StudioBook Pro is a workstation laptop that is specifically made for designers and artists.
The stunning display of the Asus ProArt StudioBook is the real star of the show. It comes in two variants 15 inches and 17 inches with a 4k resolution screen and 16:10 aspect ratio.
The 4k resolution on the 15 and 17-inch laptops produces sharp and crisp images, whereas the 16:10 aspect ratio gives you more vertical space – improving productivity.
Color Accuracy
As you know, color accuracy is one of the most important characteristics of a pro-grade screen.
The Asus ProArt StudioBook Pro comes with a 97% DCI-P3 wide color gamut with a Delta-E of less than 1.5 percent. If you don't know what these numbers mean, simply think that this is the most color-accurate screen on a laptop.
Monitors with similar color characteristics can easily cost a couple of thousand bucks.
Many full-time artists, animators, and graphic designers use expensive monitors for being able to see the correct colors, having these characteristics on your laptop's screen is a big win.
Processor and graphics
Talking of processors, the Laptops is available in Core i7 as well as Xeon E processors, with an RTX 3000 Max-Q graphics card. Making is the most powerful laptop in this list.
The Asus ProArt StudioBook Pro is a dense and heavy machine and is made of thick metal from all around. Just holding it in your hands gives you a reassuring feel.
Unlike many newer laptops, it has all the necessary ports to connect all your peripherals.
This laptop is specially made for full-time artists if that is your and you see the value in a pro-grade display and a workstation-like power, no doubt the Asus ProArt Workstation Pro is the right laptop for you.
But if you are a beginner and just learning digital art, you don't necessarily need all the Pro features this laptop has and it is better to look for more affordable options on this list.
With that said, here is the variant that we recommend for most artists.
Pros – What we liked
Top-notch Quality, metallic premium design
Available in 15 and 17 inch variants
One of the most color accurate displays on a laptop
Can be opened flat on the surface (opens up to 180 degrees)
High-end Intel Xeon Processor options available
Powerful graphics card
Massive 32 GB RAM
Multiple connectivity ports (USB-A and C, HDMI, ethernet)
Quiet fans
Can easily handle heavy workloads (eg. 3D animation)
Cons – But not dealbreakers
No Webcam
Upgrades can get crazy expensive
Large Bottom Bezel
No Biometrics login
Heavy
5. Microsoft Surface Pro 7 – Best laptop alternative for drawing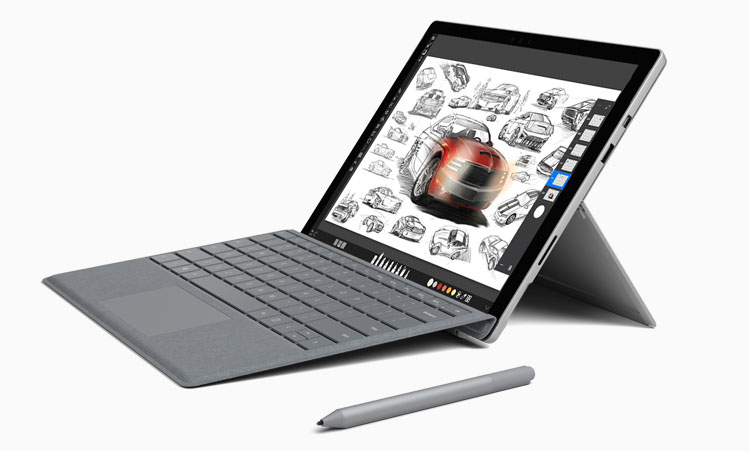 Check Surface Pro 7 on –  Amazon
Surface Pro 7 is the smallest device on our list. Although technically not a laptop, it still has a number of laptop-like features which made us to include it on our list.
First things first, the Surface Pro 7 is a very popular 12.3-inch device with a touch and stylus enabled screen.
Its Windows 10 operating system, the magnetic keyboard accessory plus a tablet-like compact form factor places it in a unique position where it can be considered both a tablet and a laptop computer.
Stylus support – Microsoft Surface Pen
It supports the Surface Pen (Amazon), which is one of the best styluses in the market. If you are an artist, you can simply pick the tablet, open any of your favorite Windows-based drawing application, and start drawing.
Once you finished up drawing you can simply attach the keyboard accessory and get some work done.
The Surface Pro 7 has an inbuilt stand at the back which can be adjusted to various angles. This is a very handy and useful feature and helps to prop up the device at the desired angle when using it with a keyboard.
With a smaller device, you don't necessarily need to compromise with the power either. Here is an example of Microsoft Surface Pro running Blender (3D modeling software).
As Surface Pro 7 is an ultra-portable thin and light device, its power is limited. It is more suited for drawing and digital art related work than animation and 3D modeling.
Pros – What we liked
2-in-1 tablet-laptop combo
Compact form factor
Great pen performance with the Surface stylus
Runs Windows 10 powered drawing and animation software
Inbuilt kickstand
Attaches to a keyboard accessory and essentially becomes a laptop
Decent performance for the size
Higher-end variant can also run animation and 3D softwares smoothly
The lightest drawing device measuring just 1.1 lbs (498 grams)
Cons – But not dealbreakers
Entry-level model not suitable for animation (but good for drawing)
Lower graphics performance
Average battery life
Larger bezels around the screen by today's standards
6. Apple Macbook Pro 16 – Powerful and premium laptop for professionals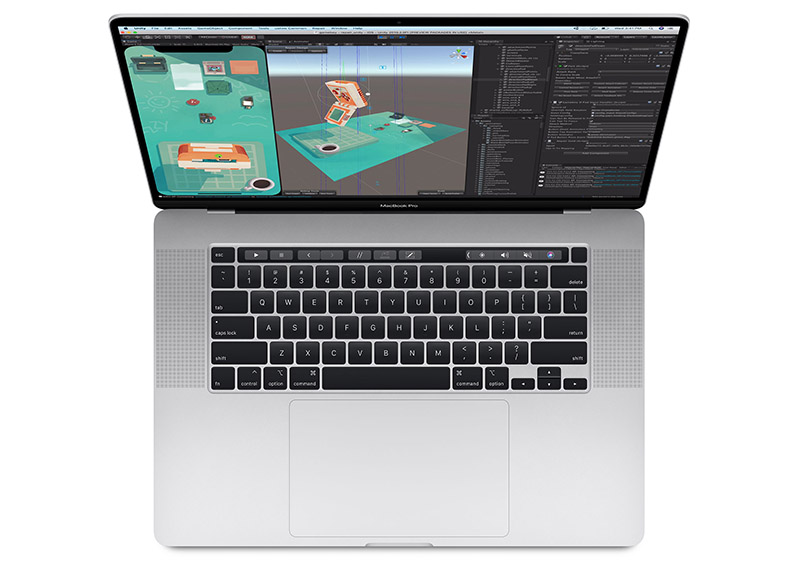 Check MacBook Pro 16 on –  Amazon
The previously mentioned MacBook Pro 13 is more of an entry-level laptop for creatives and artists. But what if you want a serious Mac laptop with a larger screen, more powerful processor, and a full-fledged Mac experience.
The Macbook Pro is Apple flagship Laptop with a massive 16-inch screen a very powerful processor, premium build quality, and overall provides the best Mac experience for artists.
For some artists the 13-inch screen is too small, especially considering the fact that most drawing and animation software has an exorbitant amount of buttons and menus, almost taking one-third of your working space.
Once you get into 3D animation applications, things get even worse with timeline, keyframes, and everything occupying your valuable screen real estate. With these applications, even a larger 15-inch screen may feel a little too small.
The Macbook Pro comes with a 16-inch screen while still having the overall form factor of a 5-inch laptop, which is great for portability.
Its display has a resolution of 3072 x 1920 with an aspect ratio of 16:10. The max brightness of the screen is about 500 nits which is great for outdoor usage.
It comes with a powerful i7 processor along with an AMD Radeon Pro 5300/5500M graphics which is very powerful and can smoothly rind heavy 3D applications.
The Macbook Pro 16 is available in multiple memory and storage options.
The only downside to this laptop is – none of its components are user-upgradable. So you have to make sure you are picking the right memory and story options keeping future usage in mind.
Pros – What we liked
One of the most premium laptops in the market
Individually color-calibrated display
Good resolution for the size with 16:10 aspect ratio
Large screen size of 16 inches is great for productivity
Excellent 500 nits brightness
The best speaker and microphone on a laptop
Largest battery capacity on a laptop
Extremely powerful laptop with a fast processor and powerful graphics
Runs silently on heavy loads
Great keyboard quality
Cons – But not dealbreakers
Bad Webcam
No user-upgradable RAM and storage
Very expensive compared to other laptops with a similar set of features
All ports are USB-c
Does not come with any dongles or adaptors
7. Microsoft Surface Book 3 – Detachable 2-in-1 laptop with stylus support
Check Surface Book 3 on –  Amazon
Microsoft is known for thinking out of the box and coming up with some very practical computer designs.
Surface Book 3 is probably one of the most unique laptops in the market that changes its size and power based on usage.
It is a combination of a traditional laptop, a 2-in-1 laptop, and a Windows-based tablet all combined into a single device.
The laptops come with a 13 and 15-inch display with a 4K resolution. The screen is multi-touch enabled and also supports the popular Microsoft Surface Stylus and the Surface Dial.
It has an aspect ratio of 3:2 which gives you even more vertical screen space than the 16:9 and 16:10 aspect displays, which is considered great for productivity.
The taller aspect ratio along with the very capable stylus makes it an ideal choice for art and animation related works.
Unfortunately, the stylus is not included in the box and has to be purchased separately (from Amazon). The cool thing about the laptop is – it has magnets on the side of the screen, which magnetically sticks the surface pen to hold it when not in use.
Docking and Undocking the Surface Book 3
SurfaceBook 3 has two main parts. The display unit and the keyboard dock. The display has all the components such as processor and motherboard and the keyboard dock which has a massive battery and a discrete GPU.
You can simply undock the laptop and start using it as a pen tablet which is great for digital artists.
When you are working on demanding tasks such as animation, you can simply dock it to the keyboard accessory where you will get the graphics power from the NVIDIA GeForce GTX 1660 Ti with Max-Q graphics.
The laptop is available in multiple processors, RAM, and memory configurations.
Pros – What we liked
Laptop/ tablet combo
Detachable tablet with stylus support (Great for drawing)
Surface pen magnetically sticks to the side
Keyboard base provides a larger battery and more graphics power
15 inch screen in 4k resolution (also available in 13 inch size)
3:2 aspect ratio for more productivity
Multiple configurations available
Great keyboard quality
Great performance when using heavy softwares
Cons – But not dealbreakers
Heavy keyboard base
larger overall footprint
Average color quality (display)
Quite Expensive
Reflective screen
8. Acer Predator Helios 300 – Affordable performance laptop for Drawing and Gaming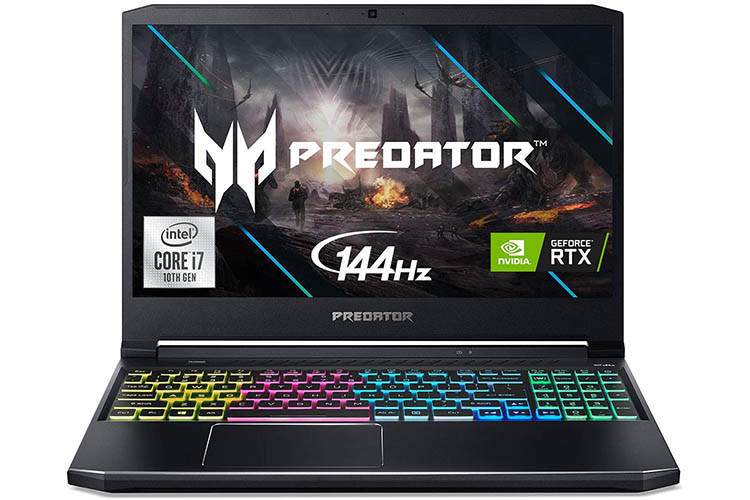 Check Acer Predator Helios 300 on –  Amazon
Most of the laptops mentioned in this list are kind of expensive. But you don't always need to spend those extra bucks for getting a powerful device.
The Acer Predator Helios 300 has managed to pack in some of the most powerful internals while still being able to maintain a relatively cheaper price tag.
This is mainly a gaming laptop, which can also double up as an animation and graphics laptop, as they both require high processing power.
Predator Helios 300 has a 15.6 inch FullHD IPS screen with a 95% sRGB color accuracy. It also has a 144 Hz refresh rate which is great for gaming but this is not that useful for animation work.
As per build quality, the laptops have a mix of metal and plastic which gives it a premium-ish feel while still keeping the prices low.
Power and performance – Good enough for gaming
What it does not corner on – is the power and performance. It comes with an Intel i7 processor along with the NVIDIA GeForce RTX 2060 with 6 GB of dedicated GDDR6 VRAM.
This raw power can be felt when using demanding 3D applications such as rendering animation in Blender, Max, and Maya.
As far as the drawing is concerned, it works like butter even when using pretty heavy texture brushes on high-resolution project files.
The thermal performance on this laptop is also considerably better than other options in this list. It comes with 2 fans and four exhausts located on the left-right and top edge of the laptop. Which does a great job of keeping the laptop cool.
Overall, the value and the processing power you get at this price is very impressive. If you are looking for a laptop that can play some big titles along with being used as your primary workhorse, the Acer Predator Helios 300 is the right laptop for you.
Pros – What we liked
Good thermal design (better cooling)
RGB lighting
Multiple connectivity ports
Powerful processor and Graphics
144 Hz panel – great for gaming other than drawing and animation
2 M2 slots for an additional storage
Looks awesome
Great value for money (you get a lot for the price you are paying)
Good rendering performance with ray tracing
Cons – But not dealbreakers
Heaviest laptop in the list
Low battery backup
Average color accuracy (display)
Poor audio
9. LG Gram 17 – Massive 17-inch screen for more productivity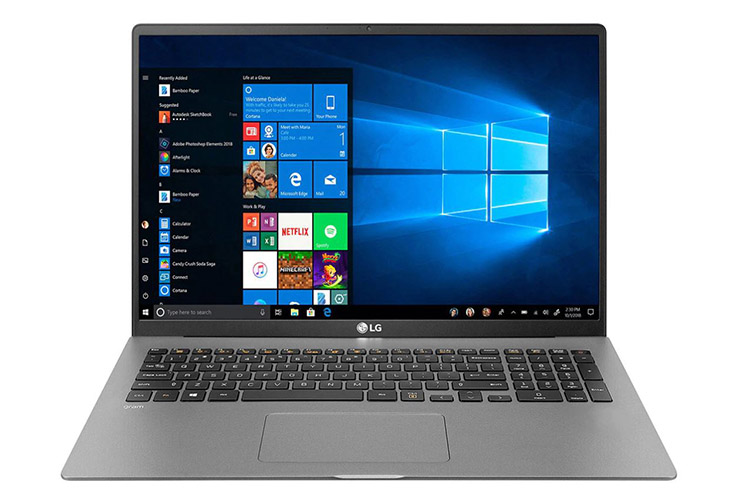 Check LG Gram 17 on –  Amazon
A 15-inch laptop is large enough to get your work done while being compact and portable at the same time.
But as we said before, when using art and animation software – there are just so many buttons, dials, menus, and switches that they occupy a large portion of the screen.
If you are someone who is willing to compromise a little with compactness in favor of the larger 17-inch display size, LG Gram 17 is the best choice for you.
While there are a handful of 17-inch laptops in the market, the LG gram is one of the most reasonably priced 17-inch laptop out there.
It has a display resolution of 2560 x 1600 pixels (WQXGA) which is commonly called 2K resolution. It is sharper than the normal FullHd screen but not quite as sharp as a 4K panel.
The larger 17-inch screen along with 16:10 aspect ratio allows ultimate productivity that smaller size laptops cannot offer. Thanks to an IPS panel, the color accuracy on these laptops is also on point as it covers 96% of sRGB color space which is good.
How powerful is the LG Gram 17?
In terms of power, the Gram 17 comes with a 10th gen intel i7 processor with integrated Iris plus graphics card. Other than that, it has 16 GB of RAM and 1 TB of M.2 NVMe storage, which is pretty good for this price point.
In the end, let's talk about the size of the laptop.
Being 17 inches, the laptop is obviously larger than the everyday laptop. But the small bezels around the screen helps reduce its overall size to the point that it still manages to fit inside a medium-size backpack.
On top of that, its weight is considerably lighter than other 17 inch laptops in the market.
Pros – What we liked
Massive screen with relatively smaller bezels
Keyboard with Numpad
Doesn't feel bulky even though it is 17 inch
Large screen with 16:10 aspect ratio is great for productivity
Good enough resolution (2K) for the screen size
User-upgradeable RAM and Memory
Extreamily lightweight for the size – 2.98 lbs (1.4 Kg)
Cons – But not dealbreakers
No speaker grill at the front, in spite of ample having a large space on the keyboard deck
No dedicated graphics (not ideal for heavy animation workflow)
larger footprint
Average speakers
Our pick: Why we choose Dell XPS 15 as the best laptop for artists and animators
Our pick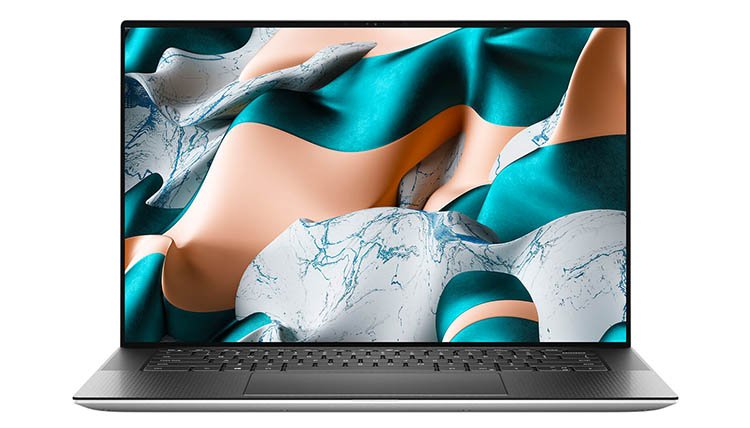 Dell XPS 15 (9500)
Compact design, great display, excellent color accuracy, use of premium materials, large trackpad, backlit keyboard, face and fingerprint login, excellent sound quality, user-upgradable RAM and storage and much more… all at reasonable prices.
All these features make the Dell XPS 15 the best laptop in the market for drawing, animation, or any other graphics related work.
The Dell XPS 15 is an all-rounder laptop that has something for everyone.
It has the looks, it has the premium-ness, it has the power, it is compact, its battery lasts a long time, even the customer support of the Dell, in general, is counted amongst the better ones.
We have tested this laptop with some 3D modeling and VFX software such as Maya, Cinema 4D, Houdini, Blender plus we did some light rendering and we were truly impressed by its performance.
So even if you plan to use some heavy 3D applications or want to stream your drawing session, this laptop has got you covered.
In spite of being a thin and light laptop, the Dell XPS 15  is powerful enough to play some serious gaming titles at respectable settings, which says a lot about its capability.
Plus having a user-upgradable dual-channel RAM and 2 NVMe memory slots ensures this laptop evolves as per your needs.
For all these reasons the Dell XPS 15 is the best laptops in the market right now and that is why we have featured it at the top.
With the list out of the way, Here are some of the FAQs (frequently asked questions).
What is the right laptop size for drawing/animation?
The bigger screen size is always better when we talk about graphics work. But when we talk about laptops we also have to consider other factors such as portability, compactness and weight.
Generally saying, if portability is your priority you can get a 13-inch laptop. But in that case, we highly recommend you to get a monitor as well.
With a smaller laptop plus monitor setup – you get the benefits of a larger screen when you are at your primary workplace, at the same time have the freedom to easily take your laptop and work wherever you go.
But this 13-inch laptop is not the ideal size for everyone.
For most people, we recommend getting a 15-inch laptop – as it is a sweet spot between screen size and portability. Especially the screens with taller 16:10 or 3:2 aspect ratio – as they provide more vertical screen space.
Laptops like Dell XPS 15 (Amazon) are an even better choice as they come with a 15-inch screen with a 16:10 aspect ratio. Plus its bezels around the screen are nonexistent, which helps them pack a 15-inch laptop inside the body of a 13 or 14-inch laptop.
On the flip side, there are people who do not have to go out with their laptops and for the most part, the laptops stays stationary (at your home).
For those artists and animators, we would advise getting a 17-inch laptop. The 17-inch screen in a portable body feels awesome to use.
Is the inbuilt graphics enough? or you need the dedicated graphics?
The inbuilt graphics kind of gets the job done on less graphics-intensive tasks and some light drawing.
But, for the best performance, you should definitely look for a laptop with dedicated graphics.
Is 8 GB enough RAM for digital artists?
Yes if you are doing light graphics works such as drawing and not working with crazy resolutions, then 8 GB of RAM is okay.
But once you start working on large projects with massive resolutions or a huge number of layers with crazy filters, layers, and textures – you will need the 16 GB of RAM.
For that reason, you should look for a laptop that has a user-upgradable RAM slot – where you can easily and cost-effectively increase the size of the RAM if you ever feel the need to do so.
How much storage do you really need in a laptop?
Well, it is different for everyone and depends on individual usage. As per the general consensus – "a larger the memory capacity is always better". But it will also cost you more.
256 GB is the bare minimum storage capacity you should have but we would advise you to go for at least 512 GB of storage.
What else do you need for getting started with drawing and animation?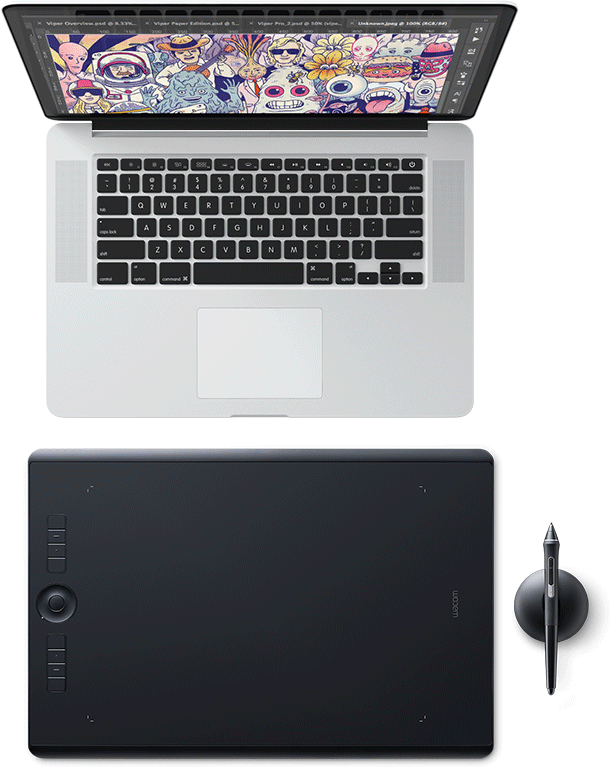 Graphics tablet: Other than the laptop you will most likely need a graphics tablet such as Wacom Intuos (Amazon). This will allow you to digitally draw stuff no matter whether your laptop supports the stylus or not.
And even if the laptop you choose supports stylus input, the quality of the lines drawn and the overall drawing experience would be way better with a dedicated graphics tablet.
A secondary screen: As we said earlier, more screen is always better. And a vast number of digital artists use a dedicated monitor for drawing and animation purposes.
But instead of getting a full-fledged monitor, you can also get a thin and portable secondary screen just like this one on Amazon.
You can simply connect them to your laptop and push all the menus and buttons on the secondary screen, and work comfortably on your primary screen.
Related: Best laptop for Autodesk Maya