Disclosure: As an Amazon Associate EssentialPicks earn from qualifying purchases.
---
Drawing tablets are a very handy tool for digital artists as they allow you to draw and write naturally on a digital device as you would normally do with a pencil and paper.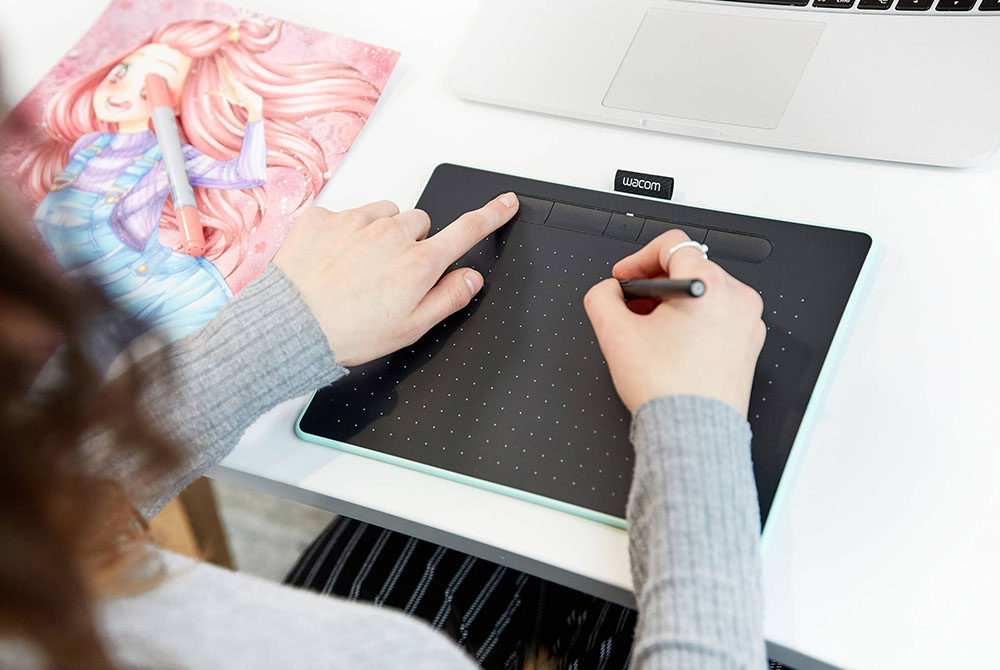 As graphics tablets are not standalone devices, they need to be connected to a computer. Now, most of the drawing tablets connect to the computer using a wired USB connection.
But obviously wires are not an ideal solution as they are usually very short and restrict your movement.
On top of that, they may come in the way of your keyboard and other computer peripherals and makes your setup look messy.
Wireless tablets in contrast give you complete freedom to shift around and be as comfortable as possible with no wires coming in or out of your way.
They are also a great option is your computer setup is spread out with CPU placed away from your monitor or if the ports of your computer are not easily accessible.
For this roundup, we have scanned all the options available in the market and have handpicked some of the best wireless drawing tablets. These tablets provide wireless connectivity without compromising with any other feature.
Amongst all the wireless drawing tablets that we compared, we think that the Wacom Intuos is the best choice for most people. Here is why?
1. Wacom Intuos – The best wireless drawing tablet
Our pick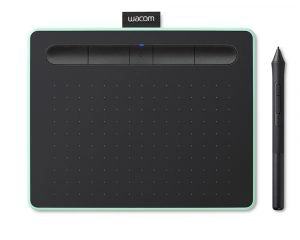 Wacom Intuos
The most recommended tablet for artists with excellent pen performance and hassle-free wireless connectivity, all at a very reasonable price tag.
There are plenty of options in the market for drawing tablets. But what really differentiates the Wacom Intuos from all the other devices is its build quality.
Wacom is a very popular brand that has a track record of making quality tablets that work flawlessly and lasts a long time.
The Wacom Intuos, in spite of being a cheaper tablet that is specifically made for beginner to intermediate artists, it still manages to have the quality feel that the Wacom is known for.
It works flawlessly out of the box with a very user-friendly setup and some really advance shortcut and customization options.
Bluetooth Wireless connectivity
Now coming to the wireless part. Wacom Intuos is the only tablet with Bluetooth connectivity. All the other wireless tablet uses a small USB dongle to connect wirelessly.
Bluetooth connectivity is ideal because you don't have to take care of the small wireless USB connector which is easy to get lost.
On top of that, you also won't have incompatibility issues based on whether your laptop/computer has an older USB-A port or the new USB port as Bluetooth is standard with all modern devices be it a laptop or smartphones.
Talking of specs – the Wacom Intuos comes in two sizes – small and medium, for most people the small size would be an ideal choice.
Stylus and pressure sensitivity
The tablet has 4096 levels of pressure sensitivity as well as 4 shortcut buttons. The included pen has two buttons on the side with no eraser at the back. The buttons of both the tablet as well as the pen can be customized to any shortcut of your choice.

The tablet also supports application-specific shortcuts where you can have different shortcuts for different applications.
The tablet is compatible with both Mac and Windows computers, plus you can also use these tables with your Android smartphones.
Now coming to the shortcomings. There are a number of other tablets in the market that provides a better set of features and a larger drawing area in the given price range.
But at the same time the quality if the drawing surface on the Wacom Intuos is unparalleled. They have a superior surface texture with better scratch-resistant.
Drawing area – 7.9 x 6.3 inches (small) and 10.4 x 7.8 inches (medium)
Pressure sensitivity – 4096 levels (Battery-free stylus)
Tilt sensitivity – No
Shortcut buttons – 4
Shortcut Dial – No
OS Support – Mac, Windows, and Android
Connectivity – Wired and Wireless
All these features added together to make the Wacom Intuos the best drawing tablet in the market and an ideal choice for anyone looking for a quality digital drawing and writing device from a reputed brand.
Buy Wacom Intuos on – Amazon
2. Huion Inspiroy Dial Q620M – Premium wireless tablet with Dial
Upgrade pick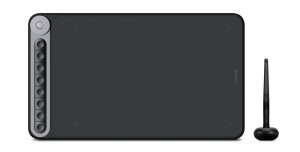 Huion Inspiroy Dial
A slightly more expensive but also a fully feature-packed tablet with a larger working area. Comes with a very handy rotating dial and fully reprogrammable shortcut buttons.
Huion Inspiroy dial is one of the premium wireless graphics tablets from Huion with a non-premium price tag.
As we mentioned before that the Wacom Intuos is a great tablet but it makes a lot of compromises and comes with an underwhelming set of features.
If you are someone who wants no compromises whatsoever and looking for the best of the best drawing tablet than the Huion Inspiroy Dial is honestly a better option.
The tablet comes with a larger drawing area of 10 x 8 inches which is huge. The drawing surface has decent surface texture and good scratch resistance properties.
Shortcut buttons and multishortcut dial
The shortcut buttons are one of the main highlights of this tablet.
It comes with a total of 8 shortcut buttons that are present on the left-hand side of the tablet. The buttons are fully programmable and have small LED lights on them which makes them look really attractive especially using them in a dark room.
Other than the shortcut button, as the name suggests – the Huion Inspiroy Dial also comes with a physically rotating dial.
The circular dial is present right on top of the shortcut buttons are used for advanced shortcuts such as zoom, pan, scroll, change colors, and change the size of the brush and eraser.
The Dial is really handy and helps increase your workflow, if you are someone who spends a considerable amount of time using these devices this tablet is highly recommended for this feature alone.
The Included stylus has 8192 levels of pressure sensitivity as well as support for up to 60° of tilt sensitivity.
Charging and battery life
For wireless connectivity, the tablet has an 1100 mAh of battery capacity with quick charge support. It can last up to 20 hours on a full charge of 3 hours.
Drawing area – 10 x 8 inches
Pressure sensitivity – 8192 levels (Battery-free stylus)
Tilt sensitivity – Yes, up to ±60°
Shortcut buttons – 8
Shortcut Dial – Rotating Dial Wheel
OS Support – Mac, Windows, and Android
Connectivity – Wired and Wireless.
In a nutshell, the Huion Inspiroy Dial has a lot going for it and is highly recommended for artists who spend long hours using these devices.
Buy Huion Inspiroy Dial on – Amazon
3. Xp Pen Deco 03 – Good alternative
Also great
Xp Pen Deco 03
A little older model but still a great value for money. Larger drawing area, rotating dial, shortcut buttons, wireless connectivity and comes with a lot of great accessories.
The Xp Pen Deco 03 is one of the first wireless tablets that came with a dial and it is still counted amongst some of the best wireless drawing tablets.
Xp Pen Deco 03 has a very slim profile and an attractive design with a drawing area on the left and all the shortcut options located in one place.
Drawing area and surface texture
It has an active drawing area of 10 x 6 inches with ample space around the edges to not feel uncomfortable while drawing.
The drawing surface has a well-balanced texture that feels smooth and consistent while providing the much-needed friction to keep the stylus in control.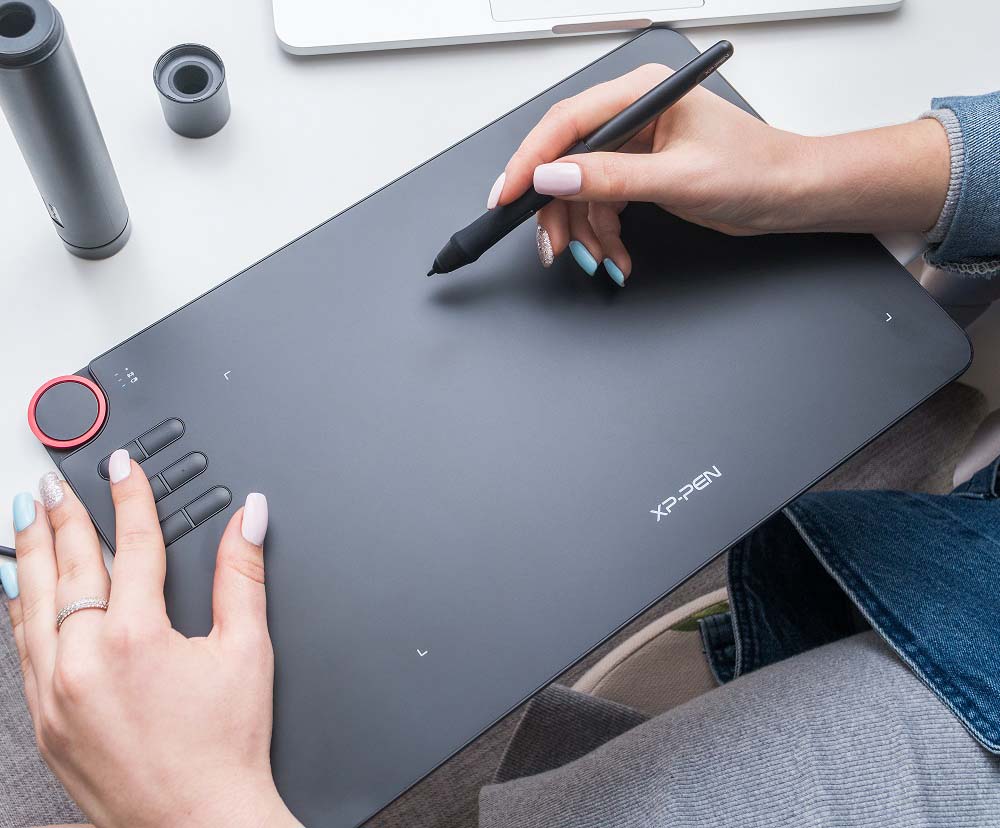 There are a total of 6 programmable shortcut buttons that are present on the top-left edge of the tablet. The buttons are slightly raised above the surface to easily locate and press them without looking.
The Deco 03 also comes with a very attractive-looking red dial right above the shortcut buttons. You can rotate it left or right to conveniently perform tasks such as zoom, scroll, pan, and change the size, opacity, and hardness of the pen, eraser, and smudge brushes.
The location of the buttons and the dial are perfect for right-handed artists but not for left-handed artists. So if you are left-handed, please avoid this one and get the aforementioned Wacom Intuos or the Huion Inspiroy Dial.
Drawing area – 10 x 6 inches
Pressure sensitivity – 8192 levels (Battery-free stylus)
Tilt sensitivity – No
Shortcut buttons – 6
Shortcut Dial – Rotating Dial Wheel
OS Support – Mac, Windows
Connectivity – Wired and Wireless
Stylus and pressure sensitivity
Talking of the included stylus, the tablet comes with a very capable and accurate stylus. It has 8192 levels of pressure sensitivity with no support for tilt sensitivity.
Its pen has two buttons on its side with no eraser at the back and comes with a high-quality cylindrical pen holder, which is a nice addon but doesn't do much in real-life usage.
Buy Xp Pen Deco 03 on – Amazon
Bluetooth vs Wireless USB connector
Some tablets such as Wacom Intuos connect to the computer using Bluetooth.
While other wireless tablets such as a Huion Inspiroy Dial and the Xp Pen Deco 03 connects using a wireless USB receiver. The receiver needs to be connected to the USB port of your tablet.
This brings to the first problem, the included wireless connector has a USB type A plug which is quickly disappearing from most of modern laptops.
Most of the computers and mobile devices sold nowadays come exclusively with a Type-C USB port. This means you have to use a dongle or a USB Hub, which is not an ideal solution.
Also, the USB connector is very small and easy to lose and once you lose it, you also lose the wireless capabilities and you will have to order another one from the tablet manufacturer.
With that said USB powered wireless connectivity has some advantages also, it is faster to set up, unlike Bluetooth which can be fiddly sometimes.
The range and connection quality of both the Bluetooth and Wireless receiver is very similar and both types of tablets will provide a similar wireless experience.
So if your current laptop does not have a USB-A port and you don't want to carry an adapter, get the Wacom Intuos.
FAQs – Frequently asked questions
Here are some of the common questions that are often asked by artists who are looking for a wireless graphics tablet.
Are wireless drawing tablets reliable?
Yes they are, wireless drawing tablet does not usually have any connectivity issues within their 30 feet (10 meters) range making them super reliable and convenient to use.
Speed and latency on wireless graphics tab can you play OSU on them?
Wireless connection in general is always slower than the wired one, but the difference is very small and you won't really notice any difference in speed and latency in normal drawing and writing usage. However wireless connectivity does introduce some latency which is not ideal for fast-paced games such as OSU. Here are some better alternatives for playing OSU.
Can wireless drawing tablets be charged while using them at the same time?
Yes, once you run out of power – you can simply connect the included cables and continue working. Your tablet will charge while you are using them in the wired mode which is super convenient. This feature is supported by all the three tablets mentioned in our list.
Are there wireless drawing tablets with screens?
Not yet, as of now – the wireless technology does not have the high bandwidth that is required to transfer display and the pen data and that is why there is no wireless display tablet in the market.
But in case you want a portable tablet with a screen you can check out standalone drawing tablets that have a computer built inside.
Should you get a wireless drawing tablet or the wired one?
Wired tablets are usually cheap, so if you are looking for a budget-friendly tablet – you should get a wired tablet. But if you want the flexibility provided by the wireless tablets, they are definitely a better option.
Do you have to recharge the stylus too?
No, all the tablet mentioned in the list comes with a battery-free stylus. These stylus takes their power from the tablet itself using EMR. So in short – no you don't even need to charge the stylus.