Disclosure: As an Amazon Associate EssentialPicks earn from qualifying purchases.
---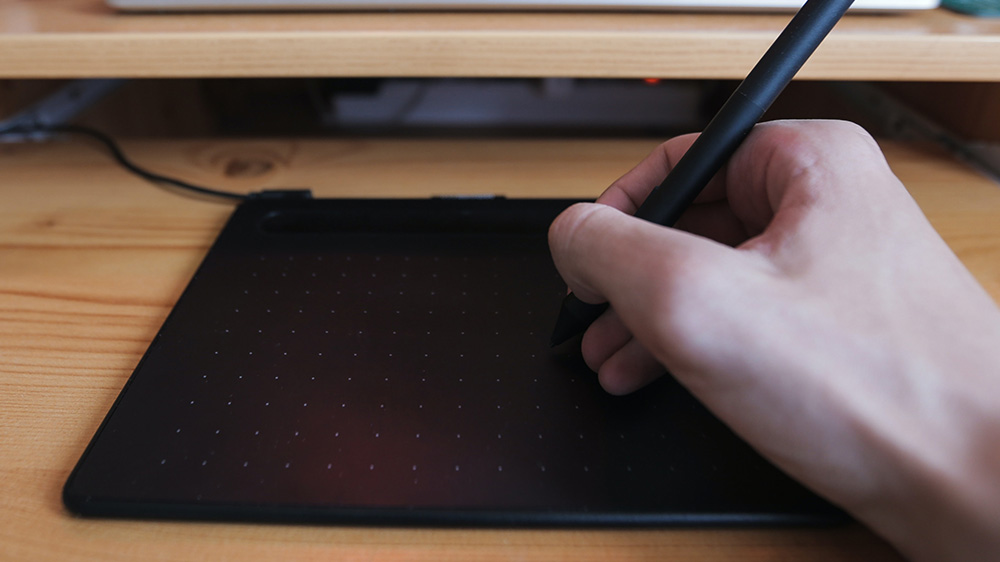 So you have played OSU for a while now and want to take your skills to the next level. You look at popular players and see them playing with tablets – which seem to help them improve their speed and accuracy, and you want to try it for yourself.
Next, you start looking for the perfect OSU tablet. But you are overwhelmed with literally hundreds of choices and you have no idea which tablet to pick.
This is where we come for help. You can't simply pick any random tablet and expect good results. There are certain features and requirements for an OSU tablet to get the best possible results.
We have handpicked some of the best tablets for OSU that will boost your speed, help you be more accurate and climb up the ranks.
What you need to know before you buy a tablet for OSU
As you may be aware, the size of the tablet has a big effect on the gameplay.
If you get a tablet that is way too small, you will lose accuracy. At the same time with large tablets, you have to flick your arm too much which is not only tiring but also not good for your wrist.
Most players agree that medium-size tablets are perfect for playing OSU. Other than size, the surface texture, pen, and the overall form factor also play a big role. We will discuss these topics in detail – later in the Buyer's Guide.
During making our list we have considered all these factors to make sure you are getting the perfect OSU tablet. So without further ado, Let's get started.
In a hurry? Here are some of our top recommendations.
Top recommendations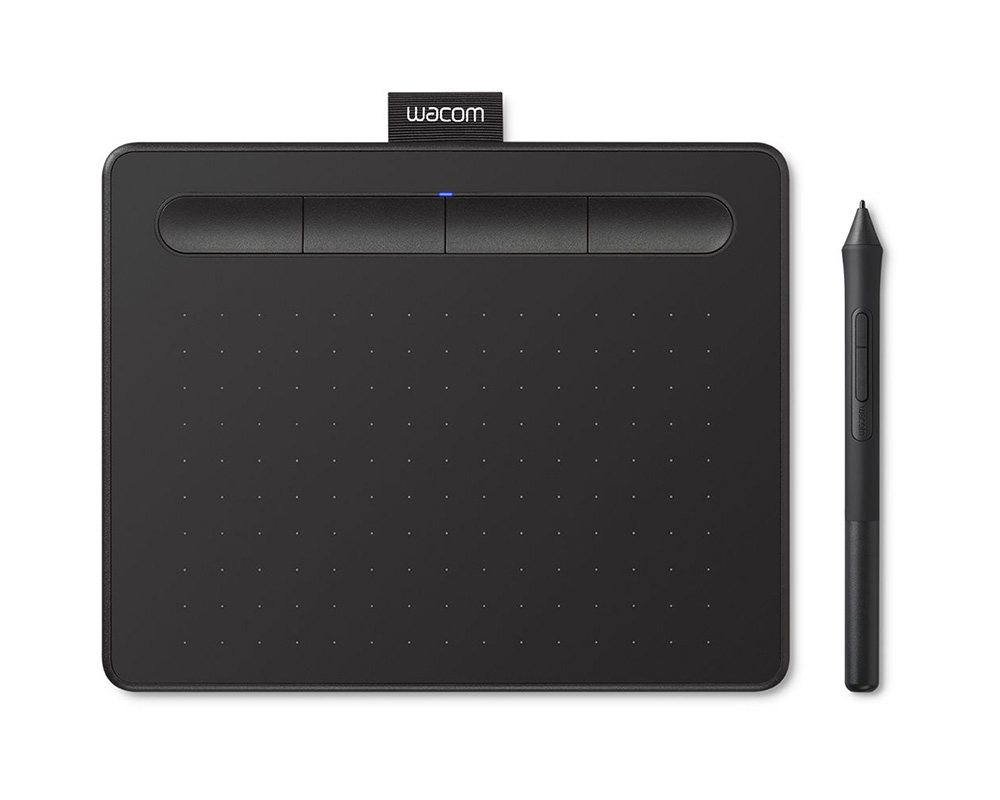 Wacom Intuos
Premium
6.0 x 3.7 inches
7 mm hover
Good pen/stylus
Black, Pistachio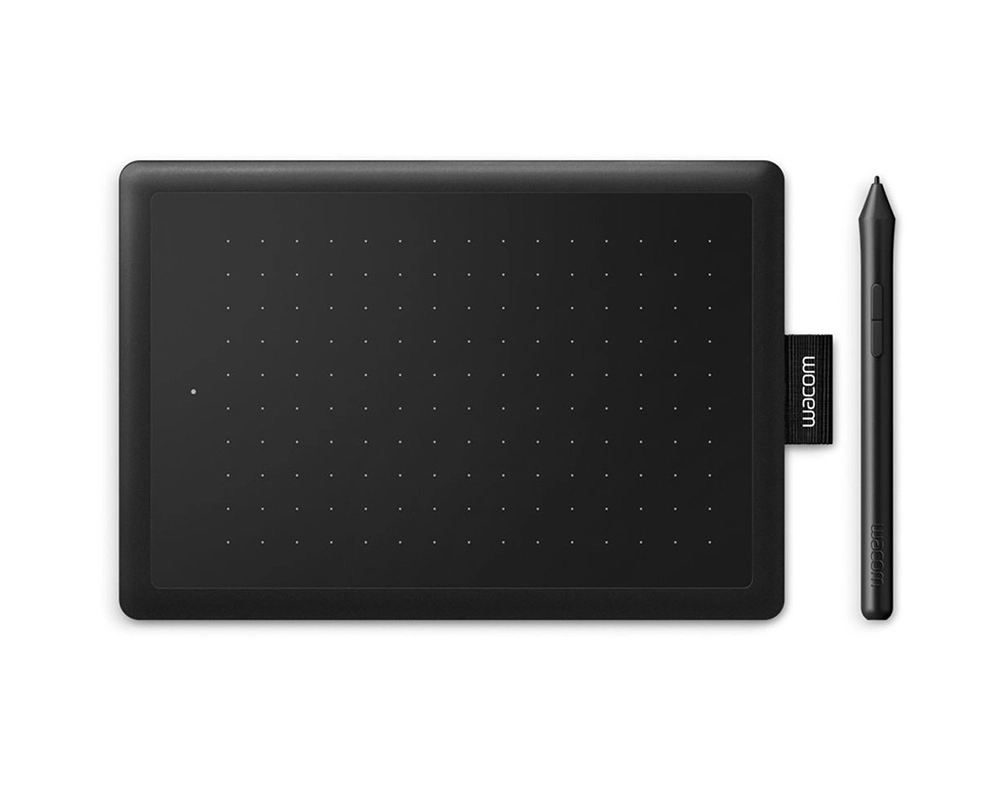 One by Wacom
Intermediate
6.0 x 3.7 inches
7 mm hover
No buttons
Red, Black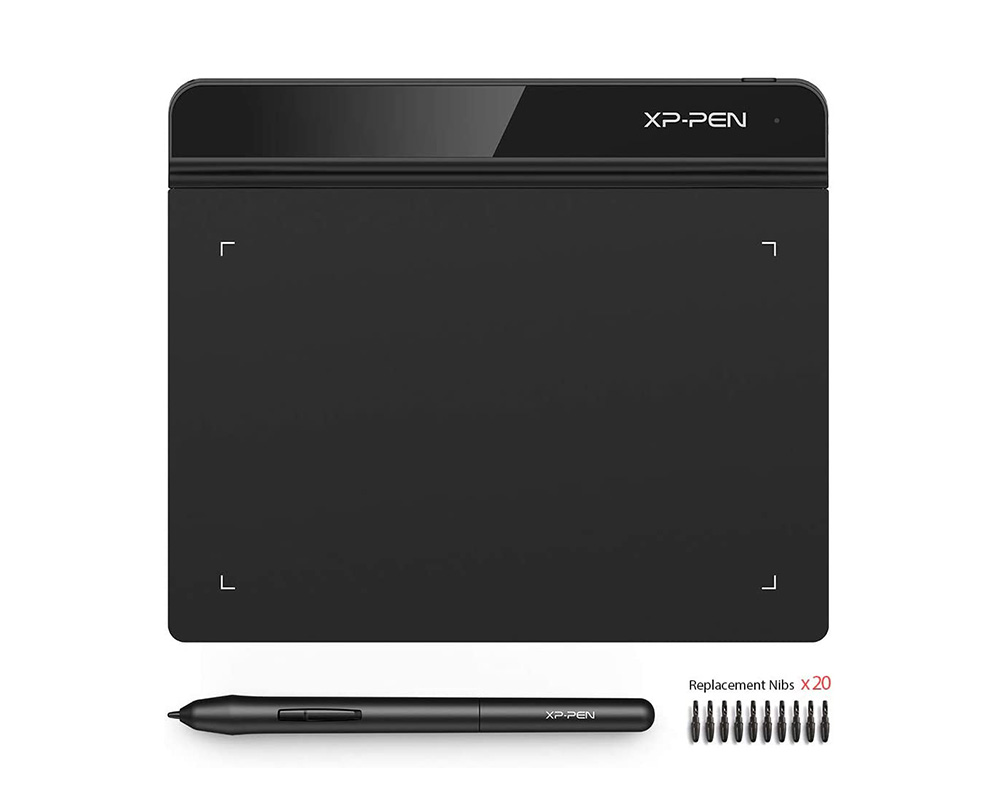 Xp Pen Star G640
Budget
6.0 x 4.0 inches
10 mm hover
Ultrathin
Black
Best OSU tablets (Updated)
Here are some of the best OSU tablets in the market. Every single tablet on the list brings its unique feature on the table. Some offer a larger tracking area, others have better scratch-resistant surfaces while a few are slim and compact.
1. Wacom Intuos (CTL 4100) – Hands down the best OSU tablet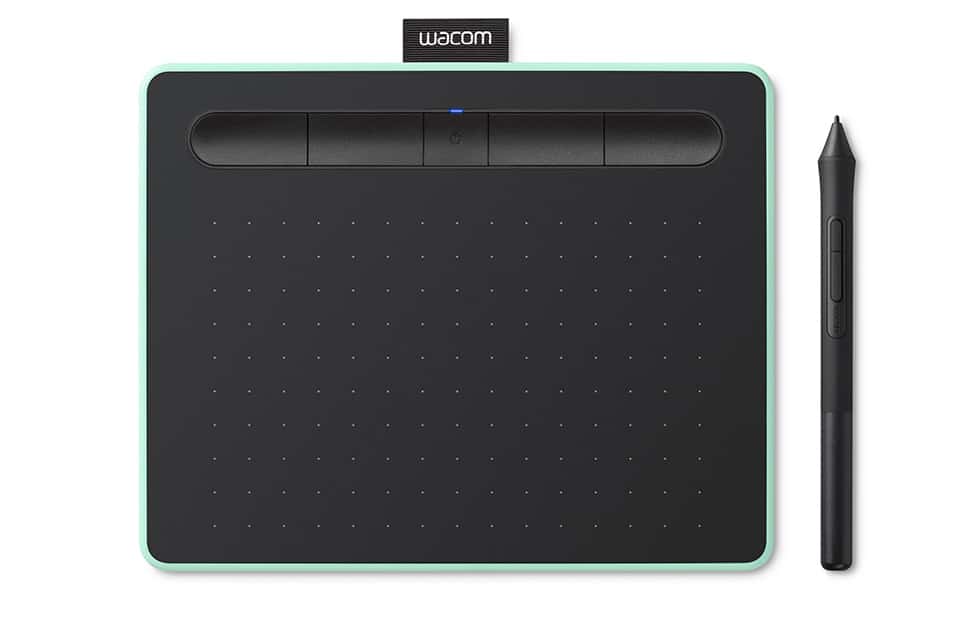 Active tracking area: 6.0 x 3.7 inches
Hover distance: 7 mm
Input Lag: Good
Pen: Battery-Free
Color: Black, Pistachio
If you want a quality tablet that can easily handle hours of intense OSU sessions, the Wacom Intuos is hands down the best choice.
One of the biggest advantages of Wacom Intuos is, it has a faster response time with minimum input delay. On top of that, it has a higher LPI (resolution) that gives you better accuracy.
The tablet has overall has an excellent build quality and good design. The top surface of the tablet has a higher quality scratch-resistant material compared to other generic tablets that protect the surface from getting scratched from the pen.
Why pro-OSU players mostly use Wacom tablets
If you have noticed most of the Pro level OSU players use Wacom tablets and there is a good reason for it. Wacom is a reputed brand that has been making graphics tables for over a decade.
Their drivers are the most stable and work flawlessly. That is important because the last thing you wanna do is fiddling through tablet settings to figure out why your tablet isn't working properly.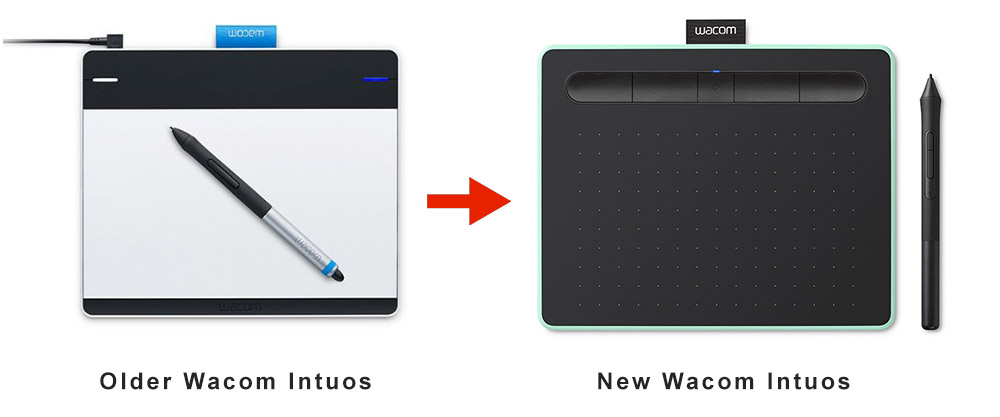 The Wacom Intuos model has been in the market for a very long time and they have got several upgrades over the years. The current Wacom Intuos (CTL 4100) comes with an updated design, faster response time, and overall better build quality.
The tablet comes in two variants, small and medium. The medium size Wacom Intuos is a little too large for OSU that is why we only recommend you to get the Wacom Intuos Small – as it has a perfect size.
The Wacom Intuos also has a wireless variant but we do not recommend it as wireless tablets introduce input delay which is not good for a fast-paced game like OSU.
The only downside of the Wacom Intuos is it falls on the expensive side compared to other tablets on the list. But in return, you are getting an excellent piece of hardware that will most likely serve you well for a long time.
2. One by Wacom (CTL 472) – Cheapest Wacom tablet for playing OSU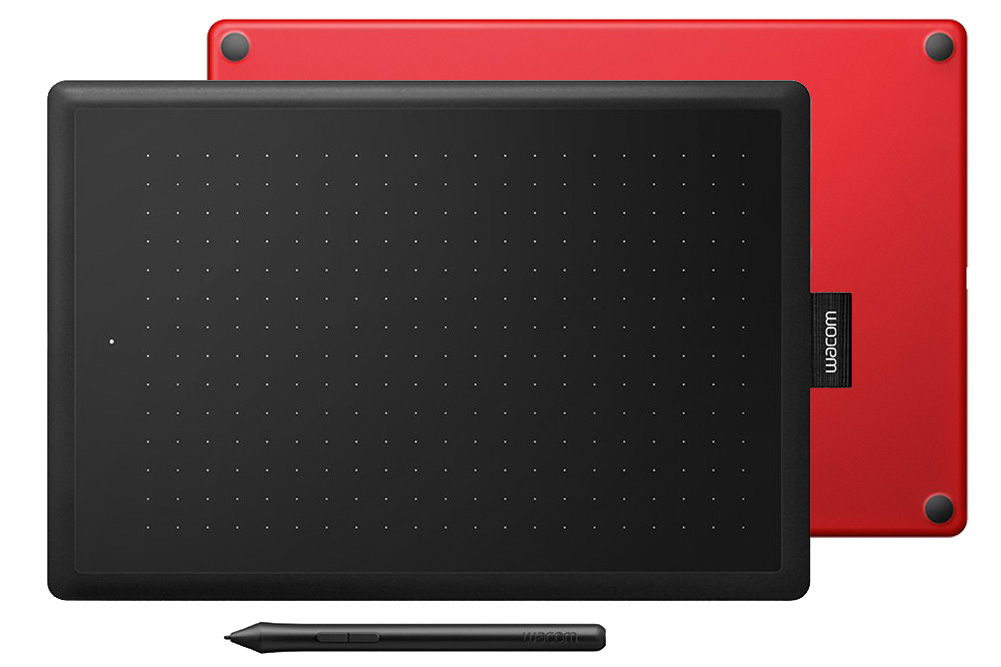 Active tracking area: 6.0 x 3.7 inches
Hover distance: Unknown (7-10 mm)
Input Lag: Good
Pen: Battery-Free
Color: Red, Black
One by Wacom is essentially a stripped-down version of the aforementioned Wacom Intuos. It is a great option for those who want all the features of the Wacom Intuos without that hefty Price tag.
As you may be aware, the only thing you need for playing OSU is an adequately large playing area and a faster response time. And that is what you get with One by Wacom.
All the other features such as buttons on the tablet are non-essential and not present on this tablet. This simple design helps to bring down the price while maintaining the same level of quality and performance.
On the tracking surface, you can see the same high-quality scratch-resistant surface that you find on Wacom Intuos. The response time and resolution of the tablet are also very good.
Tablet connects to the computer with the help of a USB cable. The cable is long enough to comfortably reach your CPU.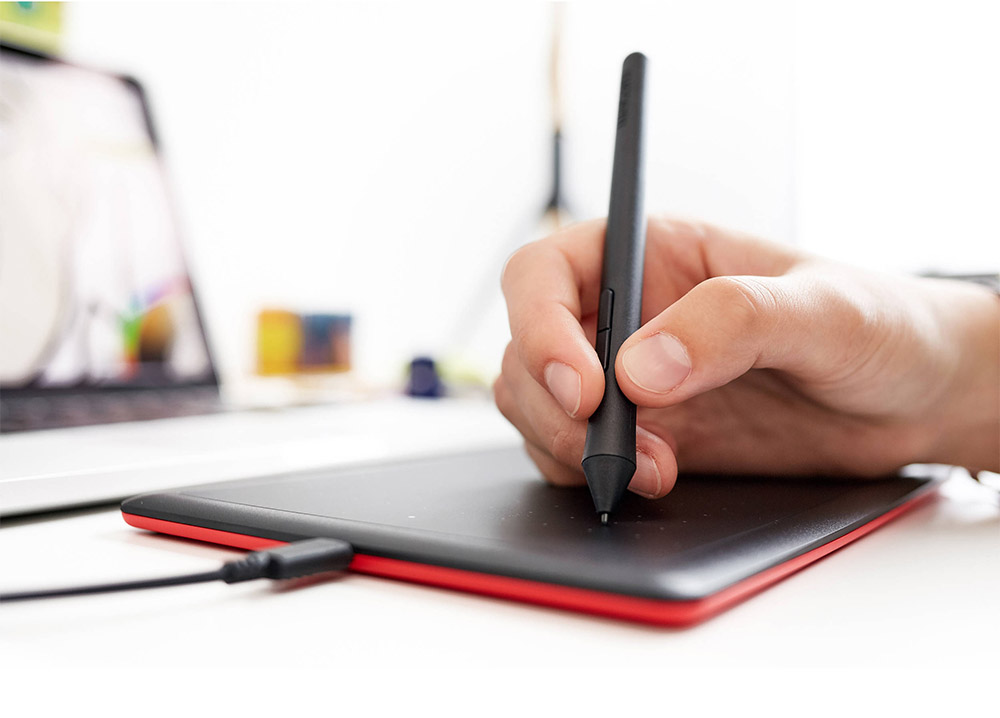 One by Wacom is available in Red and Black colors and has a very thin profile. The dotted pattern on the surface looks good and represents the active tracking area on the surface.
Like Wacom Intuos, the One by Wacom also comes into two variants – small and variant. We recommend you get the smaller variant of One by Wacom (Amazon) as it has the right size for OSU.
3. Huion H430P – Smaller size compact design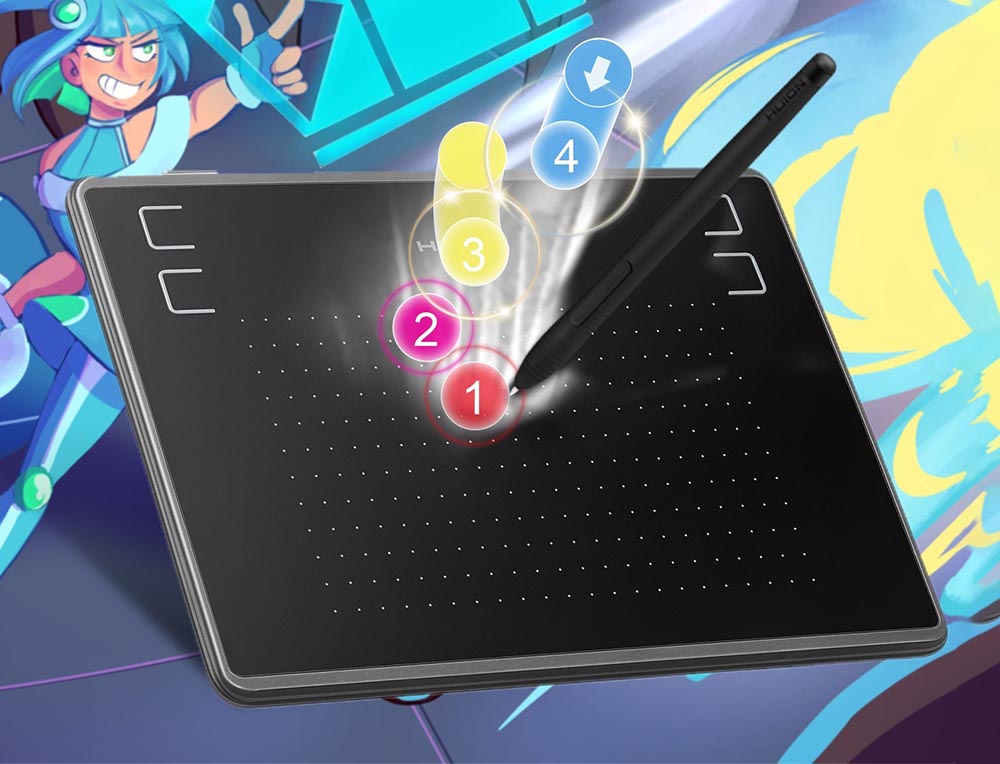 Active tracking area: 4.8 x 3.0 inches
Hover distance: 10 mm
Input Lag: Good
Pen: Battery-Free
Color: Black
Huion is the second most popular brand when it comes to graphics tablets. The Huion H430p is one of their entry-level compact tablets.
It comes with a total active area of 4.8 x 3 inches which is slightly smaller than other tablets and a great option if you play on a smaller display device such as a laptop.
There are four buttons on both sides of the tablet which are fully programmable. Its stylus comes with 4096 levels of pressure sensitivity and two buttons on its side. In the tablet settings, you have the option to disable the buttons, if you want to.
Overall it is a generic tablet that does its job really well and many pro-level OSU players use this as a primary OSU tablet.
4. XP Pen Star G640 – Ultrathin tablet for OSU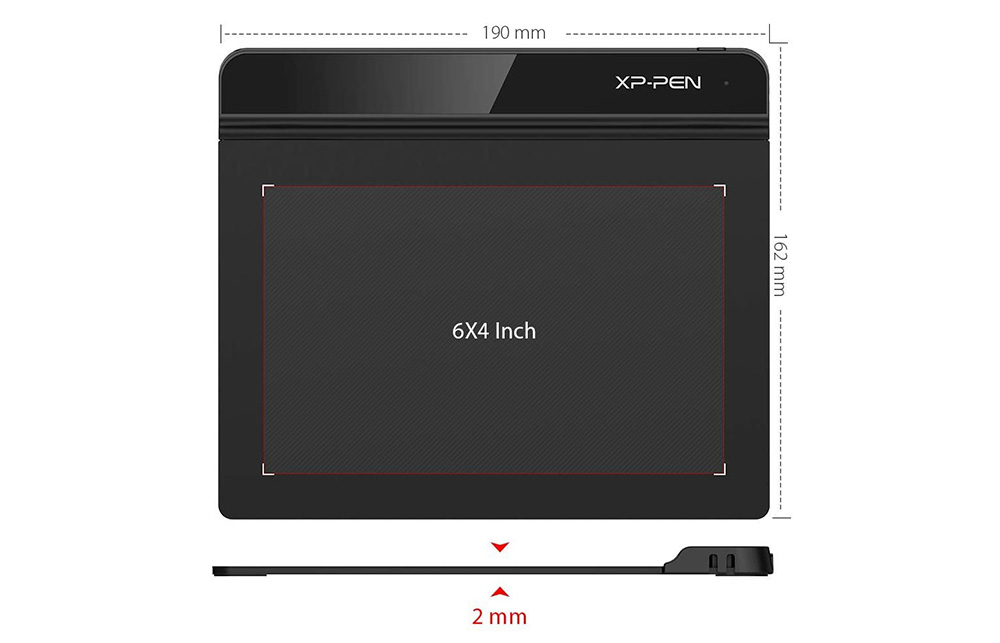 Active tracking area: 6.0 x 4.0 inches
Hover distance: 10 mm
Input Lag: Good
Pen: Battery-Free
Color: Black
What happens when you shove all the electronics to one corner of the device – you get a paper-thin tablet. The advantage of a thin tablet is it provides a comfortable platform for the hand.
The tablet comes with a tracking area of 6 x 4 inches with a USB connector towards the top.
There are several other cheaper options available in the market but this tablet has a nice blend of price and features making it one of the best options for beginner OSU players.
The included stylus has fast-tracking with 266 RPS (Reports Per Second) and pressure sensitivity of 8192 levels which can be handy if you want to try your hands in graphic design and making custom OSU skins.
The Pen is battery-free and lightweight making it a better choice for long OSU sessions.
This tablet also comes in a smaller and cheaper variant called Xp Pen Star G430S, which is very similar in looks and features.
5. Gaomon S620 – Value for money (Popular choice)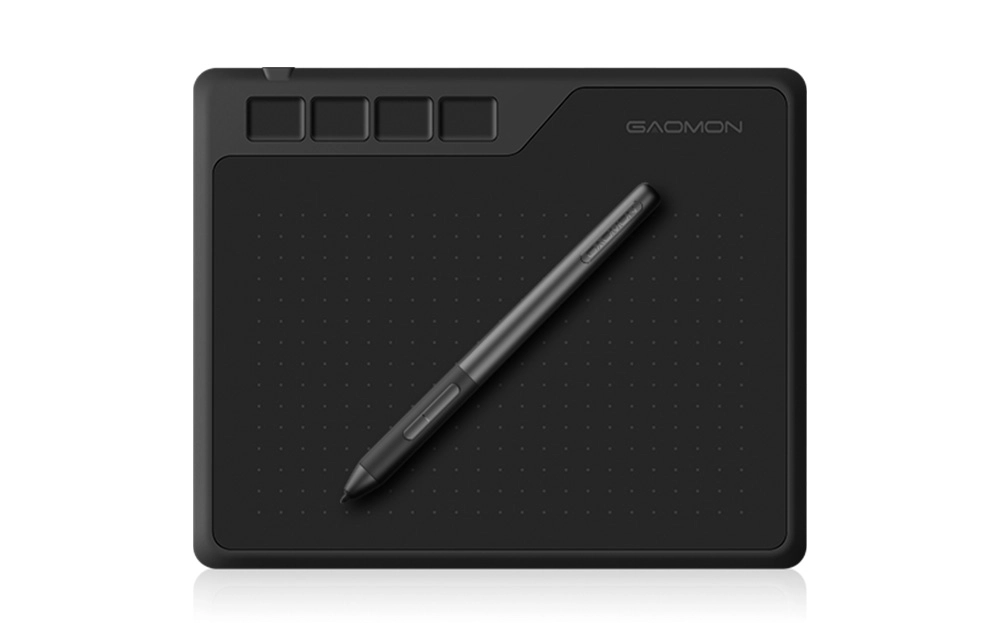 Active tracking area: 6.5 x 4.0 inches
Hover distance: 10 mm
Input Lag: Good
Pen: Battery-Free
Color: Black
The Gaomon S620 is one of those tablets that provides a lot of features at a fairly reasonable price. The tablet comes with a very attractive design with buttons on the top left and a minimum bezel from all sides.
The pen that comes with the Gaomon S620 has the right balance of width and weight, it is neither top nor bottom-heavy. The Pen is a slightly textured plastic towards the front that provides a better grip.
Like Wacom tablets, there are small dots on the surface that represents the total active area. The tablet comes in a single size with a 4 inches (vertically) by 6.5 inches (horizontally) tracking area.
For keeping the tablet stable on the desk or smooth surface, there are 4 large rubber pads located at the back of the tablet.
The tablet comes with a free driver and compatible with Windows, Mac, and Android devices.
If your budget is low but you still want a quality tablet that looks good and feels expensive, this is a good option.
6. Huion H420 – The Cheapest OSU tablet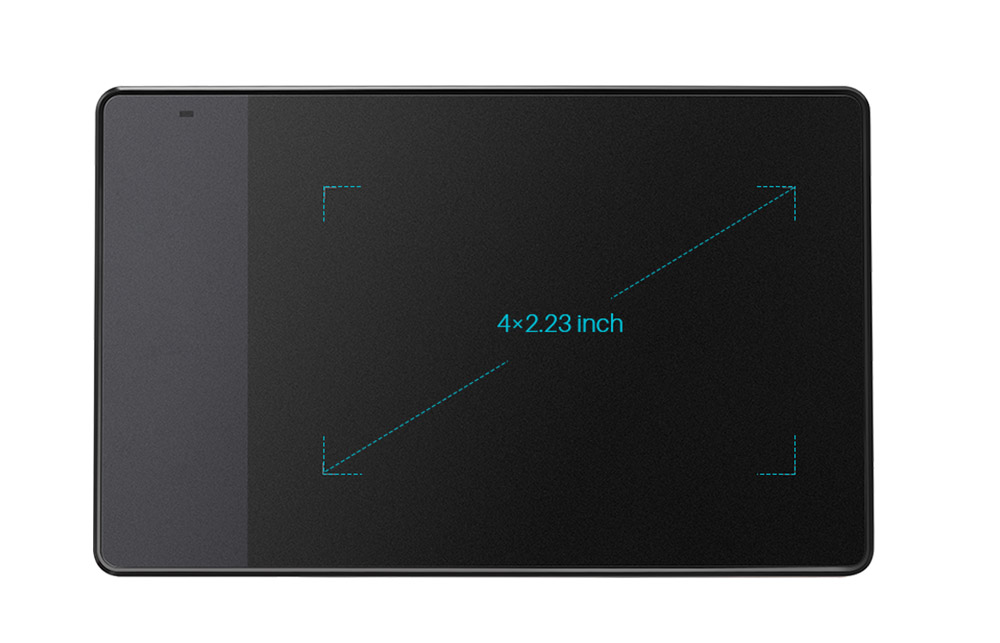 Active tracking area: 4.17 x 2.23 inches
Hover distance: 6 mm
Input Lag: Decent (better with Hawku driver)
Pen: Battery-Powered
Color: Black
If you ever wondered, what is the cheapest tablet that you can use for OSU – the Huion 420 is the answer. It is a pretty good tablet if you are just starting out.
It is an older tablet and comes with some last-generation features. The pen is battery powered which is an inconvenience, it also makes the pen havier.
Its latency is slightly lower than what you get with the latest generation tablets. Some of the players recommend using the Hawku tablet driver which increases its response time.
The overall built quality is not that great but again considering the price, it's fine. What you get with Huion H420 is a tablet that works just as fine while costing almost half than other tablets in the market.
If you do not mind the cheap build quality and battery-powered pen, go for Huion h420 otherwise spend a little extra and get the XP Pen Star G640 or Huion h430p.
Buyers Guide for selecting the right tablet for playing OSU
Here are some of the important points that you should know before making the final decision. These will help you identify important features in a tablet intended to be used for playing OSU.
Tablet size – smaller vs larger tablets
We discussed this topic at the very beginning of the article, from there it was pretty clear that a medium-size tablet is the best choice. A smaller tablet gives you better speed and a larger tablet is more accurate.
A medium-size tablet has the right mix of both these features making it a great choice for OSU.
In case you later decide that you want a smaller tracking area while playing OSU, you always have the option to recalibrate the tablet to a smaller area. This is a fairly simple process and can be easily be done in the tablet settings.
Tablet and Pen buttons. Get rid of them?
Tablets are primarily made for graphics designing and digital painting and that is why most of the tablets come with a number of features that we don't necessarily need for playing OSU.
Buttons of tablets as well as the pen are one such feature that is super useful in graphics design but have no real use in OSU.
To be honest, buttons are annoying – as you don't want your flow get ruined by menus and windows popping out of nowhere when you accidentally press the buttons.
That is why the majority of OSU players end up disabling the buttons and you should too. It is better to get a tablet with no buttons as in most cases it would be cheaper than the tables with buttons.
Hover or Drag in OSU
It is a matter of personal preference, some players like to drag the stylus on the tablet while others prefer to hover above the surface.
What is Drag?
When the players play OSU in such a way that the pen touches the surface of the tablet and drags along the way when the pen is moved, this is called drag.
What is Hover?
In hover, the player hovers the pen above the surface of the tablet. Even when the players move the stylus, the pen does not touch the tablet surface and remains in the air.
Most of the tablets in the market can successfully detect the pen within 10 mm of hover distance.
The best thing to do is, once you get the tablet to try it yourself whether you feel more comfortable with dragging or hover.
Now some people say hover is better as it preserves the life of the tablet which is kind of true but consider this – most of the modern tablets come with a high-quality scratch-resistant surface. So when you drag your pen on them the damage is minimal and this allows your tablet to last for years.
Still, if you want extra protection, there are plastic lamination available in the market which can be useful.
Pen grip matters. A Lot!
Everyone sweats. When you hold the pen for a longer duration of time – the pen starts getting slippery.
Some of the pens come with textured plastic others with silicon or rubber grips towards the front of the stylus to provide you a better grip. You should be looking for these features when selecting your tablet.
Wired vs Wireless tablets
There are several good wireless tablets available in the market such as Bluetooth-enabled Wacom Intuos. At first, they may seem like a great option as you would not have to deal with cables which clutter your desk.
But in reality, even the top-of-the-line wireless tablets are not as fast as the wired ones. They introduce latency and delays which is not good for a fast-paced competitive game such as OSU and you should strictly stay away from them.
Official tablet drivers vs Hawku drivers
Hawku drivers are very popular amongst the OSU community as they provide ample of settings and customization and also seem to improve tablet latency. But most modern official tablet drivers provide you similar customizations.
Also since official tablet drivers are specifically made for that particular tablet they are more stable.
So if you are buying the latest tablets from popular brands such as Wacom, Huion, Xp pen, Gaomon you should try to stick to the official drivers. But if you have an older generation tablet or the tablet does not feel right and you experience lag – then switch over to Hawku Drivers.
Are lefties left Out? Left and Right-hand mode
As a lefty you must be asking yourself are there any tablets made for left-handed OSU players.
You would be happy to know that all the tablets mentioned in our list come with a left-hand mode button in the tablet settings, which recalibrates the tablet for being used by the left-handed players. In short – All tablets can be comfortably used by left-handed players.
The first few weeks of owning an OSU tablet
Its gonna suck. The first time you try it – chances are you may not like it, it may even slow you down.
You have been using a mouse for a long time and suddenly when you switch to a tablet it takes some time to build muscle memory. For the first week, the adjustment period would be rough.
But as you play more you will slowly start gaining speed and by the end of a few days, you will feel right at home with your new tablet. You will feel a major improvement in speed and your ranks will shoot up.
What else can you do with the tablet
Other than playing OSU a tablet can also be used for many other tasks such as graphic design, digital painting, 3D sculpting, 2D/3D animation or even writing digital notes and signatures. You can even use the tablet to make custom OSU skins or get started into digital art.
Related:
Essential tools for Digital Artist
How to make money as a digital artist
Gaomon S620 review
Xp Pen Star G960 review