Disclosure: As an Amazon Associate EssentialPicks earn from qualifying purchases.
---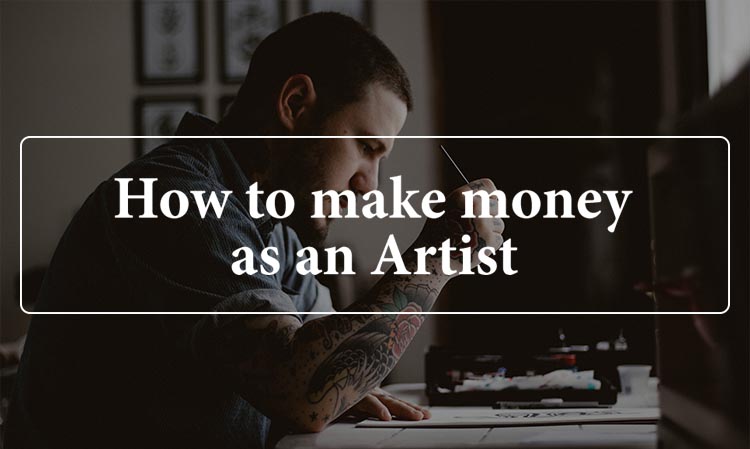 Making great artwork while being lost in the creative space are some of the most rewarding moments for an artist. But slowly life catches on and you start to realize you (will) need to get a job take care of the people in your life and so on and so forth.
Turning your hobby into your full-time job is every artist's dream, as it allows you to take care of your financial needs while doing what you love and care about.
The art of making money from your art
Monetizing your art is an art in itself and like everything else, it can be learned and mastered. There are countless examples of really talented artists who are master of their work but struggle to make money from it.
Similarly, there are numerous young artists who are still trying to discover their style but doing great financially.
For some artists, it may seem like making money from your art is extremely difficult as there are thousands of artists who are seemingly more talented than you. Or there may be people who have already tried selling their art but were not that successful in promoting it.
So the question is –
Is it difficult to monetize your art – NO, Not Really!
Will it be easy – NO
If it was easy – everyone would be doing it, but here is the catch – it is not difficult either. With the right tools, right knowledge and right action you can "for sure" see immediate results.
This article will help you understand some of the basics of money and how it works – so that you can use it to your advantage. You will learn about the active income, passive income, and cash flow which are very easy to understand and will give you a unique perspective on how money actually works.
After that, you will learn some of the tested methods of making money as an artist which has already made thousands of artist to become self-sustainable.
Types of income
Every source of income can be divided into two groups.
Active Income
Passive Income
Active income for artists
Active income is one of the most common ways of making money. In this type of income, you essentially trade your time and skill for money. Working for a company, art commission works and teaching art in schools or colleges are some of the examples of active income.
In simpler words, you work for a certain amount of time and get money for it. The money stops coming when you stop working.
Here are some of the most common sources of Active Income
1. Working for an employer – Job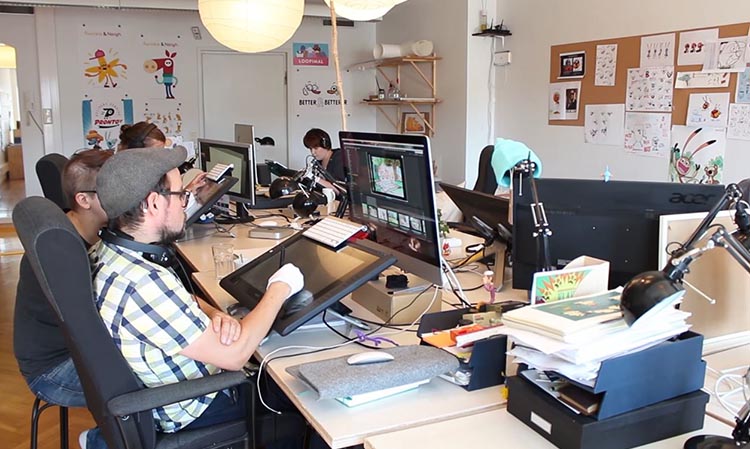 Working for an employer is one of the most common ways of making money as an artist. There are a lot of high paying jobs for artists such as – Art director, commercial artists(advertisement), art gallery dealer/manager.
There are opportunities in multiple industries such as – Craft and fine arts, fashion designer, graphic designer, industrial designer, Multimedia artist, animators, etc.
Motion pictures, architecture and engineering related services along with software publishers offer some of the highest-paying jobs.
Most of these jobs require you to have an art degree but more and more industries such as motion pictures are opening their gates to the non-degree holder and self-taught artist.
In most of these above-mentioned jobs, you get to work in groups or team where you are around like-minded individuals. Sometimes, You also get extra perks like health insurance, flexible/remote work options, financial planning services, public transit assistance and so on.
2. Art commissions
It is very popular amongst artists and hobbyists. Basically, you display your work on your portfolio website and social media or sites such as Artstation, Deviant art with your contact information and pricing options.
Potential buyers will contact you for commission work. It can be a good source of side income.
You can either charge per hour rates or the fixed rate.
Here is a quick guide to get started with commissions works.
3. Teaching Students
Getting a job as an art teacher is another route artist go for. The demand for art teachers is expected to grow by 6% in the next five years for elementary to high school teachers. Depending on your experience and skills you can also apply for an art teacher at college levels.
The salary for the art teacher varies depending upon the school or the college and the area where it is located. The average annual salary of the art teacher in the US is around $45,300 as per Glassdoor.co. You can also open your own art classes.
Becoming an art teacher has a certain advantage over working for a company. One – you get a lot of creative freedom and space. Your schedule is fixed and there is no overtime, job satisfaction rates are also great amongst art teachers.
4. Design contests
There are websites where artists compete with each other based on the demands of the contest holder, the selected winner gets the winning prize.
Here is how it works – suppose you want to get a logo designed for your company. There are two options, one – you can contact an artist/designer for the commission based work, or you can hire someone at Fiverr, Upwork or Freelancer.
The second option is you go to a design agency. In the end, you will receive a 5 or 6 variants of the logo from which you have to finalize one.
What if you can get 50, 100 or even 200 logo samples to choose from, this is where websites like Design contest and Design crowd comes handy. You basically write down your requirements, and artists and designers submit their designs. You pick the right logo and the winner gets the money.
For artists, it can be a great option because no one asks for your portfolio. Basically – your work speaks for itself. Other than logo there a lot of other contests such as UI design, T-shirt design and digital painting contests available for you to compete.
The normal payouts can range anywhere between 150,300 to 1200 dollars and more depending on the company and the type of work.
One of the disadvantages of these websites is the competition can be tough as you will be directly competing with other artists.
5. Freelancing
Well, Contest based sites may not be for everyone. What happens that you put your best efforts and at the end, someone else is selected as a winner and you end up feeling like – you didn't get paid for the work you did.
For making sure you get paid for your work while having the freedom to work from anywhere and to choose what work you want to do, freelance is a good alternative.
More and more people are taking this route as it is a simple and straight forward way of making money as an artist. There are multiple freelancing platforms to choose from with a wide variety of work such as – storyboard artist, comic book creator, book cover artists etc.
6. Cold Outreach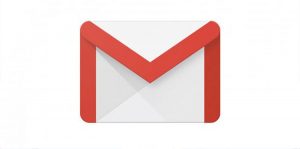 What happens when you post your stuff on social media and art portfolio sites and no-one contacts you for work. This is a common issue with beginner artists.
When you don't receive commission-based jobs you can try the cold approach method. In this, you will find the potential customers for your service rather than relying on them to find you.
For example, you can contact a small local manufacturer or big company via email or telephone call. Telling them about your skills and how you can design a better package or redesign their logo and make it look professional.
In the beginning, it may be difficult to find the right people but slowly you will get the hang of it as you will get more experience of spotting your clints.
It can be a great method of getting commission-based jobs for beginners.
Passive income for artists
Passive income is getting really popular these days. In passive income, your work is not time-dependent and you essentially set up a system which generates money for you even when you are not working currently.
This is not to say you don't have to work or you get free money for doing nothing – rather you work beforehand to receive benefits afterward. More often than not, creating passive income takes more time and effort than doing a normal job.
Passive income is like a machine who does the work for you. But you are the one who has to make the machine and train it. It can take several months before you start making any considerable amounts of money. It can also be a little boring as you would always be working alone.
One of the biggest benefits of passive income is scalability. Once you do everything correctly, there is no limit to how many people you can reach and money you can make.
Here are some of the most common ways of creating passive income as an artist.
7. Creating Youtube videos
Youtube is one of the best ways of generating passive income. That is the reason why so many artists are joining youtube and sharing their tips, advice and tutorials and overall providing a lot of value to the art community.
With youtube, you can promote yourself in multiple ways. You can advertise your portfolio website and your commission page. You can also sell your finished artworks or do a giveaway to attract more viewers.
Eventually, brands will approach you with sponsorship requests. Similarily, Youtube can open gates to commission requests where you can charge higher prices due to higher demand for your work.
All of these may seem very easy but it is important to know that building a youtube channel takes a lot of effort. Especially in the initial days – as you are likely to have few viewers and you may feel like you are overworking. But in the long run, it is worth it.
8. Creating Online courses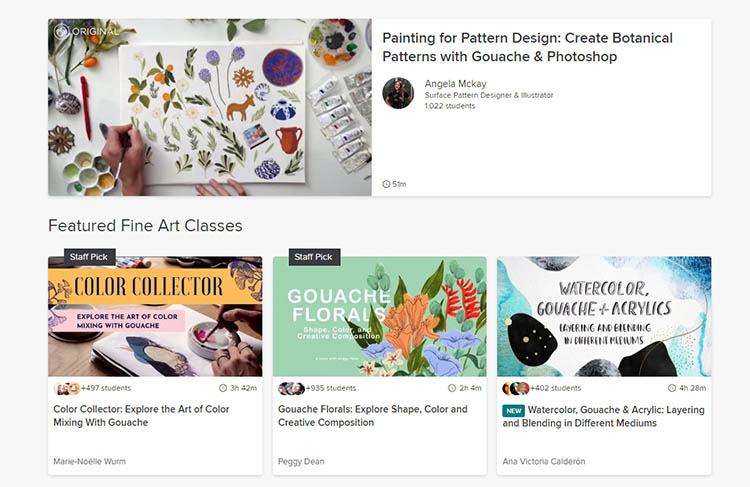 Are you an expert – You know something that others don't – why not teach them.
As an artist, you can create a course on a lot of different topics. Whether it is the beginner guide to "some" drawing software or an in-depth guide on specific topics such as "how to paint shadows on skin".
It can take anywhere from a day to a week to create a course and after that, you are pretty much done. The course hosting platform will take care of promoting your course but you can also advertise it on your website, youtube channel or social media for the added boost.
Once you are done with creating the course, it can generate passive income for years. If you make 10 or 15 of these courses, you can expect a good amount of extra income every month for the next few years.
Udemy – Gumroad – Skillshare is some of the best platforms for hosting courses. They also have an in-depth guide with tips and tutorial on how to create your own course.
9. Selling your artwork and designs at stock image sites

Selling your unique art pieces as stock images is one of the simplest ways of making money. It is a good idea because instead of your artwork silently sitting on your computer – they are actually working for you. On the sale of each of those art pieces, you receive a certain amount of money.
So all those unused art pieces which you have made in the past during practice or which you will make in the future can be uploaded to the stock images sites and you can simply reap the benefits of your work.
In terms of money – you cannot really rely on them to bring a full-time income for you but they can be a good source of supplementary income.
There are a number of really popular stock images sites where you can submit your images. Check this article from Contrastly for the list of best stock image sites to submit your photos.
10. Creating merchandise and selling custom tools
As an artist, you have certain skills which you can use to create merchandise such as custom T-shirts or Cups and sell them online. If you have no idea how it works it may seem like the whole process would be extremely difficult. The reality is – creating and selling merchandise is easy.
There are sites such as Designbyhumans where all you have to do is make the design and promote your work. Everything else such as printing and shipping is handled by them. Basically, you do what you love(make designs) and they take care of the rest.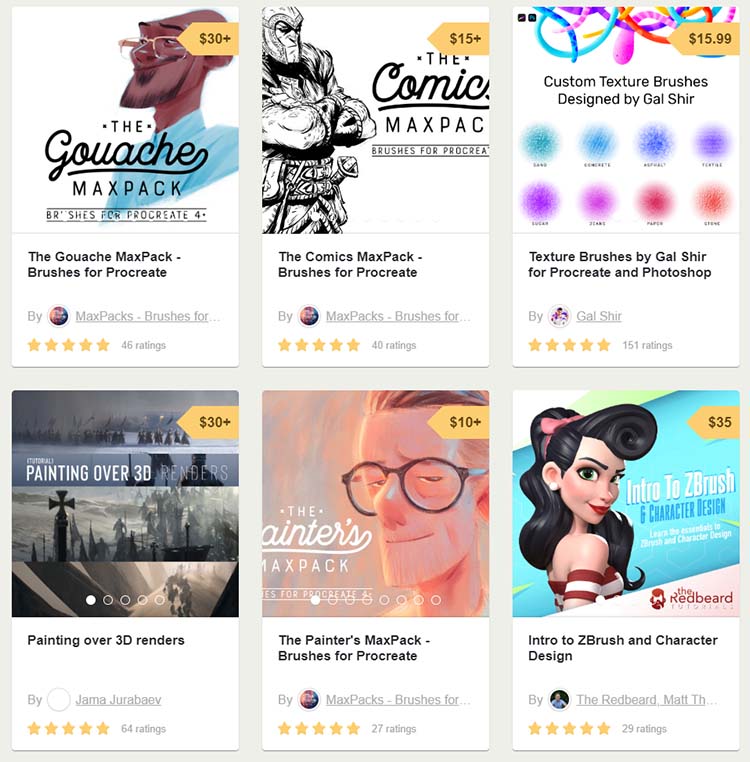 Now coming to digital products. As an artist, there may be custom presets, brushes, textures and effects which you have created over the years for your personal use.
You can put a price tag on these and sell it as a pack on websites such as Gumroad. You must have already seen some of your favorite artists do it.
11. Donations
If you have an active Youtube channel or you stream on Twitch, where you create a lot of useful content, you can ask for donations from your audience. If your audience feels they are getting a lot of value from your content and it is helping them to get better, they will happily donate.
On youtube you can take donations via third party clients such as PayPal – there are other alternatives too. Twitch has a built-in system for receiving donations.
You can also receive donations on social media and portfolio sites.
12. Membership
Membership is a little bit different from direct donations. In membership people basically, pledge to support you and your work on a monthly basis.
Patreon and Subscribestar are the two prime examples of membership platforms. If you have a good following or your content is helping others to learn new things and improve their skills, you can ask them to support you on these platforms.
People can donate anywhere between $1, $3, $5 to even $100 or $200 on a monthly basis. The payment is automatically made through their bank account so that they do not have to manually send you money every single month.
You can also set up exclusive content and perks for your supporters in order to encourage them to donate.
For example – if you are teaching digital art on youtube, you can allow your supporters to have exclusive access to the final image along with all the layers and brushes used in making that artwork.
13. Sell ebooks and comics series on Amazon Kindle
We saved the best one for the last. Here is one of the most underused opportunities out there.
Most of the times artists get commission work – related to comic creation or designing a book cover. You as an artist creates those comics > take the commission and move on to the next project.
Why not think ahead and self publish a comic series or children's illustration books directly to Amazon through the Amazon self-publishing platform.
Although there are other platforms where you can sell your comics but most of them have stiff competition as they are the ground zero for all self-publishing comic book creators.
You have total control over the contents and the pricing of the book. Your book or comic is available in both digital as well as a hard copy. Everything is handled by Amazon and you get up to 70% commission on the sale.
Single source of income vs multiple sources of income
For most of the graphic designers or storyboard artists or anyone who work for a company – their salaries are the only source of income. If they want a raise they try to negotiate the pay raise from their employers or work overtime.
Why not use the above-mentioned income sources to generate multiple streams of income. It may eat into a little bit of your free time but there are examples of people who have managed to surpass salaries from their job with alternate income sources.
Creating multiple income sources makes you financially strong. If for some reason the company decides to downsize and you lose your job(which is getting more and more common these days) then at least you will have a soft landing ground.
Diversifying is more applicable for a freelancer than anyone else. As a freelancer, you should definitely have multiple sources of income. Multiple income sources will allow small amounts of cash to flow from different sources which will add up to become a heavy stack. It will also make you less reliant on a single platform.
How to turn your art into a Business
Brands are one of the most valuable things right now. Turning yourself into a brand or a known figure in your space brings you a lot of opportunities which are simply – inaccessible unless you are at a certain level.
Here is a great example of how Josiah Brooks (aka Jazza) turned himself into a brand which enables him to work with massive brands and personalities.
Below is a fantastic interview between Jazza and Gary Vaynerchuk who is a mentor and entrepreneur discussing how artists need to look at the business aspect of making art.
Although he bites his nails and looks and talks funny/weird, he knows his stuff well and he is a very reputed personality in business and marketing.
Topics discussed in the video
Will time taking skills like animation will die out due to easy to produce content like Gameplay videos, Vlog or travel videos.

Should you provide free services for promotion

Being amongst the few people who get paid the big bucks

Painting what you want vs what the audience and the market wants

Standing out in the sea of great content

Using social media and leveraging new platforms

Creative Bloq

Tools will not help unless you put in the effort

Does art degree matters?
How to sell on Instagram
Out of box thinking and finding new opportunities on social media
As an artist, it is very easy to get into a thinking trap, where every platform whether Facebook, Instagram, Youtube or even Pinterest seems oversaturated.
But the thing is – there is always a scope. Bring something new to the tablet or do stuff with others are not doing. That will make you stand out even on those saturated platforms.
Social media come and go, a few years ago no one knew ticktock but it got a lot of attention lately, -now it is slowly fading off. Remember what is happening with Snapchat.
Adapting to the new platforms which are getting people's attention or using the new features of new existing platforms is a great way to increase your reach. More people see your stuff there are more chances for you to get commission work, sell merchandise or receive donations.
Try to stand out and look for opportunities in unsaturated places
Do somethings on new platforms which people will notice
Use new features of the existing platforms
Changing your mindset
Most often than not, making money from your art is all about changing our mindset. Most of the artist have self-doubts – "am I good enough", "would someone pay me", "what if people did not like my art", "Am I really ready" so on and so forth.
On the other hand, there is an artist who thinks art should only be about making art and improving your skills and one should not waste time on social media. Which is good advice but only for artists whose financial needs have already been taken care of.
Making money from your art, designs and models will allow you to give full attention to your work without worrying about the financial side. Initially, it may seem like you are putting your attention away from the raw art, but it is the right thing to do in the long run.
If you are here reading this means they you are already ahead of the pack and thinking about the financial side of the art, which is great. All you have to do now is to point your efforts in the right direction.
All the 13 ways mentioned in this article are some of the most common ways in which artists are successfully making money. But they are not the only ways to make many – there are 100 or even 1000 ways to earn from your art.
Feel free to share your experience of making money as an artist in the comments. Was it easy, difficult? What worked out best for you?
Related: Essential tools for beginner digital artists
Also Read: Guide to hiring an illustrator