Disclosure: As an Amazon Associate EssentialPicks earn from qualifying purchases.
---
Looking for a new drawing tablet is not an easy task. But it gets even trickier when two of the top drawing tablet brands come with their latest tablets that are very similar to each other.
This is exactly what we are dealing with when it comes to Huion Kamvas Pro 24 and Xp Pen Artist 24 Pro.
These two drawing tablets have so many similarities that even looking at their features list – doesn't give you a clear picture of similarities and differences between them.
This leaves us wondering – which of the two devices is a better drawing tablet? and Which tablet should you get as your next drawing device?
Having looked at quite a number of drawing tablets over the past few years, this is where we come for help.
The Kamvas Pro 24 and Artist 24 Pro are top of the line drawing tablets and unlike other tablets made by Huion and Xp Pen – these are not cheap.
On top of all that – once you buy a drawing tablet, you are all set for a few years.
Therefore you want to be 100% sure you are getting the absolute best drawing tablet without making any compromises.
For this Huion Kamvas Pro 24 and Xp Pen Artist 24 Pro comparison, we did a detailed side by side analysis – comparing every single major and minor detail of the tablet. We have made sure by the end of this article, you will know exactly which tablet to buy.
Features Comparison
Starting our comparison – Here is the list of all the major features that Huion Kamvas Pro 24 and Xp Pen Artist 24 Pro offers.
Huion Kamvas Pro 24
Xp Pen Artist 24 Pro
Display Size
23.8 Inches
23.8 Inches
Workspace
526.85 x 296.35mm
526.85 x 296.35mm
Resolution
2560 x 1440 pixels (QHD)
2560 x 1440 pixels (QHD)
Color Accuracy
90% Adobe® RGB
(120% sRGB)
90% Adobe® RGB
(120% sRGB)
Brightness
220cd/m2
250 cd/m2
Laminated Display
Yes
No
Stylus
Battery-free
Battery-free
Pressure and Tilt
8192 levels, 60° Tilt
8192 levels, 60° Tilt
Shortcut Buttons
20 Physical Buttons
20 Physical Buttons
Other Shortcut Options
2 Touch bars
2 Dial Wheels
USB-C Connectivity
No
Yes
Tablet Stand
Included
Included
Price
Check on Amazon
Check on Amazon
Design and Build Quality
A well put together drawing tablet gives you a premium and inviting feel.
When it comes to design both the tablet follows a minimalistic retro design with the screen at the center and buttons on both sides.
On the back you have (100 x 100) VESA mounted tablet stand as well as a number of ports for connectivity.
Even though both the tablets are made of plastic but the quality of plastic they have used is top-notch making the tablet feel strong and sturdy.
One important detail to notice is both the Huion and Xp Pen tablets have rubber feet at the base of the tablet, which not only provides a better grip but also protects the base of the tablet from getting scratched which is a very thoughtful design.
The only difference between these two tablets is the menu buttons on the top right of the tablet are physical (pressable) buttons in the case of Huion whereas on Xp Pen they are touch-buttons.
Overall one can say the build quality of both these tablets is super good and they definitely feel nice to work on.
Display – Resolution and color accuracy
This is the section where you are getting the biggest upgrade compared to any other drawing tablet in the market.
A screen is the most important part of a drawing tablet, so it is essential for the tablet to have a higher resolution screen that produces sharper images and has good color accuracy.
Both the Huion Kamvas Pro 24 and Xp Pen Artist 24 Pro comes with a display of 1440 x 2560 pixels QHD resolution.
Now, this is a big deal as – at the time of publishing this article, there are no other budget 22 or 24-inch tablets in the market that comes with a higher resolution 1440p QHD screen.
You will either find 1080p displays tablets that have lower picture sharpness, or you will find some 4k displays tablets that are outrageously expensive.
Huion Kamvas Pro 24 as well as Xp Pen Artist 24 pro gives you a nice combination of a sharper display at a reasonable price, this is the reason why so many artists are excited about these tablets.
This will more sense when we talk in terms of PPI (pixels per inch)
PPI (Pixels per inch) – 1080p vs 1440p resolution display

The more pixels your display has per unit area, the sharper images it produces.
A 24-inch screen with a normal 1080p display has 93 pixels per inch, whereas the same 24-inch screen with a 1440p display has as many as 123 pixels per inch, which is a huge difference.
Meaning the pixels on a 1440p display is smaller and densely packed and you won't see individual pixels when you work (draw) up close to the screen.
How Color Accurate is the screen
Most of the display in the market come with a screen with 90-100% sRGB color space coverage.
Now, this level of color accuracy is sufficient for most day to day tasks, but when it comes to doing creative work such as photo editing, compositing, rendering, digital painting you definitely need a display with better color accuracy.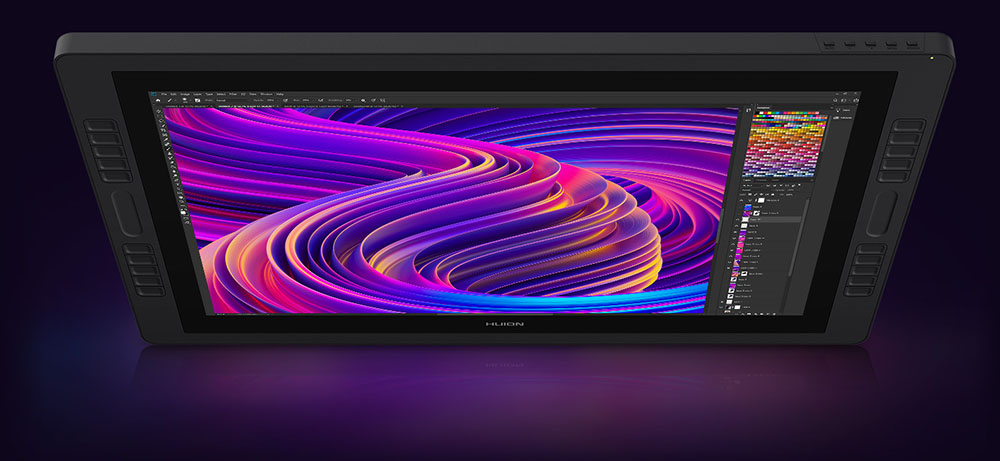 Both the Huion Kamvas Pro 24 as well as Xp Pen Artist 24 Pro displays have a 120% sRGB color space converge. Which is excellent.
This is equivalent to around 88%NTSC and 90% Adobe  RGB color space coverage.
Viewing angles
Another topic that is talked very often alongside color accuracy is the viewing angle.
Both these tablets come with IPS displays – which are known for their excellent viewing angles. The displays of Kamvas Pro 24 and Artist 24 Pro have excellent viewing angles measuring 178°.
Surface Texture – First major difference between Huion Kamvas Pro 24 and Xp Pen Artist 24 Pro
When you draw on a glass screen using a stylus with a plastic tip, the stylus tends to slide too much. This makes the stylus feel a little out of control.
For that reason, all the dedicated drawing devices come with a textured surface.
The textured surface provides friction to the stylus and stops it from feeling aggressively smooth, resulting in a comfortable and enjoyable drawing experience.
The textured surface also results in a pleasant scratchy sound that mimics the sound of a pencil on a paper.
Now there are two ways of introducing texture surface. One is to have the texture directly on the glass and the other is to apply a thin textured material on top.
The Huion Kamvas Pro 24 comes with an etched glass, where the texture is engraved directly on the glass through a chemical etching process.
Xp Pen, on the other hand, uses a thin textured plastic film over the screen to get a similar result.
 Advantages and disadvantages of Etched glass and Textured Plastic film
The first advantage of using an etched glass is – the drawing texture you get is more pronounced and most people would agree the surface feels better to draw on.
On etched glass the textures are present directly on the glass instead of a plastic layer and glass being much tougher material compared to plastic, the texture does not fade easily and lasts a long time. The Etched glass on Huion also has better scratch-resistant properties.
But using a textured plastic film has some advantage of its own. The biggest being – it is super easy to replace.
Even though the plastic textured film on Xp Pen fades faster than Huion's etched glass, but once you replace the older film with new ones. You get a super clean brand new drawing surface. You cannot do this With Huion's Etched glass.
Screen lamination – The Second difference
If you have come across any old drawing tablet, you may have noticed that the pointer on those displays pointed "slightly off" from the spot where the pen is actually touching the surface.
This is called "parallax" and it happens due to a small gap between the display and the protective glass on top.
To fix this modern display tablets come with Lamaintated displays. Where the display and the top glass are laminated together leaving no space in between.
The pointer on these newer drawing tablets appears at the exact spot where the stylus is touching the surface.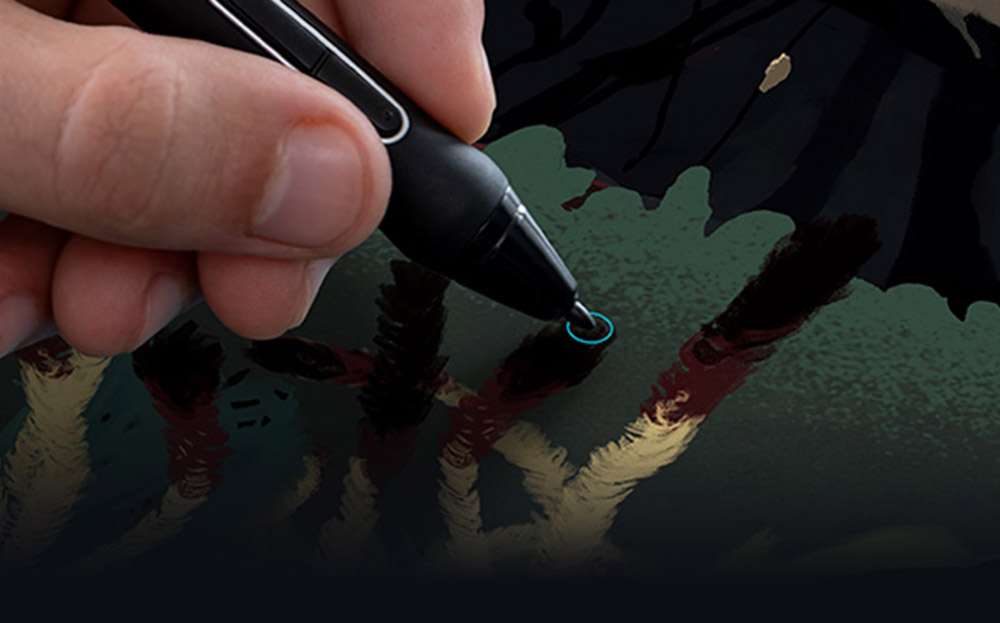 The Huion kamvas Pro 24  comes with a laminated display whereas the Xp Pen does not come with a laminated display.
But in a statement, Xp Pen has mentioned that – In their Artist 24 Pro tablet, they use a newer type of display, and even though it is officially not a laminated display, in real life usage – they produce similar results.
In our opinion, the parallax on the drawing tables is a thing of the past. This issue has been already solved. In all the drawing tablets that have come across in the last year or so – none of them have any major parallax issues.
Max brightness – Xp Pen Artist 24 and Huion Kamvas Pro 24 (the third difference)
Unlike laptops and smartphones, these large size drawing tablets are meant to be used indoors. So they can get away with having an average display brightness.
The Huion Kamvas Pro comes with a screen brightness of 220 cd/m2, whereas the Xp Pen Artist 24 Pro has a max brightness of 250cd/m2 – which is slightly more than Huion.
This slight distance between the brightness does not matter much as in real-life usage, both the displays are sufficiently bright to be clearly visible under a bright indoor environment.
In addition to that, the anti-glare matte screen also helps improve visibility.
Stylus – Huion PW517 vs Xp Pen PA2

Both the Kamvas Pro 24 and Artist 24 Pro comes with a very comparable stylus. They have two buttons on the side and no eraser at the back.
They come with 8192 levels of pressure sensitivity and 60 degrees of tilt sensitivity.
Both these styli have fast response times and accurate tracking. The pressure curve is balanced with the option to further customize as per your liking.
The pen has no sign of pen jitter (wavy lines) or sudden pressure bump issues, which you may sometimes find on cheaper or older drawing tablets.
Other than that, these stylus have an ergonomic shape which makes it comfortable to hold during long drawing sessions.
The front half of these stylus has a grippy silicone material which provides better grip, especially on sweaty hands
Overall both the stylus are very similar to each other and provide an equally good drawing experience.
One interesting thing is the Xp Pen Artist 24 Pro comes with not one but two stylus, which is kind of redundant.
Pen holder – Pen holder vs Pen stand
With Xp Pen Artist 24 Pro, you get a heavy-duty cylindrical pen holder that you can use to safely store the stylus. This pen holder serves a dual purpose, as its front cap opens up and works as a pen stand.
The Huion Kamvas Pro 24 comes with a donut pen stand. This pen stand can hold the stylus upright as well as horizontally (laying flat).
Both these pen holders have small internal storage space for the extra pen-nibs as well as the pen remover tool.
Pen slot

Other than the pen holder, the Xp Pen comes with a small plastic pen slot. The Pen slot is screwed onto the side of the tablet where you can keep the stylus when it is not in use.
Programmable shortcut buttons
Shortcut buttons are a tricky subject, some artist uses them – others prefer to use their trusty keyboard. If you fall in the first category and like to use custom shortcut buttons, you are in luck.
Both Huion Kamvas Pro 24 as well as Xp Pen Artist 24 Pro come with a total of 20 fully programmable shortcut buttons. These ate placed on either side of the screen and can be used by both left and right-handed artists.
Although the placement of shortcut buttons is the same on both the tablets they differ in look and feel.
The shortcut buttons on Xp Pen are raised above the surface of the tablet and have raised dots and dashes in order to easily identify them without looking.
The Huion on the other side has adopted a clean and minimum look, where the buttons are almost flush with the surface and have no physical or visual markings on them.
Multi-Purpose shortcut options – Touch strip vs Dial wheel
Multishortcut interface helps perform advanced shortcuts such as zoom, scroll, pan, and changing the size of brush and eraser.
These shortcuts are very handy and help you make quick changes on the fly.
Both Huion and Xp Pen have these multi-purpose shortcuts interfaces but their implementation is different.
Huion's touch strip
Huion comes with a touch-based multi-shortcut called "touch strip".  They are located on both sides of the screen in between the aforementioned shortcut buttons.
For performing shortcut operations on these touch strip, all you need to do is swipe up or down.
Xp Pen's rotating Dial
Instead of the touch strip, the Xp Pen comes with two "Rotating Dials". These dials are present on both sides of the screen.
For performing shortcuts you need to rotate the dial left or right. They rotate all the way 360 degrees with no stopping point meaning you can keep on rotating them.
These dials also make a click sound every rotation step which feels so satisfying. We recently did a 6 months review of the Xp Pen Artist 22r Pro where the artist said she randomly rotates the dial just because it feels good.
Overall the Dial on the Xp Pen Artist 24 Pro is superior to the Huion's touch bar.
Their metallic construction, robust feel, and smooth motion with that satisfying click sound take them to the next level. If you are someone who uses the shortcut buttons a lot get the Xp Pen Artist 24 Pro.
Tablet stand – Generic stand vs Quality stand
Both Kamvas Pro 24 and Artist 24 Pro comes with a free tablet stand. The stands are attached to a 100 x 100 VESA mount.
Meaning you can easily swap the original stand and replace it with a third-party monitor arm. With that out of the way, let's talk about the features.
Table stands of both Huion and Xp Pen are made of metal and provide a strong and sturdy hold. Xp Pen allows you to change the standing angle of your tablet anywhere from 16 to 90° (degrees) whereas with Huion stand you get 20 to 80° tablet elevation.
In terms of utility and practicality both the stands are similar, but when it comes to the overall design – Xp Pen takes the lead.
The stand that comes with Huion Kamvas Pro 24 does not even match the overall design and aesthetics of the tablet. It seems like Huion has just slapped a generic stand and called it a day.
Xp Pen on the other side comes with a newer – redesigned tablet stand. The stand has a bigger and more accessible locking latch at the top, making it easier to change the tablet from one position to another.
This stand has an overall better-built quality that matches the overall look, design, and quality of the tablet – making your setup look better.
Ports – Artist 24 Pro vs Kamvas Pro 24
Xp Pen Artist 24 Pro
2 USB port
HDMI
USB-C port
DC port (power)
Huion Kamvas Pro 24
Display port
HDMI
VGA
Power
USB
Connectivity and USB C support
As you can see the Huion Kmavas Pro comes with a number of connectivity options such as a Display port and VGA port, which is great if you have an older computer.
Xp Pen also comes with a fair share of the ports but what sets it apart is – it comes with USB-C support. This is great if you have got a newer computer or laptop that has a USB-C port – as you can just connect a single USB-C to a USB-C cable and start working.
If your computer does not have the required ports such as HDMI, Mini Display, or USB ports, you will need to get a USB hub (Amazon) in order to connect the tablet to the computer.
Box contents – Huion Kamvas Pro 24 vs Xp Pen Artist 24 Pro
Here is the list of everything that you get in the box.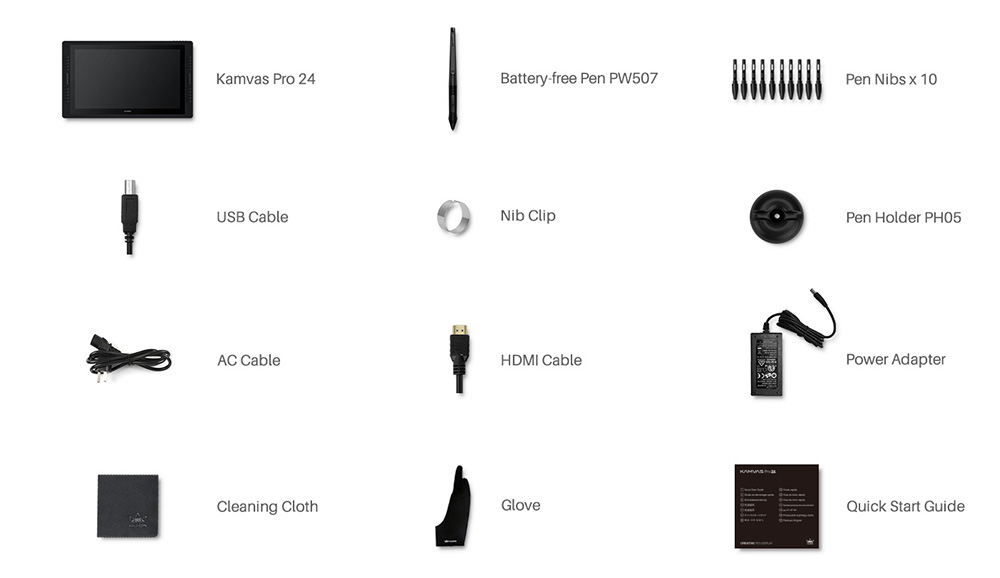 Huion Kamvas Pro 24
Kamvas Pro 24
PW517 stylus
10 Extra pen nibs
Nib remover tool
Pen holder
Tablet Stand
USB Cable
HDMI cable
Power adapter
AC cable
Cleaning cloth
Drawing glove
Quick start guide
Xp Pen Artist 24 Pro
XP-Pen 23.8" Graphics Display
2 x Battery-Free Stylus
8 Replacement Pen Nibs
Nib remover tool
USB-C to USB-C Cable
HDMI Cable
Power Adapter
Power Cord
Pen Holder
USB-C to USB Adapter
Cleaning Cloth
Drawing Glove
Quick Guide
Summary – Which tablet should you actually buy?
From all this discussion so far, it is clear that even though this tablet looks similar – there are a number of differences based on which you should be making your buying decisions.
Starting from the display unit. The Huion Kamvas Pro takes a slight edge as it has a true laminated display (Xp Pen is very similar though) and comes with etched glass. Other than that the resolution and color accuracy is the same.
Next, the Stylus. Both tablets come with an equally capable stylus which may not be as good as the Wacom Pro Pen 2 but they are very close – say 95%, as Wacom has a more stable pen tilt performance.
In shortcut buttons, the Xp Pen easily wins as it comes with a Rotating Dial which is way better to use compared to Huion's Touch bar.
Other than that the Xp Pen comes with a better stand and both the tablet packs a sufficient number of port and accessories.
The best thing about these tablets is – no matter which tablet you buy, you are getting an absolute deal as both these tablet comes with a higher resolution QHD screen and they are reasonably priced.
In one word if we have to answer "Which tablet you should buy?", we would say – if you really use shortcut buttons get the Xp Pen Artist 24 Pro, but if you don't care about shortcuts and would rather have a better screen get the  Huion Kamvas Pro 24.
Alternate choices
There are a number of other tablets that you can look into such as the – Wacom Cintiq Pro 24 which has a 4k screen but they cost more. On the other side, you have Xp Pen Artist 22r Pro and Huion Kamvas Pro 22 which is cheaper but has a slightly lower resolution.
Related topics:
How battery-free stylus work?
How does pen tilt sensitivity work in a stylus?
What are laminated displays?
Best standalone drawing tablets