Disclosure: As an Amazon Associate EssentialPicks earn from qualifying purchases.
---
The Xp Pen Artist Display 22R Pro is probably one of the best 22-inch drawing tables in the market.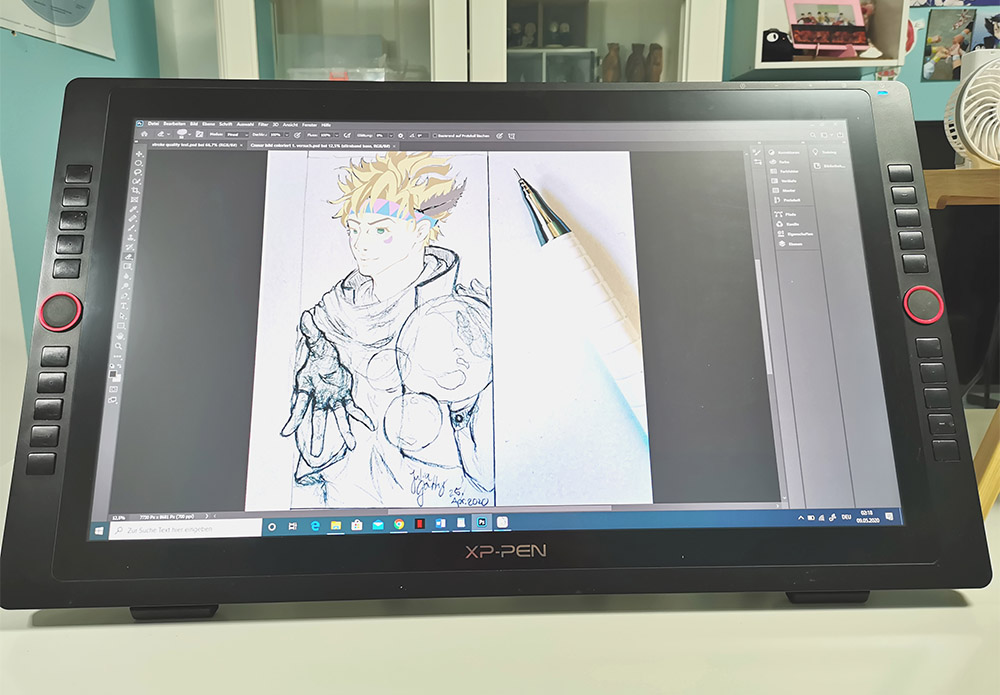 For many artists, getting this tablet is a big deal not only because it is always exciting to get a new drawing tablet but also because it requires a fairly substantial investment of money.
So you want to be 100% sure you are getting the absolute best tablet and not making any compromises.
This Artist 22R Pro review aims at providing an unbiased and unfiltered opinion to make sure you are getting the absolute best information. If you have any further question feel free to ask in the comment section.
Xp Pen Artist Display 22R Pro – Features and Specifications
Before we start with the real review, it is important to be acquainted with the tablet. Here is the list of all the features that Artist 22R Pro comes with.
Xp Pen Artist 22R Pro
Tablet Dimension
22.4 x 13.1 x 1.76 Inches
Display Size
21.5 Inch (16:9 display-ratio)
Drawing Area
18.7 x 10.5 Inches
Resolution
1920 x 1080p FullHD
Color Accuracy
88% NTSC
Adobe® RGB≧90%
sRGB≧120%
Peak Brightness
200-300Cd/m2
Shortcut Buttons
20 Buttons + 2 Red Dial Wheels
Stylus
Passive (Battery-free)
Report Rate/ Response Time
200 RPS/ 14 ms
Pen Pressure
8192 Levels
Pen Tilt
±60 degrees
Buttons on the Pen
Two
Pen Holder
Yes Included
Tablet Stand
Included (100 x 100 VESA Mount)
Ports
USB-C port, 2 x USB Hub, HDMI port, VGA port, DC port
Weight
15.4 pounds (6.9 Kg)
Price
Check on Amazon
For this review, we have talked with Julia Götting, who is a very talented artist from Germany. She will share her experience of using the Xp Pen Artist 22R Pro.
How Long you have been using the Xp Pen Artist 22R Pro?
I have been using the tablet for about 6 months now (I ordered the tablet in November 2019 and it arrived at the end of December 2019).
What were your first impressions of the tablet?
Initially, I was quite a bit overwhelmed by the huge packaging.
Since it is a fairly large tablet, you should make sure to unpack it in a clean environment with a lot of space. So you can get a look at all the included cables and other gimmicks (like the glove or the Pouch where you can store your pen and extra cables).
I was pleasantly surprised by how robust and smooth the display felt – the overall design obviously is a nice one because you have a clean black surface.
The metallic red wheels are such a blessing! Not only do they look really elegant, but they also move smoothly (I sometimes find myself scrolling up and down – zooming in and out just because it feels so satisfying!)
Setting up the tablet for the first time
Initially, I was a bit overwhelmed by all the buttons. Overall setting up the display for the first time was a bit time-consuming, mainly because this is my very first display tablet (I only had a Wacom Intuos Comic S before).
If you are just starting out, you might want to make sure you have some time at hand – as on the first go – I personally had to google a lot of things multiple times before understanding what was going on.
How is the color accuracy of the tablet?
I personally find the accuracy of the colors very nice!
Yet, you have to consider that – unlike what I heard about from other brands like Wacom – you have to adjust the settings on the display before getting a good result on the display of colors.
The colors might appear a bit off when you just turned it on for the first time but you can easily fix everything by setting up how warm/cold/saturated etc. you need it.
Comments (EssentialPicks): The Xp Pen Artist 22r Pro display covers the ≧120% sRGB color space, meaning the screen is very much capable of showing accurate colors.
With that said, the screen is not color calibrated by default. This means, you most likely need to play with display color settings in order to achieve accurate colors – when you are setting up the tablet for the first time.
What is the resolution of the screen? Were you able to see individual pixels while working? Did it distract you?
The Artist Display 22R Pro screen comes with a 1920 x 1080p Full HD resolution. When it comes to pixels I personally never even noticed them while working.
However, as it is a relatively large screen you can see individual pixels – but only if you get really close and if you really focus on them.
This shouldn't be a distraction at all unless you are already accustomed to a 4k resolution.
Is the screen bright enough? Do the colors on the screen appear to change when looked from different angles?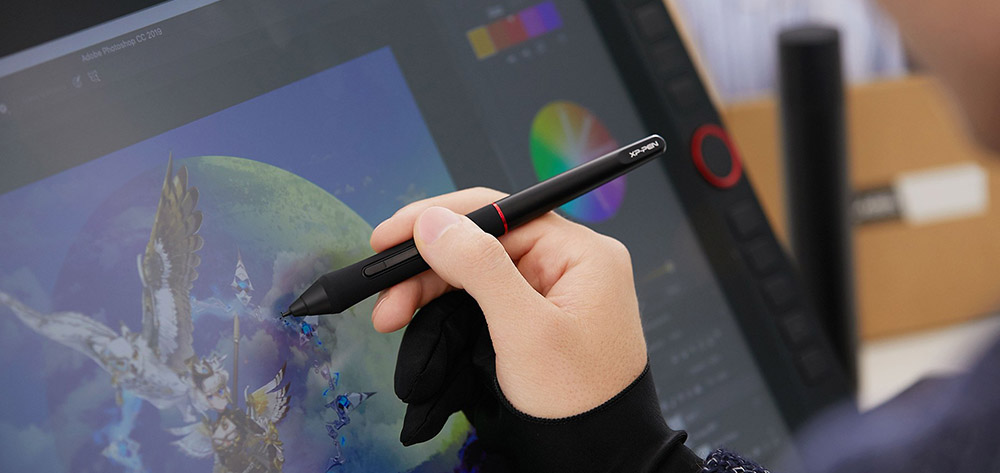 It definitely is bright enough for my taste. I do not see any major change from any angle I work with. Of course, if you sit straight and you lay the display flat on the table (90° angle) you'd eventually see the colors fade a bit but this is what the stand is there for so this has never been a concern to me at all.
Comments (EssentialPicks): The peak brightness of this table is in the range of 200-300Cd/m2, which is on par with other drawing tablets in the market. This level of brightness is sufficient for bright indoor environments.
The display uses an IPS panel that gives an excellent viewing angle and you won't have issues with weird artifacts or color shits when looking at the screen from off-center.
What is the tablet made of (Metal, plastic)? Does it feel cheap?
Well to me Artist 22r Pro is a very robust Pen Display, despite being made of plastic. It doesn't felt cheap at all unless we're including the shortcut buttons (they do feel like the buttons of a cheap toy you'd get in a kid's menu of a fast-food chain).
But they still work perfectly fine! The overall pen display is really well built so even though it's quite heavy it feels like it won't just get damaged that easily.
How is Pen Accuracy (parallax) on the tablet?
(Parallax is the small distance between where the pen touches the tablet and where the pointer appears on the screen.)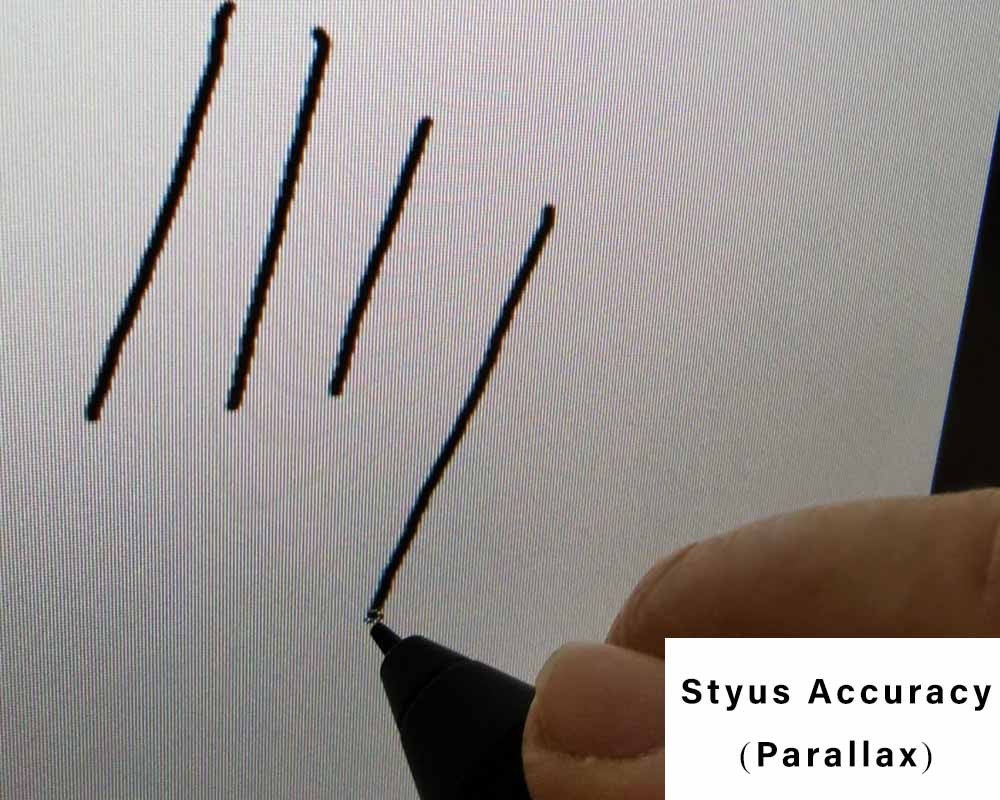 I noticed that it varies when I use different programs. In Clip Studio Paint, for example, I've never got any parallax issues, but sometimes I notice the inaccurate pointer when I'm using Photoshop.
In this case, I'd need to re-calibrate the pen and it would work out fine as well.
Comments (EssentialPicks): Xp Pen Artist Display 22R Pro does not have a fully-laminated display which was kind of a surprise even for us – as the 12, 13, and 16-inch models of Xp Pen tablets come with a laminated display, So we were expecting the laminated display in the Artist 22R Pro too.
But at the same time, the lack of a laminated screen is probably not a big deal because it does not affect the stylus precision in real-life usage.
For reference – even the Wacom Cintiq 16 and Cintiq 22 do not come with the laminated display but they still have good stylus accuracy with almost no parallax.
How is the parallax on the corners and side edges of the screen? (Remains the same or you notice a little bit of parallax?)
The closer you get to the edges of the screen the more likely it is to see the cursor slightly (maybe 1 millimeter or so) go off track.
Since I personally do not use 100% of the size as my main drawing area, my strokes would usually not even come close to that area around the edges but if you really need that space and if you really need it to work accurately – even at the edges – you might not want this to happen.
How is the texture on the screen feels like? Is it aggressive or balanced?
The screen has got some texture and doesn't feel like actual Paper but really close. It doesn't alienate the feeling of drawing.
The surface is matte which is good as it does a great job of handling reflections and glares off the screen.
What I really like is the screen does not feel sticky and you can smoothly glide your hands over it.
A glove from Xp Pen should be included so that you don't get any smudgy stains on the display and it also contributes to your hand moving over the surface easily and more comfortably.
How does the stylus feel? Is it heavy or lightweight?
The stylus looks really nice. It has a clean design matching the Pen Display very well. It overall feels like a well-build ball pen. By that, I mean that it has a very balanced weight to it (it isn't as light as a pencil) and that the grip on it is very nice.
Stylus performance, How good is the pressure and tilt sensitivity?
When it comes to the performance you really have to spend that extra time on setting things up.
Some programs do not really get the pressure sensitivity right while others do and the tilt sensitivity is actually useful if you use calligraphy brushes, but I do not really need it (it's nice that it works so well though.)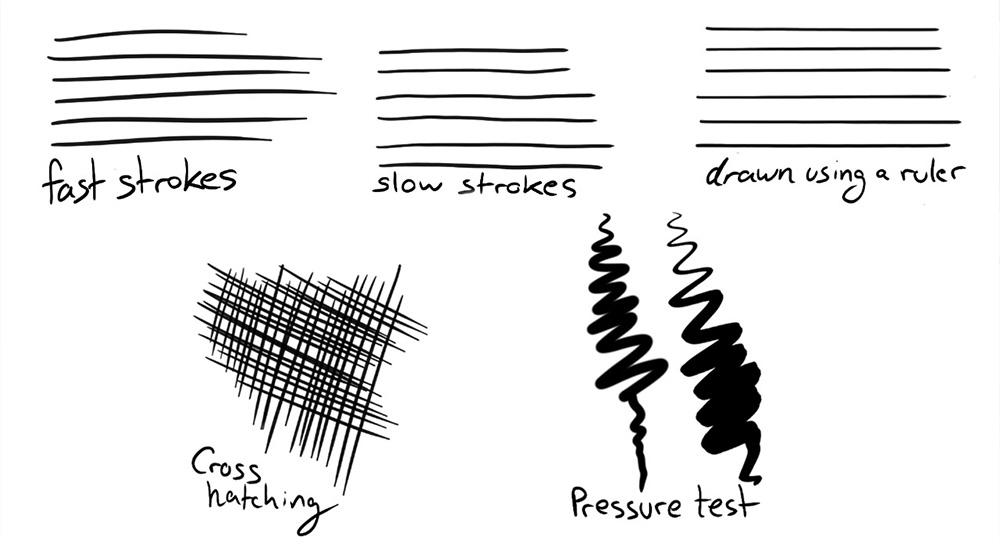 How often do you use tilt sensitivity?
As I just mentioned very rarely – Only if I want to sign something in a fancy way but I didn't include this in my artworks yet.
Pen holder and Extra Pen Nibs
The Xp Pen Artist 22R Pro comes with nice cylindrical pen storage. The pen storage also doubles up as a pen holder.
On the rear end of the pen storage, there is a small storage space that stores 8 extra pen nibs as well as a Nib remove tool.
Is the tablet responsive or laggy?
The Artist 22 R Pro is super responsive, given that your main computer or laptop can handle operating it.
I recently bought a new gaming laptop that can process information really well but it's already showing signs of working a bit too hard by buzzing very loudly when I draw dynamically.
It doesn't lag but I could imagine that if your laptop / PC is a bit outdated you might get this problem having it lag from time to time.
Comments (EssentialPicks): The tablet has a report rate of 200 RPS (reports per second) with a response time of 14ms. These are some impressive numbers but what we need to understand is – having a powerful computer is the other half of the equation.
That means a computer with a faster processor and well-equipped hardware will have a better performance, and this is applicable for all drawing tablets from all brands.
Are 20 shortcuts buttons an overkill?
The Red Dial wheels are amazing, and I always use them. But personally, that would have been enough.
I know some people will love the fact that the tablet has 20 shortcut keys and can take advantage of these many buttons.
But personally, I tend to forget these many shortcuts and I prefer using a wireless keyboard instead.
The Red Dial Wheel
The Red Dial is one of the best features of this tablet.
It acts as a multipurpose shortcut button and allows to perform shortcut such as changing the size of the brush and eraser as well as performs operations such as zoom, pan, scroll, etc.
This Dial wheels are well built and rotate smoothly. They give a satisfying click every 15 degrees.
Overall they are really useful and helps simplify the workflow.
Quality and the fit of the included drawing glove?
The included glove fits my hand very well (it might be a bit loose on the pinky but that's to be expected as I have small hands). Since it's very elastic I believe that there aren't too many people who would say that it doesn't fit.
Did you have any driver or connectivity issues?
Oh yes, I did.
Initially, I still had my Wacom Intuos driver installed and I didn't know that it would interfere with the functionality of my Pen Display as much as it did. Make sure you have only the XP-Pen driver installed.
Comments (Essentialpicks): Yes, whenever we install a new tablet driver we should always make sure there are no pre-existing drivers from your older drawing tablet installed on the computer. These older drivers interfere with the newer ones and make the tablet behave in a weird way.
Ports and connecting the Artist 22r Pro to the computer
Here is the list of all the connectivity ports that you get with Xp PenArtist Display 22R Pro.
If you have recently bought a laptop or planning to get a new one, you might have observed that most of the newer laptops come with a USB-C Port.
To take advantage of the USB-C port the Xp Pen Artist 22R Pro comes with support for USB-C to USB-C connectivity. That means, instead of connecting the HDMI and USB-A cables, all you need is a single USB-C cable running to your computer.
For computers that do not have USB-C port, you still have a number of options for connectivity.
My only concern with the ports was, I feared the weight of the cables would somehow lead to ports to get damaged or malfunction over time. I had to rearrange my setup to make sure no cable would accidentally get tugged.
It really would have been nice to have some kind of protective case for the area where you plug in the ports, but for now, I think my setup minimizes the risk of them being damaged.
Pro Tip: If your computer or laptop has a powered USB outlet (port), you can connect the power cable of the tablet directly into that port instead of connecting it to the power adapter.
How good is the redesigned Tablet Stand? Is it easy to change positions?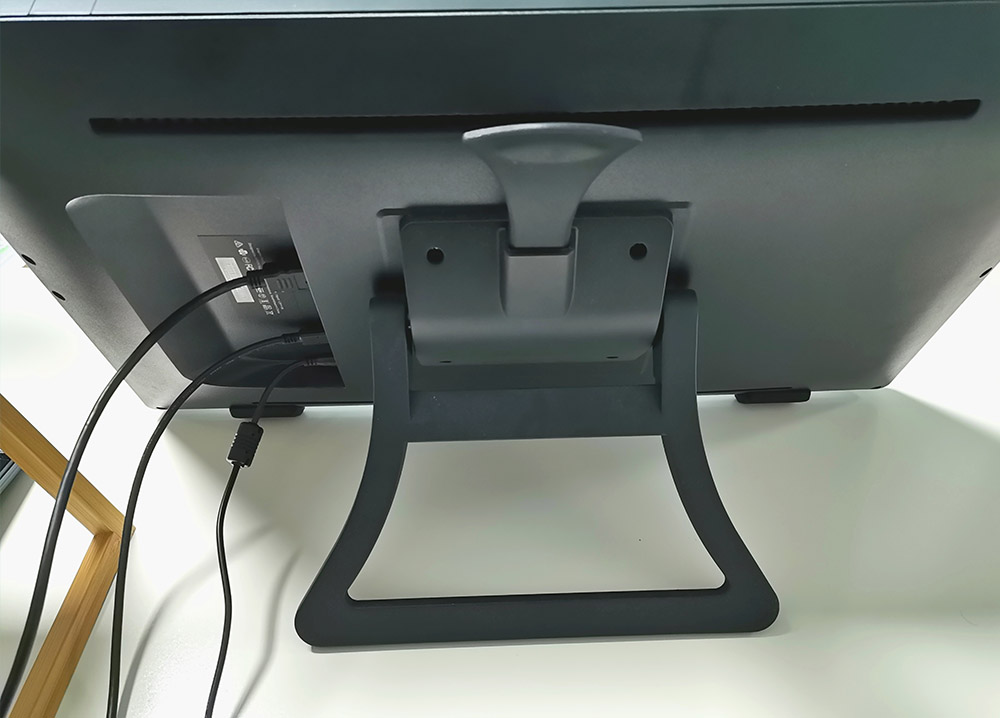 The stand is my absolute favorite thing about how the Pen Display is built.
The Artist 22r Pro being such a big display needs a good tablet stand. The stand that comes with Artist 22R Pro is very different from stands that I have seen in other tablets.
It has a great build quality which not only assures the safety of the tablet but also makes it super easy and convenient to change from one drawing position to another. There are rubber pads at the feet and the transition from one angle to another is super smooth.
Comments (EssentialPicks): The tablet stand included in the Artist 22r Pro is a redesigned tablet stand that has a large lever at the top. This lever is easy to access and makes it incredibly easy to change the slant angle of the tablet.
The stand allows you to adjust the angle of the tablet anywhere between 16° to 90°.
Does the tablet shake or move during usage?
This never happened to me. Even if I intentionally try to move the Display the stand holds it perfectly in place.
There are two large pads at the base of the tablet which does a good job of holding the tablet in place. It also helps in avoiding scratches at the bottom of the tablet.
Overall thoughts? Would you recommend Xp Pen Artist 22R Pro to someone looking for a larger drawing tablet?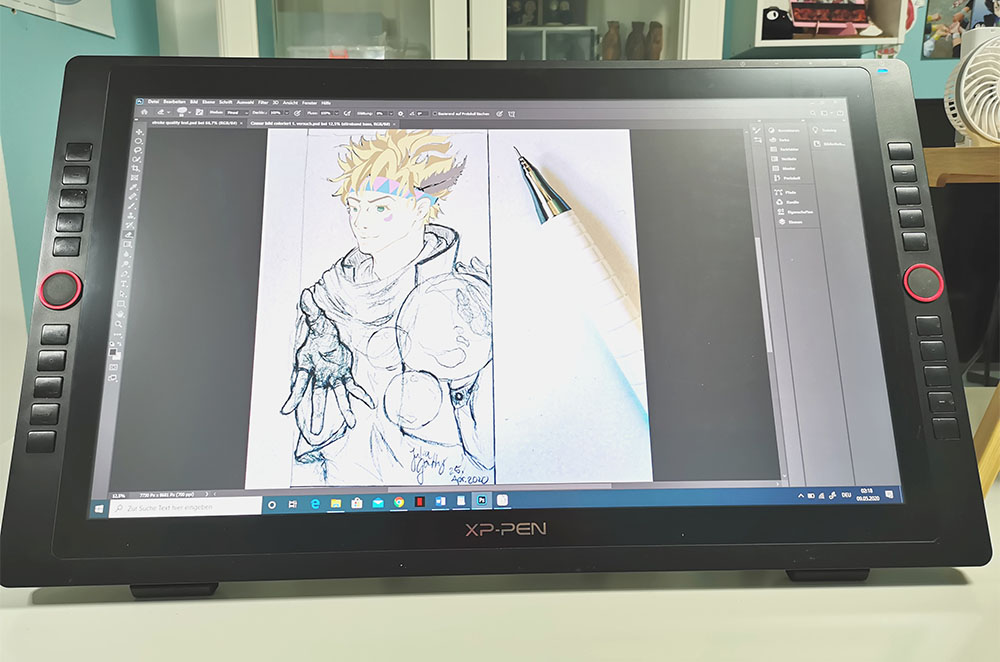 I do have to admit, that buying this tablet was a bit of a Plan B.
I actually aimed for a Wacom Cintiq 16 Pro but after having read about many issues that might occur while using it, I felt like investing so much money (as a student) into a 16-inch tablet with (apparently) really annoying issues, just wasn't worth the deal in my opinion.
Then I was contemplating whether I should buy a Huion or an XP-Pen Pen display and I was a bit worried about the surprisingly high amount of negative reviews on Huion products, so I didn't want to take the risk and went for the latest XP-Pen tablet. The best thing is – it still is way more affordable than the Wacom Cintiq Pro series!
I believe that you will be able to appreciate the space and the overall good functionality of this Pen display. I really do have fun working with it and I am actually glad such a large and well-functioning Pen Display is available at such a price.
Buy Now: Xp Pen Artist 22R Pro on Amazon
Related Topics:
Xp Pen Artist 15.6 Pro Review
Huion Kamvas Pro 24 vs Xp Pen Artist 24 Pro comparison
How EMR stylus work
Laminated and Non-laminated Displays
Xp Pen Artist 22r Pro vs Huion Kamvas Pro 22 comparison
Julia Götting
(Guest)
Instagram:
yuugae
Software: Clip Studio Paint, Photoshop (Adobe Creative Cloud package), Paint Tool Sai
OS: Windows 10