Disclosure: As an Amazon Associate EssentialPicks earn from qualifying purchases.
---
If you are looking for larger display drawing tablets you must have come across Huion Kamvas Pro 22 and Xp Pen Artist 22r Pro.
These are two of the best 22-inch drawing tablets in the market and have the right blend of features and affordability making them a great option for anyone who is looking for a good drawing tablet.
Now getting a new drawing tablet is a long term commitment and requires a fairly substantial investment to money. So it becomes incredibly important to make the right buying decision.
So the question is – which of the two tablets should you buy?
This is what we will answer in this Huion Kamvas Pro 22 and Xp Pen Artist 22r Pro comparison.
Both these tablets are very similar to each other in terms of price, features as well as overall build quality. So much so that looking at the raw specs they may look like the exact same tablets.
But when you dig deeper, that is when you start to discover the real differences. Once you spot the differences, selecting the right tablet becomes much easier.
Features Comparison – Kamvas Pro 22 vs Artist Display 22R Pro
Starting our comparison with the specs sheet, here is the list of all the main features Kamvas Pro 22 and Artist 22r Pro have to offer.
| | Huion Kamvas Pro 22 | Xp Pen Artist 22R PRo |
| --- | --- | --- |
| | | |
| Display size | 21.5 Inch | 21.5 inch |
| Display (L x W) | 18.7 x 10.5 Inch | 18.7 x 10.5 Inch |
| Resolution | 1920 x 1080 p | 1920 x 1080 p |
| Color Accuracy | 120% sRGB | 120% sRGB |
| Screen | Laminated and Etched | Textured, anti-glare film |
| Dimension | 589 x 344 x 21mm | 570 x 334.8 x 44.8mm |
| Shortcut Buttons | 20 buttons + 2 Touch bar | 20 buttons + 2 Dial |
| Stylus | Battery Free | Battery Free |
| Pen Pressure | 8192 Levels | 8192 Levels |
| Pen Tilt | 60° degrees | 60° degrees |
| Buttons on Pen | 2 Button | 2 Buttons |
| Pen holder | Yes | Yes |
| Tablet Stand | Included | Included |
| Weight | 15.65 pounds (7KG) | 15.43 Pounds (6.9 KG) |
| Price | Check on Amazon | Check on Amazon |
Like we said before, looking at the features we get no real point of difference.
For our detailed comparison, first, we will compare displays, followed by stylus, after that, we will discuss shortcut buttons, tablet stands, and accessories. In the end, we will give you the final verdict.
So without further ado, let's get started.
Design and Build quality
When it comes to quality, it is safe to say that both the tablets do a really good job of making the tablet feel like a premium drawing device.
Although both these tablets are made of plastic, they still feel dense and strong. They have a matte black finish on the plastic which does a great job of handling fingerprints and smudges.

The differences start to appear when we look at the overall design of the tablets. The Huion Kamvas Pro 22 looks sleeker, modern, and minimalistic due to its low profile shortcut buttons and touch bar design. Whereas the Xp Pen has buttons sticking out of the tablet.
But on the flip side when you look at the tablet stands at the back of these tables, it would seem like Huion has slapped a generic tablet stand and called it a day, whereas the stand on Xp Pen Artist 22r Pro looks better and is easier to access.
Screen – Color and Resolution

Both the Huion Kamvas Pro 22 and Xp Pen Artist 22R Pro comes with a 21.5-inch screen with the color coverage of 120% sRGB color space and a max brightness of 250cd/m2.
These are some impressive numbers but one thing to keeping mind is none of the two tablets comes with a factory-calibrated display.
That means although the monitors are capable of showing accurate colors chances are you need to fiddle through some color settings in order to get correct colors from your screen.
This is actually very easy to do plus you have to do it only once, so it is not a deal-breaker but something to keep in mind. Some tablets like Wacom Cintiqs come with factory-calibrated screens.
Next coming to the display brightness, the Max brightness of 250cd/m2 is sufficient enough for being able to clearly see the screen in bright indoor environments.
Viewing angles
The display of both Kamvas Pro 22 and Artist 22r Pro uses IPS panels. So you get an excellent viewing angle of 178° meaning the colors does not fade or shift when you look at your displays at an angle.
Parallax and laminated displays
The small distance between where you are touching the screen with the stylus and where the dot actually appears on the screen is called parallax.
One of the ways of minimizing parallax is to use fully laminated displays in which different layers that make up a display unit are laminated together in a single sheet resulting in a very accurate stylus position tracking.
Using these types of screen results in the strokes appearing exactly at the point where you touch the screen.
The Huion Kamvas Pro 22 comes with a laminated display whereas the Xp Pen Artist 22r Pro does not come with a fully laminated display.
With that said in real-life usage the difference in pen-precision is not that apparent and both the tables are almost equally good in terms of parallax.
To know more about the stylus accuracy of the Artist 22r Pro make sure to check out the 6 months review of Xp Pen Artist 22r Pro.
Surface texture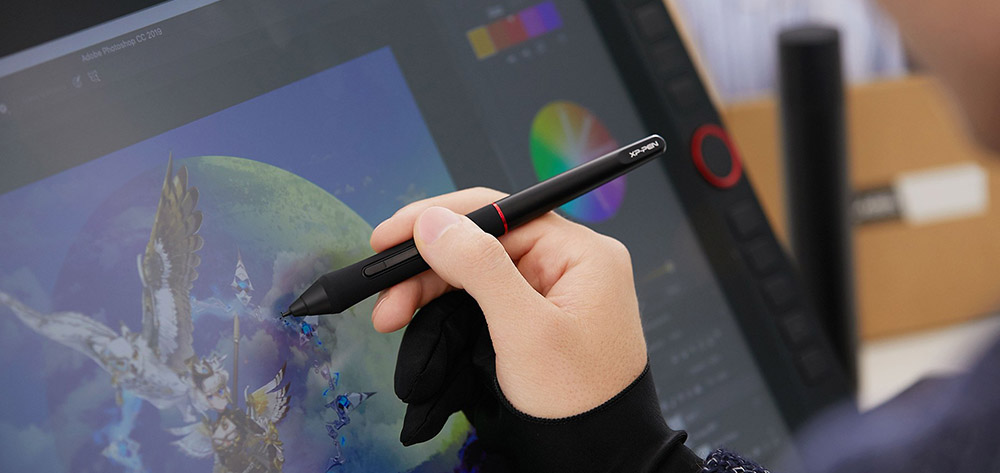 The tip of the stylus is made of plastic and when a plastic stylus is used on a glass screen, it tends to slide a little too much. To counter this, some microscopic irregularities are introduced on the top surface of these displays in the form of texture.
The textured surface provides friction to the stylus which stops the pen tip from sliding too much and gives you better control over the pen.
It also provides a pleasing feel and that grainy sound that kind of mimics the sound of pencil on paper when drawing.
To achieve this texture the Huion Kamvas Pro 22 uses etched glass whereas the Xp Pen uses a textured plastic film.
In the etched glass screens, the textures are engrained on the glass itself. The textures on the etched glass do not fade away with time and it also provides better scratch resistance. Plus the etched glass feels better to draw on – in comparison to plastic texture films.
The textured on Xp Pen is basically a plastic film with texture on it. The film tends to lose its texture after a few months of heavy uses but on the bright side, it is easier to replace the film when it gets old.
Anti-glare screen for drawing tablets
A reflective screen easily catches light from lights, lamps, or windows in a room and reflects them right into your face. Next, you find yourself fiddling around with your tablet for a better, non-reflective drawing angle.
To counter this, both Huion Kamvas Pro 22 and the Xp Pen Artist 22R Pro screens have anti-glare and anti-reflective properties. Making your drawing experience comfortable and enjoyable.
Stylus – Huion PW500 and Xp Pen PA2 Stylus
Drawing tablet Stylus has been getting better year after year. Nowadays it is kind to difficult to find a bad stylus in any recent drawing tablet.

The Kamvas Pro 22 comes with Huion PW500 stylus whereas Xp pen Artist 22R Pro comes with Xp Pen PA2 stylus. They both are recently introduced stylus and have 8192 levels of pressure sensitivity along with ±60° of tilt recognition and a fast response rate.
In terms of actual drawing performance – these two styluses are comparable to any other leading stylus in the market. Their pressure sensitivity is well balanced along with a really good stylus tracking and faster response time.
Stylus – Design, and materials used
The PW500 and PA2 share the same design language as well. They have similar width and comparable dimensions. They come with an ergonomic shape which makes them more comfortable to use on long drawing sessions.
The front half of both the stylus has a soft silicone material that helps with a better grip and the rest of the stylus is plastic.
Buttons on the stylus – Both the stylus comes with 2 side buttons with no eraser at the back.
Pen holder and Pen stand
Huion, as well as Xp Pen, comes with a dedicated pen holder for the stylus. However, both these pen holders are different from each other.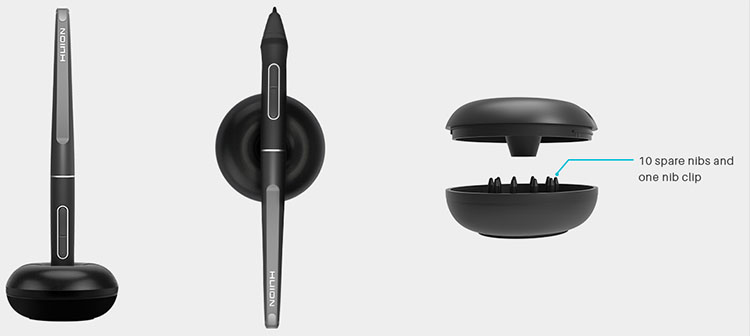 The Huion Kamvas Pro 22 comes with a doughnut-shaped pen stand. It can hold the pen in a horizontal as well as in a standing position. Opening the pen stand you would find 10 spare nibs safely stored in padded compartments. The storage space also houses a nib remover tool.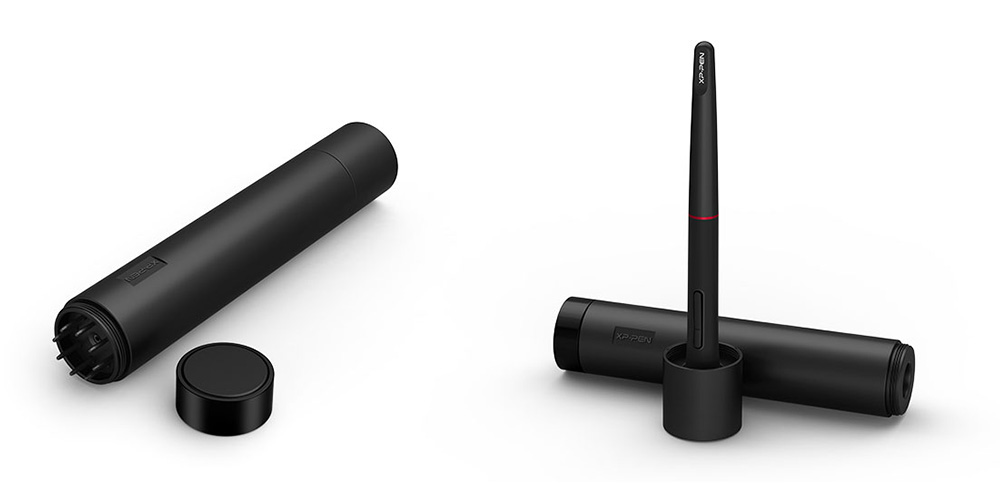 The Xp Pen Artist 22R Pro comes with a cylindrical pen holder. The pen holder is a two in one pen holder and pen stand. The pen simply slides into the cylindrical tube when not needed.
The front cap of the pen stand works as a pen and holds the pen in standing position. Opening the rear cap of the pen holder you would find 8 spare nibs and a nib remover tool.
Pen slot on Xp Pen
Other than the cylindrical pen holder, the Xp Pen also comes with a small plastic pen slot. The Pen slot can be attached to the side of the tablet with the help of screws. Once in place, the pen slot can be used to hold the pen while it is not in use.
Shortcut buttons on the tablet
Shortcut buttons are important as they allow you to make quick changes without reaching your keyboard. They are also great for repetitive tasks such as undo, redo, selecting colors, pan, zoom, etc.
Now, most of the tablet comes with around 4 to 8 shortcut buttons which lead to many artists using the keyboard as their workflow and art style require them to use multiple shortcuts at a time and these 4, 5 buttons are just not enough.

The advantage with a larger drawing tablet is you have a lot of space to play with and both Huion and Xp Pen have wisely used the large size of the tablet by placing not 10, not 15 but a massive 20 Shortcut buttons.
These 20 buttons are present on either side of the screen with 10 buttons on each side.
20 Buttons do not only give you a massive number of shortcuts but also – in most cases – eliminates the need for a keyboard during drawing.
On both tablets, all the buttons can be programmed to any shortcut of your choice with the help of driver settings.
Quality of shortcut Buttons
The shortcut buttons on Kamvas Pro 22 are low profile and sit flush with the tablet, they also feel decent when clicked.
The buttons on the Xp Pen stick out of the tablet and although they have a nice click to them they wiggle on touching in a way they feel kind of cheap.
But on the flip side, the buttons on the Kamvs Pro 22 are placed together with no clear markings on them whereas the buttons on Xp Pen are more spread out and have raised dots and dashes in order to identify them without looking.
Overall it can be concluded that the buttons on Huion look and feels better but the buttons on Xp Pen is more functional.
Touch Bar and Rotating Dial Wheels
Other than shortcut buttons, the Huion Kamvas Pro 22 has two "Touch Bars" located in between the buttons on either side of the screen, whereas on Xp Pen you get two "Rotating Dial".
The Touch Bar and the Rolling dials work as multi-purpose shortcuts and capable of performing advanced shortcuts such as changing the size, opacity, and flow of brush and eraser, zoom, scroll even undo and redo. Quickly changing the brush and eraser size is their most common use.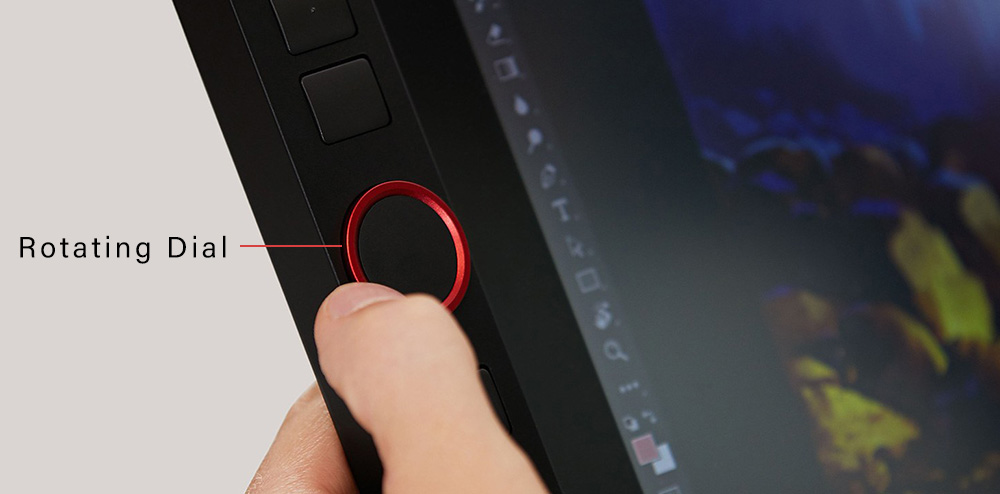 Now comparing the Huion's Touch Bar with Xp Pen's Rotating Dial. Both of them basically do the same thing but the Xp Pen's Dial is more satisfying to use as it physically rotates and makes a nice click sound every 15 degrees, giving you a nice physical and audible feel.
The touch bar on Huion works well and gets the job done but it is not as satisfying and inviting to use as Xp Pen Dial.
Tablet stand
Both Huion and Xp Pen comes with a pre-included tablet stand in the box.
To be honest, the Huion comes with a generic-looking tablet stand that is functional and works fine but the tablet stand on the Xp Pen looks and feels like an improved next-generation accessory.
The Huion stand allows you to place the tablet at any angle between 20° to 80°. It has a strong hold and rubber pads on the feet which keeps the tablet stable on smooth surfaces.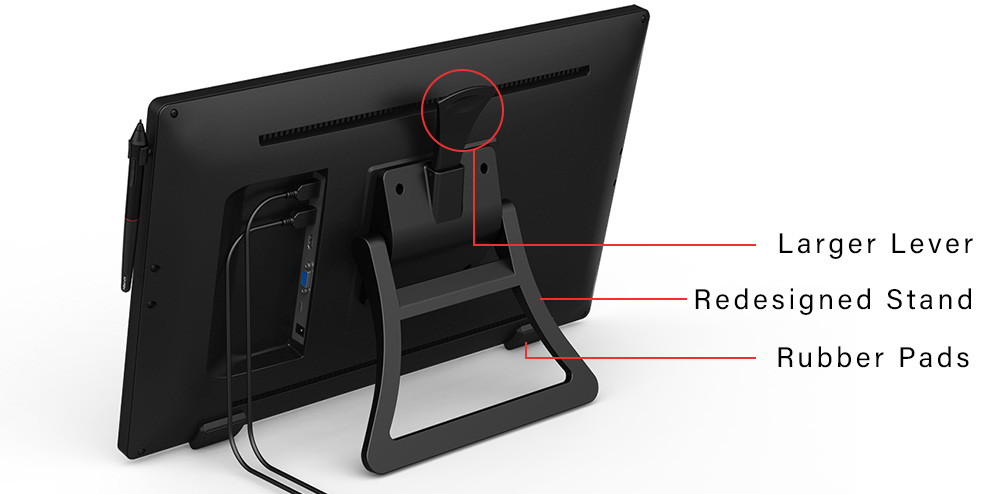 The Xp Pen Artist 22R Pro comes with a redesigned stand that is pre-attached to the tablet. The stand has a large, easy-to-access lever to easily lock and unlock the tablet in the right position. This stand also gives you around the same adjustability ranging from 16° to 90°.
There are large rubber pads on the stand as well as the tablet itself which firmly keeps the tablet in place along with protecting the bottom edge of the tablet.
VESA Mount and support for third party stands
Xp Pen Artist 22R Pro and Huion Kamvas Pro 22 Pro have a standard VESA mount at the back which can be used to mount them on a monitor arm for greater flexibility. The VESA mount on the Xp Pen tablet can be accessed by removing the preinstalled tablet stand.
Connectivity and Ports
Huion Kamvas Pro 22: USB, Power, VGA, HDMI, Display Port
Xp Pen Artist 22R Pro: 2 USB, USB Type-c, Power, HDMI, VGA
In short, the Xp Pen has a better selection of ports. For starters there are two USB hubs that you can use to connect accessory such as wireless mouse and keyboard right into the tablet, the Huion only comes with a single USB-A connector.
The second differentiating factor is the Xp Pen comes with a USB-C connector and supports the USB-C to USB-C connection. This means if you have/ or you are planning to get one of those newer models of laptops that only comes with USB-C connectors, the Xp Pen Artist 22r Pro can be plugged in without needing an external USB Hub or dongles.
The port selection on Kamvas Pro 22 is not bad either, you get a number of options such as USB-A, HDMI, VGA and that Display port that Xp Pen Artist 22r Pro does not have.
Accessories – What's included in the Box
Here is the list of everything that comes in the box.
Huion Kamvas Pro 22
Huion Kamvas Pro 22 tablet
Battery-free stylus
USB to USB Cable
VGA Cable
HDMI Cable
Power Adapter
Power Cord
tablet stand
Pen holder
10 Replaceable nibs
Quick Guide
Cleaning Cloth
Black Drawing Glove
Xp Pen Artist 22R Pro
XP-Pen Artist 22R Pro
Two Battery-free Stylus
USB-C to USB-C Cable
VGA Cable
HDMI Cable
Power Adapter
Power Cord
Pen Holder
8 replacement pen nibs
USB-C to USB Adapter
Tablet stand
Quick Guide
Cleaning Cloth
Branded Drawing Glove
Summary – Which is the right tablet for you?
As the artist says, a stylus is the most important part of the tablet followed by display then accessories.
The Huion Kamvas Pro 22, as well as Xp Pen Artist 22r Pro, comes with a battery-free EMR based stylus that does not needs to be charged.
The Stylus of both these tablets are equally good in terms of accuracy, sensitivity, and overall design and build quality and you will love using them.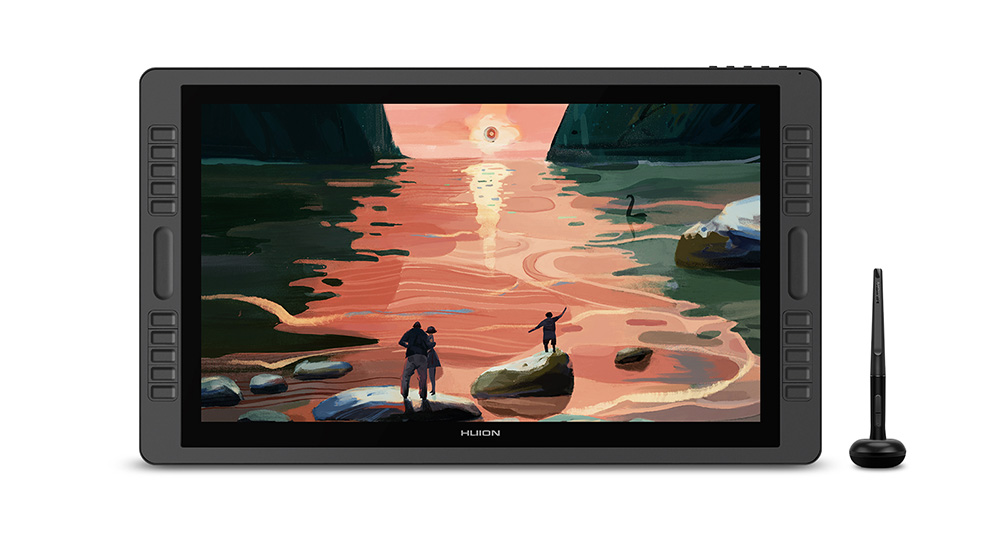 As we have discussed before, the differences start with the screen. Although both the tables come with a FullHD screen with a resolution of 1920 x 1080p and 120%sRGB color accuracy.
The Huion Kamvas Pro takes the lead as it comes with a laminated display and etched glass. With that said the Screen of the Xp Pen Artist 22r Pro is also good and you will enjoy working on it.
Shortcut Buttons: Next coming to shortcut buttons the Xp Pen is a clear winner as its rolling dial is far superior to the Touchpad that you get with the Huion Kamvas Pro 22.
In accessories such as pen holders, tablet stands, and ports – the Xp Pen manages to outshine Huion. As the Artist, 22r Pro comes with a better and improved tablet stands and has USB-C connectivity support
At the end of the day, you would agree that both the tablets are very similar and you will enjoy using either one of them. The differences are minor and we had to dig really hard to find those differences.
If you are someone who uses the included shortcut buttons and cares about ergonomics and design, get the Xp Pen Artist 22r Pro. Or if you want a slightly better screen that has superior drawing texture get the Huion Kamvas Pro.
Check Price and Buy: Huion Kamvas Pro 22 on Amazon
Check Price and Buy: Xp Pen Artist 22R Pro on Amazon
*Note – The Huion Kamvas Pro is also available in a slightly smaller and slightly cheaper 20-inch version called Huion Kamvas Pro 20 (Amazon).
Related Topics:
Xp Pen Artist 22r Pro Review
Wacom Cintiq 16 and Cintiq 22 comparison
What are laminated displays?
How battery-free EMR stylus work?
Xp Pen Artist 24 Pro vs Huion Kamvas Pro 24 comparison