Disclosure: As an Amazon Associate EssentialPicks earn from qualifying purchases.
---
Tired of looking for a budget graphics tablet, only to find that most of them are half the size of normal drawing tablets and make a number of compromises that ultimately makes them not so good option for artists.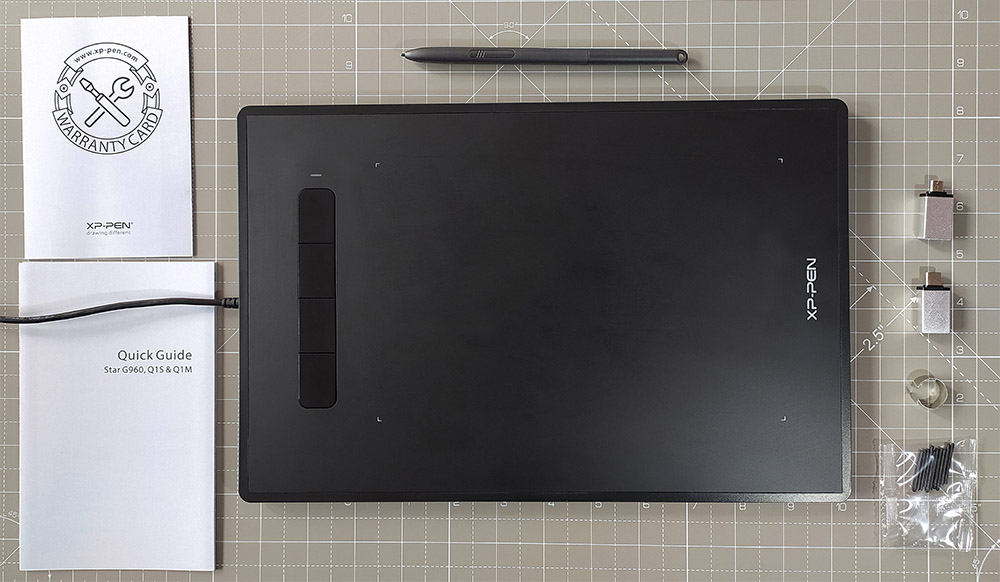 That is where the Xp Pen steps in with their new Star G960 drawing tablet.
Xp Pen Star G960 is essentially the next iteration of the Star G430 and G640 and comes with a larger drawing area, shortcut buttons as well as support for pen tilt while maintaining a similar price tag.
All these features together make it one of the best budget drawing tablet for artists and students.
In this Xp Pen Star G960 review, we will go through all the features, advantages and shortcomings of this tablet and give you an honest opinion on whether you should get this tablet on not. So let's get started.
Features and Specs
Here are some of the main features of Xp Pen Star G960.
| | Xp Pen Star G960 |
| --- | --- |
| Active Drawing Area | 8.35 x 5.33 Inches |
| Stylus | Battery-Free Pen |
| Pressure Sensitivity | 8192 Levels |
| Pen Tilt | Yes, Supported |
| Buttons on Stylus | Yes, One |
| Buttons on Tablet | Four |
| Android Support | Yes |
| Price | Check on Amazon |
Unboxing and First look
Holding the tablet for the first time in hand, it feels much better in terms of build quality than what you would expect from a budget tablet.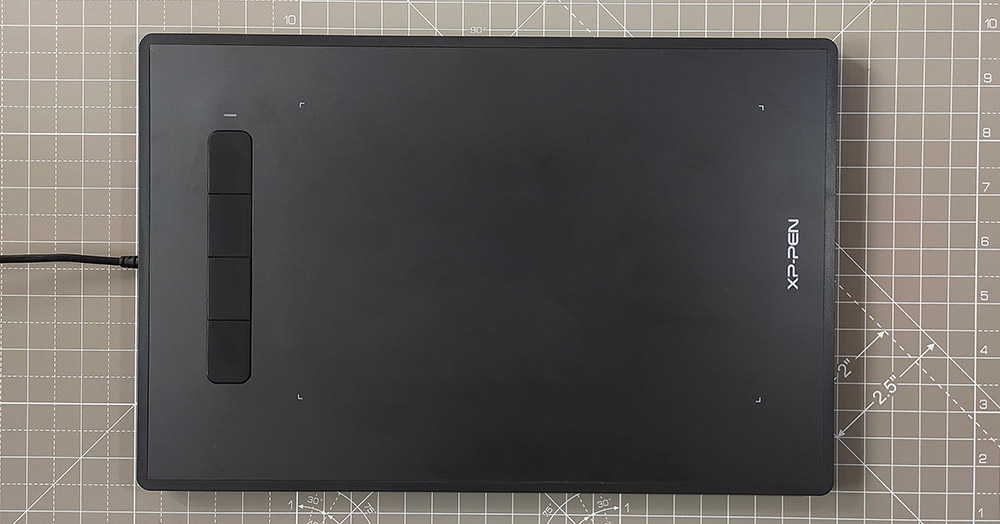 The front face of the tablet has a matte black drawing surface with narrow plastic trim surrounding it. On the right, you have shiny black buttons. This matte and shiny black colors compliment each other and give the tablet a subtle, minimalistic look.
There is a small light located right above the shortcut buttons which lights up whenever you touch the tablet with the stylus.
Four large rubber pads are present at the bottom of the tablet that stops the tablet from slipping on smooth and polished surfaces.

The tablet is fairly thin and measures about 31.95 x 20.95 x 0.5 cm (L x B x H). This form factor makes it easy to fit in a backpack making it great for students and artists who have to carry these tablets.
What's included in the box?
Xp pen Star G960
USB-A Cable (attached)
Stylus
Extra Pentips
Nib remover tool
Micro-USB to USB Adaptor
USB-C to USB Adaptor
Warranty Card
Quick Guide
Drawing area and Surface Texture
A smaller drawing area is one of the most common shortcomings of the entry-level drawing tablets, but that is not the case with the Xp Pen Star G960.
It comes with a fairly large active drawing area of 8.35 x 5.33 Inches. This larger drawing area allows you to freely move your hands without feeling cramped.

Next coming to the Surface Texture. Cheap drawing tablets are notorious for their use of low-quality materials, particularly the drawing surface, that – in most cases starts getting scratches just after a few weeks of usage.
Coming to the Xp Pen Star G960. After heavily using the tablet for – a little over the week, the drawing Surface holds up really well. It is on par with what you get with a premium graphics tablet.
It cannot be said for sure – but we reckon, the Xp Pen Star G960 uses the same drawing surface that Xp Pen has used on their premium Deco Pro series of tablets, which is a good thing.
The texture on this tablet has a very balanced feel, it is neither too aggressive nor subtle. The surface feels rubbery but tough and overall gives you a pleasant drawing experience.
Stylus – Features and design

The Xp Pen Star G960 comes with a battery-free stylus that has 8192 levels of pressure sensitivity as well as pen tilt support. The stylus is cylindrical in shape and made of plastic that helps with making it very lightweight.
The included stylus is significantly thinner than most of the stylus in the market. It is kind of comparable to a real pencil in shape, size as well as weight.
Although it is a matter of personal preference, we found drawing with this thin stylus is more comfortable than the generic "thicker stylus". If you are coming from a traditional drawing and sketching, you will feel right at home using this digital pen.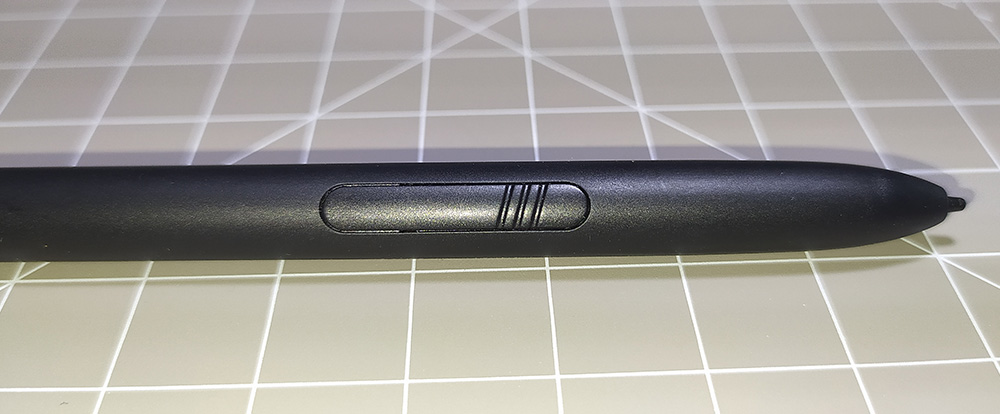 There is a single button present on the side of the pen. The button has a slight texture which makes it easier to feel it with fingers. There is also a small hole at the back towards the end of the stylus.
Stylus Performance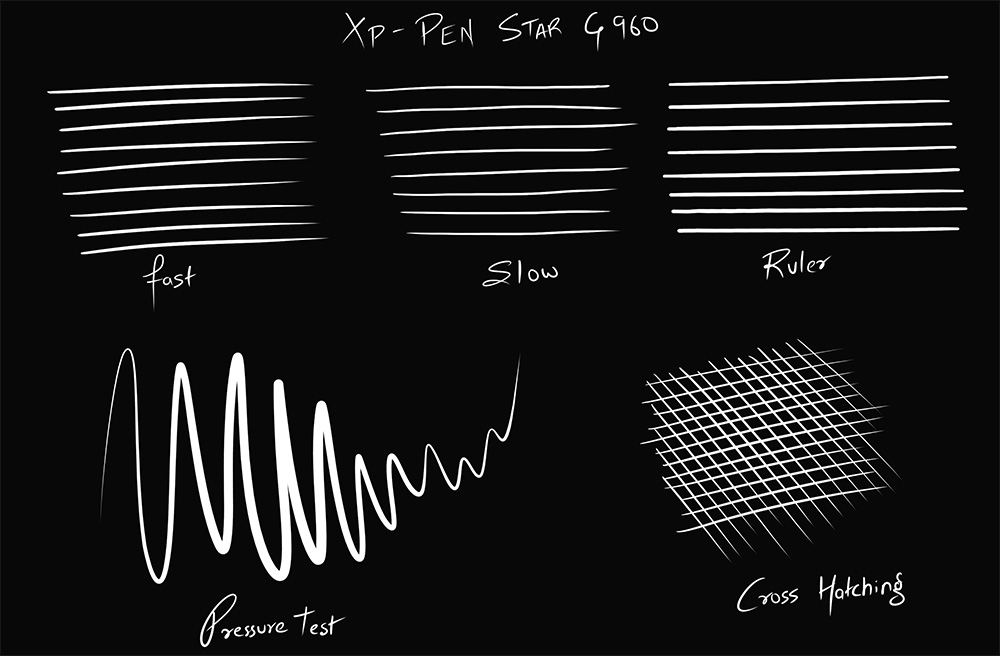 In real life usage, the Star G960 stylus has a smooth and consistent performance. Its pressure sensitivity works great with no unexpected pressure bumps and a smooth taper at the end of strokes.
The lines drawn by it are accurate and responds well to the pen pressure. There is no sign of pen jitter (wavy lines) on fast as well as slow drawing speeds.
Overall everything works as expected.
Shortcut Buttons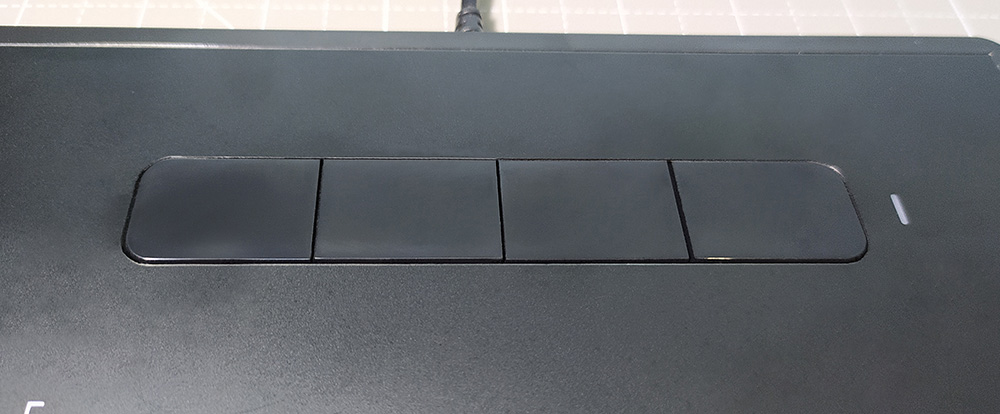 There are four buttons located on the right side of the tablet. The buttons are easy to press but feel a little cheap.
All four buttons can be programmed to any custom shortcuts of your choice in the tablet settings. You can also have application-specific shortcuts that allow you to assign different button shortcuts for different applications.
Meaning you can assign a different set of shortcuts for Photoshop and ZBrush. The driver automatically changes the shortcut keys depending on the application you are currently using.
Android Support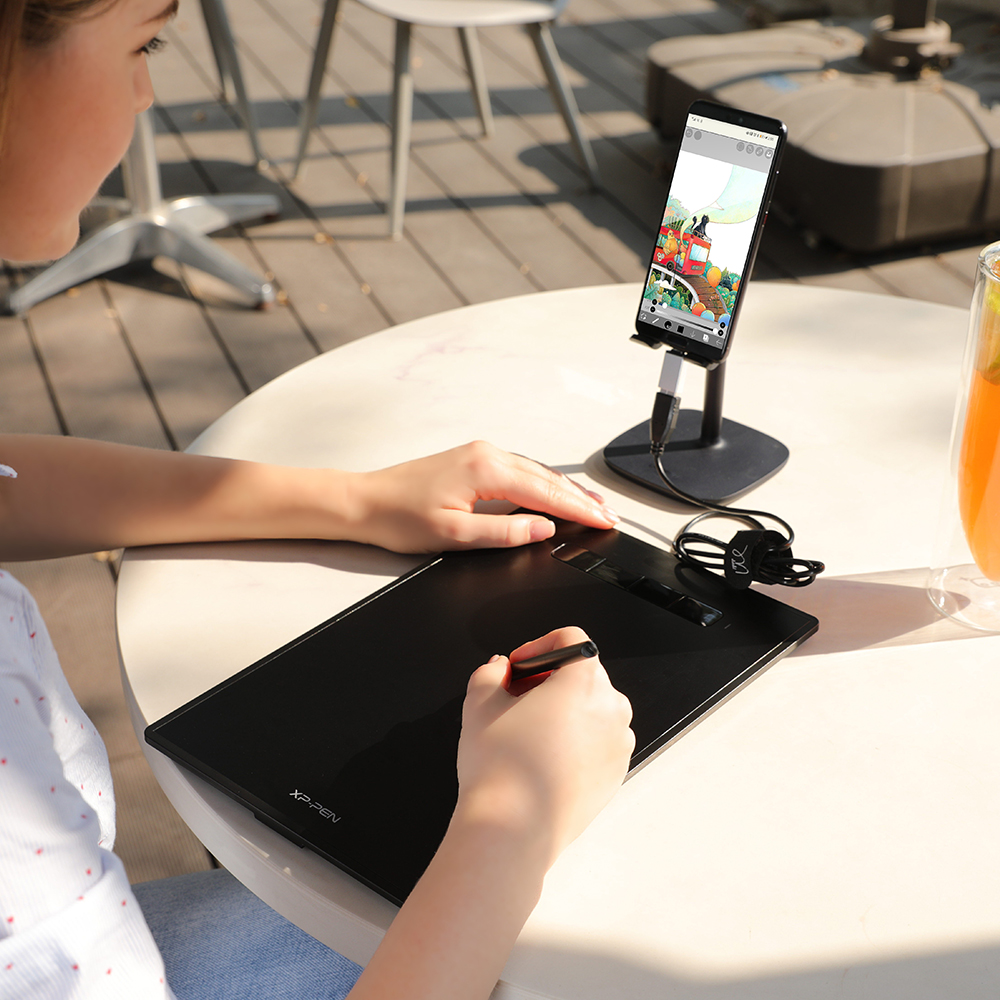 If you are someone who uses or wants to use your Android smartphone or tablets for drawing and sketching, this is the right tablet for you.
The Xp Pen Star G960 comes with support for Android devices. All you need to do is – connect your tablet to your Android tablet with the help of given connecter and simply start drawing.
There are a number of really good drawing applications for Android such as Infinite Painter, Deco Draw, Medibang Paint, Autodesk Sketchbook, etc. that are comparable to desktop-grade drawing applications.
You can check out this article for the full list of Android drawing applications.
Although pressure sensitivity is supported by all the popular drawing Apps. But only a few of them have the support for pen tilt and shortcut buttons.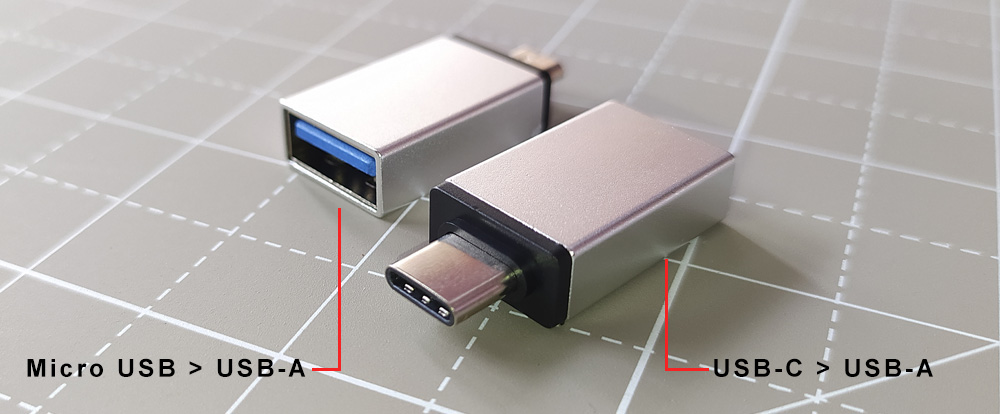 Note: Xp Pen Star G960 comes with both Micro-USB to USB and USB-C to USB adapters. So all Android devices with Micro-USB or USB-C ports can be used with this tablet.
How to connect the tablet to the computer?
Connecting the tablet to the computer is fairly simple. First, you need to download the free driver which available for both Windows and Mac devices.
After installing the driver simply plug in the tablet to the computer and you are ready to draw.
*Note
The tablet works natively with Android, meaning – You don't need to install any driver for Android devices.
What could be improved in Xp Pen Star G960
The only downside of the Star G960 is – the USB cable is permanently attached to the tablet, which makes it slightly inconvenient to manage wires. Also, the length of wire is just 3 feet (1 meter) which means you may need to get a USB extender if your CPU is placed away from the monitor.
Summary – Should you buy the Xp Pen Star G960 tablet?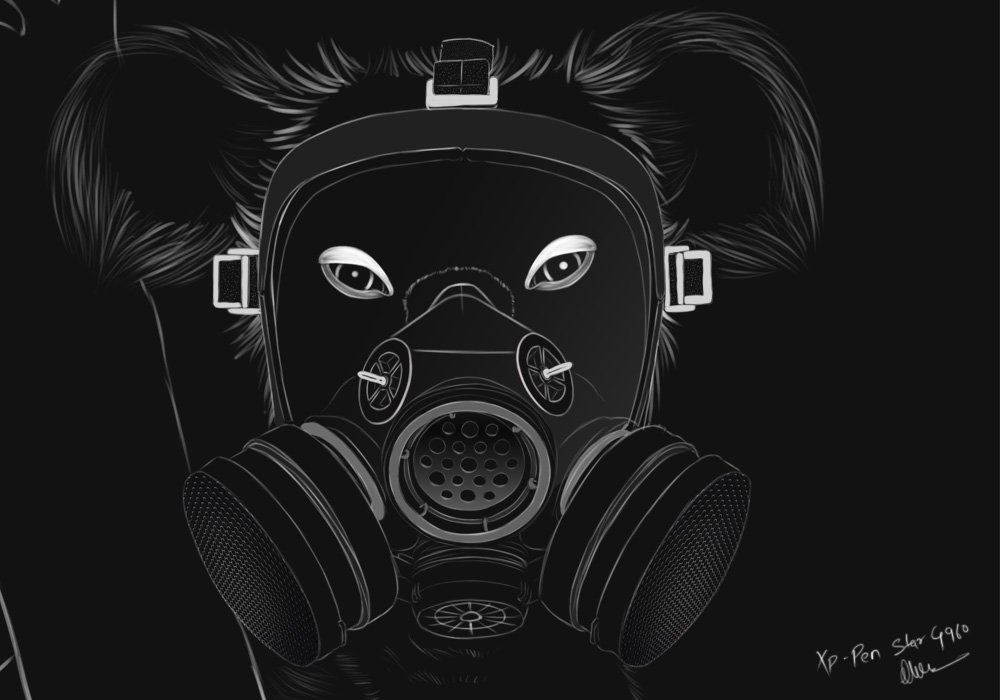 So far in this review, we have talked about various aspects of the Xp Pen Star G960. The tablet comes with a large drawing area, ample of shortcut buttons, a very capable stylus, wider-pressure range as well as tilt recognition.
On top of that, the Star G960 is one of the few tablets in the budget segment that has support for Android smartphones and tablets.
Overall the Xp Pen Star G960 (Amazon) is a complete package and comes with all the features that you can ask in a drawing tablet making it an easy recommendation for anyone who is looking for a quality graphics tablet.
Xp Pen Star G960 can be used for the following tasks – Digital Art, Image Editing, 3D Sculpting, Teaching, Writing, Digital Signatures, Games (OSU!), etc.
PROs – What we liked
Larger drawing area
Good build quality
Excellent stylus performance
Pen tilt support
Programmable shortcut buttons
Works with Android devices
Great value for money
CONs – What can be improved
Pen holder not included
Short USB connector cable
Related Topics:
How Battery-free Stylus work
Xp Pen Deco Pro Review
Tablets for OSU!
Gaomon S620 review