Disclosure: As an Amazon Associate EssentialPicks earn from qualifying purchases.
---
A display tablet is one of the basic tools used by digital artists and designers. They are far superior to generic drawing pads and provides a more immersive and enjoyable drawing experience.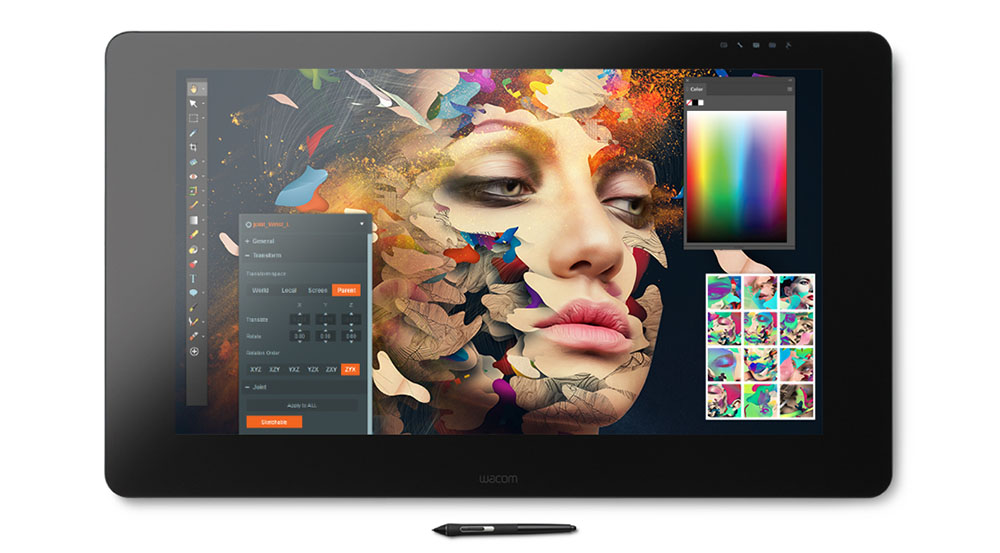 As digital art and design are getting popular, more and more brands are introducing their new drawing tablets. There are established brands such as Wacom which are popular for their excellent drawing tablets.
On the other hand, major brands like Apple and Microsoft are trying to step in with their new line of products made specifically for digital artists.
Now, having multiple options to choose from is always good for artists. But it also makes it quite confusing to decide which is a better drawing tablet and which tablet will fit your needs better.
We have done a throughout comparison of all the popular drawing tablets in the market and made a list of most deserving candidates for being the best drawing tablets with the screen.
Our list consists of a wide range of tables which will give you ample options for drawing tablets to choose from. With that said, let's get started.
Recommended Graphics tablets with screen


Wacom Cintiq Pro 24
23.6 Inch 4K display
Best stylus for drawing
Windows & Mac support
Anti-glare Etched glass
Shortcut buttons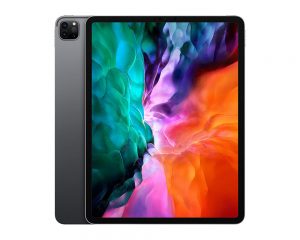 Apple iPad Pro
11/12.9 Inch
Excellent Stylus (Apple Pencil)
Perfect color accuracy
Ultra-portable
Good battery life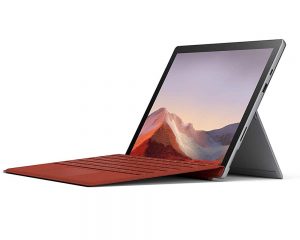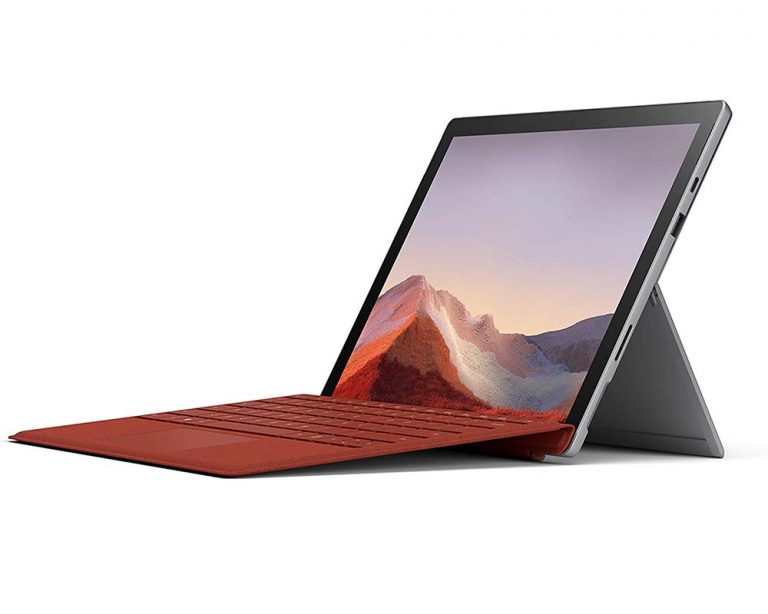 Microsoft Surface Pro 7
12.3 Inch display
Portable tablet with Windows
Can run desktop-grade apps
Inbuilt tablet stand
1. Wacom Cintiq Pro 24 – The professionals choice
Wacom Cintiq 24 is for those who are looking for a top of the line, dedicated drawing tablet that is specifically made for artists.
It has a whole set of drawing features that are very thoughtfully designed to make the drawing experience as immersive as possible.
Display – Size and Resolution
Starting off with its massive 24-inch 4K display. The feeling you get from drawing on this massive drawing tablet – you cannot get it from an iPad or similar tablet-based device.
It has a 99% AdobeRGB color coverage, on top of that the display is factory calibrated which gives you accurate colors without needing to adjust it yourself.
Stylus – Wacom Pro Pen 2
One of the most important reasons why professional artists love to use this tablet so much is its Stylus. It comes with "Wacom Pro Pen 2" which is the most advanced stylus from Wacom.
The stylus has an ergonomic design with a wider tip at the front which slowly tapers towards the back. It gives you better comfort on those long drawing sessions. The front end of the stylus is made of a rubbery material that provides a better grip on sweaty hands.
Shortcut Button – Wacom Expresskey Remote
There is a shortcut Remote called Wacom Expresskey remote included in the box. It has 17 buttons and a touch ring – all of which are programmable. You can assign them to any shortcut of your choice in any drawing or modeling software.
The shortcut remote works wirelessly and has magnets at the back with sticks to the side bezel of the tablet. Allowing you to place it anywhere you desire.
Tablet Stand – Comfort and Ergonomics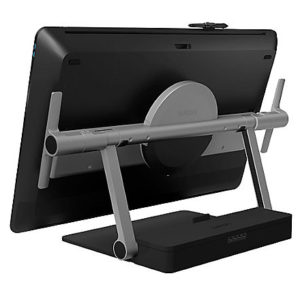 The tablet has two foldable legs which help it to position the tablet at a slope of about 19° degrees. For more adjustability, you can also get an additional Wacom Ergo Stand on Amazon.
In order to work, the tablet needs to be connected to a computer. It is compatible with both Mac and Windows devices.
All these above-mentioned makes it the best drawing tablet with screen and ideal for anyone who wants to take their skills to the next level.
PROs
Premium build quality, Sleek design
Color accurate screen with 4k Resolution
Superior drawing experience
Responsive, accurate, and reliable stylus
Wireless Shortcut Remote
Textured drawing surface (etched glass)
CONs
Expensive
Heavy and takes up space
Underwhelming multitouch (you can turn it off)
2. Apple iPad Pro – Portable and Powerful drawing tablet (Runner Up)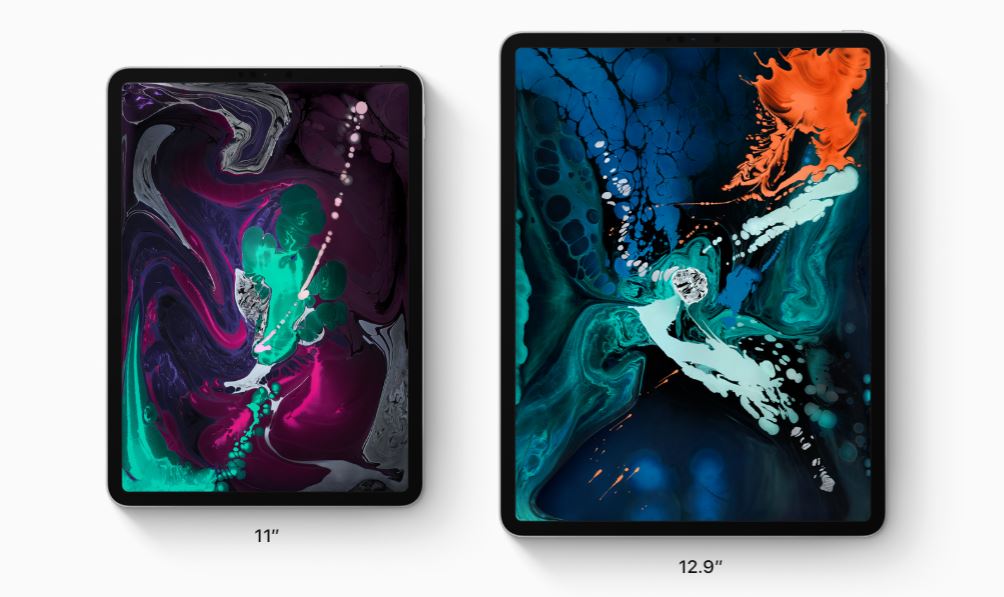 Apple iPads are increasingly becoming popular in the artist community. In the past few years, we have seen a number of artists use it as their main drawing device.
So what makes it such a great option for digital artists?
One of the main reasons why artists love it so much is the Apple Pencil.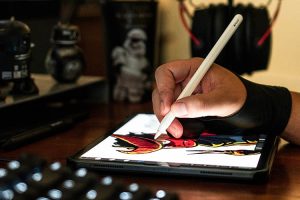 Before Apple Pencil, the Wacom Pro Pen was considered as a holy grail of styluses. That changed after the arrival of Apple Pencil.
Apple Pencil has a very accurate and balanced pressure sensitivity as well as tilt recognition up to ±60°.
on top of that, it has a response time of 9ms which is significantly faster than any other stylus in the market.
All these features together make the drawing with Apple Pencil as natural as drawing with a real pencil.
Portability and Battery backup
Portability is another reason for artists to buy iPads. It allows you to continue drawing anywhere you want. Its processor is fast enough to easily handle heavy projects with high resolution and hundreds of layers.
It has a battery backup of around 10 hours with support for fast charging. The Apple iPad Pro is available in two sizes 11 inches and 12.9 inches on Amazon.
Is Apple Ipad Pro the right drawing tablet for you?
IPads are a great option for a drawing tablet, but they are not for everyone. One of the main shortcomings of Apple iPads is their OS itself.
iPads run on iPadOS, now one of the main issues with them is – there are only a handful of apps that are available on iPads.
There are drawing apps like Procreate, Clip studio paint, Affinity photo which is made specifically for iPads and works extremely well. Other industry-standard apps such as photoshop are slowly starting to show up for iPads
Lack of professional and industry-standard software is the main reason artists (especially 3D artists) avoid this tablet.
So, if you are someone who thinks that iPads can effortlessly fit in your workflow and portability is your priority – then Apple iPad is the perfect drawing tablet for you.
PROs
Outstanding performance from Apple Pencil
2732 x 2048p high-resolution screen with beautiful colors
High brightness for comfortable outdoor usage
Lightweight and Portable
Good battery life
Powerful processor
CONs
Apple Pencil not included (purchase separately)
Lacks professional 3D applications
Absence of a matte display
3. Samsung Galaxy Tab s6 – The Best android tablet for drawing (Android King)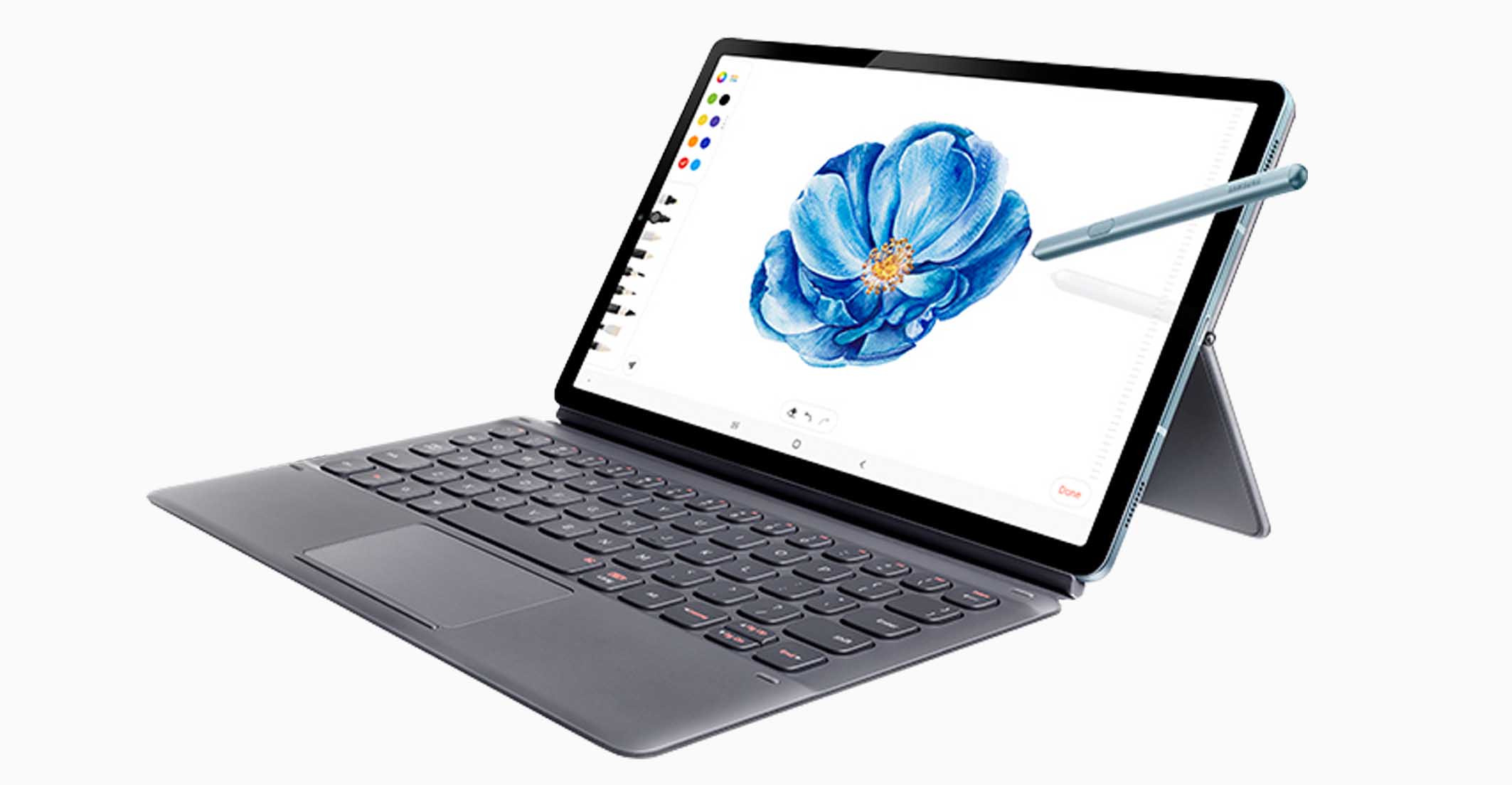 The Galaxy Tab S6 from Samsung is Android's answer to the iPads.
Samsung has been making pen-enabled tablets for quite some time and year by year they are getting better at it. The Galaxy Tab S6 is the latest tablet from Samsung. It is a good candidate for a portable drawing tablet as it comes with all the features that you need in a drawing device.
Starting from the display, Samsung makes the best displays in the world. The Galaxy tab S6 has an AMOLED display with a resolution of 2560 × 1600p and an impressive 122% sRGB color coverage.
Stylus – Samsung S Pen
The tablet comes with a stylus called S-Pen. From the design and feel in hand, the pen resembles a Pen. It has a cylindrical body with flat faces and a single side button.
The pen has a balanced pressure sensitivity with support for tilt recognition. On top of that, the Stylus can also perform gesture-based shortcuts.
Now talking about the actual drawing performance of the tablet. The strokes made by S Pen is very consistent with nice pressure taper and no sign of pen jitter.
The shape of the stylus and its pointy tip makes it ideal for comics stylus of art which involves text as well as artwork, as well for tracing and making sketches.
The good thing is – unlike iPads, the Samsung S Pen comes included in the box of Galaxy Tab S6.
The only thing to keep in mind is – just like iPads there no good drawing application for 3D modeling and sculpting.
PROs
Most color-accurate display
Lightweight, compact and portable
Good stylus performance
Samsung DeX support
Long battery life
CONs
limited 3D applications
Only available in 10.5 inch
4. Microsoft Surface Studio 2 – Two in one display drawing tablet for Professionals (Also Good)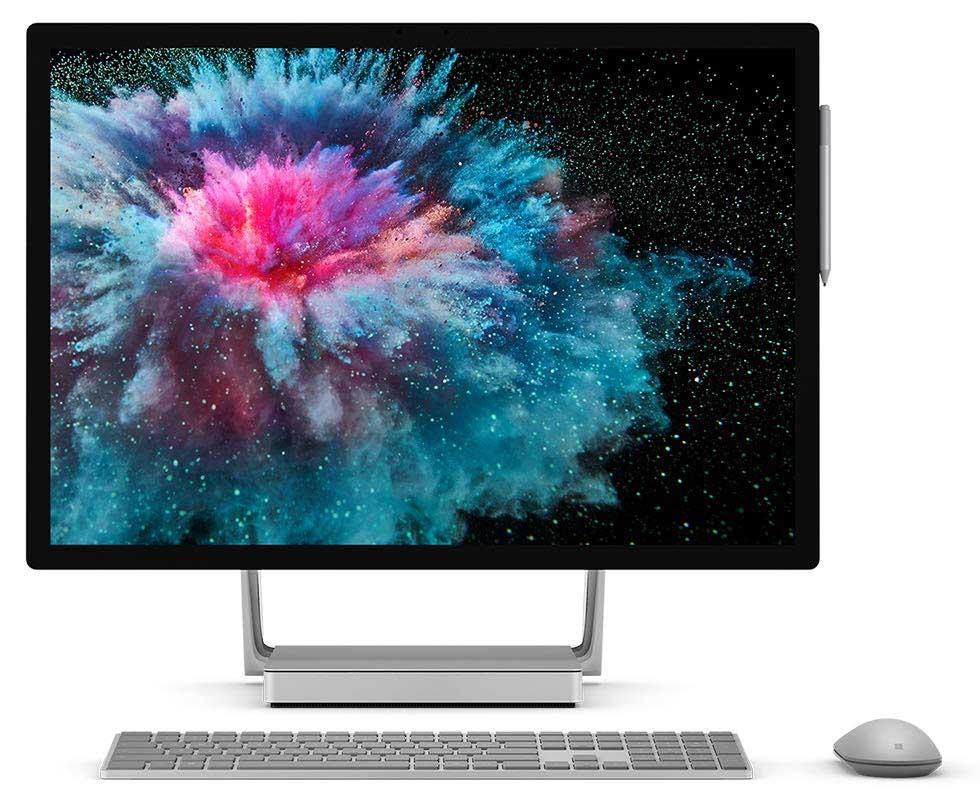 If you are a beginner and looking for a budget drawing tablet – this tablet is not for you.
Microsoft Surface Studio 2 is a 2-in-1 (drawing tablet + desktop) combo. It has a digitizer enabled display as well as an inbuilt Windows computer.
It comes with a Microsoft Surface Pen that has a pressure sensitivity if 4096 levels as well as tilt sensing technology. The performance of the surface pen is good enough for day to day to day usage such as editing, making sketches and writing notes.
Surface Studio hinge
The hinge of the Surface Studio has been designed to easily switch the computer from the desktop mode to the drawing board mode. The hinge feels sturdy and is strong enough to support the screen at any angle. You can have a look at the working of the hinge in the official video from Microsoft.
The screen has multitouch support which makes it convenient to perform simple tasks such as zoom, pan and rotate the Canvas. The palm rejection on this drawing computer works flawlessly.
The screen of the Surface Studio has a 28-inch display with a resolution of 4500 x 3000 (192 PPI) and aspect ratio of 3:2 which is considered great for designing and productivity tasks.
But all these features come at a steep price, but if it fits your needs you will love using the Microsoft Surface studio for sure.
PROs
Massive 28-inch screen with multitouch
Built-in Windows PC
Great stylus with good palm rejection
Runs all desktop-grade drawing, designing and modeling applications
Well designed hinge for better flexibility
Support for Surface Dial
CONs
Only available in one size (28 inches)
Glossy display
Expensive price tag
5. Microsoft Surface Pro 7 – Best windows drawing tablet with Screen (Popular choice)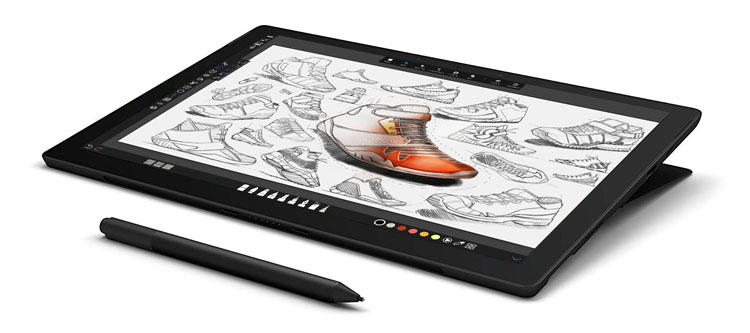 If you want the power of a full-fledged Windows computer into a portable form factor – the Microsoft Surface Pro 7 is your best option.
It is a 2 in 1 tablet computer that has a desktop operating system. One of the biggest advantages of this tablet is that – it can run full-fledged desktop versions of drawing and modeling applications.
Making it a great option for those who want the portability of iPads and Samsung tablets and support for all modeling, CAD and designing applications that they use in their workflow.
The Surface Pro is available in a single size with 12.3 inches of screen that has 2736 x 1824p resolution and 98% sRGB color coverage.
Microsoft Surface Pen
The Surface Pro 7 supports the Surface Pen which has 4096 levels of pressure sensitivity and tilt detection. The Pen is not included in the box and needs to be purchased separately, which is a bummer.
The tablet also supports the Surface keyboard which also has a touchpad at the bottom. Essentially converting your tablet into a portable computer.
At the back, you can see the built-in kickstand. The kickstand can hold the tablet at any angle on the table. It is strong and sturdy enough to allow you to draw on it without stretching flat on the table.
PROs
Compact tablet with Desktop features
Excellent for on the go projects
Updated and responsive stylus
Decent battery life
Available in multiple variants
CONs
Single size option (12.3 inches)
Lacks tablet-like interface
Surface Pen needs to be purchased separately
6. Wacom Cintiq 16 – Budget drawing tablet with screen

The very first tablet mentioned in the list is Wacom Cintiq pro 24 which we have declared as the best drawing tablet with a screen.
But it is so expensive that many beginner artists and hobbyists simply cannot justify spending so much money on it. After a massive demanded a budget-friendly drawing tablet and Wacom introduced the Cintiq 16 as a response.
The Wacom Cintiq 16 is made for artists and a great option for beginners as well as professional artists.
Display – Size, Resolution, and Quality
The Cintiq 16 comes with a 15.6-inch FullHD display with 72% NTSC color coverage. The display is factory calibrated to ensure you get the correct colors right off the bat without needing to adjust it yourself.
The tablet has an anti-glare film on the front with a textured surface. The textured surface provides better control over the stylus and stops it from slipping too much on the display.
Stylus – Wacom Pro Pen 2 once again
One of the best things about the Wacom Cintiq 16 is, in spite of being a budget tablet – Wacom has decided to keep the Wacom Pro Pen 2 with Cintiq 16.
The Wacom Cintiq 16 is the top-of-the-line – most advanced stylus from Wacom. It has a pressure sensitivity of 8192 levels as well as tilt detection up to ±60°.
The Pen is made of quality materials with a well-balanced body that is neither front or rear weighted.
Cintiq 16 Stand
Wacom Cintiq 16 comes with an inbuilt foldable stand. The stand provides a comfortable drawing angle of 19° (degrees), which is way better than drawing on the flat surface.
The tablet stand folds back into the tablet and sits flush to the surface when not in use. There are rubber pads at the back of the tablet and the tip of tablet legs to avoid it from slipping on smooth surfaces.
*Note*
Wacom Cintiq 16 is not a standalone tablet, meaning – it needs to be connected to a computer in order to work.
For shortcuts, the tablet supports the Wacom Expresskey remote (Amazon) that can be purchased separately. The remote has 17 buttons and a touch ring all of which can be customized in the tablet settings.
Overall the tablet is a great option for anyone who wants to boost their creative journey. This tablet is also available in a 22-inch variant.
PROs
Large 15.6 inch Full HD screen
Accurate colors and factory calibrated
Matte display with texture
Wacom Pro Pen 2 support
Foldable stand
VESA mount
Works with Windows as well as Mac
CONs
No shortcut buttons on the tablet
Expensive accessories
7. Huion Kamvas Pro 22 HD – Cheaper, bigger, and better Display tablet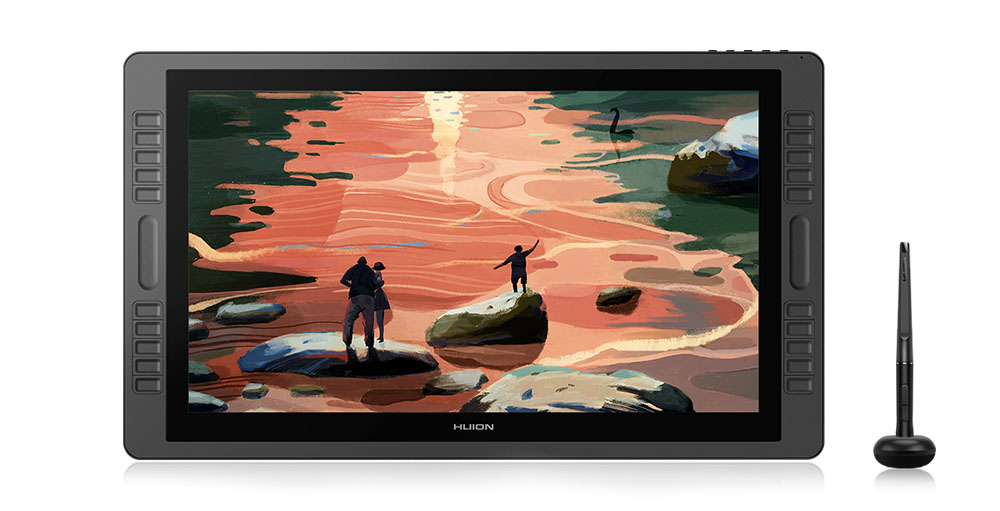 If a smaller tablet is not the cup of your tea and you want something bigger at an affordable range then Huion Kamvas Pro 22 is the perfect choice for you.
It is one of the cheapest 22-inch tablets in the market and comes with a ton of attractive features.
From the very first look, it gives a minimalistic and professional vibe. It has a Full HD screen of 21.5 inches with a 100% sRGB color gamut. The screen is bright and vibrant with a viewing angle of 178°. To reduce reflection the screen has an anti-glare glass.
The glass has microscopic bumps that provide a textured finish that helps with controlling the stylus better.
There are 10 shortcut buttons and a touch bar on both sides of the tablet making it a great option for the left as well as right-handed users.
The multipurpose touch bar is used for performing complicated shortcuts such as zoom, scroll and change the size of brush and eraser. The tablet also comes with a pre-included heavy-duty stand which can go from 20° to 80°.
Pen/ Stylus – PW500 battery-free pen
Huion Kamvas Pro 22 comes with a stylus with 8192 levels of pressure sensitivity as well as tilt recognition. It has a well-balanced weight distribution and an ergonomic design. It is a passive stylus that does not needs charging.
There are two buttons on the side of the pen that can be programmed in the tablet settings. The pen also comes with a donut-shaped pen holder. The pen holder has a storage compartment inside which holds 10 extra pen tips and a nib remover tool.
This tablet is also available in a smaller 20-inch version called Huion Kamvas Pro 20 (Amazon) which has very similar features.
PROs
Massive 21.5 inches Full HD screen
Matte display and laminated screen
Excellent stylus
Multiple shortcut options
Stand included in the box
Good value for money
CONs
Screen maybe too big for some people
Heavy
8. Xp Pen Artist 15.6 Pro – Best budget display tablet for beginners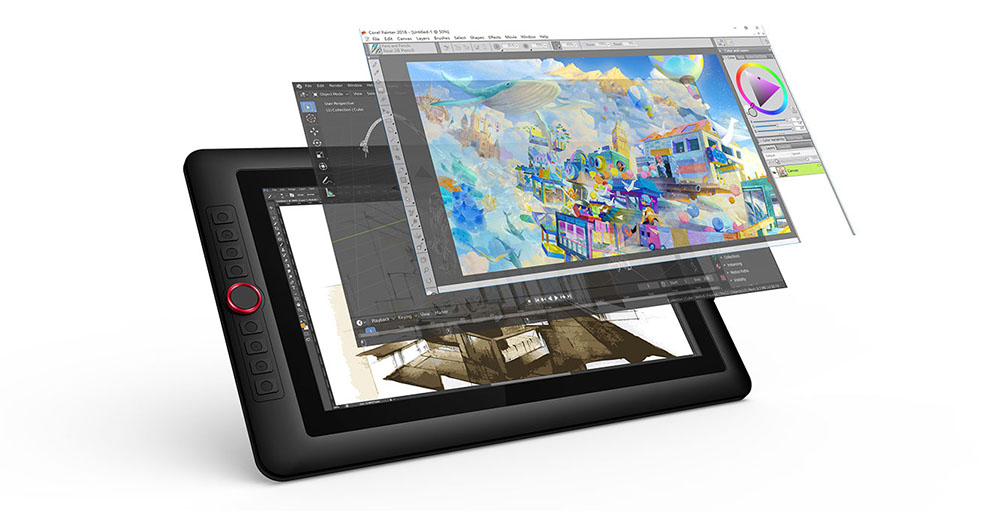 Budget tablets have been in the market for a long time. More often than not, they come with a lot of compromises, you get low-quality hardware with varying levels of limitations. Some of the budget tablets have small screens while others have a sub-par stylus.
Well, Xp pen Artist 15.6 Pro changes that. You get a complete package with great hardware and top-of-the-line features – all under a pocket-friendly price tag.
The tablet has a Full HD laminated display. It is one of the first few tablets in the budget category which comes with a laminated screen. The colors are sharp and cover 88% NTSC color space.
The stylus of Artist 15.6 Pro has 8192 levels of pressure sensitivity, on top of that, it also comes with ±60° of tilt sensitivity.
Stylus – Xp Pen P05R drawing pen
The stylus draws perfect strokes every single time – they are consistent and smooth and it does not suffer from the line jitter and inconsistent pressure issue like many other budget stylus do. You can see the full breakdown of the stylus and complete review of Artist 15.6 here (new tab).
Shortcut buttons
The tablet has ample of shortcut options, you have a total of 8 buttons which can be set to custom keys with the help of driver settings. Along with buttons you also have a red roller in the center-right of the tablet.
Artist 15.6 Pro (Amazon) is the first tablet ever to implement a roller in their display tablets. The roller is very helpful and can perform tasks such as – zoom, rotate, pan, scroll and most important – change the size of brush and eraser by simply rotating the dial.
It comes with a pre-included tablet stand and a ton of other accessories. The tablet stand that is included with this tablet is very basic with only one adjustable angle. If you want more drawing angles you can get a separate drawing tablet stand.
Overall, Xp Pen Artist 15.6 Pro is the most value-for-money tablet in the market and a perfect option for beginner as well as pro artists.
PROs
16.5-inch laminated screen
1920 x 1080 resolution
8192 level of pen pressure with ±60° tilt
8 shortcut buttons with a roller
Slim and lightweight
Comes with a tablet stand
CONs
Basic tablet stand with only one adjustment angle
Does not include a tablet bag
9. Huion Kamvas Pro 13 – most affordable drawing device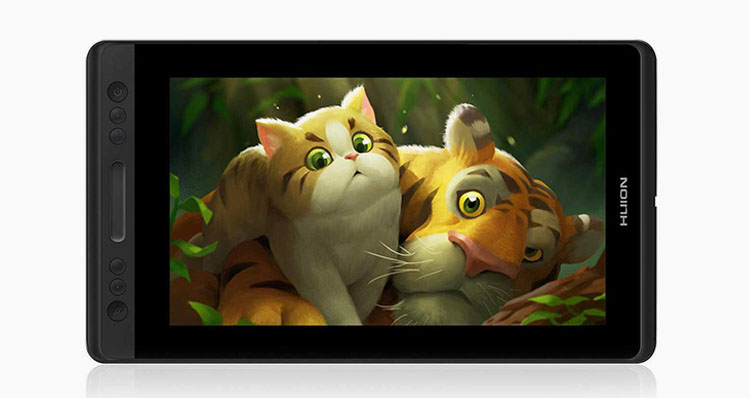 If you ever wondered "What could be the cheapest possible drawing tablet with the screen" – Huion Kamvas Pro 13 is the answer.
It is really surprising how many features you get in this entry-level drawing tablet. Starting off with the display.
Huion Kamvas Pro 13 comes with a really good 1920 x 1080 screen with 120% Adobe RGB color gamut. It produces very accurate colors with deep blacks. The full HD resolution on a 13-inch table produces sharper images than what you get with 16 and 19-inch tablets.
It comes with multiple shortcut keys and a touch bar. The pack also includes a decent tablet stand. The device is made of aluminum alloy with large rubber pads at the rear.
It comes with a pen with 8192 levels of pressure along with tilt recognition up to 60 degrees. It is a passive pen that does not need to be charged. The included pen holder houses extra pentips and a nib remover tool. It connects to the computer through a type-c USB port using a 3 in 1 cable.
It is a well made and very functional device which is slim and portable enough to carry in your backpack, making it one of the most portable drawing tablet with the screen.
PROs
Laminated anti-glare screen
13.3 inches 1920 x 1080 resolution
Passive Stylus
8192 levels of pressure and tilt support
Comes with a tablet stand
CONs
Just 4 shortcut buttons
Does not come with a tablet bag/pouch
Buyer's guide: How to select the Right Drawing tablet with Screen
A drawing tablet has two main components – A good display and an Accurate stylus. The availability of shortcut buttons, tablet stands, supported application, size, and portability also plays an important role.
All tablets are not equal and every tablet mentioned in the list brings some special set of features. Understanding your needs is the first step towards picking the right display tablet that will serve you well.
With that said here is a basic guide on how to select the right drawing tablet with screen.
Screen Size – Selecting the right drawing tablet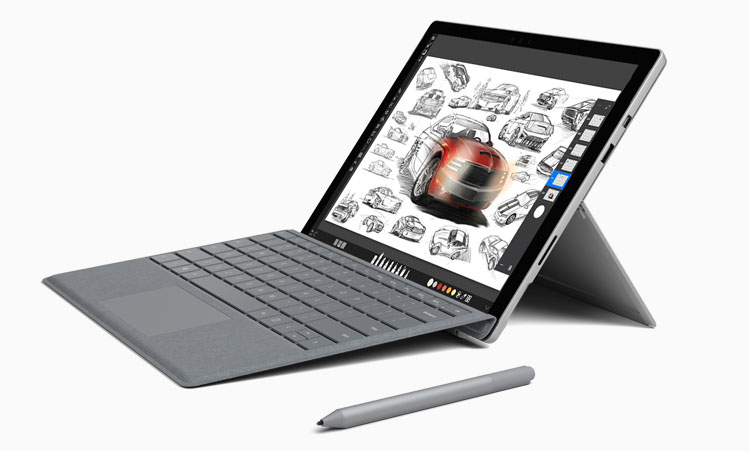 Smaller screens are affordable and larger displays are more enjoyable to draw on. If you want a portable drawing tablet that you can take anywhere with you, tablets such as Apple iPad Pro and Samsung Galaxy Tab s6 are good choices.
But you are planning to multitask and use desktop-grade applications and still want a portable tablet, in that case, Microsoft Surface Pro 7 is a better option.
Now, smaller tablets may be great for portability but a lot of the screen real estate on these devices is covered within application menus and buttons. Ultimately giving you smaller useable area.
A drawing tablet with a larger screen does not have these issues and they are in general more fun to draw on. If you want a larger screen with a big display Wacom Cintiq Pro 24 and Microsoft Surface Studio are the right tablets for you.
The middle ground
What if you want the portability of a smaller tablet in a better drawing experience that larger tablets provide. In that case, a 16-inch tablet such as Wacom Cintiq 16 and XP Pen Artist 15.6 pro gives you the best of both the worlds. They are also quite affordable.
Selecting the right Stylus for Display tablets
The stylus is an important part of the drawing tablet, with some artists considering it more important than the tablet itself. A good stylus can give you a very seamless drawing experience and over time feel as natural as drawing on paper.
As far as the quality of strokes is concerned, all the tablets mentioned in our list come with a good stylus and you can't go wrong with any of them.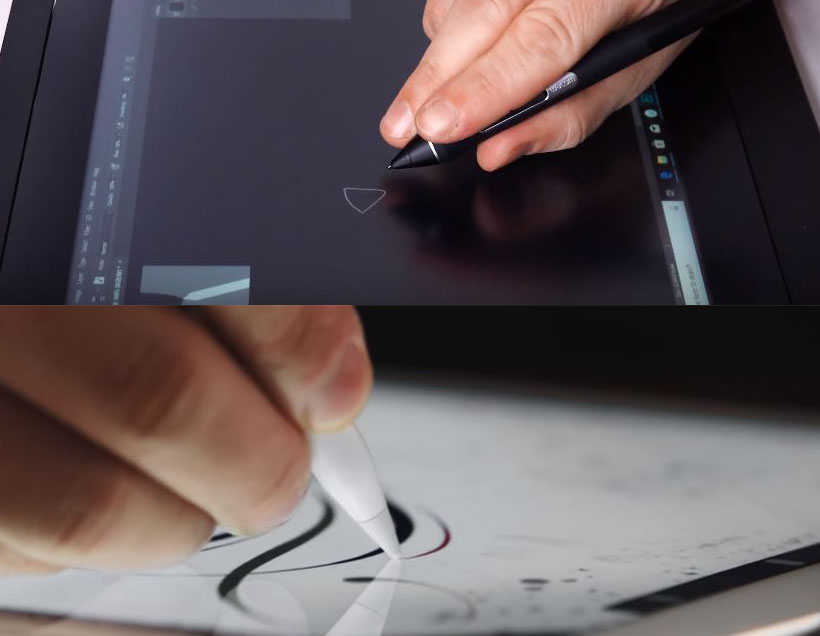 But they are different in terms of design and feel in hand. The Stylus that comes with Wacom, XP Pen and Huion tablets are very different from what you get with Apple, Samsung, and Microsoft devices.
The stylus of Wacom is wider and has a more ergonomic design compared to Apple and Samsung pens. Some artists like the natural pen and pencil-like feel of the narrower stylus while others like the comfortable hold provided by Wacom stylus.
These seemingly small details are important to consider when looking for a drawing tablet.
Did you know?
All the stylus work on different technology and are made for that particular model of the tablet. You cannot use Apple stylus with Samsung or Wacom Stylus with Microsoft devices.
Shortcut Buttons
Shortcut buttons are another important feature to consider when buying a drawing tablet with a screen. They are a very convenient way of making quick changes.
Some tablets have shortcut buttons on the side bezels and some tablets offer them as an accessory like Wacom Expresskey Remote (image above).
On the other hand, some drawing tablets such as Apple iPad and Samsung do not offer physical shortcut buttons on the tablet whatsoever and come with an on-screen shortcut button instead.
Using the Shortcut button is a personal choice and you don't necessarily need them. So having the button on the tablet may or may not be a big deal for you.
Multitouch Support in drawing tablets with screen
Multitouch allows you to perform actions such as zoom, scroll, pan, and rotate. Tablets such as Apple iPad Pro, Samsung Galaxy Tab S6, Microsoft Surface Pro 7, and Microsoft Surface Studio 2 comes with multitouch support.
On the other hand, Wacom Huion and Xp Pen tablets do not have multitouch support. The Wacom Cintiq Pro 24 comes with a touch variant but it is not as responsive as other tablets.
Overall all the tablets mentioned in the list are best performers in their respective categories. All of them have unique advantages/ features and provide comparable drawing experiences.
Related:
Wacom Cintiq 16 vs Wacom Cintiq 22 comparison
Standalone drawing tablet
Wacom One review
Xp Pen Artist 15.6 vs Huion Kamvas pro 16