Disclosure: As an Amazon Associate EssentialPicks earn from qualifying purchases.
---
Drawing tablets come in two types, the one with a screen and the other without it.
A drawing tablet with a screen allows you to see your artwork/strokes right beneath your stylus.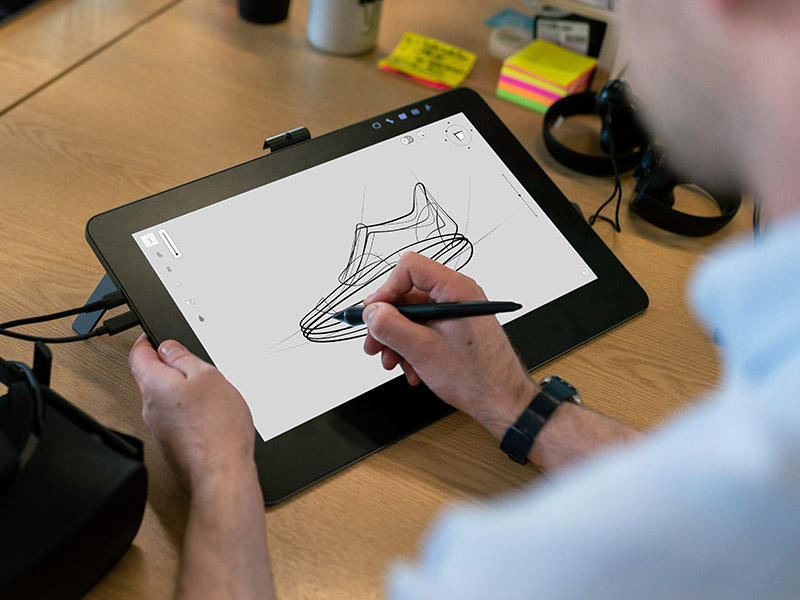 This not only results in a much faster learning curve but also gives you an immersive drawing experience that a non-display graphics tablet can never match.
Since display tablets were very expensive, they were only used by professionals and artists who could spare thousands of dollars.
Beginners and hobbyists, on the other hand, were recommended normal non-display pen tablets.
But in the last few years, we have not only seen a massive drop in prices of good display tablets but also seen a number of new models being introduced that are specifically geared towards beginners.
These tablets are available in various sizes and resolutions, some even have buttons and dials on them. Others have a computer build right into them making them a standalone drawing device.
All these different brands, models, and variants of display tablets can be quite daunting to even navigate through.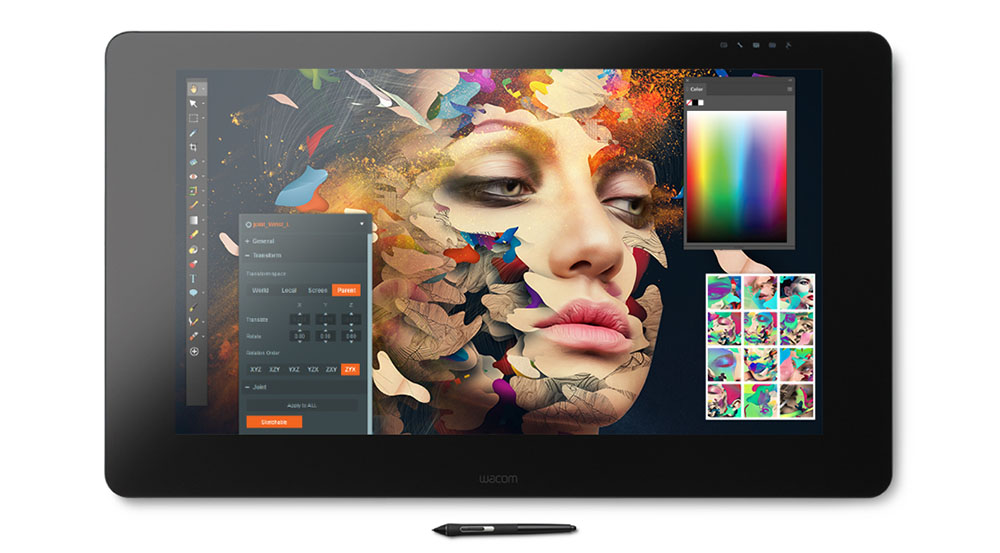 We have done a throughout comparison of all the popular display tablets in the market and made a list of the most deserving candidates for being the best drawing tablets with the screen.
Our list consists of a wide range of tables to choose from no matter whether you are looking for a budget-friendly or top-of-the-line display drawing tablet.
Top recommendations – Drawing tablets with screen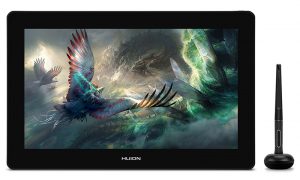 Huion Kamvas Pro 16 Plus
15.6 Inch 4K display
Great value for money
Windows & Mac support
Excellent stylus
Premium build quality (metallic)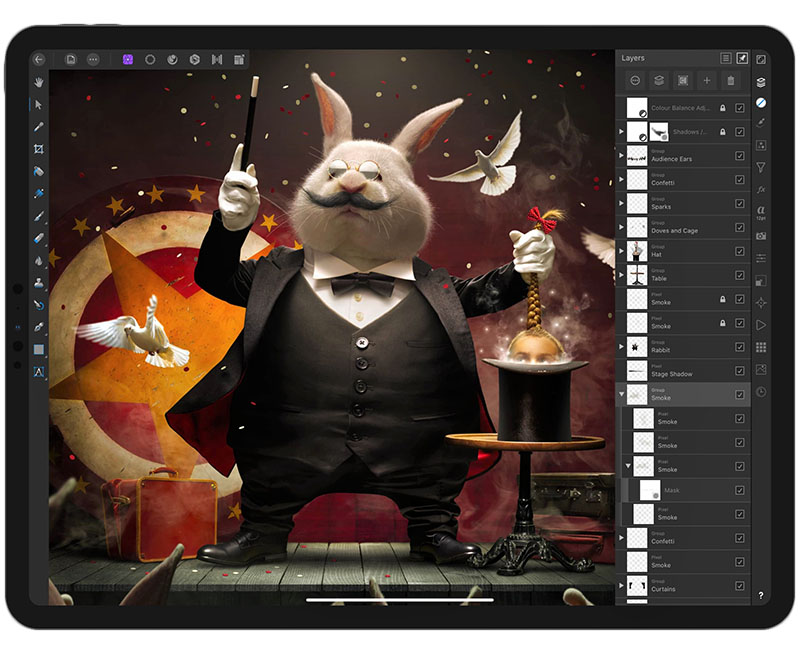 Apple iPad Pro
11/12.9 Inch
Excellent Stylus (Apple Pencil)
Great color accuracy
Ultra-portable
Good battery life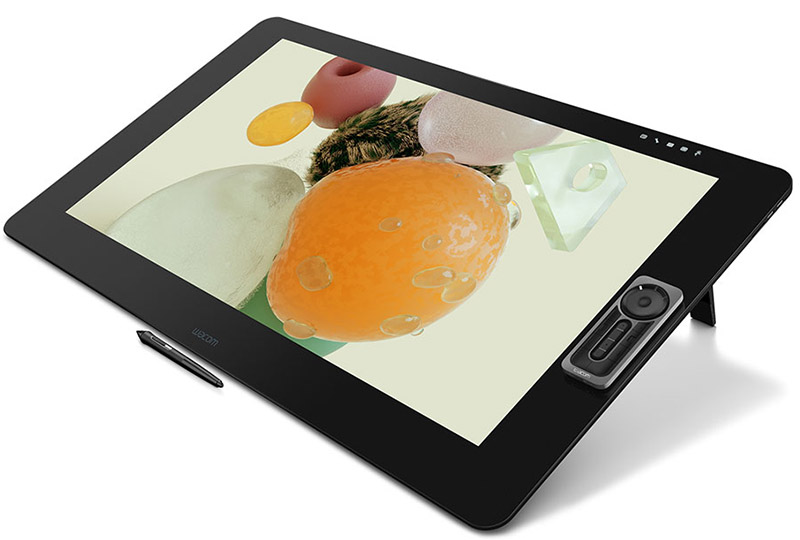 Wacom Cintiq Pro 24
23.6 Inch 4K display
Best stylus for drawing
Windows & Mac support
Anti-glare Etched glass
Shortcut buttons
1. Huion Kamvas Pro 16 Plus – The best drawing tablet with screen
Our pick
Huion Kamvas Pro 16 Plus
An all-rounder with an excellent 4K display, extremely good color accuracy, a great stylus (battery-free), metallic build quality, and USB-C connectivity.
Ideal for 2D, 3D artists, animators, digital sculptors, photo/ video editors.
Great value for money.
Size, resolution, and the quality of the stylus are three of the most important factors to consider when looking for a drawing tablet with a screen.
The Huion Kamvas Pro 16 Plus has the right mix of features that makes it an excellent choice for anyone looking for a good display tablet.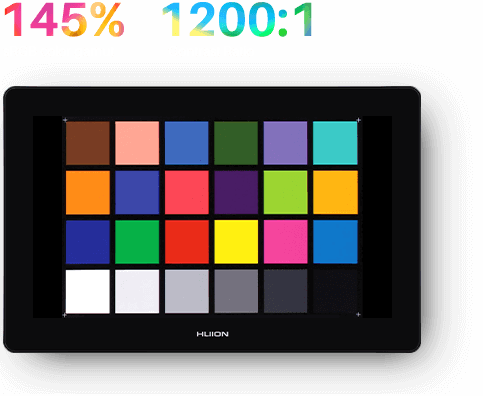 Its 4k resolution screen is the main star of the show. You get an impressive color accuracy – covering 145% sRGB color space and a 1200:1 contrast.
This highly color-accurate screen makes Huion Kamvas Pro 16 Plus a great option for doing any color-sensitive work such as graphics design, photo/video editing etc.
Its 16-inch screen is large enough to provide a great drawing experience at the same time compact enough to be carried in a larger backpack.
Who should get the Huion Kamvas Pro 16 Plus
The Huion Kamvs 16 Plus ticks all the checkmarks. Whether we talk of the screen, the stylus, the build quality, or the freedom to use any platform, operating system, or application.
This tablet is ideal for 2D, 3D, animation, editing, rendering, or basically anything that you throw at it.
Due to its highly color-accurate screen and 4K resolution, this display tablet also serves well as an excellent secondary monitor.
Overall, the flexibility and versatility you get with this tablet, you don't get that with other tablets in the price category.
And that makes the Huion Kamvas Pro 16 Plus the best drawing tablet with screen for digital artists.
PROs – What we liked
16 inch 4k resolution display
Excellent color accuracy
Glare-free matte screen with textured surface
Great stylus (Huion PW517 – Battery-free)
Metallic build and thin profile
Comes with a tablet stand
USB-C connectivity
OS support – Windows, Mac, and Android
Good for digital art, illustration, animation, 3D graphics
CONs – What needs improvement
No shortcut buttons
Huion Shortcut accessory needs to be purchased separately
No-touch support
Not ideal for bright indoor and outdoor uses (200cd/m2 max brightness)
Buy Huion Kamvas Pro 16 Plus on Amazon →Huion Store →
2. Apple iPad Pro – Most advanced display tablet for digital Artists
Runner-up
Apple iPad Pro (11 inch and 12.9 inch)
Most advanced stylus, excellent display, powerful processor, and best in class drawing performance, all in a compact form factor. Available in two sizes.
Apple iPads are increasingly becoming popular in the artist community. In the past few years, we have seen a number of artists use it as their main drawing device.
So what makes the Apple iPad Pro such a great option for artists looking for a display tablet?
One of the main reasons why artists love the iPad Pro so much is the Apple Pencil.
Earlier Wacom's Pro Pen 2 was considered the holy grail of styluses. But that changed with the arrival of the Apple Pencil.

Apple Pencil is hands-down the most powerful, reliable, and accurate styluses in the market right now.
It has great pen tracking, balanced pressure sensitivity as well as one of the best implementations of tilt recognition.
What is more important than the features is the overall feel of drawing with the stylus.
In a stylus you want the drawing experience to be as natural as drawing with a real pencil. The Apple Pencil delivers that.
Thanks to the Promotion technology (120 Hz screen refresh rate) on the iPad Pro, the Apple Pencil can achieve a response rate of 9ms.
This results in a buttery smooth performance. The strokes drawing by the Apple Pencil literally seem to be coming out of the tip.
It may seem like a small thing but it definitely has a big effect on the overall feel of drawing on the Apple Pencil.
Who should get the iPad Pro?
Although the iPad may be lacking in 3d and animation apps, but when it comes to making digital paintings and illustrations, iPadOS has its own set of drawing apps that are as good as their desktop counterparts.
If you are someone who makes digital art, illustrations, comics, animation, and portability is your priority – you should definitely get the Apple iPad Pro.
PROs – What we liked
Outstanding performance from Apple Pencil
2732 x 2048p high-resolution screen with beautiful colors
High brightness for comfortable outdoor usage
Lightweight and Portable
Good battery life
The most powerful processor on a compact device
Excellent iPadOS specific art and illustration applications
CONs – What needs improvement
Apple Pencil not included (purchase separately)
OS lacks support for good 3D applications
Shiny and Reflective screen
Many traditional windows drawing softwares still not supported
Buy Apple iPad Pro 11 inch on Amazon →
Buy Apple iPad Pro 12.9 inch on  Amazon →
3. Wacom Cintiq Pro 24 – Most advanced display tablet for professionals
Upgrade-pick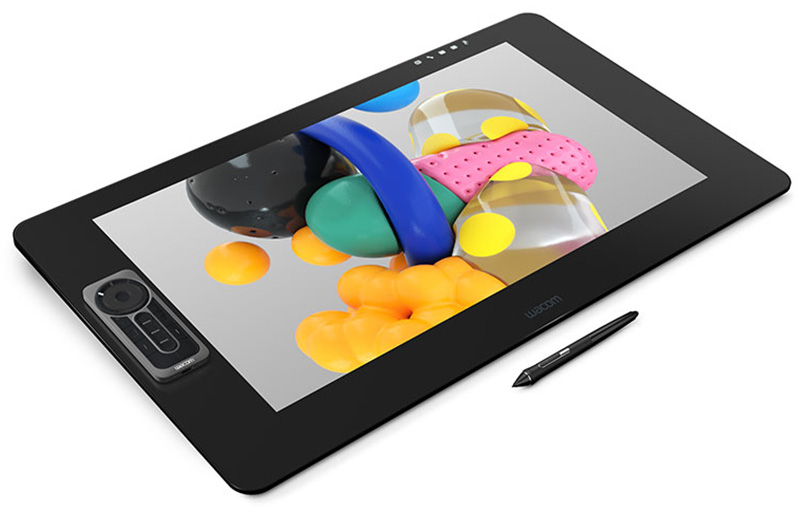 Wacom Cintiq Pro 24
One of the best drawing tablets in the market that is pretty much a great choice for any kind of digital creative work, no matter whether you work with 2D, 3D, photo, and video related tasks.
Comes with a 4K screen and available in 24 and 32-inch variants.
The larger display combined with a great stylus and a number of useful accessories makes this a drawing device that artist aspire for.
If you are a veteran or hang out in art communities, you probably know the name "Wacom".
The Wacom may not be that popular amongst giants such as Apple and Microsoft, but when it comes to digital art equipment, it absolutely dominates the market.
This is one of the devices that you would find in the hands of professions and in the offices of Vfx and movie studios.
Wacom Cintiq Pro 24 is for those who are looking for a top-of-the-line, dedicated drawing tablet that is specifically made for artists.
It has a whole set of drawing features that are very thoughtfully designed to make the drawing experience as immersive and convenient as possible.
Display – Size and Resolution
Starting off with its massive 24-inch 4K resolution and color accuracy of 99% Adobe RGB.
The feeling you get from drawing on this massive screen – you can't get that from an iPad or any smaller device.
You get a large area to move your hands around, plus you can see your whole artwork and work without needing to zoom in.
Stylus – Wacom Pro Pen 2
One of the most important reasons why professional artists love to use Wacom devices is its Stylus.
The Wacom Pro Pen 2 is one of the most regarded styluses. Its performance, how it handles pressure, how it responds to light touches – you don't get that in other styluses.
The stylus has an ergonomic design with a wider tip at the front which slowly tapers towards the back. It gives you better comfort. The front end of the stylus is made of a rubbery material that provides a better grip, especially on sweaty hands.
Shortcut Button – Wacom Expresskey Remote
There is a shortcut Remote called Wacom Expresskey remote included in the box. It has 17 buttons and a touch ring – all of which are programmable. You can assign them to any shortcut of your choice in any drawing or modeling software.
The shortcut remote works wirelessly and has magnets at the back with sticks to the side bezel of the tablet. Allowing you to place it anywhere you desire.
Tablet Stand – Comfort and Ergonomics
Working on this massive screen is not that easy. The Cintiq Pro comes with built-in foldable legs that give it a nice slope of about 19 degrees which feels very comfortable and inviting to work on.
For greater adjustability, you can get the Wacom Ergo Stand (Amazon) which is sold separately as an addon.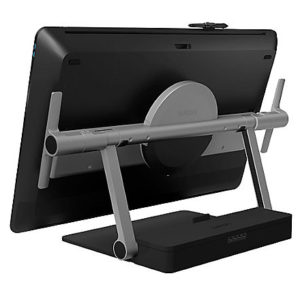 The feeling you get working on a large screen drawing tablet, you can't get that on smaller screens.
On top of a large drawing tablet, the Cintiq Pro comes with a great stylus and an ecosystem of great accessories such as Wacom Expresskey Remote and different tablet stands.
You simply don't get this combination anywhere else. And that makes the Wacom Cintiq Pro 24 a very well-regarded drawing tablet amongst the artist community.
For many artists, this is their dream drawing tablet. If that is you and you have reached that stage where you feel comfortable investing that kind of money, go ahead and get the Wacom Cintiq Pro 24/32.
PROs – What we liked
Premium build quality, Sleek design
Color accurate screen with 4k Resolution
Superior drawing experience
Responsive, accurate, and reliable stylus
Wireless Shortcut Remote
Textured drawing surface (etched glass)
Built-in tablet stand (as well as mounting options for external stands)
Ideal for –  Digital art, illustration, animation, photo editing, video editing, 3d modeling, 3d sculpting, Rendering, compositing or any other creative task
CONs – What needs improvement
Expensive
Heavy and takes up space
Needs to be connected to a computer
Buy Wacom Cintiq Pro 24 on Amazon →
4. Microsoft Surface Pro 7 – Portable Windows-powered display drawing tablet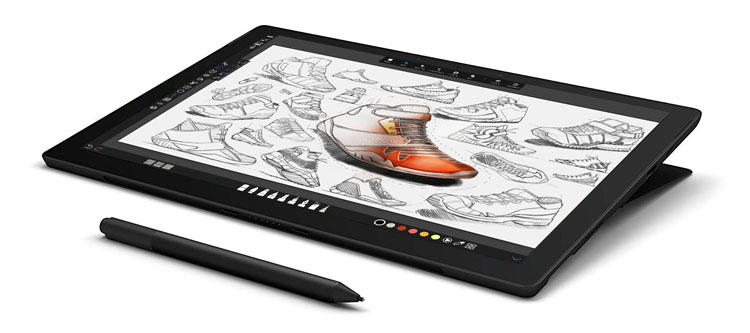 Microsoft Surface Pro 7
A unique combination of Windows 10 computer in a compact tablet-like form factor, fully capable of running all your favorite Windows drawing apps.
Comes with a very capable Microsoft Surface Stylus and an inbuilt kickstand for the ultimate drawing experience.
If you want the power and benefits of a full-fledged Windows computer into a portable form factor – the Microsoft Surface Pro 7 is your best option.
You can think of Microsoft Surface Pro 7 as a miniature computer.
Although there are plenty of portable tablets that come with stylus support, Where the Surface Pro 7 stands out is its ability to run all full versions of all your favorite Windows drawing software.
In addition to that, you can also use it for things like animation, photo editing, 3D work, and light video editing.
The Surface Pro is available in a single size with 12.3 inches of screen that has 2736 x 1824p resolution and 98% sRGB color coverage.
Microsoft Surface Pen
The Surface Pro 7 supports the Surface Pen which has 4096 levels of pressure sensitivity and tilt detection. The Pen is not included in the box and needs to be purchased separately, which is a bummer.
The tablet also supports the Surface keyboard which also has a touchpad at the bottom. Essentially converting your tablet into a portable computer.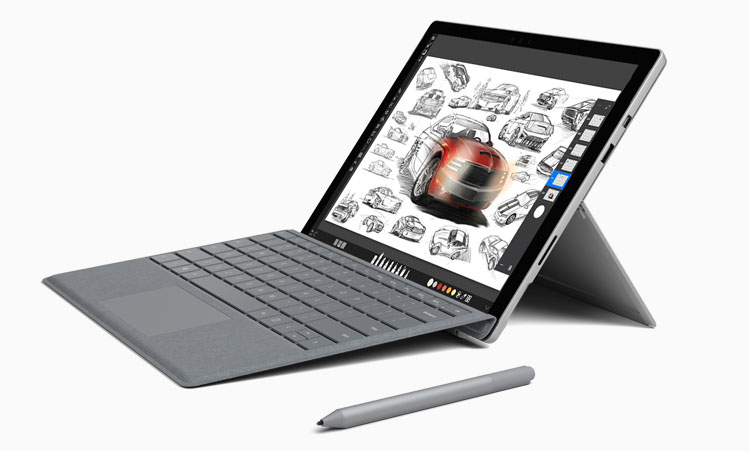 At the back, you can see the built-in kickstand. The kickstand can hold the tablet at any angle on the table. It is strong and sturdy enough to allow you to draw on it without stretching flat on the table.
We recommend the Surface Pro 7 to artists who want a compact display drawing tablet without compromising with their favorite drawing application.
The real strength of the Surface Pro 7 is in its practicality. It allows you to be away from your desk while still finish your projects.
You can take your existing unfinished project files and continue working over on Surface Pro 7 while on the commute or simply when you are away from your fixed setup.
If you already own some kind of drawing tablet, the Surface Pro 7 can also be a great secondary tablet.
PROs – What we liked
12.3-inch screen with good colors
Compact and portable
Well regarded Microsoft Surface Stylus
Runs Windows apps
Decent battery life
Built-in kickstand
Keyboard accessory supported (needs to be purchased separately)
Available in multiple configurations
CONs – What needs improvement
Only available in a single size (12.3 inches)
Surface Pen needs to be purchased separately
Relatively lower (400 nits) of display brightness
Buy Microsoft Surface Pro 7 on Amazon →
5. Xp Pen Innovator 16 – Value for money
Mid range champ
Xp Pen Innovator 16
Great display with excellent color accuracy, shortcut buttons, multiple dials, premium metallic build quality, and one of the best styluses with very stable and reliable perforamce.
All this at a very justified price makes it a great option for artists looking for a top-tier drawing tablet with no compromises.
It is often said, "quality comes at a price". Well, Xp Pen does not seem to agree with that.
They have managed to come with a drawing tablet that stands tall on all the benchmarks while still coming at a great price compared to what is available in the market in that segment.
As the name suggests, the Xp Pen Innovator 16 is a 16-inch display tablet that comes with one of the best displays in this segment.
The 16-inch tablet has a FullHD resolution which is sufficient enough for a 16-inch device. Where it really shines is its color accuracy.
Its screen has a color coverage of 125% sRGB which produces very accurate colors.
Probably the best thing about this drawing device is its shortcut options.
The Innovator 16 comes with a total of 8 programmable buttons located on the left-hand side of the tablet.
Along with the buttons you also get a rotating and a digital dial that help you with things like changing the size of the brush and eraser as well as pan, zoom, and rotate the artboard.
There buttons and dials are very handy when drawing, especially the dials that make the whole drawing experience fun and enjoyable.
Xp Pen PA5 Stylus

With Innovator 16 you get the Xp Pen PA 5 stylus. This is a battery-free stylus and comes with 8192 levels of pressure sensitivity as well as 60 degrees of tilt sensitivity.
This is one of the best styluses that Xp Pen has in their lineup, with improved initial activation force and overall a very balanced behavior.
It responds beautifully to slight changes to pressure, plus it allows you to customize the hardness or softness of the stylus as per your liking.
The build quality of the stylus is also really great. It has a very comfortable shape with great weight distribution.
Build quality
The sturdiness and the Build quality is one of the highlights of Innovator 16.
In spite of its relatively cheaper price, Xp Pen has still managed to give it a high quality all metallic fit and finish.
The tablet feels premium with everything well put together. It measures just 9mm in width and is compact enough to be carried into a backpack alongside your laptop.
So if you are looking for a drawing tablet with a screen that is high quality and has all the bells and whistles that you want, plus comes at a reasonable price – the Xp Pen Innovator 16 is the right option for you.
PROs – What we liked
15.6 inch screen
1920 x 1080 resolution
8192 level of pen pressure with ±60° tilt
8 shortcut buttons with a Digital + Physical dial
Sleek and lightweight
Comes with a tablet stand
Lappable – can be used on your lap
Extreamily high standard metallic build quality
CONs – What needs improvement
No rubber pads on the back – can be unstable on smooth surfaces
Does not work with Android devices
Not ideal for an overly bright drawing environment
Buy Xp Pen Innovator 16 on Amazon →
6. Microsoft Surface Studio 2 – Two in one display drawing tablet for Professionals (Also Good)
Stylish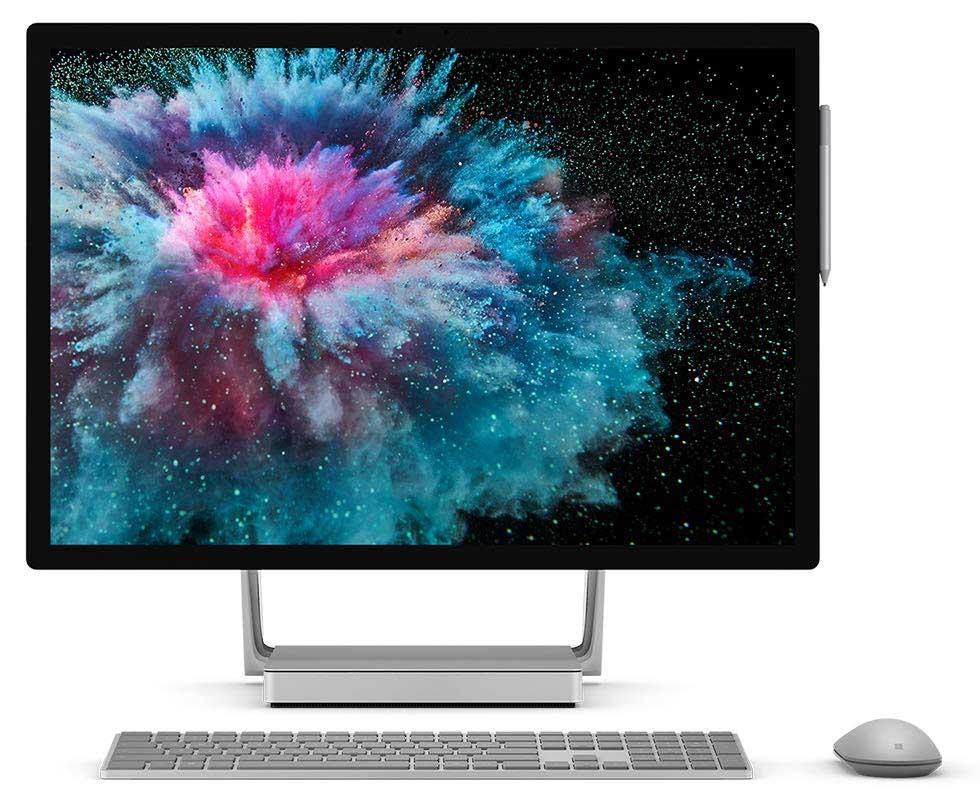 Microsoft Surface Studio 2
A desktop computer that transforms into a drafting table, comes with support for Surface Stylus.
Has a gorgeous 28-inch screen and a very elegant design that will elivate the look of your desk as well as your workspace.
If you are into design and aesthetics, you will love this one. The Microsoft Surface Studio 2 is one of the most unique devices out there.
It is a combination of a desktop computer that turns into a drafting table where you can draw on.
The Surface Studio 2 has a massive 28-inch color accurate screen with a resolution of 4500 x 3000 and a pixel density of 192 PPI. Its 3:2 aspect ratio is great for productivity.
It comes with a Microsoft Surface Pen that has a pressure sensitivity if 4096 levels as well as tilt sensing technology. The performance of the surface pen is good enough for day to day to day usage such as editing, making sketches and writing notes.
Surface Studio hinge
The hinge of the Surface Studio has been designed to easily switch the computer from desktop to draft-table mode.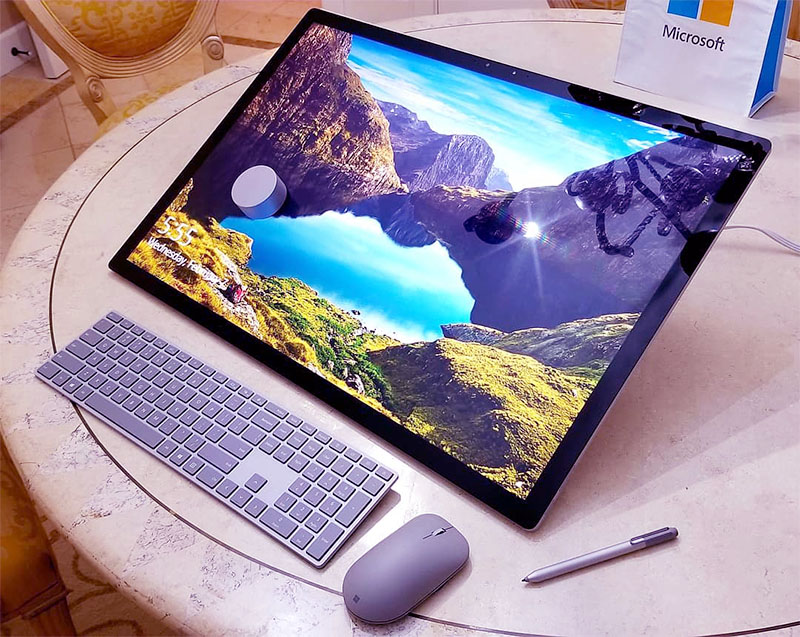 The hinge feels sturdy and is strong enough to support the screen at any angle. You can have a look at the working of the hinge in the official video from Microsoft.
The screen has multitouch support which makes it convenient to perform simple tasks such as zoom, pan, and rotate the Canvas.
The palm rejection on this drawing computer works flawlessly.
As awesome as the Surface Studio is – it comes with a steep price. With that said, there is no other drawing device with screen like Surface Studio.
It is perfect for multi-talented artists who can use it in desktop mode when doing tasks like graphic design and transform it into a drafting table when drawing with stylus.
The stylus support, the Surface Dial accessory, and the multi-touch support give you a very pleasing drawing experience that is very similar (or even better in some cases) to Wacom's Cintiq Pro lineup of tablets.
PROs – What we liked
Massive 28-inch screen with multitouch
Built-in Windows PC
Great stylus with good palm rejection
Runs all desktop-grade drawing, designing and modeling applications
Well designed hinge for better flexibility
Support for Surface Dial
One of the best comfortable and ergonomic devices
CONs – What needs improvement
Only available in one size (28 inches)
Glossy display
Expensive
Buy Microsoft Surface Studio 2 on Amazon →
7. Samsung Galaxy Tab S7 and S7 plus – Best Android tablet with screen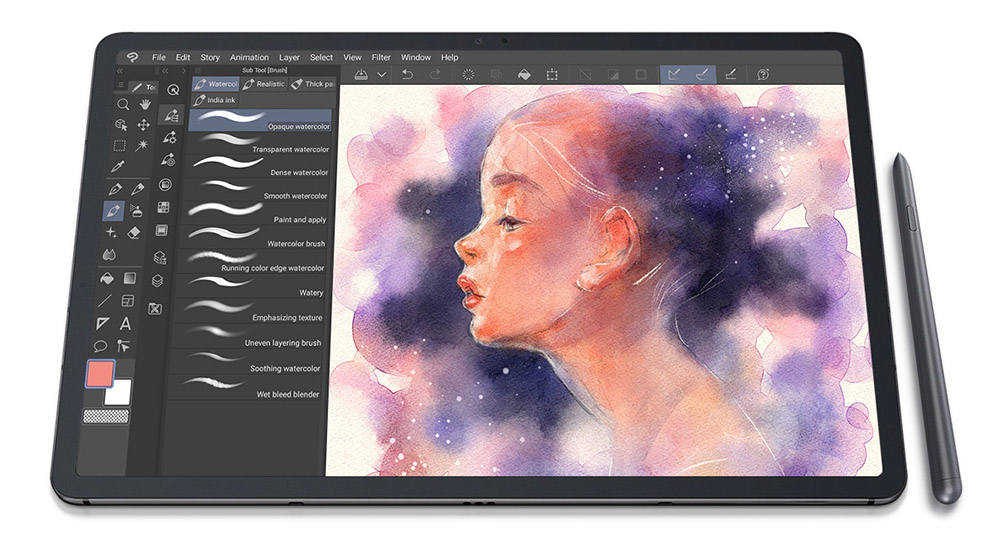 Samsung Galaxy Tab S7
Android equivalent to Apple's iPad Pro.
Crisp Amoled screen, high pixel count, good brightness, 120hz refresh rate, and a very capable stylus "S-pen" with 9ms of response time makes it a great choice for artists looking for an Android based drawing device.
The Samsung Galaxy Tab S7 is the Android equivalent of Apple's iPad Pro.
It is a compact display tablet that comes with excellent styles making it a great choice for digital artists.
The tablet is available in two variants measuring 11-inch and 12.4 inches in size and comes with a super high-resolution screen with great color accuracy.
The new Samsung S-Pen is the main reason what makes it a great choice for artists. Samsung has been making styluses for the past many years while constantly improving with every new generation.
This is the first time they have been able to match the Apple Pencil in terms of speed, performance as well as latency.
Thanks to the 120 Hz refresh rate screen on the Samsung Galaxy tab S7+, the S Pen stylus has a latency of 9ms which is exactly the same as the Apple Pencil.
Even in terms of practical uses, you will love the way it feels and responds. The pressure sensing is great, it supports tilt sensing.
In terms of price is slightly cheaper than other tablets in the same category and the best part is the S Pen comes included in the box. You don't get this with iPad Pro or even the Microsoft Surface Pro 7.
Android drawing apps
The availability of drawing apps is an important factor to consider when buying any Android tablet for drawing.
Many of the popular Windows drawing apps are not available on Android. Even some popular tablet apps such as Procreate and Affinity are not available on Android.
With that said but there a lot of great Android drawing apps that you can check out.
PROs – What we liked
Available in to sizes – 11 & 12.4 inches
Most color-accurate display (AMOLED)
Lightweight, compact and portable
Good stylus performance
Samsung DeX support
Long battery life
CONs – What needs improvement
Some very popular drawing apps are absent
Buy Samsung Galaxy Tab S7 onAmazon →
8.  Huion Kamvas 13 – Drawing tablet with screen for young artists and animators
Art students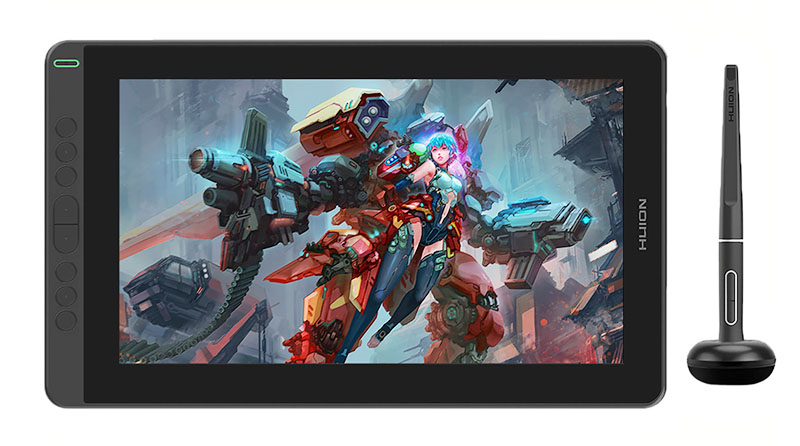 Huion Kamvas 13
Entry level display tablet with mid-range features. 13 inch laminated, anti-glare screen with good color accuracy, comes with Huion's top end stylus, shortcut buttons and good build quality.
As we already mentioned, drawing tablets with screen have certain advantages that you can't get in normal screenless graphics tables.
If you are someone who has just started learning digital art, a display tablet can help you speed up your learning and provide you a more interactive drawing experience.
But you don't need to spend thousands of dollars to get a drawing tablet. No, not even half of it.
If you ever wondered – "Which is the most pocket-friendly display tablet that still provides an amazing drawing experience" – The Huion Kamvas 13 is the answer.
It is really surprising how many features you get in this entry-level drawing tablet. Starting off with the display.
Huion Kamvas Pro 13 comes with a fully laminated matte screen with a resolution of 1920 x 1080 and 120% Adobe RGB color gamut.
It produces very accurate colors with deep blacks and sharp details. In fact, since this is a 13-inch screen with a FullHD resolution, the Kamvas 13 produces sharper images than Huion's 16 and 19-inch models.
On the left you will find 8 customizable shortcut buttons that help you makes quick changes like undo, redo, pan, scroll, and change the brush sizes.
In spite of being an entry-level tablet, Huion hasn't cheap out on specs. It comes with 3rd generation Huion PW517 styles. This is the same stylus that you get with some of Huion's top-of-the-line tablet models.
The stylus has 8192 levels of pressure sensitivity and 60 degrees of tilt recognition.
Also, since it is an EMR based stylus – it does not needs to be charged.
Overall, for the price you are paying – you are getting a solid deal.
This tablet is a great fit for art students and hobbyists who want to upgrade from a normal pen tablet to a display tablet.
It is also a very popular choice to give as a gift to your artistic friend or child.
PROs – What we liked
Laminated anti-glare screen
13.3 inches 1920 x 1080 resolution
Passive Stylus
8192 levels of pressure and tilt support
Comes with a tablet stand
CONs – What needs improvement
Just 4 shortcut buttons
Does not come with a tablet bag/pouch
Buy Huion Kamvas 13 on Amazon →  Huion Store →
Which one of these tablets is the best option for digital art and illustration
Related:
Wacom Cintiq 16 vs Wacom Cintiq 22 comparison
Standalone drawing tablet
Wacom One review
Xp Pen Artist 15.6 vs Huion Kamvas pro 16