Disclosure: As an Amazon Associate EssentialPicks earn from qualifying purchases.
A display tablet is one of the basic tools used by artists, animators and designers. They are far superior to any other drawing device and give a very professional working experience. With an almost unlimited number of options, now is one of the best time ever to get a drawing tablet with screen.
There are established brands such as Wacom which already make great tablets. On the other hand, major brands like Apple and Microsoft are trying to step in with their new line of products made specifically for digital artists. Overall you get a wide range of devices to choose from which is always a good thing for creators.
Whether you are looking for a top of the line display tablet or a beginner-friendly budget device we got you covered. In our list of best display tablets, we have featured tablets ranging from standalone devices to 2 in 1 computer. All the devices mentioned in the list are handpicked after detailed comparison and research. In the end, we have made a buying guide to help you make the right choices.
Featured devices
1. Wacom Cintiq Pro – Best display tablet for Artists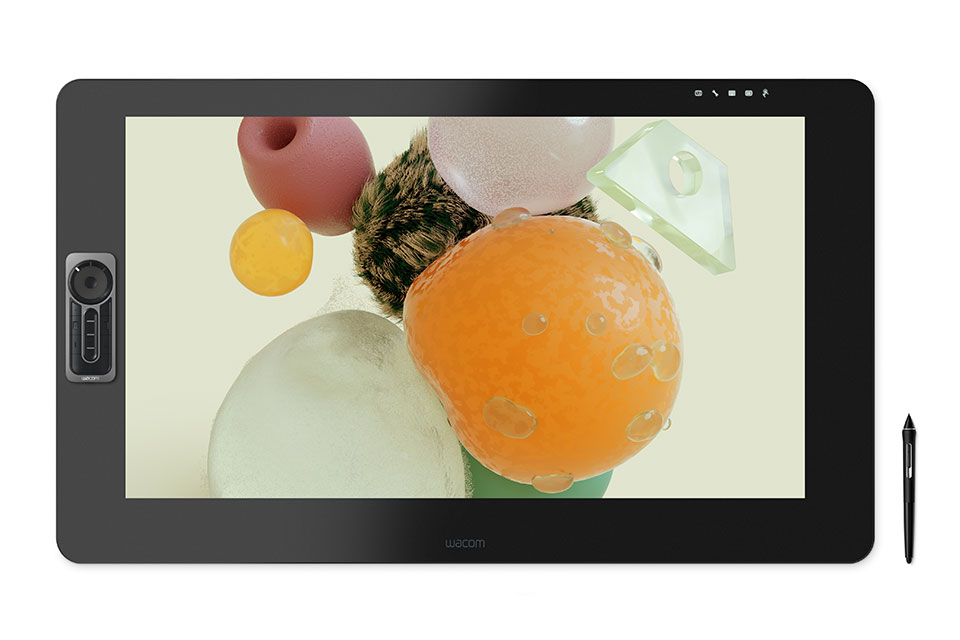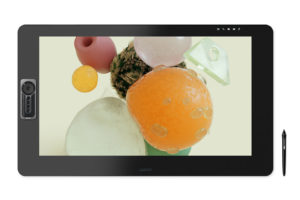 Wacom Cintiq is one of the go-to devices for digital artists. They have been making devices for decades and have established themselves as an industry standard. Their device is used in all the major studios for a wide variety of tasks.
Features 
Wacom Cintiq Pro is a modern minimalist tablet made specifically for digital artists. It comes in four sizes – 13, 16, 24 and 32 inches.
The screen resolution ranges from full HD to 4k depending upon the model you pick. The screen is vibrant, sharp and supports up to 98 percent Adobe RGB color space, which is perfect for tasks which require high color accuracy. The device comes with optional multi-touch support which can be toggled on or off.
Its surface is covered with etched glass which reduces glare and adds a natural feeling of friction. The drawing monitor is slim and compact enough for the size. It comes with multiple ports which allow to connect it to a computer in various ways. There is also a pop-up leg at the back which raises the device by 20 degrees for ergonomic drawing position.


The Cintiq Pro comes with Pro pen 2 which is considered the best stylus in the market. It has 8192 level of pressure sensitivity and tilt support. It comes with a handy pen stand which is also used to store spare pen nibs.
You may have noticed the lack of any shortcut buttons on the device. That is because Wacom has made a special Expresskey remote for this device.  The remote has 17 buttons and a touch ring all of which are customizable. The remote sticks to the device using magnets on the left and right side rails.
PROs
Premium build quality
Multi-functional pen device
Fast, responsive and accurate performance
Long lasting hardware
Matte display
2. Apple iPad Pro – Most portable drawing tablet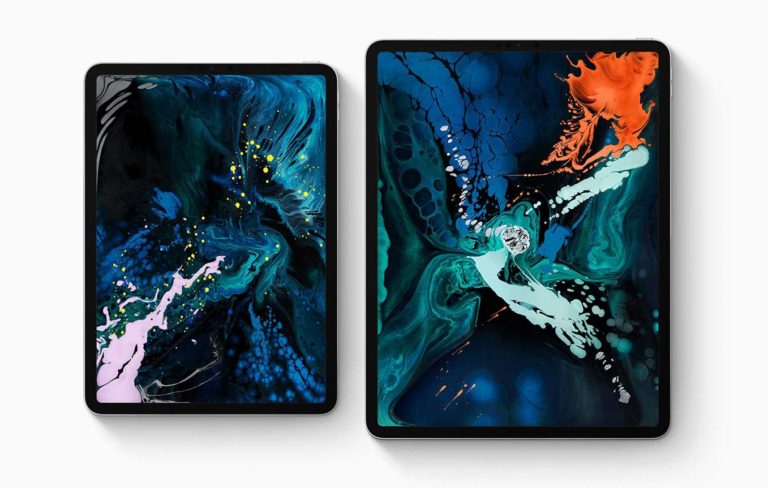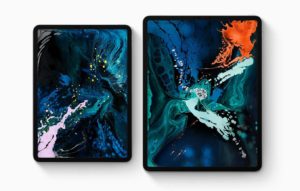 Apple iPad Pro is the most portable drawing tablet you can buy right now. It comes with an exceptionally good Apple pencil which works flawlessly and has pinpoint accuracy.
There are drawing apps like Procreate, Clip studio paint, Affinity photo which is made specifically for iPads and works extremely well. It also comes with the full version of photoshop(soon).
The long-lasting battery keeps the device running for hours. Its processor is powerful enough to match the performance of your laptops which has been proved by the latest performance tests.
Who is this device for
In spite of having all these cool features and advantages, this device may not be for you. Lack of professional and industry-standard software is the main reason many artists (especially 3D artists) avoid this. The absence of a proper file manager and no external storage support may also bug you as a creator.
So, if you are someone whos work and workflow revolves around making digital paintings and portability is your priority than Apple iPad is the perfect device for you.
PROs
Thin and light – carry it everywhere
Long lasting battery
Exceptionally good drawing experiance with Apple pencil
Good drawing Apps
Super smooth and powerful processor
CONs
Lacks professional 3D applications
No external storage support
Gloss display
3. Samsung Galaxy Tab s4 – Best android tablet for drawing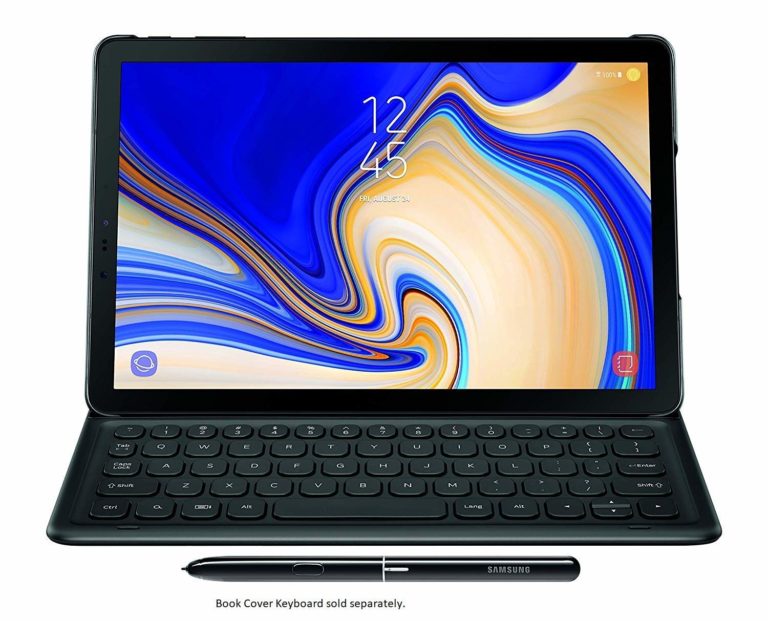 Samsung Galaxy Tab S4 is the androids answer to the iPads. It is an all in one multimedia + drawing device with virtually no limitations. It is relatively cheaper than all the other device in the list in relation to things it can do.
The tablet has a premium metal design and comes with the best in class AMOLED screens with crisp and vibrant colors. The sleek form factor and long-lasting battery make it usable anywhere and everywhere you want.
How good is the S-Pen
The tablet has a very accurate and responsive S-Pen which works flawlessly with the android drawing apps like Autodesk sketchbook, Infinity painter and Artflow.
The s-pen is a passive pen which does not need to be charged and uses the same technology as Wacom. The pen is round and has a single side button. The lines drawn by it are smooth, consistent and reliable with no jitter and wobble.
The tablet also supports Smasung DeX where you can connect it to the external display and use the tablet as an traditional graphics tablet.
PROs
Multipurpose device
Thin, light, compact and portable
Long working hours – massive battery
Great pen performance
Samsung DeX enabled
CONs
No professional 3D applications
Small screen
4. Microsoft Surface Studio 2 – Two in one drawing device for Professionals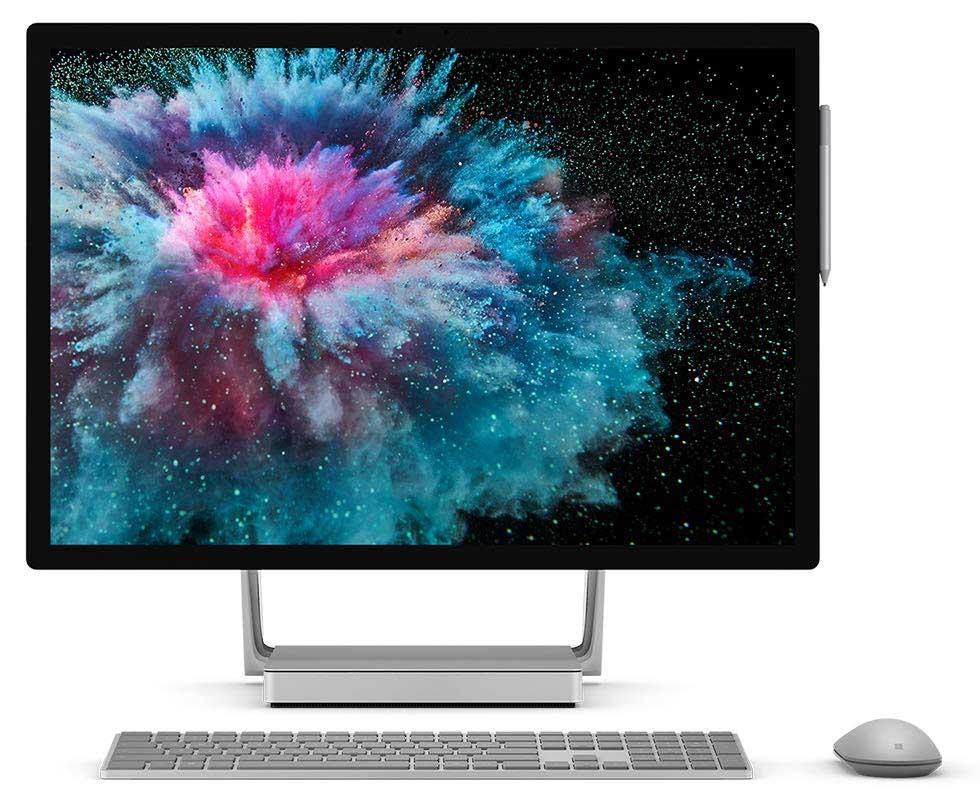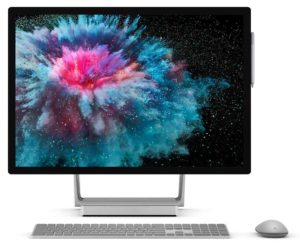 Microsoft surface studio 2 is the largest digitizer supported fully touch-enabled personal computer. The screen has an aspect ratio of 3:2 which is considered great for making digital art and models. The display is 20 inches with the resolution of 4500 x 3000 (192 PPI).
It comes with an Intel® Core™ i7-7820HQ processor and 16 or 32 Gb of RAM with a Gtx 1070 graphics card.
Its design is the main reason why it is liked so much. This drawing pc has a very well thought out hinge. The hinge allows you to lay the monitor at an angle and draw on using the pen. The transition between desktop to tablet mode is super smooth. Its stand and hinge are stable enough to draw at any angle.
The device is powered by Windows and has great internal specs so you will not have any issue using any of the professional drawing and 3D applications. It is also a great entertainment device and can play fairly demanding games.
The surface pen is not as good as what we have seen in Wacom and Apple devices but it is still good enough for the day to day uses and for making professional artwork. It sticks to the side edge of the monitor using magnets and overall provides a seamless working experience.
Who is this device for
This device is good for anyone who needs a pen display but these devices are more useful to someone like a 3D designer who needs to constantly switch between computing, modeling and drawing tasks. It can also be a great tool for architects and hobbyist who like to play with expensive toys.
PROs
Massive 28-inch screen
Largest pen-enabled touch device with built-in PC
Supports all the professional drawing and 3D applications
Zero gravity hinge for a seamless transition between computer and drawing board
CONs
No rotatable screen
Doesn't come with a smaller size model
Gloss display
5. Microsoft Surface Pro 6 – Best windows drawing device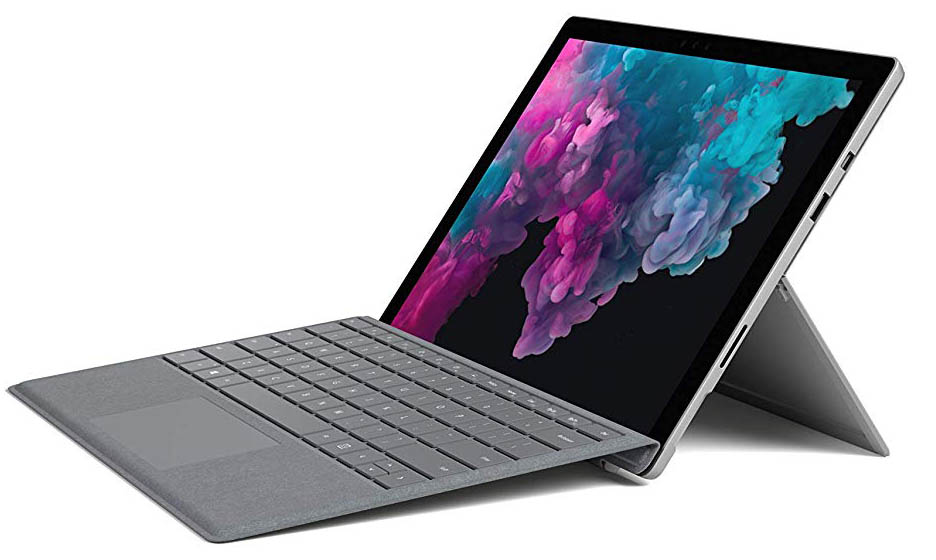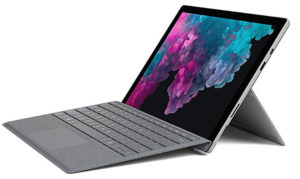 If you ever wanted a full-fledged Windows – 2 in 1 tablet on which you can draw than this may be the perfect device for you. It is similar in size to the Apple iPad and Samsung galaxy tab 4 which makes it super portable.
Unlike the Ipad and Samsung tablet, it works on Windows operating system. Which means as an artist you get to use all the desktop software right on the tablet.
The Microsoft surface pro 6 can attach to the backlit surface keyboard with a touchpad. There is a kickstand built right into the tablet which gives you various working angles. The tablet comes with multiple input options with most of the ports you will need.
The supported surface pen is very handy and works great. It still has a slight line jitter at slow speed but it is not that aggressive and the pen is totally usable. Overall if you want a portable pen tablet to draw on than this may be the right device for you.
PROs
Full windows operating system
Portable and customizable
Decent battery life
Come in different varients
CONs
Small screen
Lacks tablet like interface
6. Wacom Cinitq 16  – Budget display tablet from Wacom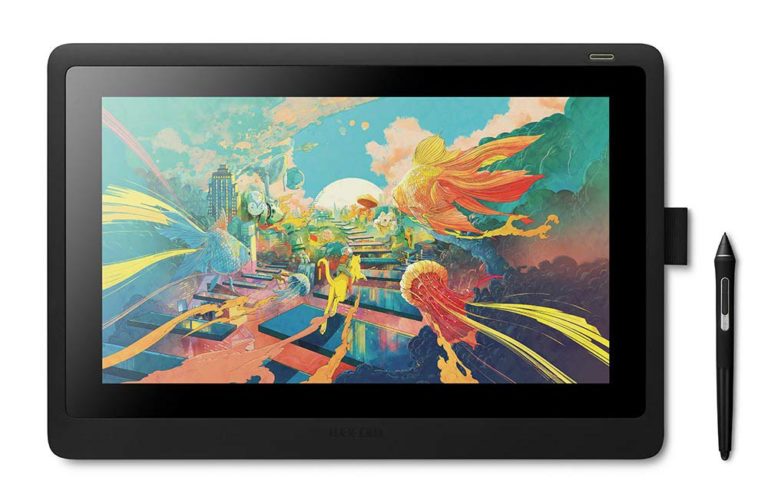 Wacom tablets are generally very expensive which makes them almost unaccessable for beginner artists. To address this issue, Wacom has come with Wacom Cintiq 16.
Wacom Cintiq may have gone cheap on the price department, but not on the features. You still get a very capable drawing tablet with premium features which have been directly brought down from the Pro models.
Screen
The tablet comes with a 15.6 inch Full HD screen. The screen has a matte finish and reduced bezels around the screen. The tablet is slim and lightweight which is easy to carry around.
One of the only downsides of the tablet is they do not have shortcut buttons. But if you use your keyboard for the shortcuts – it should not be a big dealbreaker. Wacom also comes with their shortcut remote called Wacom Expresskey Remote for those who really need customizable shortcut buttons.
Stylus – Wacom Pro Pen 2
Wacom Cintiq 16 comes with the Wacom Pro Pen 2. It is the same stylus you get with the premium Cintiq Pros, which makes the tablet a very lucrative choice. The pen has 8192 levels of pressure sensitivity with tilt recognition.
There are two buttons on the side of the pen which can be customized using the driver. The Pro Pen 2 is very ergonomic in shape which makes it comfortable to hold for prolonged sessions.
Check out the Wacom Cintiq 16 full review
PROs
Large 15.6 inch Full HD screen
Accurate colors
Matte display
Wacom Pro Pen 2 support
Pop Up stand
Lightweight and portable
CONs
No shortcut buttons on tablet
No dedicated Pen holder
7. Huion Kamvas Pro 22 HD – Bigger and Better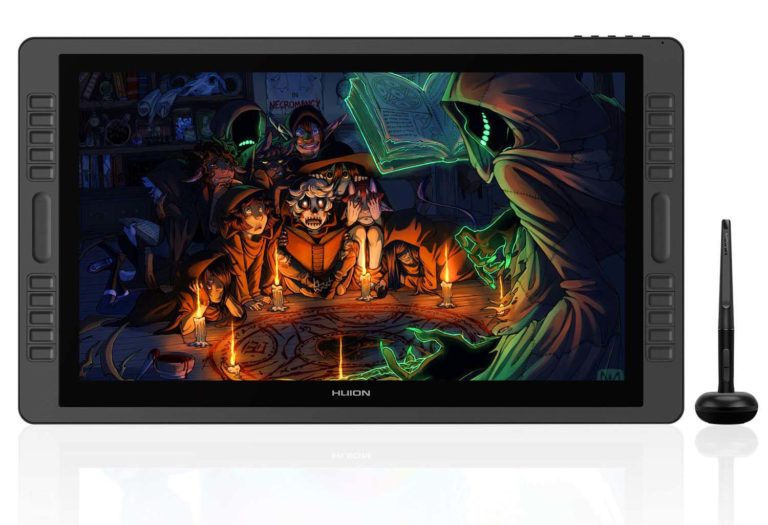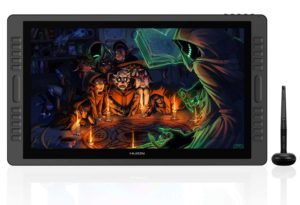 If a smaller tablet is not the cup of your tea and you want something bigger at an affordable range than Huion Kamvas Pro 22 is the perfect choice for you. It is one of the cheapest 22-inch tablet in the market and filled with a ton of really great features.
From the very first look, it looks like a very serious device. It has a Full HD screen of 21.5 inches with 100% sRGB color gamut. The screen is bright and vibrant with a viewing angle of 178°. To reduce reflection the screen has an anti-glare etched glass – which also provides a textured drawing surface.
There are 10 shortcut button and a touch bar on either side of the tablet making it a great option for left as well as right-handed people. The touch bar is used for performing simple tasks such as zoom, scroll and change the brush size. The tablet also comes with a pre-included stand which can go from 20° to 80°.
Pen/ Stylus – PW500 battery-free pen
Huion Kamvas Pro 22 comes with a stylus with 8192 levels of pressure sensitivity. It has a different shape from what you commonly see but at the same time, it is well balanced and ergonomic. It is a passive stylus which does not need charging.
There are two buttons on the side of the pen which are customizable and have a nice click to them. The pen also comes with a donut-shaped holder. The pen holder has a storage compartment inside which holds 10 extra pentips and a nib remover tool.
For connecting the tablet to the computer, the tablet has got a wide variety of ports like (USB, VGA, DVI and HDMI). You also get all the required cables in the box itself.
 There is a smaller version of the tablet called Huion Kamvas Pro 20 which has similar features and a slightly smaller screen (19.5 inch) – You also get tilt sensitivity in pen. 
PROs
Massive 21.5 inch Full HD screen
Matte display (etched glass)
Good stylus
Number of shortcut buttons
Stand preincluded in the box
CONs
No 4K resolution
Screen may be too big for some people
Heavy
8. Gaomon PD 1560 – value for money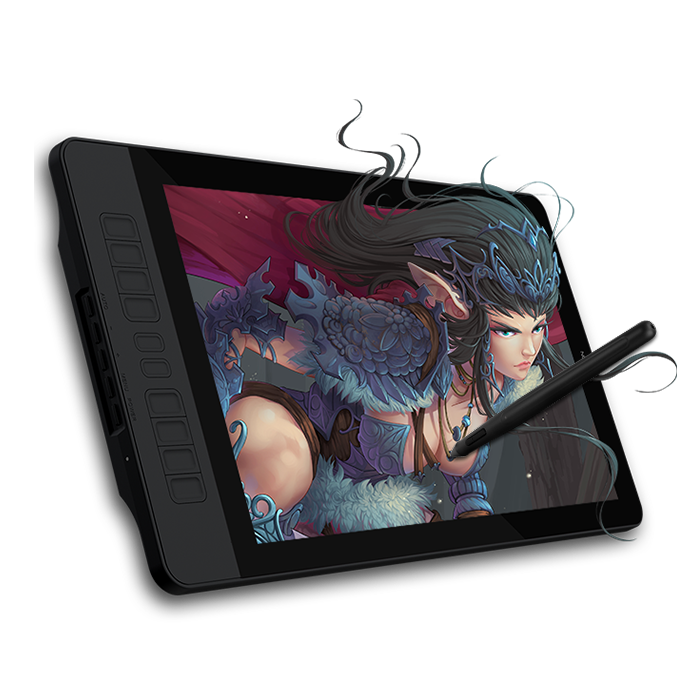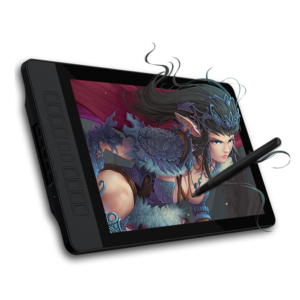 All the tablets mentioned above are somewhere in the range of expensive to medium range in terms of price. If you are a beginner or you don't want to spend hundreds of dollars on a display tablet, but still, want a good drawing experience than this tablet is for you.
The Gaomon Pd 1560 has all the features which you will find in high range Wacom tablets but at a smaller form factor.
Screen – Is 16 inches enough
This drawing tablet has a 15.6-inch screen. This is slightly smaller than all the other tablets we have seen so far which usually have 21 inches or 24-inch screens. But that is not a bad thing as many artists feel that a 21-inch screen may be a little too large for comfortable drawing and 16 inches is a better and more ergonomic size. The IPS display has good color production and the images look sharp and crisp.
The included pen has 8192 levels of pressure sensitivity. The pen performs great in terms of drawing consistent strokes. It also comes with a tablet stand which gives you a lot of angles to work with. It can go anywhere between 10 to 90 degrees.
There are a total of ten express keys all of which could be customized using the software.
The tablet has a modern minimalist design and comes in a dark grey color which looks professional. It looks like a well thought out and well put together device and in spite of the low price, it does not look an feel cheap.
In a nutshell if you are looking for an affordable drawing tablet without losing any feature and quality than this is the perfect device for you.
PROs
16.5 inch screen
Matte texture on display
1920 x 1080 resolution
Accurate colors
Best in terms of price to features
9. Xp Pen Artist 15.6 Pro – Best budget display tablet for beginners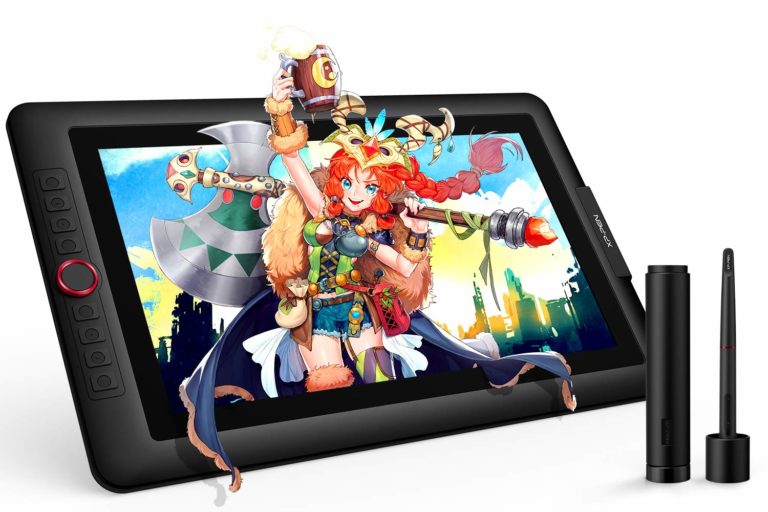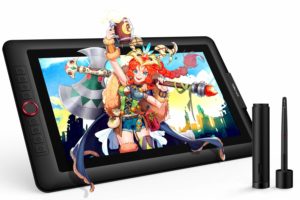 Budget tablets have been in the market for a long time. Most often than not they come with a lot of compromises, you get low-quality hardware with varying levels of limitations. Some of the budget tablets have small screen while others have a sub-par stylus.
Well, Xp pen Artist 15.6 Pro changes that. You get a complete package with great hardware and top of the line features – all under a budget.
The tablet has a Full HD laminated display. It is one of the first few tablets in the budget category which comes with a laminated screen. The colors are sharp and cover 88% NTSC color space.
The stylus of Artist 15.6 Pro has 8192 levels of pressure sensitivity, on top of that, it also comes with ±60° of tilt sensitivity. The stylus draws perfect strokes every single time – they are consistent and smooth and it does not suffer from the line jitter and inconsistent pressure issue like many other budget stylus do. You can see the full breakdown of the stylus and complete review of Artist 15.6 here.
The tablet has ample of shortcut options, you have a total of 8 shortcut buttons which can be set to custom keys with the help of driver settings. Along with buttons you also have a red roller in the center-right of the tablet.
Artist 15.6 Pro is the first tablet ever to implement a roller in their display tablets. The roller is very helpful and can perform tasks such as – zoom, rotate, pan, scroll and most important – change the size of brush and eraser by simply rotating the dial.
It comes with a pre-included tablet stand and a ton of other accessories. Overall it is the best deal out there and perfect for the beginner as well as pro artists.
PROs
16.5-inch laminated screen
1920 x 1080 resolution
8192 level of pen pressure with ±60° tilt
8 shortcut buttons with a roller
Slim and lightweight
Comes with a tablet stand
CONs
Single adjustment angle on tablet stand
Does not include a tablet bag
10. Huion Kamvas Pro 13 – most affordable drawing device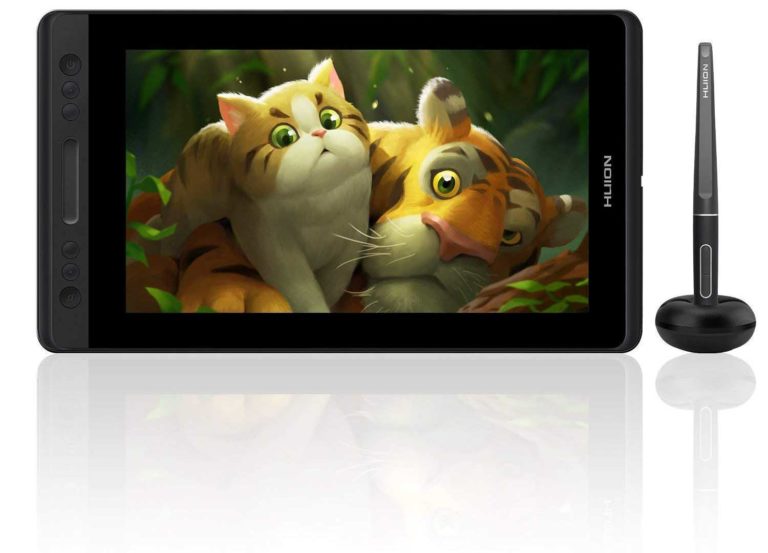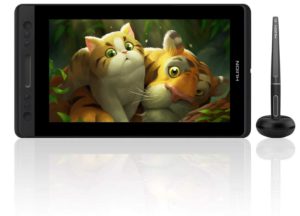 Many of the display tablets have a common issue called parallax. Where the strokes are a few millimeters away from where the tip of the pen is touching the surface.
One of the main reason for this happening is the layer which produces the images sits a few millimeters below the glass creating an unwanted depth.
Huion is the only company other than Wacom which comes with the laminated display. In these types of display, the top surface is fused with the display which results in no parallax.
Display – best display on a budget
It has got a really good 1920 x 1080 screen with 120% Adobe RGB color gamut producing very accurate colors with deep blacks. It comes with 4 shortcut keys, 1 function key, a touch bar and a power switch at the left. The pack also includes a decent tablet stand. The device is made of aluminum alloy with large rubber pads at the rear.
It comes with a pen with 8192 levels of pressure along with tilt recognition up to 60 degrees. It is a passive pen which does not need to be charged. The included pen holder houses extra pentips and a nib remover tool. It connects to the computer through a type-c USB port using a 3 in 1 cable.
It is a well made and very functional device which is slim and portable enough to carry in your backpack.
PROs
Laminated anti glare screen
13.3 inches 1920 x 1080 resolution
Passive pen – No need to charge
8192 levels of pressure and 60 degree tilt support
Comes with a tablet stand
CONs
Just 4 shortcut buttons
Does not come with a tablet bag/pouch
How go pick the right pen display tablet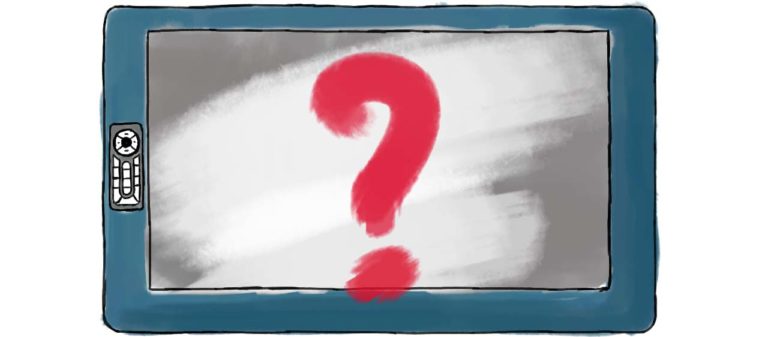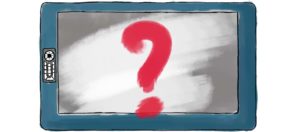 There are a lot of factors you should consider when buying a drawing tablet but one of the most important things is to figure out what you actually need. And of course budget also plays a big and decisive role. Here are some features you should look into before buying a drawing tablet.
Screen – Size, color and brightness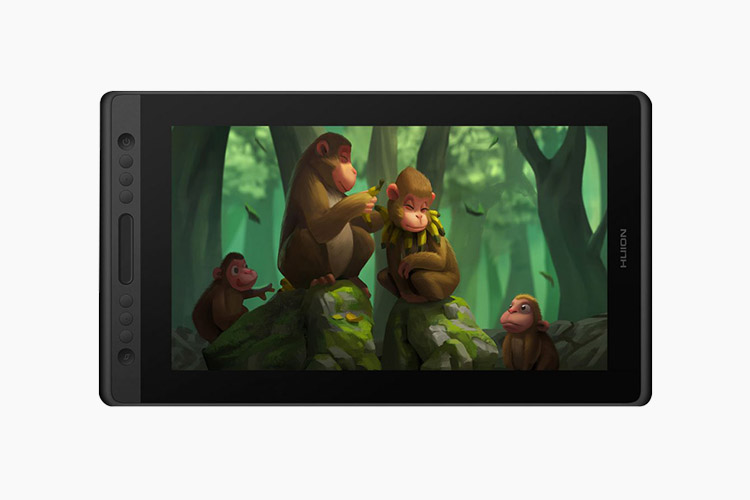 There are tablets which are as big as 32 inches and at the same time, there are display tablets which can be 12 inches in size. If we talk about tablets like iPad then you may be dealing with a 10-inch screen size.
A big 32 inch may give you a lot of space to work with and a warm feeling but it is not a good choice if you are looking for something portable. In that case, you are better off with a small-sized device. The big screen also means that you will have to move your hand more and move your eyes and neck far more often.
This will give you a feeling of fatigue in longer drawing periods. That is the reason many people believe a 16-inch tablet is a better choice as it is not too big to overwhelm you and not too small to bug you either. Overall it depends on your personal preference and what is more important to you.
Color – Screen calibration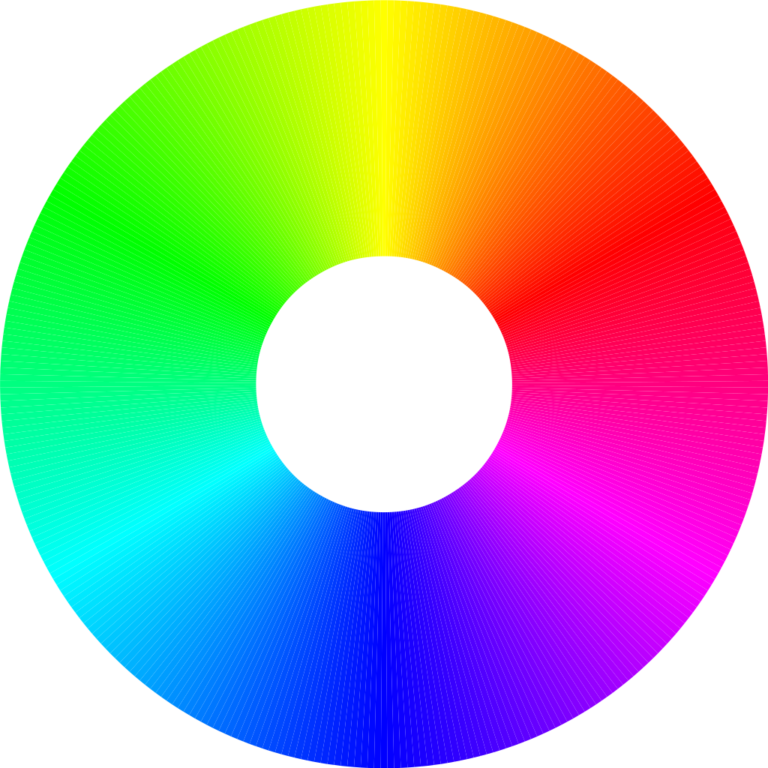 Everyone knows as a digital artist you need an accurate screen. Many of the screens come with an almost full Adobe RGB color coverage and have a life like real colors which does not look desaturated or oversaturated. Most of the drawing monitors have color, brightness and contrast setting buttons to adjust it to your preference.
Many of the professional artists like to use a monitor calibration device to perfectly set the screen before working. A lot of screen with full sRGB and Adobe RGB color pallet are easy to calibrate as they already have the capacity to produce accurate colors and just need a little bit of tweaking but some cheap devices simply cannot produce certain colors no matter how you calibrate it.
One more factor which affects the colors is the matte texture on the display. Well matte displays are great at it diffuses reflection and give more hold to the pen tip but at the same time, they also interfere with colors especially black colors. But the advantage of a matte screen is more than their disadvantages and that is why many people prefer it over glossy displays.
Resolution – HD vs 4K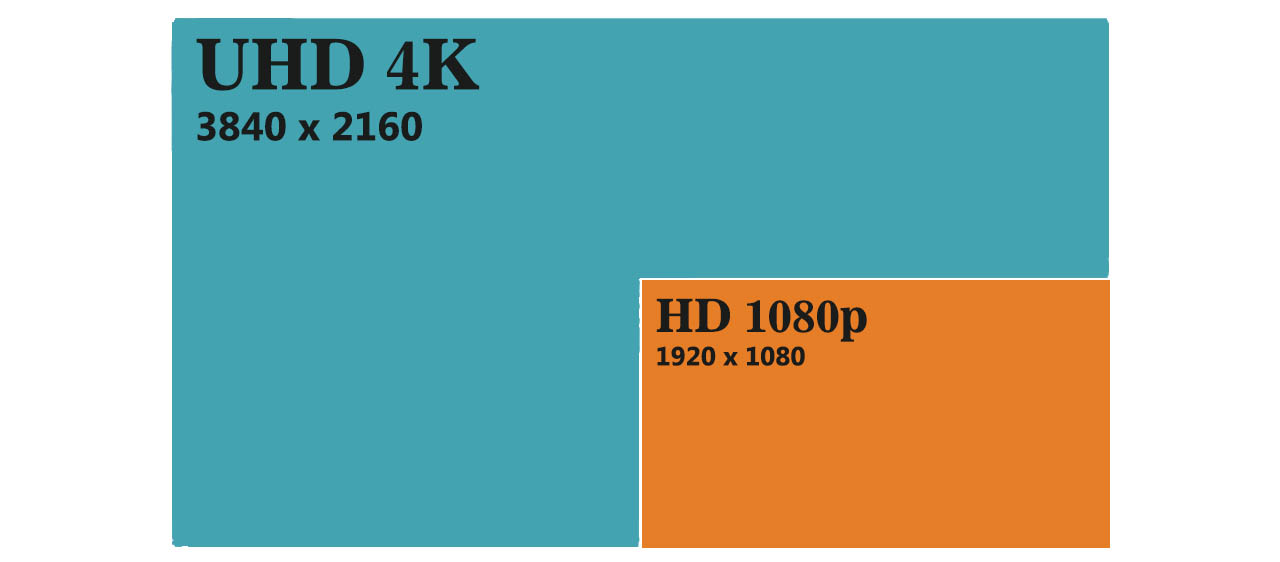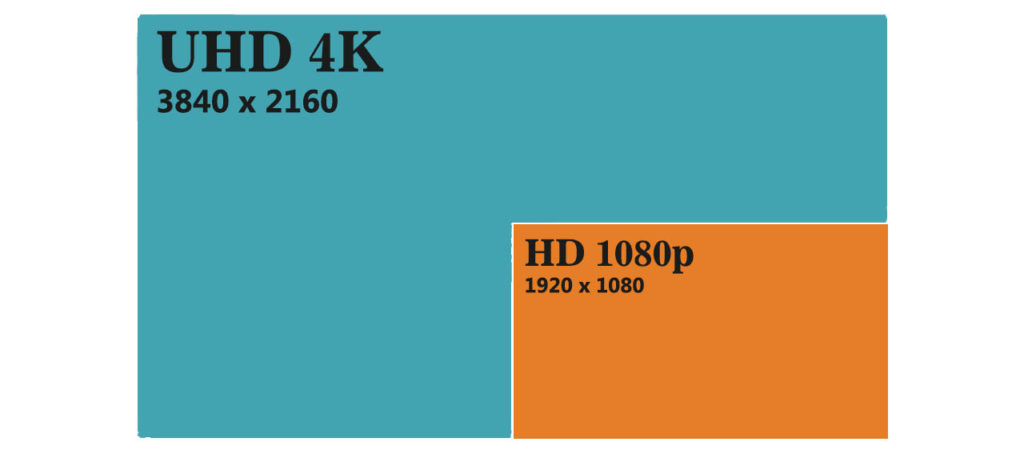 Most of the display tablets in the list come with a 1920 x 1080 p resolution display. There is some tablet which has 1080 p display but still claims to support 4K resolution. Technically that is true but that is no the same as a real 4K panel and you will easily notice the difference if you look at them side by side.
If you want the real 4K display than Wacom is the only drawing tablet with the real 4K panel.
Pen/ Stylus
Most of the pen comes with the pressure sensitivity of 8192 levels. But that does not tell us much about the actual performance of the pen. Ideally, you want a pen with a smooth transition between low and high-pressure sensitivity with no weird pressure bumps.
The line drawn by the pen should be straight with no curvy lines at slow as well as fast drawing speeds. There should be minimum to no parallax.
Pro Pen 2 which comes with the Wacom is the best stylus in the market followed by Apple pencil and Samsung s-pen. Pens that come with Wacom uses EMR technology which enables them to work without a battery. Nowadays this feature can also be found with lower range tablet.
Shortcut Buttons
Drawing tablets come with various types of shortcut buttons. Some of them also come with touch bar and touch ring. Ideally, there should be some buttons on the screen for making quick changes in brush size and other values.
Some of the drawing monitors like Wacom Cintiq pro does not have a single shortcut button on the device. They come with a separate accessory which has a total of 17 buttons and touch dial.
The shortcut buttons are absent in the tablets like iPad and Samsung galaxy tab but since these are small standalone devices, they don't really need them.
Stand – Ergonomics matters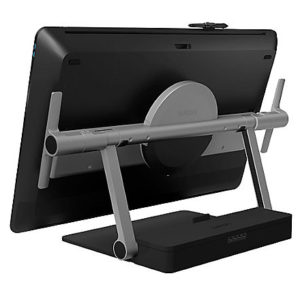 Drawing on the flat surface is not only uncomfortable but it can also give you neck pain and muscle cramp. Most of the high range of tablets come with a decent tablet stand with different adjustable angles. For the case when the tablet does not come with a stand, you can get it separately.
Why you should get a good display tablet
Unlike most of the electronic devices, drawing tablet lasts for years. Some of the people are still using the tablets which they bought 7-10 years ago. They only upgrade because their tablets are outdated and do not have the latest tech and specs. By this, it is safe to assume it is pretty much one-time investment and you should carefully buy it.
A good drawing tablet has the premium built quality and up to date features which ensures you can use them for a long time.
If you have any queries feel free to ask them in the comments below.
Looking for an affordable display tablet? Check out – Huion vs Xp Pen 13 inch display tablet comparison