Disclosure: As an Amazon Associate EssentialPicks earn from qualifying purchases.
---
Premium Drawing tablets are expensive – and many artists and hobbyists cannot justify spending so much money on them.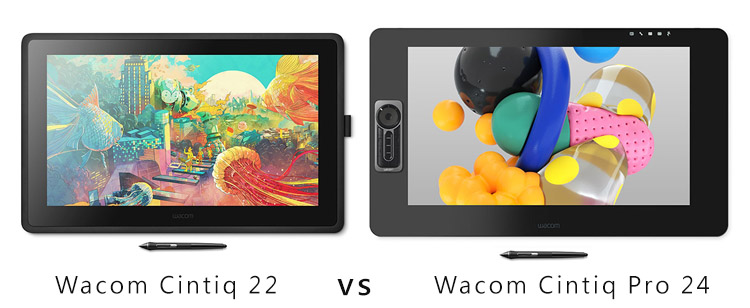 To address this, Wacom introduced the Cintiq 16 as a budget alternative for those who want the features of the premium drawing tablet at pocket-friendly prices.
Following the success of Cintiq 16, there was a huge demand from artists, for a larger drawing tablet. It led to the launch of Wacom Cintiq 22 which is seen as a budget alternative to the 24 inch Cintiq Pro.
This article will compare Wacom Cintiq 22 and Cintiq Pro 24 to help you decide – which is a better drawing device and which tablet will fit your needs better.
In this article, we will also look at the compromises that Wacom Cintiq 22 made to bring down the prices. With that said let's get started.
Wacom Cintiq 22 vs Wacom Cintiq Pro – Specs comparison
Here is a quick comparison of the main features and specs these tablets come with.
Wacom Cintiq 22
Wacom Cintiq Pro 24
Tablet Size (Diagonal)
21.5 Inch
23.6 Inch
Active Area
18.7 x 10.5 in
20.55 X 11.57 in
Dimension
22.4 x 14.1 x 1.6 in
26.65 x 15.5 x 1.9 in
Resolution
1920 x 1080 (Full HD)
3840x2160 (4K-UHD)
Color Accuracy
72% NTSC
96% sRGB
Adobe RGB Coverage Ratio: 99%
Multitouch
No
Yes (optional)
Brightness
210 cd/m2
235 cd/m2
Stylus
Wacom Pro Pen 2
Wacom Pro Pen 2
Stylus Buttons
2 Side + 1 Eraser
2 Side + 1 Eraser
Pressure and Tilt
8192 levels, ±60°
8192 levels, ±60°
Response Time
22 ms
14 ms
Weight
5.6 kg (11.5 lbs)
7.2 kg (15.87 lbs)
Shortcut Options
Expresskey Remote (Not Included)
Expresskey Remote (Included)
Tablet Stand
Wacom Adjustable Stand
Built-in Fold out legs
Latest Price
Check on Amazon
Check on Amazon
Display – Wacom Cintiq 22 and Cintiq Pro
A display is for sure one of the most important parts of a drawing tablet. After all, that is where you draw stuff and see things. A high-end drawing tablet should have a high-resolution screen as well as display accurate colors.
Resolution – Full HD and 4K
Looking at the comparison table, it is clear that the Wacom Cintiq Pro has a display with a higher resolution. The Wacom Cintiq 22 comes with a 1080p Full HD resolution whereas the Cintiq Pro 24 has a 4K(UHD) screen.
For all the professionals out there, if you are looking for a larger (above 20 inch) drawing tablet with a 4K display, the Wacom Cintiq Pro (Amazon) is the one and only option. It is available in 24 and 32-inch display sizes.
Now coming back to our budget-friendly Wacom Cintiq 22. A 4K display would have been a great option but that would also have inflated the price of the tablet. So overall, it is a fair compromise.
Also, a 1080p display on a 22-inch display is definitely stretching the resolution but still, the sharpness is more than enough for most of the artists.
Color Accuracy
Using the right colors is one of the very important parts of making a digital painting and editing photos. Wacom understands this and that is why their tablets have one of the most color-accurate displays in a drawing tablet.
Both the Wacom Cintiq and the Wacom Cintiq Pro comes with wide color gamut support.
To further ensure the color accuracy, all the Wacom tablets are factory calibrated and can be reset to their original settings.
As you would expect, the Wacom Cintiq Pro is slightly better in terms of color accuracy. The Cintiq Pro comes with 99% Adobe RGB color coverage whereas the Wacom Cintiq 22 has the color coverage of 96% sRGB.
In real life usage, this difference in color is not that noticeable and you would have an equally good drawing experience on both these screens.
The viewing angles of these tablets are also very good and you wouldn't notice any color shift or artifacts when looking from steep angles.
Brightness
The displays of both the tablets have brightness in the range of 210 to 240 cd/m2. For comparison, most laptops come with the display brightness of 310 cd/m2.
A 22-inch and 24-inch drawing tablets are big devices that always stay indoors – in the office or studio. Unlike laptops, you do not take them outside or use them under direct sunlight. So under such a controlled lighting setup, a 240 Candella brightness is sufficient.
Display size and working area
The actual screen length (diagonally) of the Wacom Cintiq Pro 24 is 23.6 inches and the Wacom Cintiq 22 is 21.5 inches.
These displays have an aspect ratio of 16:9 which gives you the active working surface of 20.55 X 11.57 in for Wacom Cintiq Pro 24 and 18.7 x 10.5 in for Cintiq 22.
Multitouch Support – Does multitouch really matters?
The Cintiq Pro comes in two variants – one with multitouch and one without it. The Wacom Cintiq 22, on the other hand, does not come with any touch support – whatsoever.
But the question do you really need multitouch in a drawing tablet?
Being able to perform shortcuts such as zoom, pan, scroll and rotate using touch-based gestures can be very convenient.
But the only issue is – Multitouch support on the Wacom Cintiq is pretty terrible. Its palm rejection is bad and the overall touch experience feels laggy and unreliable. Plus you have to pay extra for this feature.
Most of the artists simple choose the tablet without the multitouch or just stop using it after a while. But if you still want it Cintiq Pro 24 has it.
Stylus accuracy
The pen input is accuracy is one of the important differences between the Wacom Cintiq 22 and the Wacom Cintiq Pro 24.

The Wacom Cintiq Pro 24 has a pen accuracy of around 0.1 mm whereas the cheaper Wacom Cintiq 22 has a stylus accuracy of 0.2 mm. 
The Cintiq 22 does not have a laminated display, whereas there is no confirmation on whether the Cintiq Pro 2 has a laminated display or not.
Wacom Etched glass
Drawing on a glass panel using a plastic nib makes your stylus glide smoothly to the point that it feels out of control.
The Wacom Cintiq Pro 24 uses etched glass. The glass has minute cuts on the surface which provides resistance and stops the pen from sliding too much – giving you better control over the stylus.
The etching on the glass also gives it a matte texture. The matte screen reduces glare and reflections that allow you to comfortably work in a bright environment.
To save cost, the Wacom Cintiq 22 uses an anti-glare film. As the name suggests, it reduces glare as well as has a matte surface with a textured finish.
The etched glass lasts longer and feels better to draw on (kind of like a paper) compared to the anti-glare film on the Cintiq 22. On the other hand, the plastic film of Cintiq 22 can be easily replaced.
In real life usage, the texture on the Wacom Cintiq Pro 24 is more aggressive as compared to Wacom Cintiq 22. Now some people like it while others prefer the texture of Cintiq 22 more.
Stylus – Wacom Pro Pen 2
Both the tablets come with the exact same stylus – Wacom Pro Pen 2. Now it is a well-known fact amongst the art community that the Wacom Pro Pen 2 is one of the best stylus in the market. It has a well-balanced pressure sensitivity as well as tilt support up to ±60° degrees.
It is a passive stylus, which means it does not needs to be charged and gets its power wirelessly from the tablet with the help of EMR.
Response rate
How fast the tablet responds to your stylus input is what we call the response rate. Slower response time can have a negative impact on your drawing experience. But the good news is most of the tables nowadays come with minimal response times.
The Wacom Cintiq 22 has the response rate of 22 milliseconds whereas the Wacom Cintiq Pro 24 has a response rate of 14 milliseconds, even though they use the exact same stylus.
Shape and size of the stylus
The Wacom Pro Pen 2 has an ergonomic design which makes your drawing experience very comfortable especially on those long drawing sessions. It has a wider tip which slowly tapers towards the back.
The stylus has a silicon material on the first half of the body which provides a better grip and does not slip around in sweaty hands.
Shortcut buttons on Stylus
There are a total of three shortcut buttons on the Pro Pen. Two are located on the side and the third button is an eraser (pressure sensitive) and located at the back.
The two side buttons can be programmed to any shortcut of your choice in the pen settings.
Pen holder
The Cintiq Pro 24 comes with a circular pen holder. It can hold your pen in an upright or flat position. The pen holder also doubles up as nib storage.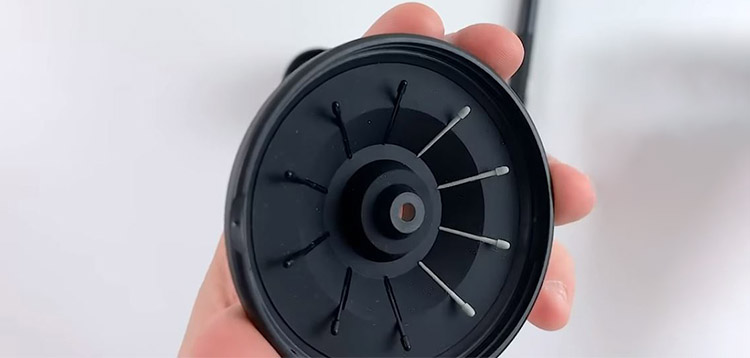 There are a total of 10 extra pen nibs included, out of which 6 are normal plastic nib and 4 are felt nibs. The felt nibs have a rubbery feel and provide more grip on the drawing surface.
The Cintiq 22 comes with a simple fabric loop to hold the pen. The loop is attached to the side of the tablet. It also houses the 3 extra pen nibs included with Cintiq 22.
Supported stylus

Wacom makes a number of stylus such as Wacom Pro Pen Slim, Wacom Pro Pen 3D, Wacom Art Pen, Wacom Airbrush pen, Wacom Classic Pen, Wacom Grip pen.
Both the Cintiq 22 as well as the Cintiq Pro 24 are compatible with all the above-mentioned styli.
Wacom Expresskey Remote
Wacom Expresskey remote is a wireless shortcut remote that has a total of 17 buttons and a touch ring. It connects wirelessly to the computer and can work for around 160 hours on 2 hours of full charge.
All the buttons on the Expresskey remote can be programmed to any shortcut of your choice. It works across all the drawing, editing and modeling applications.
The multi-purpose touch ring on the Expresskey allows you to perform shortcuts like Pan, Zoom, Scroll as well as change the size of the brush and eraser.
The Expresskey remote also supports other Shortcut features from Wacom like Radial Menu and Precision Mode.
The Wacom Cintiq Pro 24 comes with a free Expresskey remote. It has magnets on both the side bezels of the display to magnetically stick the Shortcut Remote.
The Wacom Cintiq 22 supports the Expresskey Remote. But the Remote is not included in the box and can be purchased separately on Amazon.
Cintiq 22 and Cintiq Pro 24 tablet stand – Inbuilt, Included or Vesa Mount
Drawing on a flat surface with a 22 or 24-inch tablet can be inconvenient, and can even lead to back pain and fatigue on long term usage.
The Wacom Cintiq Pro 24 comes with inbuilt flip-out legs which give you an elevation of around 19°. This is a comfortable working angle but if you want more flexibility you can get an additional Cintiq Ergo Stand or the Wacom Flex Arm.
The Wacom Ergo stand for the Cintiq Pro is fairly complex as it allows you to rotate as well as elevate your tablet for a comfortable drawing position.
Wacom Ergo Stand
Only compatible with Cintiq Pro 24 (DTK2420, DTH2420); Extension power cords for both models included
Raise, tilt and rotate your Cintiq Pro 24 into the best working position for you
Last update on 2023-12-08 at 05:44 / Affiliate links / Images from Amazon Product Advertising API
But these all features also push the price of these stands towards the expensive side, and when we say expensive we mean really expensive.
The tablet stand setup is quite different for the Cintiq 22. Unlike the Cintiq Pros, the Cintiq 22 does not have an inbuilt flip-out stand. Instead, it comes with a preinstalled Wacom adjustable stand.
Further, the stand is mounted on a VESA mount, meaning you can even mount it on other tablet stands such as Wacom Flex Arm.
Overall the stand that comes with the Cintiq 22 is better than the Inbuilt Cintiq Pro stand. It comes free in the box and has multiple adjustable angles compared to just one on Cintiq Pro.
How much space will these tablets take on your desk?
The Wacom Cintiq Pro 24 comes with a 23.6-inch display but there is a lot of empty space around the screen (bezels). It leads to the tablet taking a lot more space on your table.
The dimensions of the Cintiq Pro 24 is 26.65 x 15.5 x 1.9 inches. Meaning you must have at least 27 inches of horizontal space on your table.
Wacom Cintiq 22, on the other hand, has a 22-inch screen with smaller bezels around the screen. It has a dimension of 22.4 x 14.1 x 1.6 in, which means you need more than 23 inches of horizontal space on your table.
Cintiq 22 and Cintiq Pro 24 – Connectivity and Included Cables
Wacom Cintiq is not a standalone drawing tablet meaning it needs to be connected to a computer. The tablet connects to the computer using different sets of cables.
Here are all the included cables you get with these tablets
Wacom Cintiq 22
HDMI cable (2m)
USB 2.0 cable (2m)
AC adapter (12V, 5A, 60W)
Power cable (1.8m)
Wacom Cintiq Pro 24
A USB cable (3m)
DisplayPort cable (3m)
HDMI 2.0 cable (3m)
USB-C cable (1.8m)
DisplayPort to Mini DisplayPort adapter
Driver
A driver is a software that helps the computer to understand the pen, pressure and tilt data. It also gives additional tablet settings like mapping your display and setting up hue, saturation as well as the color temperature of the screen.
In addition to all these, it also allows you to customize the shortcut buttons on the pen as well as the Wacom Shortcut Remote.
These drivers are free to download and available for both Windows and Mac devices. Without installing these drivers the tablets won't work.
Wacom Cintiq Pro Engine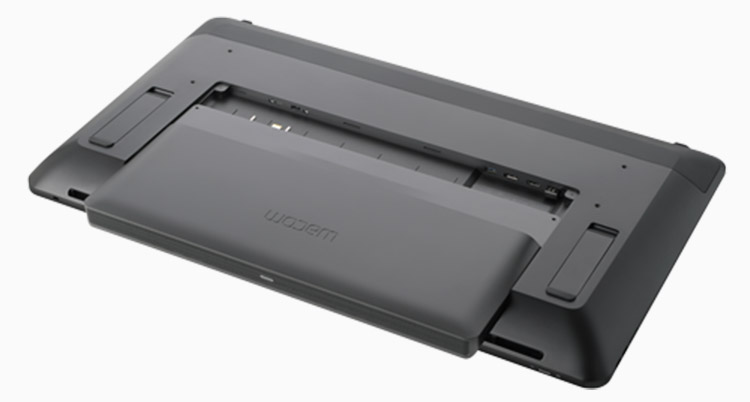 There is a huge empty space at the back of the Cintiq Pro 24. That space is there for the Wacom Cintiq Pro Engine. It is essentially a Windows computer that directly fits at the back of the supported Cintiq Pro models and makes your table a standalone drawing device.
Price – Tablet and Accessories
Price is one of the main reasons why so many artists are excited about the Wacom Cintiq 22. Compared to Cintiq 22, the Cintiq Pro 24 is 1.5 times more expensive.
Not only that, if you want the touch variant of the Cintiq Pro 24, that will add an additional couple hundred bucks in the price tag. Want a better tablet stand? Add another couple hundred bucks overall stretching the price even further.
With Cintiq 22, you essentially get everything that you need to get started. It comes with a very versatile stand – so no need for an upgrade. Plus if you are someone who uses a keyboard for in-application shortcuts, then you don't even need the Expresskey remote.
Summary – Which tablet is the right fit for you?
If you are someone who is heavily dependent on these tablets to get your work done and use it on a daily basis. You would definitely want the best possible drawing tablet out there.
The Wacom Cintiq Pro 24 (Amazon) has a 4k display, great color accuracy, and faster response time. Plus it is a pro tablet meaning all the necessary things have been well thought out so that your drawing tablet is as seamless as possible.
Like the side-bezels of the tablet have magnets allowing you to stick the Wacom Expresskey remote anywhere across the tablet. The tablet can be rotated and tilted at any angle or even lifted above your desk.
The Display has etched glass with anti-glare properties. All these small things make a huge positive difference in the overall usage of the drawing tablet and you can't simply get these things in the budget-oriented tablets.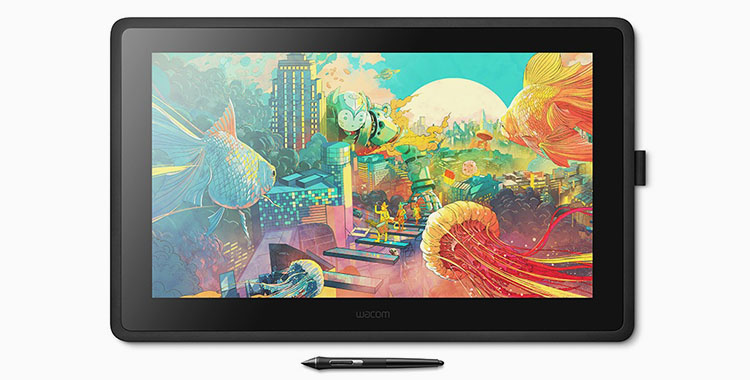 On the other side, the Wacom Cintiq 22 (Amazon) is for those who want a large drawing tablet at a budget-friendly price.
The tablet makes the right compromises at all the right places to bring down the cost of the tablet without compromising with the Wacom drawing experience.
The Cintiq 22 has a 22-inch display, comes with the top of the line stylus (Pro Pen 2) and a highly adjustable tablet stand. Plus it has the support for the Wacom Expresskey remote as well as different Wacom Styluses, opening gates for the future upgrades. All these features together make it a very compelling choice.
Related:
How Wacom Pens Work – EMR
Laminated display in drawing tablets