Disclosure: As an Amazon Associate EssentialPicks earn from qualifying purchases.
---
If you are an artist and looking for a – on the go drawing device that you can use outdoors, you essentially have two options.

Either go with Android and IOS devices which will require you to learn their new drawing apps in addition to completely changing your workflow. Or you can get a windows tablet and keep using the same drawing applications that you used before.
Wacom Mobile studio pro and Microsoft Surface Pro are the only mobile devices in the market that runs on a desktop operating system (Windows). 
This allows you to continue using all your favorite drawing and modeling applications while enjoying the benefits of going desk free.
So the question is – Which one of these two devices should you pick as your next drawing device?
Wacom Mobile Studio Pro and Microsoft Surface Pro
Both the Wacom Mobile studio pro and Microsoft Surface pro are very capable devices with each having their own set of features, advantages, and disadvantages.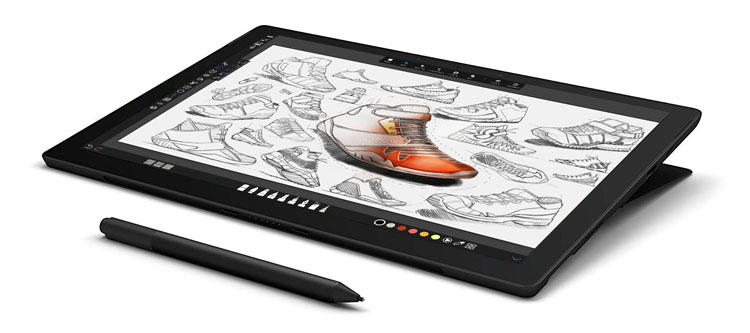 When selecting the right drawing tablet for your work, you have to compare features like Stylus, display, drawing features, performance, ports, accessories, stands and a lot more.
We have made a side by side comparison of these two tablets – from the perspective of a digital artist. Going through these features, one by one will help you decide – which tablet will serve your needs better.
With that said, let's have a quick introduction of these two tablets.
Wacom Mobile Studio Pro (2nd Gen): On the go tablet for Artists and Professionals
Wacom mobile studio is the only portable device that is specifically designed for artists. It comes with a number of great features that make drawing on this device convenient and fun.
Here is the list of all the important features this tablet comes with.
Wacom Mobile Studio Pro (2nd Gen.)
Dimension (L x W x H)
262 x 418 x 21 mm
10.2 x 16.5 x 0.8 in
Display Size
15.6 inch Or 13 inch
Resolution
UHD (3840 x 2160)
Color Accuracy
85% Adobe RGB
Processor
Intel® Core™ i7
Graphics
NVIDIA® Quadro® P1000, 4GB GDDR5
RAM
16 GB DDR (Upgradable)
Storage
256 GB SSD (Upgradable)
Pressure and Tilt
8192 Pressure and ±60° tilt
Shortcut Buttons
8 Buttons + Touch ring
Weight
2.10 kg / 4.7 lbs
Starting off with the size. The Mobile Studio Pro is available in two sizes – 13 inches and 16 inches. At the time of writing this article, only the 16-inch table is available with the 13-inch model coming soon.
The screen uses an IPS panel with a UHD (4K) resolution. It has a color accuracy of 85% Adobe RGB and supports multitouch.
Stylus – Wacom Pro Pen 2
How good of a drawing experience you will have ultimately comes down to the stylus. One of the biggest advantages of a Wacom tablet is you get their amazing stylus called Wacom Pro Pen 2.
The Wacom Pro Pen 2 is one of the most capable stylus in the market which is loved by artists for its excellent tracking as well as balanced pressure and tilt sensitivity.
As an artist, you have to continuously work for hours. To make your drawing experience comfortable, the Wacom Pro Pen 2 comes with an ergonomic shape. It ensures you feel extremely comfortable while using the stylus on those long drawing sessions.
Connectivity (Ports)
Here are all the ports you get with Wacom Mobile Studio Pro.
1 x USB-C 3.1  Gen 2
2 x USB-C Thunderbolt 3
1 x Audio-combo (Headset)
1 x Standard SD card reader
PROs – What we liked
Excellent Stylus
Good color accuracy
Comes with a thunderbolt 3
Multitouch support
Tablet stand included
Matte display with a textured surface
CONs – What can be improved
Average palm rejection
Expensive
Limited angles in tablet stand
Microsoft Surface Pro 7: All in one tablet for drawing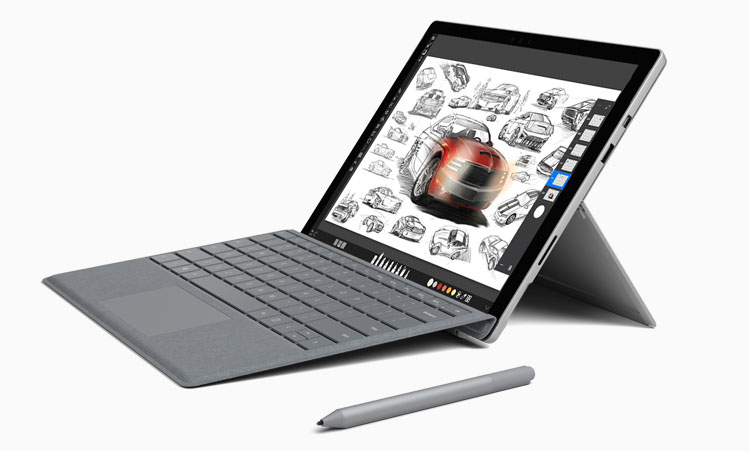 The Microsoft Surface Pro is an all-in-one solution to all your digital needs. It has the power of a computer and a form factor of a tablet, giving you the best of both worlds.
Here are all the important features of Microsoft Surface Pro.
Microsoft Surface Pro 7
Dimension (L x W x H)
292 x 201 x 8.5 mm
11.5 x 7.9 x 0.33 inch
Display Size
12.3 inches
Resolution
2736 x 1824 (267 PPI)
Color Accuracy
98% sRGB
Processor
Dual-core 10th Gen Intel® Core™ i3-1005G1 Processor
Quad-core 10th Gen Intel® Core™ i5-1035G4 Processor
Quad-core 10th Gen Intel® Core™ i7-1065G7 Processor
Graphics
Intel® UHD Graphics (i3)
Intel® Iris™ Plus Graphics (i5, i7)
RAM
4GB, 8GB, or 16GB LPDDR4x RAM
Storage
128GB, 256GB, 512GB, or 1TB (SSD)
Pressure and Tilt
4096 Pressure Levels and Tilt Support
Shortcut Buttons
No Shortcut buttons
Weight
775 g/ 1.7 pound
Power, customization and upgradability
Microsoft Surface Pro has a lot going for it. Power and portability is the biggest plus point of Microsoft surface pro 7.
They come to the lastest 10th Gen intel processors, which have a much better performance than previous generation processors. You can choose either i3, i5 or even i7 – whatever suits your needs and budget.
Similarly, there are multiple options for RAM and Onboard storage, giving you a wide range of options.
One important thing to notice is – the RAM and SSD are not upgradeable in the future, so it is important to select the right configuration in the beginning.
Screen – Bezel and aspect ratio
Talking of display, the surface pro may not have the smallest bezel but it is much smaller than what you get with Wacom Mobile Studio Pro.
The Surface Pro has an aspect ratio of 3:2 whereas Wacom Mobile Studio Pro comes with 16:9 aspect ratio.
Shortcut Buttons
When we use any drawing application, we have to deal with a lot of shortcuts for making quick changes. Wacom comes with multiple programmable buttons whereas the Surface Pro comes with no buttons.
But the good news is Surface Pro supports an external flip cover that doubles up as a keyboard. This means that you get a full range of shortcuts options via Keyboard.
Stylus –  The Surface Pen
Microsoft has made a massive improvement in this department and has solved all the issues that bugged previous generation Surface pens.

The latency has improved, the pressure feels normal, tilt recognition works as expected and the latency issues are gone. Overall it feels like any other great stylus in the market and provides a pleasant drawing experience. The rear side of the Surface Pen works like an eraser.
One of the benefits of Surface Pro 7 over Wacom is – they have excellent palm rejection.
Connectivity and ports
These are the ports you get with Microsoft Surface Pro 7.
1 x USB-C™
1 x USB-A
3.5 mm headphone jack
1 x Surface Connect port
Surface Type Cover port⁴
Micro SDXC card reader
SIM card slot
PROs – What we liked
Multiple options for internal specs
Good display quality
Improved Stylus
Great drawing and writing experience
3:2 Aspect ratio
Supports sim card
Built-in tablet stand
CONs – What can be improved
No Thunderbolt 3 Support
Keyboard and Pen sold separately
Average display brightness
Bezels
Stylus – Wacom Pro Pen 2 vs Microsoft Surface Pen
A stylus has a major impact on your drawing experience and for that reason, it is important to give it as much attention as the tablet itself.
Features – Pressure and tilt
Both stylus comes with pressure and tilt detection. The Wacom Pro Pen 2 has 8192 levels of pressure sensitivity whereas the Surface Pen has 4096 levels of pressure.
This difference in pressure range does not have that big of a difference in real-life usage.
Shortcut buttons
There are two shortcut buttons on the side of Wacom Pro Pen 2. These two buttons can be programmed to any shortcut in tablet settings and work with any application.
The Surface Pen has an eraser at the back and a button on the side. The eraser can be clicked or long pressed to take a screenshot or open any desired applications.
Shape and size
Surface Pen is cylindrical in shape with a flat edge that helps it to magnetically stick to the side of the tablet. It feels similar to a generic Pen in width and size.
Wacom Pro Pen 2, on the other hand, has an ergonomic design with a wider neck that slowly tapers towards the back. This ergonomic design is liked by the artist and provides comfort in longer writing sessions.
Battery and charging
The Wacom Pro Pen 2 is a passive stylus, which means it does not have a battery inside and does not need to be charged. It wirelessly takes its power from the tablet with the help of EMR. Click here to read more about EMR and how Wacom Pens Work.
The Microsoft Surface Pen works on an AAAA battery, that needs to be replaced once it drains out.
Overall Wacom Pro Pen takes a slight lead as it has a better pen calibration and balanced pressure and tilt recognition, a batteryless operation, and a more comfortable shape.
With that said, the Surface pen is a great inking device on its own and you will have a great drawing experience with both stylus.
The stylus of the Surface Pro 7 can be magnetically attached to the side of the tablet. With Wacom, you get a separate pen holder to store the stylus.
MultiTouch and Palm rejection
Mobile Studio Pro, as well as Surface Pro 7, comes with multitouch support. Which essentially means your display is a touch screen. The touch can be helpful in a lot of drawing applications as it helps with things like zoom, pan, scroll, and rotating the canvas.
When working with a pen-enabled device with touch support, it is important that the tablet has a good palm rejection.
The Surface Pro takes the lead in this category as it has an excellent palm rejection. The palm rejection on Wacom Mobile Studio Pro kind of works but it is not super accurate, luckily there is an option in the settings to turn off the touchscreen.
Display – Size, resolution, color accuracy and Brightness
As an artist, you want your screen to be as big as possible. But as you increase the screen size, you start to lose portability.
If you are someone who leans more towards portability then Microsoft Surface Pro is a better option. it comes with a screen size of 12.3 inches which provides a sufficiently large working area in a portable package.
Wacom Mobile Studio Pro comes with a 15.6-inch screen with buttons on the sides. It is also at a heavier end of the scale, weighing around 2.10 kg / 4.7 lbs.
Resolution
Color accuracy and resolution are important for artists. As an artist, you should be able to see minute details in your painting.
The Wacom Mobile Studio Pro has a 3840 x 2160 UHD(4K) resolution screen with 280 pixels per inch, whereas Surface Pro 7 comes with a resolution of 2736 x 1824. Which is sufficiently sharp for a 12.3-inch screen, further it has 267 pixels per inch.
For reference iPads come with 264 pixels per inch, meaning both the tablets produces sharp images.
Color accuracy and Brightness
Both tablets are comparable in color accuracy. Wacom Mobile Studio Pro comes with 85% Adobe RGB support and Microsoft Surface Pro covers 98% sRGB color gamut.
Similar results can be seen in the brightness department, Mobile Studio Pro has a brightness of 310 Nits and Surface Pro 7 comes with 340 nits of brightness.
These tables are sufficiently bright to be used in the well-lit indoor environment but they can be difficult to see in direct sunlight.
Matte screen vs Glossy screen
One more thing to notice is the Wacom tablet comes with an Etched glass, that gives the screen a matte texture. The matte screen minimizes reflections making it easier to see the images in direct light or when sitting opposite to a window.
The etched glass also helps with providing friction to the pen making it easier to control the pen on the glass screen.
The surface Pro 7 comes with a glossy screen. The pen of the Surface Pen comes with a soft pen-tip which makes it comfortable to write on a glass surface.
Ports and connectivity
Ports are important for creative individuals. In the last few years, the industry has been pushing itself towards "all things USB-C". But we are not there yet and that is the cause of big inconvenience.
Most of the new generation devices do not have common ports like full-sized SD-card readers. With that said let's have a look at what Mobile Studio Pro and Surface Pro 7 comes with.
Wacom Mobile Studio Pro comes with
1 x USB-C 3.1 Gen2
2 x Thunderbolt3
1 x 3.5 mm headphone jack
1 x Standard SD card reader
Microsoft Surface Pro 7 has
1 x USB-C™
1 x USB-A
3.5 mm headphone jack
1 x Surface Connect port
MicroSD card reader
SIM card slot
Surface Type Cover port⁴
As you can see, both these tablets have quite a number of ports, in spite of being portable devices which is a good thing to notice.
The Wacom Mobile Studio does not come with a full-size USB-A port but it has thunderbolt 3 support, that allows you to connect high-resolution external displays to your tablet.
Surface Pro 7 comes with quite a number of connectivity ports including the USB-A, but it does not have the thunderbolt 3 supported port. There is a magnetic port at the bottom of the tablet for attaching the keyboard-type cover.
Tablet stand – Inbuilt vs External
Tablet stands are important as they allow you to place your tablet at a more comfortable angle. Surface Pro 7 has a massive advantage in this category. It comes with a high-quality built-in stand which is integrated into the design of the tablet itself.
The stand has an advanced hinge mechanism that allows you to hold the tablet at any angle and use the stylus at the same time.
Next coming to the Wacom Mobile Studio Pro stand. It does not come with an inbuilt stand but Wacom has made a custom-designed metallic stand that is made specifically for this device.
It firmly attaches to the tablet and gives you three adjustment angles. The whole stand can be folded flat into a very thin metal plate, which makes it convenient to travel with.
Shortcut options – Customization and Radial menu
The shortcuts in a drawing program give a massive boost to our workflow. Being able to perform frequently used tasks such as undo-redo, selecting colors, switching between pen and eraser and being able to change the size of brushes on a click of a button saves a lot of time and effort.
Shortcut buttons on Second Generation Wacom Mobile Studio Pro
If we look at our devices you can see that – as Wacom is an artist-centric brand, they have integrated a total of 8 physical shortcut buttons and a multipurpose touch ring into the Mobile Studio Pro.
These buttons can be programmed to any shortcut of your choice in the tablet settings. The settings also give additional shortcut widgets such as Radial menus, which can be a massive productivity booster.
The shortcut settings come with a very neat setting called "Application-specific short buttons". If you work with multiple drawing and photo-editing applications you know that each one of them has its own unique set of shortcuts.
The Wacom shortcut button settings allow you to assign unique shortcuts for individual applications. The best part is, once you switch from one application to another, the Wacom Driver automatically updates the shortcut for that application.
Shortcut options on Microsoft Surface Pro 7
There are no physical shortcut buttons available on the Surface Pro. But that does not mean you can't use shortcuts.
There are two ways of using shortcut buttons: One – via the keyboard cover. It magnetically attaches to the Surface Pro and works like a normal keyboard and gives you unlimited shortcut buttons.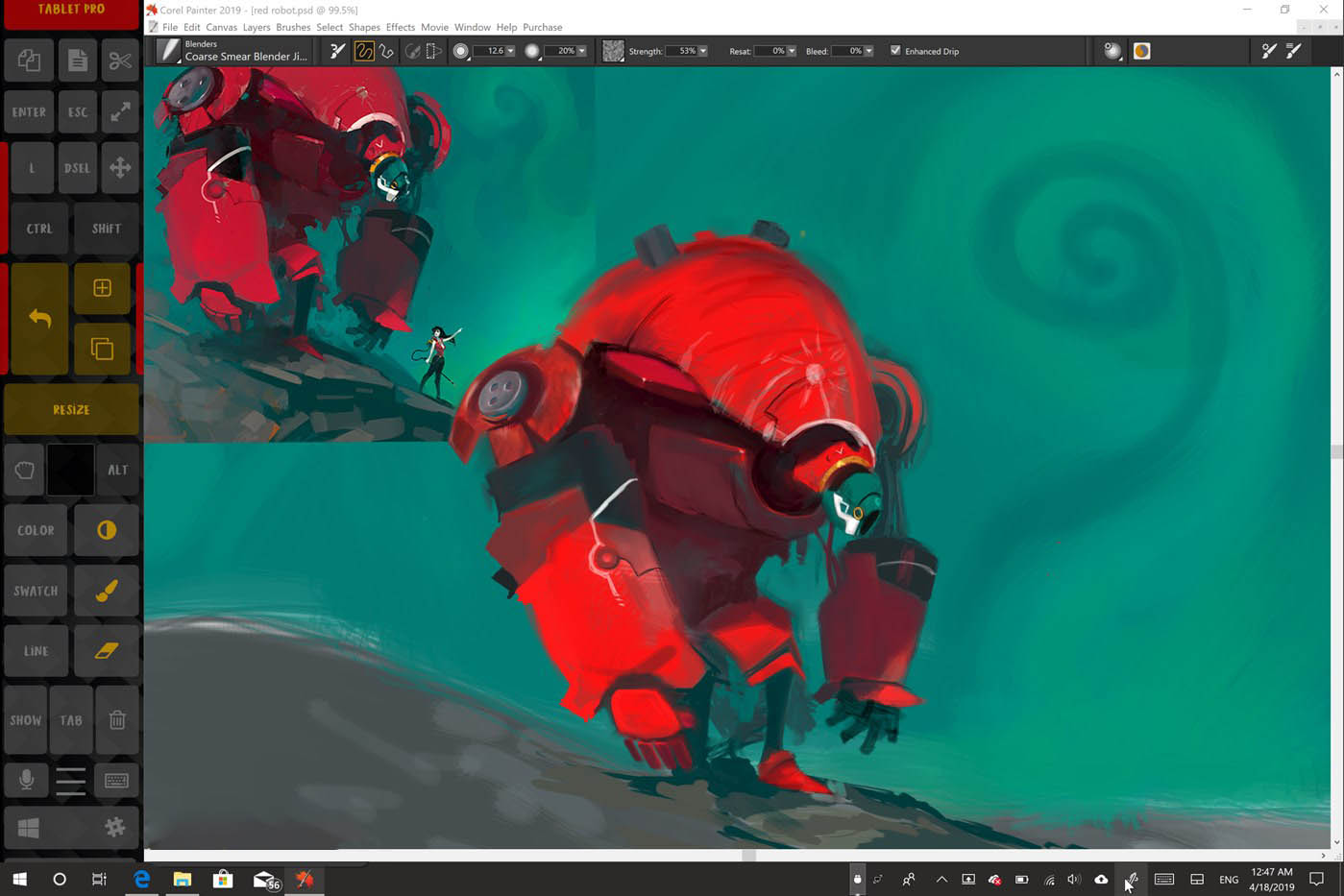 Alternatively, you can get an onscreen hotkey that gives virtually unlimited shortcuts on your screen. Tablet Pro (new tab) is one of the most popular hotkey tools for artists that is available for Windows and compatible with almost any drawing application. (Note: Tablet Pro is a paid software but comes with a free trial)
Shortcut Accessories – Surface Dial and Wacom Expresskey remote
Need more shortcuts, both Wacom and Microsoft come with their own shortcut accessory that gives you additional flexibility.
The Wacom comes with its Wacom Expresskey remote which is essentially a small wireless remote that has a total of 17 buttons and a touch ring. All these buttons and touch rings can be programmed to any shortcut in the settings.
Microsoft, on the other hand, comes with the Surface Dial which is compatible with Surface Pro. It gives you a few extra easy-to-access settings. Although, it is not as useful as the Wacom Shortcut remote. And to be honest, most artists don't really need either of the two shortcut accessories.
Battery life – Wacom Mobile Studio Pro vs Microsoft Surface Pro 7
As per official numbers the Surface Pro can run Up to 10.5 hours on a single charge. In real-life usage, you can expect about 7-8 hours of battery backup, which is average for a tablet of this size and power.
Coming to Mobile Studio Pro, it comes with a battery capacity of 4630mAh which is kind of low for a tablet of this size. There are no official numbers as to how long its battery lasts on a single charge. In real-life usage, you can expect it to last around 4+ hours on a full charge.
Upgradability – Is your tablet future-proof
This is an interesting topic. Ideally, you want your tablet to be upgradable in the future.
With Mobile Studio Pro you do not get a lot of choices of RAM and Memory options at the time of buying. But this tablet is upgradeable, which means you can upgrade the RAM and Memory in the future.
Things are opposite with the Surface Pro, you get multiple RAM, processor, and storage options at the time of buying the tablet. But these components are soldered onto the motherboard, which means there is no way to upgrade them in the future.
Summary – Which tablet fits your needs better
This lengthy comparison was to give you an all-around perspective of these two devices. Now which tablet you should pick depends upon – who you are? and how you are planning to use these tablets?
The Wacom Mobile Studio is made for professionals and artists who usually have to switch places from work to home or have to go out during projects.
It comes with one of the best stylus, large screen, powerful internals, multiple shortcut buttons as well as support for all professional drawing, modeling, and editing apps. A combination that is difficult to find in any other device and yes it reflects in the price tag as well.
Microsoft Surface Pro is kind of an all-in-one device that is great for someone who is always on the go. Its small form factor, really good stylus, windows OS, long battery life, and comparatively low price make it really easy to recommend to anyone who is looking for a portable yet powerful drawing tablet.
Check Price: 2nd Gen Wacom Mobile Studio Pro 16 on Amazon
Check Price: Microsoft Surface Pro 7 on Amazon