Disclosure: As an Amazon Associate EssentialPicks earn from qualifying purchases.
---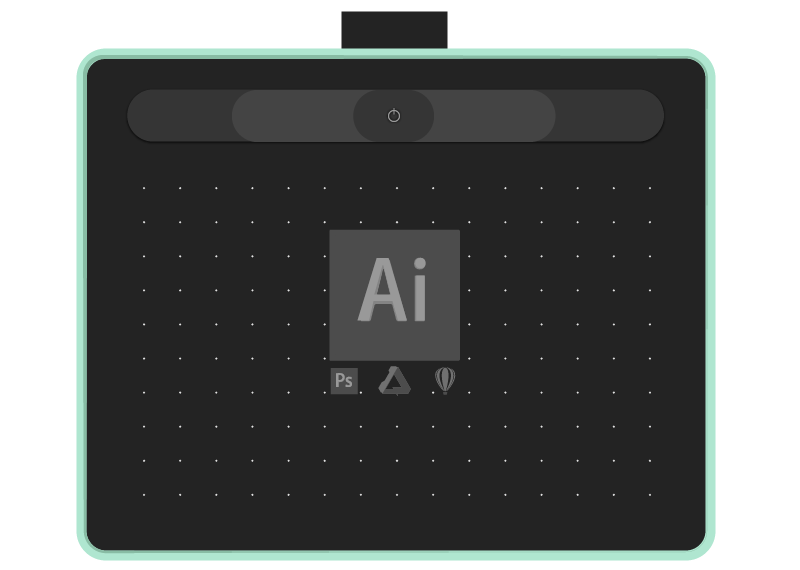 A mouse can only do so much. Graphics tablets come with a digital pen and a pen-enabled surface which help you organically draw over your illustrations and take your skills to the next level.
After using dozens of tablets over the years and comparing all the popular options in the market, we think that the Wacom Intuos (Amazon) is the best tablet for Adobe Illustrator.
The Wacom Intuos works not only with Adobe Illustrator but also with most other raster or vector-based drawing applications. It supports all the major operating systems and is made of some sturdy and high-quality materials which make the tablet last a long time.
In this article, we will have a look at some of the best graphics tablets in the market. We will also introduce you to the display-based tablets which have a built-in screen.
The best graphics tablet for Illustration
Our pick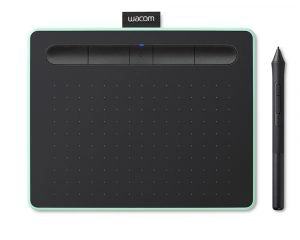 Wacom Intuos (wireless)
Large working area, accurate stylus, scratch-resistant surface, wireless connectivity, and an attractive price tag. All these features together make the Wacom Intuos the best tablet for illustrators.
Wacom Intuos (Amazon) is one of the cheapest tablets by Wacom which was at first designed for beginners and hobbyists. But as time went by it was so good that more and more professionals started using it.
There are several reasons why we recommend the Wacom Intuos, starting with the stylus itself.
At present most graphics tablets in the market come with a good stylus with fast and accurate pen tracking. The Wacom Intuos takes it a step ahead by having a low initial activation force.
The low activation force allows the tablets to detect the slightest of touches from the pen. This feature alone massively improves the user experience.
The other important feature is its scratch resistance. The tablet comes with one of the best scratch-resistant surfaces which can easily take the beating and avoid scratches in the long run.
Last but not the least, the tablet wirelessly connects to the computer via Bluetooth, keeping your setup clean and free of wires. Only a few tablets have this feature.
Feature-packed premium tablet with multi-shortcut buttons
Upgrade pick
Xp Pen Deco Pro
A fully packed tablet with top-of-the-line features a large drawing area and premium metallic build quality.
The Xp Pen Deco Pro (Amazon) is a no-compromise fully feature-packed drawing tablet with a premium build quality and a reasonable price tag.
The aforementioned Wacom Intuos is our recommended tablet for illustrators. But it lacks in one key area and that is, it only comes with a handful of shortcut buttons.
While working with digital illustration software – there are a number of tools and actions that are used frequently – such as pen tool, brush tool, eraser, undo, redo, switching between stroke and fill mode.
The shortcut buttons on The Xp Pen Deco Pro aggregates all these functions in one place that can help you fasten your workflow.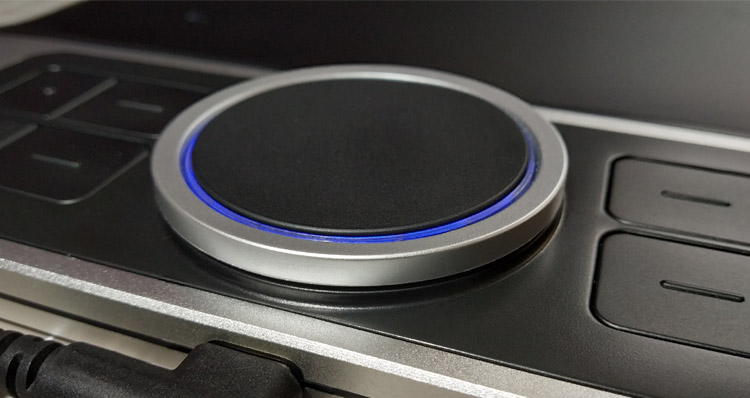 Other than that the tablet also has a rotating dial and a virtual dial. This allows you to easily change the size of the brush and eraser and perform other tasks such as zoom, pan, and scroll.
The tablet has a large drawing area and a premium metallic build that gives it a nice in-hand feel.
The only shortcoming of Deco Pro is – it does not have wireless connectivity. But that is not a deal-breaker as you get an L-shaped USB-C-connector which does a good job of routing the cable out of your way.
Display tablet with a built-in screen for digital illustration
Premium pick
Wacom Cintiq 16
Premium tablet for Illustrator with a built-in screen, excellent stylus, and compact form factor.
The Wacom Cintiq 16 (Amazon) is a very popular drawing tablet from Wacom which comes with a built-in screen.
Unlike a non-display-based tablet where you have to look at your monitor while simultaneously drawing on the tablet. A display tablet allows you to draw directly on the screen itself which results in a fully hands-on drawing experience.
A drawing tablet is used from close distances, so the tablet needs to have a higher resolution screen and a good color accuracy. The Wacom Cintiq 16 has both of them.
The Cintiq 16 comes with a 16-inch screen that has a 1080p resolution and a decently color-accurate display.
The tablet comes with Wacom Pro Pen 2 which is one of the most advanced styluses by Wacom. It has a very consistent performance with balanced pressure and tilt sensitivity.
A very neat feature this tablet has is it comes with foldable legs. The legs raise the tablet at a very comfortable drawing angle.
The tablet is also available in a larger 22-inch variant called Wacom Cintiq 22 (Amazon) which could be a great choice if you want a tablet with a larger drawing area.
Everything we recommend
Our Pick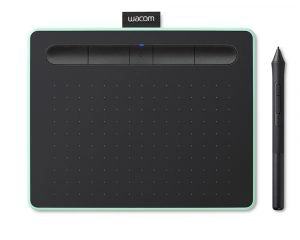 Wacom Intuos
6 x 3.7 inches
4 buttons
4096 levels of pressure
No tilt support
Battery-free stylus
Windows, Mac, Android
Wired/ Wireless
Upgrade
Xp Pen Deco Pro
9 x 5 inches
8 + 2 buttons
8192 levels of pressure
Tilt support
Battery-free stylus
Windows, Mac, Android
Wired
Premium
Wacom Cintiq 16
15.6 inch 1080p
No shortcut buttons
8192 levels of pressure
Tilt support – Yes
Battery-free stylus
Windows, Mac
Wired
Other options: Standalone drawing tablets
The three tablets mentioned above are great choices for most artists, but what if you have some really specific needs.
To cover all the available options we have rewritten this section and included some other tablets that you may want to have a look.
All three tablets mentioned above need to be connected to a computer to work. What if you want a portable drawing tablet for making illustrations that you can take and use anywhere you wish.
Standalone drawing tablets have a built-in computer inside them. This enables you to use them without connecting to a computer.
Portable tablets (that runs the desktop version of Adobe Illustrator)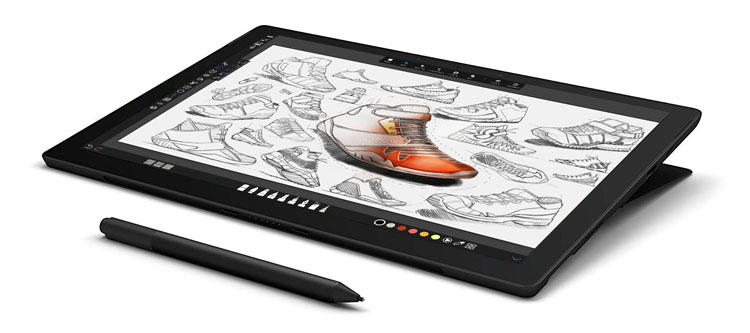 The Microsoft Surface Pro 7 (Amazon) is a mini 12.3 inch Windows 10 powered tablet that is capable of running desktop applications. It is a popular choice amongst digital artists as it supports the Surface Pen, which is a very capable stylus.
The 12.3-inch screen is large enough to draw comfortably and at the same time portable enough to carry the tablet outdoors.
The best part of having a Windows 10 tablet is you are getting the full desktop version of all your favorite applications with no missing features. With Surface Pro, other than Illustrator, you can also use other drawing software such as Adobe Photoshop, Corel, or Krita.
The Windows 10 on a tablet also gives you the ability to drag and drop files and hassle-free installation of new font packs.
Surface Pro 7 has a decent battery life which can easily handle a couple of hours of intense usage as well as a good speaker system for some background work music.
The only downside to the Surface Pro 7 is – since it is so compact, it lacks a little bit in power. But unless you work with billboard size large canvas, you should be fine.
So if you want a portable and powerful tablet the Surface Pro 7 is a great choice. You can also have a look at the Microsoft Surface Go (Amazon) which is slightly cheaper than the Surface Pro and has similar drawing features.
Tablets for the mobile version of Illustrator
Since Adobe has come up with the mobile version of Illustrator for Android and IOS smartphones and tablets, it makes sense to include some of those options over here.
The mobile version of Illustrator is a toned-down version of the desktop version of Adobe Illustrator and has got all the basic tools and features covered.
iPadOS and Android tablets for Illustrator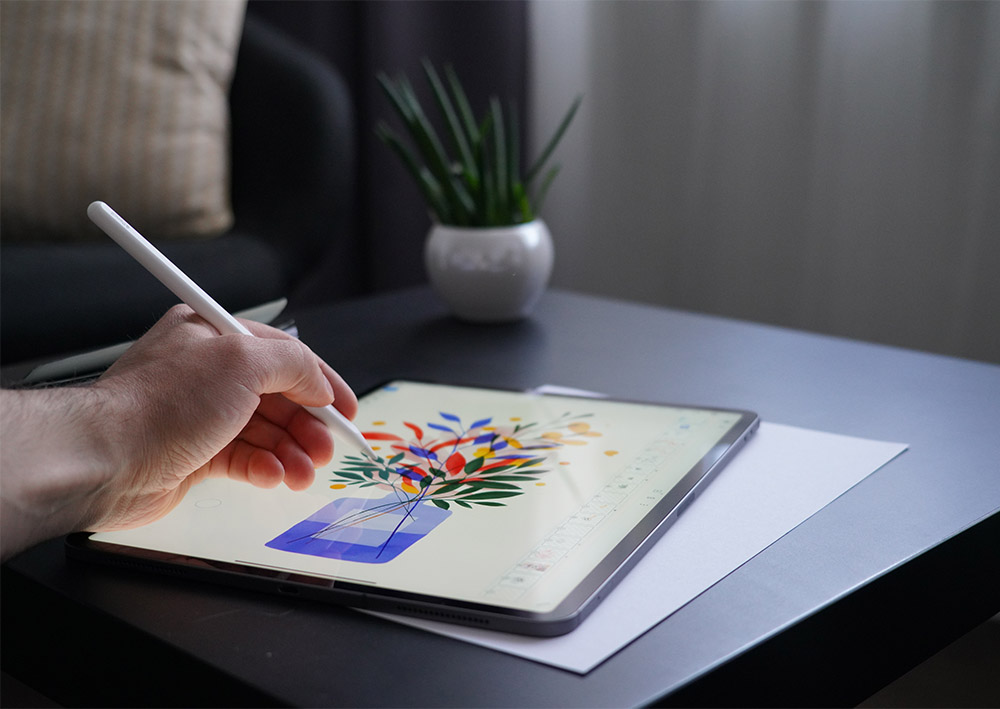 If you are willing to spend a little extra to get the best of the best tablet for digital illustration, there is no better tablet than the Apple Ipad pro (check price on Amazon).
It is the most portable tablet in the market with its extremely thin and lightweight design and long-lasting battery life. It also comes with the Apple Pencil, which is the most responsive stylus in the market and loved by artists.
The iPad Pro runs the mobile version of Illustrator called Adobe Illustrator Draw.
Why mobile version of Adobe Illustrator is better for smaller screens?
The main idea behind why you want to get the iPad Pro rather than the Microsoft Surface Pro 7 is – the mobile version of Illustrator is more optimized for the smaller screens compared to their desktop version.
The Ipad Pro is available in two sizes 11 inches and 12.9 inches. Both these sizes are considerably smaller than the 24, 27, or 32-inch monitors commonly used by artists. But they need to have a smaller screen to maintain portability.
That is where the mobile version of Illustrator comes into play. Since we are already have limited screen space, the app is optimized in such a way that you get the most out of this display.
No extra menus and tools are taking valuable screen space, they appear when you need them and disappear when you don't. Similarly, layers, buttons, and tool menus also appear and disappear as per usage, freeing extra screen space.
Other Ipad Pro alternatives
The only demerit of the Apple Ipad Pro is they can be expensive. But in that case, you can have a look at the Apple iPad Air (at B&H) which is considerably cheaper and have the same drawing features.
On the Android side of things, you have the Samsung Galaxy Tab S7 (Amazon) which is also a great Ipad Pro alternative for Illustration work.
Check out – iPad Pro vs Samsung Galaxy Tab S7 artist comparison (new tab)
Why buy a graphics tablet for Illustrator?
Tablets are obviously not essential, but they can really help you bring that organic hand-drawn feel to your artwork.
These tablets have pressure sensitivity and combined with freestyle drawing they can create some distinct and cool-looking artwork which is only possible to make using a tablet.
Even using traditional tools within the software such as the pen tool, width tool, shape builder tool will feel more natural to use compared to using them with a mouse.
One of the most important reasons why artists who spend hours behind the computer switch to graphics tablets is – compared to a mouse, a pen tablet with its stylus is more natural to hold.
This helps you reduce hand fatigue and avoid problems like carpel tunneling which you may experience during prolonged usages of the mouse.
Can these drawing tablets work with other drawing software?
Yes, other than Illustrator, you can also use a drawing tablet with other drawing software such as Adobe Photoshop, Corel, Krita, Affinity. Not only that, but these tablets can also be used for digital 3D modeling and sculpting in programs such as ZBrush and Blender.
Who should buy these tablets?
These tablets are recommended to intermediate artists who are well acquainted with all the tools, menus, and basic features of Illustrator and ready to move on to the next step.
These tablets are also a good tool for traditional artists who want to try some digital painting and illustration. Using a digital stylus, they will feel right at home and learn faster.
Most professional or freelancers from art and design backgrounds already have digital tablets. But in case you do not, this is the right time to pick it for yourself and experiment.
Pen tablet vs display tablet? Which is better?
In my opinion, both the tables are equal.
Pen tablets are cheaper and provide the most bang for the buck. Tablets like Wacom Intuos (Amazon) come with a large drawing area, good stylus performance, wireless connectivity as well as a good driver.
Most beginners and hobbyists can afford them and can expect a good drawing performance out of them.
Now, how you use a pen tablet is – you draw on the tablet while simultaneously looking at your monitor. This takes some hand-eye coordination which can take a few days to develop. And after that, you feel right at home.
Display tablets
Display tablets with a built-in screen, in comparison, does not need any such adjustment period. You draw directly on the screen as you normally do on with a pen and paper and hence feel very comfortable from the very beginning.
Also drawing directly on a screen provides a more enjoyable drawing experience.
But on the flip side, you also have to spend a substantial amount of money on display tablets, especially for the largest ones.
So as a rule of thumb, pen tablets are for everyone whether you are a beginner to a professional but display tablets are mainly used by intermediate to professional artists.
What features to look for when selecting a drawing tablet for Illustrator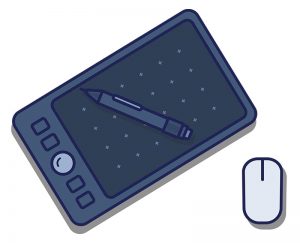 Here are some of the important features that you should look into when looking for a perfect tablet for yourself.
Working area
The size of the tablet depends on the monitor you are using. For smaller monitors such as laptop screens, we recommend getting a small tablet, whereas for monitors 21 inches and larger you should get a large 8 to 10-inch drawing tablet.
The Wacom Intuos is a mid-sized tablet that is the right fit for both smaller and larger monitor sizes.
pressure sensitivity
For better-looking illustrations, you want to regulate the width of the stroke. The pressure sensitivity helps with changing the width of the strokes depending upon the pressure you apply on the stylus.
All the drawing tablet mentioned in this article comes with pressure sensitivity.
Surface texture
Drawing on a plastic or glass surface with a plastic pen can make your stylus slip around too much. Drawing tablet comes with a textured screen which increases the roughness of the screen which gives you a controlled stylus movement.
Some of the tablets such as the Apple iPad Pro or the Microsoft surface pro do not have a textured surface. Many artists buy an external textured film (such as Paperlike on Amazon) to make the drawing experience more pleasing on these devices.
Scratch resistance
Over a prolonged period of usage, the drawing surface of the tablet can get scratched. To counter this all the drawing tablet comes with a scratch-resistant drawing surface.
We have used many tablets in the past and over time we have experienced that Wacom Intuos (Amazon) provides the best possible scratch resistance. Where the surface of the tablet does a great job of avoiding scratches even after prolonged usages.
Shortcut buttons
If you are someone who extensively uses the keyboard for shortcuts then not having shortcut buttons is not a big deal. But if you see the benefits of shortcut buttons and you think you are gonna use them, in that case – the more shortcut button on the tablet, the better.
The Xp Pen Deco Pro (Amazon) has a number of shortcut buttons as well as a rotating dial knob thing that changes the size of the brush and eraser.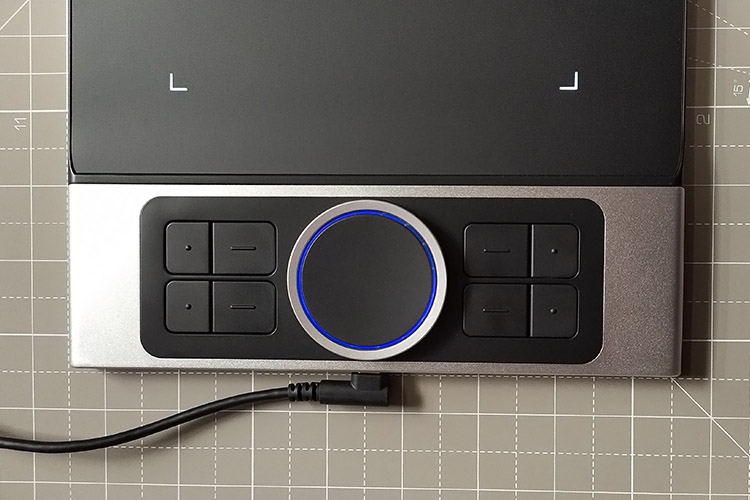 Buttons on the stylus
All the tablets mentioned in the list has a button on the stylus. These buttons can be very handy. Switching from brush mode to eraser mode is the most common thing they see buttons are used for. Further, all the tablets allow you to change the function of the button to any action of your choice.
Wired or Wireless
Wireless tablets are more preferable when it comes to tablets but the wired tablet is also fine as long as they come with a USB-C type connector. The USB-C connector allows you to route the wires away from the working area.
Our choice: Why the Wacom Intuos is the best tablet for Illustrator
Our pick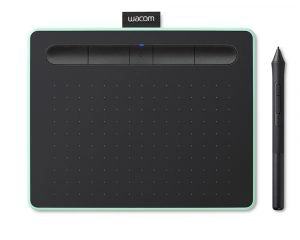 Wacom Intuos (wireless)
Large working area, accurate stylus, scratch-resistant surface, wireless connectivity, and an attractive price tag. All these features together make the Wacom Intuos the best tablet for illustrators.
If you look closely at the tablets available in the market, you may find some tablets that have a larger working area than the Wacom Intuos. Some even have more shortcut buttons while others have a metallic build.
But when we talk of tablets for making Illustrations, what matters is how that good is the pen performance, how long the tablet lasts, how good is the surface texture and also how stable is the driver.
There is no other tablet other than Wacom Intuos with all these features packed together in one package.
Talking a bit about the driver and shortcut button. As you know that Wacom Intuos only has 4 shortcut buttons. But when you go to the driver settings, you will find the option for the radial menu, where you can have 4 different shortcuts just by pressing a single button.
These thoughtful design features are spread across the tablet and you will find many of these hidden functionalities if you look at the right places.
For example, the button on the top of the tablet is contracted inwards which is a perfect spot to place the stylus while it is not in use. Also, the body of the stylus can be opened by rotating where you will find three extra pen tips.
For all these reasons, Wacom Intuos (Amazon) is for sure the best tablet you can get for Digital Illustration.