Disclosure: As an Amazon Associate EssentialPicks earn from qualifying purchases.
---
Are you looking for an affordable drawing tablet? Gone are the days when you have to shell out thousands of dollars to get a decent drawing tablet with a screen.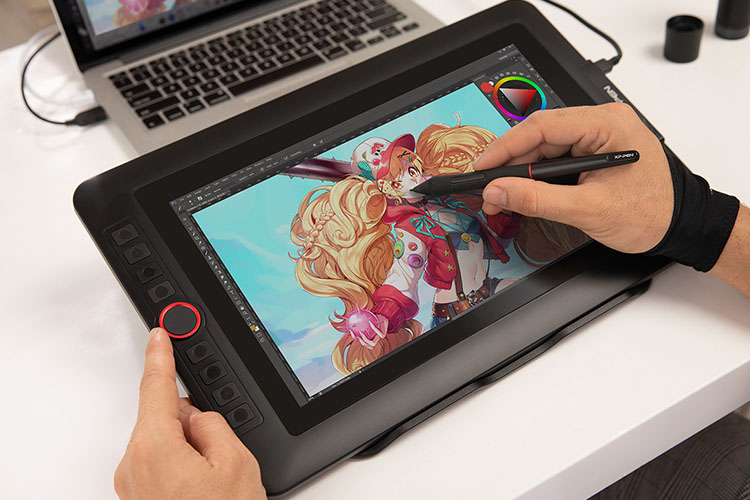 The past few months have seen a sudden surge of really good display tablets that provides immense value at really cheap prices.
If you are a digital artist, Animator, photographer, or designer this is probably the best time to get your own drawing tablet with screen.
So which is the right tablet to pick?
There are a number of options in the market from all the popular brands, each claiming their tablet to be better than the others. We are here to help you navigate through these devices and find the cheapest drawing tablet that provides a lot of value at very pocket-friendly prices.
Contents
*Smaller drawing tablets are generally cheaper
Top Recommendations
15 Inches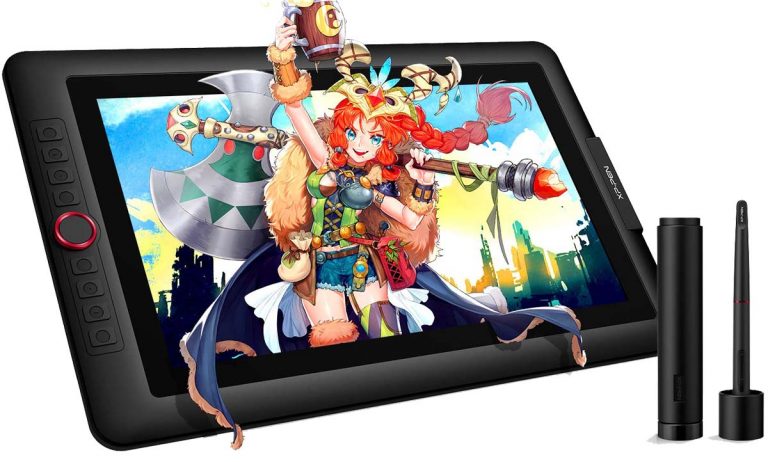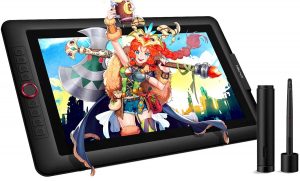 Xp Pen Artist 15.6 pro
15.6 inches
120% sRGB color
Pressure & Tilt
Shortcut buttons
Pen holder
13 Inches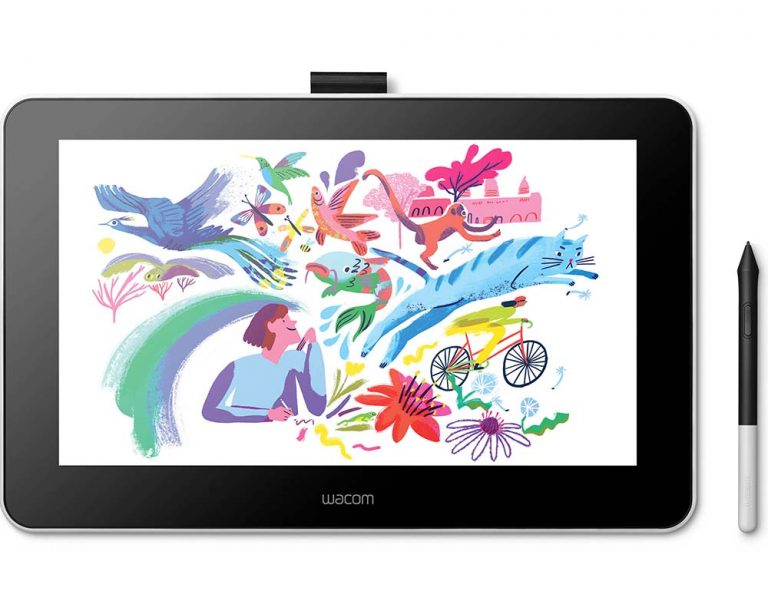 Wacom One
13.3 inches
72% NTSC color
Pressure & Tilt
Expresskey Support
Built-in Stand
12 Inches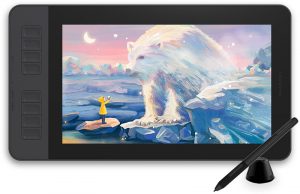 Gaomon PD 1161
11.6 inches (FullHD)
72% NTSC color
Pressure & Tilt
8 Shortcut buttons
Budget-friendly
Cheap Drawing tablet with screen – An overview
When we say it is the best time to be an artist and buy a display tablet – we really mean it.
After closely monitoring graphics tablets for the past couple of years we have seen technologies such as laminated display, tilt recognition – which was only available in premium drawing tablets slowly make their way to budget devices.
The other thing we noticed is the actual quality of the tablet does not necessarily decrease as we go down the price range.
This means even the bottom of the barrel – tablets are surprisingly good in comparison to what we have seen before.
Category One: 15-inch graphics tablets with screen
A 15-inch tablet is a sweet spot between size and portability. You get a sufficiently large working space as well as the ability to carry your tablet to your drawing classes or office.
1. Huion Kamvas Pro 16 and Xp Pen Artist 15.6 Pro (Best value)
Our pick
Check on Amazon – Huion Kamvas Pro 16 → Xp Pen Artist 15.6 Pro →
The first position is a tie between Huion Kamvas Pro 16 and Xp Pen Artists 15.6 Pro. These tablets are very similar to each other in terms of price and features.
The Kamvas Pro 16 and Artist 15.6 Pro is easily the most value-for-money tablets you can get right now.
With these tablets, you essentially get all the features that you would normally get in a premium tablet. Whether it is a laminated display, accurate stylus, or better color accuracy, they got it all.
Display – Color, and quality
Both these tablets come with an excellent display with support for 120% sRGB color space. The colors look good and the panels have a sufficient level of brightness to be able to use them in a well-lit indoor environment.
Stylus – Performance

Huion comes with PW507 stylus whereas the Xp Pen comes with PO5R stylus. They are lightweight and feel really comfortable to hold and you can use them for hours without the feeling of discomfort.
Both the stylus are well-tested products, they got excellent pressure sensitivity. And combined with the laminated display they perform no less than the tablets that cost three to four times their price.
PROs – What we liked
Full HD resolution
Colorful display
Battery-free stylus
Anti-reflection matte screen
Tablet stand included
Multiple Accessories
CONs – What can be improved
Faulty color calibration out of box (may need to be corrected manually)
Cannot change the sensitivity of dial and touchpad
Buy on Amazon Huion Kamvas Pro 16 →Xp Pen Artist 15.6 Pro →
2. Wacom Cintiq 16 – Premium features at budget-friendly prices
Also great
Wacom Cintiq 16 – Amazon →
Wacom tablets are known for their stylus. Even mainstream brands like Microsoft and Samsung have used Wacom pen technologies in their stylus and pen-enabled devices.
After growing demand for an affordable drawing tablet, Wacom finally introduced the Wacom Cintiq 16.
It is Wacom's most affordable drawing tablet with screen made specifically for beginners, hobbyists, and enthusiasts.
Screen – Size, color, and resolution
The tablet comes with a 15.6 inch Full HD display (1080p) with 72 percent NTSC color coverage. The tablet is precalibrated – which means you get perfect colors straight out of the box without needing to fiddle with settings.
Stylus – Pressure and Tilt support
Wacom Pro pen comes with 8192 levels of pressure sensitivity and ±60° of tilt support. Now you may think, literally every stylus in the market comes with 8192 pressure levels and a 60-degree tilt – so what is so special about the Pro Pen 2.
In reality, specs are just a number, they do not tell the full story. The Wacom Pro Pen 2 has perfect tracking and stable tilt sensitivity with no glitches and inconsistencies which you may get in on other tablets.
Why buy this tablet over others – Wacom has been the pioneer of drawing technology. When you buy this tablet you can be sure that even at this comparatively budget price, you will get a reliable drawing device that can serve you a long time.
Why get Wacom alternatives over Cintiq 16 – If you want a laminated display and shortcut buttons plus want to save some extra cash, then you should have a look at Huion Kamvas and the Xp Pen Artist series of graphic tablets.
PROs – What we liked
Factory calibrated display
Superior stylus performance
Anti-reflection etched glass
Integrated tablet stand
Best in class driver
Excellent build quality
CONs – What can be improved
No shortcut buttons
Does not comes with a pen stand
Buy Wacom Cintiq 16 on Amazon →
Category Two: 13-inch tablets – Premium features at Pocket-friendly prices
A 13-inch tablet gives you the best of both worlds. You get a sufficiently large working area as well as a small and handy device that you can easily carry in your backpack.
If you have to constantly switch between home and class/office a 13-inch tablet may prove to be better than a 15-inch graphics tablet.
One more advantage of a 13-inch tablet is you save a lot of money. Like 15-inch drawing tablets are already cheap but 13-inch ones are even cheaper plus you don't compromise anything in features. You get the same pressure sensitivity, same laminated display and color accuracy.
With that said here are some of the best and cheapest 13-inch display tablets in the market right now.
3. Wacom One display tablet – Superior quality, great price
Affordable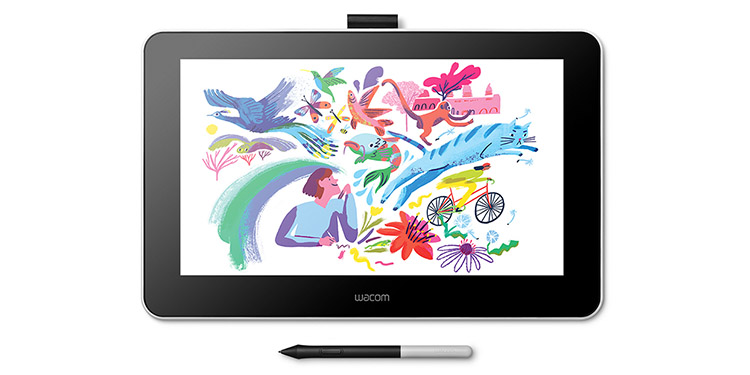 Wacom One – Amazon →
The Wacom One is the cheapest drawing tablet offered by Wacom. This tablet is specifically made for beginners and hobbyist that cannot justify spending thousands of bucks on a premium drawing tablet.
The Wacom One has all the essential features that you would expect from a great drawing tablet. It has a 13.3 inch full HD display with a color coverage of 72% NTSC color space.
Stylus – Wacom One pen

The tablet comes with a great stylus called "Wacom One stylus". It has 4096 levels of pressure sensitivity and ±60° of tilt detection. One of the best things about the Wacom stylus is, it has a great response to light touches.
The tablet comes with an inbuilt foldable stand that gives you a comfortable working angle (19 degrees). In case you want some more adjustment angles you can get a separate drawing tablet stand.
Overall it is a great drawing tablet to have and provides some of the best drawing experience.
PROs – What we liked
Full HD 13.3-inch display
Precalibrated display for perfect colors
Anti-glare matte film
Good stylus performance
Inbuilt Foldable legs
CONs – What can be improved
Just 4096 pressure levels on stylus
No shortcut buttons
No laminated display
Buy Wacom One on Amazon →
4. Huion Kamvas Pro 13 – Cheapest 13-inch tablet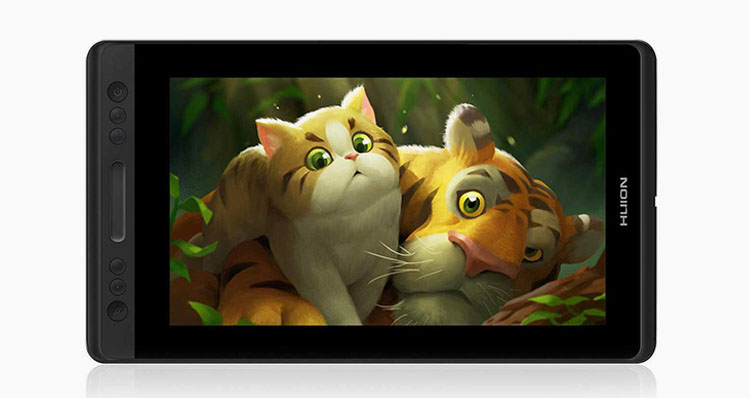 Huion Kamvas Pro 13 – Amazon →
The Huion Kamvas pro 13 ass the name suggests comes with a 13-inch full HD laminated display. The full HD resolution on a 13-inch display looks really sharp.
In spite of its low price, the actual tablet is really well made. The tablet looks modern and minimalistic and comes with a metallic back which makes it feel strong and sturdy.
Coming on to the expresskeys – the tablet comes with a total of 4 shortcut buttons and a handy touch bar. They allow you to perform shortcuts such as zoom, pan, scroll and most importantly change the size of brush and eraser in drawing software.
For stylus – The tablet uses the same technology that Huion uses in its 15-inch model. So needless to say you get a really good stylus. The stylus has the same 8192 levels of pressure and ±60° degrees of tilt recognition.
Overall you get a lot of features at surprisingly low prices and that makes the tablet really worth it.
PROs – What we liked
1080p display
Multifunctional Touch bar
Laminated display (No parallax)
8192 levels of pressure
±60° tilt sensitivity
CONs – What can be improved
Display not precalibrated
Tablet gets a little warm on prolonged uses
Buy Huion Kamvas Pro 13 on Amazon →
5.  Xp Pen Artist 13.3 Pro – Feature-packed drawing tablet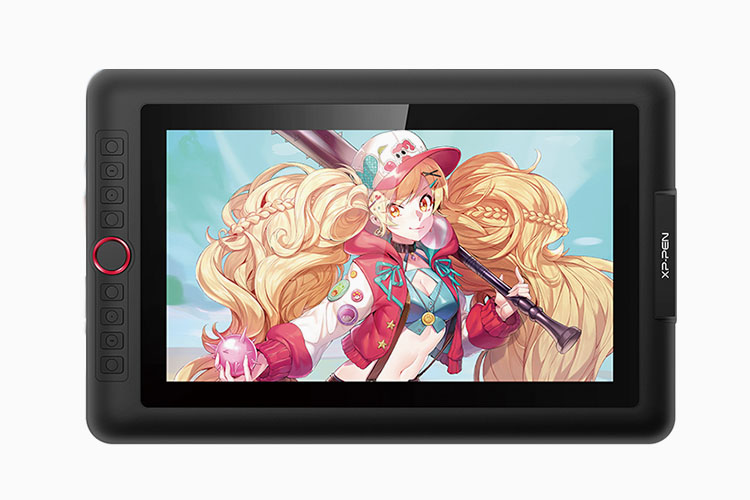 Xp Pen Artist 13.3 Pro – Amazon →
Xp Pen Artist 13.3 is another great tablet and hs got almost the same set of features as the 13-inch tablet mentioned above.
You get a 13 inch Full HD screen with support for 123% sRGB color space. Plus you also get the laminated screen which saves you from parallax.
The tablet has a well-thought-out design and it is made of high-quality plastic that feels strong and also helps with reducing costs. The screen has glass on top in addition to an antiglare, scratch-resistant film.
One of the best things about this tablet is its arrangement of shortcut buttons. You get a total of 7 shortcut buttons along with a dial.
The buttons can be programmed to any shortcut of your choice with the help of tablet settings.
The Red dial is a really good shortcut feature that performs tasks such as zoom, pan, scroll as well as change the size of brush and erasers – just by rotating it. You will really appreciate this handy little dial while using your drawing tablet.
The Xp Pen Artist 13.3 comes with a battery-free passive stylus which is ergonomic in shape, which makes it comfortable to hold on long drawing sessions. It has 8192 levels of pressure sensitivity with a well-balanced pressure curve and accurate pen tracking.
In a nutshell – If you are someone who uses shortcut buttons a lot Xp pen Artist 13.3 is a great choice for you.
PROs – What we liked
Colorful Full HD display
Multiple shortcut buttons
Multifunctional Red Dial
Laminated display (No parallax)
Excellent pressure sensitivity and tracking
CONs – What can be improved
Display not precalibrated
Unstable tilt sensitivity
Buy Xp Pen Artist 13.3 Pro on Amazon →
Category Three: 12-inch drawing tablet
If you want the absolute cheapest drawing tablet in the market that comes with a screen – A 12 inch is the bare minimum you should get.
Although there are tablets with 1o inch screens or lower, but you would stay away from them. As they will feel too cramped due to most of the space being occupied by menus and buttons.
6. Gaomon PD1161 – Cheapest drawing tablet with screen
Budget king
Gaomon PD1161 – Amazon →
So far if you are looking at all the above tablet options, and still find them expensive – you can go with the Gaomon PD1161.
It is the cheapest drawing tablet with a screen and pen in the market right now and comes with an 11.6-inch screen.
Now some people may think – if you are buying the cheapest tablet in the market then you must be making a lot of compromise in terms of features. But that is not the case with the Gaomon PD1161.
Other than the smaller screen size, you are still getting a beautiful display, fully programmable shortcut buttons, FullHD resolution as well as a very capable stylus.
The quality of the stylus both in terms of build quality and performance is on par with its higher tier 16 inch variants.
You get a very responsive drawing experience with no lag and very balanced pressure sensitivity. The tilt sensitivity works great as well.
Included with the stylus is the little pen stand. Inside the pen stand – you will find 8 extra replacement nibs.
Next coming to the screen, Yes the screen is on the smaller side, but smaller size has its advantages too.
The 11.6-inch screen in this tablet is sharper than 16 and 20+ inch tablets with FullHD screens – since the same amount of pixels are condensed in a smaller area.
Also, this compact size makes this tablet a great choice for carrying it in your backpack, alongside your laptop.
The color accuracy on the screen is also good as it comes with 98%sRGB color accuracy.
Just like what you would expect in a good quality drawing tablet, the display of the Gaomon PD1161 has a matte screen with a textured finish which greatly improves the drawing experience.
Overall, you are getting a pretty solid deal for the price you are paying.
If you are someone who wants to upgrade from a pen tablet to a display tablet at pocket-friendly prices, the Gaomon PD1161 is a great choice. You will love using it.
PROs – What we liked
Cheapest display tablet in the market
Great value for money
Programmable shortcut buttons
Excellent pressure sensitivity and tracking
Comapct and portable
Provides a great drawing experinace
CONs – What can be improved
Some artist find this size a bit too small
Buy Gaomon PD1161 on Amazon →
Buyer's Guide – How to find the perfect display tablet on a budget
Buying a drawing tablet on a budget is different than looking for a tablet in general. Price is one of the most deciding factors when looking for a cheap tablet.
Generally, the quality and features in devices decrease as we go down in price. This is not necessarily true in our case. The size of the tablet is only a major difference between a cheap and expensive tablet.
To help you get the right tablet – we have made a detailed guide that will help you select the right size for your drawing tablet. After that, we will talk about other important aspects of the tablet you should look at before making a decision.
Drawing tablets with 15-inch screens
A 15-inch tablet is one of the most comfortable sizes for a drawing tablet. In a Facebook poll, it was asked to a group of artists – what is the best screen size for drawing. The majority of the artists picked the 15-inch as the most comfortable size for drawing.

Why a 15-inch tablet is the most comfortable size?
There are three main reasons:
Decent size – They give you a sufficient working area and sill have enough extra space for being able to use the application's menus and buttons without feeling cramped. Even 3D applications like ZBrush which are known for its long list of menus can be used comfortably with all the menus visible.
Portability – A 15-inch tablet is a sufficiently large screen size to draw while being able to easily pack and carry it from one place to another. This can be really appreciated if you have a workstation at your home as well as office/studio/school.
Resolution – Most of the tablets whether they are 15 inches or 24 inches comes with a FullHD 1080p panel. Now a 1080p panel looks way sharper on a 15-inch screen than a 21 or 24-inch display. As they are essentially stretching the same number of pixels over a larger area – hence reducing the sharpness.
But what if you do not have a budget for a 15-inch tablet. In this case, you can go with a 13-inch tablet. The 13-inch size is sufficient enough for most of the tasks but we would not recommend anything smaller than 13 inches.
Additional features to compare when getting a display monitor
Here are some of the additional features you should look for when getting a drawing tablet. These will make your drawing experience better and give you a more immersive experience.
Display Color, Brightness, and Resolution
We have already touched a little bit on display while doing individual tablet reviews. Here we will further expand the topic.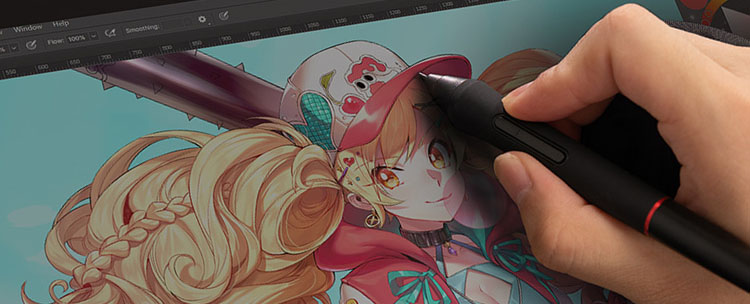 All the tablets mentioned in our list comes with a 1080p FullHD display.
As an artist, you have to use the tablet at a very close distance and that is why you want your screen to be sharper. A 1080p resolution display may not be ideal for a 24-inch or even 21-inch drawing monitor but it is perfectly fine for a 15-inch tablet.
Brightness of display
Next coming to the brightness of the display – Most of the drawing tablet comes with a screen that is around 200 to 250 cd/m2 in brightness. What it means that these displays are bright enough to comfortably see in bright indoor environments and harsh artificial lighting conditions.
Reducing glare and reflections
The matte screen on the surface of these displays helps with improving the visibility of the tablet by reducing glare and reflections. The Wacom Cintiq 16 comes with etched glass whereas Xp Pen Artist 15.6 Pro comes with a matte screen protector.
Stylus – The key factor
A stylus is one of the most important parts of a tablet. Some artists even consider it more important than the tablet itself.
A good stylus can be super fun to use whereas a bad and buggy stylus can have a very negative effect on your drawing experience as well as your final outcome.

The Wacom Cintiq 16 comes with Wacom Pro Pen 2 which is considered the best stylus in the market right now. It is often compared with Apple pencil so needless to say the actual drawing performance is top-notch.
But what about the other stylus like Huion Pw507 and Xp Pen PA 2. There was a time when Huion and Xp Pen stylus was not that good. But in the last few years, both brands have taken a major leap in terms of the quality and performance of their stylus.
At present, Huion and Xp Pen stylus are as good as Wacom's pro pen 2 in terms of pressure sensitivity and tracking. In terms of tilt recognition, they slightly fall behind Wacom but still, they are perfectly useable.
Expersskeys – Shortcut buttons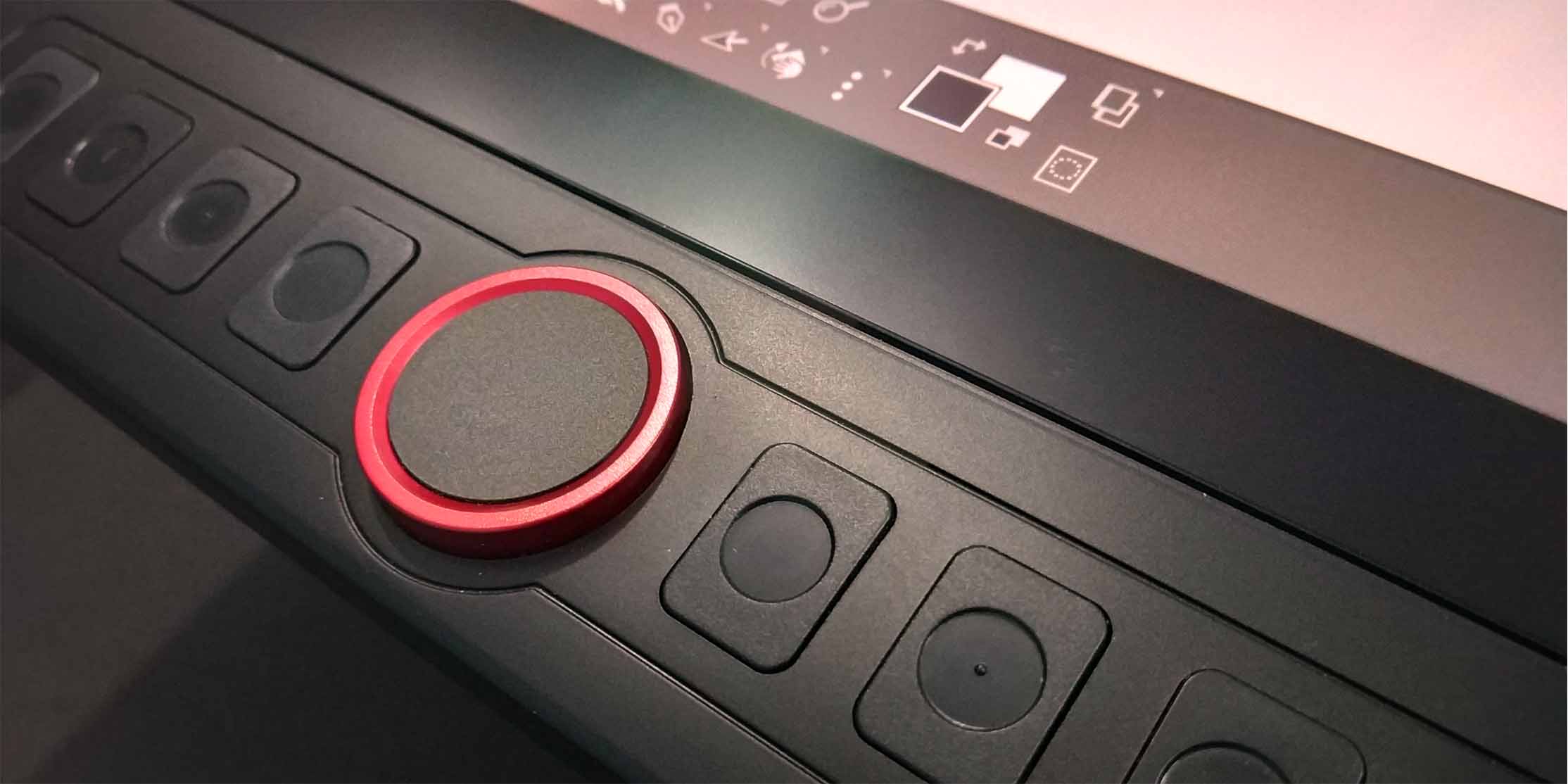 Some people really like to use use the onboard shortcut keys of the tablet but at the same time, there are artists that always use their keyboards and do not bother with shortcut buttons on the tablet.
The Xp Pen tablets that we mentioned in our list all come with a total of 8 shortcut buttons along with a red dial. Whereas the Huion tablets come with 6 buttons and a multifunctional touch bar.
Wacom Cintiq 16 has gone with a simpler design and have decided to not include any shortcut button on their devices. For some people, it may be a deal-breaker but Wacom offers a Shortcut remote(Amazon) – which is a small device that connects wirelessly to the tablet and has multiple shortcut options.
Check Out: Wacom shortcut remote alternatives
Tablet stands
A tablet stand may seem like a small thing but when you consider that most of the artists use their tablet for multiple hours a day – ergonomics becomes essential.
Wacom Cintiq 16 is one of the best tablets on the list in terms of ergonomics. First of all, they have designed the tablet in such a way that they have been able to integrate two small legs right into the device. The legs fold out when you want to use it and seamlessly fold back when you don't need them.
In addition to the pop-up legs, the backside of the Cintiq 16 has a VESA compatible mount which can be used to attach external tablet stands.
Xp Pen tablets come with a basic plastic stand whereas the Huion tablets come with a metallic tablet stand with multiple adjustment angles. Both these stands are pre-included in the box and do not need to be purchased separately.
Related Topics:
Wacom Cintiq Vs Apple iPad
Top Display tablet for professionals
Best drawing tablet for android