Disclosure: As an Amazon Associate EssentialPicks earn from qualifying purchases.
---
If you are looking to buy a display tablet and can't justify the hefty price tag that comes with Wacom tablets, you are not the only one with this problem.
In the screenshots shown above, you can see that people still love Wacom tablets but their price is one of the main reasons that force the artists to look for Wacom alternatives.
We also get asked similar questions from time to time. But until now we have refrained from making a dedicated post on Wacom Cintiq Alternatives.
One of the main reasons being – there wasn't a good Wacom alternative available in the past that we felt confident to recommend. But things are not the same anymore.
Gone are the days when Wacom tablets were the only game in the town when it comes to digital drawing devices.
In the last few years, the competition has finally caught up. This is great for digital artists – as there are multiple options for drawing tablets available in the market. And mind you, these tables are just as good as Wacom tablets.
We have made a list of some of the best Wacom Cintiq and Cintiq Pro alternatives. These tablets provide an excellent drawing experience at very pocket-friendly prices.
Top Recommendations
Budget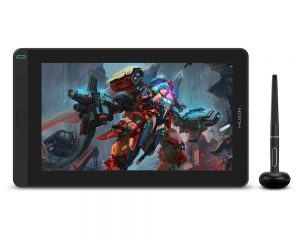 Huion Kamvas 13
13.3 Inch screen
Android support
Laminated display
8 Shortcut buttons
Mid-Range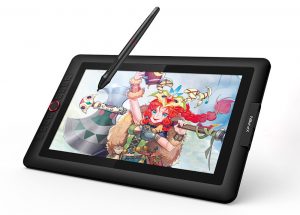 Xp Pen Artist 15.6 Pro
15.6-inch screen
laminated display
Full HD resolution
8 shortcut buttons
Rotating dial
Top End
Huion Kamvas Pro 24
23.8-inch screen
QHD resolution
120% sRGB color
20 Shortcut buttons
2 touch bar
Midrange Wacom Cintiq alternatives
Midrange graphics tables are some of the most popular categories of drawing tablets. These tablets have the right blend of size, features, and price – and for that reason artists love them.
Here are some of the latest midrange drawing tablets to get right now.
1. Huion Kamvas Pro 16 – The best mid-range Wacom Cintiq alternative
Huion Kamvas Pro 16 is one of the first tablets that come to mind when people ask for value for money-drawing tablets.
It has gotten a lot of attention right from the very first time it launched. It comes with features such as laminated display and etched glass which were only available in premium drawing tablets.
The Kamvas Pro 16 comes with a 15.6-inch FullHD 1080p display. Having a 1080p resolution screen on a 15.6-inch display gives you 141 pixels per inch. This results in very sharp images.
Good color accuracy is another one of those important features that artists want to have on their tablets. The Kamvas Pro 16 screen has an excellent color coverage of 120% sRGB color gamut. This results in the display showing accurate colors.
Huion Kamvas Pro 16 is an overall good package. The combination of accurate, fast, and responsive stylus and great build quality makes it one of the most recommended Wacom alternatives out there.
2. Xp Pen Artist 15.6 Pro – Value for money
The Xp Pen Artist 15.6 is another good alternative that is often recommended. It is very similar to the aforementioned Huion Kamvas Pro 16, in terms of size features as well as price.
The tablet comes with a 15.6-inch 1080p screen and a color accuracy of 120% sRGB. This is exactly the same as the Huion Kamvas Pro 16.
One of the reasons why people buy this tablet is because of its better shortcut button layout.
The tablet comes with 8 shortcut buttons that are present on the left side of the tablet.
The key feature of this tablet is the multi-shortcut rotating dial. The dial helps you perform advanced shortcuts such as zoom, pan, scroll, and changing the size of brush and eraser.
Next coming to the stylus, the Xp Pen Artist 15.6 pro comes with a very capable stylus. It has 8192 levels of pressure sensitivity along with 60 degrees of tilt.
Overall, if you are looking for a value for money tablet which gives you a constant and pleasing drawing experience, get the Xp Pen Artist 15.6 Pro.
Related: Xp Pen Artist 15.6 Pro vs Huion Kamvas Pro 16 comparison
3. Huion Kamvas 22 Plus – Wacom Cintiq 22 alternative with superior screen
Wacom came with their Cintiq 22 as a cheaper alternative to their Cintiq Pro 24. But the reality is – the Wacom Cintiq 22 is still very expensive and comes with a very limited set of features.
If you are looking for a better 22-inch larger size drawing that provides you the best possible features at a reasonable price, the Huion Kamvas 22 Plus is a perfect choice.
The Kamvas 22 Plus comes with a 1080p display with stunning color accuracy of 140% sRGB, making it the most color-accurate drawing tablet in the market.
The tablet manages to achieve this level of color accuracy using the IPS panel with Quantum Dot technology, which is surprising to find at this price point.
Other than that the Kamvas 22 Plus also comes with a laminated display that improves stylus accuracy. Plus the scratch-resistant etched glass on top provides a better drawing surface.
Huion Kamvas Pro 22 has a symmetrical design which is great for the left as well as right-handed artists.
The included pen comes with 8192 levels of pressure sensitivity and 60 degrees of tilt support. The stylus has a good drawing performance and draws smooth and consistent strokes every single time.
The only shortcoming of this tablet is – just like Wacom Cintiq 22, it does not have any shortcut buttons. This is not a big deal as most artists use the keyboard for shortcuts anyway.
Overall you are getting a very capable, top-of-the-line drawing tablet at very reasonable prices and you will for sure have a great experience using this tablet.
Budget Wacom tablet alternatives
A few years back there was no real option for the budget display tablet. You either had to pay a hefty premium for display tablet or just get a normal graphics tablet without a screen.
That all changed with the arrival of smaller budget display tablets from brads like Huion, Xp Pen, and Gaomon. Now you could get drawing tablets with screens in the price of graphics tablets.
Now there are many entry-level drawing tablets available in 12 and 13-inch sizes.
Other than the smaller screen size, these tablets made no compromise with either the quality and features in order to need the prices low. That means even these budget display tablets provide a good drawing experience.
With that said here are some of the best value for money – budget drawing tablets.
4. Huion Kamvas 13 – Budget Wacom alternative for beginners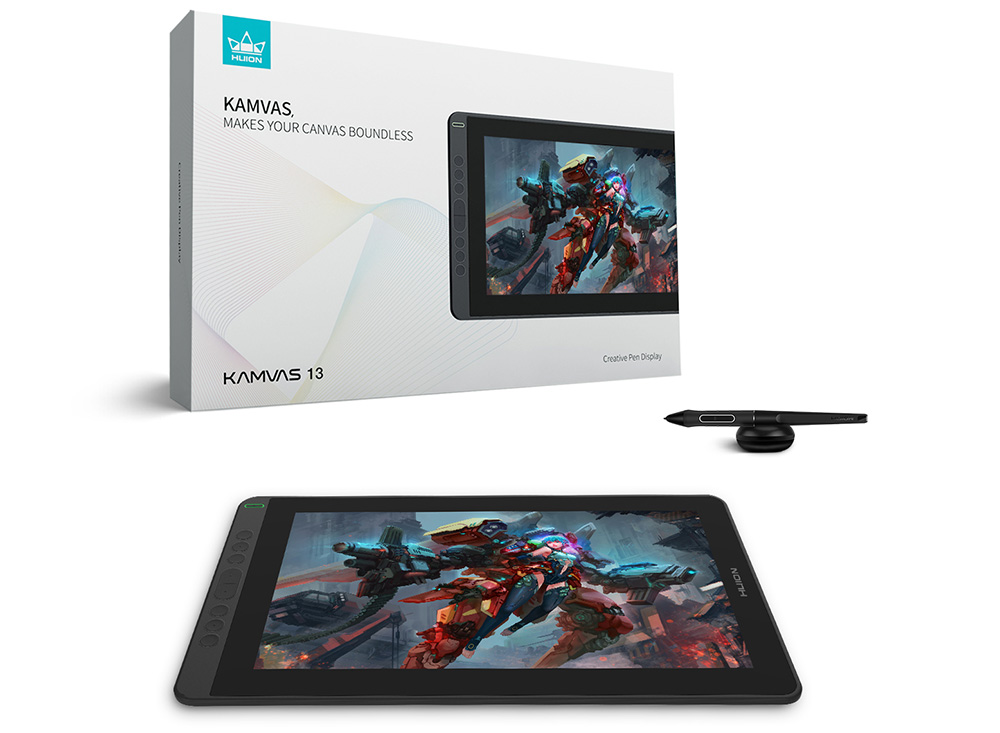 After the huge success of Huion Kamvas Pro 16, Huion came with its new entry-level tablet named Huion Kamvas Pro 13.
The Kamvas Pro 13 is a 13-inch drawing tablet that shares a lot of design features with its larger counterpart.
It is one of the thinnest, lightest, and premium-looking tablet. This tablet is available in three colors – purple, green, and black.
One of the key features of this tablet is the USB-C to USB-c connectivity. This allows us to connect the tablet to the computer or laptops using just a single USB cable.
This USB-C connectivity along with the lightweight and compact design makes it one of the most portable drawing tablets.
The Huion Kamvas 13 is also one of the few tablets in the market that connects to Android devices. This is a great feature for an artist who uses their smartphone to draw as you don't need to get a computer in order for this tablet to work.
The tablet has a 1080p resolution as well as a 120% sRGB color coverage. The screen is fully laminated to minimize parallax. (What is parallax?)
The included stylus has 8192 pressure levels as well as tilt sensitivity. This is an upgraded stylus that has a better initial activation force as well as a better response time.
All things considered, the Huion Kamvas 13 is a complete package. It is an ideal tablet for those looking for a compact and feature-rich drawing device.
5. Xp Pen Artist 12 pro – All-rounder
As the name suggests, the Xp Pen Artist 12 Pro is a 12-inch display tablet. It may not be the cheapest tablet out there but it is definitely one of the best drawing tablets in its segment.
One of the biggest advantages of getting this tablet is its compact size. If you are a student who has to carry this tablet to classes, this tablet has a very thin profile and can easily fit in your backpack.
It has 8 shortcut buttons that are present on the left side of the tablet along with a multi shortcut rotating dial.
The Artist 12 comes with the same pen that comes with the larger Artist 15.6 pro model, which is a good thing. The stylus has 8192 levels of pressure sensitivity along with support for tilt recognition.
For making the stylus comfortable to hold for a longer duration of time the stylus has a very ergonomic shape that comfortably fits in your hand. There are two customizable shortcut buttons on the stylus with no eraser at the back.
The tablet comes with a lot of accessories such as a pen holder, pen nibs, drawing glove as well as a free tablet stand.
If you are someone looking for an entry-level drawing tablet that does not compromise with quality and features, the Xp Pen Artist 12 Pro is definitely a good choice.
The Xp Pen Artist 12 Pro is also available in a larger screen size called Xp Pen Artist 13.3 pro (Amazon).
6. Gaomon PD1161 – The cheapest display tablet
If you have ever wondered, Which is the cheapest display drawing tablet that you can get from a reputable tablet brand – the Gaomon PD1161 is the answer.
The Gaomon PD 1161 is one of the updated models of the older Gaomon tablets. This new model comes with better features, compact size, and better build quality.
The tablet has an 11.6-inch FullHD screen that gives you a total active drawing area of 10.09 x 5.68 inches. Its IPS display has a 72% NTSC color coverage and an excellent viewing angle of 178°.
The Included pen is batty-free and comes with 8192 pressure levels and 60 degrees of tilt sensitivity.
There are 8 shortcut buttons located on the left side of the tablet. These buttons are programmable and can be set to any shortcut of your choice.
If you compare this tablet with some of the other tablets that we have mentioned in this list, you will find that other than the screen size, there is no difference in features.
Meaning you are getting a great value for money and making no compromises when getting the Gaomon PD1161.
Wacom Cintiq Pro 24 and 32 Alternatives
There are the two big boys of the drawing tablet and digital art world. If you are a digital artist, chances are you are well aware of the 24 and 32 inches Wacom Cintiq Pro models.
These tablets are widely considered as the holy grail of digital drawing and can be often found in big VFX and design studios.
With that said – these tablets come at an equally premium price tag to match, making them practically inaccessible (too expensive) for most artists.
In the past, there was no real cheaper alternative to the larger Wacom Cintiq Pro tablets. And this statement holds true even now up to some extent – as they are the only tablets with a 4k resolution screen.
But after the arrival of the Huion Kamvas Pro 24 and Xp Pen Artist 24 pro, the gap has definitely narrowed.
7. Huion Kamvas Pro 24 – Wacom Cintiq Pro alternative with 2K resolution
Huion Kamvas Pro 24 is one of the newer tablets introduced by Huion.
One of the biggest features of the Huion Kamvas Pro 24 is that – it comes with a 2k screen. Now, this is a big deal as almost all the other budget-friendly tablets come with 1080p full HD screens.
Now a 1080p (full Hd) resolution is fine on a 16-inch tablet or even a 20-inch tablet. But when it comes to a larger 24-inch tablet, you start to individual pixels when you work up close to the screen, which is not good.
Other than the QHD (2k) resolution the Kamvas Pro 24 has good color accuracy of 120% sRGB.
Huion Kamvas Pro 24 comes with a laminated display and an etched glass on top. the etched glass is known for its superior surface texture.
There are 20 programmable shortcut buttons as well as 2 touch bar on the tablet. The included stylus also works great.
What you will really appreciate this tablet (other than resolution), is the very premium level build quality. Even though the tablet is made of plastic but it still feels strong and sturdy.
The Huion Kamvas Pro 24 is very appropriately priced, giving you maximum features at the least possible price.
If you are someone looking for a Wacom Cintiq Pro and can't justify paying that hefty price tag, the Huion Kamvas Pro 24 is a great choice.
You may not be getting the 4K resolution that you get with Wacom, but the QHD resolution on Huion is more than enough on a 24-inch display.
8. Xp Pen Artist 24 Pro – Runner Up
Like the Kamvas Pro 24, the Xp Pen Artist 24 pro also boasts its new QHD (2k) resolution screen. But this tablet also has some unique features which may be important for you.
First of all, both of these tablets are very similar. They got the same 24-inch screen with QHD resolution and 120% sRGB color coverage. The Xp Pen Artist pro is better in a few segments.
The first one is the shortcut buttons. The tablet comes with a total of 20 programmable shortcut buttons. Along with the buttons, you also get 2 rotating dials which is a very handy shortcut tool and makes this tablet stand out from the competition.
One of the standout features of this tablet is it comes with USB-C connectivity. That means if you have a newer laptop that has the support for the USB-C you can plug in the tablet to the computer using just a single wire, making your setup clean and consistent.
The Artist 24 stylus has a good drawing performance with 8192 levels of pressure sensitivity as well as tilt support.
This tablet is an ideal choice for Artists that want a Wacom alternative that has the best possible shortcut layout and supports USB-C connectivity.
How did Wacom respond to this competition?
Competition is a good thing and the end-user is always the one to benefit the most from it.
After all these super cheap display tablets started popping everywhere, Wacom responded by launching their own affordable range of drawing tablets.
First, they came with a Cintiq 16 which is a 16-inch mid-range drawing tablet. Followed by the Cintiq 22 – for an artist that wanted a bigger screen.
In the end, they introduced the Wacom One which is a 13-inch entry-level drawing tablet for beginners who wanted the cheapest possible drawing tablet with screen, from a reputable brand.
Wacom vs Wacom Alternatives
Comparing these newer – budget Wacom tablets with non-Wacom tablets, you can clearly see that Wacom tablets are still a little expensive compared to Wacom alternatives. But some artists are happy and willing to pay more for Wacom.
In our observations, both Wacom and non-Wacom tablets are equally good and you will have a great drawing experience using both these tablets.
So if you are looking for a drawing tablet and want a better deal and better value for money, you should confidently go for Wacom Alternatives such as Huion and Xp Pen. But if you are willing to pay a little extra for a brand name, get the Wacom.
Related: Wacom Cintiq 22 vs Huion Kamvas 22