Disclosure: As an Amazon Associate EssentialPicks earn from qualifying purchases.
---
A lot of movement is going on the drawing tablet space in the past few months. Big tablet brands are responding to the high demand for budget drawing tablets and releasing pen displays for beginner to intermediate users.
It started with industry leader Wacom releasing their Cintiq 16 display tablet, claiming it was the best option for beginners.
Soon Xp Pen followed with its Artist 15.6 Pro tablet which essentially blew everyone's mind with its aggressive features. In addition to that, it was priced substantially lower than the already cheap Cintiq 16.
Finally, Huion showed up with its Kamvas Pro 16 which comes at the same price point as Xp Pen's Artist 15.6 Pro.
With all these options it is easy to get overwhelmed with all the choices.
In this Huion Kamvas Pro 16 vs Xp Pen Artist 15.6 Pro comparison, we would take a deep look at all the feature these tablets have to offer. It will help you decide which display tablet is the right choice for you.
Huion Kamvas Pro 16 vs Xp Pen Artist 15.6 Pro – Comparison
Here is the quick comparison between the Xp Pen Artist 15.6 Pro and Huion Kamvas Pro 16.
Kamvas Pro 16
by Huion
15.6 Inch Full HD display
120% sRGB color accuracy
Laminated display
8192 pressure levels ±60° tilt
6 Shortcut buttons
Touch bar
No tablet stand
CHECK ON AMAZON
Artist 15.6 Pro
by Xp Pen
15.6-inch Full HD
120% sRGB color accuracy
Laminated display
8192 pressure levels ±60° tilt
8 Shortcut buttons
Roller wheel
Tablet stand included
CHECK ON AMAZON
Design and build quality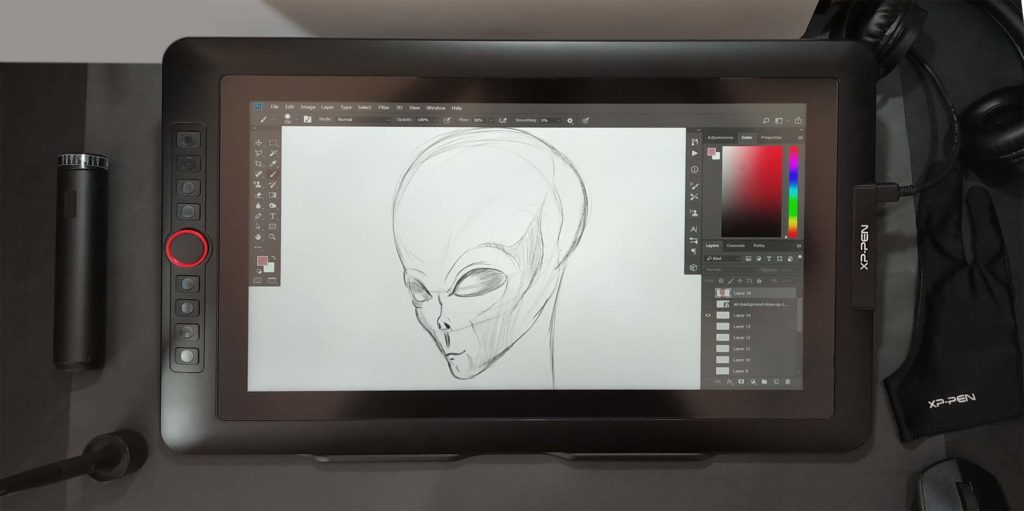 Both the tablet has a very similar design with the working area on the right and shortcut buttons on the left. The corners are rounded and you have bezels around the screen to work as a palm rest.
Now both the tablets are equally good in terms of build quality but the Huion Kamvas Pro 16 takes a slight edge over Xp pen.
The Kamvas Pro 16 has a metallic body that covers the whole back. It wraps around the edges to meet the glass at the front.
Screen comparison – Kamvas Pro 16 vs Artist 15.6 Pro
A screen is one of the very crucial parts of a drawing tablet, it is where everything.
As an artist, you have to work in close proximity to the screen, so it is very important for the tablet to have a high-resolution screen so that you don't see small pixels.
The screen of these tablets are very similar to each other, they come with a 15.6-inch display with 120% RGB color coverage and a Full HD resolution of 1920 x 1080 pixels.
These screens are bright enough to be workable in bright indoor environments.
Matte display and surface texture – The tablets come with a matte screen that minimizes glare. Both screens have a textured surface which helps with controlling your stylus better.
The texture is a little different on each screen but it is very difficult to tell which one feels better.
Laminated display – Why do they matter
One of the biggest reasons why you should be excited about these two tablets is – they come with laminated displays.
So what is a laminated display and how does it improve the drawing experience?
In these displays, the layers of the screen such as the display unit, Pen input, and the protective glass are laminated together.
Unlike traditional displays, the laminated tablets have no air gap in between the layers. So the light coming out of the display does not gets scattered. It results in a brighter, sharper image.
Apart from that, one of the prime reasons for the use of laminated displays is they reduce parallax.
In older displays, when you draw a line the drawing cursor appears a few millimeters away from where the pen is actually touching the surface. This was caused by small gaps between the display layers.
Laminated displays do not have these issues and the strokes appear perfectly where the pen touches the surface.
Xp Pen P05R vs Huion PW507 – Stylus comparison
Both these styles are relatively new and started showing up with the last few tablet releases.
Initially, Huion had some line wobble issues, where it was unable to draw straight lines. But since then a lot had changed and now they have successfully perfected their stylus. So which stylus is better?
Xp Pen P05R and Huion PW507 come with 8192 levels of pressure sensitivity. In addition to that – they also have tilt recognition up to ±60°.
As an artist, you often use these devices for multiple hours at a time.
For making your drawing experience comfortable and minimizing hand fatigue and cramps, both these stylus comes with a very ergonomic shape. They have a wider tip while slowly tapers towards the end.
The pens have rubber grips at the front which helps with better grip. Both stylus has two buttons on the side with no eraser at the back.
Drawing performance
Wacom Pro pen 2 is considered the holy grail for the stylus performance for the last few years.
Both Xp Pen and Huion have come a long way from what they use to be. Their latest stylus Xp Pen P05R and Huion PW507 have the same level of accuracy from what you find with Wacom pens.
The lines are smooth and consistent with a nice taper at the end of strokes.
The pressure curve is on point, tilt sensitivity works great. Both the stylus are passive pens which means you do not need to charge them.
So which stylus is better? All things considered – both Xp Pen Artist 15.6 Pro and Huion Kamvas Pro 16 have an equally good stylus with very similar performance.
Pen stand and holder
The Huion Kamvas Pro 16 comes with a donut-shaped pen stand which allows you to keep the pen in horizontal as well as vertical position. The stand is made of plastic and feels a little cheap.
Opening the pen stand you will find 10 extra pen tips stored in padded compartments along with a nib remover tool.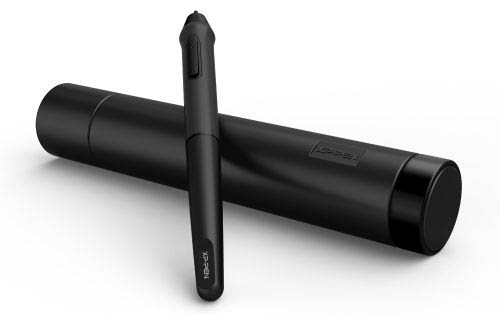 Now Coming to the Xp pen Artist 15.6 Pro pen holder. It is cylindrical in shape and contains storage space for the pen as well as extra pen tips.
Opening the front cap you will find the pen stored inside the cylindrical tube. The front cap also works as a pen stand which keeps the pen in a vertical position. It is bottom-heavy and has rubber pads at the bottom.
Overall XP pen has a better pen holder which provides better protection to the pen.
Shortcut buttons – Kamvas Pro 16 and Artist 15.6 Pro
Artist Pro, as well as Kamvas Pro 16, comes with a number of shortcut options. All the shortcut buttons are located along the left side of the tablet. Here is a detailed look at all the expresskeys these tablets offer.
Xp Pen Artist 15.6 Pro shortcut options
With Xp Pen artist 15.6 Pro, you get a total of eight shortcut buttons along with a very handy circular dial. The button has raised dotted and dashed structures to easily identify then in dark.
The dial is one of the most useful features which allows you to zoom, rotate, pan, scroll and most importantly change the size of your brush and eraser.
The roller makes a satisfying click after every 15° of rotation and kind of invites you to use the shortcut button more often.
Huion Kamvas Pro 16 shortcut options
The Huion Kamvas Pro 16 has six shortcut buttons and a touch bar. The buttons are arranged in two groups of three. The touch bar is located in-between the shortcut buttons and helps with zoom, pan, scroll and change the brush and eraser size.
The shortcut button has the same raised dots that we have seen in other drawing tablets which helps to identify the button without looking at them. The button has a nice quality and makes a satisfying click on pressing. All the buttons can be customized using tablet settings.
Overall Xp Pen Artist 15.6 Pro has better shortcut options with more buttons. The dial feels a step ahead of the touch bar that is available with Huion. It feels more inviting and satisfying to use.
Tablet stand
Both these tablets are relatively big, which means it can be difficult to use them flat on the table. A tablet stand gives you varying angles for a more comfortable drawing.
The Xp Pen Artist 15.6 Pro comes with a simple plastic stand that has a single adjustment angle.
Huion, on the other hand, does not come with any tablet stand. They recommend using their official tablet stand for Kamvas pro 16 (Amazon) which is available separately.
Connectivity options – How to connect with a computer
Both the tablets use a 3 in 1 cable to connect the drawing tablet to the computer. This minimizes cables coming out from your tablet and makes your setup look clean.
In 3 in 1 cable, you have an HDMI and a USB-A cable that connects to the computer, the third one is the power cable which connects to the power adapter which also comes with the tablet.
On the opposite side, you have a USB type-c cable that connects to the drawing tablet.
The Huion Kamvas Pro 16 comes with an L-shaped USB-C cable which whereas the Xp pen Artist 15.6 Pro comes with a straight cable.
The power cable of the Xp Pen Artist 15.6 Pro has a USB-A connector. If your computer has a powered USB inlet, you can directly connect the Power cable to your computer without needing the Power adapter.
This option is not available with Huion Kamvas Pro 16 whose power connector is circular in shape and cannot be connected to the computer.
If you work on a laptop and it does not have all the required ports like HDMI, you can get a USB Hub (Amazon). It has all the required ports which also includes an HDMI port along with the powered USB connector.
Driver – Control center for advanced settings
In case you don't know – a driver is software that helps the computer to understand the tablet data like pressure and tilt sensitivity. It also gives you access to advance settings to fully customize your tablet. It allows you to change all the shortcut buttons on the tablet as well as the pen and also changes the sensitivity of the pen.
Both the tablet come with their own driver which is free to download. The drivers are easy to navigate and use.
Accessories
Huion and Xp Pen are known to give a generous amount of extra accessories with their tablets. Here is the list of everything you'll find in the box.
Drawing tablet
Stylus
3 in 1 Cable
Drawing glove
International power adapter
Microfibre cloth
Pen holder
Extra pentips
Tablet stand(only with Artist 15.6 Pro)
User manual
Shortcut stickers (only with Kamvas Pro 16)
Final thoughts/ Conclusion
Both Kamvas Pro 16 and Artist 15.6 pro are similar to each other in price, design, features, and capabilities and we have to really look hard to find major flaws considering how good these tablets are. In the end, both these tablets are great choices and you cannot go wrong with any of them.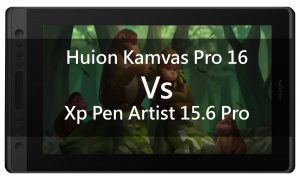 The Huion Kamvas Pro 16 (Amazon) has a better-built quality, on the other hand, the Xp Pen Artist 15.6 Pro (Amazon) has better shortcut buttons and comes with a tablet stand. Other than that, their display is equally good and they have a similar level of pen performance.
So at this point, we are not really talking about the tablet and pen as we know they are equally good. You should select the tablet based on which brand you prefer and whether you want a better design or better shortcut options.
Huiom Kamvas Pro 16
Xp Pen Artist 15.6 Pro
Display Size
15.6 Inches
15.6 Inches
Resolution
1920 x 1080 Full HD
1920 x 1080 Full HD
Color Accuracy
120% sRGB
120% sRGB
Shortcut Buttons
6 + Touch bar
8 + Roller wheel
Pen Pressure
8192 Levels
8192 Levels
Pen Tilt
±60° (degrees)
±60° (degrees)
Buttons on Pen
2
2
Pen Holder
Pen stand
Pen holder/stand Combo
Extra Pentips
10
8
Tablet Stand
Not Included
Included
Tablet Surface
Matte/ Textured
Matte/ Textured
Current Price
Check on Amazon
Check on Huion.com
Check on Amazon
Related:
Wacom Cintiq 16 vs Huion Kamvas Pro 16 comparison
Best display tablet on a budget
Xp pen Innovator 16 vs Huion Kamvas pro 16 premium