As an Amazon Associate EssentialPicks earn from qualifying purchases.
Working on your computer all day long can be very tiring. Changing your setup can give you a significant boost in productivity as well as creativity.
Being a digital artist doesn't mean you need to be tied down to a desk. A portable drawing tablet gives you the flexibility to work from any place of your choice.
There are plenty of good drawing tablets available in the market. Some offer a better stylus, others boast their long battery life and superior display quality.
So which of these features are most important for a potable drawing tablet and which tablet will fit your needs better.
To help you find the compact, lightweight, and powerful drawing device, we have made a list of most deserving candidates for being the best portable drawing tablets in the market.
We have also included a Buyer's guide towards the end which is worth checking out.
Top Recommendations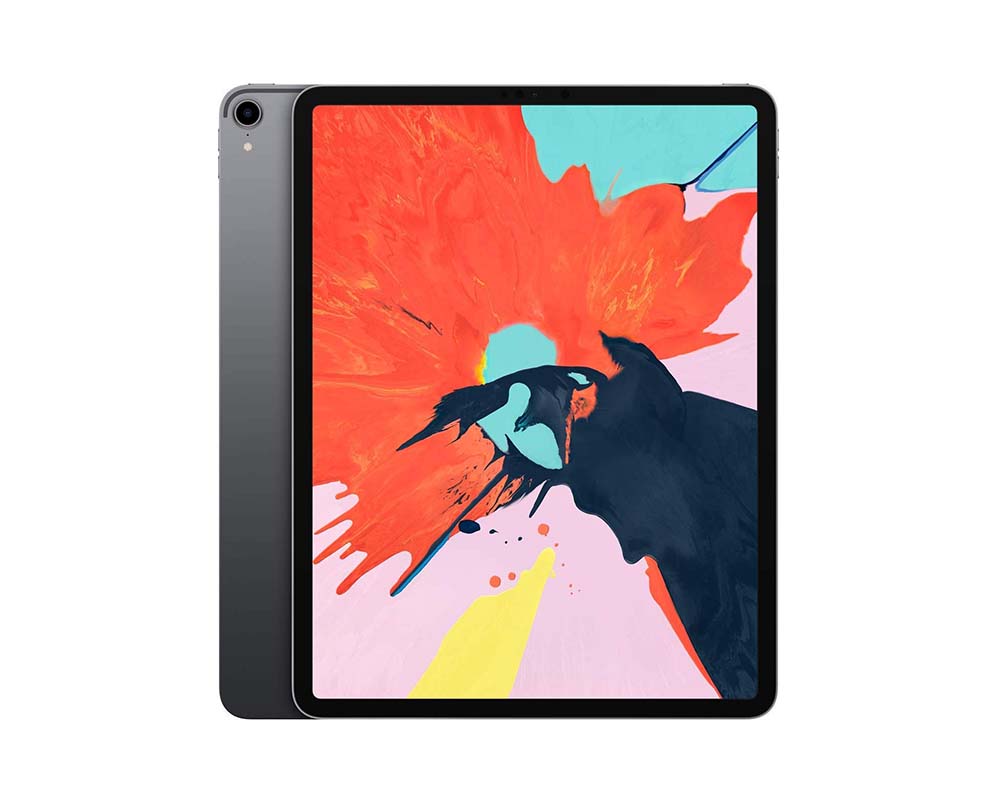 Apple iPad Pro
iPadOS
11/12.9-inch display
Apple Pencil
Good battery life
Fast charging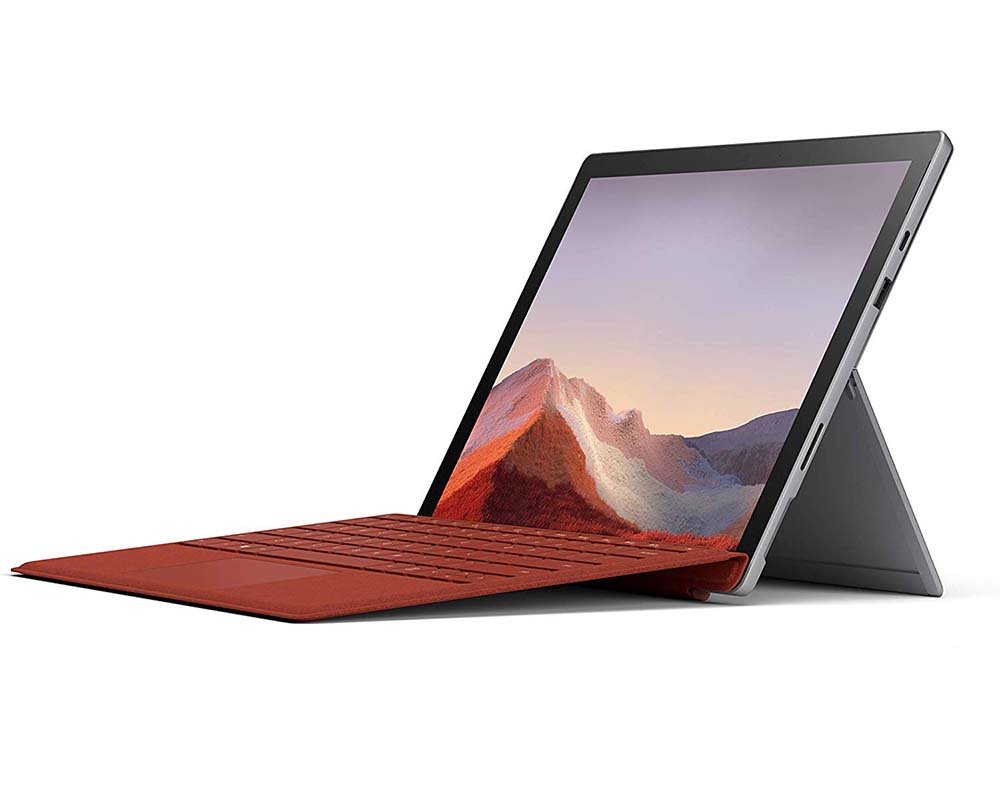 Microsoft Surface Pro 7
Windows
12.3 inch display
Surface Pen
Powerful
Inbuilt tablet stand

Simbans Picasso Tab
Android
10 inch display
Simbans Pen
Stylus included
Budget tablet
1. Apple iPad Pro – Most Portable tablet for Drawing
Apple iPad Pro has always been the first choice for anyone who wants a portable and powerful drawing device. What makes it stand out from other devices is the mix of incredibly good Stylus and its excellent screen.
Talking of the screen first. A portable tablet is often used outdoors – sometimes under direct sunlight. Which makes it important for the tablet to have a brighter screen.
The Apple iPad Pro has a screen brightness of over 600 nits in the highest setting, which is almost two times brighter than generic laptop screens. Making it a great device for outdoor usage.
On top of that, it has a screen resolution of 2732 x 2048 pixels and color accuracy of 112% sRGB that produces sharp and accurate colors.
Apple Pencil – Best Stylus in the market
The Apple Pencil is another big reason why so many artists prefer iPad Pro for Drawing. It is arguably the most advanced stylus in the market.
Apple Pencil has a balanced pressure and tilt sensitivity that works flawlessly. The lines are straight and perfectly responds to the pressure variation while drawing.
The faster response times of the Apple Pencil along with the ProMotion display of the iPad – together makes the drawing experience feel buttery smooth.
Size – 11 inches and 12.9 Inches
Resolution – 2732 x 2048 (264 PPI)
Color Accuracy – 112% sRGB
Weight – 1.41 pounds (0.6 Kg)
Battery Backup – 10,307mAh battery – 11 hours backup.
Operating System – iPadOS
Stylus (Apple Pencil) – Wireless Rechargeable, Needs to be purchased separately
Overall, if the price is not a concern it is the best tablet to have and to use as a portable drawing tablet.
For price-conscious artists, you can have a look into the older generation of iPads on Amazon which works just as good but does not have those extra bells and whistles which you don't necessarily need anyway.
PROs – Apple iPad Pro
Sharp screen with accurate colors
Apple Pencil – Excellent performance
Faster response rate
11 hours of battery backup
Fast charging
Available in multiple size and varients
Good drawing apps available for iPad OS
Wireless Charging on the Apple Pencil
CONs – Apple iPad Pro
Glossy and reflective screen
Expensive but worth the price
Apple Pencil not included in the box
No 3.5 mm headphone jack
No good 3D modeling and Sculpting apps
2. Wacom Mobile Studio Pro – Professional Setup in a portable form factor
If you know about digital art, you may already be aware of Wacom devices. They are popular among the digital art community for their excellent drawing performance and can often be seen in major visual effects studios.
The Wacom Mobile Studio Pro is a compact version of Wacom Drawing tablets and comes with an inbuilt Windows computer. The compact size allows you to use it anywhere you go.
One of the biggest advantages of having a Windows-powered portable drawing tablet is, it allows you to run desktop-grade applications. You can simply transfer your project files to the Mobile Studio Pro and continue working just like you work on your computer.
Shortcut Buttons
The Wacom Mobile Studio Pro has a number of programmable shortcut buttons on the left side of the tablet along with a multifunctional touch ring.
These buttons can be used to perform repetitive tasks such as undo, redo and changing the size of brush and eraser without digging into menus.
The only shortcoming with the Wacom Mobile Studio Pro is its short battery life. On the bright side, it comes with Wacom Pro Pen 2 which some artists consider even better than the Apple Pencil due to its excellent performance and superior ergonomics.
Size – Available in 13 and 16 inches
Resolution – WQHD 2560 x 1440
Color Accuracy – 82% Adobe sRGB
Weight – 4.85 pounds (2.1 Kg)
Battery Backup – Not mentioned
Operating System – Windows
Stylus (Wacom Pro Pen 2) – Battery-Free, Included in the box
Overall, this is a solid piece of hardware that is specifically made for professional digital artists who wants no compromises when they are on the move.
PROs – Wacom Mobile Studio Pro
Excellent stylus performance with good ergonomics
Programmable shortcut buttons
Multipurpose touch ring
Etched glass for Textured Surface
Matte display
Good color accuracy
Available in multiple size and configuration
Comes with a stand
Windows – Runs desktop applications
Loved by Artists
CONs – Wacom Mobile Studio Pro
Low display brightness
Average battery backup
Portable but comparable to a laptop in size
Just 3 angles on the stand
3. Hp ZBook x2 G4 – Drawing-tablet laptop combo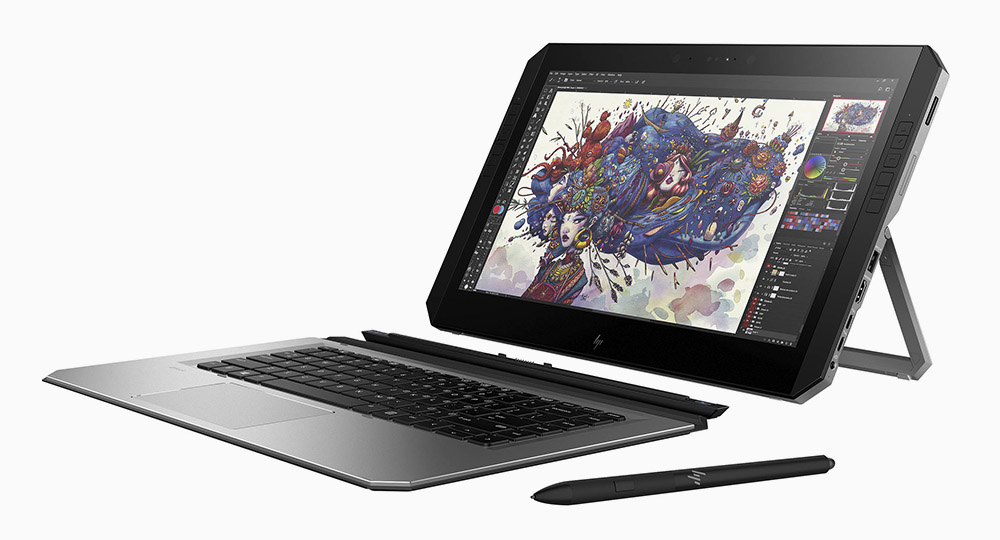 Traditional drawing tablets needed to be connected to a computer in order to work. Meaning you cannot use them as a portable drawing and editing tool.
The HP ZBook X2 G4 is a great option for the artists who want the features of a traditional drawing tablet in a portable form factor.
The Book X2 G4 is the direct competitor of the previously mentioned Wacom Mobile Studio Pro and comes with a long list of artist-centric features.
For starters, it comes with a 14-inch display which is small enough to carry around with you, while having ample screen space to work comfortably.
The 14 inch IPS touchscreen display has a 4k resolution and a superior color accuracy with various color profile and hardware-based color controls making it a great choice for any sort of creative work.
HP stylus for ZBook X2
Now shifting our focus to the stylus – The HP ZBook stylus comes with a Wacom EMR based stylus, which is a battery-free stylus and does not need to be charged.
The stylus has 4096 levels of pressure sensitivity as well as support for pen tilt.
To make the drawing experience even better the HP ZBook x2 comes with an etched screen with provides texture to the stylus. There are a number of programmable shortcut buttons located on both sides of the display which can be used to perform shortcut operations within programs such as Photoshop.
One of the neat features of this tablet is its detachable Bluetooth keyboard. It can be attached removed from the tablet depending on whether you want to use it as a laptop or a drawing tablet.
The Keyboard is Bluetooth enabled meaning, even after detaching it from the tablet, they can still be used for performing shortcuts.
Size – 14 inches
Resolution – 3840 x 2160 4K
Color Accuracy – 178 % sRGB
Weight – 3.6 pound (1.65 kg) in tablet mode and 4.7 pounds (2.17 kg) in laptop mode
Battery Backup – 7 hours battery backup (source: laptopmag.com)
Operating System – Windows
Stylus – Battery-Free EMR based stylus, Needs to be purchased separately (Amazon) 
In a nutshell, if you are looking for a windows based portable drawing tablet, there is no doubt that HP ZBook X2 is one of the most attractive options in the market. You will have a wonderful experience using this tablet.
PROs – HP ZBook X2 G4
Compact, powerful and portable
Touch-enabled 4K IPS panel
Most color-accurate screen (178% sRGB)
Can be used as a laptop as well as a drawing tablet
Detachable Bluetooth Keyboard
Really Good Stylus (EMR based passive pen)
Textured drawing surface – Etched glass
Ports: 2 x Thunderbolt 3 USB C, USB A, HDMI port plus a headphone jack
Inbuilt tablet stand
CONs – HP ZBook X2 G4
Average screen brightness (350 nits)
Average speakers
Only available in one size – 14 inch
Stylus needs to be purchased separately
4. Microsoft Surface Pro 7 – Windows computer in a Compact body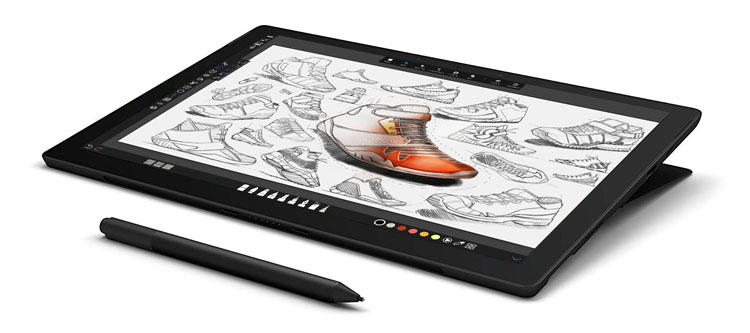 You may have noticed all the Windows-based tablets in our list are kind of comparable to a laptop in size. And when we call them portable, we are kind of stretching its meaning.
If portability is your priority, the Microsoft Surface Pro 7 is the perfect drawing tablet for you.
Surface Pro 7 works on Windows and supports desktop-grade drawing and photo editing applications, while still maintaining a tablet-like form factor.
Surface Pro Display
The tablet comes with a 12.3-inch screen with a resolution of 2736 x 1824 which is similar to the Apple iPad. It has a color coverage of 98% sRGB that produces color-accurate images.
One of the good things about this tablet is,  it is very configurable. You get multiple options for CPU, memory, and RAM. This allows you to select the tablet according to your needs, power requirements and budget.
Surface Pen
Surface Pro 7 comes with a very capable stylus with fast response time and good pressure sensitivity. The stylus can stick to the side of the tablet when not in use with the help if magnets inside the pen.
The Surface Pro has a very handy built-in Kickstand at the back. The stand enables it to position the tablet at any desired angle.
Size – 12.3 inches
Resolution – 2736 x 1824 pixels
Color Accuracy – 98 % sRGB
Weight – 1.7 pounds (0.7 Kg)
Battery Backup – Average battery backup
Operating System – Windows
Stylus (Surface Pen) – Needs to be purchased separately
The Surface Pro 7 is one of the few windows devices in the market that comes in a form factor of a tablet. It is compact, powerful and has a good stylus. If you are looking for a portable all in one device, Microsoft Surface Pro 7 is the right tablet for you.
PROs – Microsoft Surface Pro 7
Most potable Windows-powered tablet
Good Stylus Performance
Super sharp screen
Good touch response Palm rejection
Available in multiple configurations
Good Build quality
Built-in Kickstand
CONs – Microsoft Surface Pro 7
Only available in a 12.3-inch size
Surface Pen needs to be purchased separately
Large Bezels
Average battery backup
5. Samsung Galaxy Tab S6 – Portable Android tablet for drawing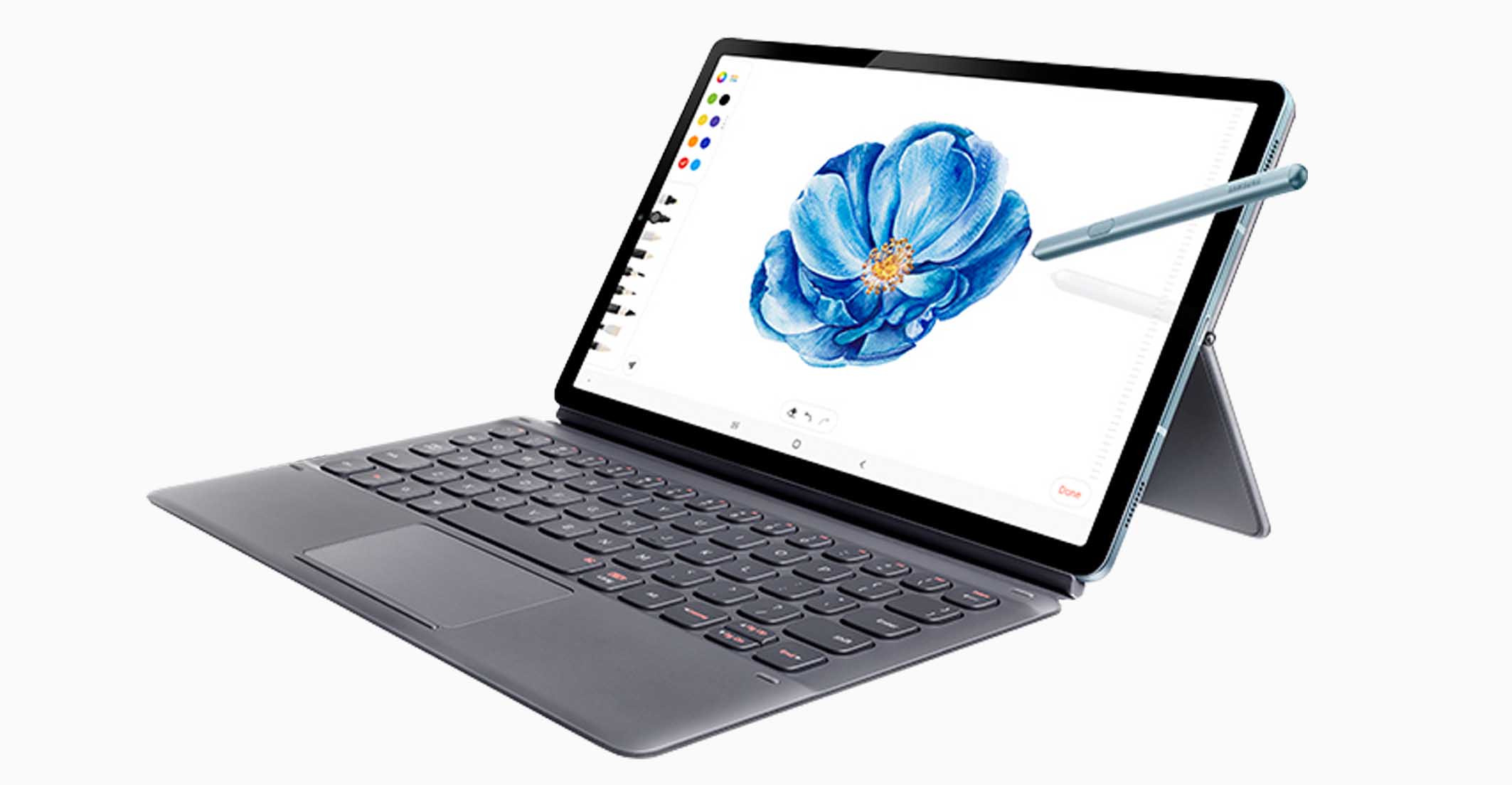 The Samsung Galaxy Tab S6 is Android's answer to the Apple iPad Pro and the Surface Studio Pro 7. It is a modern-looking device with a very thin profile and minimal bezels. It houses a powerful processor that can easily handle heavy projects file with hundreds of layers.
Samsung is known for their screens. The Galaxy Tab S6 comes with a 10.5-inch screen with a resolution of 2560 x 1600 pixels with a 16:10 display ratio.
The tablet has an AMOLED screen which is known for its superior color quality measuring about 122% on sRGB color space.
Samsung S Pen
Now talking of S Pen, Samsung has been making stylus for quite some time now. Year after year the S Pen has seen a massive improvement in terms of speed and accuracy.
The S Pen has good pressure sensitivity along with the support for tilt sensitivity. The Pen has a cylindrical shape with flat faces on both sides and a single button on its side. The S Pen uses Wacom's EMR pen technology which provides superior stylus performance.
The S Pen also comes with air gestures that allow you to control your music playback and perform shortcuts like redo and upon in some drawing applications.
Like the Apple iPad, the Stylus has magnets that allow the stylus to slick at the back of the tablet and wireless charge the battery used for air gesture.
Size – 10.5 inches
Resolution – 2560 x 1600 pixels
Color Accuracy – 122 % sRGB
Weight – 0.9 pounds ( 400 grams)
Battery Backup – Good battery backup (9 hours)
Operating System – Android
Stylus (Surface Pen) – Included in the box
Overall the Samsung Galaxy Tab S6 is a futuristic and feature-rich modern-looking tablet that has really good battery backup and an excellent stylus. All these features together make it a great choice for someone looking for a good portable drawing tablet.
PROs – Samsung Galaxy Tab S6
Sharp, bright and color accurate screen
Long-lasting battery
Excellent stylus
Powerful processor
Lightweight slim and compact
Stylus included in the box
Support for external keyboard
Quick charge
Good Speakers
CONs – Samsung Galaxy Tab S6
No headphone jack
Some people may not like the 16:10 aspect ratio
Not ideal for 3D modeling and 3D sculpting
Easy to un-intentionally press shortcut button on S Pen
6. Simbans Picasso Tab – Budget Friendly portable drawing tablet for beginners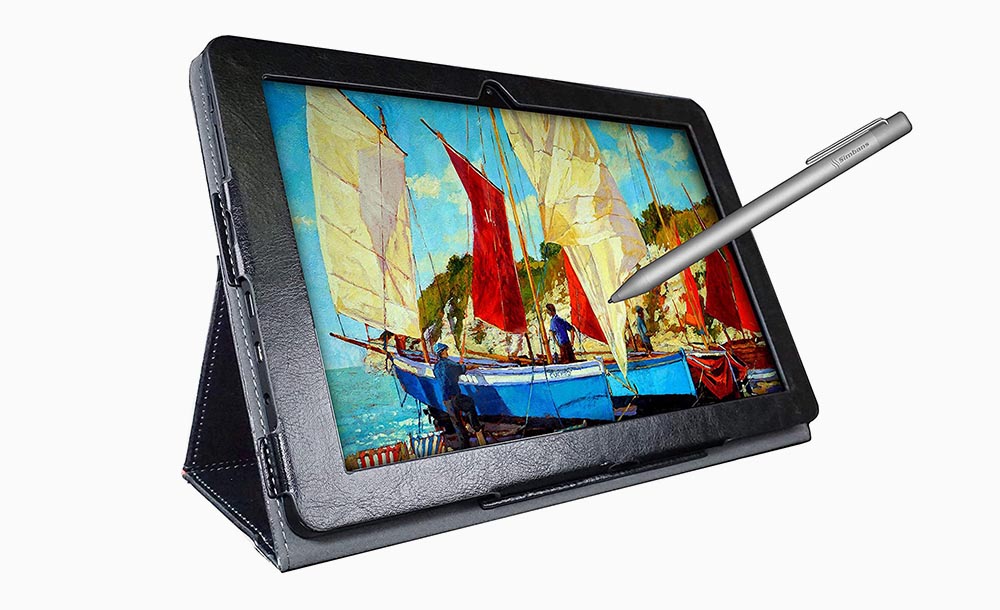 Portability is expensive, you may have noticed most of the good tablets in the market have a high price tag associated with them and that is understandable.
But what if you are a beginner or just want a good tablet that can draw without any of those unnecessary bells and whistles.
That is where the Simbans Picasso Tab comes in the picture. it is a budget-friendly Android-based tablet with stylus support.
The Simbans Picasso Tab is a 10-inch portable drawing tablet and has a 1280 x 800 resolution touch screen with decent color accuracy thanks to its IPS display.
The processor of the Simbans Picasso tab may not be as fast as other premium tablets such as Samsung Galaxy Tab S6 but it is good enough to easily handle large file sizes with a number of layers.
Freebies – What you get in the box
In the box, you get a pre-applied screen protector to protect the screen from stylus scratches. You also get a free heavy duty table cover.
The tablet comes with 32 GB of onboard memory with an expandable Micro-SD card slot.
The Simbans tablet has a good processor that can easily handle large project files and works flawlessly with any drawing app. It comes with an expandable micros-sd card reader, a screen protector, and a tablet sleeve.
The included stylus is an active pen that uses an AAAA battery. It has pressure sensitivity that works well with all the popular Android drawing apps.
Size – 10 inch
Resolution – 1280 x 800 pixels
Color Accuracy – Not mentioned
Weight – 1.9 pounds ( 800 grams)
Battery Backup – Decent
Operating System – Android
Stylus – Included in the box
Overall, the Simband Picasso tab is a good value for money tablet and has a better drawing performance that you would expect from a budget tablet. It is a great choice if you want to save some cash while still getting a good drawing experience. It is a great gift for your loved ones or yourself.
PROs – Simbans Picasso Tab
Good screen color
Great value for money
Compact 10-inch size
Expandable memory
Comes with a pre-applied Screen Protector
CONs – Simbans Picasso Tab
Lower screen resolution
The pen is not rechargeable and uses AAAA battery
7. Lenovo Yoga c940 – Foldable laptop for with stylus
Good News – If you have come this far, we have saved the best for last.
The Lenovo Yoga c940 is not a tablet – still, we decided to include it on the list as it can be an outstanding option for anyone looking for a portable drawing device.
The laptop is compact enough to take it with you and thanks to its 10th processors, powerful enough to handle demanding tasks such as 3D rendering.
But what actually makes it a good choice for digital artists is, first – it comes with a really good stylus and second it folds in half into a tablet-like form factor.
Display
The foldable laptop comes with a 14-inch screen with FullHD and 4K display options. The screens can go very bright reaching up to 500 nits in maximum settings, which is great for bright outdoor environments.
The keyboard is backlit, so all you night owl reading this can comfortably work in dark.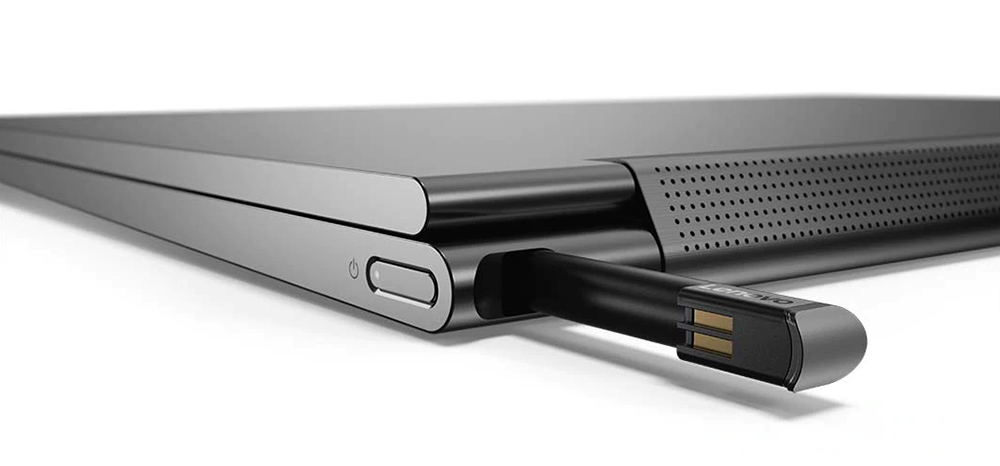 Coming to the stylus, the laptop uses an active stylus which is decent enough for casual drawing. One neat feature about the stylus is – the tablet has a pen slot located at the back of the laptop where you can store the stylus when not in use.
Size – 14 inch
Resolution – FullHd or 4K
Color Accuracy – Good (HDR-enabled)
Weight – 2.97 pounds ( 1.35 Kg)
Battery Backup – Excellent battery backup (10 hours)
Operating System – Windows
Stylus – Included
If you need the latest generation portable and powerful laptop with stylus support, the Lenovo Yoga C940 is a great option.
PROs – Simbans Picasso Tab
Super powerful processor
Slim Bezels
Backlit Keyboard
Excellent battery backup
Fast charging
Fingerprint Sensor
Good Speakers
CONs – Simbans Picasso Tab
Average stylus but still good enough
No anti-glare screen
No micro-Sd card slot
Buyer's Guide – How t0 find the right Portable display tablet
All the tablets mentioned in our list comes a different set of features. Whether a given tablet is a good choice for you depends on your needs and requirements.
Here is a guide that will help you figure out what features you should be looking for in a drawing device and which of the above mentioned portable drawing tablets will suit your needs better.
Perfect size for a portable tablet
Starting off with the size. Most people agree, bigger is better when we talk of screen sizes. But that is not the case when it comes to portability – as the size of the screen increases the tablet becomes less and less portable.
In that case, we want something which is best of both worlds, meaning a portable drawing tablet should provide the maximum amount of screen space while being portable at the same time.
Some of the tablets such as Apple iPad Pro and Samsung Galaxy Tab S6 comes with a smaller 10 – 11-inch screen sizes. But drawing apps on Android and IOS are well optimized for smaller screens.
Meaning in apps menus and buttons takes less space and use the available space much wisely and you get great drawing experience even on smaller screens.
When it comes to Windows-based drawing devices, they are not that well optimized so you need a little more space to work comfortably.
That is why most of the Windows drawing devices such as Wacom Mobile Studio Pro, HP ZBook X2 G4 and Lenovo Yoga C 940 come with 13 or 14 inches of minimum space.
Display – Resolution
You don't need 4K resolution on smaller screens. In most cases, a higher resolution is better. But on smaller 11 inches and 14 inches displays the difference between the HD and 4K is not that noticeable.
On top of that 4K displays need more battery power which is not ideal for a portable device.
With that said there are a number of devices such as Apple iPad Pro, Samsung Galaxy Tab S6, Wacom Mobile Studio Pro, HP ZBook X2 and Lenovo Yoga C940 that comes with a 4K display.
Color Accuracy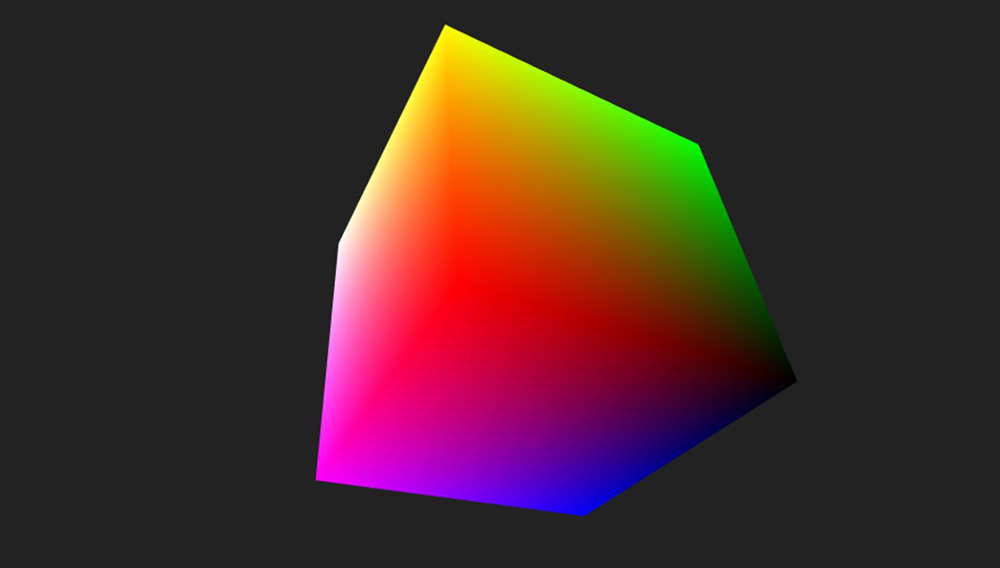 In order to select the right colors and make better artwork, it is important that your screen displays accurate colors.
Out of all the devices mentioned in the list, the HP Zbook Has the most color-accurate screen followed by Samsung Galaxy Tab S6 and Apple iPad Pro.
Operating System
Operating System is a big deal when we talk about drawing devices. The operating system determines what type off apps and software you would be using.
iPad OS and Android devices are great for making digital artwork, photo editing, and color-correcting tasks but they fall short when it comes to Design and 3D modeling and sculpting.
Also, most of the standard desktop-grade drawing software has not yet made their way to Android and IOS devices.
Windows-powered devices, on the other hand, give you complete freedom to use any industry-standard software. You can easily transition to 3D modeling and design software – as many of the artists like to do as part of their workflow.
Stylus – Essential Drawing tool

The stylus is one of the most important parts of a tablet intended to be used as a drawing device. How good the performance of the stylus determines the drawing experience you will have with that tablet.
There are mainly two types of the stylus in the market
Active Stylus 
Passive Stylus
Active stylus are digital pens that have batteries inside them whereas Passive stylus does not have batteries inside.
Tablets such as Apple iPad Pro, Simbans Pen, and Lenovo Yoga C940 comes with an active pen. On the other hand, Wacom Mobile Studio Pro, HP ZBook x2, Surface Pen, Samsung S Pen comes with a passive EMR/AES based stylus.
Pressure Sensitivity, tilt detection
Pressure sensitivity is one of the important parts of a digital pen, it makes the strokes feel more natural and organic. In the last few years, we have seen almost all the stylus in the market come with pressure sensitivity.
Other than pressure sensitivity, some stylus also comes with tilt recognition. The tilt recognition allows you to do shading just like a real pencil by tilting the stylus while touching the tip on the surface.
Here are some of the stylus that supports tilt recognition: Apple Pencil, Wacom Pro Pen 2, HP Pen for ZBook, Microsoft Surface Stylus and Samsung S Pen.
Stylus Latency
The latency of the stylus is determined by how fast the strokes from the stylus are displayed in the stylus. In old tablets, the latency use to be so bad that the stroke appeared a few seconds after you have drawn it.
But with the quicker processors, faster screen refresh rates and better communication between stylus and tablet you get an amazingly fast response rate.
The Apple Pen with iPad Pro has the fastest response times measuring about just 9ms, it is closely followed by Wacom tablets and Samsung S Pen who also have great stylus latency.
Battery Life
A longer Battery life is one of those things that you have to have in a portable drawing device. Most of the tablets and portable computers mentioned in our list come with good battery life. You can expect these tablets to last anywhere between 8 to 10 hours on average uses.
Fast charging is another feature to look for. Some of the tablets such as Apple iPad Pro, Samsung Galaxy s6, Surface Pro offer fast charging which makes recharging the tablet very fast and convenient.
Budget
Lastly, the Budget plays a huge role when determining which portable drawing tablet to take. Top of the line premium products comes with latest-generation tech, faster processor, superior processors and a lot of extra bells and whistles and that reflects in their price tag.
But you don't always need a top of the line fully loaded tablet to draw. For example, the Apple iPad is available in multiple configurations.
The lowest configuration of Apple iPad costs twice or three times less than the maxed-out version. In real life usage, you still get comparable performance for the cheapest iPad version.
Similarly many other devices like Microsoft Surface Pro, HP ZBook X2 comes with multiple configurations and you can save a lot of money if you pick the right tablet according to your needs.
Related:
Drawing apps for Android tablets