Disclosure: As an Amazon Associate EssentialPicks earn from qualifying purchases.
---
It was not that long ago when iPad Air used to be the underdog, overshadowed by the might of the iPad Pro.
Last year with the 4th generation upgrade, the iPad Air caught the attention of the artist community.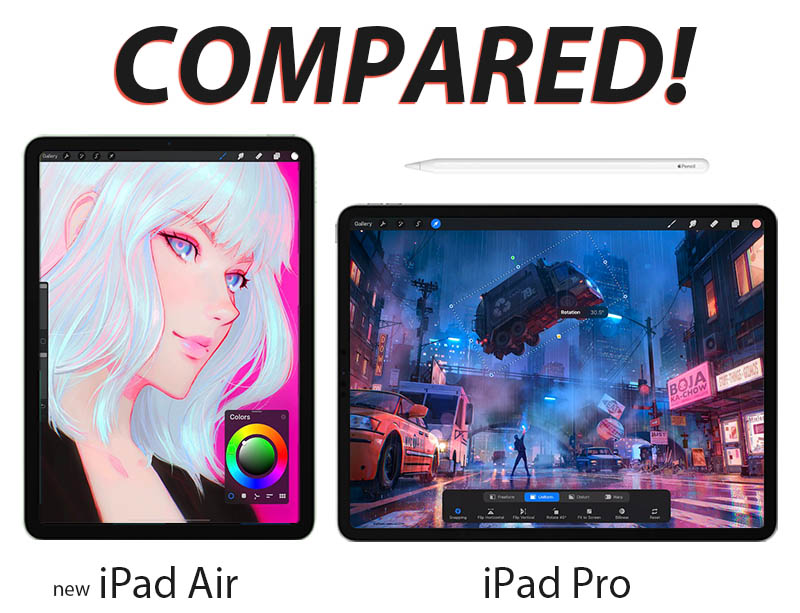 It not only got a massive design overhaul (narrow bezels) which made it look and feel very much like iPad Pro, but it also got support for the Second generation of Apple Pencil.
This was big news for digital artists – as they now have the option to get a top-of-the-line drawing experience without necessarily spending top dollars.
The recent 5th Gen iPad Air upgrade leveled the playing field by bringing the Apple M1 chip to the iPad Air.
This is the same series of processors that is used in iPad Pro and even Macbook Air.
With iPad Air being so closer to the iPad Pro, people are questioning whether iPad Air has gotten too good and if it is even worth getting an iPad Pro.
Well, for most general users, you can say getting an iPad Air is a better choice over the Pro model – as you get almost 90 percent of the features at a considerably cheaper price.
But when you compare iPad Air and iPad Pro from the perspective of a digital artist, things get more nuanced as there is no one size fits all answer.
This iPad Air vs iPad Pro comparison is specifically made keeping digital artists in mind – where we will lay out all the main differences and help you make the right decision.
iPad Air vs iPad Pro – Features Overview and Comparison
*Note for mobile users – Pan left/right to see the complete table
iPad Air
iPad Pro (11")
iPad Pro (12.9")
Screen size
10.9 Inches
11 Inches
12.9 Inches
Dimension
247.6 x 178.5 x 6.1 mm
247.6 x 178.5 x 5.9 mm
280.6 x 214.9 x 5.9 mm
Resolution
2360 x 1640 p
2388 x 1668 p
2732 x 2048 p
Brightness
500 nits
600 nits
1000 nits
Stylus
Apple Pencil
2nd gen
Apple Pencil
2nd gen
Apple Pencil
2nd gen
Processor
Apple M1 chip
8 cores
Apple M1 chip
8 cores
Apple M1 chip
8 cores
Storage
64 GB
256 GB
128 GB
256 GB
512 GB
1 TB
128 GB
256 GB
512 GB
1 TB
RAM
8 GB
8 GB
8 GB
Camera
Rear: 12MP
Front: 12MP
Rear: 12MP& 10MP
+ Lidar Scanner
Front: 12MP
Rear: 12MP& 10MP
+ Lidar Scanner
Front: 12MP
Sound
Setreo, 4 speakers
Setreo, 4 speakers
Setreo, 4 speakers
Battery
28.6 Wh
28.6 Wh
40.88 Wh
Connectivity
WiFi only
WiFi + cellular
WiFi only
WiFi + cellular
WiFi only
WiFi + cellular
Weight
1.01 pound
(461 grams)
1.04 pound
(470 grams)
1.50 pound
(635 grams)
Color
Space Gray
Starlight
Pink
Purple
Blue
Silver
Space Gray
Silver
Space Gray
Price
Check on Amazon
Check on Amazon
Check on Amazon
Display comparison
A display is one of the most important parts of a drawing tablet as that is where everything happens. In a good drawing tablet, you want to have a high-resolution color-accurate screen with good viewing angles.
It is common for cheaper tablets to make compromises with the display quality. So it would be interesting to see how iPad Air compares to the iPad Pro.
Here is a detailed report on the display quality of these two tablets.
| | iPad Air (10.9 inch) | iPad Pro (11 inch) | iPad Pro (12.9 inch) |
| --- | --- | --- | --- |
| Display Size | 10.9 inches | 11 inches | 12.9 inches |
| Resolution | 2360 x 1640 p | 2388 x 1668 p | 2732 x 2048 p |
| PPI (pixels per inch) | 264 | 264 | 264 |
| Aspect Ratio | 1.43:1 | 1.43:1 | 4:3 |
| Color Accuracy | Wide color display (P3) | Wide color display (P3) | Wide color display (P3) |
| Refresh Rate | 60 Hz | 120 Hz | 120 Hz |
| Brightness | 500 nits | 600 nits | 1000 nits |
Looking at the display comparison table you can clearly see that – iPad Air and the 11-inch iPad Pro have very comparable screens, but there are important differences.
Let's discuss these dissimilarities and how it affects your drawing experience – in detail.
Max Brightness and outdoor visibility
Talking of the display brightness, the Apple iPad Air comes with a max brightness of 500 nits compared to 600 nits on 11-inch iPad Air.
Both these tablets are bright enough to be visible and legible outdoors but definitely not comfortable.
Having 100 more nits makes iPad Pro a slightly better option for people who often find themselves using their tablet outdoors.
But the real outdoor workhorse comes out to be the 12.9-inch iPad Pro. It is in a league of its own when it comes to display brightness.
It comes with 1000 nits of brightness, plus it can reach up to 1600 nits of peak brightness in certain situations, which is very impressive.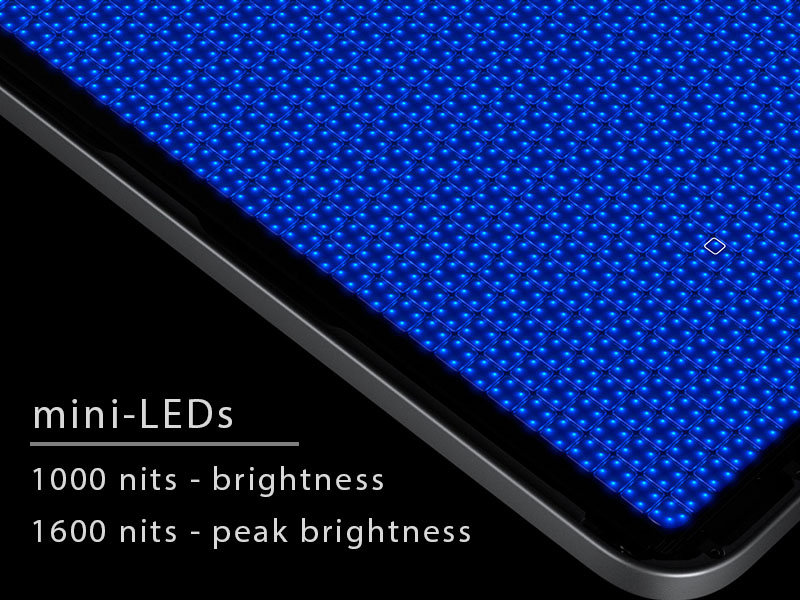 Instead of using a single backlight, like in traditional screens, the 12.9-inch iPad Pro comes with a mini-LED matrix backlight.
The mini-LED backlight consists of thousands of small LEDs which can be controlled and turned on and off at will.
This gives you deeper blacks and better contrast, improving the color output of the screen.
ProMotion Display – why it is important?
In our detailed analysis of how the Apple Pencil works, we found that tablets and the stylus works in unison to detect the location of the pen and track its movements.
Once the tablet records the location and movements of the pen it displays it on the screen.
The iPad Air has a refresh rate of 60Hz.
In simple terms, it means when you are drawing with your stylus the iPad Air's display refreshes and updates the screen 60 times a second.
Whereas both the 11 and 12.9 inches come with the ProMotion display, where the screen refreshes 120 times in a second.
This results in smooth transitions and animations plus an overall very fluid user experience.
Here is the side-by-side comparison of how drawing/writing with Apple Pencil looks on a 60Hz (iPad Air) screen compared to a 120Hz (iPad Pro) screen.
Due to the frame rate of the GIF file and limitations due to the refresh rate of your screen. It is not possible to accurately show the difference between a 60 Hz display on iPad Air vs a 120Hz display on iPad Pro.
When drawing on these two tables and comparing them in real life, you can definitely notice the iPad Pro (120 Hz) feels more fluid and satisfying.
Here is the same footage in slow motion which shows the difference in latency much more clearly (Play video).
Slow-motion: iPad Air (left), iPad Pro (right)
The lines on the screen appear a few millimeters behind the tip of the stylus. This happens due to stylus latency as well as the refresh rate of the screen.
When you draw with an actual pencil on a piece of paper, the line appearing does not trail behind the tip of the pencil.
As you can see in the footage above, the lines drawn by the Apple Pencil on iPad Pro are instantly visible on a 120Hz screen. This makes drawing on iPad Pro feel as natural as drawing with an actual pencil.
The stroke on the 60 Hz screen of iPad Air trails behind by a small distance, making the drawing experience feel digital and a bit unnatural.
Since Artists primarily use the iPad alongside Apple Pencil, difference between refresh rate and its effect on the drawing experience is the main differentiating factor between the iPad Air and the iPad Pro .
For some artists, this difference in latency is not that big of a deal. If you fall into that category, then you should get the iPad Air (Amazon). As you would also be saving some money compared to going with the iPad Pro.
On the other hand, if you want the best possible digital drawing experience and won't mind paying a little extra for an extra fluid drawing experience, you should definitely get the iPad Pro (Amazon).
Pixel density (display sharpness)
The 10.9-inch iPad Air, 11-inch iPad Pro, and 12.9-inch iPad Pro – all have slightly different resolutions.
But they all come with a PPI count of 264.
PPI stands for Pixels Per Inch (commonly called pixel density) and defines how many pixels are present within an inch of display area.
The higher the PPI, the sharper the screen.
Even though all three models of iPad have different resolution, their pixel density is same. Meaning the images appearing on the screen is equally sharp and crisp.
Apple Pencil – 2nd gen.
If you are an artist and hang out in online art communities, you already know that – Apple Pencil is the most advanced stylus on the market.
Most artists who use it as their daily driver even go as far as to say it is better than the Wacom Stylus, which is often considered "the holy grail of stylus" amongst artists.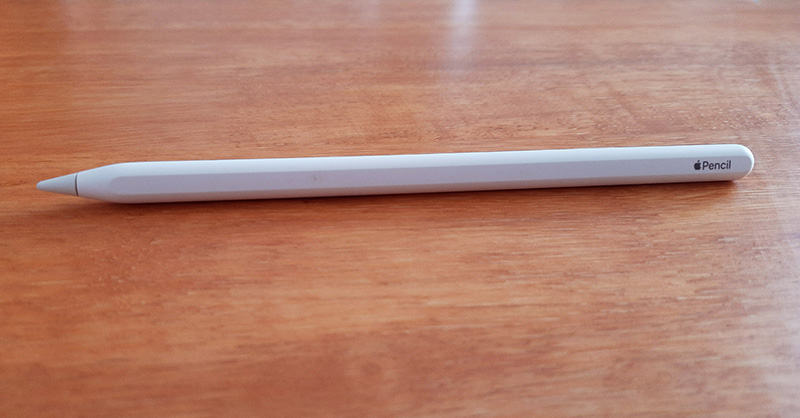 Since the 4th generation update, iPad Air comes with support for the 2nd generation Apple Pencil (5th gen iPad Air supports 2nd gen Apple Pencil as well).
Since both iPad Air and Pro are compatible with the same stylus, you won't find any difference in the actual drawing performance.
You get the same best-in-class pen tracking, pressure sensing, tilt detection, and overall a very balanced and natural drawing experience, no matter whether you get the iPad Air or the iPad Pro.
The only difference is in the response rate, thanks to the 120Hz ProMotion display on the iPad Pro, it feels a tad smoother than the iPad Air.
Charging the Apple Pencil
The Apple Pencil 2 magnetically sticks to the top edge of the tablet where it charges wirelessly. Both iPad Pro and Air have appropriate wireless charging pads to enable this feature.
The Pencil also comes with a quick-change, where the pen can rapidly charge in case you run out of charge.
Does Apple Pencil comes included in the box?
No, neither the iPad Air nor the iPad Pro comes with a free stylus. You can purchase Apple Pencil on Amazon.
Design and portability
When it comes to design and portability, there is absolutely no match for iPads.

They are the thinnest tablet in the market. The iPad Pro measures 5.9 mm and the iPad Air measures 6.1 mm.
Talking of portability, the 11-inch iPad Pro and the 10.9-inch iPad Air are exactly the same. They have roughly the same form factor and have similar battery capacity and battery backup.
Their compact form factor enables you to use easily use them in places such as buses and Airplane seats.
The 12.9-inch iPad Pro on the other hand while being thin and compact, is not as portable as the other two options.
Its large screen is too large to use in compact places and its larger size and slightly heavier weight make it difficult to hold it for long.
Size of the bezels
Comparing 11 inch iPad Pro to the iPad Air, you would notice in spite of the iPad Air having a slightly smaller screen measuring 10.9 inches (vs 11 inch on iPad Pro), the dimensions of both the tablets are equal.
That is because the bezels around the screen on iPad Air are a bit thicker than the Bezels on iPad Pro.
Processor – Everyone gets an Apple M1 chip
In order to have a good drawing experience, your tablet should be powerful enough to handle large resolution project files with hundreds of layers and shouldn't lag when using the heaviest of texture brushes.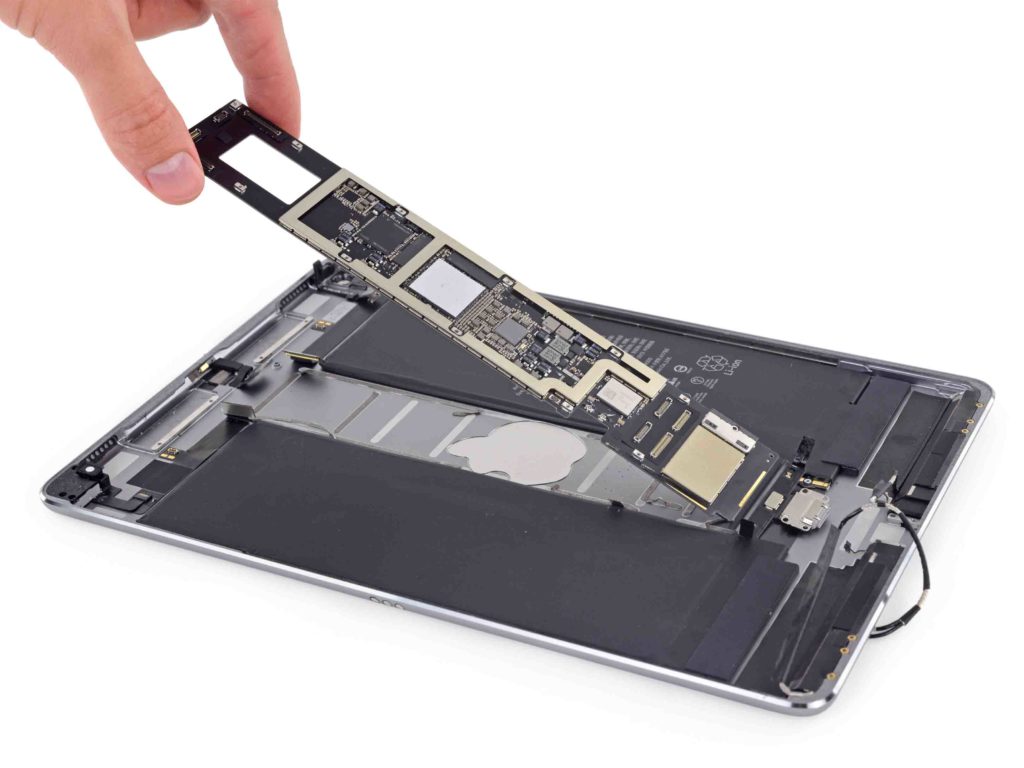 The Apple iPad Pro as well as the iPad Air comes with Apple's in-house M1 chip with a 5nm technology.
This is the same processor that Apple uses in their M1-based Macbooks.
Meaning you are getting laptop-level performance on an iPad.
RAM size
The previous version of the iPad Air only came with 4 GB of RAM which resulted in limitations on how many numbers of layers you can have.
But now, both the iPad Pro and the iPad Air come with 8GB of RAM.
This allows you to have as high as 1000 layers in drawing apps such as procreate.
The higher RAM also improves the multitasking performance of these iPads.
Battery Life
iPads, in general, are known for their long-lasting battery which can easily handle a full day of casual usage.
Although the actual battery life depends on a lot of things including the screen size, resolution, and also apps you are using. Looking at the battery capacity is one of the best ways of comparing the rough battery life of these tablets.
Here are the battery capacities of the iPad Pro and the iPad Air
10.9 inch iPad Air – 28.6 Wh
11 inch iPad Pro – 28.6 Wh
12.9 inch iPad Pro – 40.88 Wh
Mind that the 12.9-inch iPad Pro has the largest battery capacity but it also has a larger screen requiring more power.
Storage
More storage is always better, considering the huge amount of space occupied by image and video files these days.
The base variant of the iPad Air comes with 64 GB of onboard storage, whereas the iPad Pro comes with 128 GB of storage on the base variant.
In case you want more storage, you have the option to select a tablet with a higher storage capacity. Here are all the available options.
iPad Air – 64 GB, 256 GB
iPad Pro – 128 GB, 256 GB, 512 GB, and 1 TB
It is important to note that neither of the two tablets comes with an expandable memory card slot, which can be found in Samsung drawing tablets (new tab).
As you go up in storage capacity, the price of the iPad significantly goes up as well. So as an alternative, you can get a cheaper iPad with lower storage capacity and get an external storage drive which will be cheaper.
Camera (front and rear)
Having a good camera is essential for artists as it allows you to take pictures of something that you are gonna paint later, right on your tablet.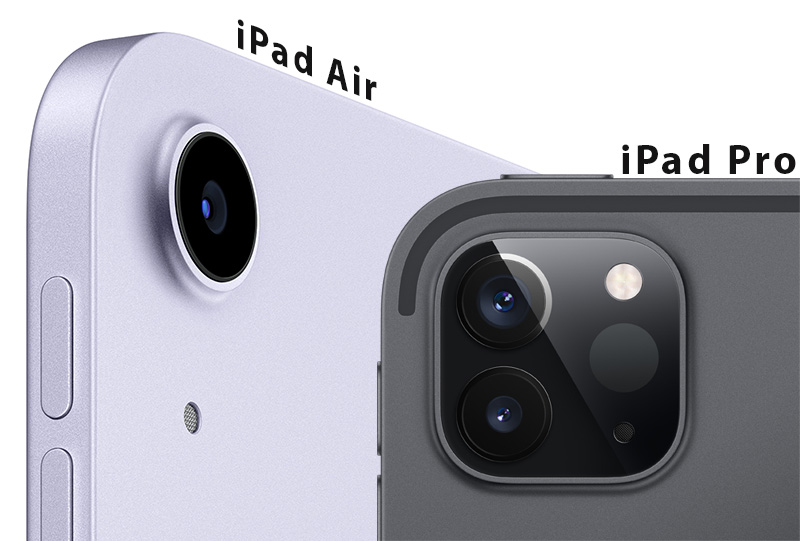 Rear camera setup – With the iPad Pro, you get a triple camera setup whereas with iPad Air you get a single camera.
With that said, both iPad Air and the iPad Pro come with the same 12 MP primary camera with 4K video recording.
The other two cameras of iPad Pro are a 10 MP Ultrawide camera and a lidar sensor for depth sensing. These are absent in iPad Air.
If you are into 3D design and modeling, the LIDAR sensor on the iPad Pro could be helpful and in that case you should get the iPad Pro.
Front (selfie) camera – Both the iPad Pro and the iPad Air come with a 12MP ultrawide front camera.
Sound quality and Speaker setup
Speakers are one of the first compromises that budget-focused tablets make, but that is not the case with the iPad Air.
Just like the iPad Pro, the iPad Air also comes with a stereo sound system, where the sound comes from the left as well as the right side of the tablet.
The sound quality of all the tablets is actually really good considering how thin these tablets are. You will for sure have a great multimedia experience using these tablets.
Unfortunately, neither of the two tablets comes with a headphone jack.
Security
The iPad Pro comes with FaceID to unlock the tablet. It works in both portrait and landscape mode. Plus all the faceID hardware is present within the bezel and does not protrude towards the screen as it does on the iPhones.
The iPad Air on the other hand comes with TouchID instead. The TouchID sensor is conveniently located on the top right side of the tablet-like in older iPhones.
Color Options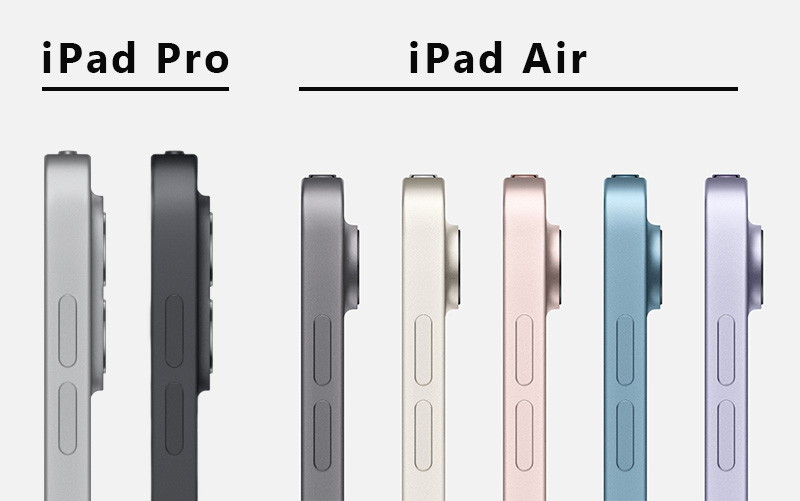 iPad Air colors
Space Gray
Starlight
Pink
Blue
Purple
Accessories – Magic Keyboard, 2nd Gen Apple Pencil
Once again both iPad Pro and the iPad Air support the second-gen. Apple Pencil and the floating Magic keyboard.
In addition to official iPad accessories, there are plenty of other accessories for iPad that are specifically made for artists that you can check out.
Do iPad Pro and iPad Air work with first-generation Apple Pencil?
No, iPad Air as well as iPad Pro only work with 2nd generation Apple Pencil. These iPads are not backward compatible, meaning they do not work with the first-generation Apple Pencil.
If you are someone who already has 1st gen Apple Pencil, you need to get the 2nd gen Apple Pencil in order to work with these current iPads.
Other art features – screen mirroring for artists
For artists who are already in the Apple ecosystem and own a Mac computer, iPads can be a great add-on.
Both iPads have a feature called "Apple Sidecar" which allows you to mirror your Mac screen on the iPad and use the Apple Pencil on it.
This is a very powerful tool that can be used to natively use the apple pencil with your desktop-based drawing apps.
This also allows you to draw over desktop-based 3D sculpting apps such as ZBrush and Blender which are not yet available for iPads.
Another use of Apple Sidecar is that you can use your iPad as a second screen for things like looking at reference images.
There is also a third part Sidecar alternative called AstroPad which is specifically catered towards artists and has better screen mirror capabilities.
variants and choices
With the iPad Air, you have the following options to choose from
Size – 10.9 inches
Memory – 64 GB or 256 GB
Connectivity – Wifi only, or Wifi+cellular
Color – Space Gray, Starlight, Pink, Blue, and Purple
With iPad Pro, you get multiple sizes and memory options but limited color choices
Size – 11 inches, 12.9 inches
Memory – 128 GB, 256 GB, 512 GB, and 1 TB
Connectivity – Wifi only, or Wifi+cellular
Color – Silver, Space Gray
iPad Pro vs iPad Air – Which is the right tablet for you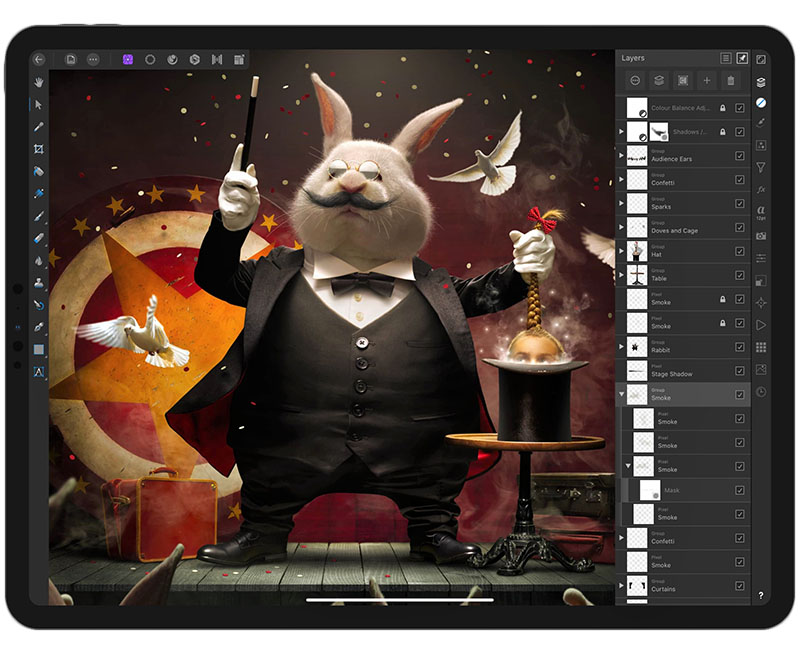 The first thing you need to decide is which size is a better fit for you.
Well, it is different for everyone. If you are someone looking for a compact and powerful drawing tablet, that you can pretty much take anywhere with you, the 11 inch iPad Pro and the iPad Air are the right choices.
But if you are someone who can appreciate a larger screen and a bigger drawing area and willing to somewhat compromise with portability for that, the 12.9 inch iPad is a better choice.
Once the size is figured out – then you can look at differences in features. Basically, weighing in what features you get and what you don't.
Main difference
Out of everything that we have compared above, the lack of ProMotion display is the only major difference between iPad Air and iPad Pro.
If you are getting these tablets for normal multimedia usage, the lack of ProMotion display is not that big of a deal.
But when you are buying these devices as a drawing tablet, having and not having the 120Hz ProMotion display can be a deciding factor.
Now as we mentioned before, the iPad Air with its 60 Hz screen is good enough and still provides the best drawing tablet in that price range. But the iPad Pro with its ProMotion display feels smoother to draw and write on.
If you ask us – our recommendation would be – "iPad Air is a good fit for hobbyists and casual artist who draws every once in a while.
But if you are a full-time artist, we would highly recommend you get the Apple iPad Pro (Amazon)."
Other than the display, you should also keep in mind that the lower variant of the iPad Air comes with just 64Gb of onboard storage. This is quite a small storage space by today's standards. On the bright side, you can expand the storage by plugging in an external storage drive.
Value for money: iPad Air or the Pro
Between iPad Pro and the iPad Air, if you ask where you are getting a better value for money, the answer is – iPad Air.
At the time of writing this post (prices always change), the cheapest iPad Pro costs about 25% more than the cheapest iPad Air.
With the iPad Air, even at this lower price, you are getting a tablet with identical display quality, same M1 processor, support for 2nd gen Apple Pencil, and similar accessories.
Now the iPad Air has definitely cut some corners to keep the prices low. Like replacing the FaceID with TouchID or not having the ProMotion, but still, it is better value for the money than the iPad Pro.
If you are someone who wants a good drawing experience while saving some cash, you should for sure go with the new iPad Air (Amazon).
But if you want the most out of your tablet and the best possible drawing experience, iPad Pro (Amazon) is the right choice.
Which is a better choice? Base variant of iPad Pro or the top variant of iPad Air
If you compared the top variant of the iPad Air and the cheapest variant of iPad Pro on Amazon, you would find there is not that much of a difference in their price tag.
We often get asked – which of the two tablets is a better choice for artists.
If you are also stuck between these two options, we would suggest you to get the lower variant of iPad Pro instead of the top variant of iPad Air.
We say this for one simple reason and that is – iPad Pro has a 120Hz display which will provide you a better pen experience, after all that what matters the most for an artist.
Compare Prices and Buy on Amazon
Related topic:
Essential iPad accessories for artists