Disclosure: As an Amazon Associate EssentialPicks earn from qualifying purchases.
---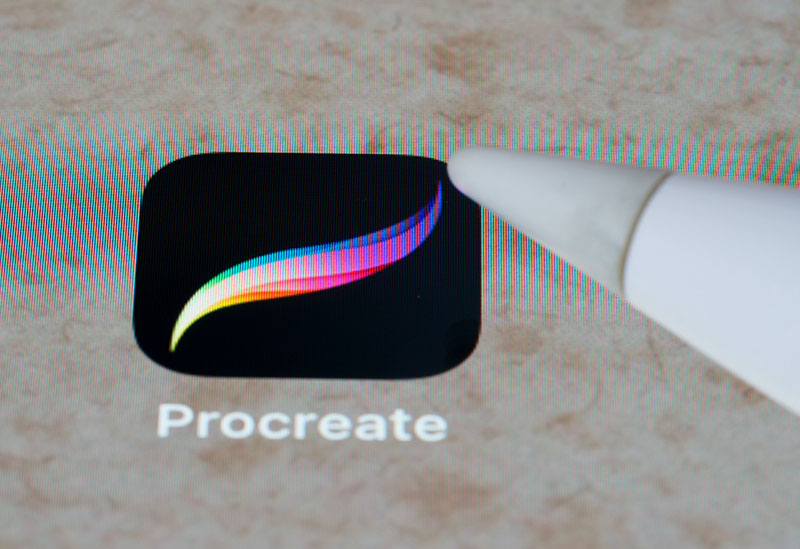 Procreate has always been one of the go-to drawing app for serious artists. Combined with Apple Pencil, they become a powerful drawing tool.
It was not that long ago when only a select few, top-end models of iPad supported Apple Pencil.
Meaning you couldn't take full advantage of procreate on entry-level iPads.
The good news is, at present – all the newer models of iPad support Apple Pencil. Enabling you to get top-of-the-line drawing experience without necessarily spending top dollars.
So which iPad should you get for Procreate?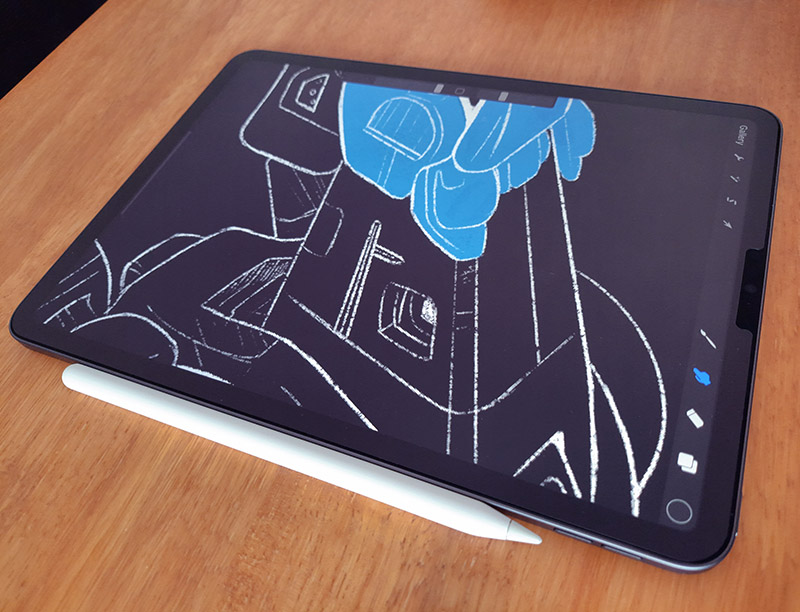 If you ask, most people would recommend getting the Apple iPad Pro, as it is the most powerful and feature-packed tablet of the bunch.
But iPad Pro may not be the right option for everyone, as there are other iPad models that may suit your needs better.
They usually cost half (or lesser) compared to what iPad Pro does and still comes with 80~90% of all the drawing features that you get with the Pro model.
We have been closely following and testing drawing tablets for the last couple of years and have so far helped thousands of artists pick the right tablet for themselves.
In this guide, we will lay out all the available options in front of you, compare their features, discuss their advantages/ disadvantages, and recommend the right iPad for Procreate based on your personal use case.
Which models of iPad do Procreate support?

Procreate is supported on the following models of the iPad…
iPad Pro (all generations)
iPad Air (2nd generation and later)
iPad (5th generation and later)
iPad Mini (4th generation and later)
check out – how to find your iPad model name (new tab)
iPads and Apple Pencil: Support and compatibility
As some of you may be aware, the Apple Pencil is available in two variants, the first-generation Apple Pencil and the second-generation Apple Pencil.


Apple Pencil 2nd Generation
iPad Air (4th generation)
iPad Pro 12.9 inch (3rd generation and later)
iPad Pro 11 inch (1st generation and later)


Apple Pencil 1st generation
iPad Pro 10.5 inch
iPad Pro 9.7 inch
iPad Pro 12.9 inch (1st and 2nd generation)
iPad Air (3rd generation)
iPad (6th, 7th & 8th generation)
iPad Mini (8th generation)
Cross compatibility – Apple Pencils are not cross-compatible. Meaning, iPads that work with second-generation Apple Pencil won't work with the first-generation Apple pencil, and vice versa.
iPad (All models): Introduction
Apple tablets come in four main models… Here is a quick introduction.
iPad (10.2 in) – Entry-level iPad with everything you need to get started, minus the fancy stuff
iPad Mini (7.9 in) – Equally powerful but compact version of iPad
iPad Air (10.9 in) – Everything your need, plus some premium features in a modern form factor
iPad Pro (11 in, 12.9 in) – The best of the bunch with all the Pro features
iPad (All models): Features comparison
(Note for mobile users: Pan left/right to see the full table)
iPad
iPad Mini
iPad Air (new)
iPad Pro (11)
iPad Pro (12.9)
Dimension
250.6 x 174.1 x 7.5 mm
203.2 x 134.8 x 6.1 mm
247.6 x 178.5 x 6.2 mm
247.6 x 178.5 x 5.9 mm
280.6 x 214.9 x 5.9 mm
Display Size
10.2-inch
7.9-inch
10.9-inch
11-inch
12.9-Inch
Resolution
2160 x 1620
2048 x 1536
2360 x 1640
2388 x 1668 p
2732 x 2048 p
PPI
(pixels per inch)
264
326
264
264
264
Aspect Ratio
4:3
4:3
1.43:1
1.43:1
4: 3
DCI-P3 color
No
Yes
Yes
Yes
Yes
Display Type
Ratina
Ratina
Liquid ratina
Liquid ratina
Liquid ratina XDR
(mini-LED)
Refresh Rate
60 Hz
60 Hz
60 Hz
120 Hz
120 Hz
Brightness
500 nits
500 nits
500 nits
600 nits
1000 nits
Stylus
Apple Pencil 1
Apple Pencil 1
Apple Pencil 2
Apple Pencil 2
Apple Pencil 2
Procreate Support
Yes
Yes
Yes
Yes
Yes
Processor
A12 Bionic
A12 Bionic
A14 Bionic
Apple M1 chip
Apple M1 chip
Storage Options
32 GB
128 GB
64 GB
256 GB
64 GB
256 GB
128 GB
256 GB
512 GB
1 TB
128 GB
256 GB
512 GB
1 TB
Expandable Memory
No
No
No
No
No
RAM
3 GB
3 GB
4 GB
8 GB/16 GB
8 GB/16 GB
Camera
Rear: 8 MP
Front: 1.2 MP
Rear: 8 MP
Front: 7MP
Rear: 12 MP
Front: 7MP
Rear: 12MP& 10MP
Lidar Scanner
Front: 12MP
Rear: 12MP& 10MP
Lidar Scanner
Front: 12MP
Connectivity
WiFi/ Cellular
WiFi/ Cellular
WiFi/ Cellular
WiFi/ Cellular
WiFi/ Cellular
Connector Type
Lightning
Lightning
USB-C
USB-C
USB-C
Battery Capacity
32.4-watt-hour
19.1-watt-hour
28.6-watt-hour
28.65-watt-hour
40.88-watt-hour
Weight
1.08 pounds
(490 grams)
0.66 pound
(300.5 grams)
1.0 pound
(458 grams)
1.04 pound
(470 grams)
1.50 pound
(635 grams)
Colors
Silver
Space gray
Gold
Silver
Space gray
Gold
Silver
Space gray
Green
Rose gold
Sky blue
Silver
Space gray
Silver
Space gray
*Check Price
Amazon
Amazon
Amazon
Amazon
Amazon
*Prices constantly changes, click the "Amazon" link to know the latest prices
Which iPad should I buy for Procreate?
Everyone's needs are different and there is no one size fits all. Every model of iPad is made for a specific set of users.
In order to select the right iPad for drawing in Procreate, you need to consider things like… your skill level, your workflow, what all features do you need, portability, screen size, and most importantly – your budget.
You just have to pick the tablet that aligns with your "use case" and personal requirements.
Here is a detailed overview of all the different iPad models and for whom they are best suited for.
Cheapest iPad for Procreate: for beginners and hobbyists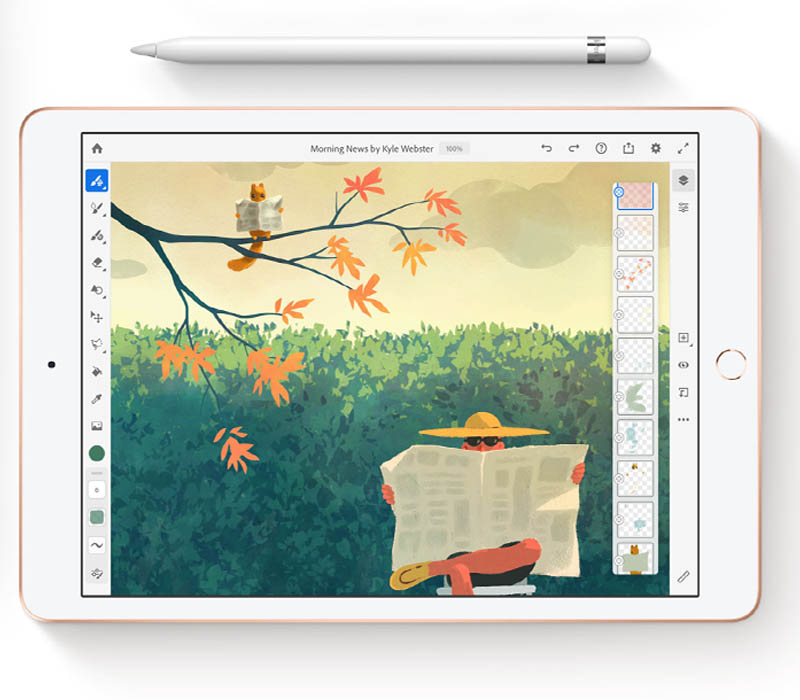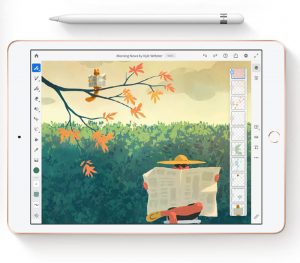 Apple iPad (8th Generation)
The entry-level tablet with everything you need to get started. Great value for money. Powerful processor. Apple Pencil experience on a budget.
The entry-level iPad is one of the most underappreciated devices out there, and it is easy to understand why.
Most people when they look at it assume – if it is cheap, it must be bad. But that is not simply true. In fact, it is quite the opposite.
If you are a beginner or a casual artist, who wants a good drawing experience at the cheapest possible price, this entry-level iPad has everything to get you started.
Here Apple has done a really good job of carefully selecting the right features while still keeping the prices low.
The iPad has been out for a long time now, and what we really like about it is the fact that after every few years Apple updates it with the latest hardware.
The current 8th generation iPad, in spite of being an entry-level tablet still comes with a very recent and powerful Apple A12 Bionic processor.
This processor is very capable and can easily handle fairly resource-intensive tasks as well as large project files in Procreate.
For beginner artists, it is a great choice as it supports the First generation Apple Pencil that gives it an unmatched drawing and writing capability that no other tablet can offer in this price range.
The only downside of the iPad is its design, especially the bezels at the top and bottom of the screen. That could have been reduced.
Overall, for the price you are paying, you are actually getting a lot of value, whether we talk about its high-resolution screen, battery life, or its drawing capabilities. And that is why we highly recommend the iPad.
Get iPad (8th generation) on  Amazon →
Compact and ultra-portable iPad for drawing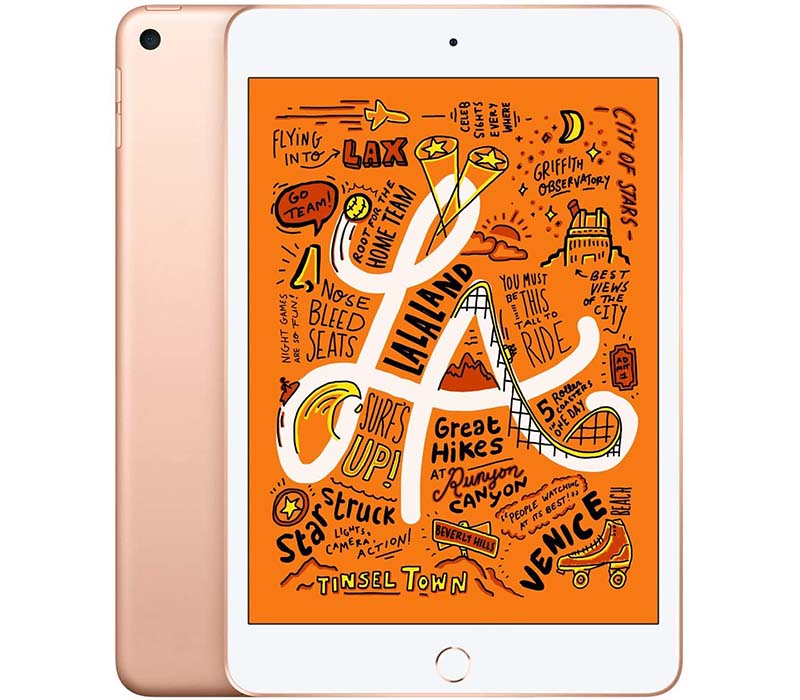 iPad Mini
The compact, portable, and lightweight version of the iPad that still packs enough power to handle heavy Procreate usage. Works great as a sketchpad.
If you want all the goodness of the iPad in a compact and portable form factor, then the iPad mini should be your tablet of choice.
It comes with a 7.9-inch screen and weighs just 0.66 pounds (300.5 grams). It feels so compact and lightweight that it kind of disappears in your backpack.
Its lightweight design also makes it more comfortable to use in one-handed mode.
The iPad has the same A12 Bionic processor that you get with an iPad, which means in spite of its smaller size, it is still capable enough to handle intensive procreate usage.
The Procreate and other drawing apps run smoothly without ever feeling slow plus it is able to easily handle heavy texture brushes in Procreate.
Some artists also like to have iPad Mini as their secondary tablet when they are on the go and want something super portable yet powerful.
The user interface of procreating is such that it feels comfortable to work on – even on smaller screens.
iPad Mini is compatible with the First gen. Apple Pencil, but the Apple Pencil does not come included in the box and has to be purchased separately.
One important advantage that the iPad mini has over all the other iPads (even the most expensive iPad Pro) is – its very sharp high-resolution display.
The iPad mini has a resolution of 2048 x 1536 with 326 pixels per inch (PPI) of pixel density, compared to 364 that you get with iPad, iPad Air, and iPad Pro.
That means the images and videos look extra sharp and crisp on this display.
So if you want all the flexibility that comes with a small size and compact design, without losing on drawing/sketching experience, the iPad mini is the right choice.
People often buy it as a gift for their artistic/creative friend or child.
Get iPad mini on  Amazon →
Value for money – Great features + Reasonable price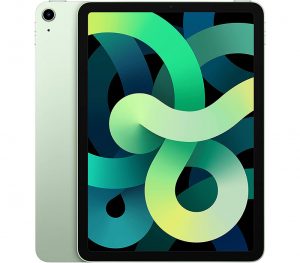 New iPad Air
Modern minimalist design with edge-to-edge screen and support for Apple Pencil 2, all at a reasonable price.
If you are looking for an iPad as a digital artist, you essentially have two choices. Either you get the entry-level iPad or the top-of-the-line iPad Pro.
The entry-level iPad does not have all the advanced drawing features that you may want, on the other side, the iPad Pro is way too expensive.
What if there was a tablet that exists somewhere in between, which had all the premium drawing features without that premium price tag. That is exactly what you get with the Apple iPad Air.
iPad Air is a mid-range drawing tablet that brings the best of both worlds.
Starting with the design, you can see the iPad Air comes with the same modern all-screen design with minimum bezels around the screen, that you see in the iPad Pro.
Other than that, it also supports Apple Pencil 2 (which is the most advanced stylus in the market), making it the only tablet other than iPad Pro that works with this stylus.
On the processor and performance side of things, iPad Air comes with the latest A14 Bionic processor. It can easily glide through your intensive drawing workflow no matter you are working with a simple low-resolution canvas or a super high-resolution project with large canvas sizes.
But that is not it, perhaps the best thing about the iPad Air is the price. In spite of coming with these incredibly similar features, it costs substantially lower than the iPad Pro, making the iPad Air the best value for money iPad for Procreate.
This is a device that we can universally recommend to both beginner-intermediate artists to experts and professionals.
Get iPad Air on  Amazon →
Difference between iPad Air vs iPad Pro (latency in Procreate)
One of the main differences between iPad Pro and iPad Air is that iPad Pro comes with a 120Hz refresh rate screen whereas iPad Air comes with a 60Hz refresh rate.
This difference in the refresh rate of the screen affects stylus latency. Faster the refresh rate (of the screen), lower the latency (of the stylus).
Here is how drawing on iPad Air (left) and iPad Pro (right) looks in real-time.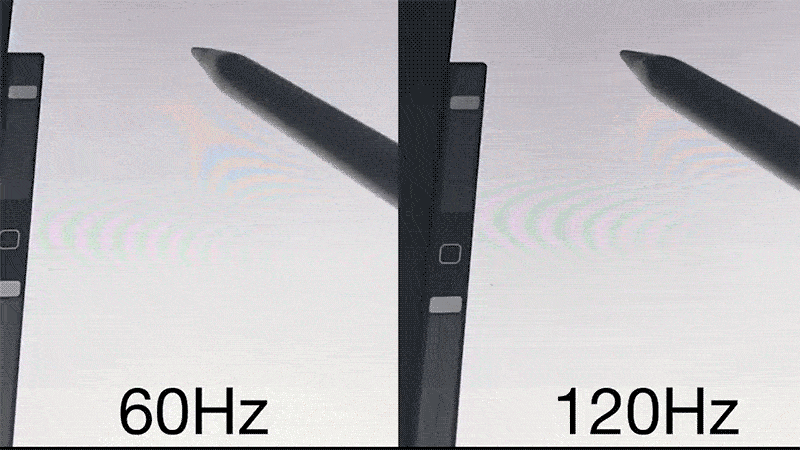 Here is the same footage in slow motion.
If looking at the above footage, if you think there is not that big of a difference in stylus latency, get the iPad Air (Amazon).
But if you feel like that small latency may bother you, get the iPad Pro (Amazon).
The best iPad Pro for Procreate – Feature packed and powerful
Premium
iPad Pro (King of the Hill)
The undisputed king with the most powerful processor and best in class drawing performance, all in a compact form factor. Available in two sizes.
The Apple iPad Pro is the tablet that established iPads as a go-to drawing tablet for artists. iPad Pro combined with Procreate gives you the best drawing experience in the market, which no other tablet can match.
There are a number of reasons why it so popular amongst artists. Starting with the Apple Pencil itself.
As we mentioned earlier, Apple Pencil 2 is the most advanced stylus in the market with best-in-class stylus tracking, plus a well-balanced pressure and tilt sensitivity, giving you the ultimate stylus experience.
In addition to the stylus, the display also plays a key role in the whole digital stylus experience. The iPad Pro comes with a 120Hz ProMotion display. This is twice as fast as a generic tablet display.
The fast response rate of the stylus along with iPad Pro's ProMotion display helps the Apple Pencil reach a latency of just 9ms.
So when you draw with Apple Pencil on the iPad Pro display, the strokes from the stylus does not lag behind the pen tip. This makes drawing with the Apple Pencil feels as natural as drawing with an actual pencil.
With that said, when this 9ms latency was introduced, not many apps could take advantage of this feature at that time, but slowly more and more apps support this feature. The Procreate natively supports all these advanced features and chance provides you the best drawing experience on the iPads.
iPad Pro Processor
When it comes to iPads, even entry-level iPads come with powerful processors.
But the iPad Pro set the benchmark for how powerful an ultralight tablet can be.
Ever since Apple introduced Apple Silicon, we saw an exponential increase in the processing power of these compact devices.
The current iPad Pro comes with Apple's M1 processor along with 8 GB of RAM. This is the exact processor that comes in the Apple Macbooks, giving you a laptop-level performance on an ultrathin portable device.
Running procreate can be quite demanding. When you are working with large resolutions and using heavy laying and textured brushes on Procreate, you need that raw power.
Even the procreate itself is fine-tuned to handle high-resolution files, thanks to the smart on-the-fly optimizations that it makes.
The M1 processor is also very power efficient giving you a longer battery life than most other tablets in the market.
All these features combines makes the iPad Pro the best iPad for Procreate.
Available sizes
The iPad Pro is available in two sizes, 11 inches, and 12.9 inches.
The 11 inch iPad Pro is the perfect size for those who want a portable yet powerful drawing device, whereas the 12.9 inch iPad Pro is more suited for those who appreciate a larger drawing area.
Who should get the iPad Pro?
If you are fairly new to digital art and learning the basics, you don't really need an iPad Pro. In case you want to get a modern-looking tablet that supports Apple Pencil 2, it is better to go with the new iPad Air.
iPad Pro is a premium tablet with Pro-grade features and that reflects in its price. We recommend iPad Pro to hobbyists and professional artists who are sure that they need the power and performance that iPad Pro offers. If that is you, you will love drawing on it and for that reason, you should definitely buy it.
iPad Pro (11 inch) vs iPad Pro (12.9 inch) for Procreate
Other than the obvious difference in the screen size, there is also a difference in screen technology between 11 inches and 12.9 inches iPad Pro.
While both the devices come with a LED screen, the difference is in their backlight technology.
The iPad Pro 11 inch uses a traditional backlight whereas the iPad Pro 12.9 uses a mini LED technology for backlight, where you have thousands of small LEDs making up the backlight instead of a uniform backlight.
These mini LEDs can be individually turned on or off creating local dimming zones resulting in better contrasts and enhanced color reproduction.
It also results in a higher brightness of 1000 nits on 12.9 inches, compared to 600 nits in 11 inch iPad Pro.
With that said, on paper, it seems like a big deal. But in reality, the difference in display quality is less obvious. You have to really observe carefully to see the difference.
So our suggestion would be to not pick iPad based on their screen technology. Rather choose on the basis of their screen sizes.
The 11-inch variant is great if you want a compact and lightweight device to take anywhere with you.
On the flip side, the 12.9 inch iPad gives you a larger screen and a more immersive drawing experience but compromises on its portability – as it is larger as well as havier.
Get iPad Pro (11 in) on  Amazon →
Get iPad Pro (12.9 in) on  Amazon →
Why choose Procreate?
While there are plenty of other drawing apps to choose from, some of which are simply iPad versions of their desktop application. Procreate stands out as it is specifically made for the iPad from the ground up.
Compared to traditional drawing devices, iPads have much smaller screen space. Procreate uses a smart user interface that maximizes screen area while still positioning all the frequently used menus and buttons in the easy-to-access area.
Its hand-based gestures and apple pencil-based shortcuts such as quick shape, color-drop integrates well with your workflow and makes drawing on iPad a pleasing experience.
The brush engine and the ability to change the brush behaviors through brush settings, plus how well it handles heavily textured brushes is truly impressive.
Other than the user experience, one of the main reasons why Procreate is very popular is it comes with a very powerful set of features. You will find almost everything that you get in traditional drawing software.
Plus the ability to import-export project files, texture brushes as well as the huge amount of resources and tutorials available online, plus the community – it is all part of what makes Procreate the best drawing app for digital artists.
Apple Pencil: First gen. vs Second gen.
Apple Pencil is available in two variants, the first-generation Apple Pencil and the second-gen Apple Pencil.
There are two main differences between these two styluses. One is the overall shape and size of the stylus and the second difference is in how they charge.
Shape and size – The first-gen Apple Pencil is a cylindrical stylus with a glossy surface finish. It is made of plastic and is slightly wider and longer than the 2nd gen. Apple Pencil.
The Second-gen Apple Pencil is also cylindrical in shape but it has a flat face.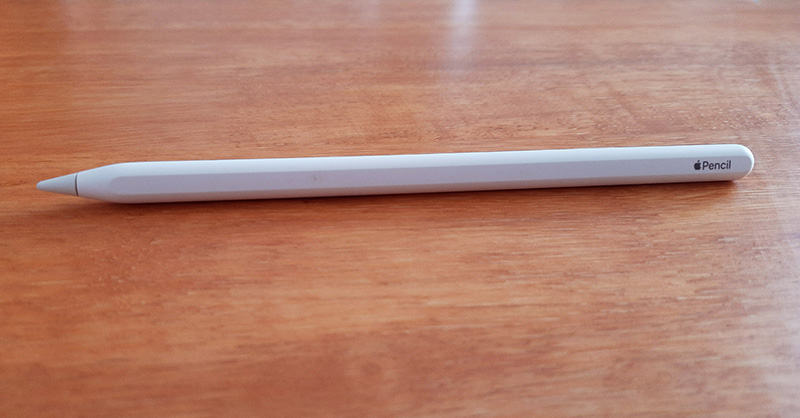 The flat face contains a touch button that you can tap to switch between pen and eraser. The flat face also helps with stopping the stylus from rolling off the desk.
It is also made of plastic but has a matte surface with a soft texture on it which feels better to touch and provides a better hold.
On the charging side, the first-gen. Apple Pencil has a lightning connector at the back which is used for charging the pencil.
On the second-gen. Apple Pencil you have a magnetic wireless connector and charger. It magnetically attaches to the side of the tablet and charges wirelessly.
On the actual drawing side of things, when using both these styluses with Procreate, you won't find much difference in the performance and overall drawing feel between first and second-gen. Apple pencil which is a good thing.
Drawing Accessories: for iPad/Procreate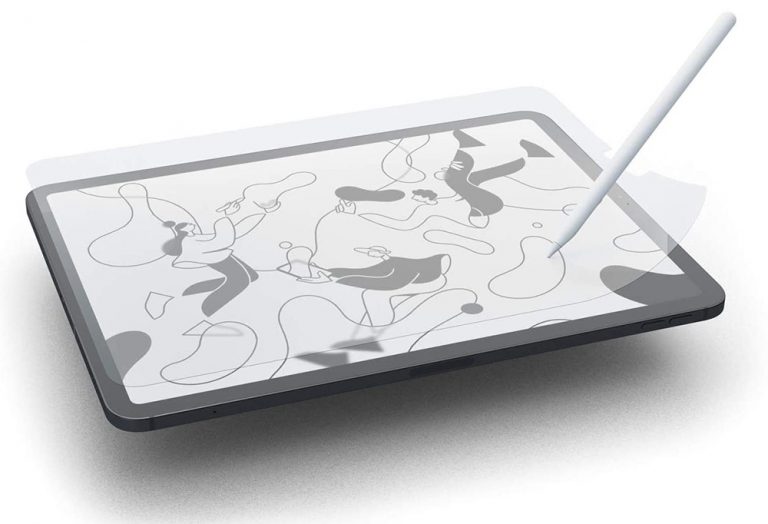 Once you have selected the iPad of your choice you can further personalize it to your liking, but before we talk about that it is important to learn about surface texture and why it is important for digital artists.
Textured/ matte film for artists
All the iPads have smooth and glossy screens and when you draw or write on them with a stylus with a plastic tip (Apple Pencil), the stylus tends to slide too much.
To counter that, many artists like to use textured film on top of their iPads. The textured film has micro-aberrations that provide resistance to the stylus so that it feels more controlled and is easy to move.
The texture is balanced so that it is neither too aggressive to subtle, in spite of having texture the surface still feels smooth to touch.
Other than proving texture, the film also helps with protecting the screen from scratches that you may get from using the stylus over a long period of time.
The film is easily removable and costs are also not high. The Paperlike texture film (Amazon) is one of the most popular choices for iPads and available for all the models.
Soft silicone tips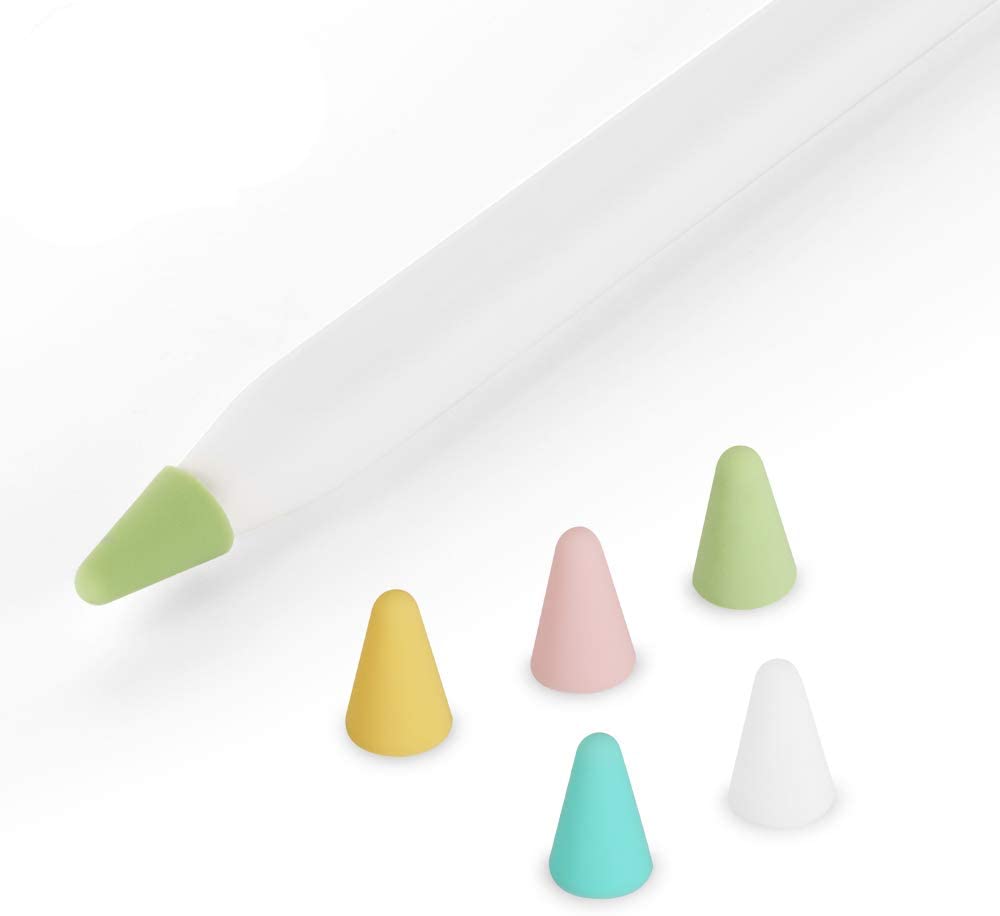 Instead of getting a textured film, what some artists like to do is – they get silicone pen tips instead.
The silicone tips attach to the plastic tip of the stylus and when you draw with it, it kind of grabs on to the glass surface of the screen, resulting in a grippier feel -improving handling.
When you tap the Apple Pencil to the surface of the iPad, it makes a sharp noise. This can be annoying for some people, using the Apple Pencil with a silicone tip almost eliminates that noise.
Silicone grip
Apple Pencil is very thin and sleek, but on prolonged usage, due to sweat and fatigue, it could be uncomfortable to hold. So people like to use a silicone grip on the Apple Pencil. The silicone grip easily slides on top of the Apple pencil and provides a better grip over the pencil.
The silicone grip is available in varying width, which you can select as per your liking over here at Amazon.
FAQs (Frequently asked questions)
Here are some of the FAQs, that we constantly get asked on a regular basis by artists looking for a new iPad for Procreate.
Is procreate worth getting an iPad?
Many people, especially those who are coming from desktop and use to drawing on Adobe software wonder if Procreate is worth getting an iPad. And that is actually a very valid concern, what if the app is not that good and you spent all that money on an iPad.
You should know that Adobe may be a dominant force on desktop, but when it comes to drawing on a tablet, there is no match for Procreate.
Procreate has been in the app store for a very long time and over time they have become a serious player in the digital art space. They are so focused on the iPad experience that they have not distracted themselves by spreading out to other platforms such as Android, Windows, and Mac.
For those who are coming from desktop drawing software, you will find all the advanced tools and options here in Procreate.
So if you are an artist and looking for a portable drawing setup, the Procreate and iPad are absolutely worth the investment.
Should you get an iPad for Procreate as a hobbyist?
It depends, if all you want is a simple digital drawing tool with basic features, you should first look at options such as Wacom Intuos. You can also look at cheaper display-based tablets such as Huion Kamvas 13 which connects to your existing laptop or computer in order to work.
Only after considering these alternatives, you should put in big bucks for iPads.
How much storage is enough for a drawing tablet?
As of current standards and considering how large of a space a single project file can take, we recommend a minimum of 64GB of onboard storage.
Since the iPads do not have an expandable memory card, you should be selecting the right storage capacity when buying the iPad keeping future needs in mind.
There are some iPad available with only 32 Gb of storage, which is kind of workable but you may have to actively manage the space, transferring files to and from your Macbook/ hard drive.
Since iPads allow you to connect external storage accessories, transferring files should not be difficult.
Can you use Procreate without Apple Pencil?
Apple Pencil is expensive and that is why people often search for cheaper Apple Pencil alternatives.
In fact, there are some cheaper options out there in the market such as Logitech crayon, Wacom Bamboo sketch, and many more which are both compatible with iPad as well as Procreate.
But these cheaper styluses are limited in a number of ways and mostly used by people who use iPads for writing notes. For example – one of the limitations of Logitech Crayon is – it does not support pressure sensitivity, a features essential for digital art.
For the best results, we only recommend you get the original Apple Pencil (Amazon).
How much RAM does procreate use?
In general – the higher the resolution and larger the canvas size, the more RAM Procreate needs to keep up. In addition to that, the more layers you add on top, the additional RAM memory it takes.
The good thing is that even the entry-level iPad comes with a higher 3 GB of RAM compared to older models with only 2 RAM.
Entry-level iPads can work fine on anything less 4k resolution, but if you work on high-resolution files we would recommend you to at least get the iPad Air with 4 GB of Ram or the iPad Pro with a larger 6 GB of RAM.
iPad Mini vs iPad for drawing
We see both these tablets in the same category. They both come at comparable price ranges and packs a similar horsepower.
iPad mini is recommended for those who are constantly on the move and want a small and compact drawing tablet, where the normal iPad has a larger screen and better for day-to-day usages.
The iPad mini is also a good option for teens and children who like to draw.
Is Procreate and iPad Mini a good combination
Yes! if the form factor is okay with you, there will be no problem running Procreate with the iPad mini. Just keep in mind Procreate works on iPad Mini 4th or later generations.
Related:
iPad Pro vs iPad Air comparison
Best iPad accessory for artists