Disclosure: As an Amazon Associate EssentialPicks earn from qualifying purchases.
---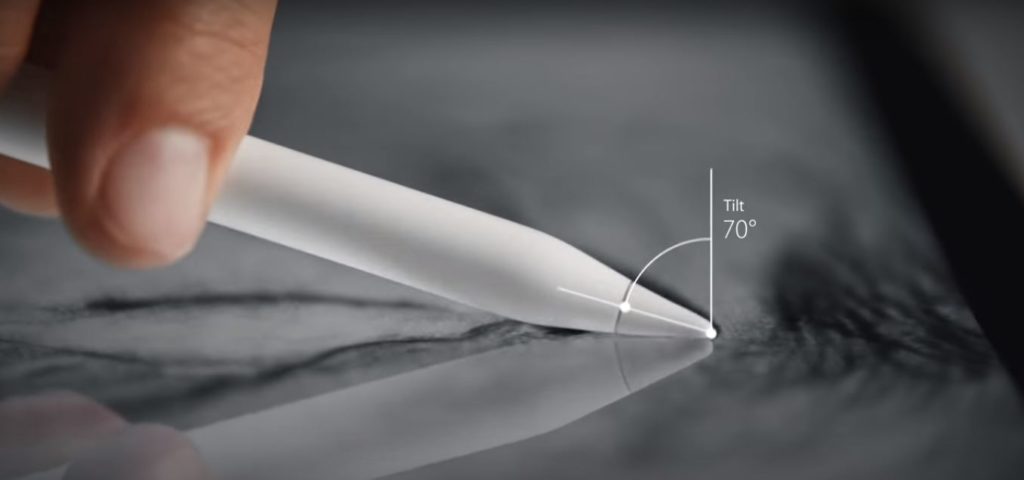 Pressure sensitivity is one of the most common features in a digital pen (stylus). But more and more stylus is showing up in the market with tilt recognition and rotation sensing capabilities.
So the question is – How does the stylus with tilt sensitivity works? and do you really need these features in your stylus?
In this article, we will answer all these questions. Not only that, but we will also go a step ahead to show you how the tilt detection actually works in a stylus.
What is Tilt sensitivity?
Tilt sensitivity was introduced to bring your stylus experience closer to a real pencil.
Stylus with tilt sensitivity allows the artists to shade just like a real pencil when the stylus is tilted at an angle. This can be important for an artist who does a lot of shading work.
As per Wacom –
"This feature, e.g. of the Airbrush tip and eraser, senses the amount of tilt between the tool and tablet. This creates a natural-looking pen, brush, and eraser strokes in applications that support tilt-sensitivity."
Do you really need tilt sensitivity?
The short answer is – No! but the right answer is – It depends.
If you are a normal user who uses the stylus for light note-taking tasks, then you don't really need tilt sensitivity. But it can be useful for artists, especially the ones who make a lot of sketching and shading oriented artwork.
How does tilt recognition works in stylus
Sensing tilt is a very tricky task for a device. There is a lot of complicated calculation that takes place in the background to give you the precise tilt measurement of the pen.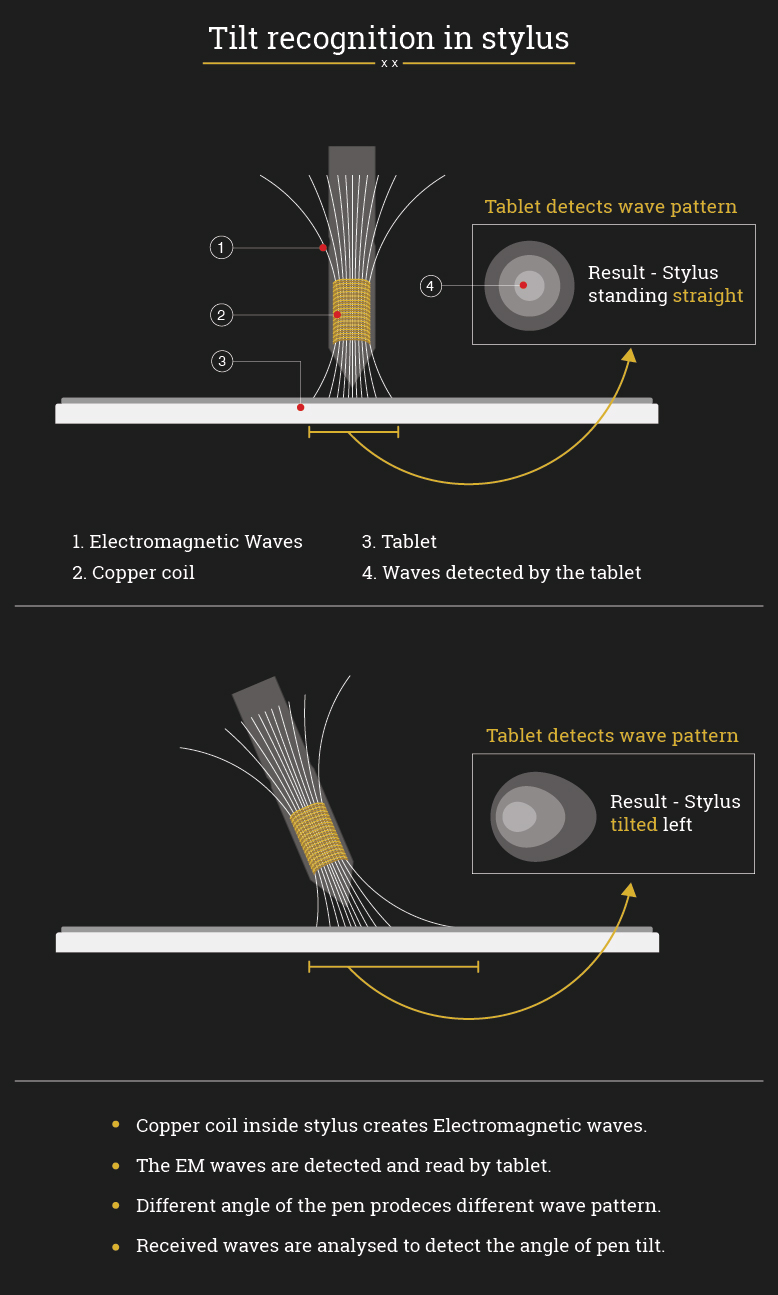 Most of the stylus has a copper coil near the tip of the pen. These coils produce electromagnetic waves (EM waves) when electricity passes through them. The actual tilt recognition action takes place in the tablet.
The tablet surface has a mesh of fine wires which detects the EM-waves produced by the pen. When the pen stands straight – the tablet detects a perfect circular wave pattern with no distortion. Due to the nature of the EM waves, the waves are dense in the middle and spreads out towards the ends.
When the stylus tilts the detected wave has a distorted shape. The waves are more concentrated on one edge of the than the other(pic below). Which helps the tablet to calculate the direction and angle of tilt.

When the pen is slightly tilted – the wave is less spread out in comparison to when they are fully slanted.
Which stylus has the most stable tilt support
When tilt support became popular – many tablet brands such as Microsoft, Dell, Huion, Xp-Pen come with their own tilt supported stylus.
The first generation tilt supported stylus had many rudimentary issues. There were inconsistency issues where the pen failed to notice tilt until it was around 45° angle. In addition to that – many applications did not support tilt sensitivity.
But a lot has changed since then – the styluses that you get nowadays are far ahead of their first-generation counterparts. The tilt sensitivity is now a mainstream feature, supported by all mainstream applications.
Apple Pencil, Wacom Pro Pen 2, Surface Stylus, Samsung S-pen are some of the styluses that have some of the best implementations of tilt sensitivity.
Which apps support tilt
Almost all the popular drawing apps and software support tilt. Some of the most prominent ones are mentioned below
Photoshop
Affinity Photo
Procreate
Autodesk Sketchbook
Corel Painter
Sketchable
Krita
Sketchpad
Clip Studio
Art Rage
Affinity Designer
Linea, and many more…
How important is tilt sensitivity and rotation
Whether you need the tilt and rotation depends on your working style. If you learned to draw on a computer, the tilt is probably not going to be a big issue for you.
But if you learned to draw with pencil or graphite and you are used to angling for gentle shading and smudging then you will have to adapt if your pen doesn't tilt.
People who like to do digital painting may also find tilt useful as the hairs of a brush can be simulated in programs like Corel Painter and Photoshop. Where the shape of the digital brush changes with the angle just like a real paint brush. Which spreads out when pushed into the canvas, or thin lines if gently brushed, or thick lines if tilted.
Here is what airbrush artist Kodack10 has to say –
I am an airbrush and pencil/charcoal person in real life and especially when doing digital airbrushing the tilt is important because many of the most basic airbrush strokes, dagger lines, etc all depend on the distance from the surface and the angle and direction the needle is pointing.

The airbrush techinique could never be reproduced digitally until tilt and rotation was added. I use my graphics tablet when I need those effects. Or I just fire up my air compressor.
Now, this feature is not for everyone and you can really get by fine with just a regular stylus.
*Passive stylus – Stylus which does not support pressure sensing.
Want to get full nerdy? Watch these teardown and behind the tech video by Micah Elizabeth Scott
Video 01
Video 02
References :
Ifixit, Reddit/r/surface, Wikipedia, Microsoft MPP, Chipworks