Disclosure: As an Amazon Associate EssentialPicks earn from qualifying purchases.

If you are looking for a budget drawing tablet than you may have come across Wacom Intuos and Xp Pen Deco Series particularly the Deco 03. Both these tablets are closely priced and have very similar features. So, it is obvious to have confusion regarding which one is better and which one should you pick as your next Drawing tablet.
Wacom Intuos and Xp pen deco 03 were launched around the same time by their respective brands. Both the tablets are very similar to each other, but there are minor differences which sets them apart.
We have made a detailed comparison of both the Wacom Intuos as well as Xp Pen deco series. It will help you make the right-informed decision and choose the best possible drawing tablet for yourself.
Wacom Intuos vs Xp-Pen Deco Series
Wacom tablets are known for their great drawing experience and making better drawing tablets in terms of quality. Whereas Xp-Pen aims at giving the most amount of features at the least possible price.
How good a drawing tablet is cannot be fully determined by merely comparing their features. Still, here is the list of all the main features – to get the basic idea of what we are looking at.
 
Wacom Intuos
Small/ Medium
Xp-Pen
Deco 01
Xp-Pen
Deco 02
Xp-Pen
Deco 03
Active Area (inches)
6.0 x 3.7 /
8.5 x 5.3
10 x 6.25
10 x 5.63
10 x 5.62
Shortcut Buttons
4
8
6
6
Roller wheel/ Dial
No
No
Yes
Yes
Pen pressure
4096
8192
8192
8192
Buttons on Pen
Two
Two
One
Two
Eraser on pen
No
No
Yes
No
Connectivity
Wireless
Wired
Wired
Wireless
Price
$$ /$$$$
Check on
Amazon
$
Check on
Amazon
$$
Check on
Amazon
$$$
Check on
Amazon
What you get with Wacom – Intuos small and Intuos Medium
Wacom have done a major update and upgrade of their previous Intuos model. They now come with better hardware and improved design.
Wacom Intuos is available in two models – Wacom Intuos small and Wacom Intuos Medium.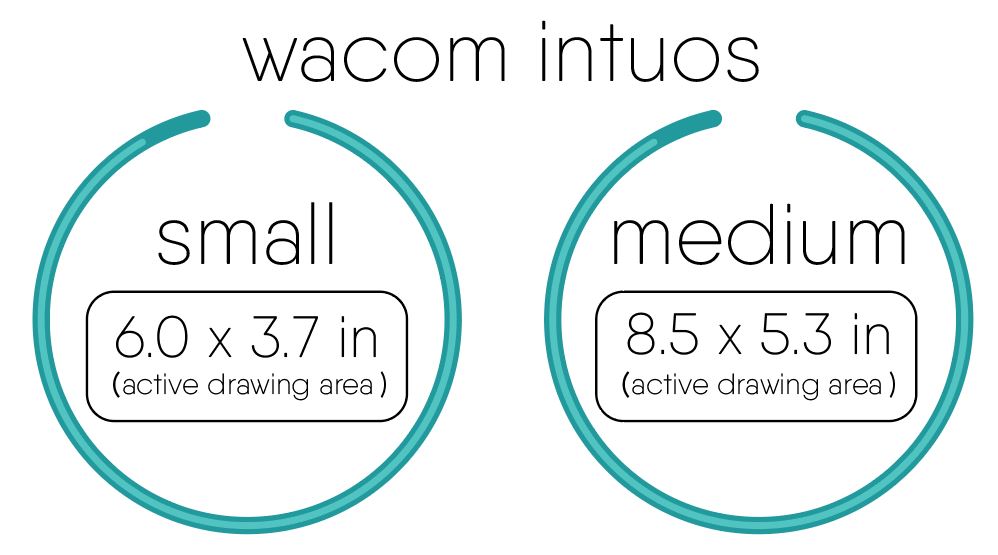 Other than the size there is no difference between the two models – both models have Bluetooth support and exact same pen with 4096 levels of pressure sensitivity. The Wacom Intuos Small also comes with a non-Bluetooth model.
Free software packs – Wacom Intuos comes with three free software which includes Corel painter essentials, Clip studio paint pro and Corel after shot 3.

What you get with Xp Pen – Deco 01 vs Deco 02 vs Deco 03
One of the main reason people go for Xp Pen tablets is their larger working area and it is clearly evident by their sizes. Xp Pen Deco series consists of three tablets namely Deco 01 and deco 02 and deco 03, where deco 01 is the most affordable tablet followed by deco 02 and deco 03 respectively.
With Xp pen you get a number of features like shortcut buttons – dials, rollers as well as wireless connectivity.
Wacom Intuos vs Xp pen Deco 03
Prices of drawing tablets have drastically reduced in the past few years. Wacom Intuos and Xp Pen deco 03 are two of the best drawing tablets under $100 dollars. Both tablets have everything you need to get started into digital art, but the question is – which is a better tablet, out of the two.
Design, layout and button placement
Both tablets are modern looking and slim. Wacom Intuos has shortcut buttons at the top and working area at the bottom. Whereas Deco 03 has buttons at the left and drawing area on the right side – which is a better design as it allows you to use the buttons with the left hand and draw with your right at the same time.
On top of that Deco 03 comes with a dial which helps with zooming and changing brush size. The dial is completely absent from the Wacom Intuos. The deco 03(read full review) has a larger active drawing area of 10 x 5.62 inches which is bigger than what you get with Wacom.
It is evident that Xp Pen deco 03 is the clear winner in the design and layout department.
Build quality and long term reliability of the tablet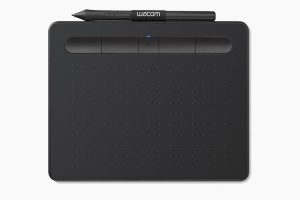 Xp Pen may be a winner of the design but when it comes to built quality Wacom is well ahead of them. from outside both tablets look the same, on closer inspection Wacom Intuos feels more sturdy and well built.
The working area of the drawing tablets is always exposed to pen strokes which gets scratched over time. To prevent this, the top layer has a layer of special scratch-resistant material. It protects the drawing surface from the scratches as well as gives a feeling of drawing on paper.
Wacom tablets are admired for their near-perfect surface textures which gives a smooth feeling without feeling too aggressive. Xp-pen is close enough but not quite at the level of Wacom. No matter what the tablet is – over time it starts to show some scratches.
After using both the device for over a month now. It seemed Xp-Pen was first to show sign of use and abuse.  So if you want a tablet which will last for a long time, probably multiple years – go with the Wacom Intuos.
Wacom Intuos vs Xp pen Deco 03 Stylus
A stylus is one of the most important parts of a drawing tablet. A good stylus can really add to your drawing experience. Both Wacom and Xp pen comes with a very capable stylus which performs equally well.
Now tablet companies try to show that the performance of the pen depends on the pressure level, which is not totally true. A pen with higher pen pressure does not mean better performance. So even though the Xp Pen stylus comes with 8192 levels of pressure sensitivity and Wacom with 4096 levels – their real-life performance is the same.
Conclusion
Both Wacom and Xp pen tablets are neck to neck in terms of features. You can't really go wrong with either of the two. However, if you want more features and multiple shortcut options (button/dials) – go with Xp Pen Deco 03. But if you want a reliable tablet with better drawing experience which will probably last a long time go for the Wacom Intuos.
Alternatives to Wacom Intuos – Deco 01 and Deco 02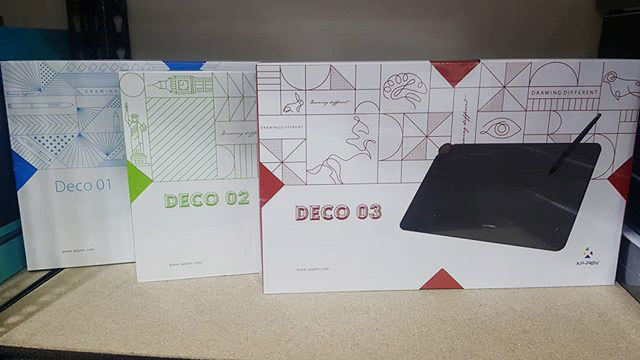 Other than Deco 03 – Xp pen Deco series also consists of Deco 01 and Deco 02 which are great alternatives to Wacom Intuos and worth looking into.
They follow the same design language of deco 03 – with buttons on the left and drawing area on the right-hand side. Xp pen Deco 01 is the cheapest out of all the options. It still has the bigger drawing area and more shortcut buttons than the Wacom Intuos.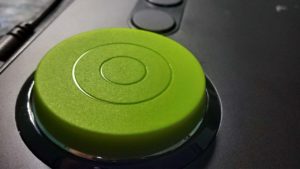 Coming to the Xp pen Deco 02 – It is almost similar to the deco 01 in terms of size and comes with a unique stylus with an eraser at the back. You also get the Dial which you don't find in Deco 01 or even Wacom Intuos.
Both the Deco 01 and Deco 02 connects to the computer using a USB type-c cable. There is no wireless connectivity in both tablets.
Before we end, I would like to add –  all the tablets mentioned above are best in their respective categories. Everything depends on your budget. If you are comfortable spending decent money then go with Wacom Intuos are Xp pen deco 03. But if you are on a budget then you should go with Deco 01(full review) or Deco 02(full review), they are almost the same with few minor differences.