Disclosure: As an Amazon Associate EssentialPicks earn from qualifying purchases.
---

If you are looking for a budget graphics tablet, you must have come across Wacom Intuos and the Xp Pen Deco series tablets.
These tablets are quite popular amongst artists. Their low prices and great features make them some of the best drawing tablets for beginners.
Both the tablets are very similar to each other but there are some differences that set them apart.
Wacom tablets are known for their great drawing experience whereas Xp Pen is popular for providing a lot of features at very pocket-friendly prices.
So the question is, which is a better drawing tablet and which device should you choose as your next drawing tablet? Let's find out.
Wacom Intuos vs Xp-Pen Deco Series
Wacom Intuos comes in two versions – Wacom Intuos Small and Wacom Intuos Medium.
Well on the other side, Xp Pen Deco series consist of 4 tablets namely – Deco 01, Deco 02, Deco 03, and Deco Pro(small and medium).
Now let's have a quick look at the features and get ourselves familiar with these devices.
Wacom Intuos
Xp-Pen
Deco 01 v2
Xp-Pen
Deco 02
Xp-Pen
Deco 03
Xp-Pen
Deco Pro
Active Area (inches)
7.9 x 6.3 /
10.4 x 7.8
10 x 6.25
10 x 5.63
10 x 5.62
9 x 5/
11 x 6
Shortcut Buttons
4
8
6
6
8
Roller wheel/ Dial
No
No
Yes
Yes
Yes (two)
Pen pressure
4096
8192
8192
8192
8192
Tilt Support
No
Yes
No
No
Yes
Buttons on Pen
Two
Two
One
Two
Two
Eraser on pen
No
No
Yes
No
No
Android Support
Yes
Yes
No
No
Yes
Connectivity
Wireless
Wired
Wired
Wireless
Wired
Price
Check on
Amazon
Check on
Amazon
Check on
Amazon
Check on
Amazon
Check on
Amazon
Looking at the comparison table you can notice that the Wacom Intuos has a lower pressure sensitivity as well as a smaller drawing area.
So does it means the Wacom Intuos is not as good as Xp Pen Deco Pro tablets?
The Answer is – NO!
The quality of a drawing tablet cannot be solely determined by just comparing the features. In reality, all these tablets have their own advantages and disadvantages.
There is more to a tablet than just a larger drawing area and a pen with more pressure sensing. Therefore we highly recommend you to read the complete article before making any conclusions.
Wacom Intuos and Xp Pen Deco – Pressure differences
The Wacom Intuos comes with a stylus that has a pressure range of 4096 levels whereas Xp Pen stylus has a pressure sensitivity of 8192 levels.
When we talk about the pressure sensitivity in stylus – more is always better.
When comparing the 8192 pressure levels with 4096, it definitely seems like we are missing a lot. But in real-life usage, that pressure difference is not that evident.
In most cases, you won't even notice the difference unless you are observing it very closely.
Overall Xp Pen stylus is better in terms of pen pressure but the difference is more evident on paper than in real-life usage.
Working area and tablet size: Wacom and Xp Pen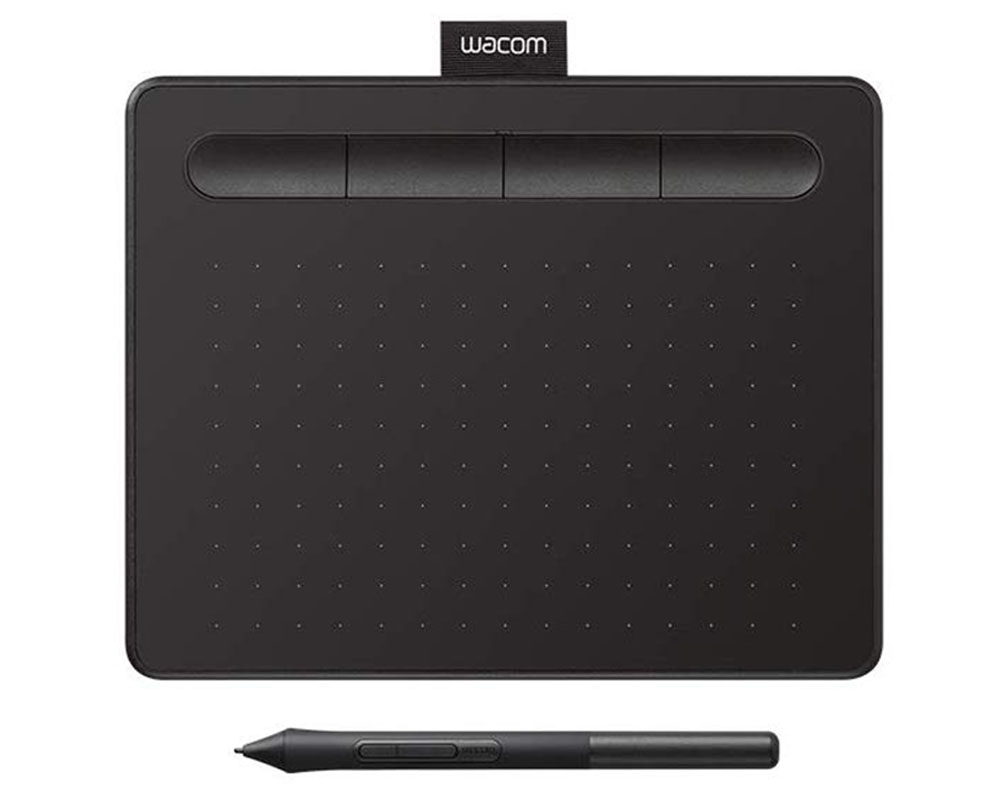 Looking at the comparison table at the beginning, you may have noticed that the Wacom Intuos is available in two sizes – small and medium.
The smaller version being the smallest tablet in the list and has the least amount of drawing space.
The Medium size Wacom Intuos is comparable to Xp Pen tablets in terms of size.
But when we look at the price of the Wacom Intuos Medium, we notice that it is almost twice the price tag of the smaller version.
Plus you aren't getting any extra features with medium size and that is why we do not recommend the Wacom Intuos Medium.
If you are someone who works on a Laptop or a small-sized monitor (around 19 inches and below), then the smaller version of Wacom Intuos is sufficient enough.
But if you work on a larger monitor or you want a larger drawing area – Go with Xp Pen tablets.
Shortcut buttons and dials
The number of shortcut buttons, type of shortcut options and their placement determines their usability.
The Wacom Intuos comes with 4 shortcut buttons and the Xp Pen Deco Series tablets come with 6 or 8 shortcut buttons along with a roller.
The newly released Deco Pro (Amazon) has a combination of physical shortcut buttons, Mechanical Dial as well as a Touchpad which really helps a lot and makes drawing on this tablet very convenient.
What are shortcut buttons?
Shortcut buttons are a physical button that can be programmed to any shortcut of your choice.
In drawing applications it can be used to performs tasks such as undo and redo. It minimizes the use of a keyboard and makes your workflow faster.
What are Dials and Rollers?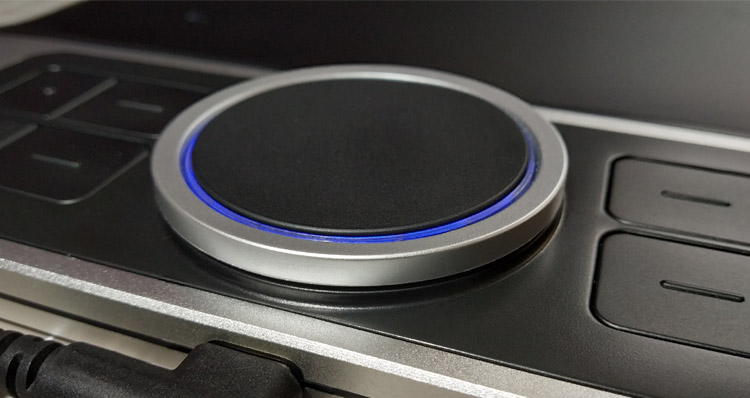 Dials and Rollers are a type of advanced shortcut buttons that can perform more complicated tasks such as changing the size of brush and eraser by simply rotating the dial.
Stylus – features
The Wacom Intuos comes with the Wacom's latest stylus. The stylus has 4096 levels of pressure sensitivity and two buttons on the side for shortcuts.
The rear end of the stylus opens to reveal three extra pen nibs stored inside them.
All the Xp Pen stylus has a pressure sensitivity of 8192 levels of pressure sensitivity.
The Deco 02 stylus has an eraser at the back whereas Deco Pro (Amazon) and Deco 01 are the only tablets that comes with tilt support.
Stylus performance
Graphics tablets are being used for a long time and over the years they have gotten so good that it is difficult to find bad tablets.
All of the tablets mentioned in this list come with a great stylus. Their tracking is on point and pressure sensitivity fell balanced and well-calibrated.
In spite of having lower pressure sensitivity, the Wacom Intuos stylus feels equally good as the Xp Pen stylus that has a higher pressure range.
Pen holder
Tablets such as Deco 01 come with a simple pen stand that holds the stylus when it is not in use – so that it does not roll off the table.
Other tablets such as Deco 02, Deco 03 and Deco Pro come with a cylindrical pen holder.
This one is more sturdy and fully protects the stylus. This type of pen holder can be great if you travel a lot with your tablet.
The front cap of this pen holder opens up and works as a pen stand. The rear end of these pen holder is used for storing the extra pen nibs.

Now with Wacom – you get no additional pen holder.
The shortcut buttons of the Wacom Intuos are curved inwards and that is where Wacom recommends us to keep the stylus. Plus as we mentioned earlier the rear end of the stylus stores the extra pen nibs.
Layout and placement
Wacom Intuos has the shortcut buttons on the top with the drawing area right below it.
Whereas the Xp pen tablets have Shortcut buttons on the left-hand side and the drawing area on the right.
Although it is a matter of personal choice, in our opinion – the layout of the Xp Pen tablets makes more sense.
An artist, drawing with the right hand will have their left hand naturally rest on the left, exactly where the shortcut buttons are located.
What about lefties
Wacom Intuos is symmetrical in design, which means no matter whether you are left or right-handed the tablet layout will feel the same for you.

With Xp Pen, you have shortcut buttons on the left – which can be very inconvenient for left-handed people.
To address this, Xp Pen has the left-handed mode in the tablet settings.
It flips the mapping of your tablet after that you can simply rotate the tablet by 180° so that you have buttons on the right side instead of left.
Surface Texture and scratch resistance
The surface of the graphics tablet is made of plastic. When a pen with a plastic tip is used to write on these surfaces – the stylus glides a bit too much, to the point that it became difficult to control it.
To fix this, the surface of the tablets has small bumps called micro-textures.
These textures provide slight resistance to the pen and stop them from slipping around. Which results in you having more control over the stylus.
Now, this may seem like a small detail but it has a massive effect on the drawing experience.
After all the surface of the tablet is what we interact with most of the time for during making sketches.
All the drawing tablet mentioned in this list comes with surface texture. But after using the tablets for a while we found that that Wacom surface texture feels better to draw on.
In long-tern usage, the Wacom tablets hold up better, as it is more resistant to scratches as you can see in the image above.
Wacom or Xp Pen – Which tablet should you get?
Wacom may be a little conservative about their features but what they provide in return is quality and great drawing experience.
Their tablets are very reliable with everything working smoothly without any bugs or issues.
Their drivers are updated on a regular basis and overall you will have a pleasant experience using the Wacom Intuos (Amazon).
But if you want a good tablet with a large working area and ample of shortcut options, the Xp Pen tablets are a better choice.
The Deco Pro (full review, Amazon) is one of the most promising tablets out of all the tablets on the list.
It comes in two versions and costs slightly higher than other tablets, but it is totally worth the price.
Check out these awesome drawing tablet: (opens in new tab)
Huion Inspiroy Keydial KD 200
Xencelabs Pen tablet review
Budget drawing tablet with screen