If you are looking for the best budget tablets than you may have come across Wacom Intuos and Xp Pen Deco Series particularly the Deco 03. Both these tablets are closely priced and have almost similar features. So, it is obvious to have confusion regarding which one is better and which one should you pick as your next Drawing tablet.
All these tablets were recently launched by their respective brands. On an individual level, all the tablets work great and are very capable devices. But, there are minor differences which sets them apart from each other. So it is important to know and compare the differences to make an informed decision and get the best possible device.
Devices by Wacom
Wacom has a very rich history of making drawing tablets. Its tablets have become an industry standard and used in all the major studios. Over the years they have introduced many devices on the market. Their devices range from high-end display tablets to mid-range and lower end pen tablets.
Wacom first time came with their Intuos lineup way back in 2012. Since then, Wacom has been adding new tablets into the Intuos lineup. They are also constantly revising their older models and relaunching them with latest specs.
They have recently done a major revision to one of their most popular Intuos series tablets and reintroduced it with better hardware and new features. The latest Wacom Intuos has the same price as the last years model. There are three versions of the tablet which vary from each other in size and connectivity options.
Devices by Xp-Pen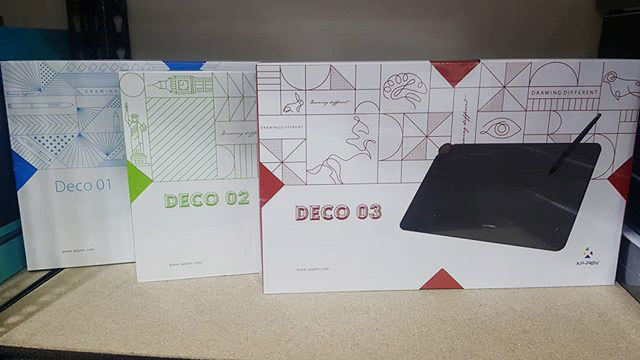 Compared to Wacom, Xp-pen is quite new to the scene and came into existence in 2005 in Japan. They have established themselves as an affordable brand and have been aggressively launching products at very affordable prices.
In their short journey, they have already become one of the respected brands in their space. They make all kinds of products ranging from drawing tablets to high-end display tablets.
Xp Pen Deco series is one of their most recent launches. It has been well received by the community and already declared by many as the best budget drawing tablet.
The Deco series consists of three devices named Deco 01, Deco 02 and Deco 03. These are very closely priced from each other and champion of their respective categories.
Wacom Intuos vs Xp-Pen Deco Series
Wacom is all about giving a polished hardware and flawless drawing experience, whereas Xp Pen tablets are more like cheaper and better. Their aim is to create the cheapest possible device with the best possible features.
Before we move further, here are the top features…
 
Wacom Intuos
Small/ Medium
Xp-Pen
Deco 01
Xp-Pen
Deco 02
Xp-Pen
Deco 03
Active Area (inches)
6.0 x 3.7 /
8.5 x 5.3
10 x 6.25
10 x 5.63
10 x 5.62
Shortcut Buttons
4
8
6
6
Roller wheel/ Dial
No
No
Yes
Yes
Pen pressure
4096
8192
8192
8192
Buttons on Pen
Two
Two
One
Two
Eraser on pen
No
No
Yes
No
Connectivity
Wired /
Wireless
Wired
Wired
Wireless
Price
$$$
Check on Amazon
$
Check on Amazon
$$
Check on Amazon
$$$
Check on Amazon
Wacom Intuos
Wacom Intuos comes with two models called Wacom Intuos small and Wacom Intuos medium. The small version comes with an active area of 6.0 x 3.7 inches whereas the Intuos medium has an area of 8.5 x 5.3 inches.
The Wacom Intuos Small is further divided into two models that are with Bluetooth and without Bluetooth. As the name suggests the device without Bluetooth has no wireless connectivity and the one with Bluetooth can connect wirelessly.
The device is thin and has a thickness of 9mm which is thinner than an iPhone. The texture on the surface has the almost perfect amount of resistance and a very nice feel while drawing.
Shortcuts
It has Four custom shortcut buttons placed at the top along with a Bluetooth button at the center. The buttons could be easily customized to any shortcut with the help of the Driver.
Stylus
Wacom Intuos comes with the brand new stylus with a pressure range of 4096 levels. The pen has a dull plastic look all around. It has two buttons on the sides which are clicky and give good feedback. The back cover of the pen opens up to reveal three extra pentips and a nib remover tool on the cap.
Pen Holder
Wacom Intuos does not come with any pen holder. But it is not really that big of a deal because it does not have to. The buttons at the top have a slight curve to them which is the place where the tablet sits while not in use.
In the case of storage, the hook hands out of the device at the top which holds the pen. Overall it is not a better option than the physical pen holder but could get a pass due to their creative design.
Connectivity
The Wacom Intuos connects to your computer with the help of USB cable. The cable comes with an L-shaped connector along with a really long cable. The tablet can also connect to your device with the help of Bluetooth but the lower cost base model does not have this option.
One cool thing about Bluetooth connectivity is you don't need any wireless USB connectors as with many other wireless tablets and Wacom is the only device providing this feature.
Color Options
Drawing tables has a bad history of coming in the same boring black color. Wacom has taken a bold move with their newer models and has introduced an extra color. There are three color options to choose from, one being classic Black and the other ones are pistachio, which looks really cool and berry which is only available in certain regions.
Xp-Pen Deco Series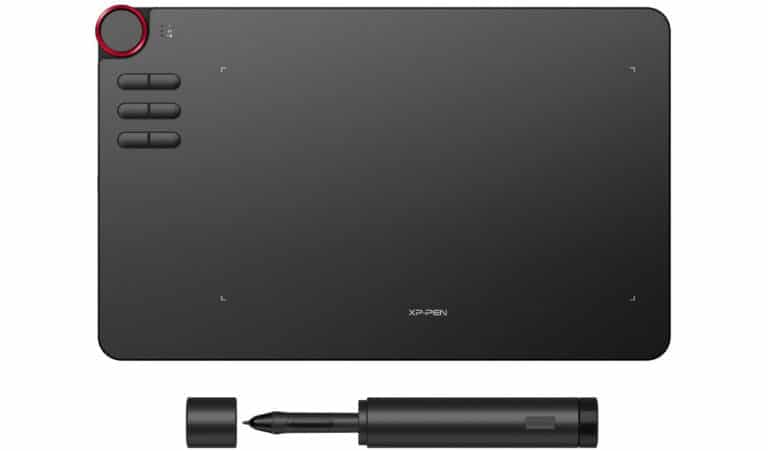 You know that the Xp-Pen deco series has three different models which are quite different from each other. Starting off with the Active drawing area, all the tablets have a very similar drawing area which is roughly around 10 x 6 inches. One interesting thing to notice is, Deco 01 which is least expensive out of the three has a slightly bigger area than others.
Design
When it comes to design all the tablets have a similar design pattern that is drawing surface on the right and shortcut buttons on the left. But at the same time, they look very different from each other.
Shortcut Buttons
The Deco 01 has eight buttons with no roller the deco 02 and deco 03 has Six buttons with a rolling wheel, which is super helpful. The buttons and roller are present at the left side in Deco 02 whereas it is located at the top left corner in Xp-pen Deco 03.
Rollers and Dials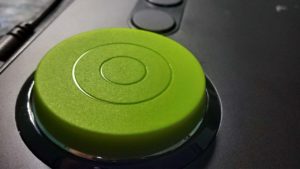 Although the rollers in Deco 02 and Deco 03 perform the same functions, their physical design is very different from each other. The Deco 02 roller has a hole in it and comes with a green rubber disk to cover it. The Deco 03 dial is present at the corner and slightly protrudes out of the device. It is bright red in colored which looks very cool.

Stylus
If we talk about the pen all three devices come with a different pen. All the pen has a pressure range of 8192 but their physic shape and placement of buttons are different from each other.
The Deco 01 stylus has a cylindrical shape and a plastic body along with two side buttons. The Deco 02 comes with a brand new pen which looks like a pencil and has a hexagonal body. The front end has textured matt finish and the back is shiny plastic. It has a single side button and an eraser at the back.
Deco 03 comes with a different stylus which also has a texture at the front and a plastic at the back. There are two buttons on the sides with no eraser at the back.
Connectivity
All the three devices connect to your computer using a USB type-C jack. The L-shaped connector has a very long wire which seems to be made of high-quality material.
In addition to that, Deco 03 comes with an additional wireless connection with the help of a USB receiver. The battery inside it charges through the USB connector and can recharge itself even while using it in a USB mode.
Pen Holder
Deco 01 comes with a pen stand which also contains extra pentips inside. It can hold the pen in vertical as well as horizontal position.
The Deco 02 and Deco 03 comes with a heavy duty cylindrical pen holder. The top lid of the pen holder doubles as a pen stand. The bottom end holds the extra pentips and nib remover tool and the USB-connector in case of Deco 03.
An important thing to note is other than pen stands and holders all the three models come with a Drawing Glove which is a really nice of Xp-Pen to include.
Comparison
Working Area
Starting off with the active drawing area. Wacom Intuos comes in two sizes, small and medium. The smaller tablet has an active area of 6.0 x 3.7 inches which is a really nice and compact size if you work on a 13-inch or lower size laptop.
But if you have a larger monitor then you may want to go with the medium size Intuos, Which has the working area of  8.5 x 5.3 inches. When it comes to Xp-pen, all its tablets have around 10 x 5.6 inches of active area which is a really comfortable size.
Surface Texture
It is already known that Wacom tablets have one of the best-textured surfaces. It is not too aggressive and neither very subtle, it is just perfect. Xp-pen is not too far behind and their surface also feels really good. It is quite difficult to tell which has the better feel. Ultimately it is a matter of personal preference, with that said I liked the Wacom Surface better.
Placement of shortcut buttons
It is one of the most overlooked factors but plays a big role in the practical uses of the device. The Xp-Pen buttons are placed at the left, which is the natural position for your hand to rest. Means your hands are already where they are supposed to be.
In the case of Wacom Intuos, It just has four buttons which are placed at the top. Which is not a good place to have shortcut buttons and most people end up using their keyboard instead of these buttons.
Pen
From the seer number, you may say xp-pen has a better stylus as it has the pressure range of 8192 levels, which is twice of Wacom Intuos which has 4096 levels of pen pressure. But in practical uses, there is very little difference.
If we talk about the performance, both the pens are equally good. In our tests, both pens were very consistent with no wobble and jitter at fast as well as slow strokes.
Wacom comes with the same pen with all its models whereas Xp-Pen comes with a very different pen with each of its three devices giving you more choices. Click here to see Xp-Pen pens comparison.
Driver
A few years earlier it could be easily said that Wacom had the most stable and easy to understand drivers. Since then the Xp-Pen have caught up and now both devices have equally capable and stable drivers.
Both drivers enable you to do basic tasks like customizing shortcuts and changing the pen settings. Both the drivers allow you to make application-specific shortcuts and change them automatically as you switch to another program.
Connectivity
Wacom, as well as Xp-Pen, comes gives you wired as well as wireless connectivity. The wireless mode in Wacom Intuos uses Bluetooth whereas Xp-Pen uses a small USB micro-receiver for wireless mode. The Wacom's Bluetooth wireless solution is superior as it does not use any USB controller which is quite easy to lose and also because it does not take up one of your USB ports.
Summary
It is already mentioned that both Wacom Intuos and Xp-Pen Deco Series are very capable devices and you can't go wrong with any of them.
If you are comfortable with the small tablet size or don't mind paying extra for the larger variant, then you should go with the Wacom Intuos. But if you want the best possible device for the least possible prices, then Xp-Pen is the answer for you.