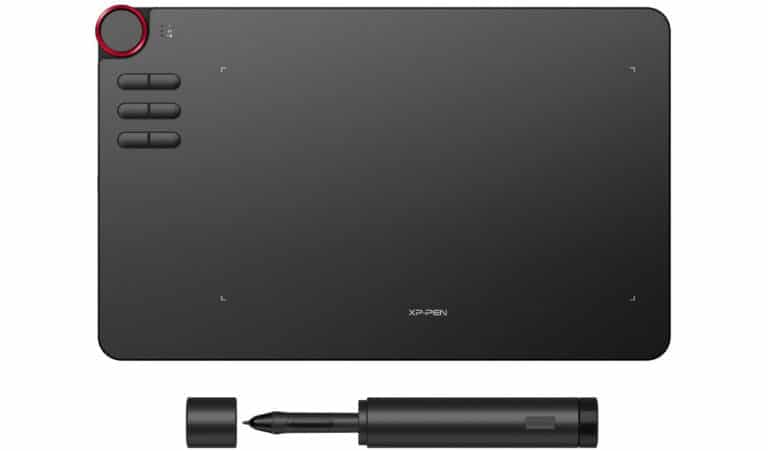 Xp-Pen Deco 03 has been in the discussion right from its release. It is one of the few tablets in the market which brings a lot of value at a better price. Some of its features are comparable to tablets twice or thrice its price. In this review, we will figure out what really makes Xp-Pen Deco 03 the best drawing tablet and how better it is than other devices in the market.
The Deco 03 has been a conversation starter in the artist community. Mainly because of its insane price to feature ratio. Now, most of the people will say "they must have cheaped out in quality" but that is not true. Deco 03 is a well built and slim device and looks much more expensive than its price. The main reason for Deco 03 to be in the discussion is, it is in direct competition with Wacom Intuos. Both the devices are similar in price but differ quite a bit in terms of features. You can find more on this in our comparison.
Xp-Pen Deco 03 features
|   | Xp-Pen Deco 03 |
| --- | --- |
| Active Area | 10 x 5.62 inches |
| Pen Pressure | 8192 levels |
| Pen Battery Needed | No |
| Buttons on Pen | 2 |
| Buttons on Tablet | Yes (Six) + Dial |
| Connectivity | Wired + Wireless |
| Tablet Resolution | 5080 LPI |
| Report Rate | 266 RPS |
| OS Support | Windows, Mac, Linux |
Design and Build Quality
The whole Deco lineup follows a very similar design with drawing area at the right and buttons on the left. This is a better design as the person drawing with the right hand will have his left-hand naturally rest at the left side near buttons and vice-versa. In prolonged uses, this simple design makes a lot of sense and is very comfortable to work with.
If you see other tablets like Deco 01 and Deco 02. You would notice that the buttons spread out and cover the whole left area from top to bottom. With Deco 03 all your buttons and dials are present in one corner. Which makes them easier to use and eliminates un-necessary hand movements.
The tablet has a plastic construction and has the thickness of 8mm which is thinner than an iPhone. The plastic reduces its weight and makes it super convenient to carry around. On top of that, it has also got wireless connectivity to give you more mobility.
Drawing Surface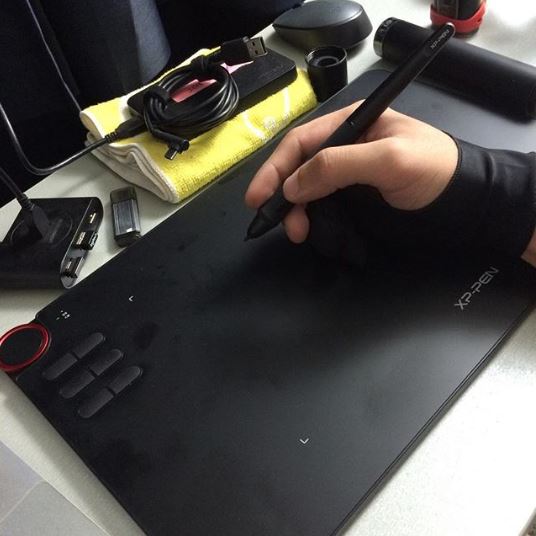 There are three components which make up an ideal drawing tablet. Those are drawing area, texture and longevity.
Drawing Area
When we talk about drawing area Xp Pen Deco 03 gets the full score as it has one of the largest drawing areas. It gives a total workable space of 10 x 5.62 inches which is great smaller as well as big 21-inch monitors.
Texture
Next comes the surface texture. The aim of surface texture to mimic a paper as close as possible. The main advantage of texture is it gives you more control over your strokes. It hides the fact that you are writing on plastic with plastic. Other than that it makes a very pleasing noise which kind of sounds like "sound of pencil on paper".
Agreed! Surface texture does not affect the final outcomes or quality of your artwork. Nor does it makes you a better artist but still, it is important in terms of feel and drawing experience. Nowadays almost all the tablets cheap or expensive comes with some kind of textured surface, but not all of them have got the formula right.
The story with Deco 03 is quite different as they are very close to the perfect texture. The drawing texture is neither too aggressive nor to smooth, it is just about right. It is still not as good as what we find on Wacom Intuos but you won't feel the difference unless you compare them side by side.
Longevity
Use of quality material is the main factor which affects the longevity of the tablet. The drawing surface is the area which is constantly exposed to starches by the pen. When they are made of cheap materials they start getting scratches. Gradually, they become unusable after a period of time.
The deco 03 has only been out for a while and there is no evidence to how it will age. But looking at their other tables by Xp Pen and the fact they use high-quality materials even in much cheaper tablets. it is safe to assume that the Deco 03 will age well and last a long time.
Drawing Pen (stylus)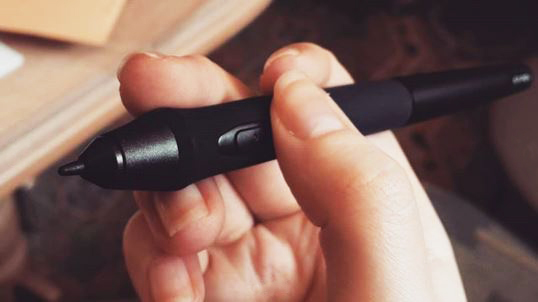 A pen is the most important part of the tablet, it is as important as the tablet itself. No matter how good the tablet is a bad stylus can break your drawing experience. It is very important for a tablet to have a reliable pen for maximum productivity.
Xp Pen Deco 03 comes with a passive (batteryless) stylus which does not needs charging, ever. It is a well-balanced pen which has the perfect weight distribution and neither feels too light or heavy. Its well thought out shape makes it comfortable to hold.
The pen has a plastic construction, but it has a rubbery grip at the front, which feels nice and helps in a better grip. It has 8192 levels of pressure sensitivity along with two buttons at the sides. The buttons are clicky and give a nice feedback when pressed. Unlike the Deco 02 stylus, the side buttons of Deco 03 is raised above the surface of the pen. It makes it easier to find and use the buttons without even looking at it. The buttons are re-programmable to any other shortcut with the help of the driver.
In practical uses, the pen is very accurate in terms of strokes and pressure variation. It does not have any wobble issues which many other tablets face. The hatching and cross-hatching shading lines come with no bent ends at slower as well as faster pace. Overall, it is a well thought out, beautifully made, very precise pen which can give you total control.
"Kylie Halley also known as Shadowtajun shares her impressions".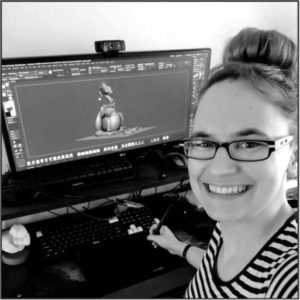 I've been using the Deco 03 for about 5 months as a daily driver. When searching for a new tablet, I was looking for a cheap, portable device. To take from office to office with a passive pen option. The XP-Pen Deco–03 ticked all the boxes.
The thing that caught my eye the most was the red scroll wheel. It is something I use all the time. I love the tactile feel of it's satisfying 'click' for every 15 degrees or so of movement for precision. I also appreciate that you can assign multiple functions for the wheel. The helpful hints at the bottom of the screen tell you what shortcut keys are being used. Despite the 6 express keys being able to take multiple inputs at once. I only really use the scroll wheel and the two buttons on the pen. I have found them to be a little too easy to press if you're not holding the pen a particular way.
The USB-C cable means I only need to carry a single cable for my phone and my tablet. With the added bonus of not needed to look at which direction the cable is to plug it in. And when I do forget the cable, having the adapter (for wireless mode) in the bottom of the pen case has been a lifesaver.
The thin design has only minor flex giving it a nice solid yet lightweight feel to it. I was pleasantly surprised to find that the thin battery lasts me 3-4 days at a time. And the auto-off feature has definitely helped keep that battery time maximized.
With all that said, I have a few gripes with the Deco-03. Understandably, with a cheaper product, you're going to get what you pay for. Occasionally I've had pen jitter when I do slow strokes. This could be exacerbated by my large 25″ (21:9) work screen which doesn't fit the small 16:9 ratio on the tablet. I've fixed this issue by using third-party software for most cases and lazy mouse in Zbrush. There is a Fine Detail Mode available that helps with small details. But unfortunately isn't customizable so I don't use it as much as I would like.
I had found that the out-of-the-box pen pressure/sensitivity was too much for me. After a while, I got hand cramps and fatigue from using it. This was easy enough to fix though with the easy to use Pen Tablet software (driver) and now I use about ⅔ of the total pressure.
Would I recommend this to my friends? I absolutely have.
Pen Holder/ Tablet Stand
I had a situation when I was traveling with the tablet and needed to use it. But when I opened my bag I could not find the pen. Many of the tablet companies have the same issue where they do not give storage units for the pen and it ends up getting tossed around.
In regular day to day uses it may not be a big deal but it is very easy to damage or lose them. Returning back to my story – a week later when I came home I found it hanging out in my drawer.
Things are not the same with Deco 03 as it comes with one of the best pen holders. The pen holder plays multiple roles. Its back cover opens up to reveal the extra pentips and the wireless receiver all organized neatly in a padded compartment.
The front end opens up to work as a pen stand, which is a very clever design. The front and rear caps of the pen holder has rubber pads which help it to stand upright. The hard plastic shell feels hefty and gives an excellent protection. The casing has a soft felt coating on top of plastic which feels soft in hand.
Shortcuts Options (expresskeys)
Deco 03 has multiple shortcut options which include both buttons and rollers. There are a total of six buttons located at the top left corner. All the buttons and dials are close to each other so that you can press them without moving your hand up or down. The buttons are arranged in three groups of twos and have a nice, clicky feel to it.
Other than the buttons the tablet comes with the dial. The rolling dial is present at the top left corner of the device. It protrudes out of its side which makes it look cool, the red accent color adds up to cool look. It can perform shortcuts for scroll, zoom, rotate and change the brush size.
Being able to change the brush or eraser size is a big advantage and makes make your workflow fast. The wheel has a metal construction and sits securely with no rattle or wobble issues. Ball bearings are responsible for its smooth movements. Its rotation is calibrated to perfection, it is neither too tight or too lose and makes no noise on rotating. In a nutshell, it is a very well executed hardware and very practical.
Connectivity
As Deco 03 is not a standalone device and needs to connect to a computer. The connection takes place in two ways. One can connect it through the traditional method using wires. It comes with a USB type-C cable and has a lengthy cord. It allows using your device even when your CPU is a little further from the monitor.
The tablet also has a wireless mode. In wireless mode, the tablet uses a wireless receiver. The receiver connects to the USB port of your PC and receives data wirelessly from the tablet. There is no visible difference in speed and reliability, between the two connection (wired/wireless). both of them work perfectly and have no latency or any other issues.
Here is what Korak González (Digital Artist) has to say, who uses Xp-Pen Deco 03 as his daily driver…
I really liked the design of the device, looks classy and minimal. The buttons feel good and the ring dial is just the best feature. Being capable to use it wirelessly its another great feature included. In other tablets like Wacom, you need to spend a bit more to get this kind of feature.
The shape of the pen is comfy and does not feel cheap like other tablets. It has this rubber texture along the middle of the pen so you can hold it nice. The USB type-C it just works awesome for me cuz I am left handed and I can plug the cable the way that is comfier for me.
In my opinion high levels of pressure sensitivity, wireless connectivity, the 6 buttons and the ring dial are some of its best features. For my use, the battery lasts like 3 days or 2 during full day work.
Overall it has been a great device, for me it is a 10/10 and I can happily recommend it to my friends.
Bezels
If you look closely there is a lot of extra space around the drawing area in Xp Pen deco 03 or any other tablet for that matter. In the age of bezel-less devices where everything from smartphones to laptops are trying to get rid of bezels(frame around the screen). Things are different in case of drawing tablets, you need to have some extra space in order to work comfortably especially at corners.
Performance
For a drawing tablet to work properly it needs the perfect balance of hardware and software. The Deco 03 is a very capable device both in terms of hardware and software. The devices have no latency in both wired and wireless modes. On regular uses, it shows no wobble or jitter and you get perfect and smooth lines every single time.
Battery
There is a battery inside which the tablet uses when it is in the Bluetooth mode. Although there is no official number as to how many days it could work on a full charge. In our uses, it lasted a week on casual uses and three to four days on aggressive use. When your battery dies you simply plug it through wires and continue working. The USB cable used for wired connection also charges the device when plugged in so you are always ready for the wireless mode.
The power button of the Deco 03 is present at the bottom of the tablet. There is also an auto-off feature. It automatically turns off the tablet when not in use to save the battery power. It is really helpful especially for someone like me, who very often forget to turn off their devices after use.
Driver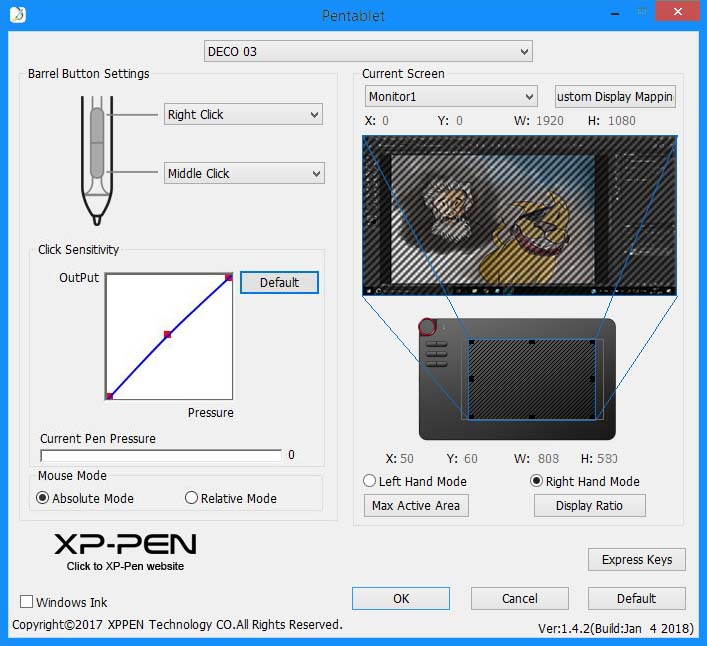 Like all other tablets, Xp-Pen Deco 03 comes with a driver. The operating system on the computer is not made to deal with the pen pressure data. The driver is a piece of software which allows the drawing tablet to communicate properly with the computer. It also allows the user to make additional settings and changes.
What do the drivers do?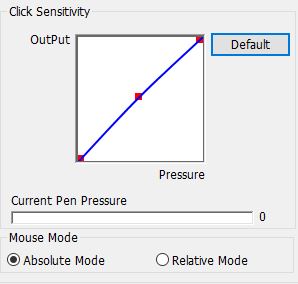 With the help of the driver, you can change the pressure sensitivity of the pen. It also allows you to change the shortcut buttons including the pen to any command of your choice.
The Deco 03 driver is a very stable software which does its job silently in the background. Once you install and do necessary settings you don't need bother after that. The next time you plug in your device the driver automatically gets activated and handles all the tasks in the background. It also remembers all the necessary settings so you don't need to customize every-time you plug in your device.
The tablet comes with a USB drive, preloaded with the driver but it may not contain the latest updates. So they recommend downloading the latest and updated driver from the Xp Pen website.
You can download the driver from the Xp-Pen website.
Accessories
One of the best thing about getting an Xp-Pen device is you get a ton of accessories. Other than the usual stuff like drawing tablet, pen, USB storage, extra pentips and USB cable you also get a pen holder which we have already discussed earlier, a USB drive with the preloaded driver.
Other than that you get a Drawing Glove. The glove has a smooth felt material and helps in reducing the friction between your hand and the tablet. Some people like to use it and some don't. Overall you get everything you need to start working.
Conclusion
If you are someone who is looking to upgrade your older tablet or it is your first drawing tablet, Xp-Pen Deco 03 is the best option for you. It has all the features that you need and that too at a very affordable price. You can get it on Amazon.