Disclosure: As an Amazon Associate EssentialPicks earn from qualifying purchases.
---

There has been a lot going on in the budget tablet space. Every popular brand is putting its best foot forward and releasing beginner-friendly budget drawing tablets one after another.
Wacom has come with their Cintiq 16, whereas Xp Pen has released Artist 15.6 Pro.
Both the tablets are very similar to each other in features but differ in price.
Wacom is known for its high-quality drawing tablets whereas Xp Pen tablets provide immense value at low cost. So which of the two tablets is better and which one should pick as your next drawing device.
In this Wacom Cintiq 16 vs Xp Pen Artist 15.6 Pro comparison, we have made a detailed side by side analysis of each and every feature these tablets have to offer. It will give you more than enough information to figure out which tablet will suit your needs better.
Pros and Cons
Cintiq 16
by Wacom
Colour accurate screen
Lower activation force on stylus
8192 pressure levels ±60° tilt
Price: $$$
Pen stand not included
No Shortcut buttons
If you are willing to spend a little extra for getting superior hardware and stylus than Wacom Cintiq 16 is the right choice.
CHECK PRICE ON AMAZON
Artist 15.6 Pro
by Xp Pen
Wider color gamut support
Laminated screen
8192 pressure levels ±60° tilt
Price: $$
Very basic tablet stand
No eraser on stylus
If you do not want to compromise and want the most amount of features at the least possible price, Xp pen Artist 15.6 Pro is the best option.
CHECK PRICE ON AMAZON
Design and build quality
The Cintiq 16 has a very minimalist look with just a screen at the front.
Artist 15.6 Pro on the other hand shortcut buttons along with the screen at the front. Both the tablets are made of plastic and have comparable built quality.
Wacom Cintiq 16 vs Xp Pen Artist 15.6 Pro – display comparison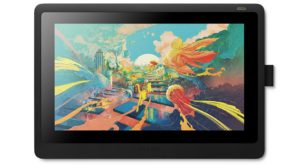 Both the tablets come with a 15.6 inch 1920 x 1080 p full HD display.
The Wacom Cintiq 16 has 72% NTSC color coverage whereas Xp pen boasts of 88% NTSC color gamut. It means that the Artist 15.6 has a wider color gamut (range).
However, Wacom Cintiq 16 displays come pre-calibrated out of the box and show accurate colors right of the bat.
Xp Pen Artist 15.6 Pro is not precalibrated, which means that although the display is capable of showing better and more accurate colors – it does not have the right color settings.
This can be corrected by manually changing the color settings or using a monitor calibrator device. The Artist 15.6 Pro has a laminated screen whereas Cintiq 16 comes with a normal non-laminated display.
What is a laminated display?
In a laminated display, the display and the top glass are fused together which reduces parallax. In non-laminated displays, the strokes appear a few millimeters away from where the pen is actually touching the surface.
The artist 15.6 Pro is laminated so the strokes appear right below the pen tip. In the case of Cintiq 16, the strokes are a few millimeters away from the tip.
Which tablet has a brighter screen
Comparing the two tablets side by side – Artist 15.6 is brighter than the Wacom 16. But the colors of the Artist 15.6 Pro washes out on max brightness. It is recommended to use the tablet on 60-70% percent brightness for the right colors which brings it equal to Cintiq 16 brightness levels.
Matte screen and surface texture
Both the tablets use anti-glare matte films on their displays which helps reduce glare and reflections on the screen. These films are textured which provides resistance to the stylus while drawing, giving you more control over your stylus.
Wacom Pro pen 2 vs Xp Pen P05R Stylus Comparison

Wacom is known for its stylus – the Pro Pen 2 is considered the best stylus in the market. With Cintiq 16 you get the same stylus that you would get if you buy one of Wacom premium tablets, which is a huge plus point.
With that said Xp Pen is not too far and comes with a very comparable pen.

Both the stylus have 8192 levels of pressure sensitivity and ±60° of tilt recognition along with two buttons on the sides.
The Wacom stylus comes with an eraser at the back while Xp Pen does not.
In terms of stylus performance, both of them are equally good but the Wacom Pro pen takes a slight edge in tilt sensitivity.
When you tilt the Xp Pen stylus the pointer shifts slightly away from the center. In the case of Wacom, the pointer remains at its place when tilted. Well, it is not a deal-breaker but something you have to get used to.
Build quality and Ergonomics
Both of the pens are comfortable to hold and come with a very ergonomic design. They have a wider front grip which slowly tapers towards the back. The Wacom Stylus is slightly heavier than Xp pen and feels a bit more substantial.
Pen holder and extra Nibs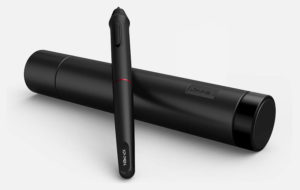 Although the Xp Pen Artist 15.6 Pro is way cheaper than Wacom Cintiq 16, it still comes with a high-quality pen holder.
It has a soft-touch material on the outside and strong plastic core which provides excellent protection to the pen.
The pen holder doubles up as a pen stand. At the back of the pen holder, you have storage space for extra pen nibs.
Wacom does not come with any pen holder. If you have to store your pen or put it somewhere while not in use – the tablet has a fabric loop that sticks out from the right side of the tablet.
You can slide off the loop from the tablet which reveals the tiny storage for the pen-nibs.
The Artist 15.6 Pro comes with 8 extra pen-nibs whereas with Cintiq 16 you only get 3 extra nibs.
Shortcut buttons
There are a total of eight shortcut buttons in the artist 15.6 Pro. The buttons have different patterns to identify them without looking. On pressing – they have a satisfying click with good feedback.
Along with the shortcut buttons, the Artist 15.6 Pro has a red circular roller.
The roller is very handy and performs tasks such as zoom, rotate, pan, scroll, and change the size of brushe and eraser. To know more about the Xp pen artist 15.6 Pro check out the full review.
Wacom Cintiq 16 does not have any shortcut buttons on the tablet. So you are stuck with the keyboard for shortcuts  – or you can get the Wacom Expresskey remote on Amazon.
The Expresskey remote are specifically made to be used with Wacom Cintiq tablets and have a total of 17 buttons and a touch ring but they are sold separately and expensive.
Tablet stand and mounting options

Wacom and Xp Pen both come with tablet stands but they are totally different from each other.
Xp pen comes with a separate plastic stand with a standing angle of 20°. The Cintiq 16 has foldable legs that lift the tablet at an angle of 19°.
The folding legs of the Cintiq 16 have a more solid feel. It clips back and forth without being loose. It gives better support to the tablet in comparison to the Xp Pen stand.
In addition to the pop-up legs, the Cintiq 16 also has holes for the Vesa mount, which means you can attach any third-party standard tablet stand for better flexibility and more standing angles. To know more check out the Cintiq 16 full review.
Accessories
Artist 15.6 Pro comes with a lot of accessories like drawing glove, tablet stand and pen holder whereas Wacom has an inbuilt stand and comes with an all in one super-simple cloth loop.
It sticks out of the display and used for holding the pen and storing extra Nibs.
Summary – Wacom Cintiq 16 Or Xp Pen Artist 15.6 Pro
From what we have seen so far – Wacom Cintiq 16 is better in some areas like surface texture and Xp Pen Artist 15.6 Pro is better in other areas like the laminated screen.
They both have a very comparable stylus and overall have very similar drawing experience. So it is clear that both are great devices and you cannot go wrong with either of them.
Now, it all comes down to price and value for money.
The Artist 15.6 Pro is priced substantially lower than the Cintiq 16 and still has features like laminated screen and shortcut buttons which Cintiq 16 does not have.
Overall you get a better value for your money. So if you are looking for a drawing tablet in a budget the Artist 15.6 Pro(Amazon) is the best choice for you.
But if you don't mind spending a little extra for slightly better hardware and stylus and do not mind the lack of shortcut buttons than Wacom Cintiq 16(Amazon) will not disappoint you.
Related Topics:
Xp Pen Innovator 16 vs Wacom Cintiq 16
Cheapest drawing tablet with screen
Xp Pen artist 15.6 Pro vs Huion Kamvas Pro 16