Disclosure: As an Amazon Associate EssentialPicks earn from qualifying purchases.
---
The last few years have been great for digital artists as many brands both big and small come with their affordable range of drawing tablets.
But when it comes to a professional level "premium" drawing tablets, there weren't many choices available. Most of the larger 22 and 24 tablets came with 1080p screens which is not an ideal resolution for these large displays.
Working on these tablets up close you could see individual pixels. This is not only distracting but also strained our eyes when looking at the screen for a longer period.
The good news is – Huion recently came with their Kamvas Pro 24 drawing tablet which addresses and solves these issues.
It has a number of features that are normally found is top of the line premium drawing tablets, making it a legit option for artists who wants a cheaper alternative to the Wacom Cintiq Pros.
In this Huion Kamvas Pro 24 review, we will have a look at this tablet in detail and help you decide whether this is the right drawing device for you.
Spec Sheet – Kamvas Pro 24
| | Huion Kamvas Pro 24 |
| --- | --- |
| | |
| Display Size | 23.8 Inches |
| Workspace | 526.85 x 296.35mm |
| Resolution | 2560 x 1440(16:9)QHD |
| Color Accuracy | 120% sRGB color gamut coverage |
| Display Lamination | Yes, Fully laminated display |
| Brightness | 220cd/m2 |
| Stylus | Battery-free |
| Pressure and Tilt | 8192 pressure levels and 60° tilt |
| Shortcut Buttons | 10 + 10 + 2 touch strips |
| Tablet Stand | Yes Included (20°~80°) |
| Weight | 13.2 lbs (6 KG) |
| Price | Check on Amazon |
First impressions – Design and build quality
From the first look, the tablet has a very similar design to other Huion tablets. It kind of seems like a bigger version of Huion Kamvas Pro 20 and 22.
The tablet has a very sleek design with a large screen at the center with buttons from both sides.
Even though the tablet is made of plastic but the quality of plastic used is top-notch. The tablet is dense and strong and feels like a quality drawing device.
Display and drawing surface
The screen is considered the centerpiece of a drawing tablet as everything we do on the tablet involves the screen.
Higher resolution, good color accuracy, adequate brightness, good surface texture, and matte finish are some of the qualities that you should be looking for in your drawing tablet.
Here is the detailed look at what the Huion Kamvas Pro 24 display has to offer.
Resolution – Kamvas Pro 24 (The BIG Upgrade)
In the beginning, we talked a little about the display and how the resolution was the biggest compromise almost all the budget-friendly drawing tablets made.
Having a 1080p resolution on a 24-inch monitor is kind of workable. But as you get up close to your screen (which as a digital artist you do very often), you start to see pixels.
The new Huion Kamvas Pro 24 is one of the few tablets in the market that comes with a higher 2560 x 1440p QHD resolution instead of 1920 x 1080p, which is a huge jump in terms of display sharpness.
PPI (pixels per inch)
To better understand this, let's discuss this higher resolution in terms of PPI that is Pixels per inch.
The more pixels you have per unit area, sharper is the image on the display.
A 1080p resolution on a 24-inch display has 93 pixels per inch. Whereas a 1440p resolution on a 24-inch display has 123 pixels per inch, which is a huge difference.
Color Accuracy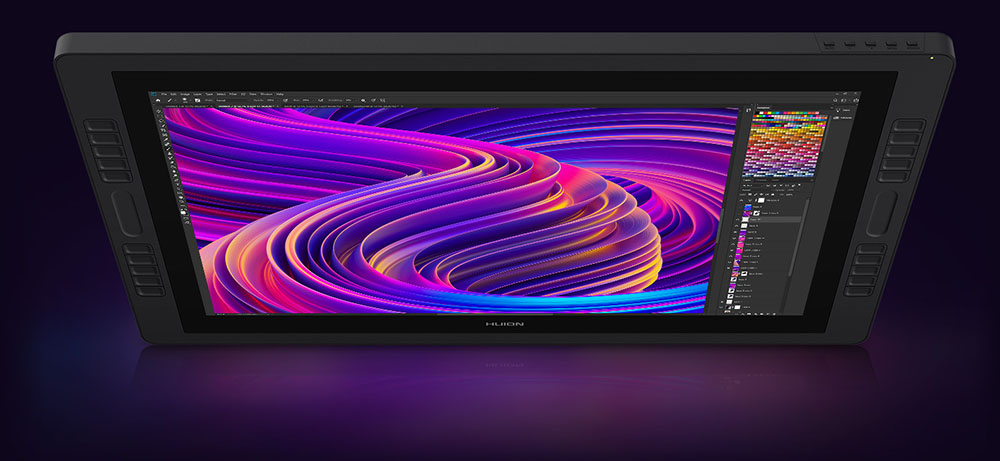 Colors are an important part of the drawing process. Selecting and using the right colors in the right places has a major effect on the final outcome of your painting.
For being able to use (and select) correct colors, the first and foremost requirement is your display should be able to show accurate colors.
The Kamvas Pro 24 comes with a very color accurate display that covers 120% of SRGB color space, making it one of the most color-accurate displays in the market.
Viewing angle
The Huion Kamvas Pro uses an IPS panel which is inherently known for its excellent viewing angle.
This tablet gives you a viewing angle of 178°, meaning the colors on the screen does not change or gets desaturated when you look at the screen at an angle.
Screen lamination – For precise cursor position
Laminated displays are a big deal when it comes to drawing tablets.
In older displays, you may have noticed that the lines drawing by the stylus are slightly off-centered (away) from the point where the pen is actually touching the surface.
This is what we call "parallax". This happens due to a small gap between the display and the top protective glass of the display.
In laminated displays, the display layer and the top glass are fully laminated together. This results in the pen drawing exactly at the point where the tip of the stylus is actually touching the surface of the tablet.
Surface texture and etched glass
Drawing on a glass screen with a stylus that has a plastic tip makes the stylus glide on the screen a little too much, so much so that it sometimes feels out of control.
To help counter this and keep the stylus is control the displays drawing tablets come with a textured surface. The textured drawing surface has microscopic irregularities that provide resistance to the stylus and keeps it in control.
There are two ways of implementing a textured surface, one is to use a textured plastic layer on top of the screen. it is a cheaper method and produces satisfactory results.
The other way is to create texture on the glass itself with the help of chemical etching. Now, this is a fairly expensive process, and therefore the etched glass is predominantly found in premium drawing tablets.
In spite of being a fairly budget tablet, the Huion Kamvas Pro 24 comes with etched glass.
The benefit of etched glass is you get a higher quality texture – which does not fade easily over time. It also provides better scratch resistance.
Brightness
Unlike a tablet or a laptop, drawing tablets have a bigger form factor and they are only used indoors in an office or home studio environment. Therefore they can get away with lower screen brightness.
With Huion Kamvas Pro you get a screen that has a peak brightness of 220cd/m2 which is sufficient enough to work in a brightly lit indoor environment.
The tablet also has an anti-glare matte surface that helps improve visibility.
Stylus – Huion digital pen PW507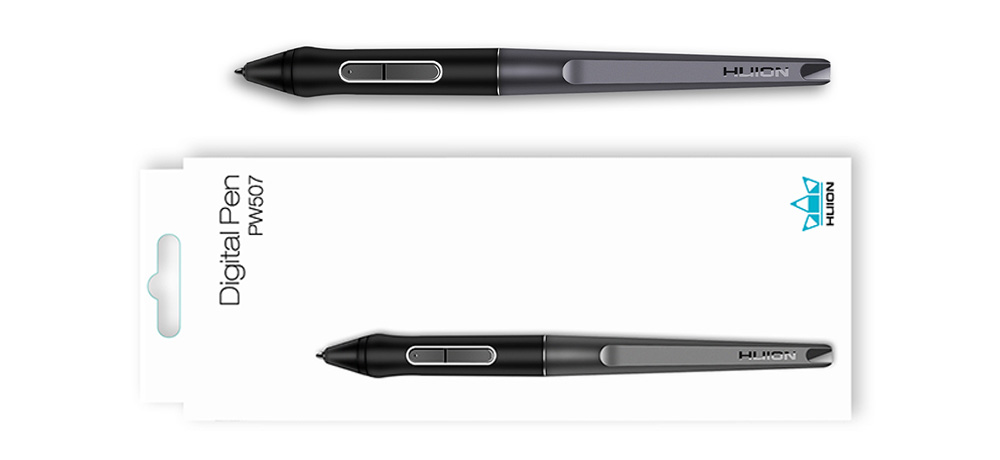 Huion PW 507 stylus is one of the most advanced stylus made by Huion. The same stylus comes with many other high-end Huion tablets.
The PW 507 is a battery-free stylus that has 8192 levels of pressure sensitivity along with 60° of tilt recognition.
There are two programmable side buttons on the stylus that can be set to any shortcut of your choice. The tablet also supports different custom shortcuts for different applications.
There is no eraser at the back of the styles which is fine as the side buttons on the stylus can be set as an eraser.
The response rate of the stylus is very fast with a report rate of 266 reports per second and a response time of 14ms. It is on par with some of the most premium stylus in the market.
Stylus Design and ergonomics
The design of the stylus is fairly simple, You have a cylindrical body which is wider towards the tip and narrower at the back.
The rear end of the stylus has a matte plastic whereas the front half has a grippy material that helps with better grip (especially on sweaty hands).
Pen holder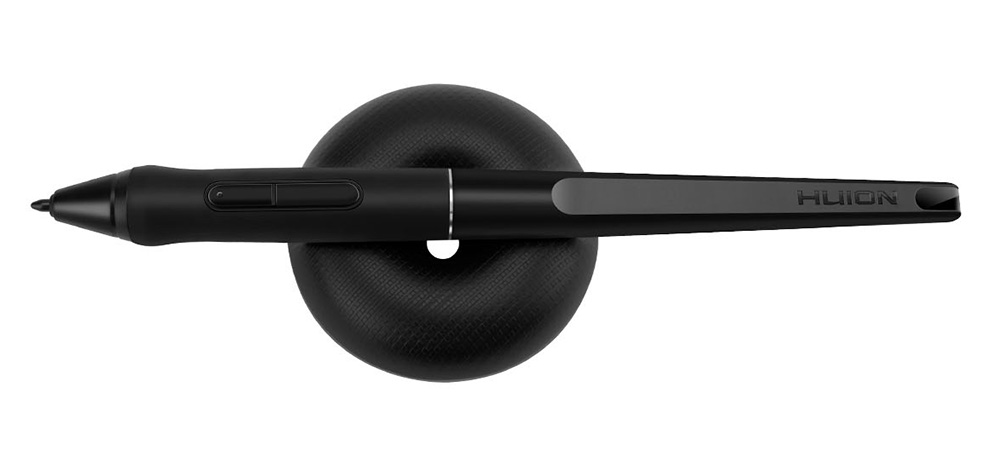 Thet Kamvas Pro 24 comes with a donut-shaped pen holder. The pen holder helps to safely store the stylus while it is not in use. It can hold the pen in a horizontal as well as vertical position.
Opening the pen holder you can find a safe storage space for the 10 extra pen nibs as well as nib remover tool that come with the stylus.
Shortcut buttons
Huion Kamvas Pro 24 offers a total of 20 shortcut buttons, 10 on both the sides of the screen. All these 20 shortcut buttons are fully programmable and can be set to any custom shortcut of your choice.
The tablet also allows you to set a different shortcut for different applications which is very handy.
Touch strip
For performing advanced shortcuts such as zoom, scroll, and change the size of brush and eraser – the tablet comes with 2 touch strips.
As the name suggests, these strips are touch-sensitive where you can either swipe up or down to perform these shortcuts.
Like a shortcut button, these 2 touch strips are present on both sides of the display for easy access no matter whether you are left or right-handed.
Tablet stand
Along with the tablet, you also get a free tablet stand. The tablet stand has a VESA mount that latches on to the tablet. The stand allows you to adjust the angle of the drawing monitor anywhere between 20° to 80°.
The stand is easy to adjust from one position to another. It has grippy material on its legs which holds the tablet in place and does not allow the tablet to slide or move on smooth surfaces or when you apply force on it.
Connecting the tablet to the computer
Here is the list of all the ports (I/O) that Kamvas Pro 24 offers you.
USB Port
HDMI
Display Port
VGA
Power
The good thing is – the tablet comes with all the necessary cables required for the tablet to connect to the computer. So you can get started out of the box – without hunting for accessories.
Unboxing – What's included in the box
Generally speaking, Huion tablets are known for providing a number of accessories with their drawing tablets. Here is a list of everything that comes in the box of Huion Kamvas Pro 24.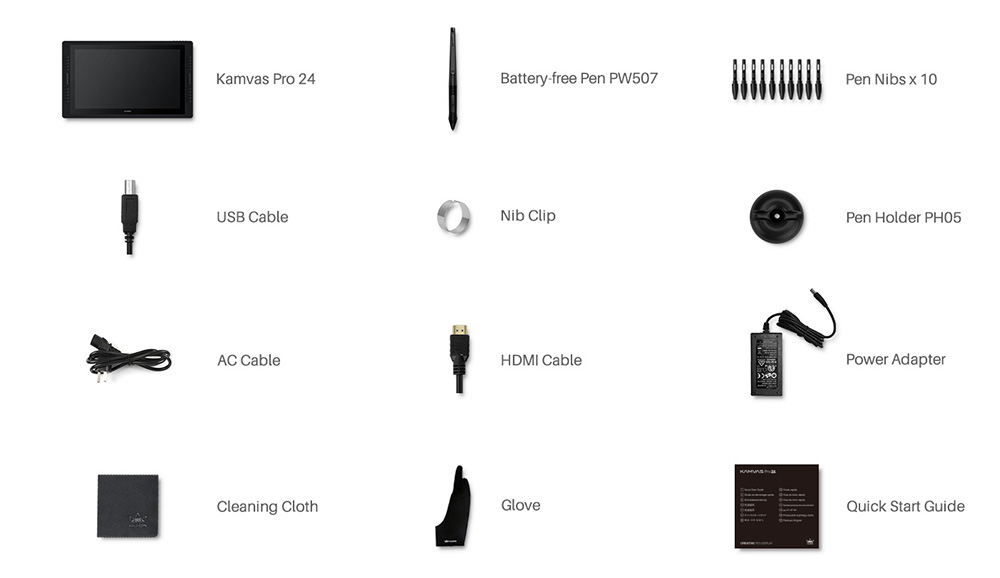 Kamvas Pro 24
PW507 stylus
10 Extra pen nibs
Nib remover tool
Pen holder
Tablet Stand
USB Cable
HDMI cable
Power adapter
AC cable
Cleaning cloth
Drawing glove
Quick start guide
Summary – Why you should get the Huion Kamvas Pro 24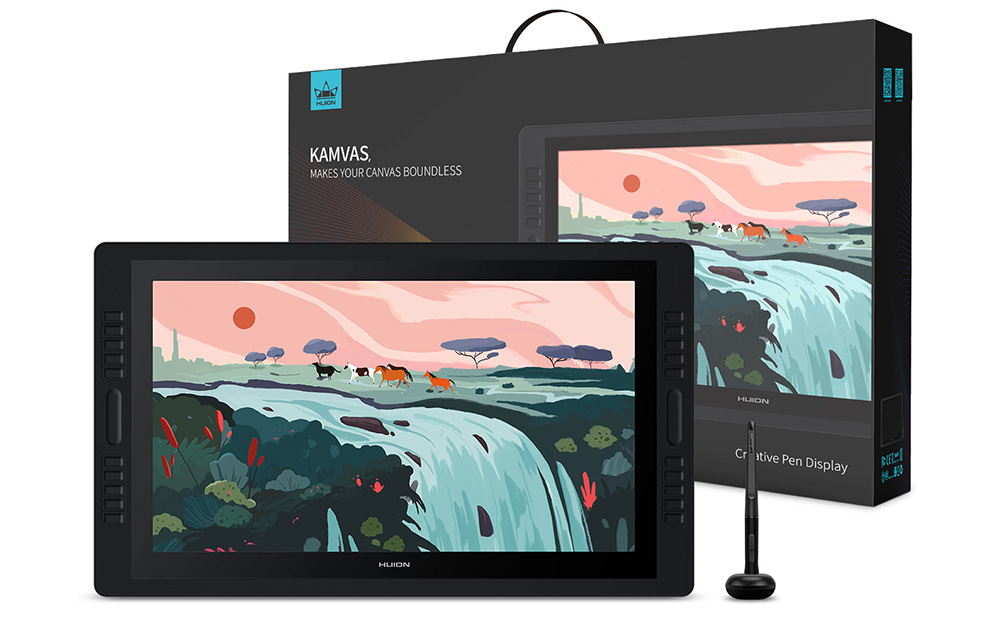 In this review, we have looked at topics such as display, color accuracy, screen lamination, surface texture, stylus, shortcut buttons as well as accessories.
From all this information, plus comparing with some of the other drawing tablets in the market we can conclude that – the Huion Kamvas Pro 24 is a no-compromise full-fledged drawing package that gives a top of line features at reasonable prices.
The tablet could have improved in areas such as minimizing the bezels around the screen or included a better tablet stand that matches the overall design of the drawing tablet – but these are not that big of drawbacks.
If you are looking for a large-size quality drawing tablet – the Huion Kamvas Pro 24 has a lot to offer. You will be 100% satisfied with this tablet and have a great drawing experience using it.
PROs – Huion Kamvas Pro 24
2560 x 1044 2K display
120% sRGB color space coverage
Great stylus with 8192 pressure levels and 60° tilt support
20 Shortcut buttons
2 Touch bar
Matte, anti-glare display (Etched glass)
Tablet stand included in the box
CONs – Huion Kamvas Pro 24
No eraser at the back of the stylus
Comes with a generic stand that does not matches the quality of the tablet
No physical marks on shortcut buttons (raised dots or dashes) to distinguish one from the other
Cannot customize the sensitivity of the touch bar
Related topics
Xp Pen Artist 22r Pro Review
Huion Kamvas Pro 24 vs Xp Pen Artist 24 Pro comparison
What are laminated displays?
How does battery-free stylus work?