Disclosure: As an Amazon Associate EssentialPicks earn from qualifying purchases.
---
If you are an artist and looking for a new drawing tablet that can be used indoors-outdoors or anywhere you want, Samsung Galaxy Tab S6 and Apple iPad Pro are the two best options right now.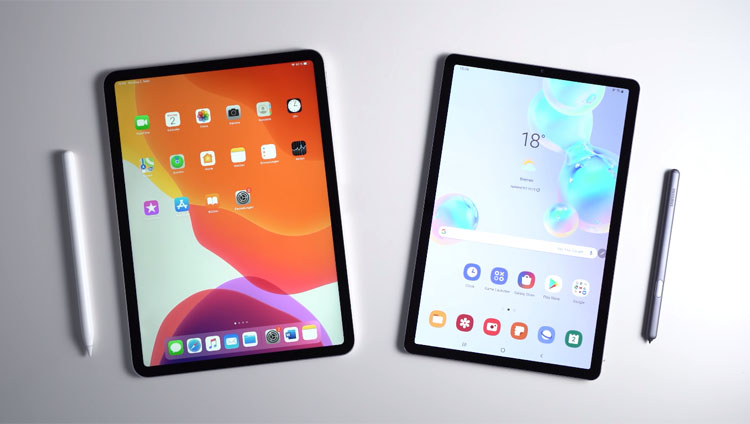 These tablets are becoming increasingly popular amongst the art community with many artists permanently switching from traditional drawing devices.
If you are in the same spot and considering getting a new tablet, this article will give you an unbiased comparison between the Samsung Galaxy Tab S6 vs Apple iPad Pro, from the perspective of a digital artist.
It will help you decide – which is a superior drawing device? and which tablet will fit your needs better? By the end of this article, you will know – exactly which tablet to pick.
With that said, let's start by having a look at their features
Features – Samsung Galaxy Tab S6 vs Apple iPad Pro
Here are some of the main features Galaxy Tab S6 and iPad Pro comes with…
Samsung Galaxy Tab S6
Apple iPad Pro
Display Size
10.5 Inches
11 Inches
12.9 Inches
Resolution
2560 × 1600
2732 x 2048
Color Accuracy
122% sRGB
112% sRGB
Brightness
500 nits
600 nits
1000 nits (12.9 inch model)
Stylus
Samsung S-Pen
Apple Pencil
Pressure and Tilt
YES
YES
Shortcut Buttons
1 Physical Button
1 Touch Button
Battery
7,040mAh (9 hours)
7,812mAh (10 hours)
Memory
128/256 GB
64/256/512 GB/1 TB and 2 TB
Price
Check on Amazon
Check on Amazon
Comparing features is a great way of getting familiar with a tablet, but these features alone – does not tell us the whole story. That is why we highly recommend you to go through our detailed comparison.
Display – AMOLED Screen vs Retina display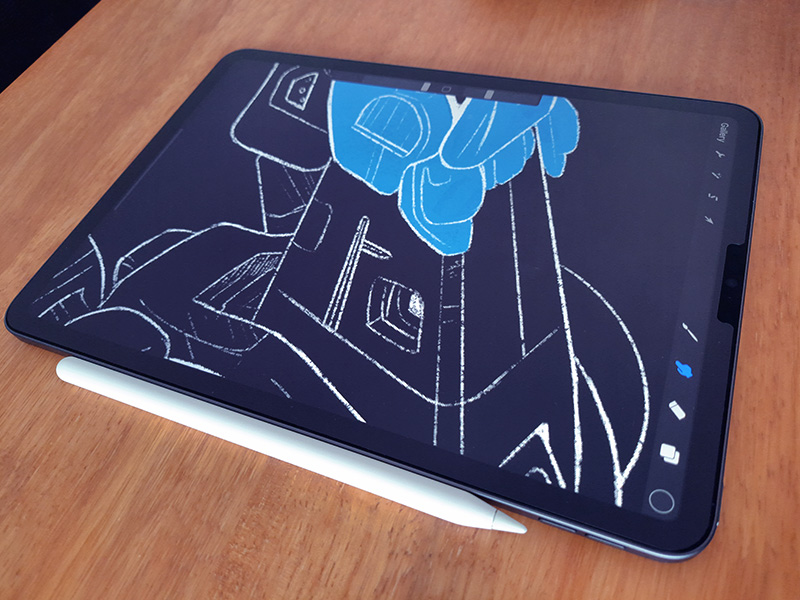 A display is one of the most important parts of a tablet after all that is where you draw stuff and do all the work.
So it is important that a drawing tablet has a bright and color-accurate screen with a good resolution.
There is no doubt that Samsung Galaxy Tab S6, as well as Apple iPad Pro, has some of the best displays in the market right now.
Samsung uses an AMOLED display whereas Apple uses an OLED screen which they call "Retina Display". So which display is better, Let's find out.
Resolution and pixels per inch
A higher resolution means more pixels on the screen, producing sharp and crisp images that result in a better viewing experience. A higher-resolution screen allows you to see the finer details in the pictures which would otherwise appear blurry.
The Samsung Galaxy Tab S6 has a resolution of 2560 × 1600 with 287 pixels per inch. Whereas the iPad Pro has a resolution of 2732 x 2048 with 264 pixels per inch.
Color Accuracy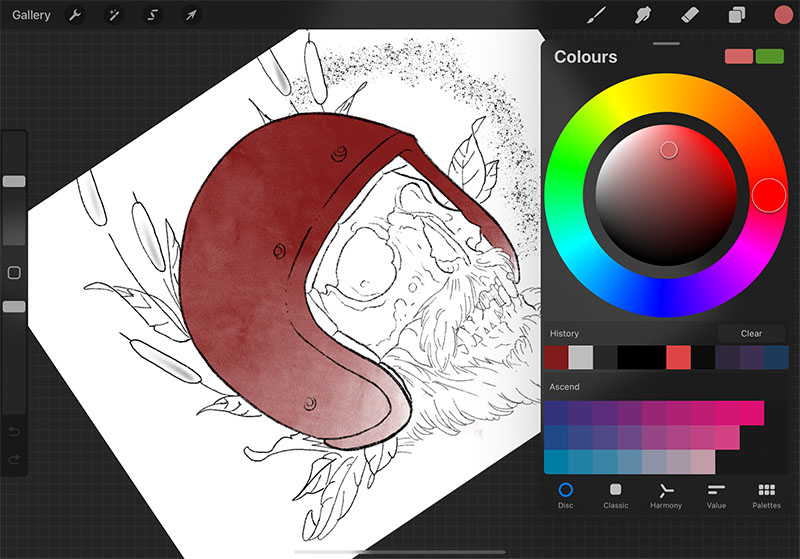 Color accuracy is very important for digital art and editing. As an artist you want your display to produce color-accurate images so that you can work on these tablets on a professional level.
The Samsung Galaxy Tab S6 has a color accuracy of 122% sRGB and Apple iPad Pro has 112% sRGB which is pretty good in both cases.
Brightness
The 11 inch iPad Pro has a brightness of 600 nits compared to 500 nits on the Samsung Galaxy Tab S6.
For reference, most of the laptop display in the market comes with a display brightness in the range of 300-350 nits. So it is safe to say both these tablets are very bright and can be comfortably used in challenging situations such as: under direct Sunlight.
The real winner of the brightness is the 12.9 inch iPad Pro. The 12.9 inch iPad Pro uses a mini-LED screen that has a sustained brightness of 1000 nits and a peak brightness of massive 1600 nits.
So if you are someone who often uses these tablets outdoors, get the 12.9 inch iPad Pro (check on Amazon).
Display Size – Small and Handy or Bigger and Better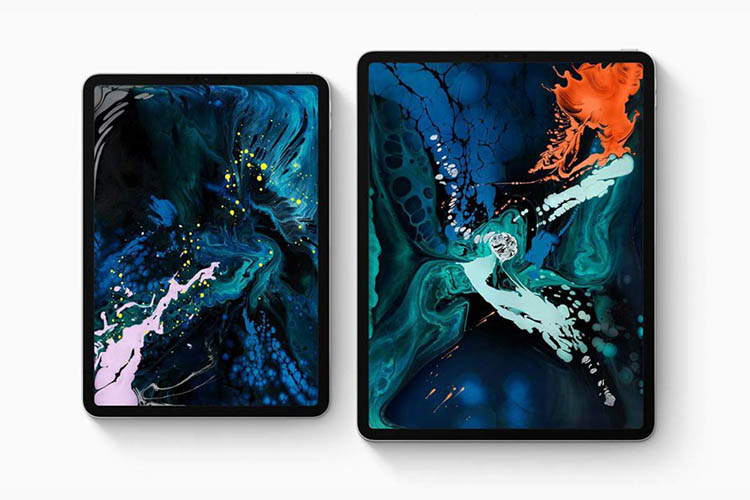 The Samsung Galaxy Tab is available in 10.5-inch screen size, whereas the Apple iPad Pro comes with 11 inch and 12.9-inch screen.
If portability is your priority then you should definitely go for the smaller tablet. As they are more convenient to use in crowded outdoor spaces like cafes, flights or metros.
On the other hand, if you want a larger working space, the only option you have is to get the 12.9 inch iPad Pro (Amazon) as Samsung does not come with a bigger variant.
Alternatively – you can look into drawing tablets with a bigger screen like Wacom Mobile Studio or Surface Pro 7.
Aspect ratio matters
Aspect ratios have a big effect on the shape and size of the display. The Samsung Galaxy Tab S6 comes with a 10.5-inch screen whereas Apple iPad Pro comes with an 11-inch screen.
Now a half-inch difference in the screen size may not feel like a big difference but when we factor in the aspect ratios of these tablets, a clear difference starts to appear.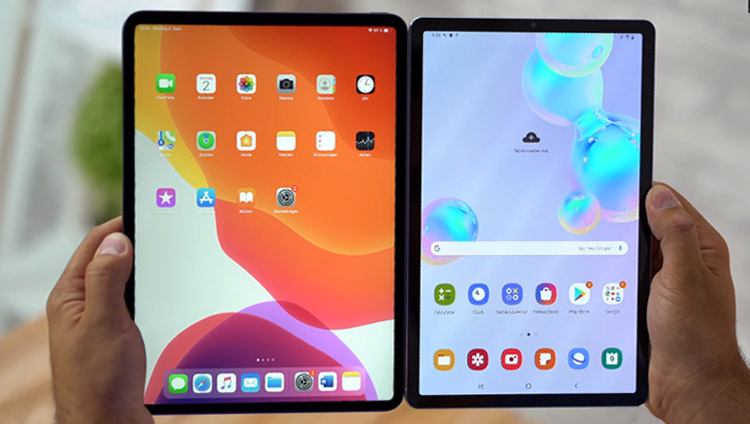 The iPad Pro 11 inch comes with an aspect ratio of 1.43:1 and the Galaxy Tab S6 has the screen ratio of 16:10. The result is – as you can see in the picture above, the 11 inch iPad Pro has a larger screen giving you a larger working area than the Samsung tablet.
Palm Rejection
Both tablets are equally good at rejecting unintentional touches like our palms touching the screen while using the stylus.
Surface Texture
Both Galaxy Tab S6, as well as iPad Pro, has a smooth and glossy screen. When you draw on a Glass screen with a stylus with a plastic pen tip, the stylus slides very freely. For some artists that can be a bit too much.
To fix this you can get a matte screen protector(Amazon). It gives you a textured surface that provides friction to the stylus, ultimately giving you more control over the stylus, Plus it minimizes reflection on the screen.
So which tablet has a better display?
When we compare the displays we can clearly see that both the displays are equally good in terms of resolution, color accuracy, and brightness.
When it comes to viewing experience the Samsung tablet has a better contrast due to its AMOLED panel, plus it also supports the HDR10 format, which iPad does not. So it can be concluded that the Galaxy Tab S6 has a better panel.
But when it comes to drawing, Apple takes a slight lead because of its 120hz refresh rate called "ProMotion". It results in faster animation and quicker response time, which results in a smoother and responsive drawing experience.
And when it comes to normal displaying normal content, it is almost as good as Samsung if not better.
Stylus – Samsung S Pen vs Apple Pencil

If you are an artist looking for a drawing tablet, you already know that a stylus has a major impact on the drawing experience. That is why it is important that the tablet comes with a good stylus that is comfortable to hold and has good drawing features.
Apple Pencil is well known amongst the artist community to be one of the best stylus in the market. But competition is slowly catching up.
At present Samsung S Pen is almost equally good and comes with some extra features that you won't find in Apple Pencil. So which stylus is better? let's have a look.
Pressure and Tilt Recognition
When drawing with a real pencil you get a lighter or darker stroke depending upon how much pressure you apply on the pencil. The pressure sensitivity in the stylus simulates the same effect.
Both the Apple Pencil and Samsung S Pen has equally good pressure sensitivity, with overall a balanced feel and no inconsistent pressure bumps.
Both the tablet allows you to customize pressure as per your liking in the pen settings.
Next coming to tilt recognition, it is a fairly new feature that is getting more and more common these days. It mainly helps in shading our sketches but can also be used for digital spray paintings. Both the stylus have this feature and it works equally well in both of them.
One important point to notice here is – not all the drawing and note-taking apps support tilt recognition. And even if they do, only a few brushes can be used with them.
Shortcut button
Shortcut buttons are important. They allow you to easily switch between brush and eraser in drawing applications. The Galaxy Tab S6 comes with a physical button whereas the iPad Pro has a touch-based button.
The button of both these tablets is located on the side of that stylus. Further, these buttons can be programmed to other shortcuts of your choice in the pen settings.
Tracking, latency and performance
There are several reasons why stylus from a few years back was not as good as now. They had slow response times, inaccurate tracking and parallax issues. All these shortcomings resulted in a bad drawing experience.
What is parallax?

Older generation displays had a small air gap in between the actual display and top glass. When you write or draw stuff on those displays the line appeared a few millimeters away from the place where the pen nib is actually touching the screen, this is called parallax.
A lot of things have changed now, with the improvement in both pen and display technology, stylus nowadays has very accurate pen tracking.
Further both Samsung and Apple tablets come with laminated displays which result in no parallax issues.
Response time (latency)
The next important thing to notice is the response time of the stylus. When you draw with your pen on the tablet it takes a small time for the tablet to get the tracking and pressure data > calculate everything and show the results on the screen. This is called the response time or latency.
Here is a slow-motion video in which you can clearly see the response time of the Apple Pencil.
The Apple Pencil has a response time of 9ms which is the lowest response time compared to any stylus in the market. While Samsung S Pen have a slightly higher response time.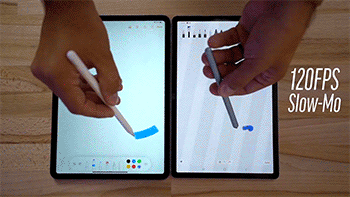 You can see in the slow-motion footage above. On the left, you have the Apple Pencil and S Pen on the right. The lines are drawn with the S Pen show on the screen after a slight delay which is not the case with the Apple Pencil.
Slow-motion videos often exaggerate these effects. In real life, these latency differences are not that evident and you will have an equally good drawing experience with both stylus.
Check out – Apple Pencil vs Samsung S Pen detailed comparison
Comfort – Shape and Size
Very often artists have to continuously work on their devices for multiple hours. So it is important that the stylus has an ergonomic shape that feels comfortable to hold on long drawing sessions.
Well talking about ergonomics, both these stylus are fairly simple cylindrical stylus. They do not have crazy ergonomics that you will get with a stylus like Wacom Pro Pen 2, but still, they are comfortable to hold and use for those long drawing sessions.
As the name suggests, Apple Pencil feels more like a pencil in size and width whereas the S Pen feels like holding a generic ballpoint pen.
Apple Pencil has a flat face that helps the pen to stick to the side of the tablet. The flat face also has the touch button for switching between pen and eraser.
Similarly, S Pen has a cylindrical body with two flat sides which helps it to magnetically stick to the back of the tablet, along with a single button on the side.
Charging and features
Samsung S Pen comes with features like gesture control, which allows you to scroll a list or swipe left or right to change images. This feature is cool but it has limited usage.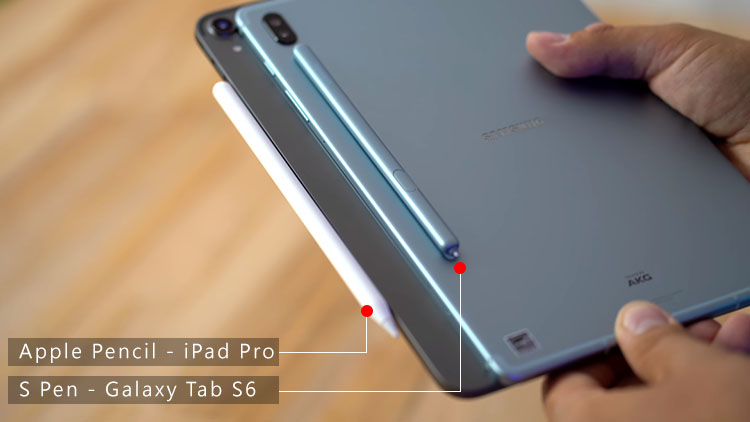 The Apple Pencil sticks to the side of the iPad where it charges wirelessly. It lasts a long time on a full charge and has fast charging where you can charge the Apple Pencil for 15 seconds to get a 30 minute of usage, which is incredible.
The same is the case with the Samsung S Pen. It magnetically sticks to the back of the tablet and charges wirelessly. In case the S Pen discharges, it will still keep working as a normal stylus as it uses Wacom EMR technology and only needs the battery for its gesture controls.

Along with magnetically sticking to the back, the S Pen can also stick to the side of the tablet (image above), but it won't charge in that location.
Pen nibs
The Samsung S Pen comes with two types of pen nibs – White (soft) and Black (hard). The black nib is made of hard plastic that easily glides over the glass surface of the tablet.
The white pen nib feels soft and rubbery and grips the tablet surface to give you better control over your stylus.
Apple Pencil comes with a single plastic nib that is already attached to the Apple Pencil, with no extra replacement nib in the box.
Conclusion: Which is a better stylus?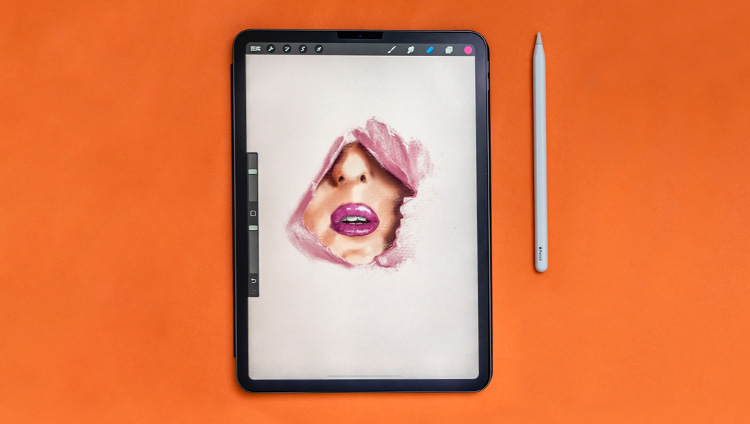 Both the stylus is almost equally good as far as drawing goes. Their pressure and tilt recognition work equally well.
The differences start to appear when you compare the build quality of these styluses. Apple Pencil feels rock-solid and well-engineered, whereas the S Pen does not feel as good.
But you have to also consider the fact that Apple Pencil needs to be purchased separately, plus it is the most expensive stylus in the market. On the other hand, S Pen comes free in the box.
Power and Performance
A more powerful tablet can run-heavy, resource-intensive applications without slowing down your tablet. It also allows the tablet to easily handle large projects with big size and high resolution.
The Apple iPad Pro comes with Apple's M1 chip and the Samsung Galaxy Tab S6 has a Qualcomm Snapdragon 855 processor.
Although technically – the processor in iPad Pro is faster than the Galaxy Tab S6. With that said both the tablets are powerful enough to handle pretty much anything that you throw at them.
Internal Memory
When it comes to memory, more is always better. A tablet with more memory space allows you to store all your files and projects locally on your tablet.
But a larger storage space also pushes the price tag further and unlike computers, these memories cannot be upgraded later on. So it is important to choose the right memory size as per your needs.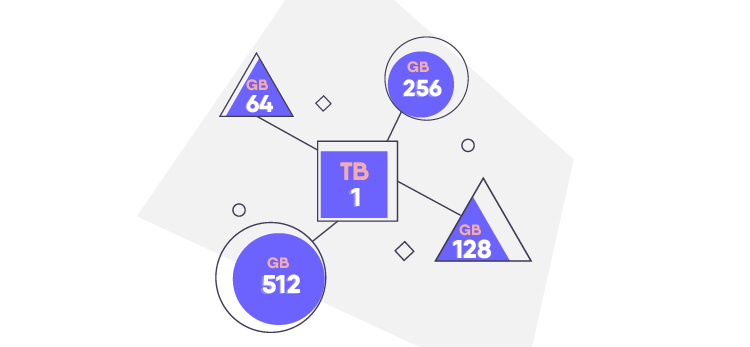 The Apple iPad Pro is available in the following memory sizes: 64GB, 256GB, 512GB, 1TB with their prices increasing with increasing memory. (Apple iPad Pro on Amazon)
Samsung Galaxy Tab S6 comes with two memory options 128Gb and 256GB. Check price on Amazon. The good thing about the Galaxy Tab S6 is – it comes with a memory card slot, which means you can expand the memory space. This feature is not available on the iPads.
Portability and battery capacity
It is pretty clear that both the Galaxy Tab S6 and iPad Pro are compact and portable tablets. They can be easily carried and used everywhere you go.
Portability and battery life go hand in hand. For a portable drawing tablet, it is very important to have long battery life.
The 11-inch iPad Pro comes with a battery of 7,812 mAh which gives about 10 hours of screen-on time on a full charge. The 12.9-inch model comes with a 10,307 mAh battery and a slightly longer battery life.
The Galaxy Tab S6 comes with a 7040 mAh battery capacity with 9 hours of backup. So we can conclude the bigger size iPad Pro has the best battery life, with that said the battery capacity on the smaller iPad and Galaxy Tab is also good for the size.
Ports
Both these tablets come with a USB-C port with no headphone jack. Other than USB, the Samsung Galaxy Tab has an SD card slot.
The Apple iPad can output video in 5K resolution through its USB-C port, but it is not Thunderbolt 3 compatible.
Operating System and Drawing apps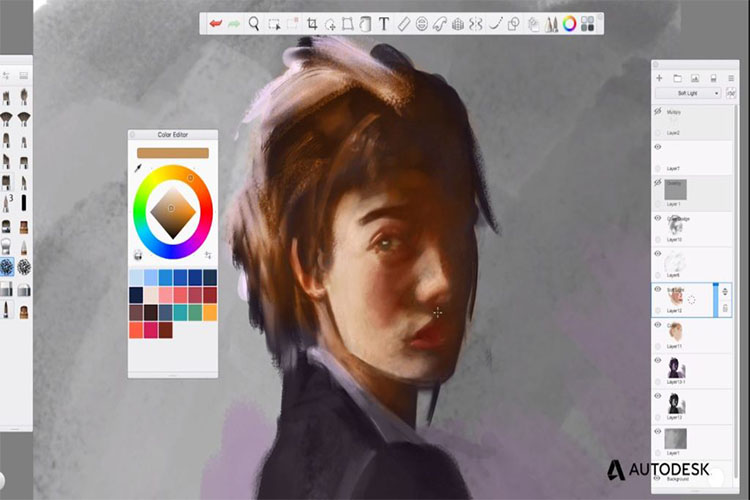 Apple iPad Pro runs on iPadOS whereas Samsung Galaxy Tab S6 has Android. Both these operating systems have a large number of really good drawing apps.
Most of the drawing apps can be found on both the Apple and Android stores. But there are some apps like Procreate that is available only on the Apple store.
The good news is most of the mainstream desktop drawing programs are rolling out their tablet version.
Price
Price can be an important deciding factor for a lot of people. Apple products are can be expensive but they also provide the value and quality to justify their price. Whereas Samsung Tablets are known for providing great features at a fairly reasonable price.
The price of the cheapest model of both the tablet is almost the same as the cheapest Galaxy Tab S6. But when you look closely, you will find that the cheapest model of iPad Pro comes with only 64GB of internal storage which is very low.
On top of that, you have to purchase the Apple Pencil Saperatily whereas the S Pen comes free in the box.
Accessories
Both Apple iPad Pro as well as Samsung Galaxy Tab S6 supports external keyboard cover. The keyboard cover adds extra functionality such as you can assign shortcuts in your drawing applications, just like a computer.
In addition to the Keyboard cover, Galaxy Tab S6 also has Samsung Dex support.
Summary – So which is a better drawing tablet?
To be honest, both these tablets are very similar to each other and you can't go wrong with either one of them.
Samsung is more of a media consumption device as it has got a better display and expandable storage. Plus it is more value for money in terms of pricing and things like the S Pen come free in the box.
But if you are looking for a proper drawing tablet, there is no doubt that Apple iPad Pro is a better choice. It comes with a 120Hz ProMotion display and a powerful Apple M1 Processor. The Apple Pencil has a slightly superior drawing experience and overall feels like a better-engineered product.
With that said, can you use Samsung Galaxy Tab S6 for making awesome artwork – YES! and can you use iPad Pro as a media consumption device – Absolutely!
Galaxy Tab S6
by Samsung
AMOLED Display
HDR 10 support
Stylus included in the box
Expandable Memory
Long battery life
Quick charge
Slim and portable
CHECK PRICE ON AMAZON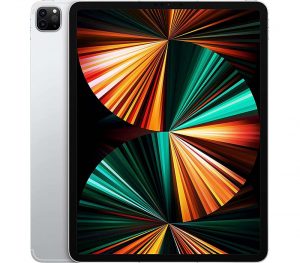 iPad Pro
by Apple
120 Hz ProMotion display
Better Stylus
Faster Processor
Quick response time
Long battery life
Quick charge
Compact and portable
CHECK PRICE ON AMAZON
Related Topics:
Surface Pro vs Wacom Mobile studio for drawing
Standalone drawing tablet
Cheap drawing tablet with screen
Portable Drawing Tablet